Are you an aspiring e-commerce business looking to get started with setting up your own Shopify store? Setting up a Shopify store is a great way to get your business off the ground and start selling products online. With the right tools, knowledge, and guidance, it doesn't have to be difficult or overwhelming.
In this article, we'll walk you through the 6 essential steps for how to set up Shopify store. With these simple steps, you'll be ready to launch your online storefront and start selling products in no time!
1. What is Shopify? Why do you need to choose it for your store?
Shopify is an e-commerce platform used to help online sellers create and operate their own online stores. It provides merchants with a comprehensive suite of tools needed to design, set up, manage, and grow their businesses online.
With Shopify, online sellers can easily set up their store in minutes from any computer or mobile device. Additionally, they can customize the look, feel, and functionality of their store with ease, using the drag-and-drop store builder, or through the use of third-party website design and development services.
The main reason to use Shopify is the convenience it offers. You don't have to install or configure any complicated software, and you don't need to worry about security. Shopify has comprehensive security methods, and you will be notified if there are any problems. Plus, it's easy to scale up or down as needed – no matter how small or big your store is.
Finally, Shopify offers great customer support – both online and through toll-free numbers – so you can get help if you ever run into any problems.
So if you're looking for an easy way to set up a store and start selling online, Shopify is definitely worth considering. With its user-friendly interface and powerful features, it's one of the best e-commerce platforms on the market today.
💡Learn more about Shopify here:
2. How to set up Shopify store
Getting started requires only a few steps: create an account, choose a theme, add products to your store, add products to collection pages, enter your payment information, and customize your design elements.
Now, we will show you how to set up Shopify store in detail or you can follow this video instructions:
Step 1. Create a Shopify account
One of the first steps you should take when setting up your Shopify store is choosing the name of your store. Your store name needs to be both memorable and professional. It's also important to make sure that the domain name associated with your store is available.
Once you have your store name in mind, you can easily set up a Shopify account by providing basic details such as your name and email address. You will also be asked to enter a password for your new account.
Once registered, you will be able to start customizing and managing your store.
Step 2. Choose a Shopify theme
After you've created a Shopify account, it is time to pick an appropriate theme. Selecting a theme for your store is an important step in setting up your store as it can greatly influence how well customers interact with and engage with your site.
Besides, when choosing a theme, you should consider the types of products you are selling and the feel you want to convey. In particular, pick a theme that reflects both your products and the overall look and feel of your online store. Additionally, you should also pay close attention to elements like navigation, menu setup, product assortment, and content layout in your Shopify store.
However, there are numerous beautiful themes out there, including both free and paid ones. Thus, it may cause difficulty for sellers to choose a suitable theme for their store. Don't worry as Shopify has a team of Shopify Experts, who can give you some useful advice and insights to make your store more stunning than ever.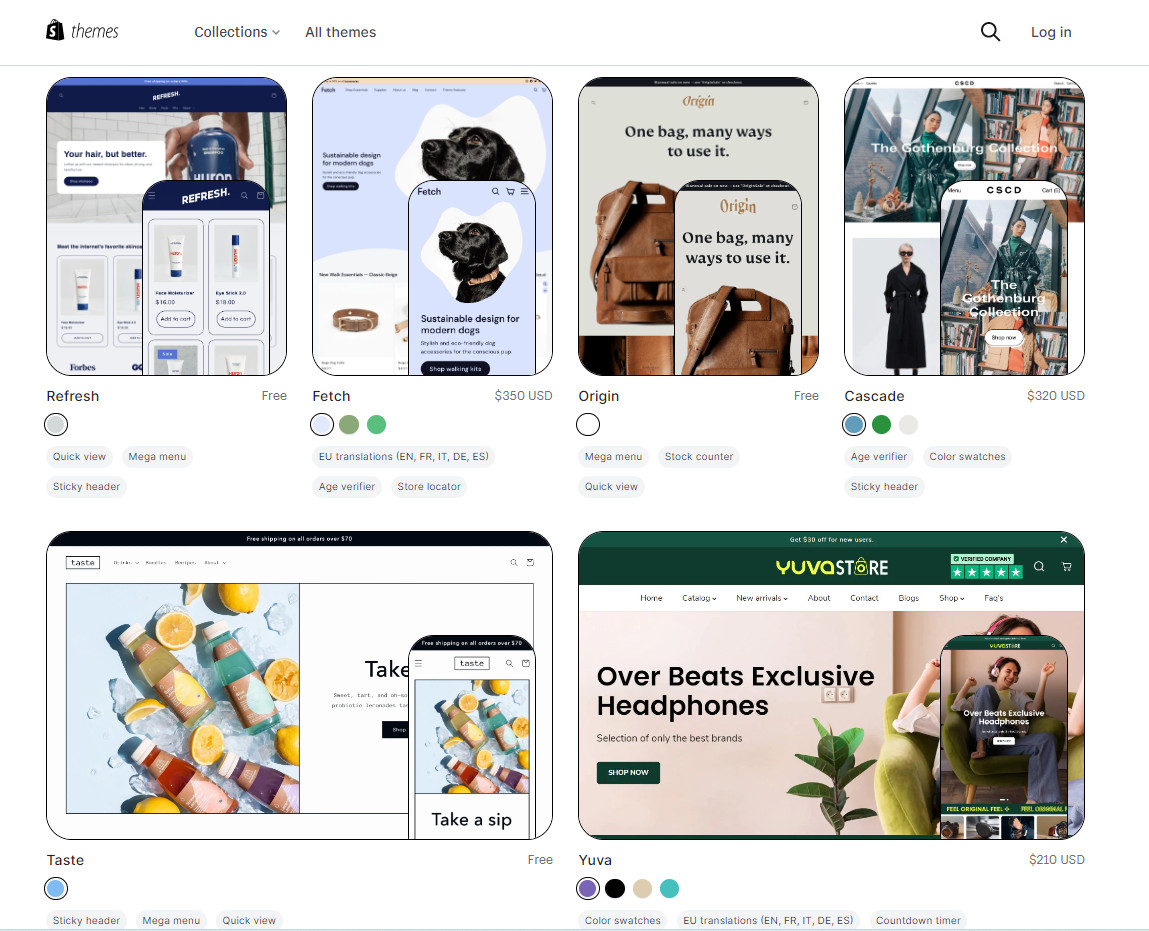 Step 3. Add products to your online store
Adding products to your Shopify store is an essential part of how to set up Shopify store. Be sure to include all pertinent details and clear images for each product you add. In addition, if you have multiple versions of a product, you will need to create variants for each option available.
Here is how to add products to your Shopify store:
1. Login with your credentials to the Shopify admin
2. Click "Product" and choose "Add product"
3. Enter all the relevant information such as description, title, tags, and more
4. Click "Save" to complete this step in setting up your Shopify store
However, in case it's the first time you come to Shopify and have no idea what products you should sell, you can look into the best types of products to sell on Shopify. Popular items include clothing, accessories, jewelry, art prints, home decor, and tech gadgets – but there are plenty of other ideas out there too.
In general, research is key when it comes to finding successful products to sell on Shopify, and you should also keep an eye on market trends to ensure your offerings are timely and up-to-date.
Step 4. Add products to your collection pages
Adding products to your collection pages is an important step when searching for how to set up Shopify store. It helps customers browse and shop for the items they're most interested in, making it easier for them to find what they're looking for.
Therefore, when creating collections, you should think about how the customer would search for items and organize them accordingly. For example, if you sell clothing, you could create collections based on categories like men, women, and kids. You can also create collections based on seasonal trends or new product releases.
Step 5. Enter your payment information
Once your products have been added to your collection pages, you'll need to enter your payment information in order for customers to be able to make purchases.
Shopify provides several options for processing payments including PayPal, Meta Pay, Apple Pay, and Amazon Pay. You can also accept credit cards from major providers such as Visa, Mastercard, and American Express.
By setting up all these payment methods, customers have the choice to pick their preferred form of payment.
Step 6. Customize your Shopify store
Now is some last steps in our how to set up Shopify store instructions. Once you've set up the core components of your Shopify store, it's time to customize your storefront. This is a critical step when creating a successful online shop and requires careful consideration. Besides, there are many tools and technologies available with Shopify that can help you create an eye-catching storefront to showcase your products and services.
Firstly, decide on the design of your storefront – what will it look like? What do you want to feature in it? Once you've decided on that, you can move on to setting up the necessary elements such as menus and product categories.
In addition, you can also customize other aspects such as the color scheme and overall aesthetic of your storefront. For example, you can customize things like fonts, images, and background colors to create a unique look for your store.
Once you're happy with how it looks, don't forget to test it out on different devices and browsers to ensure that it looks professional and is optimized for success.
💡Learn more about Shopify here:
3. What do you need to know when setting up Shopify store?
Setting up a Shopify store can be an exciting and rewarding venture. But there are a few things to consider before searching for how to set up Shopify store. From selecting the right product to sell to managing inventory, this section will help you carefully prepare to successfully set up your store.
3.1 Pick the right niche
This is one of the most important considerations before setting up a Shopify store. It's best to choose a niche that you are passionate about and can offer a unique service or product that customers cannot easily find elsewhere. Besides, knowing your target market and their needs will also help determine the type of products or services you should offer.
3.2 Choose the Right Shopify Plan
Shopify is not free, it offers several different pricing plans, including Basic, Standard, and Advanced plan. Thus, you should carefully research all of them before choosing the one that best fits your needs.
In addition, consider your budget and what features you need to make sure everything runs smoothly. If you're still not sure which plan is suitable for your store, it's also a good idea to take advantage of free trials for each plan before committing.
3.3 Establish a store brand
When searching for how to set up Shopify store, some Shopify Partners, who are always willing to help you build and run a Shopify store, may recommend that you should establish your own store brand for further business development.
You can start with the basics such as creating a recognizable logo and developing an overall aesthetic for your store, which will help customers identify and remember your business. As a result, they will be more likely to shop with you in the future.
Additionally, having an established brand identity can give customers confidence in your store and make them trust the products you are selling.
In short, Shopify stores should focus on creating a unique brand that customers can recognize and relate to. This will help build customer loyalty and boost sales.
💡Learn more about Shopify here:
4. Run the Shopify test order
To ensure the smooth operation of your Shopify store and everything is working properly, it is essential to set up a test order. It will help you identify any potential issues before they can have an impact on your customer's shopping experience.
Here is a step-by-step guide on how to run a test order on Shopify:
1. Go to "Settings" and choose "Payments" and then "Manage"
2. Here, you have the option to disable any active credit card gateway that you have set up.
3. After disabling it, activate the "Bogus Gateway" for the test order.
Once this is done, you can proceed with placing a test order.
If you are using the Shopify platform for the first time, it is recommended that you take this step to verify that everything is running smoothly before opening up your store to customers.
5. Install Shopify apps to boost your online business
Installing Shopify apps can take your online business to the next level. With these add-ons, you can customize your store to offer more features and services that will benefit both you and your customers.
Here is a detailed instruction on how to add Shopify apps to your online store:
1. Log in to the Shopify App Store
2. Search the app's name by typing a keyword of the feature you're looking for. For example, I'm looking for an app that helps translate my online store to multiple languages to reach a wider customer range. So, I can type "language" in the search bar.
3. Choose a suitable app by reading reviews and rating star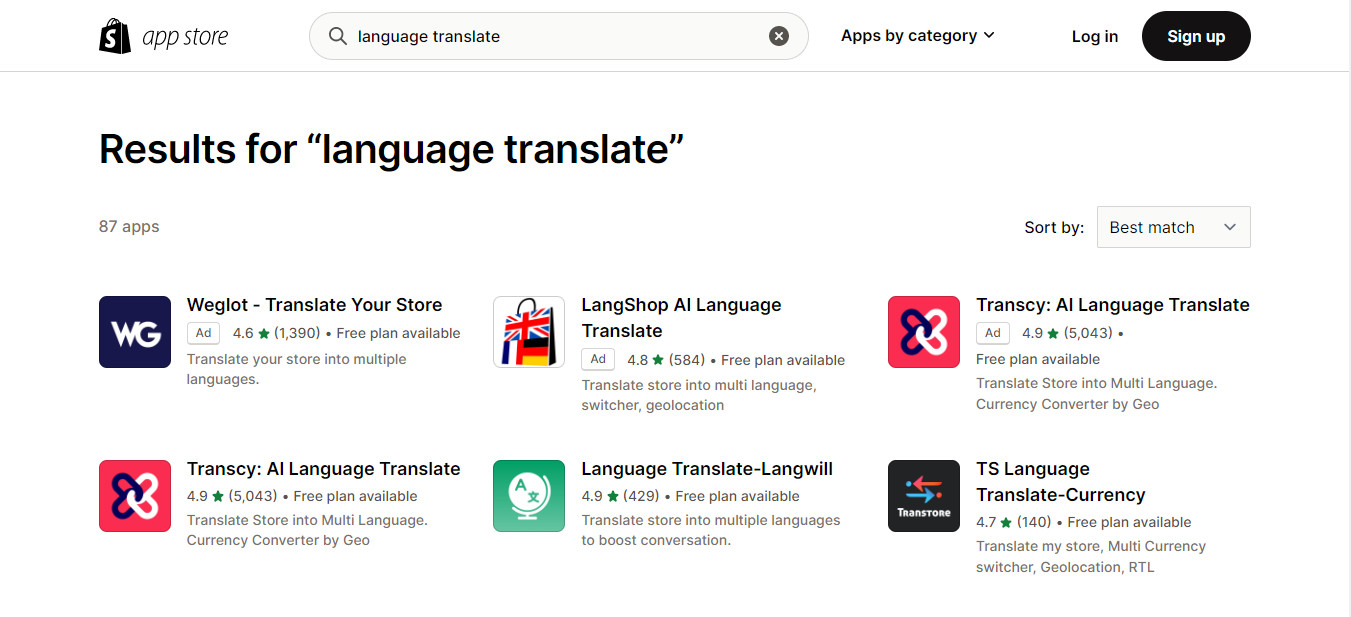 4. Click "Add app"
5. Find it in your store's dashboard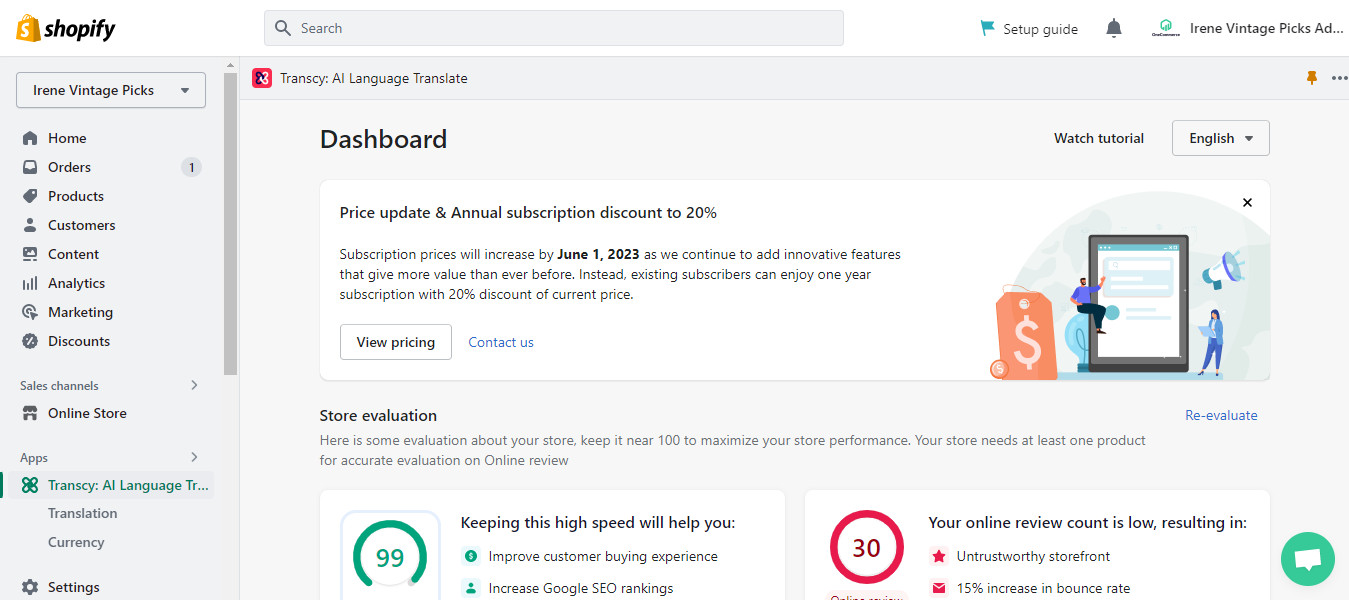 You can apply this method to other apps, such as apps for product reviews, customer loyalty programs, subscriptions, selling on Google Shopping, and more. With these add-ons, you can build a well-rounded online store that runs smoothly and efficiently.
Conclusion
Learning how to set up Shopify store is a great way to start selling products and services online. By following the 6 steps outlined in this article, you can quickly get your store up and running.
With a well-designed store, attractive product pages, streamlined inventory management system and payment processing solutions, you're well on your way to success in the e-commerce business.