In a recent Yotpo poll, nearly 68% of participants indicated they would join a brand's loyalty program if it was provided, and 56% of those participants said they would be willing to pay more for it even if there were cheaper alternatives. Thus, it is understandable that more than 90% of businesses have a customer loyalty program.
Loyalty programs are now considered one of the most effective strategies for boosting sales and fostering customer loyalty. Obviously, selling to existing customers is much cheaper than finding new ones, that's why a lot of Shopify merchants invest in loyalty programs.
While it seems simple, having an effective customer loyalty program may not be a piece of cake. For that reason, we have created this blog for you with an overview of customer loyalty programs and a guide to build a good Shopify loyalty program. 
What is a loyalty program?
Customer loyalty programs are a strategy created specifically by businesses to reward loyal customers who frequently buy their products or services.
Besides, it's a program for retaining customers, enticing them to keep purchasing from your brand rather than one of your rivals. The objective is to increase client loyalty and establish trust with the brand. Customers will receive more rewards if they spend or interact with the brand more.
Businesses can reward customers with points or benefits through a loyalty program. In return, customers can use their points to get deals, freebies, incentives, or access to exclusive perks. 
Through a loyalty program, customers can get a wide range of rewards, such as:
Discounts or Coupons

Free merchandise

Early access to new products and services

Free shipping

Points or on-site currency
Benefits of loyalty programs
You can gain a number of benefits from a customer loyalty program. These benefits can assist you in locating the most lucrative clientele for your company. Here are what you can get if you have a good loyalty program:
Retain existing customers:

This is the biggest benefit of a customer loyalty program. It will be more difficult for competitors to steal your customers if you have a loyalty program in place. Moreover, customers are more inclined to stay with your brand longer if they find value in your customer loyalty program. 

Higher sales:

A lot of perks from a loyalty program encourage customers to buy more.

Recent loyalty research

indicates that

49% of customers

believe their spending increased as a result of joining a loyalty program.

More customer referrals:

If your loyalty rewards program is excellent, you can acquire new customers when they recommend your brand to their friends and relatives. More referrals will lead to more customers. 

Regain lost customers:

A certain proportion of customers will disappear over time. Yet, you can identify, target, and entice them back with the help of a loyalty program.

Increase the lifetime value:

A loyalty program can encourage repeat purchases from customers. Therefore, the lifetime value of your customer will naturally rise according to the frequency of their purchases.

Target your top customers:

You may discover your top customers with a loyalty program. After that, you can research the patterns in their behavior and use them to grow your brand.

Brand advocacy:

Successful loyalty programs can convert loyal patrons into brand advocates. They will assist your business in attracting new customers through the word-of-mouth method, which is a low-cost alternative to paid advertisements.
Types of loyalty programs 
There are different types of loyalty programs to cultivate customer loyalty and encourage repeat purchases. Every loyalty program has its unique characteristics.
1. Points-based loyalty programs
The most popular kind of incentive system is point-based programs. Customers can collect reward points that can be redeemed for gifts, money, benefits, and other things.
Customers not only earn points from their purchases but also from submitting reviews, sharing on social media, celebrating a birthday, or gamification.
2. Tiered loyalty programs
Tiered customer loyalty programs are a type of membership where customers receive different rewards based on their rank. Businesses frequently rank group membership based on particular parameters, such as sales or engagement.
The higher the customers' tier, the more exclusive and superior gifts they can acquire. Customers must make more purchases and frequently interact with the brand in order to move up a tier. 
3. Paid loyalty programs
Paid or fee-based loyalty programs are reward programs that give customers instant and ongoing benefits in exchange for a participation fee which can be recurring or one-time. These programs might request proof of value before accepting new members. 
62% of customers are more likely to spend more on a brand after enrolling in a paid loyalty program, according to a new McKinsey analysis. Three characteristics shared by effective paid loyalty programs were identified by McKinsey:
The benefits outweigh the costs, which prompted enrollment.

More experiential benefits, such as tailored events and exclusive material, keep members coming back.

High engagement levels increase the program's value.
4. Value-based loyalty programs
A value-based loyalty program is when businesses donate a percentage of their sales earnings to a charity or organization instead of giving customers a reward. You can have one that actually reflects the values of your customers or provide a variety of options for different charities.
This program is designed to foster a deeper relationship with customers. Although customers are not genuinely rewarded with this program, knowing that their purchase from the brand contributed to society is a reward for them.
This is a fantastic way for brands to campaign for different social, environmental, and financial issues.
5. Coalition loyalty program
A coalition loyalty program, known as a shared loyalty program, is one that is run by multiple businesses. This program can be helpful for smaller companies that need to work together, for specific goals relating to mergers and acquisitions, or anywhere two brands might profit from having similar loyal customer bases.
Things like discounts and coupons are handled cooperatively, with cross-brand promotion. The involved companies may decide to divide the funding requirements. Throughout the enterprise relationship, these businesses can also exchange consumer information and other business intelligence.
Coalition loyalty programs are special as they give customers more freedom and a wider range of incentives. Customers can earn points at all participating brands and then redeem those points at another participating brand.
6. Game-based loyalty program
Game-based loyalty programs are loyalty programs built on challenges or badges that engage customers in a fun and participatory way. Its objective is to get people to engage with the business frequently and create new habits.
It provides an entertaining approach to engage customers with your brand. Running a competition or sweepstakes that customers may enter by making a purchase is one of the most popular game-based programs.
How to create a Shopify loyalty program 
Customers that frequently purchase from a brand will sign up for its loyalty program. How can you capitalize on that engaged audience? 
Here's a step-by-step guide for creating a Shopify loyalty program that can generate good results.
Step 1: Establish your objectives and carry out customer research
Objectives and goals that specify the course of your project are necessary for any marketing plan to work well. Hence, start by outlining your Shopify loyalty program's objectives.
After you've decided on your objectives, shift your focus to your consumer base. You must understand and take into account the wants and needs of the customers if you want to build a loyalty program that can offer a terrific experience.
Here are some methods to determine your customers' preferences, needs, and interests:
Make use of a CRM system as well as channels like lead magnets, newsletters, checkout procedures, inventory waitlists, etc. that can assist you in gathering customer contact information. This will enable you to keep an opt-in customer list that you can use for research purposes.
Heatmaps

,

session recordings

, and

exit-intent surveys

are some of the customer behavior tools you can use to learn how your customers are currently interacting with your website and to generate ideas for your loyalty program.
A customer research survey with an incentive like first access to the loyalty program is a good way to learn more about what your customers could value in your Shopify loyalty program.
Step 2: Decide which type of loyalty program for your Shopify business
Choosing the program types that best fit your business is the next step after identifying your goals and analyzing the customer research. Take a look at what customers want from a rewards program, then build a Shopify loyalty program accordingly.
In fact, you are not limited to using just one certain program type. Combining various strategies can be a creative and popular method to win customer loyalty and generate better results. This method is frequently called hybrid loyalty program.
Step 3: Identify your rewarding criteria
If you don't decide the customer behaviors you want to reward, which is your reward criteria, and the perks you'll provide, your Shopify loyalty program won't succeed.
You don't need large and intricate rewards. Instead, it is ideal to begin with a simple reward and criteria before gradually adding complexity as your program expands.
In addition to making a purchase, you can reward the following actions:
Referrals

Sharing on social media about your brand

Newsletter signups

Reviewing a product

Customers' birthday or anniversary

Reaching a certain buying threshold
You need to reward your customers and encourage them to keep buying from your business by enhancing their brand perception and shopping experience in addition to offering financial savings.
Step 4: Get a Shopify loyalty program app
Though a loyalty program can help round up your bottom line, Shopify doesn't support loyalty features natively. So you'll need an app to help enable loyalty programs to your e-store. One of the best tools right now is OneLoyalty.
This app will help boost your Customer Lifetime Value and customer retention with point programs, VIP tiers, and more. The cool thing is that OneLoyalty has lots of loyalty templates so you can run your loyalty programs within clicks.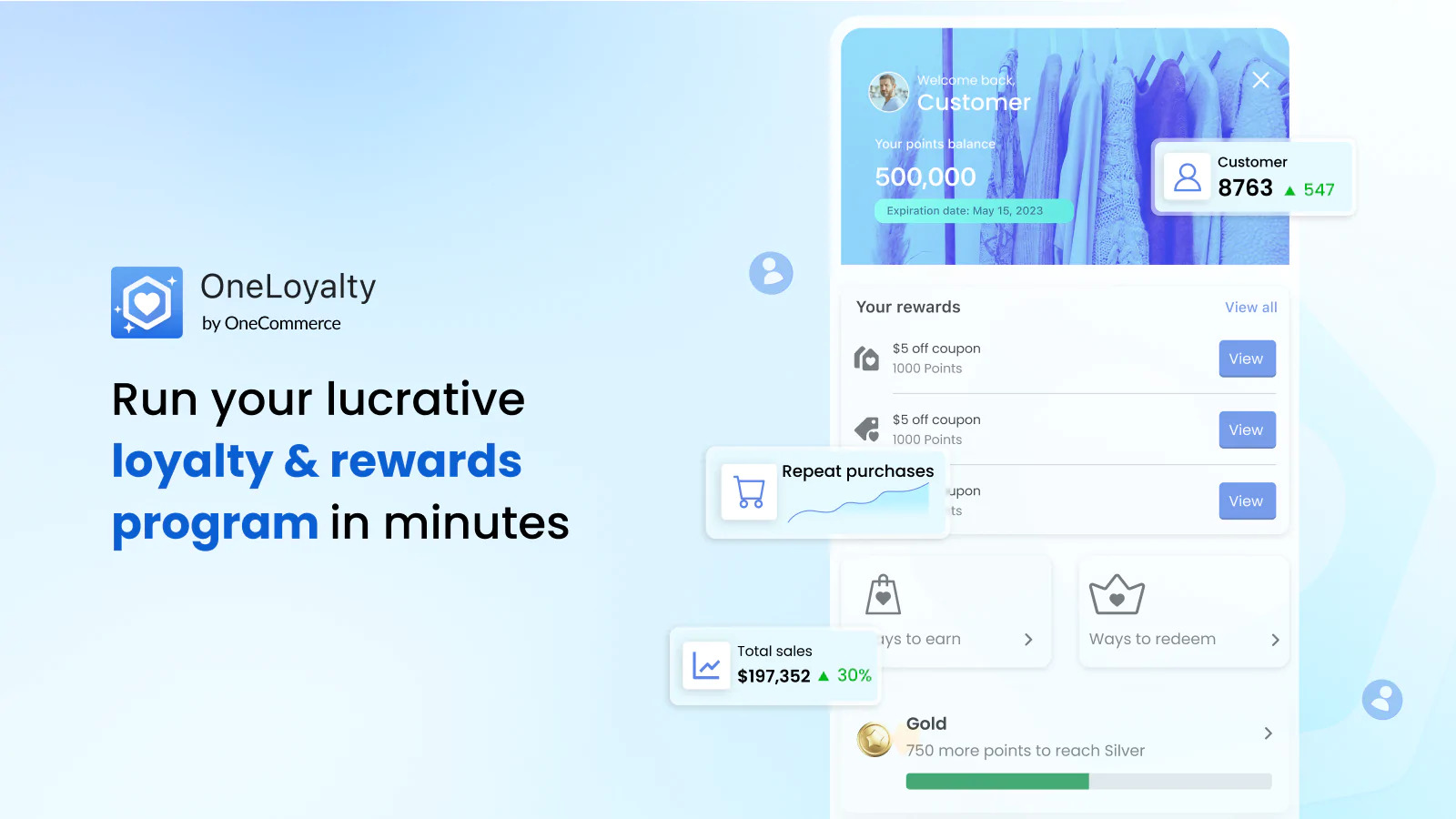 Step 5: Start experimenting and fine-tuning your Shopify loyalty program
After your Shopify loyalty program is up and running, it is necessary to monitor your progress and how customers react to your incentives and rewards system.
You can use the data collected from your loyalty program app along with information from your online business to determine if everything is working well. There are several measures you can assess, but here are 3 to get you started:
Customer Lifetime Value (CLV):

This is one of the key elements affecting the success of a loyalty program. It provides information on consumer spending, shopping frequency, and length of participation in your program. A high CLV implies customer happiness and retention, and it represents the duration of a customer relationship.

Customer churn rate:

If you manage a paid loyalty program, you should keep an eye on how frequently customers downgrade or cease renewing their subscriptions with you. This will show you whether your loyalty program successfully retains them or whether it needs to be improved.

Net Promoter Score (NPS):

On a scale of 1 to 10, this customer experience statistic indicates how likely a customer is to refer your brand to others.
Top 5 customer loyalty program examples
As mentioned, most businesses offer customer loyalty programs as a method to increase revenue and establish an everlasting relationship with their customers. 
We have curated a list of 5 effective loyalty programs that have generated positive results for businesses and their customers as well. With these examples below, we hope you can feel inspired to build your own Shopify loyalty program.
Kellogg's Family Rewards
The Kellogg's Family Rewards program has a fresh, enjoyable appearance. While many other businesses showcase the overall advantages of their loyalty program on the landing page, Kellogg's gets right to the point by highlighting activities that members may engage in to begin earning points.
As Kellogg's distributes its goods through retailers, it is reasonable to offer rewards to customers who upload their receipts, which is exactly what the company does. Receipt uploads are the cornerstone of Kellogg's loyalty program, thus the company has taken three important steps:
The receipt upload page makes a point of outlining the various receipt submission methods.

Receipts that have been approved are worth one token and one entry into a monthly sweep.

As a welcome gift, Kellogg's Family Rewards offers new members the chance to win one token and a sweepstakes entry. Customers can use it as part of the activities page to familiarize themselves with the rewards program website.
The primary activity of Kellogg's rewards program, which is an earn-and-burn program, is gathering tokens in various ways. These tokens can then be used to purchase a variety of monthly bonuses from the rewards catalog. The Kellogg's Family Rewards program offers the following rewards:
Gift cards

Magazine subscriptions

Limited-edition snacks

Branded merch 

Sweeps entries

Donations to charities
Kellogg's is able to offer a limited selection each month by integrating partner benefits. Physical and digital incentives, special experiences, gratis gifts, vouchers, and gift cards are all included in their rewards program. Additionally, to keep things fresh, the selection is updated every month.
Ultamate Rewards
One of the top loyalty programs in the beauty sector is Ulta Beauty's "Ultamate Rewards" rewards program. In 2003, Ulta started its loyalty program and has been continuously improving it ever since. With a tiny percentage of Ultamate Rewards members, the company partnered with Extole to establish its referral program in 2015.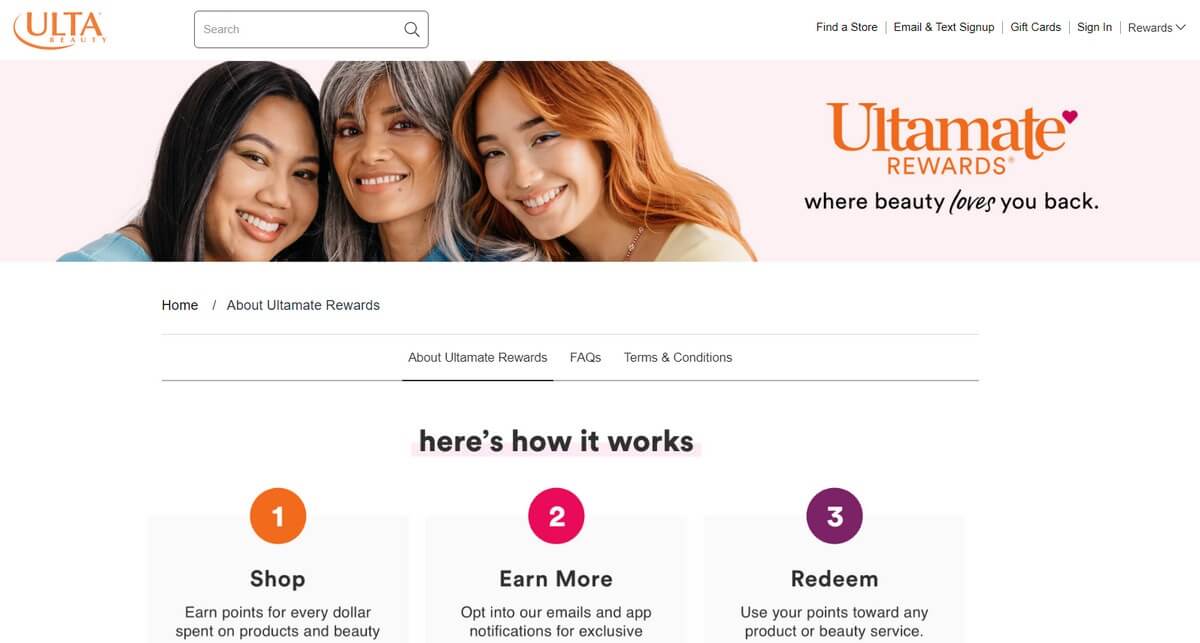 Nearly 32 million people have joined Ulta's rewards program by 2020. Roughly 95% of Ulta's revenues, including those made through its mobile app and website, come from these members. Additionally, the platinum and diamond members (tiers 2 and 3, respectively) each spend $1,700 a year on average.
The Ulta rewards program's utmost clarity about each phase and feature of its program is one of its best things. This clarity sets Ulta apart from other beauty companies and aids in the branding of its reward program.
The Ulta rewards program is free to join, like the majority of loyalty programs here. Additionally, each dollar spent by customers on Ulta's website, mobile app, or in-store results in one point. For customers who spend more, Ulta's Platinum and Diamond tiers have extra benefits.
The more you spend at Ulta Beauty, the more benefits you receive. Along with additional benefits, you receive a voucher on your birthday or a free gift and double the points throughout the month of your birthday whether you are on the Free or basic tier.
Dick's Scorecard Rewards
Dick's Sporting Goods offers its devoted customers that use their Scorecard which they refer to as ScoreRewards. Their program is a great example of a hybrid loyalty program because it combines aspects of a tiered system, traditional points, and even a credit card (cash back rewards).

Customers can register for ScoreCard at no cost. For each $1 they spend in a store or online, they receive one reward point. Other benefits include speedier online checkout, free delivery on items over $49, access to exclusive offers, and points earned for connecting your activity tracker and maintaining an active lifestyle.
If a customer spends $500 or more annually at Dick's Sporting Goods, a tiered system is put into place. Customers who reach that level (known as the Gold Level) get everything from the ScoreCard level plus the choice of choosing a day to collect 3X points, an annual $10 award, Access to Gold exclusive deals, and a dedicated customer service line.
Customers can also apply for the top-tier credit card, the ScoreRewards credit card, which has no application fees. In return, customers receive everything from the preceding tiers, 2 reward points for every $1 spent, as well as exclusive financing and cardholder offers.
Pizza Hut Rewards
Pizza Hut's loyalty program is designed to develop emotional appeal and a person's appetite instead of only focusing on savings. Each time a customer dines in the restaurant or buys takeout, they earn points that they may use to choose from a long range of delectable rewards.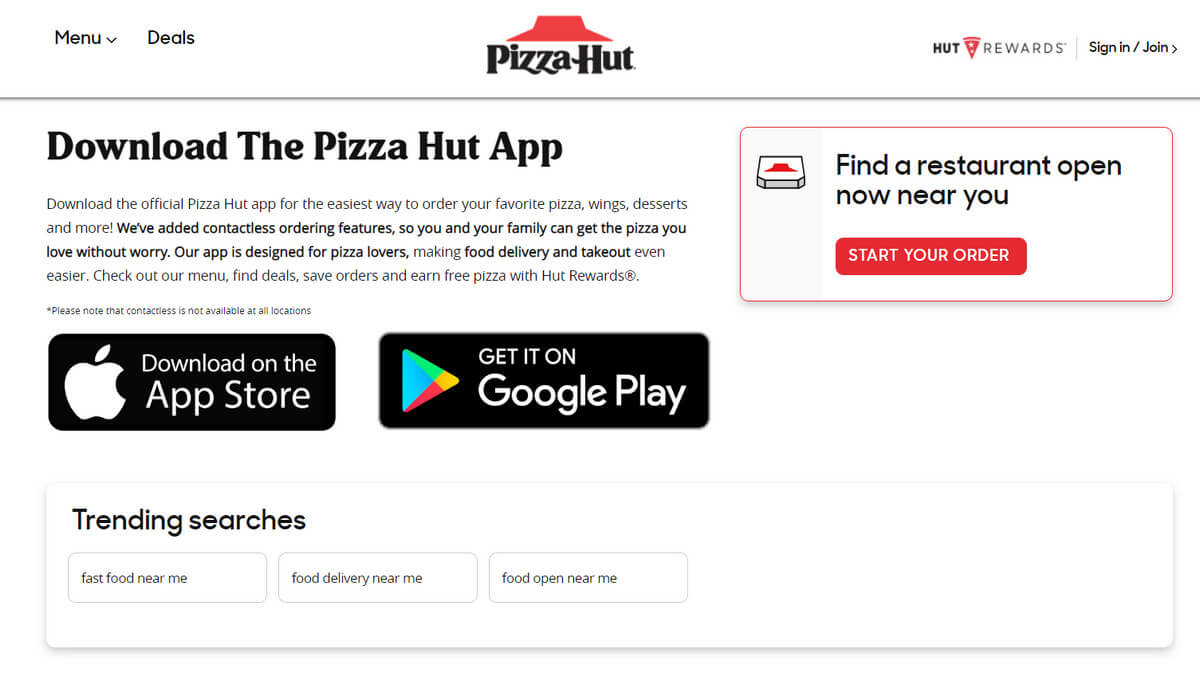 It also successfully fosters close relationships with its customers by involving them in the loyalty program through the use of a variety of potent features on its mobile app.
Pizza Hut's mobile app solution is interactive, effective, and differentiates from other programs. The company chose a platform solution for its mobile app and thus created an app with an exceptional mobile experience and rich visual design, based on the analysis of the behavior of 9 million end-users.  
The mobile app solution from Pizza Hut is created with an amazing mobile experience and rich visual design based on the analysis of the behavior of 9 million end users. As a result, this program is engaging and efficient which sets it apart from competing programs. 
Every third customer utilized the Pizza Hut reward program app in just two months. Two years after the solution's launch, penetration is still higher than 30%. In the end, Pizza Hut was able to achieve strong loyalty program penetration at a very low cost.
Moreover, the business' crucial route for attracting new customers is now through the app. Pizza Hut rewards its regular customers with loyalty points in exchange for social media recommendations.
By skillfully utilizing word-of-mouth marketing strategies, the company successfully attracts new customers. According to statistics, 10% of its users recommend posts, and each recommendation generates four installs and two new visitors.
Autozone Rewards
Customers can apply for the AutoZone Rewards program at AutoZone outlets or online through the business' website. They receive their digital membership card and a welcome email after signing up, which they can use to make any purchase.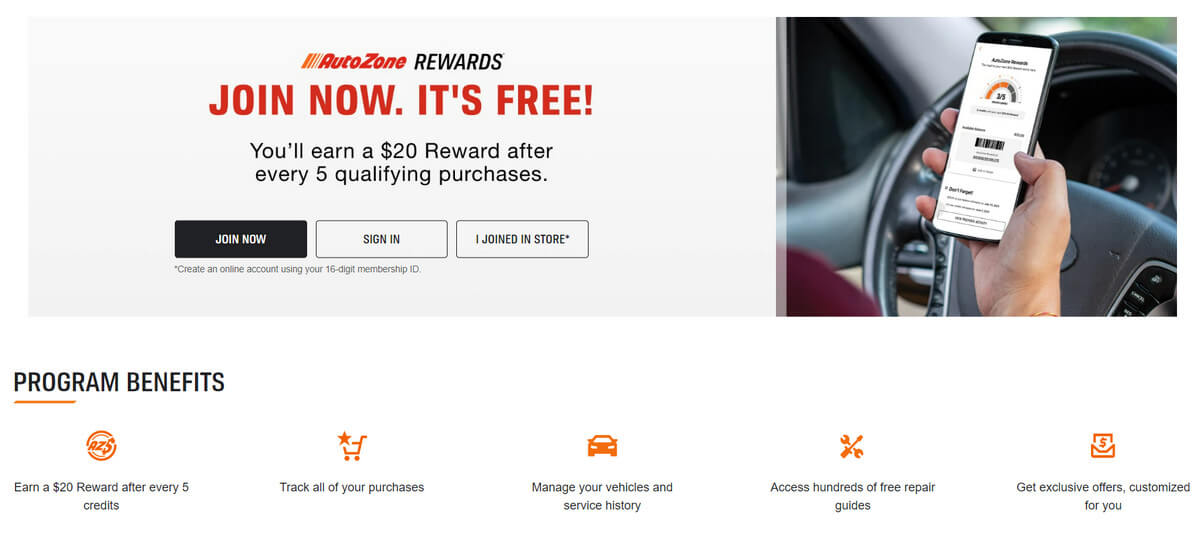 It is a no-cost, transaction-based loyalty program that allows customers to receive extra rewards for their purchases of necessities. Additionally, members have access to exclusive promotions, extra savings, and rapid checkout. 
Customers receive a credit every time they spend $20 or more on an eligible in-store or online transaction, which is the main perk of AutoZone Rewards. All customers need to complete an in-store purchase is their AutoZone Rewards ID, phone number, or digital card.
In addition to the $20 reward, members of AutoZone's loyalty program will gain access to practical features that maximize their experience, such as:
Free access to thousands of maintenance manuals

The ability to store their vehicles or track their service history

Exclusive discounts and customized offerings

Redeeming incentives at AutoZone retail locations when using the member card during a transaction
Furthermore, the AutoZone app streamlines the ordering of appropriate parts and accessories for automobiles. Same-day shop pick-up or home delivery options are available to customers who need the components quickly. They can find out store information and check their AutoZone Rewards balance. It is also simple to connect rewards and coupon codes to purchases made through the app.
Wrapping up 
A Shopify loyalty program can be a fantastic way to make your sales skyrocket and retain your customers easier. With our blog, we hope you will know where to start and how to create a loyalty program on Shopify. And you can expect OneCommerce to deliver more content like this to help your online business.
Besides, bear in mind that you can always find help from a customer loyalty app when you are struggling with all the tasks. This third-party solution has tons of benefits that will let you build and run your Shopify loyalty program effortlessly.