With the rise of eCommerce, customers are increasingly opting to shop online instead of going to brick-and-mortar stores. While this is convenient, it also comes with some risks for (new) merchants – for example, after customers purchase from you, they want to leave a good review to help encourage future customers. However, if your store doesn't have a review feature, customers may be hesitant to purchase from you again in the future.
This is where the Shopify review page comes in handy! 
By reading reviews from past customers, potential buyers can get a better idea of what to expect from the product. Review pages also provide an opportunity for businesses to address any negative feedback and show that they're committed to providing a positive customer experience.
As a store owner, you might be wondering how to create a professional-looking Shopify review page. Well, we have good news for you – it's actually quite simple to get your Shopify review page up and running in just a few clicks! To save you even more time, we've put together a quick guide below so that you can get started right away.
No more waiting. Let's get into it!
What is a Shopify review page?
A Shopify review page is a page where customers can leave reviews and feedback about their experience with a store or product. This can help you get valuable insights into what your customers think of your business and how you can improve your offerings.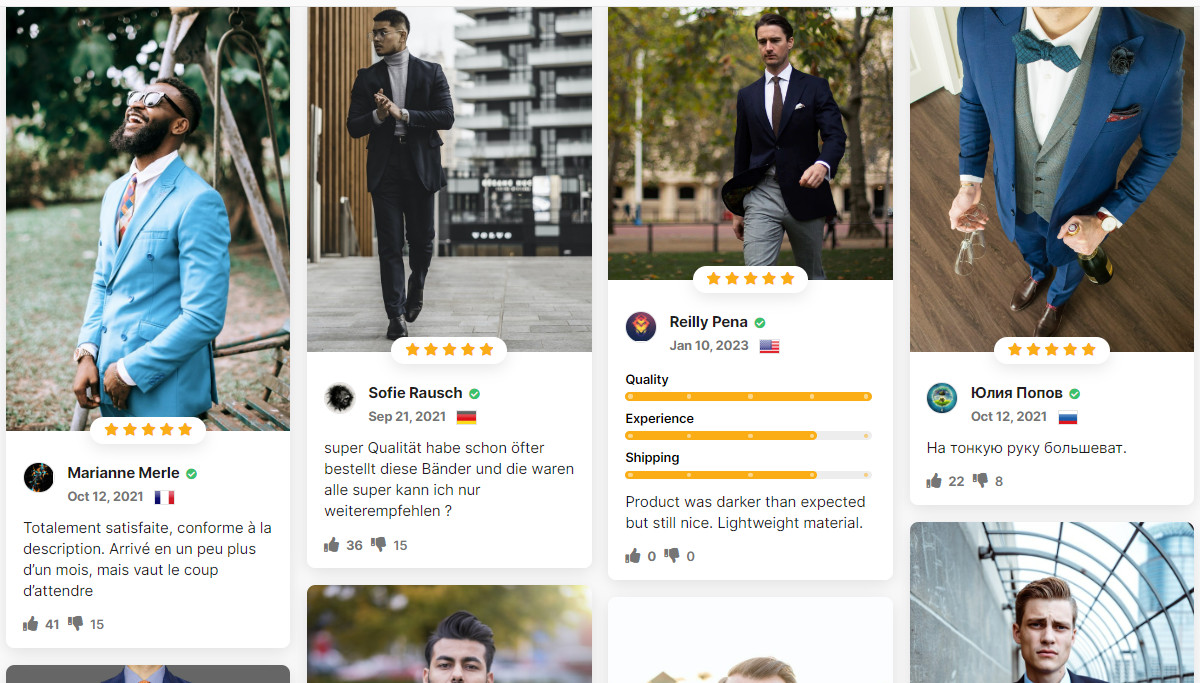 Additionally, potential customers who visit your Shopify review page can get a sense of the quality of your products and services and whether or not they would be satisfied with a purchase. 
Overall, these review pages can be a valuable resource for both buyers and sellers in building trust, generating conversions, and increasing sales.
The difference between the Shopify review page and the product reviews page
There is something you should know more about Shopify reviews. We understand that there might be some confusion regarding the "Shopify review page" and the "Shopify product review page." Therefore, we want to take a moment to explain the differences between the two.
The

Shopify review page

is a review page that

contains reviews from all your products

and puts them in one place.

In contrast, the

Shopify product review page

usually only collects reviews for that

specific product

.
The great thing is that these review pages can also rank on Google when people are searching for your store name + reviews. 
For example, if you search for "store name + reviews," you'll see their page ranking as number one. This is a great way to get more exposure for your business and attract more customers.
To give you a better understanding of how useful a Shopify review page can be, we have compiled 5 examples of these review pages. Let's take a look together!
5 examples of popular Shopify review pages 
To propel your eCommerce business to new heights, it's essential to collect customer reviews. And once you have enough reviews, it's time to start displaying them in your store in an impactful way.
Here are 5 examples of well-done review pages to give you some inspiration.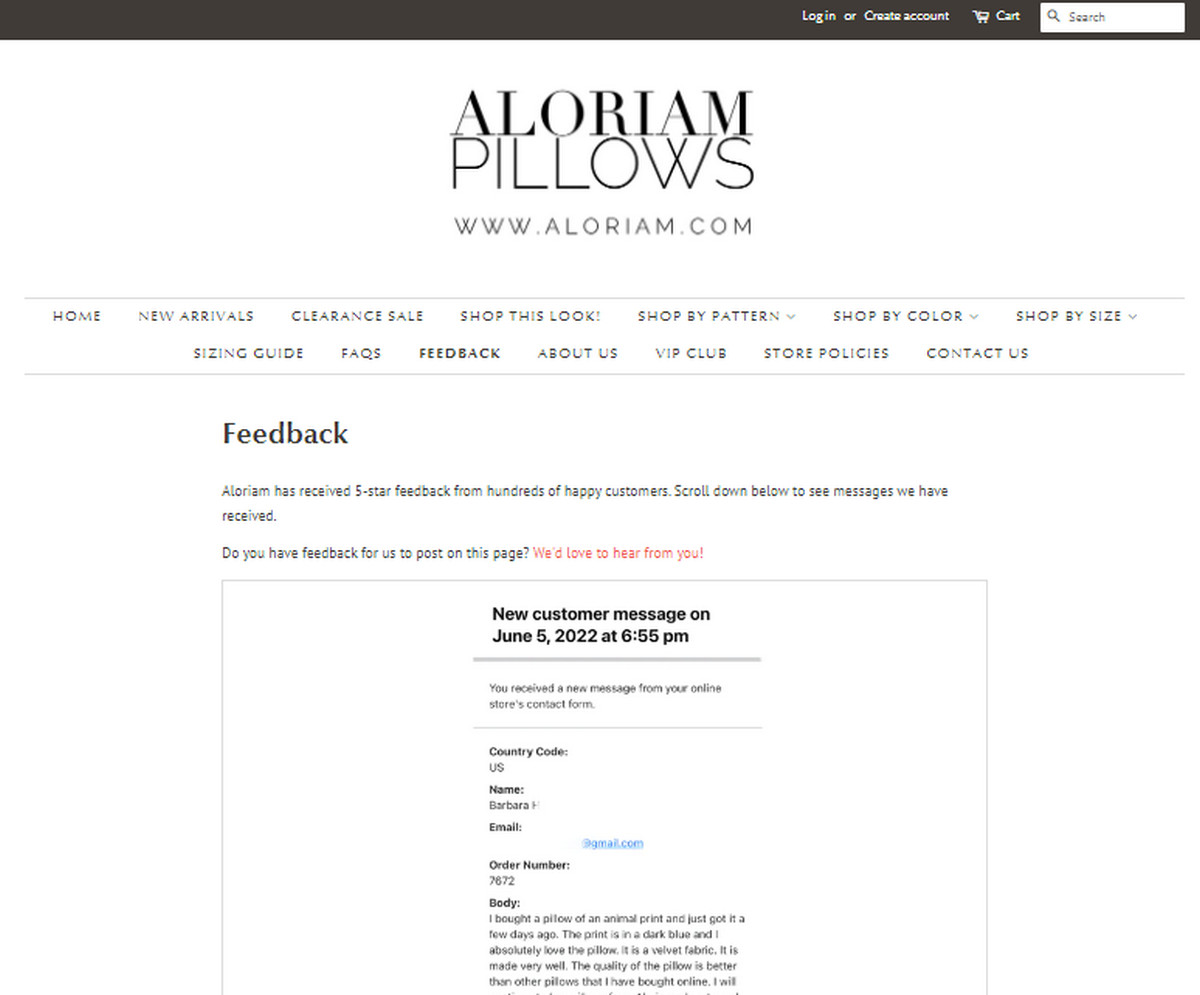 Aloriam Pillows is the first Shopify store on this list, and they have a unique approach to its feedback page. It looks more like you're reading an email than traditional feedback, and that's why I've included them here. They definitely stand out from the other Shopify review page!
Sizing can be difficult to select when shopping for clothing online, which is why it's important for stores to have a Shopify review page that is very detailed about sizing. This way, customers can know exactly what they are getting before making a purchase.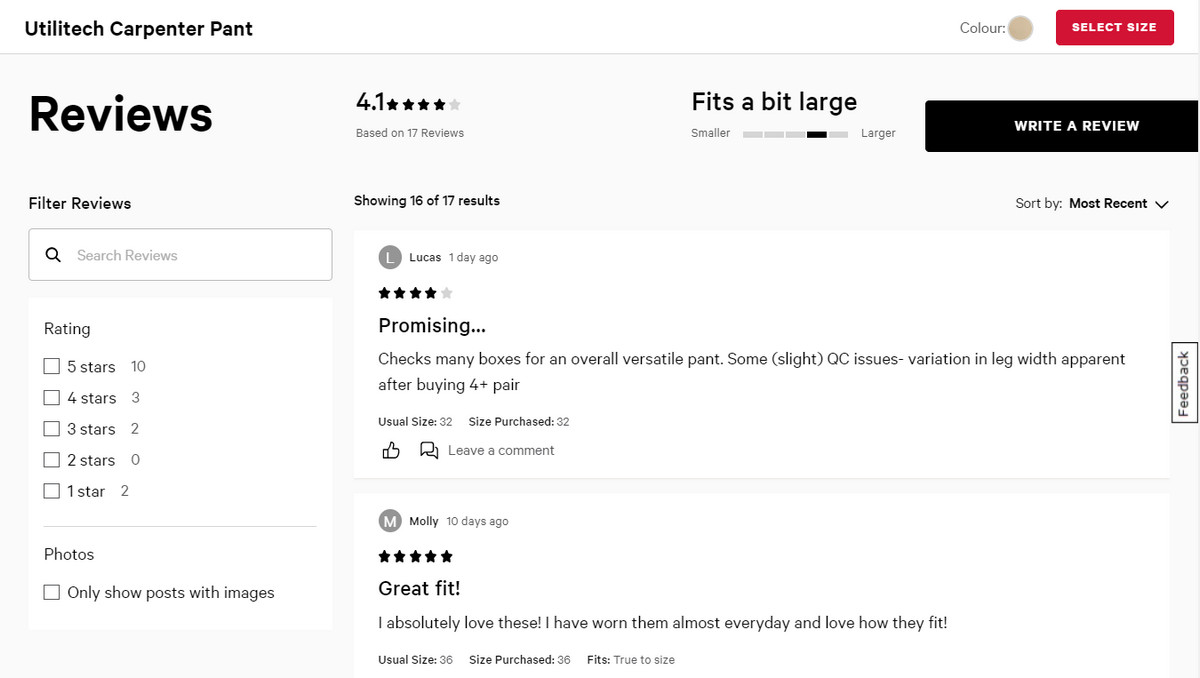 Customers may not buy clothing online because they fear it won't fit correctly. With all the detailed information available, Lululemon is trying to make customers feel comfortable shopping online.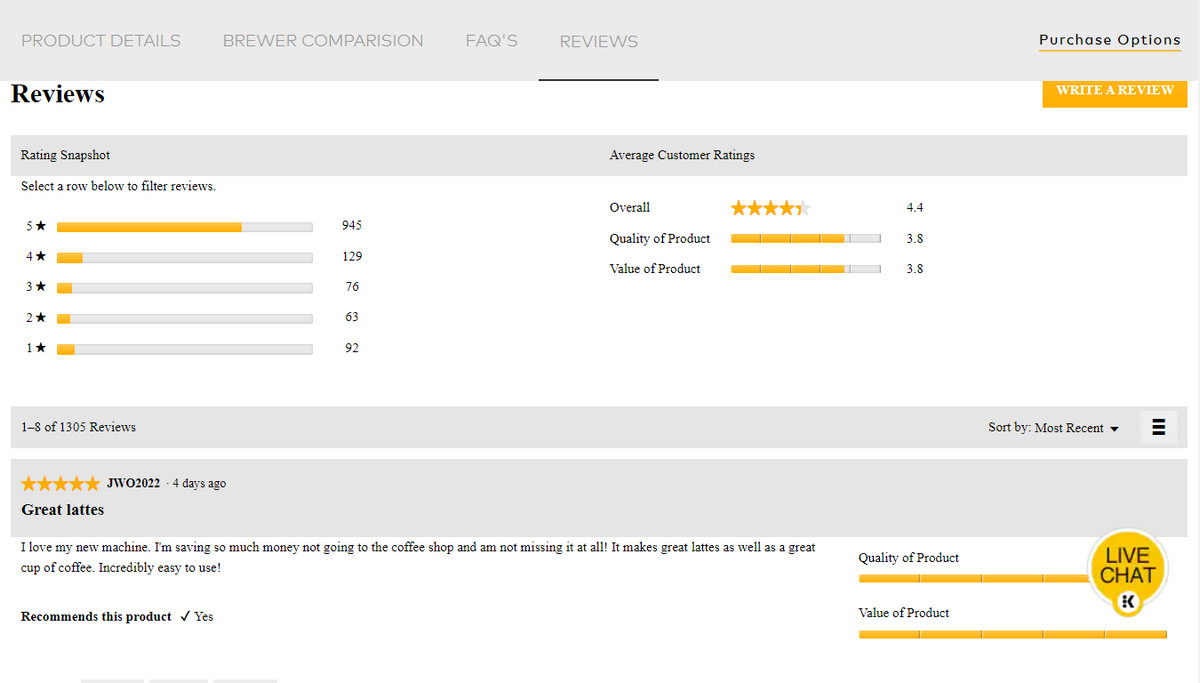 What makes this Keurig product review page so effective is that it has been customized to match the brand perfectly. 
In addition, the review page goes into great detail about all the different factors customers may consider before making a purchase. By doing this, potential customers can get a better idea of whether or not the Keurig product is right for them.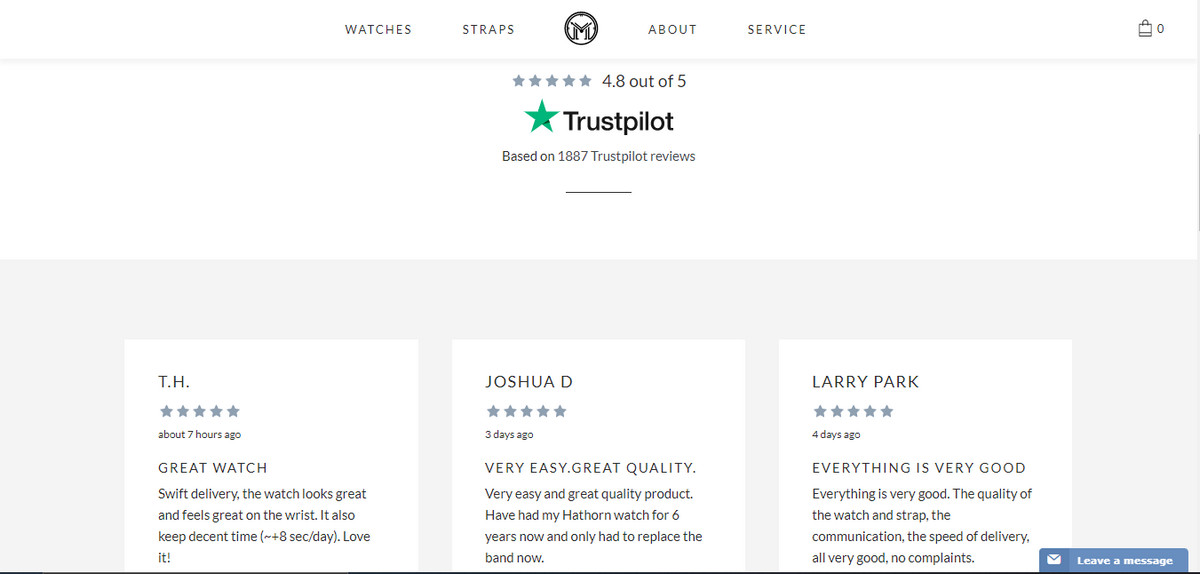 Next up on our list is the Melbourne Watch Company. This store does things a bit differently than others. They have customer reviews integrated with Trustpilot, so you can see what people are saying on many resources before making a purchase.
Every review that Notebook Therapy shows has a photo and a 4/5-star rating, and they can tell that their customers come from all over the world just by looking at reviews. The layout is clean, attractive, and eye-catching – everything you want in a Shopify review site!
When customers look at product reviews, it's helpful to include product images so they can easily see what the reviews are talking about. Additionally, this helps build trust in the product and makes it easier for customers to make a decision. So, if you're looking for a great Shopify review page template, this is a great option to consider.
After going through 5 review page examples, which one do you find most impressive? 
Keep that in mind because we'll create that page together in the next section!
How to easily create a Shopify review page in only 3 mins
Now it's time for you to learn how to create a review page on Shopify. This is the main part of showing off your store and what others think of your products. Just follow the steps below, and you'll have one up and running in no time!! 
1. First, choose and install a Shopify review app best suit your need
Deciding which review app to use for your Shopify store will be the first and most crucial step in this process.
The right review app can help you save time and money, and it can also provide you with valuable feedback. Hence, it is essential to read reviews of different review apps before choosing one, as this will help you make an informed decision. Once you have selected a review app, be sure to read the instructions carefully so that you can get the most out of it.
Besides, keep in mind that the review app you choose will be the key factor in helping you increase sales and conversions. That's why you should take your time and choose the one that will work best for your store. 
And if you have a review app that you can use to create a review page, please scroll down to the second step. If not, we have the 3 best options for you below!
All the options listed below have free versions or trials available, but if you're looking for something specific that you don't see on this list, make sure to check out this article for more options.
Moreover, we recommend visiting their websites to explore all their features, as it would take too long to cover everything here.
If you're looking for a great review app for your Shopify dropshipping store, Ali Reviews is definitely the one with a high rating of 4.9 stars to consider. Not only does it have some great features, but it also comes with some beautiful review widgets that you can use to show off your reviews in many templates (Grid, List, and Carousel slider).
With just 1 click, Ali Reviews can help you easily import 100+ photo reviews from Aliexpress, DSers, or even CSV files. Plus, you can quickly transfer reviews from other apps without any adjustments.
Installing Ali Reviews is free, and it also allows you to capture 10 reviews per product. And if you're looking for more features, the paid plans start at $9.90/month for stores with up to 200 orders per month. These paid plans come with AliExpress import functionalities and some customization options to choose from.
Fera is a newer app when compared to some others on the market, but that doesn't mean it's any less effective. This app allows you to set up review widgets anywhere on your website, display Real Shopper verification badges, and respond to customer reviews in one place.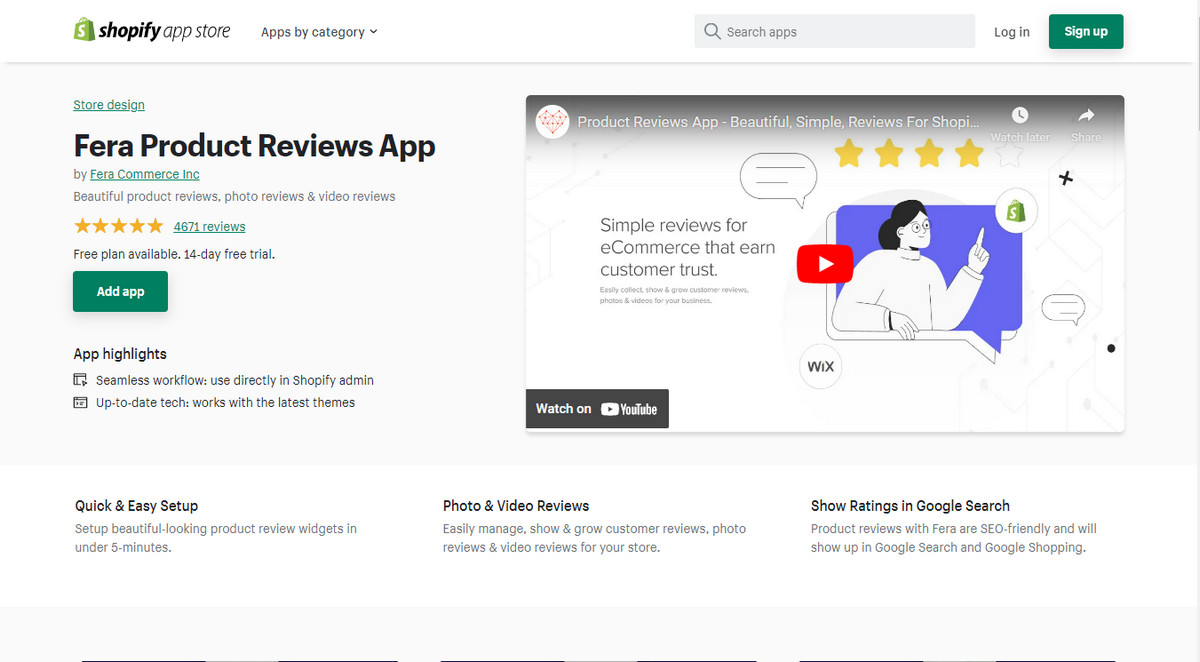 Moreover, Fera comes with a free plan for small businesses (up to 10 review requests per month) and allows you to display a single widget on your website. This makes Fera great for single-product stores.
If your business is bigger, you will need to upgrade to a paid plan. Prices for the paid plans start at $9/month and go up to $99/month.
Are you looking for a review app that uses AI to help you understand your business better? 
Then, Stamped is a great option!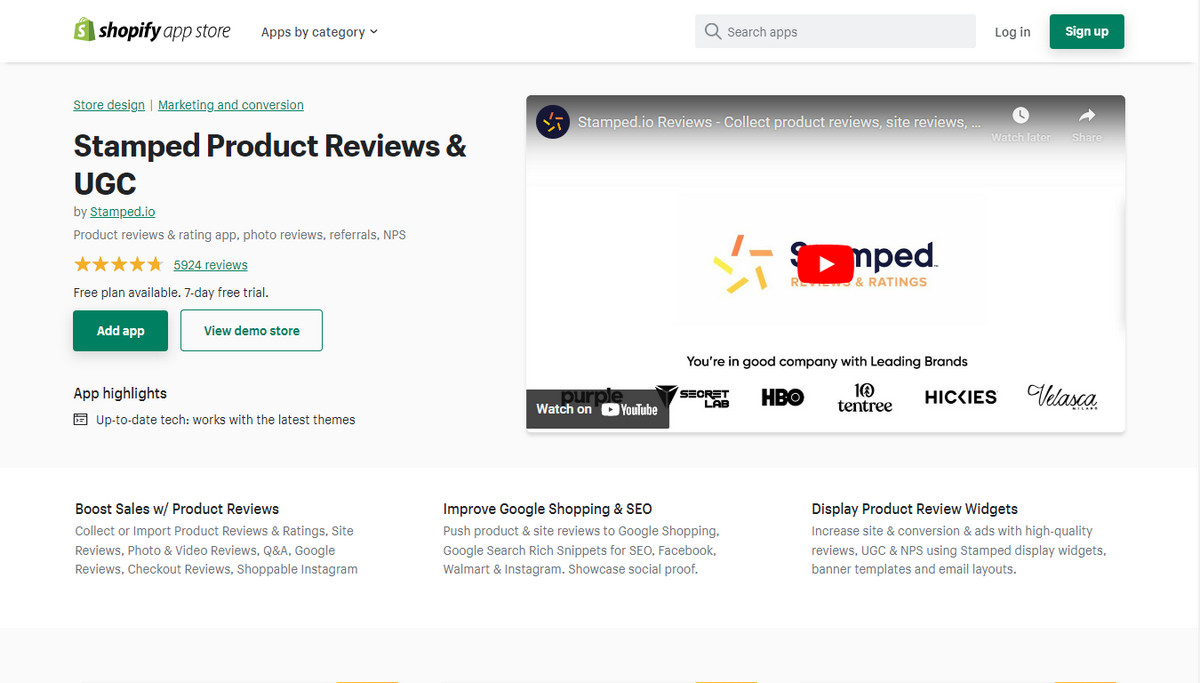 It's perfect for small stores with up to 50 orders per month, as it allows you to send review request emails, display unlimited widgets, and even mark your reviews with Schema for SEO purposes. The cheapest paid plan starts at $23/month or $19/month if you decide to pay for an entire year.
2. Let's create your reviews page
Now that you have a clear idea of what app might suit your store best, it's time to look at how you can create a Shopify review page. At this step, we will be using Ali Reviews as our example.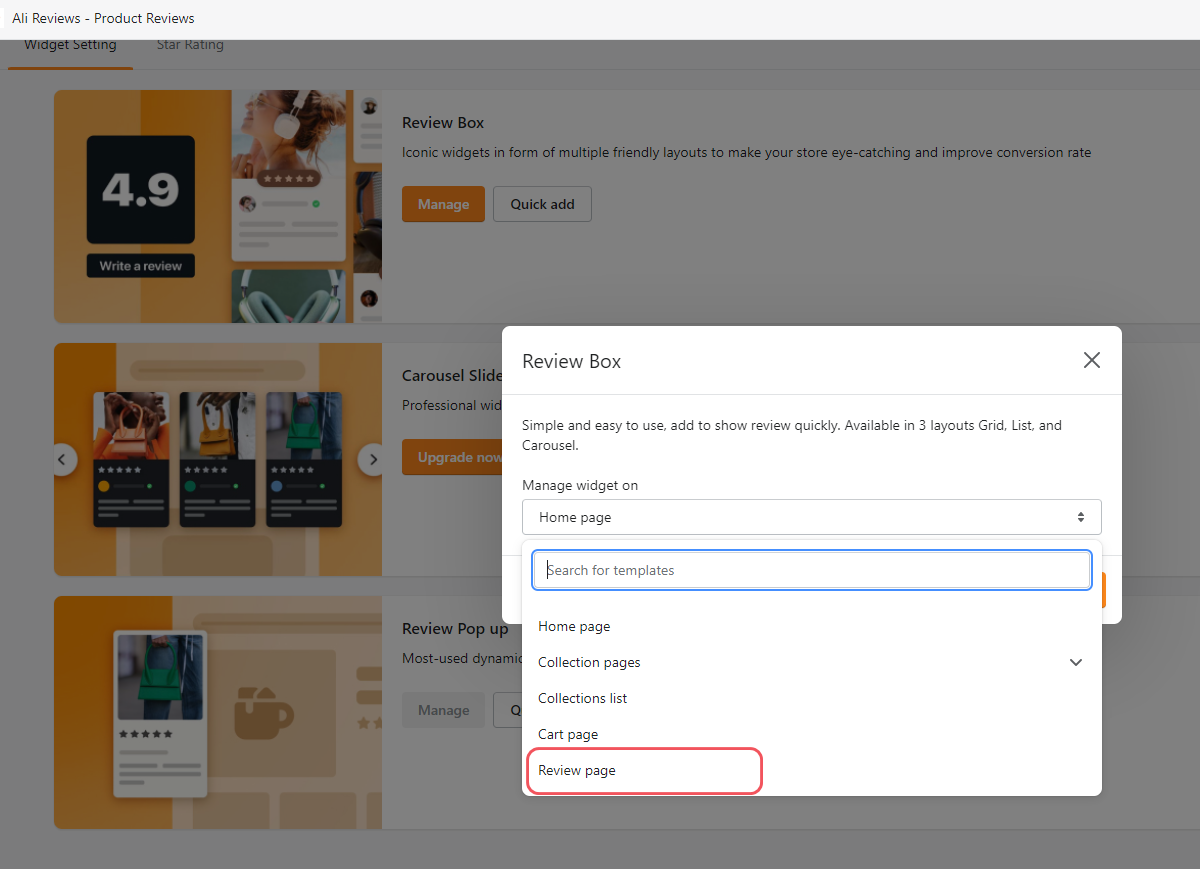 Once you've accessed Ali Reviews, navigate to the Show Reviews section > Quick Add on Review box > Choose Manage widget on the Review page and click Add widget.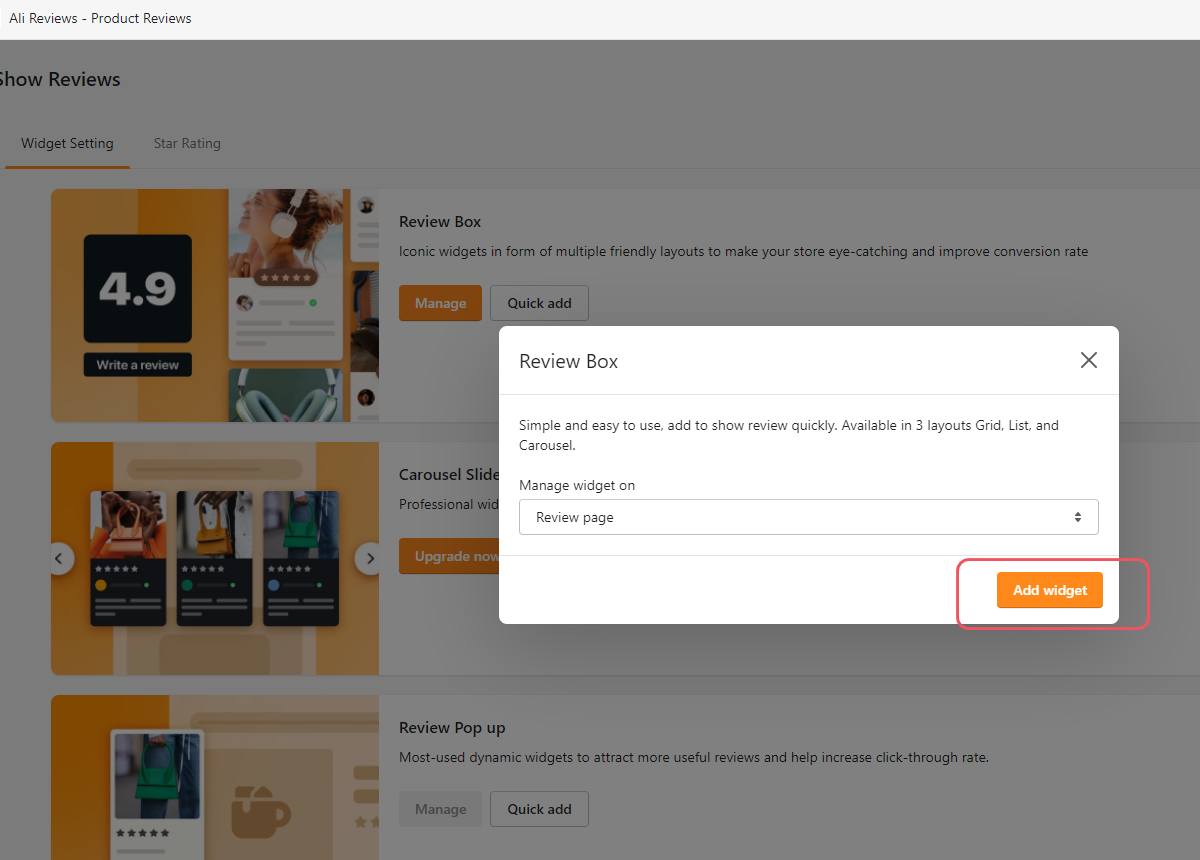 After you've created a review page, you can choose from Ali Reviews' pre-made review widgets and customize it to look eye-catching and reflect your brand's identity. Your outcome will be visually appealing and stunning.
3. Finally, add a reviews page to your Shopify store.
Go to Shopify admin > Online store > Pages > Review page. Then, select the appropriate template: alireviews-widget.
You can change the title of the review page there, then click the eye button to View page. You can go on and save it if you're satisfied with the result.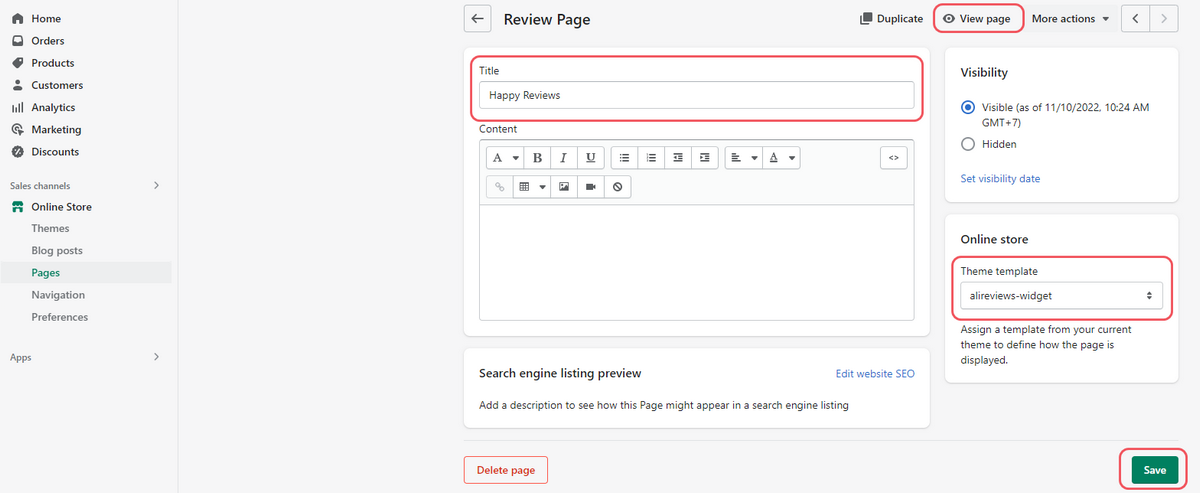 That's all there is to it! So why not get started today and give your customers a place to leave their feedback?
Conclusion
The Shopify review page on your store is one of the most important tools because it allows potential customers to get an idea of what others think about your products and business. 
Having good reviews will help increase users' trust and boost conversions. So, it's important to make sure you spend enough time understanding how the review app you choose works. And once you get the hang of things, generating reviews and increasing sales will feel like a breeze.
If you have any other questions or comments about Shopify review pages, please contact one of our team members at Onecommerce. 
Thank you for reading. We hope you found this article useful!