Beginning an online business can be overwhelming. There is a lot to consider. Nonetheless, let's ignore that moment and seek some motivation!
We have compiled a selection of sixty successful online Shopify stores for you to draw inspiration from. Each is a profitable e-commerce venture that has found its path to victory. Let's dig right in!
You might also be interested in:
Top 32 Shopify Stores that can Inspire any Newbies
Look at the following Shopify stores and see how companies use their tools to showcase their identity and values while planning ahead for the future.
Accessories Shopify stores
Burga
BURGA is definitely among the top Shopify stores. It offers fashionable phone covers, leather items, and beverage vessels. An impressive aspect of their web shop is the custom-made User Experience (UX).
If you access the website from your mobile device, it will detect the type of phone and only showcases that fit perfectly with it.
Tattly
Tina Roth Eisenberg established Tattly to make high-quality temporary tattoos accessible to a broader audience. As a result, they now have an amazing Shopify shop showcasing the work of several of the top tattoo artists in America.
?If you haven't had a Shopify store, you can sign up for a FREE TRIAL and enjoy 3 months of Shopify for 1 $/month on select plans.
Eisenberg needed help in persuading customers to purchase her temporary tattoos, but within the first year of launching her store, she received 10,000 orders online. Now Tattly has become a thriving community among other Shopify stores that backs up independent artists.
WP Standard
WP Standard is one of the Shopify stores offering fashionable bags, wallets, belts, and other accessories with aesthetically pleasing designs. The website has a clean, contemporary look, and the colors used complement the items for sale.
It's simple to explore the Shopify website and place items in your shopping cart. Then, with just a few clicks, you can reach the checkout page, which makes WP Standard stand out from other sites regarding navigation.
Pura Vida Bracelets
Griffin and Paul, two buddies, began Pura Vida in 2010 when they imported handmade wristbands from Costa Rica to California. This jewelry store on Shopify has proven to be a great success. The two decided to open a business after selling 400 items within a few days.
Pura Vida is an extremely successful business, with millions of handmade products sold annually. Data from Shopify reveals that their revenue has been growing 50% annually. An excellent example of how Shopify stores can boost customer loyalty is the Bracelets Monthly Club which Pura Vida offers.
Fashion Shopify stores
UgMonk
Jeff Sheldon begins the 'About' page on his UgMonk website by inquiring why it was so hard to find stylish, top-notch, original items with a modern look.
UgMonk is uncluttered and modern, showing off his clothing, office supplies, bags, and prints with the same contemporary look he had intended when creating his one-of-a-kind items.
Taylor Stitch
Taylor Stitch's website is extremely appealing thanks to the creativity presented when you move your cursor over a product; for example, when hovering over a jacket, an image of someone wearing it while riding a motorcycle appears.
Its website is particularly noteworthy for the way it prioritizes its message over its products, as evidenced by the phrase 'Three Simple Ingredients' being prominently featured on most of the pictures on the homepage.
Taylor Stitch is committed to decreasing waste and protecting the environment, which it does by crafting garments out of recycled or all-natural materials.
It's clear from their website that they are committed to being environmentally friendly, and this is likely an attractive point for potential customers.
Fashion Nova
Fashion Nova – an outstanding candidate in our top Shopify stores list is often referred to as an "Instagram brand". From the outset, this Shopify store has concentrated on connecting with prospective clients through its Instagram account (which boasts over 21 million followers).
A quick glance at Fashion Nova's homepage will show how well they have tapped into social media. It includes an Instagram feed, items featured by influencers that customers can purchase, and plenty of content that can be shared.
All of this is highly important as the company depends heavily on sales from social media platforms.
Naja
Naja was founded by designer Catalina Girald and Gina Rodriguez, who won the Golden Globe award.
The business hires single mothers and female primary breadwinners to bolster female strength through work. Additionally, Naja donates two percent of its income to finance sewing courses at local charitable organizations.
Rothy's
Rothy's uses 3D knitting technology to craft fashionable shoes and accessories from sustainable materials. It is one of the top Shopify shops, and works hard to eliminate waste.
Rothy's has converted more than 60 million plastic water bottles into shoes and bags, and their shoeboxes are so sturdy that they don't need any extra packaging for shipping. Additionally, these boxes are biodegradable, as they're made from 85% post-consumer recycled materials.
Ketnipz
Harry Hambley, a cartoonist, began to post his creation Bean on Instagram at the age of a teenager with the username @Ketnipz.
Ketnipz's upbeat attitude, jokes, and wit have attracted a great deal of attention, leading to Harry collaborating with art festivals and Instagram and making his own products.
This Shopify store has a range of items such as sweaters, t-shirts, and accessories featuring Bean's cheerful and adorable image.
Goodfair
Topper Luciani created Goodfair to give clothes that would typically go to the garbage a new opportunity. Unlike most vintage or pre-owned clothing stores, Goodfair doesn't list its items one by one.
Customers purchase bundles of unknown items instead, which is more efficient for the business and allows them to pass on the savings to the buyers. This initiative, which has a low-carbon impact, is revamping how people purchase second hand clothing to battle the "fast fashion" phenomenon.
Art and home decor Shopify stores
Uppercase Magazine
Uppercase Magazine has presented readers with stimulating content about craftsmanship, fashion, illustration and design for the past ten years in an attractive publication. Janine Vangool, editor and founder of Uppercase, uses her platform to showcase other creatives.
Since she started her Shopify store in 2009, she has broadened the magazine to include Little U, a miniature periodical for both young and old, as well as The Uppercase Encyclopedia of Inspiration, a collection of books that provide in-depth analysis on topics like pottery, recipes, patchwork and printing.
Artisaire
Artisaire is the perfect example of a company that has focused on perfecting an art form, in this case, wax sealing. Artisaire has given a classic technique a modern twist, from custom-made wax stamps to ready-made wax seals.
Artisaire, one of the top Shopify stores in Canada, is managed by the Thomsen family, and everything they sell is made in their factory. Despite having a large business to oversee, they still take pleasure in writing thank-you notes and sealing them manually.
Terre Bleu
The Bairds, Ian and Isabelle, moved from the city to rural Milton, Ontario to establish a lavender farm known as Terre Bleu.
Terre Bleu offers a taste of Provence to those who visit Canada, inviting them to experience its soothing ambiance. The Bairds' Shopify store is well-known for providing lavender-scented items such as beauty products, edibles, and home goods.
Silk and Willow
Shellie Pomery, the creator of Silk and Willow, a sustainable wedding décor boutique tailored to the eco-friendly consumer, started as a graphic designer before discovering her passion for creating fabrics using natural pigments.
Silk and Willow is a store that offers customers dyed silk ribbons, table linens, and handmade stationery for weddings. It's an ideal spot to discover the stunning elements involved in organizing a marriage.
Rainbow Vision
Leela Hoehn, an artist, and creative director, established Rainbow Vision to pursue her ongoing artistic exploration.
She draws motivation from individuals who demonstrate their identity fearlessly and puts that same energy into her illustrated cards, diaries, notepads, logs, and other trinkets.
The company works together with One Tree Planted and has implemented various changes to become a more eco-friendly and sustainable business.
Beauty and health Shopify stores
Blume
In one year, Blume became a million-dollar enterprise. Taran and Bunny Ghatrora, the brand's co-creators, saw a great chance to take on substantial self-care businesses that had an obsolete image.
The two devised an excellent plan for reaching out to Generation Z and Millennial customers. Rather than conventional promotion, Blume concentrated on enlightening them about matters that are usually considered taboo (sexual education, skin care, and adolescence).
Skinny Teatox
We felt a strong urge to buy the Teatox item when we visited this website (although it must be said that they had a one-day flash sale which we did not want to pass up).
The Skinny Teatox website directly addresses any questions one may have ('Is it natural? Yes. Will it work? Yes.') and creates a cheerful environment with the use of light colors and sweet drawings of swimming costumes and cups.
?If you haven't had a Shopify store, you can sign up for a FREE TRIAL and enjoy 3 months of Shopify for 1 $/month on select plans.
On the homepage of Skinny Teatox, like some other Shopify sites we have seen, their products are featured with a straightforward 'buy now' button.
Given that the company is not too complicated to understand (as it's clearly stated in search engines what they offer: "All Natural Detox Weight Loss Tea"), we believe it is sensible to give viewers the information they are looking for right away.
Tofino Soap Company
Angela L'Heureux was motivated by the picturesque nature of Tofino, which includes trees covered in moss, abundant vegetation, and crashing waves. She gave her family recipes a modern twist to create candles, soaps, and body care items under the brand name Tofino Soap Company.
Tofino pledges to use solely natural components, some of which originate from Angela's garden, others that are gathered from their natural environment or, whenever feasible, sourced from fair trade vendors.
Tofino packages its products in limited quantities, focusing on environmental responsibility—80% of its packaging is composed of glass and non composable paper.
Package Free
Lauren Singer, the founder and CEO of Package Free, is striving to reduce the amount of trash in the world by providing beauty and home products without any packaging.
Lauren has adopted a zero-waste lifestyle and works to promote more environmentally conscious consumption habits.
In her 2015 Tedx Talk, which gained an immense amount of attention, she talked about living a no-waste lifestyle and displayed a 16-ounce Mason jar filled with the trash she had accumulated over three years.
The Honey Pot
Bea Dixon, the founder of The Honey Pot, created the company to assist women in finding a natural solution for feminine issues when she went through an extended period of discomfort due to bacterial vaginosis. The products are powered by herbs, manufactured by female-led teams, and supported by scientific research.
The Honey Pot provides natural solutions to ease discomfort and deal with menstruation through its store on Shopify, which features products tailored to the needs of pregnant or new moms, busy people, and those looking for relaxation, healing, or revitalization.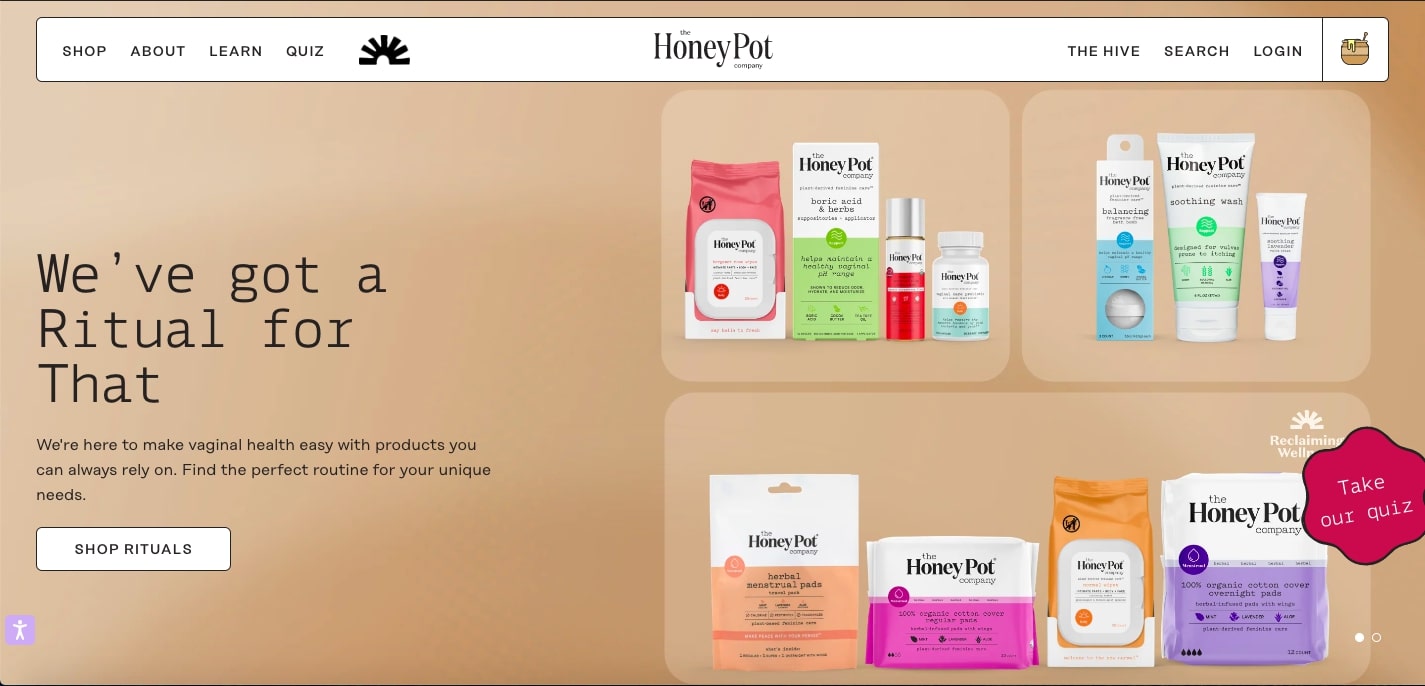 Cheekbone Beauty
Jennifer Harper, an Indigenous entrepreneur, established Cheekbone Beauty, a well-known business on Shopify that manufactures vegan and animal-friendly cosmetics.
In line with the brand's objective of achieving zero-waste status by 2023, their lipsticks come in biodegradable paper containers, which require 85% less plastic than conventional lipstick tubes.
Cheekbone Beauty contributes portions of their earnings to the First Nations Child and Family Caring Society (FNCFCS) and Shannens Dream, both of which they have shown support for.
ColourPop
ColourPop may not boast a sophisticated design, but it serves as an exemplary illustration of how social media can be used to fuel business expansion. It first splashed on Instagram in 2017 with its vivid hues and instantly became popular among everyday consumers, vloggers, and influencers.
Many influencers, such as Jaclyn Hill, with 7.2 million followers and NikkieTutorials, with 15.6 million followers, discussed ColourPop on their channels. This has enabled the brand to be known for being "wallet-friendly" and "super-Instagrammable", which has ended up being their major point of differentiation compared to other companies.
Soko Glam
Soko Glam was established in 2021 to make it easier for people to find Korean beauty, skincare, and makeup. It has since grown into a successful online store with numerous items imported from Korea.
Charlotte and Dave Cho, the creators of this impressive Shopify store, frequent visits to Seoul to get advice from beauty professionals and select merchandise for their store. This approach has been incredibly successful—Soko Glam has even earned recognition from Vogue, Allure, and the New York Times.
Beauty Bakerie
Beauty Bakerie has many endearing qualities, one being that their beauty products are labeled and sold in packaging resembling baked goods.
Cashmere Nicole, the founder of the company, experienced many trials as she pursued her dream of becoming an entrepreneur – from raising a child on her own to fighting breast cancer.
Her beauty routine has always been a source of pleasure. Beauty Bakerie, a highly sought-after brand, created Sugar Homes in 2016 to help orphanages by supplying them with money and resources.
Food and drink Shopify stores
Taza Chocolate
Alex Whitmore and Kathleen Fulton, who are in both a personal and professional relationship, are the creators of Taza Chocolate. Taza uses a stone-grinding process to achieve a rough and strong taste reminiscent of Mexican chocolate.
Taza Chocolate works closely with farmers to guarantee justness and ethical behavior, and they have established an external direct-trade recognition system. Their compensation, agricultural partners, and effects can all be seen in their yearly transparency accounts.
Death Wish Coffee
Mike Brown crafted a recipe for an intensely flavored organic coffee blend when creating Death Wish Coffee, with no expectation that it would be as successful as it has become.
Soon after, this distinctive label was highlighted on Good Morning America. Since then, Brown has had a successful career as his work was widely praised by coffee fans, even among those aboard the International Space Station.
To be precise, he developed a freeze-dried instant blend specifically for NASA's use in space.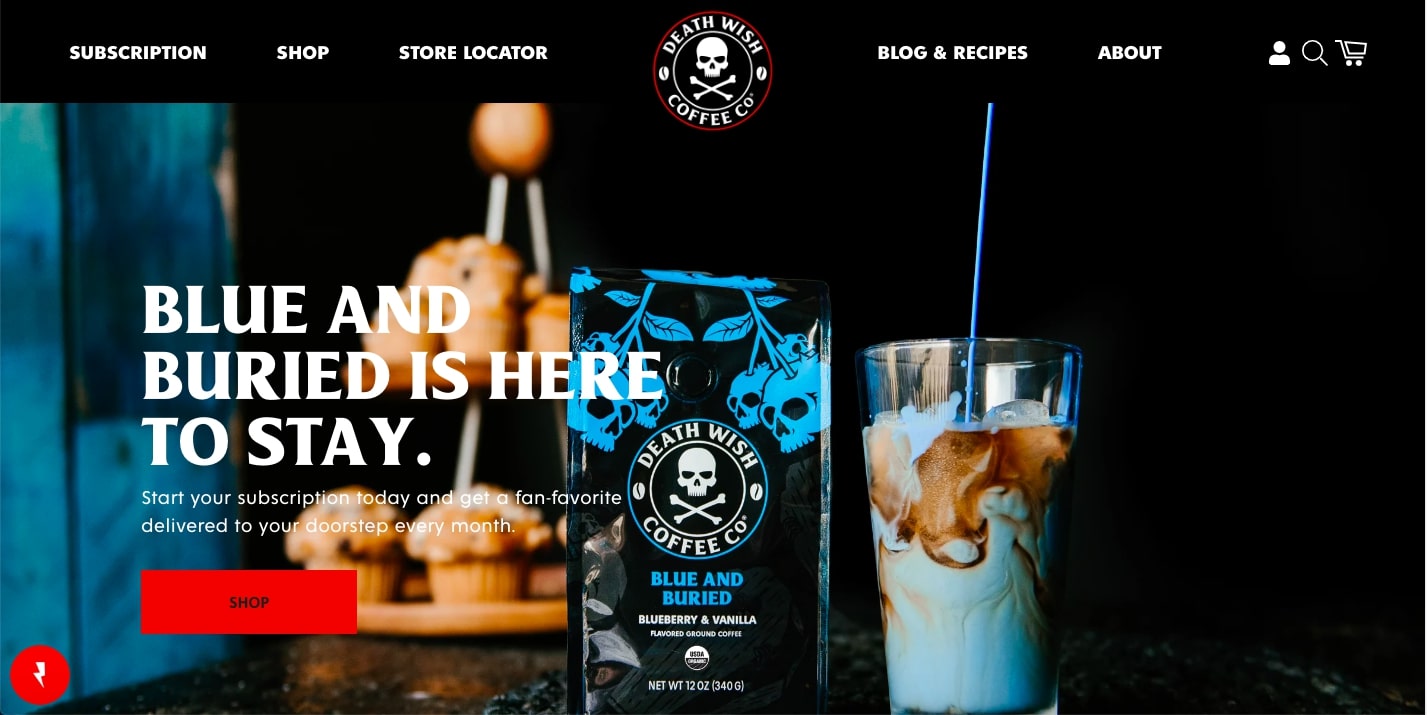 Pipcorn
When you think of popcorn, the first thought likely isn't 'is it good for me?'. Pipcorn understands this, which is why their website has the saying: "Most tender, crunchy, delicious popcorn … and it won't destroy your teeth like the 'generic' stuff."
The most effective websites are aware of their target audience's main worries (the flavor of popcorn and the kernels stuck in their teeth) and showcase the answers to those problems immediately.
Flourist
Like a delightful flower shop, Florist presents its grains, beans, and freshly milled flours attractively, akin to a vibrant floral arrangement.
Flourist promotes its products, which are all freshly stone-milled and can be traced back to their source, by creating narratives about the growers they collaborate with on its website.
For those who love to bake, one of the top Shopify sites is a real treat—it specializes in sourcing flour and grains that have been freshly milled or are part of a heritage grain selection.
Homeware and cookware Shopify stores
Made In
Made In is the inaugural D2C label in the cookware sector. They collaborate with craftspeople from the U. S. and France to create superior items with distinctive appearances.
Chimp Malt, a co-founder of Made In, states that they based their design and expertise on what professional chefs select, but only gave home cooks the essentials.
Malt states that his company boasts a wide range of customers, from inexperienced home cook to internationally renowned chefs.
The Shopify store associated with the brand gives visitors confidence that they are buying high-quality products. It displays recognitions from media sources (like CNBC and Food Network) and videos featuring collaborations with chefs in prominent locations.
Emma Bridgewater
Among Shopify stores, Emma Bridgewater resembles a visually appealing online do-it-yourself magazine. Established in 1984, this pottery company has redefined ordinary kitchenware with a mixture of contemporary and timeless designs.
Shoppers who are in search of distinctive gifts and ideas will find Emma Bridgewater to be a great place to look. The Shopify store has an array of vibrant product pictures, customized objects, and an Instagram page displaying user-generated material, which will make exploring the site enjoyable.
Baking Steel
Andris Langsin has created a pizza baking steel made entirely of steel, which decreases the time it takes to make an at-home pizza that rivals the crispiness of a restaurant's.
Baking Steel– one of the successful Shopify stores emphasizes the distinctiveness of the product, as well as taking into account customer reviews. In fact, each page for a product displays photographs of pizzas that customers have made.
It can be difficult to locate stores that utilize Shopify, and even more challenging to identify the most successful ones. We hope this compilation of prosperous Shopify stores provided you with plenty of motivation and concepts for creating your own.
Conclusion
And that's our list of the best 32 Shopify Stores have been doing such a good job. We hope this could give you some ideas or inspiration for your own online business.
If you're eager to learn more about us, you can visit our website or follow us on our social media channels!