Shopify has become a widely-used platform for many businesses to market and sell various items and services. But did you know there are other ways to make money with Shopify besides simply running an online store?
In this article, we will provide you with an overview of the Shopify Partners Program. Here is a brief of what we'll cover in this article:
Definition, main categories, and the benefits of  joining a Shopify partner program
How to create a Shopify partner account
How much can you earn from the Shopify partner program
Do you want to make the most out of your experience with Shopify? Keep reading to find out how.
Who are Shopify partners?
Before beginning the journey to becoming a Shopify Partner, it is beneficial to understand what this entails.
The Shopify Partner Program is a group of professionals, such as designers, developers, marketers, etc., who are available to assist Shopify users in opening & running their businesses.
Shopify provides a platform where professionals in different areas can sign an agreement to be featured on the website and give advice to store owners. In return, Shopify will receive a percentage of sales generated through their service.
Suppose you have professional experience in any areas that match Shopify. In that case, you can potentially open a Shopify Partner Program account to assist store owners with any difficulties they may have.
Shopify reports that a third of their merchants will require assistance from a Shopify Partner at least twice a year, presenting potential sales opportunities.
Main categories of Shopify partners
If you're looking into becoming a Shopify partner, there are four main types to consider.
1. Marketer
Shopify marketers assist Shopify users in expanding their reach and developing an effective marketing plan. If a user needs to target their demographic, improve the quality of their content, or manage campaigns more efficiently, then they can turn to a Shopify marketer for assistance.
2. Developer
Shopify developers are responsible for constructing and maintaining stores, as well as creating applications to aid customers in utilizing Shopify more effectively. As many merchants use apps, the app creation process can help you reach more potential buyers.
3. Designers
Shopify designers aid in the formation of stores' individualized appearance. This encompasses graphic designs, logos, and the store's overall look. UI/UX designers usually cooperate with developers to guarantee that the storefront corresponds with the company's image.
4. Affiliate Marketing
Affiliate marketing enables you to act as a promoter, providing content that guides people to purchase a particular product. This gives you the opportunity to endorse Shopify and related items to your audience.
?Haven't had a Shopify store of your own? Start a 3-day FREE TRIAL and enjoy 3 months with Shopify with only $1 per month!
Benefits of joining the Shopify partner program
The Shopify partners program is appealing not only because of the free access it offers but also because of the comprehensive support that can help you start generating income quickly.
We have identified the most significant advantages of the Shopify partner program.
1. Perks
Shopify Members have the right to get discounts on business advancement, product design, product testing, and project management. Numerous advantages are available to all Partners, while other advantages are only accessible to Partners entitled as Shopify experts.
You can find an up-to-date overview of the benefits available on the Resources page of your Partner Dashboard in the Partner Perks section. The full list is available at www.shopify.com/partners/all-perks.
2. Shopify Partner Academy
Shopify Partner Academy is exclusively available to Shopify Partners and provides courses to help them gain a better knowledge of the Shopify platform and become more successful partners.
3. Discounts
Shopify Partners are eligible for discounts on various business-related software and services like development, design, project management, and testing. However, not all discounts are available to everyone; some can only be obtained by those who meet the qualifications of the Shopify Experts program.
4. Exclusive resources
Shopify partners can enroll in the Partner Academy, an online education platform that provides certification. Additionally, they have access to new features and promotional materials.
5. Unlimited test stores
Shopify Partners have access to unlimited test stores, which assists them in becoming more familiar with the platform and gives them a better understanding of the products they provide to new customers.
6. Partner support
Partners have exclusive access to the Priority Partner Support team, who can be contacted anytime or night via phone, email, and instant messaging from within the Partner Dashboard.
How to create a Shopify partner account?
​​The Shopify partners program is one of the many ways in which you can generate a reliable source of income, though you will need to put forth effort for it.
You can generate your own income by utilizing your skills as a freelancer, web designer, theme developer, or even influencer on social media
And the best part? No cost is associated with signing up.
As a Shopify partner, you are allowed to open as many test stores as you want without any restrictions. After registering, you will have instant access to the necessary guidance in your Partner Dashboard.
You have the option of joining the worldwide Shopify Partners Community. This group allows its members to give advice or request help from others.
To set up a partner account on Shopify, just go through these straightforward steps:
Step 1: Visit the Shopify Partner Program's website
Just visit the Shopify Partners landing page.
If you live in a region where Shopify Meetups are planned, there will be helpful articles, tutorials, and webinars available as well as an Events page.
You can select the Docs tab and view a collection of guides related to the program that will provide you with details about the benefits of being a Shopify partner.
Once you're on the 'Shopify Partners' page, choose "Join Now"
You will be redirected to a page where you can enter your name and choose a secure password with a combination of letters, numbers, and symbols. Then, tick the 'I am human" box, double-check your password and click 'Create Shopify ID'.
Step 3: Fill Out Your Information
Next, you need to provide information about your business in a brief questionnaire.
All the fields must be completed, except for those marked as optional. First, you'll be required to choose your objective when registering for the Shopify partner program.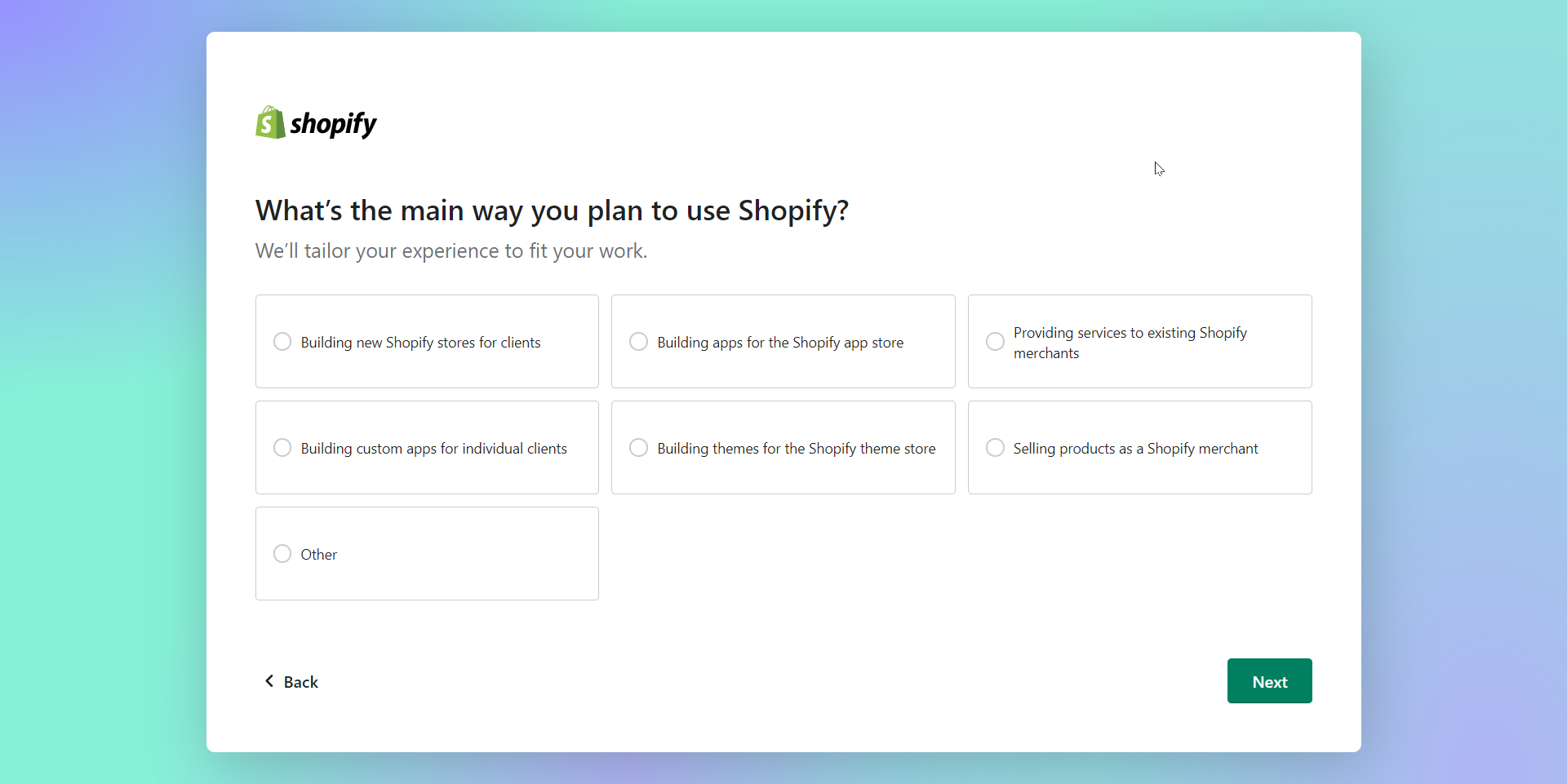 Next, you'll need to enter your business contact information & location such as the name, email address and zip codes. Don't forget to tick the box saying you have read and agree to the Partner Program Agreement befor you hit next.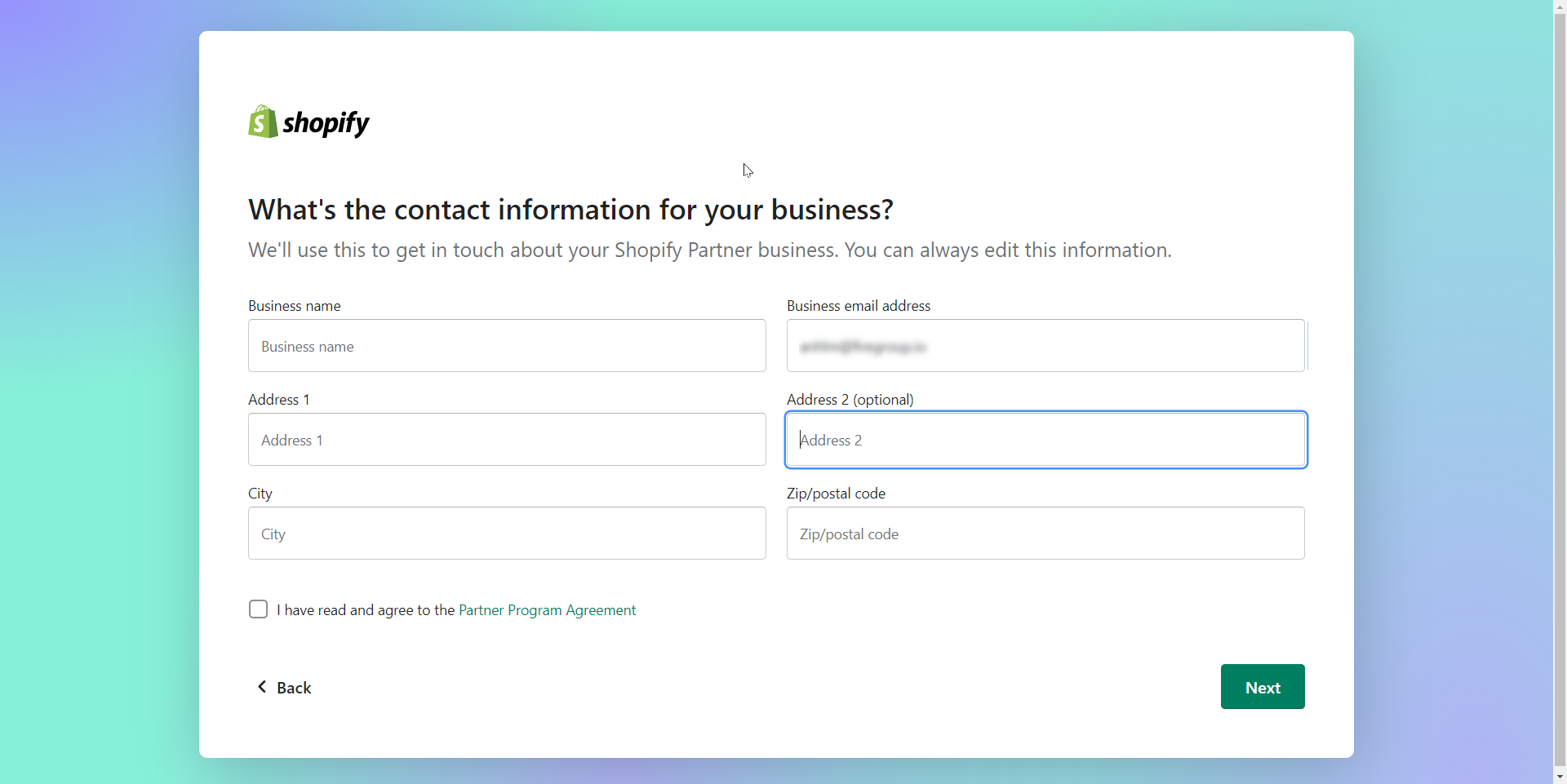 Now you're all set. After filling in all the essential details, you will be taken to the Shopify partner dashboard where you'll see a lot of instructions and guidelines on how to use the board!
Step 4: Greet Your Shopify Control Panel
At this point, if your application effort is not successful, don't worry. You can start over again or seek help from the Shopify customer support team and try again.
Once succeeded, you can sign up for different courses offered by the Shopify Partner Academy and receive a certification in Business Fundamentals, Product Fundamentals, Theme Development, or App Development to prove your proficiency.
As a Shopify Partner, you can access numerous learning materials to aid you in passing the tests. There is no limit on the number of exams taken and no restrictions on the number of times you can retake them.
If you need help with anything, Shopify offers customer support around the clock. You can reach out to them either by phone, live chat or from within your Partner Dashboard.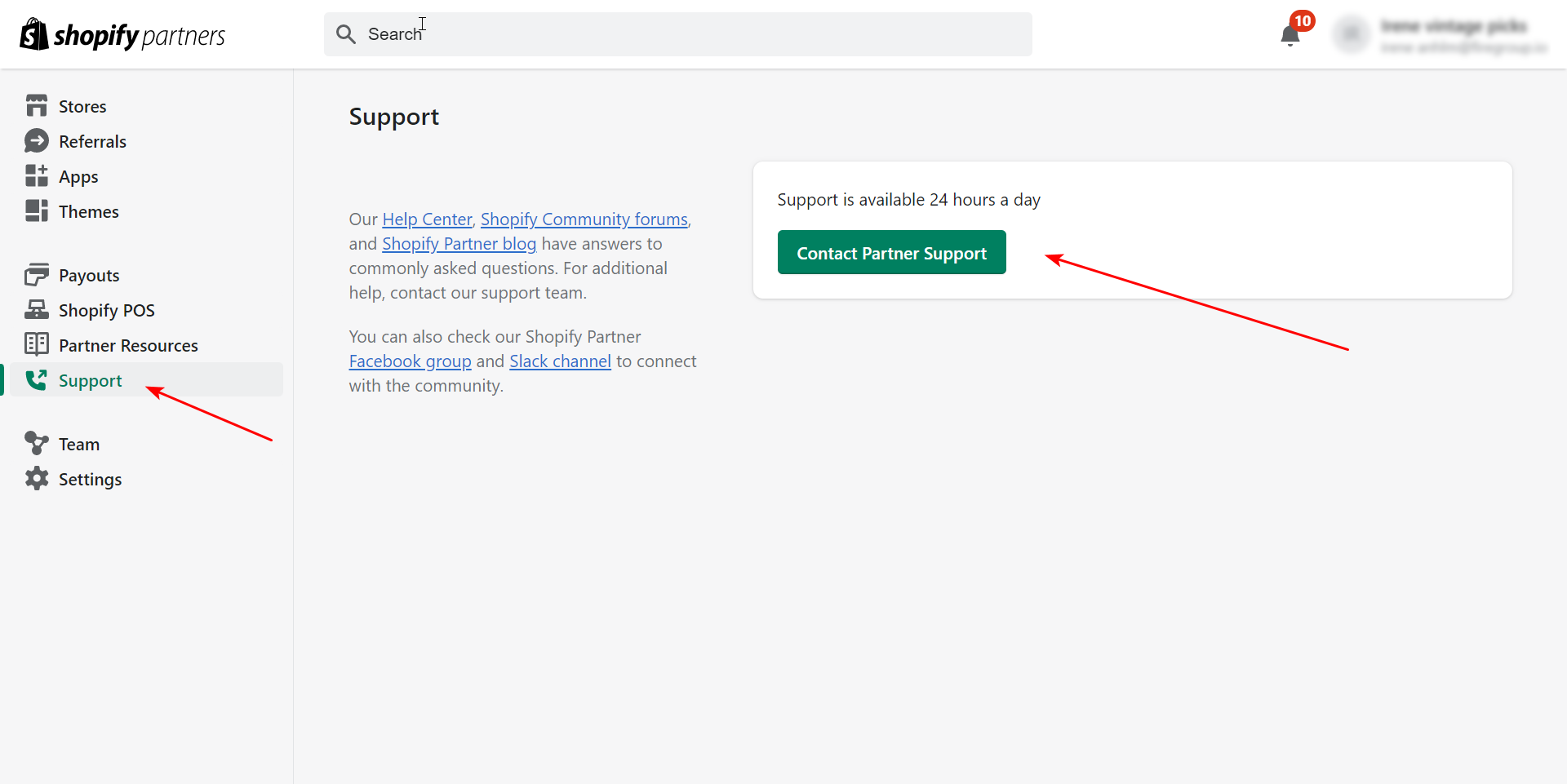 Strengths and weaknesses of the Shopify partners program
The advantages of the Shopify Partners Program and the system that has been constructed outweigh the disadvantages for its participants.
Strengths
Weaknesses

A plentiful supply of various tools
Outstanding usability and intuitive features
Excellent customer service assistance
Shopify Academy provides entrepreneurs and business owners with digital learning opportunities and official certifications.
A comprehensive collection of documents that provides information on any topic you require.
Providing excellent assistance for encouraging customers to use the platform – advertising resources and instructions on how to do so.
Shopify offers incentives to assist in the expansion of your business.
Easy to grasp and apply.
Access to applications and themes

Some tools are relatively simple and need to be improved.
Acquiring proficiency in a liquid programming language for templates can be challenging.
How much can you earn from Shopify Partners Program?
Your income as a Shopify Partner depends on how much you contribute to the Shopify ecosystem. No matter which Shopify plans you are currently using (Shopify Lite, Shopify Basic, Shopify, Advanced Shopify), the recurring commission is a percentage of the merchant's monthly subscription fee which is 20%.
Shopify Gold offers a 10% commission every month on the subscription fees of the first four merchants that are referred or have upgraded their plans for more than twelve months.
The merchant receives a 20% commission for every fifth and subsequent referral or upgrades for 12 months.
Your income is also influenced by your location. Your earnings may be taxed depending on where you live and the relevant tax laws.
Should I become a Shopify expert?
Shopify is one of the top eCommerce platforms globally. The number of merchants using this platform is increasing due to its user-friendly nature and rich eCommerce features. Furthermore, the flexibility and scalability of the platform make it appealing to businesses of all sizes.
The increasing interest in Shopify, along with its user-friendly nature, means those with expertise in the platform will continue to be sought after. Being a Shopify expert can help you grow your business, whether you are a freelancer or an established company.
If you already possess useful knowledge in Digital Marketing, Graphics, Web Development, Design, or Affiliate Marketing and want to increase your service offerings or abilities further, becoming a Shopify expert would be a wise choice.
The bottom line
In conclusion, this leading eCommerce platform may provide unexpected advantages.
Signing up for the Shopify Partners Program is easy; yet, to become successful financially, you must use the correct strategies suited to your business.
If you are an ambitious businessperson striving for success, your ambition to increase your company's profits is never-ending. We would be glad to assist you. If you found this post helpful, please consider sharing it with your acquaintances.
You might also want to read: