Starting an online business takes a lot of work and a platform that is well thought out.
With the massive user bases of each of the two platforms, ClickFunnels vs Shopify have been termed "powerhouses" for anyone who wants to start an online business.
In this blog, we will thoroughly compare ClickFunnels vs Shopify so you can decide which platform is ideal for your business' requirements.
Whether you are a first-time or a seasoned business owner, this blog will offer helpful advice to guide you in reaching a conclusion. Let's get started!
💡 Based on your interest:
ClickFunnels vs Shopify: Overview
In general, ClickFunnels vs Shopify are both well-known platforms for building and running online stores that can help you succeed in this eCommerce world.
As a hosted eCommerce platform, Shopify gives you access to a safe hosting environment for your website as well as additional useful services. Along with a vast range of functionality, Shopify also provides a variety of templates, a large number of integrations, and an intuitive drag-and-drop editor.
And a lot more! Learn everything about Shopify: Shopify Review – Everything You Should Know About (All Pros and Cons).
2. What is ClickFunnels?
ClickFunnels is an all-in-one sales funnel builder that assists you in setting up an online store. It offers customers a variety of tools for creating efficient sales funnels, including editable templates that you can use to make pages look good.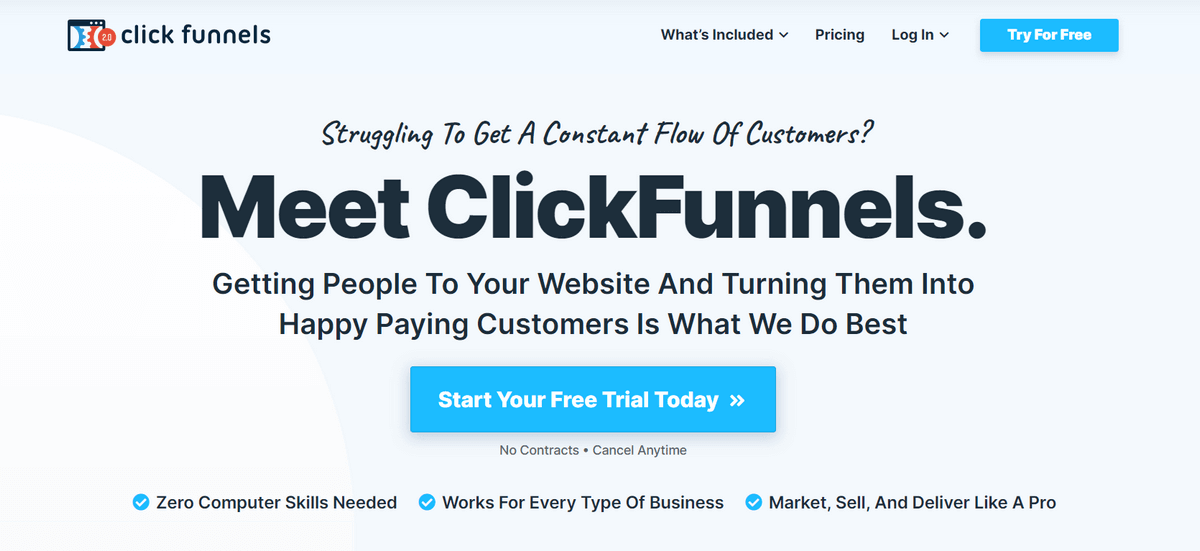 The platform offers you access to a variety of marketing tools and analytics, enabling you to monitor the effectiveness of your funnels and make changes as necessary.
ClickFunnels vs Shopify: A Complete Comparison
Now that you have a basic understanding of Shopify vs ClickFunnels, let's compare them in some important areas of eCommerce.
To make it simpler for you, we have created a useful table that lists the key distinctions and similarities between these 2 platforms.
| | | | |
| --- | --- | --- | --- |
| Category | Shopify | ClickFunnels | Who wins? |
| Ease of Use | Easy to create and manage your online store, especially for newbies | Easy to use but only if you have a little technical knowledge | Shopify |
| Pricing | More affordable and different options catering to different merchants' needs | ClickFunnels is significantly more expensive | Shopify |
| Sales Funnels | Fewer sales features | More sales features as it is mainly built to optimize sales funnels | ClickFunnels |
| Online Store Builder | Able to build a big store with more creative options than ClickFunnels, including complete customization of the appearance and feel of your business and over 100 free and premium themes in the Shopify Theme Store | Less design options than Shopify, and no ability to handle big stores | Shopify |
| Inventory Management System | A full-fledged inventory management system | Only basic features for managing inventory | Shopify |
| CRM System | A comprehensive customer management system with third-party app integrations | An excellent platform for customer management with useful customer segmentations to facilitate your marketing efforts | Draw |
| Analytics | A more comprehensive analytics platform that allows you to track and analyze various aspects of your eCommerce store | Only basic analytics features | Shopify |
| Integrations | Over 8,000 apps and integrations | Less add-ons | Shopify |
| Payment Gateways | Multiple methods for customers to pay. If you don't use Shopify Payments, you can charge your transaction costs accordingly | Multiple payment options for your customers.  | Draw |
| SEO | A number of built-in SEO features to improve your ranking | ClickFunnels isn't very good for SEO | Shopify |
| Customer Support | More support options than ClickFunnels, such as 24/7 phone, email, live chat, social media support, a help center, forums, blogs, podcasts, webinars, and more. | Fewer support options and only available in business time | Shopify |
From the table above, it is clear that Shopify dominates in the majority of the categories whereas ClickFunnels only comes out on top in one. This demonstrates that for online merchants that require more adaptability, control, and customization over their online store, Shopify is frequently a preferable choice to ClickFunnels.
Yet, that's not the whole story. Instead, we want to delve more deeply into each category and present a more thorough comparison of ClickFunnels vs Shopify in the following part. So you can see if one can win over the other in terms of your requirements.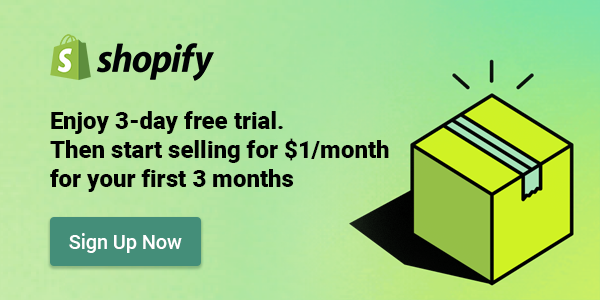 ClickFunnels vs Shopify: Detailed Comparison
Needless to say, Shopify and ClickFunnels are not the same.
Using the Shopify platform, you can create your online store from the start and personalize it to define your brand. Meanwhile, you can build a business and sell your products on ClickFunnels alongside other retailers where many folks are shopping.
Be ready as we will show you the detailed differences between these 2 platforms and soon, you will be able to figure out your winner!
1. Ease of use
Both Shopify and ClickFunnels have their own positive and negative aspects when it comes to ease of use.
Shopify
With a drag-and-drop website builder, simple navigation, and a wide selection of templates, Shopify is made to be user-friendly and simple to use for individuals without any technical skills. Additionally, the platform provides informative instructions, round-the-clock assistance, and a user community to assist with any questions.
ClickFunnels
ClickFunnels focuses on creating high-converting sales funnels and provides a plethora of tools and features to boost conversion rates. While it may not be as intuitive for non-technical users as Shopify, ClickFunnels offers tutorials, support, and a vibrant user community to help users maximize their potential.
💡 Verdict:
Both platforms are easy to use, but Shopify is better suited for beginners while ClickFunnels is a more sophisticated option that necessitates some technical proficiency. So, Shopify wins!
2. Pricing
Shopify
Shopify has three main pricing plans:
Shopify plan ($79/month)
Advanced plan ($299/month)
Everything you require to create your online store is included in the Basic package. Additionally, you can upgrade whenever you want and add apps to enhance your store. If you utilize third-party apps, your costs can increase. However, they aid in your business's expansion and financial gain.
💡 For its plans, Shopify offers annual pricing, which is less expensive than monthly payments. If you choose to pay monthly, the Basic plan is $39 per month. There may be additional expenses if you want to sell through Shopify, some of which were covered in our previous article: Is Shopify Free? How Much Does Shopify Cost?
ClickFunnels
Meanwhile, the Basic subscription plan from ClickFunnels costs $147 per month, the ClickFunnels Pro package is $197 per month, and the Funnel Hacker package is $297 per month.
Besides, a 14-day Free Trial for ClickFunnels is available, and you can sign up for it to test the waters before committing to the platform.
💡 Verdict:
Shopify wins! For the majority of retailers, Shopify is superior to ClickFunnels. As you can see, their starting price is significantly greater than Shopify's. For all types of businesses wishing to create an online store and manage their inventory, Shopify is more cost-effective.
3. Sales Funnels
When it comes to building sales funnels, ClickFunnels and Shopify each have their unique strengths and differences.
Shopify
Shopify is primarily an eCommerce platform that provides tools for online selling. While it does offer basic sales funnel capabilities, Shopify's customization options are not as extensive as ClickFunnels. To enhance its sales funnel functionality, Shopify integrates with third-party apps and plugins, including sales funnel builders.
Simply put, Shopify is a versatile eCommerce platform that offers sales funnel capabilities along with a broader range of features for online retail.
ClickFunnels
ClickFunnels is dedicated to helping users create and optimize sales funnels, offering a wide range of pre-built funnel templates for various products and services. With ClickFunnels, users can easily customize their funnels using drag-and-drop components and access features like split testing and funnel analytics for optimal performance.
In summary, ClickFunnels is a specialized platform designed specifically for building high-converting sales funnels, making it ideal for businesses focused on maximizing conversions.
💡 Verdict:
The winner is ClickFunnels since it offers a greater variety of functionality and customization choices while being specifically made for sales funnel optimization. Although it still has the opportunity to add sales funnel-building capabilities through third-party integrations, Shopify does not yet have a strong set of sales funnel features.

4. Online Store Builder
Although both ClickFunnels and Shopify provide options for building online stores, their target markets and needs are distinct.
Shopify
Shopify enables you to create a substantial and viable online business. The drag-and-drop tool makes it simple to construct and alter components of your website so that you can effectively control the experience a potential buyer will have.
It also includes a great selection of themes, both free and premium to help enhance your store look and vibe.
ClickFunnels
ClickFunnels can be used to create an e-commerce website, but it lacks many of the features required for managing a sizable online store and is unable to keep huge inventories like Shopify can.
💡 Verdict:
Shopify beats ClickFunnels in this stage! If you are looking to build a comprehensive online store, Shopify is a better option since it gives you more features and convenience.
5. Inventory Management System
When it comes to inventory management, both Shopify and ClickFunnels have distinct offerings.
Shopify
Shopify shines in this area, providing a seamless experience for tracking existing and new inventory. Adding new products, creating variations, and showcasing captivating images is a breeze. Moreover, Shopify keeps you informed by monitoring sales and alerting you when it's time to restock.
ClickFunnels
On the other hand, ClickFunnels offers more basic inventory management tools, focusing on tracking and controlling product quantities. While it may not offer the comprehensive capabilities of Shopify, ClickFunnels still provides essential features to help you manage your inventory effectively.
💡 Verdict:
With a robust inventory management system with extensive features, Shopify is the clear winner!
6. CRM System
When it comes to customer management, Shopify and ClickFunnels have their own distinct offerings.
Shopify
Shopify takes the lead with its extensive customer management system, providing a central hub to handle customer data, orders, and purchase history.
With features like email marketing integration, abandoned cart recovery, and customer segmentation, Shopify empowers businesses to engage with their customers effectively.
Furthermore, Shopify takes customer management to the next level by integrating with a wide range of third-party apps. These apps offer additional features like customer loyalty programs and feedback apps, allowing businesses to enhance their customer management strategies.
ClickFunnels
In contrast, ClickFunnels offers a more limited customer management system.
While it provides access to specific customer data such as email addresses, purchased products, and customer locations, its capabilities are not as comprehensive as Shopify's. ClickFunnels does allow for customer segmentation in email marketing campaigns based on factors like location and purchase history.
💡 Verdict:
Shopify wins in this category as a superior choice for businesses that prioritize comprehensive and sophisticated customer management.
7. Analytics
Shopify
Shopify grants you a more thorough analytics tool that enables you to monitor and examine several elements of your eCommerce store, such as sales, consumer behavior, website traffic, and many more. In addition, the platform offers built-in reports and facilitates integrations with third-party analytics tools such as Google Analytics.
ClickFunnels
Meanwhile, ClickFunnels offers fundamental analytics capabilities like monitoring conversion rates, and funnel performance. Also, to give you deeper insights into customer behavior and website performance, it links with Google Analytics.
💡 Verdict:
If you are searching for a comprehensive and in-depth analytics platform, Shopify is a better option than ClickFunnels which mainly focuses on tracking the performance of your sales funnels. So Shopify won ClickFunnels!
8. Integrations
While Shopify and ClickFunnels may seem like two all-in-one tools, their objectives and operating systems set them apart. However, to truly maximize your website's potential, it's crucial to incorporate tools that facilitate online revenue generation.
Shopify
Shopify's extensive app store offers access to a plethora of integrations, from payment gateways to marketing tools. This allows you to customize your eCommerce business with various tools and services tailored to your specific needs.
ClickFunnels
In contrast, ClickFunnels seamlessly interfaces with external services like webinar providers, email marketing platforms, and payment gateways. This empowers users to create a seamless customer experience while streamlining their sales and marketing processes.
💡 Verdict:
The integrations offered by ClickFunnels and Shopify are numerous. However, Shopify allows access to a larger selection of integrations through its app store. Shopify triumphed as a result!
9. Payment Gateways
A variety of payment gateway solutions are provided by ClickFunnels vs Shopify to enable businesses to conveniently and securely collect payments from their customers.
Shopify
When comparing Shopify vs Clickfunnels payment gateways, the primary difference is that Shopify uses an internal platform for processing payments, whereas ClickFunnels exclusively uses third-party integration.
In addition to Shopify Payments, Shopify interacts with over 100 payment providers globally, enabling your store to accept the preferred payment method of your buyers.
ClickFunnels
Clickfunnels supports payment processors like PayPal, Stripe, and others. You should be aware that only one Payment Gateway can be used at a time with your funnel.
Build two funnels with identical customer experiences and a button on the Sales page that links the consumer to their preferred payment gateway if you wish to provide more than one payment option.
💡 Verdict:
In a head-to-head comparison of their respective payment gateways, ClickFunnels and Shopify are tied. Both provide a wide range of additional options to make life easier for you and your customers.

10. SEO
For businesses trying to increase their online presence and increase website traffic, search engine optimization (SEO) is a critical component. While both ClickFunnels and Shopify offer some SEO features, they offer varying degrees of support.
Shopify
Shopify, with its arsenal of built-in SEO tools, provides a comprehensive solution. From optimizing images to generating sitemaps automatically, it offers everything you need to improve your search engine rankings. Moreover, Shopify's blog feature is a valuable asset for content marketing and increasing online visibility.
ClickFunnels
On the other hand, ClickFunnels doesn't prioritize SEO out of the box. Its sales funnel concept relies more on social media traffic, both organic and sponsored, rather than search engine traffic. Unlike Shopify, ClickFunnels lacks built-in tools for creating sitemaps, optimizing images, and developing schema markup.
💡 Verdict:
In this Shopify vs. ClickFunnels comparison, Shopify wins when it comes to SEO. It includes a complete set of SEO tools that take care of all the necessities for an online business, and you can always resort to Shopify's app store for more sophisticated SEO features.
11. Customer Support
Both platforms provide their users with a variety of choices for customer service when comparing ClickFunnels vs Shopify.
Shopify
Shopify is renowned for providing top-notch customer support. Each customer has access to a customer adviser by email, chat, or phone contact 24 hours a day, 7 days a week if they have any concerns or questions.
They also have access to a comprehensive knowledge base that addresses some of the most often-asked questions and offers solutions to issues.
ClickFunnels
On the other hand, ClickFunnels offers customer assistance by email and live chat on weekdays from 9 AM to 5 PM Mountain Time. Users can also obtain answers to their questions on a community forum and in their extensive knowledge base.
Additionally, ClickFunnels provides its users with a premium Platinum support package that features personalized customer service and expedited response times.
💡 Verdict:
Users have given both Shopify and ClickFunnels favorable feedback about response times and the caliber of assistance. The plus point that makes Shopify stand out from ClickFunnels, which only provides help during business hours, is that they are available 24/7.
ClickFunnels vs Shopify: Pros & Cons
After going through their features and services, you can see how Shopify stands out from ClickFunnels. Yet, to give you a little more time to make up your mind, here are the pros and cons of Shopify and Clickfunnels.
Shopify Pros & Cons
Pros
Cons

Trusted eCommerce platform

Affordability and fair trial plans

Ideal for scaling your business

Suitable for all product types

Outstanding assistance and support

To manage the online store while on the go, you obtain a mobile app.

Platform learning curve is steep.

No equipment for building courses

You will need to integrate with other services to develop landing pages, manage affiliate programs, and other things, which raises the cost.

To build up your store and create funnels properly, you'll need a lot of time and technical marketing expertise.
ClickFunnels Pros & Cons
Pros
Cons

The best platform for designing funnels. You'll receive prebuilt funnels that have been thoroughly tested for maximum conversions.

Excellent assistance and support

Allows to create and sell membership sites and courses

Within Clickfunnels, you receive a CRM system, an email marketing tool, and an automation tool. Not necessary to pay for additional services.

It doesn't take weeks to build a funnel and sell your goods; instead, it only takes a few hours.

Costly pricing plans

Lacking instruments for large-scale eCommerce

There are no automated sales tax calculations.

Not appropriate for managing a large online business with hundreds of products.

No smartphone app for usage while traveling
ClickFunnels vs Shopify: Time to Decide!
Your unique business demands and objectives will ultimately determine which of ClickFunnels vs Shopify you should pick.
Inventory management, payment processing, and SEO optimization are just a few of the many capabilities that Shopify's comprehensive eCommerce platform provides for creating and running an online store. The sales funnel builder ClickFunnels, on the other hand, was created to assist businesses in turning more leads into customers.
In our opinion, Shopify is a good option if you're searching for an all-in-one platform for setting up and running an online store. However, ClickFunnels can be a superior choice if creating and improving sales funnels is your main priority.
In the end, it is advised to thoroughly look into both choices, understand their advantages and disadvantages, and select the one that most closely matches your objectives and requirements.