Are you looking for the best Shopify alternatives to help you build your online store? Let's explore the top 10 Shopify competitors that you should definitely put on your bucket list. By understanding each platform's strengths and weaknesses, you can decide which solution is best suited for your business.
We will also compare features such as design, hosting, integrations, and support so that you can choose the eCommerce platform that works best for you!
Shopify overview
Shopify is a powerful eCommerce platform that enables businesses to create and manage their online stores quickly and efficiently. It provides various tools and features to help users customize their sites, process payments, track inventory, manage orders, and generate reports.
While Shopify is the leading eCommerce solution for various seller types – from small business owners to even large enterprises -not all sellers find that Shopify meets their needs. Some are looking for alternatives that offer more specific features for their stores. Some are looking for Shopify competitors with better prices.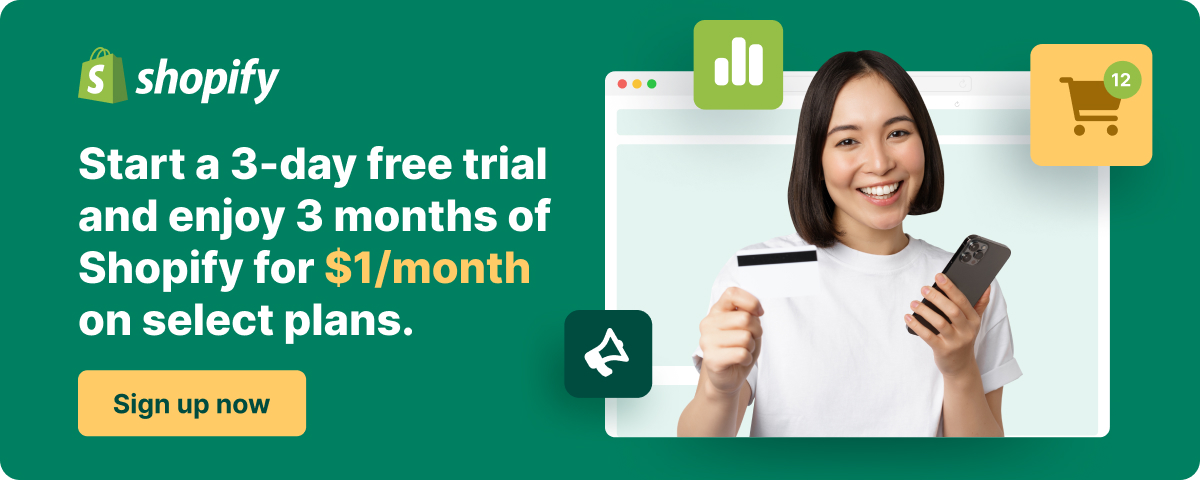 If this is the case for you, don't worry! You're not alone in your search for an alternative to Shopify. Read on to find out more about some of the best Shopify competitors and whether they could be a better option than Shopify!
Learn more about Shopify: 
Top 10 Shopify alternatives: Head-to-head comparisons
1. BigCommerce
Price range: $29 – $299/month
When it comes to Shopify competitors, BigCommerce is the one. BigCommerce is the ideal website builder if you're looking for a hosted eCommerce platform to grow your business. It offers more built-in sales tools than Shopify does. Moreover, the platform offers 24/7 customer support.
BigCommerce also doesn't charge you for not using its payment gateway. In contrast, Shopify takes a 0.5% – 2% extra transaction fee on purchases not made with Shopify Payments.
BigCommerce's pricing structure consists of three different plans: Standard ($29/month), Plus ($79/month), and Pro ($299/month). Each plan includes unlimited storage space, product listings, and bandwidth with increasing access to fraud protection, advanced reporting tools, and abandoned cart recovery features.
Pros
Cons

You don't have to rely on third-party programs for completion because BigCommerce's built-in features are enough for you to run.
It's simple to sell across multiple marketplaces and still keep products organized
Beginner plans start under $30 per month, while the top plans can support Fortunes 500 enterprises

BigCommerce's app store is not as diverse as Shopify's.
It's hard to navigate. It's going to take you quite a good time to really get the hang of it and get going.
Difficult terminology
Key takeaway: BigCommerce is best for store owners looking for a hosted solution with many built-in features.
2. GoDaddy
Price range: $9.99 – $24.99/ month
GoDaddy is a popular website-building platform that is definitely one of the best Shopify competitors. This platform offers you a variety of features, including the ability to create a unique website design and layout.
Additionally, GoDaddy offers rich eCommerce features such as payment processing, inventory control, and shipping services. It also provides users with online support for SEO optimization and social media management.
Regarding pricing, GoDaddy has 4 main pricing plans: Basic ($9.99/ month), Standard ($14.99/ month), Premium ($19.99/ month), and eCommerce ($24.99/ month).
However, be aware that the customer service of GoDaddy is not that perfect. It can take as many as 48 hours to receive a response to a query, and it could also take 48 hours to return a follow-up email. The issue may also be discussed several days before a resolution can be reached.
Pros
Cons

GoDaddy offers affordable pricing plans
One-click integration with WordPress & other content management systems
Support many payment options

Slow customer support, no live chat support
Limited website support for low-tier plans
Restoration fees available
?Key takeaway: GoDaddy is best for eCommerce starters who have limited coding knowledge and a tight budget
3. Squarespace
Price range: $23 – $65/month
Squarespace is an easy-to-use website builder that has become a top Shopify alternative for online businesses. Squarespace offers a comprehensive yet cost-effective range of features for creating, maintaining, and running a website. You don't need any training in coding or a degree in web design to create a gorgeous online store with Squarespace!
This is an elegant builder that doesn't require hosting or software upgrades. All the heavy lifting is handled for you, meaning no single line of code is required. You can also pick and edit your templates if you like. Still, with all the sophistication of Squarespace's themes, this is unnecessary.
Squarespace is distinguished by the impressive templates that make it easy to design elegant storefronts. However, its e-commerce or sales features may not be as rich as Shopify's.
The Personal plan starts at $23 per month, while the Business Plan is priced at $33 per month with access to additional features. You can also opt for the Commerce plan, which promises no transaction fees for your sales. These plans cost $36/ month & $65/ month for Basic & Advance plans.
Customer service is another area where Squarespace stands out from other Shopify competitors. They offer 24/7 support via email, live chat, or phone call – all free. In addition to this, they also have an extensive knowledge base filled with helpful videos and articles. These cover a wide range of topics related to their products and services.
Pros
Cons

Stunning templates help you design beautiful storefronts quickly
Great inventory management. Upload products in bulk, and get notifications on changes in stock levels via emails
Squarespace enables you the freedom to sell an unlimited number of products on all pricing plans

Not as powerful as other website builders in terms of sales features for long-term growth
The app store is not as diverse as Wix or Shopify
Limited payment options. You can only use PayPal, Stripe, and Apple Pay
?Key takeaway: Squarespace is perfect for those with limited coding skills but who are good at designing and want to build an aesthetically looking storefront.
4. Square Online
Price range: $0 – $79/month
The next candidate in our top 10 Shopify competitors list is Square Online. Square Online is a cloud-based eCommerce platform that offers solutions for businesses of all sizes, from small start-ups to large enterprises.
Its easy setup process and comprehensive features help it stand out from competitors. Square Online offers various pricing plans, including the Free plan, Plus ($29/ month), and Premium ($79/ month).
The features offered by Square Online are designed to simplify the entire shopping and selling experience for customers and merchants alike. With access to secure payment processing, inventory management tools, and automated shipping calculations, setting up an online store has never been easier.
The platform also includes marketing tools such as website analytics, email campaigns, and ad campaigns that help increase sales & conversion rates.
Pros
Cons

The free plan offers enough features for you to start and sell
 Integrate seamlessly with Square's POS system
A user-friendly dashboard that allows for easy navigation

Limited payment options
Limited customization possibilities
?Key takeaway: With Square Online, you get what you pay for. It comes with rich features at a very affordable price. It is suitable for sellers looking out for the best value for money, given its affordability and rich features.
5. Wix
Price range: $27 – $500/month
Wix is one of the most popular eCommerce platforms on the market, a great alternative to Shopify, offering online merchants the ability to create their own customized eCommerce store. With Wix, anyone can easily build an online shop from scratch and start selling products and services quickly.
Aside from setting up a storefront, Wix also offers extensive design customization options and mobile-friendly templates for enhanced user experience.
This platform also provides its customers with comprehensive customer support services and resources. These include 24/7 live chat assistance, phone support, an email ticketing system, and a helpful FAQs page.
Pros
Cons

User-friendly
14-day no-questions-asked money-back guarantee
Free domain name registration when paying annually or longer
Industry-leading drag-and-drop editor
Endless storefront customization options

The Free plan does not allow online payments
Limited media storage is available for most plans
?Key takeaway: Wix is best for small business owners looking for an affordable way to get started and who want aesthetic store themes. Do-it-yourself (DIY) sellers might want to check it out!
6. Shift4Shop
Price range: Free – $299/ month
Shift4Shop, formerly known as 3dcart, provides online store owners with the tools to create, launch and manage a successful eCommerce business.
Like the other website builders, it also offers features such as website designing, order management, marketing & promotions, shipping calculator, product reviews, and customer support.
The customer support at Shift4Shop is available by phone or email 24/7 for users to quickly get answers to their questions about the platform or their store.
Shift4Shop's unlimited Free plans might initially entice you. But when you look past them, it only offers the most extensive service for free if you use its credit card processor. Its credit card processor charges 2.9% + $0.30 per transaction, even without a paid account. If you're using PayPal, you can use Shift4Shop's paid plans, starting at $29 monthly.
Pros
Cons

Require no subscription fee if you use its payment processor
Offer free domain name
It offers special incentives for you to switch from another platform
Dedicated customer support, available 24/7

Despite being responsive, the technical support team is known for not always being helpful
You have to have coding knowledge, especially HTML & CSS, to customize your store with Shift4Shop
?Key takeaway: Shift4Shop is best for business owners who are on a tight budget and have coding knowledge. Shift4Shop offers an unlimited Free plan if you use its credit card processor.
7. WooCommerce
Price range: $0/month (+ hosting fees)
Needless to say, WooCommerce is one of the most popular eCommerce platforms on the market and the biggest Shopify competitors in terms of market share. It's an open-source plugin for WordPress websites so that you can turn your WordPress site into a little online store of your own. Thanks to its open-source nature, you have full control over how your storefront looks sales features and customer support.
In terms of pricing, WooCommerce has some of the most competitive price points on the market. It's free to download and use. You have to buy your own hosting with a small amount of monthly fee. The hosting fee ranges from $6.95 per month to $12.95 per month.
Just like  Shopify, WooCommerce also has a huge app store where you can find a bunch of third-party apps that cater to almost any features you need for your store. However, keep in mind that you still need a lot of coding knowledge if you want to play around with WooCommerce and its plugins.
Pros
Cons

It's free to download. You'll just have to pay for web hosting ($2.95/ month)
Tons of free and paid plug-ins
Limitless design customization. You get more control over page layout and content elements than you would with a typically hosted website builder

WooCommerce is not itself a website builder like Shopify, so it takes a little more technical knowledge than WordPress to be set up.
Not self-hosted. You'll have to outsource and manage your web hosting separately
Only works with WordPress.
Require extra costs. Despite offering a "free" subscription, you must pay for web hosting, domains, themes, and other extensions or even a team of developers, which may entail some extra thousands of dollars!
?Key takeaway: WooCommerce is best for WordPress users who want to incorporate e-commerce features into their sites. If you know a little bit of coding, you have to check WooCommerce out.
8. Salesforce Commerce
Price range: No monthly fee. Commission-based.
Salesforce Commerce, formerly Demandware, is a cloud-based eCommerce platform ideal for retailers who wish for in-store POS functionalities and inventory distribution.
The platform offers various features like payment processing, inventory management, order tracking, and analytics. It also has an intuitive drag-and-drop storefront editor and mobile optimization capabilities.
Many customers report that their customer support team is reliable and helpful when issues arise.
Regarding pricing, Shopify operates on a subscription base, while Salesforce Commerce Cloud works on a commission base. As your revenue streams grow, you're automatically charged more as it is percent-based. Prices start at $2 per transaction but can vary depending on the customer's needs.
Shopify's monthly payment remains the same no matter how much revenue you make. This means using Salesforce Commerce in your business's beginning stages is considerably less expensive. Because, unlike Shopify, you're not being charged if you make no sales!
Pros
Cons

POS integration
Fully managed PaaS
Omni-channel abilities
Great for database maintenance
Keep documentation easy and accessible

The UI is not user-friendly
A little bit slow, need improvement in responsiveness
?Key takeaway: Larger businesses or those looking for more advanced eCommerce features than Shopify offers.
9. Volusion
Price range: $26.10 – $269.10/month
Volusion provides a selection of tools that help you optimize your store's performance, such as SEO services, analytics tracking, and more. Pricing starts at just $26.10 per month, depending on the size of your business and which features you require.
The customer support of Volusion is, sadly, not being highly appreciated. Some users reviewed that it has one of the worst knowledge centers.
Volusion isn't the simplest site builder to use, but if you're ready to roll your sleeves up and are excited about monitoring the success of your store, it's worth checking out!
Pros
Cons

Very strong analytics tools
Rich in payment tracking features

Not easy to use
Poor customer support
?Key takeaway: Volusion could be the best fit for sellers seeking an eCommerce platform that includes the best analytics tools.
10. Magento Commerce (or Adobe Commerce)
Price range: Free (Magento Open Source), Business price quote (Adobe Commerce)
Magento Commerce, or Adobe Commerce, is a great choice among other Shopify competitors for online stores with a large volume of sales. It's a comprehensive eCommerce platform that is able to fulfill the demand of even large entrepreneurs.
In fact, Magento was the top choice for building a successful eCommerce website until Shopify and BigCommerce came around. This open-source system is known as one of the most trusted SaaS solutions ever.
Magento offers businesses the opportunity to create amazing sales experiences with unlimited product uploads and rich performance. It is particularly beneficial for large businesses with advanced features like order management, business intelligence, and audience management.
Magento is primarily for businesses that have a coding team. It has boundless customization capability and is capable of hosting a huge amount of traffic, making it suitable for very big sellers. Moreover, it is highly customizable, so you can customize your website to revolutionize your online presence and increase sales.
Regrettably, it is worth mentioning that Magento might be one of the most expensive platforms. There are two Magento Commerce pricing tiers. There is a free one named Magento Open Source and a more full-featured paid option called Adobe Commerce. Magento Open Source is free, but you still have costs for building a site using the software.
The cost of Adobe Commerce comprises hosting and essentially anything you need to run a lucrative eCommerce business. The price of the service, though, will depend on the company's specific needs and average sales revenue. You'll need to acquire a price quote from Adobe to figure out Adobe Commerce's cost for your company, but you can expect the yearly price to hover around $22,000.
Pros
Cons

Friendly UI
Allow for customization
High responsiveness

Slow customer support
Hard to use
No options to use NoSQL database backends
?Key takeaway: eCommerce businesses that have a high-volume number of sales should use Magento. It is also suitable for medium-sized businesses that are committed to growing. Keep in mind that you definitely need a team of developers to help you build your website with Magento.
Shopify Competitors: The verdict
And to finalize, here is our table of head-to-head comparisons of the 10 eCommerce platforms that are sure to be the best competitors of Shopify.
| | | | | |
| --- | --- | --- | --- | --- |
| Shopify Competitors | Best for | Starting Price | Payment Options | Multichannel integration? |
| BigCommerce | Best for established businesses | $29 | 36 options (including Paypal, Square, Stripe) | Yes |
| GoDaddy | Best for beginners with limited skills | $9.99 | Credit/ Debit cards, AstroPay Card, Google Pay, Apple Pay | Yes |
| Squarespace | Best for visual or graphic designers | $23 | Stripe, Paypal, Square | Yes |
| Square Online | Best value for money | $0 | Square, Credit cards, Google Pay, Apple Pay | Yes |
| Wix | Best for small or do-it-yourself (DIY) sellers | $27 | 11 options (including Paypal, Wix Payments) | Yes |
| Shift4Shop | Best for sellers on a budget | $0 | Credit cards, PayPal, Checkout by Amazon | Yes |
| WooCommerce | Best for WordPress users | $0 | WooCommerce Payments, Stripe, Square, PayPal | No |
| Salesforce Commerce | Best for large businesses | $0 | 16 options (including PayPal, credit/ debit cards) | Yes |
| Volusion | Best for analytics tools | $26.10 | 25 options (including Paypal, Stripe) | Yes |
| Adobe Commerce | Best for businesses with high volume | $0 | Credit card, PayPal, Wire, COD | Yes |
Alternatives to Shopify: Frequently asked questions:
What is the best eCommerce platform?
There is no one-size-fits-all answer when it comes to finding the best eCommerce platform. The reality is that different sellers have different needs, and the perfect solution for one seller might not work as well for another.
What is the most affordable Shopify alternative?
Shift4Shop is an excellent option. It offers powerful features that prove to be a great alternative to Shopify in terms of capabilities and scalability. With its free plan, you can set up an online store quickly and easily without any upfront fees.
Shift4Shop has powerful tools for creating product pages, managing orders, setting up payment processing, tracking inventory, and more.
What is the best Shopify alternative for dropshipping?
If you're looking for an alternative to Shopify specializing in dropshipping, look no further than WooCommerce. WooCommerce is a powerful eCommerce platform packed with features and customization options, perfect for any aspiring online store.
Are there any free alternatives to Shopify?
Several free options are available if you're looking to build an online store. Square Online, WooCommerce, and Shift4Shop are popular alternatives offering free versions of their eCommerce software.
How do I know which Shopify alternative is right for me?
First and foremost, look at each platform's features. What do you need to run your store successfully? Ensure all necessary functions like inventory management, payment processing, customer service, and analytics are included.
Additionally, consider advanced features, such as marketing tools or integrations with other services that may be relevant to you.
Finally, compare pricing models between different Shopify competitors. Many offer custom plans based on your store's size and needs. Look out for any additional fees or charges, so you understand what you'll be paying before signing up.
Why would I need an alternative to Shopify?
Shopify is a popular option, but it may not always suit your business's or budget's needs.
For starters, Shopify may not have all the features you require or charge a fee for add-ons that other platforms include in their plans.
Additionally, if you plan on selling products across multiple channels like marketplaces such as Etsy or eBay, other eCommerce platforms offer integration with these sites, making it easier for you to manage your product listings from one central dashboard.
Furthermore, many Shopify competitors offer lower monthly fees than Shopify, which could make them more cost-effective for businesses operating on tighter budgets.
Final words
Shopify is a popular platform, but it might not be right for everyone. We recommend you take time and consider many other options prior to making a decision!
For the 10 Shopify competitors listed above, each platform offers unique features and integrations that can help your business grow and succeed. We hope what we shared in this article was helpful to you in picking the most suitable Shopify alternative for your business. Weigh up the pros and cons of each and decide based on what works best for your business!
You might also be interested in: