In this day and age, shoppers' demands are getting more diverse and trendy stuff changes almost every month. Therefore, finding the right products to sell at the right time is definitely one of the keys to success in this competitive industry. 
Yet, finding the best products to sell on Shopify can be challenging. That's why this list was created as a resource to assist you in finding fresh ideas for the right products.
Without further ado, let's dig in!
You might also want to read:
A quick overview of Shopify
Praised as an easy-to-use, all-in-one eCommerce platform, Shopify enables companies of all sizes to create and manage online stores. According to BuiltWith, Shopify now has over 2,653,014 brands and counting based in the US and many other customers come from all over the world.
Here are just a few reasons why you should list your products to sell on Shopify:
Ease of use:

Without any prior coding experience, anyone can build a store from scratch and quickly list your products to sell on the market.

Affordability:

You can

start with a free trial or the $29/month Basic plan, which is a decent deal given the potent features you get.

Mobile friendliness:

Mobile devices account for about

70% of orders and 80% of website traffic to Shopify

. Hence, the platform ensures that your store will appear great on all devices and can keep up with the growing popularity of mobile shopping.

Outstanding customer support:

Shopify's technical support team is available 24/7, so you can inquire for assistance whenever needed.
?And there are other reasons why you should opt for Shopify! Take a look at our detailed Shopify review article to learn more about its pricing plans and features that are available to facilitate your online business.

Top 10 best products to sell on Shopify
You can choose from millions, or even billions, of the best products to sell on Shopify. For your convenience, we have compiled a collection of the 10 most high-demand products that should receive your most attention.
1. Automotive accessories
As more drivers get back on the road following COVID lockdowns, Shopify's automotive accessories sales significantly increase. Additionally, it is very popular for young people to customize their cars in order to make them stand out and improve their performance. 
The market for automotive parts was estimated to be worth $2.34 trillion in 2021 and predicted to grow by 9.1% annually through 2026. 
If you want to launch your own Shopify store, the best products to sell on Shopify could be car accessories. Here are a few options you can choose to list for sale on your Shopify store:
Floor Mats

Seat Covers

Steering Wheel Covers

Phone Mount Accessories

License Plate Frames

Window Decals
2. Dog toys 
The time when toys were only made for babies and small children is long past. Pet toys are now getting more and more popular. The well-being of a dog can benefit greatly from his toys. When dogs are anxious, the toys give them comfort and help avoid boredom. 
The global pet toy market, valued at $3.7 billion, is now growing fast. According to a Shopify Report from September 2022, the term "Dog toys" receives a huge number of searches each month with a global order growth rate of 13,357% year over year.
Since there is a sizable market for dog toys, it is crucial to niche down to find the right categories to sell, including:
Chew toys 

Training toys

Stuffed plush toys 

Squeaky toys

Rope toys
Despite its popularity, not many online merchants think it is a worth-taking trip. That means if you go the other way, you will face less competition, increasing your chances of success. To easily increase sales, you can also promote these products by cross-selling with different pet goods, including a pet care blog and holding or sponsoring a pet shelter or events.
3. E-sports accessories
E-sports have exploded in popularity over the past few years thanks to the emergence of new leagues and competitions that offer millions of dollars in prizes.
Besides, live streaming gameplay on websites is allowed on Twitch and YouTube, which has boosted the demand for a variety of online gaming accessories.
That explains why online gaming-related goods have become top-selling products on Shopify. In order to succeed in this promising market, consider offering some of the following items:
Gaming laptops

Gaming keyboards

Gaming headsets

Gaming mouse

Mousepads and desk pads
4. Infant care products
There is an endless demand in this big market. Parents will always want the best for their children; in stable financial situations, parents are more likely to be eager to bring the necessities for their children, ensuring that they live in the most comfortable environment possible.
According to Statista, the global total market revenue for the infant care sector is anticipated to reach $88.72 billion by 2026. Therefore, it is never too late to enter this huge market. 
You can showcase the following best products to sell on Shopify stores to meet the needs of any parents:
Baby Clothes

Toys

Car Seats

Diapers and Ointments

Baby cot beds

Baby monitors

Bathing Accessories
5. Power tools & accessories
Sales of power tools and accessories are rising everywhere. In the house improvement sector, these products are probably one of the best products to sell on Shopify.
According to a Shopify Report, the phrase "power tool accessories" has a global order growth rate of 23,418% year over year.
Power tools and accessories are available in many different categories that could practically be considered a separate market segment. Some power tools and accessories that are best to sell at the moment are:
Power drills

Impact drivers

Circular saws

Table saws

Polishers

Sanders
These are great Shopify products to sell online because you can easily extend your product line to include other well-liked home renovation products to increase your potential sales.
You can make your own Instagram and TikTok accounts to promote hot home improvement items and to post DIY home improvement-related content.
6. Skincare products
Many people dream of having perfect, smooth, and youthful skin, particularly women. No matter how much that might cost, many will go to great lengths to make their dreams come true. 
Therefore, products that improve one's looks and well-being like high-quality skincare products will always be in demand. 
In fact, the industry for skin care products was estimated to be worth $140 billion in 2020 and it is anticipated to grow by 4.69% by the end of 2026.
Accordingly, skincare items are thought to be the best products to sell on Shopify. These following skincare products can help stores make a ton of money, including:
Face masks

Facial cleanser

Moisturizer

Lip care

Anti-wrinkle cream

Whitening cream
Yet, the sellers will face a challenge due to the intense competition. So it is best to create a distinctive brand that your target audience will want to associate with, which helps you stand out from the crowd.
7. Smartphone accessories
Nowadays, smartphones are capable of doing almost anything and they seem to have become an integral part of our lives and an extension of who we are. 
In fact, it is reported by BankMyCell that there are 6.92 billion smartphone users worldwide as of 2023, accounting for 86.29% of the world's population.
For that reason, smartphone accessories can be an ideal choice if you are looking for the greatest items to offer on Shopify. Millions of consumers purchase them to upgrade the appearance and functionality of their smartphones. 
That explains why the market for mobile phone accessories was estimated at $275.54 billion in 2022 and is expected to exceed $426.78 billion in 2030, based on a Next Move Strategy report. Investments in one of these top Shopify products to sell can yield big returns for your online businesses:
Phone cases

Portable chargers

Selfie sticks and circle lights for influencers

Screen protectors

Headphones and earbuds
Specifically, accessories like phone cases and portable chargers are in very high demand. For new online businesses, selling such products guarantees a consistent number of sales.
The market for phone cases is fairly sizable and is still expanding at an incredible rate as more people purchase devices for themselves. It had a market size value of $10.91 billion in 2020 and is forecasted to reach $35.5 billion in 2025, according to Grand View Research.
Meanwhile, the worldwide market for portable chargers has already surpassed $6.8 billion, and Allied Market Research projects that it will reach $17.3 billion by 2031. This growth is attributable to the product's recent innovations, which include the addition of numerous sockets and long-lasting batteries.
8. Signage
Next on the list of currently top-selling products on Shopify are signs. The use of neon lights to make signs pop in bedrooms or the more formal signs used for offices, businesses, and directional purposes are just a few examples of the artistic variety that signage can give.
According to data from Keywords Everywhere, the term "signage" gets 135,000 searches each month. There are specific types of signs people are looking for that you could sell:
Signage board

Digital signage

Wedding signage

No smoking signage

Safety signage

Entrance signage
In addition to offering your own designs, you can also let customers customize the signage based on their individual tastes, whether it be a design of their names or a quote.
9. Sports & Fitness products
During the pandemic, gyms shut down, and all athletic events & practices were canceled, a lot of people were forced to purchase many of the items used to help stay in shape.
Since then, all of us have grown accustomed to purchasing any other sports- or fitness-related items online, and this practice doesn't appear to be changing anytime soon. 
Moreover, purchasing these items online is much more convenient and, in most instances, less expensive than doing so in a local store.
Adding sports and fitness products to your Shopify store is a good idea if your target market is driven by a passion for physical activity. If you are unsure of what high-demand Shopify products to sell, you can choose from the following well-liked sports and fitness products:
Yoga mats

Water bottles

Sportswear

Running footwear

Healthy food and supplements
Yoga mats and water bottles are 2 options that you should focus on the most since they have been growing in popularity more than the others.
Google trends show that the demand for yoga mats has increased in recent years, and by 2025, it is anticipated that the market will be worth more than $17 billion. Meanwhile, water bottles are expected to expand between 2022 and 2027 at a compound annual growth rate of 9.1%, reaching a peak of $1.4 billion in 2027.
10. Watch accessories 
Last but not least, one of those top-selling products on Shopify with consistently high-profit margins is watch accessories. Although the craze fluctuates in popularity, people typically search for watch accessories all year long.
The industry is also enormous with a market volume of $335 billion in 2022, according to Statista. That will serve as the basis for watch accessories sales to remain dominant in the coming year.
These best products to sell on Shopify offer a number of ways to appeal to different customer groups based on their watch brands and increase sales. You can offer the following items in this category:
Kits for repairing watches

Cases for travel

Winders of watches

Watch back remover tools

Watch display cases
It is highly recommended that you should use Google Ads to promote this popular item. You will be able to attract customers with high purchasing desire and get them into your Shopify store. 
Another choice is to use Facebook ads to target particular demographics based on the appearance or usefulness of your accessories.

How to find the good products to sell online?
We have compiled a concise list of useful strategies to select products to sell in your online store. Let's go over each of them to see how finding products to sell is not a big deal.
1. Check Google trends to look for trending products
You can benefit significantly from early trend detection. You may establish yourself as a market leader and carve out a niche for yourself before competitors can. 
Additionally, there may be more options to increase long-term SEO traffic and your paid spend will likely be smaller.
Utilizing Google Trends is one of the finest methods to stay on top of what's popular so you can seize any available possibilities. It is packed with many benefits that can help you discover what is in high demand.
Google Trends only displays a keyword's historical data, but a keyword's trajectory provides insight into its potential future. This tool will display terms that have a recent upward trajectory when you organize the similar queries or related subjects report using the "rising" option, assisting you in spotting trends before they get even bigger.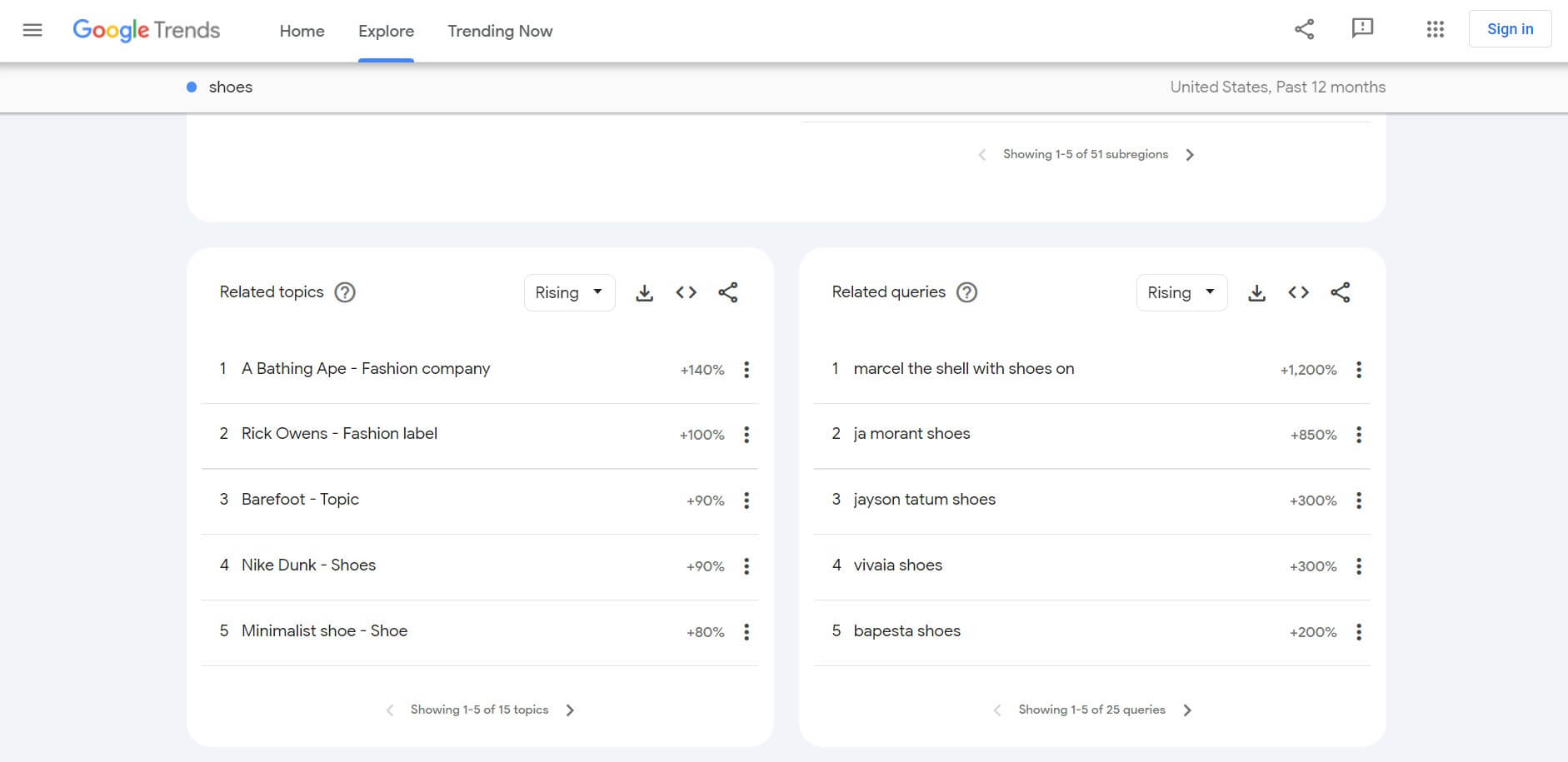 Additionally, using this tool will make it simpler to focus on the precise keywords and phrases to utilize in your marketing materials. 
2. Check buyer review on Amazon
Customer reviews can be your secret to creating product ideas without spending a dollar, regardless of whether you already sell things online or not. 
You can search for some intriguing customer feedback to serve as an inspiration for your upcoming product. Remember to pay close attention to any flaws or issues related to the products that are mentioned.
Amazon is a good place to find those reviews as it is one of the most busiest online marketplace in the world. So, you can easily uncover tons of buyer reviews that show what customers are interested in, why they are buying certain products and how those products can benefit them.
If you are unsure of what sector or product area to look into, you can go to the Amazon Best Sellers or Amazon Most Wished For pages to see feedback being shared about necessary improvements to successful products. By doing that, you can identify those trending products and then, come up with more well-rounded items.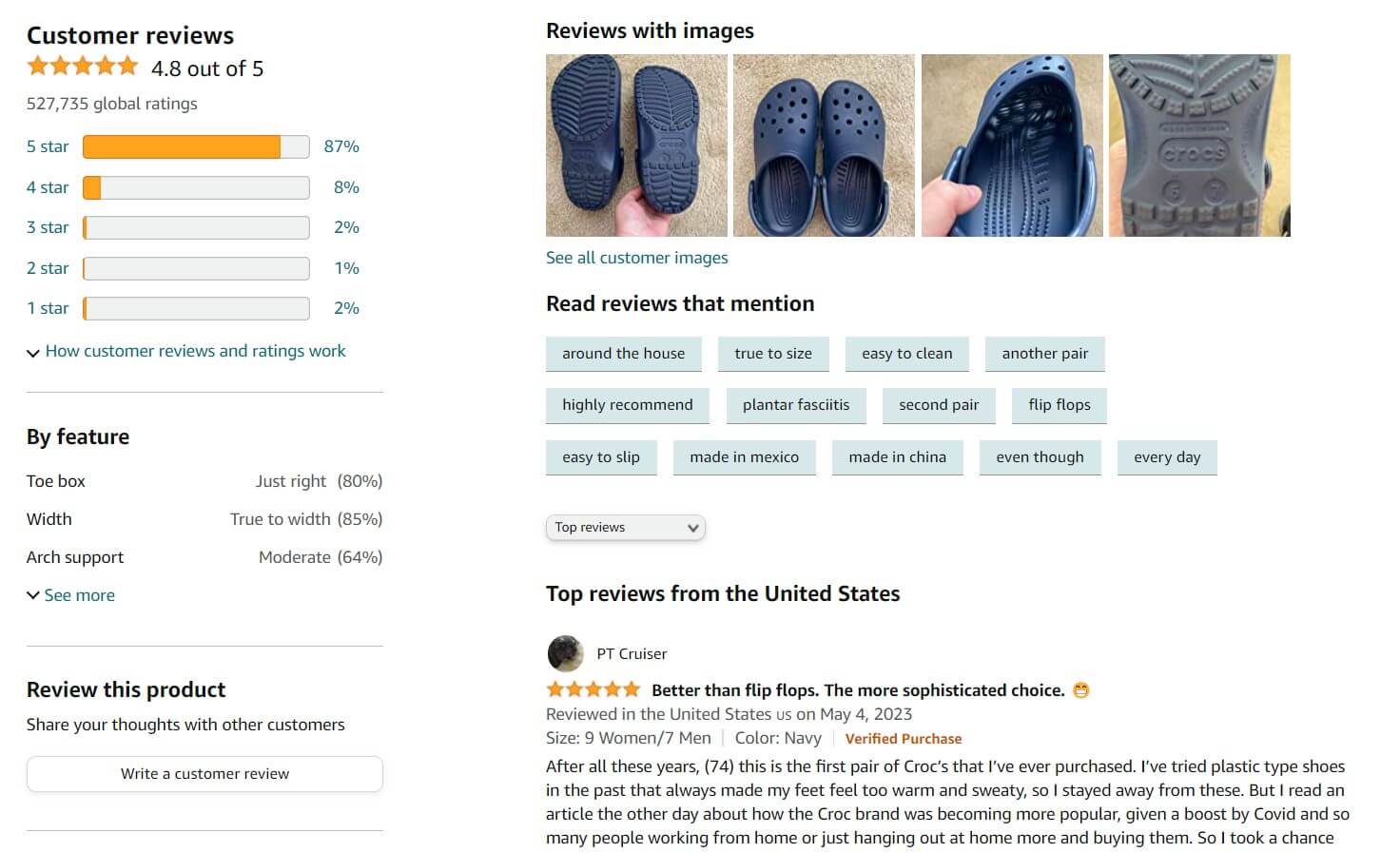 3. Look for the products that can solve problems
The good strategy to create a product that people want will always be through addressing a customer's pain point. Meanwhile, abstract their pain points are typically about addressing bad or irritating experiences with the current range of items available.
It is important to pay special attention anytime you encounter typical problems with an existing product line. To come up with your next successful product concept for your eCommerce brand, you may need to be acutely aware of the pain points and minor irritants you encounter in your own life.
You can also accompany this strategy with the previous one of looking through customer reviews to find out if the existing products are able to solve their problems. If not, that is your chance to create the product that can do so!
4. Check the Google keyword planner for search queries
It goes without saying that search engine organic traffic is a crucial marketing channel. When looking for keyword opportunities, a product is carefully chosen based on the popular search terms, the volume of monthly searches, and the level of competition for those terms.
This strategy can be somewhat sophisticated and calls for a basic knowledge of both keyword research and search engine optimization. Yet, it has a great benefit which is matching product demand to current keywords. That can be a useful strategy for attracting consistent organic traffic from Google. 
Google Keyword Planner is one of the best tools you can use to find out what people are searching for, which could help you identify the next item to sell.
Formerly known as Google Keyword Tool, it is a tool for keyword research that is based primarily on Google's suggested phrase terms. The following are some advantages of utilizing this tool:
Finding new keywords:

Discover keyword suggestions that are relevant to your offerings.

Observing monthly searches:

View estimates for a keyword's monthly search volume.

Identifying cost:

Find out how much it typically costs for your ad to appear in keyword searches.

Arranging keywords:

Analyze how your keywords fit into several brand-related categories.

Building new campaigns:

Create fresh campaigns based on thorough keyword research using your keyword plan.
Once you find the keyword related to a product that reflects its potential of success, you can choose to sell that product and make use of the data offered by the tool to implement an effective launching campaign.
With all of these things in place, you can be confident that you are selling high-demand products with the right promotion strategies to ensure success right at the start.
Final words
While Shopify is more powerful than ever nowadays, wise decision-making is essential for success in the eCommerce world. To make the most out of it, you must be able to adapt to change and sell the right products.
The list above introduces some of the best products to sell on Shopify in 2023, but there are many more to choose out there whether you are a new business or an experienced store owner.
However, remember that discovering high-quality products is only one part of the strategy. The true secret is figuring out how to market them. Now it is time to roll up your sleeves and create your Shopify store. Good luck!