Two of the most popular choices, Shopify vs Square, are often pitted against each other in a battle of features, pricing, and ease of use. These platforms can be the backbone of your online business, providing you with everything from payment processing to inventory management.
But with so many opinions out there, how do you choose the right one?
In this article, we'll take a deep dive into Shopify and Square, exploring their features, pricing, and suitability for different types of businesses.
By the end of this article, you'll be equipped with the knowledge and emotional clarity to make the right choice for your business, and take the next step towards achieving your dreams!
What is Shopify and How does it work?
​​Shopify is a powerful and user-friendly e-commerce platform that allows businesses to create, run and manage their online store, sell products, connect with customers and make money.
In technical terms, it is a subscription-based software-as-a-service (SaaS) sales platform that offers a range of subscription plans to fit the needs of businesses of all sizes.
At its core, Shopify works by centralizing product data, customers, and operational tasks in one system that connects to all of your sales channels seamlessly. This means that businesses can easily manage their inventory, fulfill orders, process payments, track sales, and access a range of business management tools all from one place.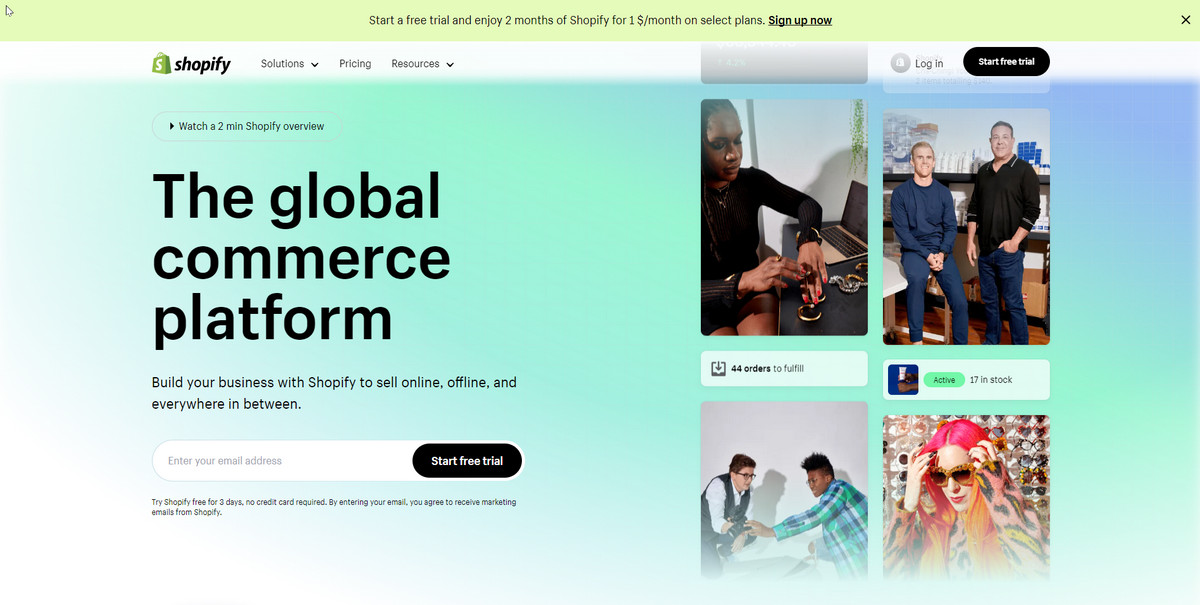 At the current times, Shopify offers four standard subscription plans with fees starting at $25 per month. All Shopify plans come with a suite of essential business management tools, including product sourcing, sales and inventory tracking, payment processing, shipping, customer accounts, marketing, and reporting.
Plus, businesses can expand their Shopify toolkit easily with hundreds of Shopify Apps, making it easy to explore and expand into new product lines and sales channels.
What is Square and how does it work?
Square is a game-changing mobile payment processing app and card reader that revolutionized the way businesses accept payments. It disrupted the traditional credit card processing industry by eliminating the need for complex contracts and long-term commitments.
Square is a comprehensive platform that provides a range of services and products to help merchants manage their businesses. It made it possible for businesses to accept card payments anytime, anywhere, without the hassle of approval processes or monthly fees.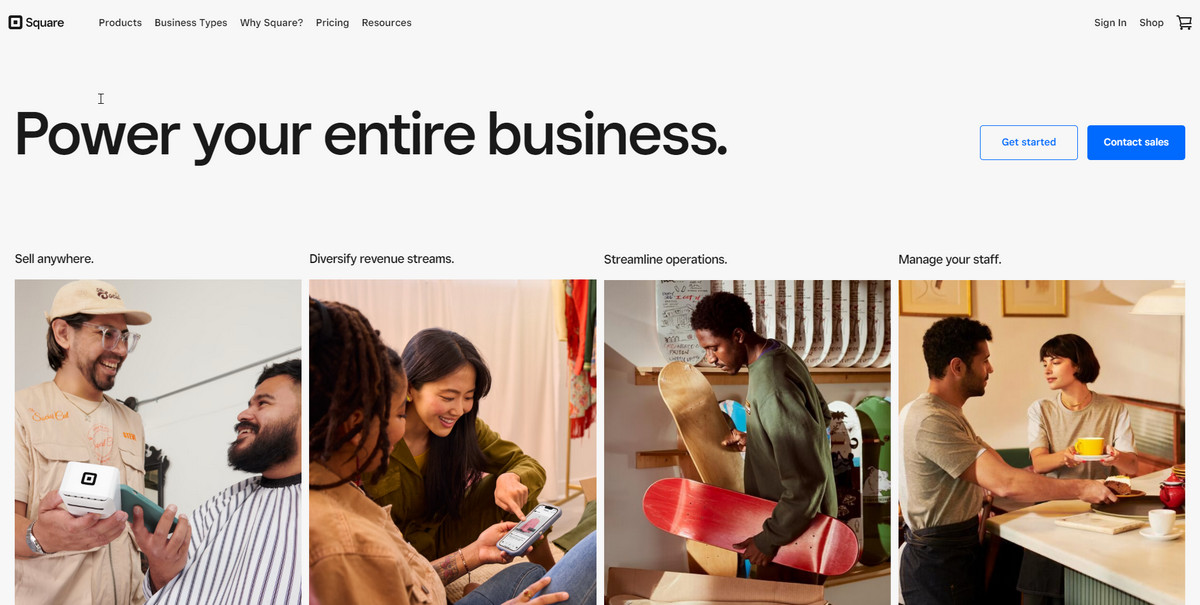 With Square, businesses can manage day-to-day operations, sell goods and services both in-person and online, and access a full suite of mobile, retail, and online sales and business management tools in one streamlined package.
For most users, the only costs associated with using Square are its transparent, flat-rate payment processing fees. This makes it an ideal choice for small businesses looking for an easy-to-use, cost-effective solution to manage their operations and accept payments.
Apart from payment services, Square offers a suite of tools for business management, including Square Analytics. This tool can be used in conjunction with its POS products, making it easy for merchants to track their sales and inventory.
Shopify vs Square: Head-to-head Comparison
1. Shopify vs Square: Pricing
While both were known for their fair pricing and comprehensive solutions, the differences between the two soon became apparent.
At first glance, Square appeared to be the victor in the battle of the entry-level plan, offering a basic POS system free of charge while Shopify demanded a small fee of $5 per month.
However, as the journey continued up the tiers, the tables turned in favor of Shopify. While Square charged extra for businesses that need more advanced features at $29 per month, plus processing fees, Shopify included everything at just $19 per month (yearly plan).
While Square fees are not the cheapest on the market, the company provides many free features, including activation, the POS app, chargebacks, support, advanced reporting tools, PCI compliance, and next-business-day deposits.
2. Shopify vs Square: Enterprise Plan
Shopify vs Square both offer Enterprise Plans for businesses with large-scale needs. However, there are some differences between the two platforms in this category.
Shopify's Enterprise Plan is called Shopify Plus. It is designed for businesses that require high-volume sales, advanced customization options, and reliable performance.
The plan includes a dedicated account manager, unlimited bandwidth and storage, and access to enterprise-level features such as custom checkout, automated workflow, and integrations with third-party systems.
Shopify Plus also offers advanced security measures and 24/7 customer support. The pricing for Shopify Plus varies depending on the needs of each business but typically starts at $2,000 per month.
On the other hand, Square's Enterprise Plan is called Square for Retail. It is designed for retail businesses with multiple locations and complex inventory needs. The plan includes advanced inventory management features, such as low stock alerts, purchase orders, and cost of goods sold reports. It also offers customer relationship management tools and employee management features such as time cards and permissions.
3. Shopify vs Square: Main features
Both Shopify vs Square offers a comprehensive set of features for businesses looking to set up an online store or accept credit card payments. However, Shopify offers more comprehensive e-commerce features, while Square is primarily focused on payment processing and point-of-sale features.
Here is a table listing the divergent views:
| | | |
| --- | --- | --- |
| | Shopify | Square |
| E-commerce Platform | Comprehensive e-commerce solution with rich features such as inventory management, order tracking, shipping, and multi-channel selling | Limited e-commerce functionality with basic features such as online store creation, inventory management, and order tracking |
| Mobile App | Available for both iOS and Android devices, allowing store owners to manage their business on-the-go | Robust mobile app with a wide range of features, including POS, inventory management, and business analytics |
| Integrations | Wide range of third-party integrations available, including accounting software, marketing tools, and social media platforms | Limited integrations available, focused primarily on business management tools such as accounting and inventory management |
| Scalability | Suitable for businesses of all sizes, with the ability to scale up or down depending on the needs of the business | Suitable for small to medium-sized businesses, with limited options for scaling up |
| Marketing and Analytics | Robust marketing tools available, including SEO optimization, email marketing, and social media integration. Built-in analytics dashboard provides real-time insights into store performance | Basic marketing tools available, with a focus on email marketing and social media advertising. Limited analytics available |
| Multi-channel selling | Allows store owners to sell on multiple channels, including social media platforms, marketplaces, and in-person sales | Limited multi-channel selling options available |
| Gift cards and Loyalty | Built-in gift card and loyalty program functionality available | Gift card and loyalty program functionality available as add-ons with additional fees |
💡Please note: This table is not an exhaustive list of all features and functionalities of Shopify vs Square.
4. Shopify vs Square: Design and User Experience
Let's dive into another comparison regarding the design and user experience vs Shopify vs Square.
#1. Design
Shopify has a reputation for its design flexibility and range of customizable themes. It offers a variety of professionally designed themes, both free and paid, that can be easily customized without any coding skills. Shopify's drag-and-drop interface allows users to add or remove sections, edit content, and rearrange the layout of their online store.
Additionally, Shopify has a large community of developers and designers who create third-party themes and apps to enhance the platform's functionality and design.
On the other hand, Square's design options are more limited than Shopify's. Square's online store design is based on templates, and while it allows users to customize the look and feel of their online store to some extent, it is not as flexible as Shopify's design options. Square's website builder is user-friendly and easy to navigate, making it a good option for small businesses looking to create a simple online presence.
#2. User experience
In terms of user experience, Shopify has a straightforward and intuitive interface, making it easy for users to navigate and manage their online store. Shopify provides a user-friendly dashboard that allows users to manage products, track orders, and view sales reports.
The platform also has a comprehensive set of features, such as abandoned cart recovery, discount codes, and inventory management, that make it easy for users to run their online store efficiently.
Square's user experience is also easy to navigate, with a simple dashboard that allows users to manage their products and orders. Square's POS system is designed to be user-friendly, allowing for quick and easy transactions in-store.
However, Square's online store management features are not as comprehensive as Shopify's, and it lacks some of the advanced features, such as abandoned cart recovery and discount codes.
Overall, Shopify offers a more flexible and customizable design experience, as well as a more comprehensive set of features, making it a better choice for businesses looking to create a robust online store.
5. Shopify vs Square: POS Solutions
Before we get into any details, take a look at this table:
Shopify
Square
Hardware and software integration
Only works on its own hardware
Can be used on any compatible ones
Payment processing
Traditional credit card processing
A wider range of payment options, including contactless payments
Inventory – Order – Customer management

Multi-location inventory management
Automatic inventory syncing with online sales
Ability to create product variants and bundles.

Basic tools included only.
Reporting and analytics
Offering a wider range of customizable reports and more advanced data analysis features
Basic tools included only
Both Shopify vs Square offer POS (Point of Sale) solutions that enable businesses to process transactions and manage inventory and customer data.
Shopify POS is a mobile app that allows merchants to accept payments, manage inventory, and view sales data from anywhere. It integrates with Shopify's e-commerce platform, allowing merchants to manage their online and offline sales channels in one place.
On the other hand, Square's POS solutions integrate with other Square products like payment processing and marketing tools. Here is a brief comparison between these two platforms:
6. Shopify vs Square: Hardware and software integration
Both Shopify vs Square offers their own hardware and software solutions. However, Shopify only offers its POS software on its own hardware, while Square allows its software to be used on any compatible hardware. This gives Square an advantage in terms of flexibility and affordability.
7. Shopify vs Square: Payment processing
Both Shopify and Square offer payment processing as part of their POS solutions.
However, Square's payment processing rates are generally lower than Shopify's. Additionally, Square offers a wider range of payment options, including contactless payments, while Shopify only offers traditional credit card processing.
8. Shopify vs Square: Inventory, Order and Customer management
Both platforms offer inventory management features, including the ability to track stock levels, receive low-stock alerts, and create purchase orders.
However, Shopify's inventory management system is more robust and includes features like multi-location inventory management, automatic inventory syncing, tracking customer spending, and the ability to split and merge orders.
9. Shopify vs Square: Reporting and analytics
Both platforms offer reporting and analytics features to help businesses track sales, inventory, and customer data.
However, Shopify's reporting and analytics tools are more comprehensive, offering a wider range of customizable reports and more advanced data analysis features.
Square's reporting and analytics features are more basic and may not be sufficient for businesses that require more in-depth data analysis.
Shopify vs Square: Which is better?
In summary, when it comes to choosing between Shopify vs Square, it ultimately depends on the specific needs and goals of your business.
Shopify is generally better suited for businesses looking for a scalable and comprehensive e-commerce solution,

While Square may be a better option for small businesses focused on in-person sales and looking for more POS features and credit card reader options.
Shopify's strengths lie in its extensive range of features and add-ons, ease of use, and theme customization options, which make it an excellent choice for businesses looking to build an online store that can grow with their needs. However, its subscription costs and transaction fees are higher than those of Square.
On the other hand, Square is a good option for businesses that are already using Square POS and are looking for a simple and straightforward e-commerce platform. It may be less expensive than Shopify, but it has limited payment gateway options and lacks bulk editing features, which could be a drawback for some businesses.
Conclusion
In conclusion, both Shopify vs Square offer robust e-commerce and point-of-sale solutions for businesses of all sizes. While Shopify may be more expensive in terms of subscription costs and transaction fees, its all-around performance makes it a strong choice for businesses that prioritize e-commerce sales.
Regardless of which platform you choose, it's important to remember that both Shopify vs Square offer free trials, so you can test them out before committing to a subscription.
By trying them out and evaluating their features, pricing, and usability, you can make an informed decision that suits your business needs and goals.