Shopify is more than just an eCommerce platform. It's a powerful tool that helps thousands of entrepreneurs create and run their own dropshipping stores.
But if you want to succeed in dropshipping, you need to find the right suppliers for your products. This is not an easy task, as there are many factors to consider when choosing a supplier.
That's why we have done the research for you and compiled a list of some of the best Shopify dropshipping suppliers for your business. In this article, we will review each supplier and help you decide which one suits your needs.
Let's dive in!
🔑  KEY TAKEAWAYS:
Shopify is the #1 eCommerce platform for dropshipping thanks to its user-friendliness, feature richness, and outstanding customer support.
Shopify dropshipping is a great business model to start making money online without overhead costs.
The best Shopify dropshipping suppliers are those that offer top-notch products, fast shipping, and comprehensive customer support. They will give you many advantages in starting and running your dropshipping business.
What Is Shopify Dropshipping?
Shopify dropshipping is a business model that enables you to sell tangible products created, stored, and transported by Shopify dropshipping suppliers from your own store. In essence, you just sell—neither produce nor store anything.
With this approach, you can order goods on demand from Shopify dropshipping suppliers rather than making an upfront inventory purchase.
💡 For example:
Imagine that your Shopify business sells hats. The most recent collection of hats from your supplier costs $12 on their website. You decide to list and sell it for $20 on your Shopify store, making a profit of $8 per sale.
If a buyer decides to purchase the hat, you order it from your Shopify dropshipping suppliers and send them the customer information. The suppliers then send the hat with your brand's name on it to your customer.
Why Should You Choose Shopify for Dropshipping?
If you want to start or scale your dropshipping business, you need a reliable and powerful eCommerce platform. And that's exactly what Shopify is.
Shopify is the leading eCommerce platform for dropshipping and for good reasons. It lets you create and run your online store with ease. You can access a variety of tools, apps, and plugins to help you with product sourcing, marketing, analytics, and more.
You can also customize your store's design and functionality, and monitor your progress with data. All from one convenient dashboard! And unlike other platforms, Shopify provides you with top-notch security and wholehearted support.
That's why we chose Shopify as the #1 eCommerce platform for dropshipping in our comparison of the best 10+ dropshipping platforms.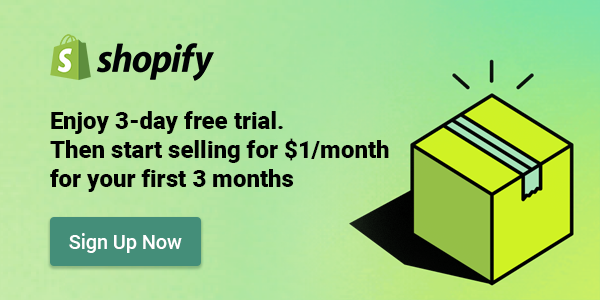 The Pros and Cons of Shopify Dropshipping
Shopify dropshipping is a great option for starting an online business for good reasons, such as:
All-in-one solution: Shopify has a comprehensive collection of features for online stores, and it allows you to utilize third-party apps to enhance every area of your store.
User-friendliness: Without any specialized knowledge, anybody who wants to set up a dropshipping store using Shopify still can add, modify, and manage their eCommerce stores with ease. Additionally, since Shopify is a cloud-based platform, the development team at Shopify will take care of upgrades and any other technical parts of your Shopify business.
Selling almost everything: There are hardly any limitations on what you can sell while running Shopify dropshipping stores. In fact, Shopify includes a list of products that are not allowed, including items that violate trademarks, copyrights, and anything that encourages self-harm. Yet, you can sell nearly anything as long as you're not selling prohibited goods.
Scalability: Shopify is a scalable platform thanks to the availability of apps, and pricing plans that can expand with your business demand.
Good for integrating sourcing and fulfillment: You need platforms or Shopify dropshipping suppliers who ship the goods to your consumers if you're a dropshipper. Finding reliable Shopify dropshipping suppliers with high-quality goods and quick shipment services might be difficult without good integrations. Fortunately, Shopify has connections with lots of excellent ones.
Easy management of shipping options: Shopify allows for flexible management of shipping choices and their costs. As a partner of the well-known shipping companies DHL and UPS, Shopify gives you the flexibility to purchase goods directly from manufacturers while still using your preferred courier service.
Although Shopify dropshipping provides undeniable benefits, there are some drawbacks you should be aware of.
Tough competition: Given how easy it is to start a dropshipping business on Shopify, there will obviously be crowded and lower profitability (in some situations). Stores may even have identical goods, so they may attempt to reduce prices to draw customers, which increases fierce competition.
Inventory issues: Inventory is utterly out of your control. It may become a huge problem, for instance, if you collaborate with Shopify dropshipping suppliers who sell goods that are of poor quality.
Limited blogging interface: Shopify doesn't offer as many blogging functions when compared to content management systems like WordPress. So, if you own an eCommerce store looking to increase your Google organic traffic, it could be a challenge. Luckily, we have a complete guideline on how to build effective Shopify blogs. If you are interested, check it out now!
The 8 Best Shopify Dropshipping Suppliers That You Need To Know
Before we get started, we'd like to offer you the summary of the A-list Shopify dropshipping suppliers for a quick review:
| | | |
| --- | --- | --- |
| Shopify dropshipping suppliers | Pricing | Recommended for? |
| AliExpress | Free | Merchants who are seeking a variety of goods and shipping from China or Hong Kong |
| Doba | $24.99/ $49.99/ $299.99 per month | Merchants who are just getting started with Shopify dropshipping |
| Alibaba | Free | Advanced merchants who favor private-label production and want to buy a large quantity of items at the distribution level |
| SaleHoo | $27/ $97 per month | US, UK, or Australian online merchants seeking to find products for their Shopify dropshipping stores |
| Worldwide Brands | $299 | Merchants who are looking for reliable and high-quality wholesalers |
| CROV | Free | Merchants who want to sell unique goods on Shopify |
| Wholesale Central | Free | Merchants who like free options should conduct a thorough due diligence process with the wholesalers. |
| Wholesale2B | $37.99/ $49.99 per month | Merchants who seek speedy shipment and intend to sell in North America. |
1. AliExpress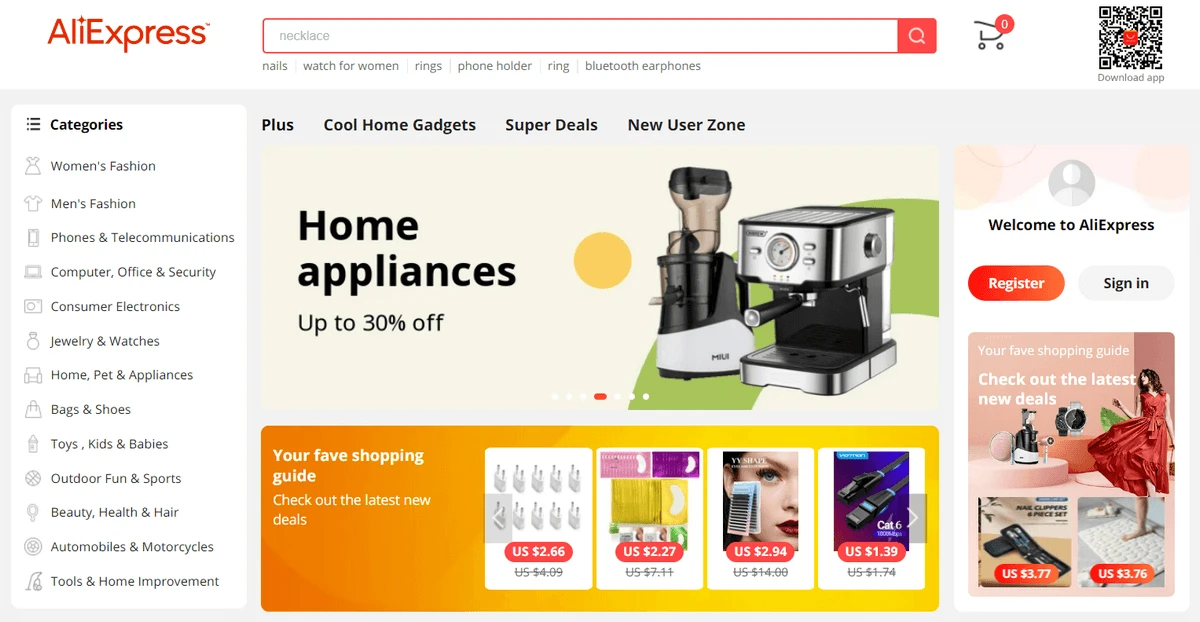 AliExpress was established as an affiliate of Alibaba.com in 2010 and serves as a marketplace for businesses to sell to customers (B2C). Currently, AliExpress is one of the top international Shopify dropshipping suppliers that has millions of visitors in 220 countries and regions worldwide.
They connect with suppliers in many countries, which is advantageous for businesses aiming for international markets. Affordable delivery options are available on AliExpress, with several suppliers providing free or inexpensive shipping.
Additionally, they provide ePacket shipping, which is a well-liked option for goods coming from China or Hong Kong and offers quicker delivery times. However, only 44 nations offer this shipping option. Therefore, it can take longer if you ship to places where ePacket isn't supported.
One standout aspect of AliExpress is its buyer protection program, which guards your purchases and offers replacements or refunds in the event of any problems.
Pros & Cons
✅ Pros
❌ Cons

Millions of products in a variety of categories, models, and designs
High profit margins
No requirements for minimum orders
Buyer protection policy

ePacket-incompatible countries will experience longer shipping times
Quality inconsistencies
Few customization options
Pricing
Although AliExpress is free to use, the Shopify integration conducted with an app can cost money.
2. Doba

Doba assists you in connecting with hundreds of Shopify dropshipping suppliers all over the world and is thought to be one of the most comprehensive dropshipping services on the market. You can find numerous trending products among more than 2 million available options.
Doba offers a user-friendly, straightforward interface. Simply create an account, select the things you want to sell, start promoting right away, and you may make sales. Basically, Doba is all for new beginners who need to run their dropshipping websites.
Besides, it can ship products to any place in the world as most of its suppliers are based in the US and China.
Pros & Cons 
✅ Pros
❌ Cons

Simple to use
Good inventory customization
Reasonable time frame for shipping and shipping costs

Pricing plans are quite expensive
Doba has expensive items, which results in a narrower profit margin and makes it challenging for you to compete with other stores.
Pricing
Doba's prices are flexible for all business sizes:
Start-ups – $24.99/month
Business – $49.99/month
Enterprise – $299.99/month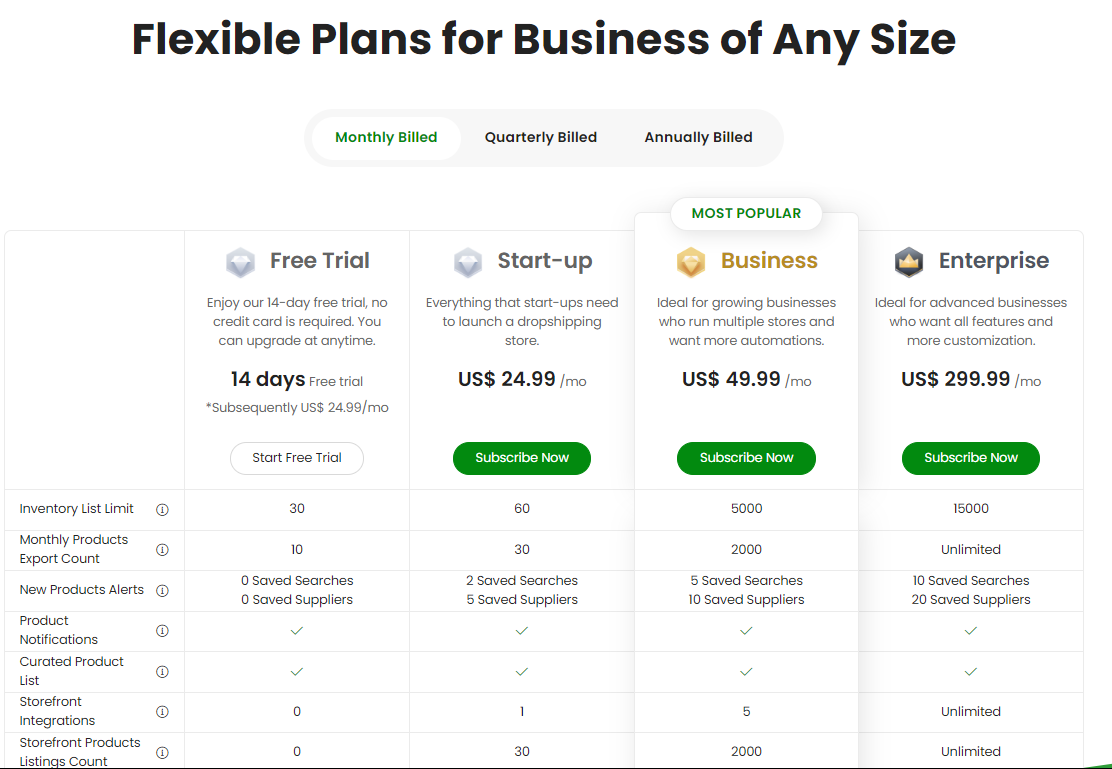 3. Alibaba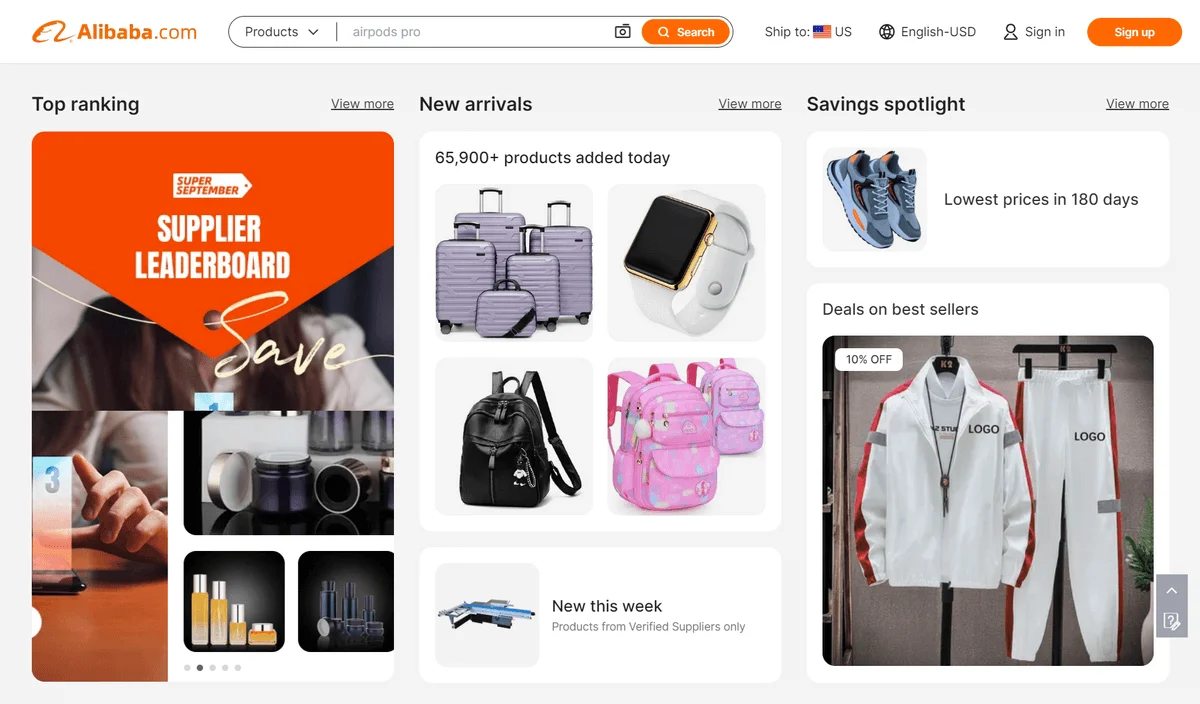 Alibaba stands out as a great option when it comes to finding great Shopify dropshipping suppliers, especially for those searching for a large selection of products and the capacity to buy in bulk.
It makes finding and sourcing products incredibly simple and smooth. Millions of products from more than 45 different product categories, including equipment and consumer electronics, are available on this platform. Additionally, the site has over 2 million suppliers ready to accept your orders.
Note that delivery dates for Alibaba dropshipping might range from two to six weeks. You can choose to ship by air or freight to reduce costs, but it's important to do your own research to develop the appropriate plans.
Last but not least, it's crucial to remember that Alibaba places more of an emphasis on wholesalers than on independent sellers.
Pros & Cons 
✅ Pros
❌ Cons

Diversity of products and categories
Ideal for private-label manufacturing
Connects directly with manufacturers

Shipping times can be long
Not suitable for individual sellers
Pricing
Alibaba is free to use.
4. SaleHoo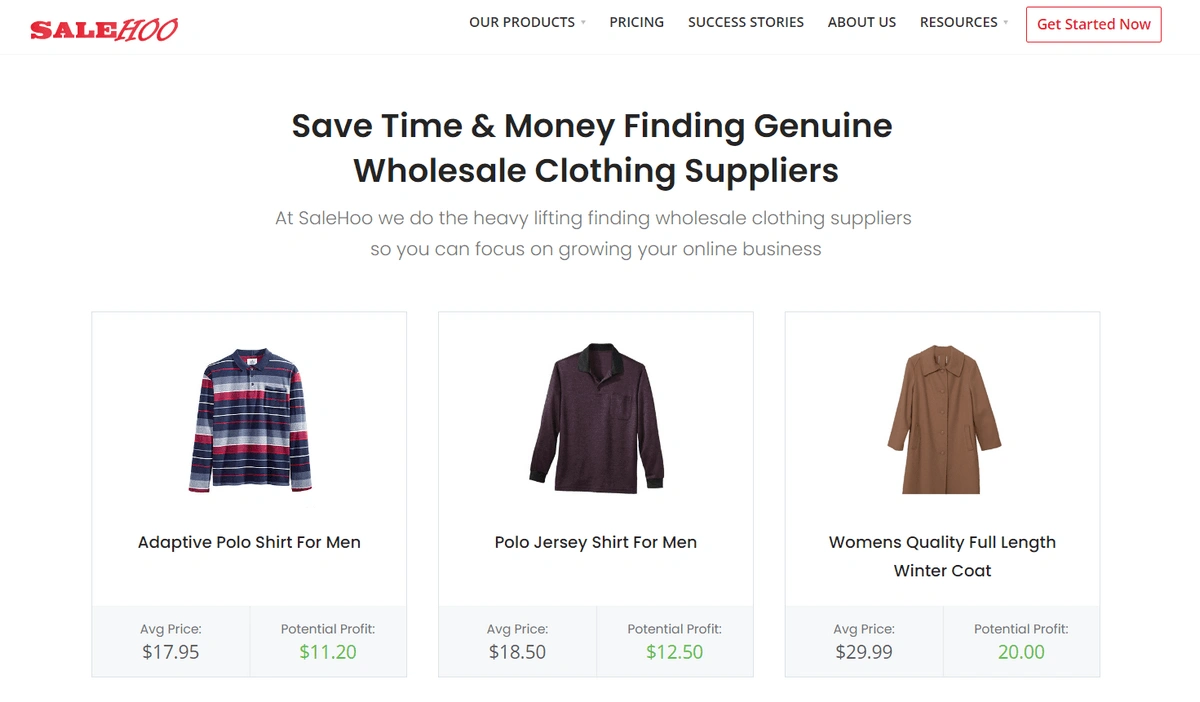 SaleHoo provides access to a sizable supplier database with more than 8,000 reputable Shopify dropshipping suppliers from the US, UK, and Australia, and there are more than 1.6 million branded products available. Before they are all included in the directory, SaleHoo screens them all.
In addition to fully approved suppliers, you get access to the SaleHoo Market Research Lab, which offers comprehensive data and sales analytics on every product.
This means that before introducing items to your own stores, you can check how well such items have performed in competing stores and online markets like eBay and Amazon.
Moreover, SaleHoo even provides you with a summary of the number of other stores that are offering each item, allowing you to take their availability into account while organizing your store display.
Pros & Cons 
✅ Pros
❌ Cons

High margins
Access to more than 8,000 trustworthy suppliers
There is no requirement for a minimum order
With comprehensive details on each product, it is simpler to identify items that are in high demand.

No free plan
No mobile app
Pricing
The dropshipping features of SaleHoo start at $27/month. For $67 annually or $127 upfront, you can also acquire access to its database (without the dropshipping features).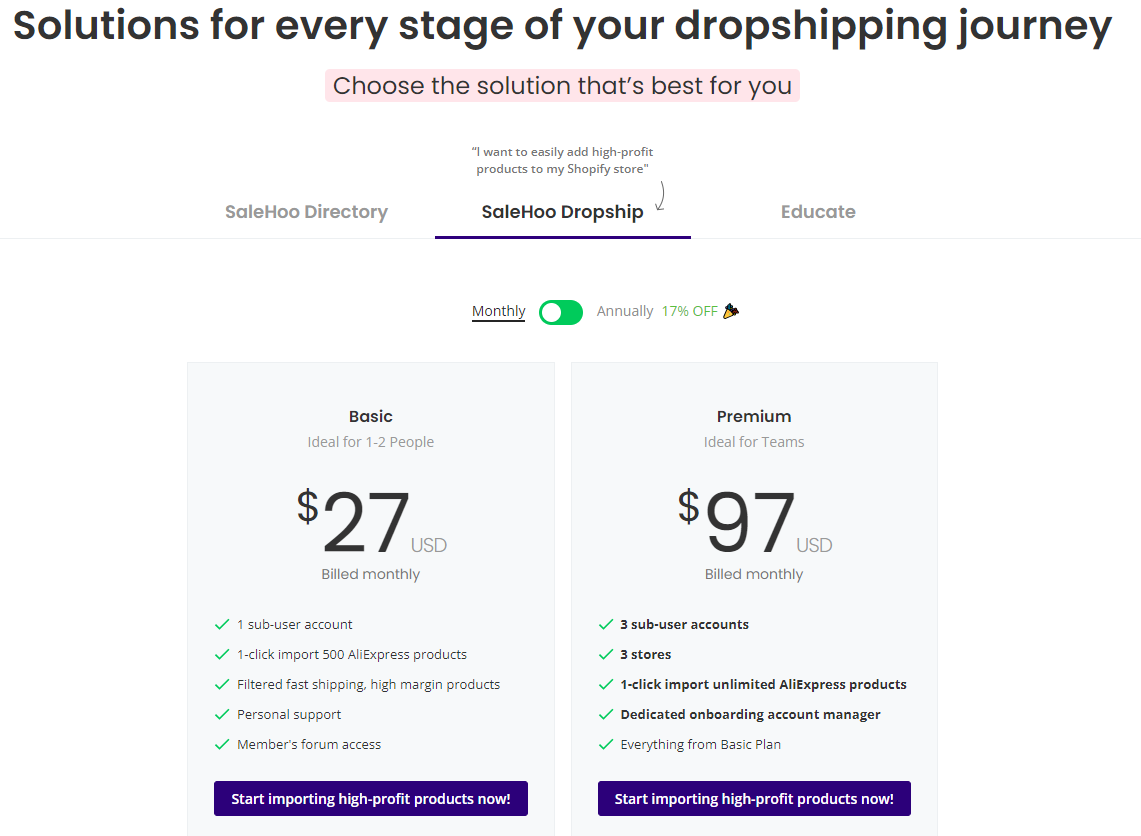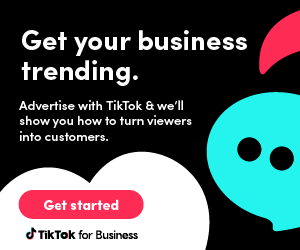 5. Worldwide Brands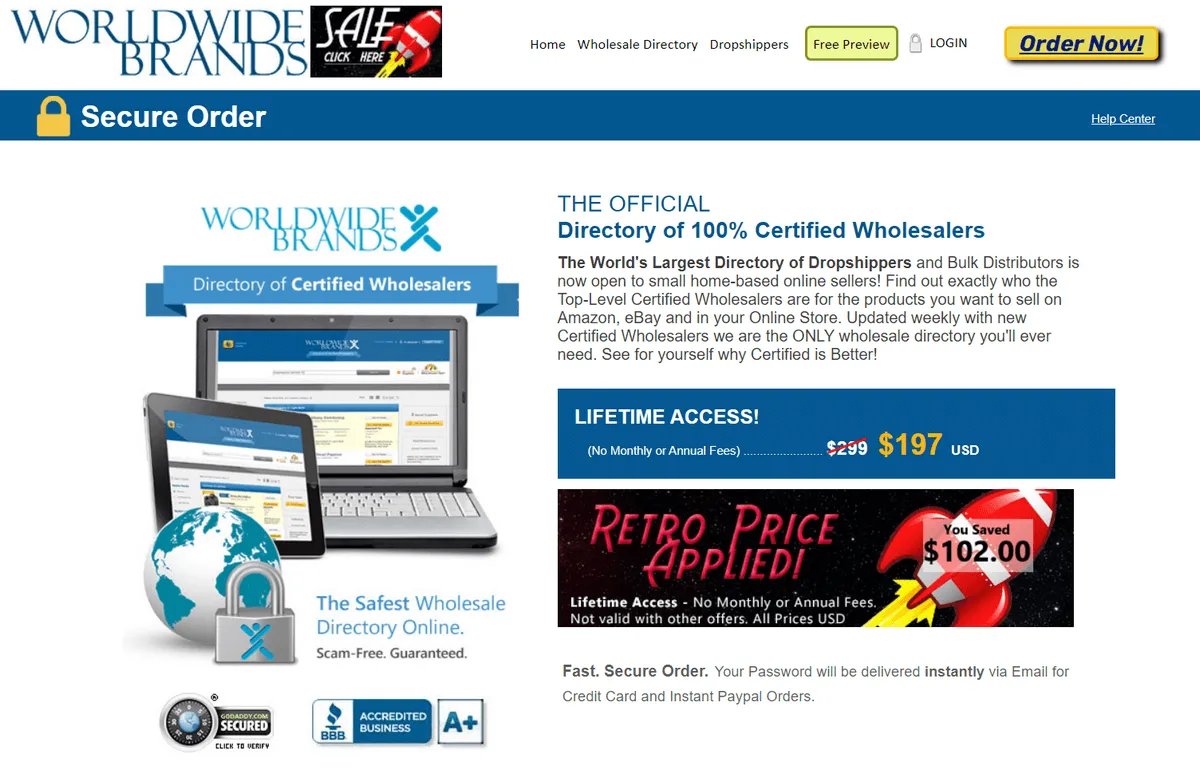 One of the longest-standing and most trustworthy supplier directories for dropshipping is Worldwide Brands. This company, which was founded in 1999, has a rigorous clearance process in place for any supplier who wants to join the list.
You won't need to be concerned about purchasing low-quality goods because each supplier is required to adhere to a set of pre-established standards. More than 16 million certified suppliers are available to engage with through Worldwide Brands.
Every type of consumer goods is available there, including electronics, books, clothing, shoes, accessories, sporting goods, home & garden items, and much more.
As it is a directory, the options, and delivery rates will vary depending on the particular wholesale dropshipper you connect with on the platform.
Pros & Cons 
✅ Pros
❌ Cons

Established and reputable supplier directory
Various product options
Connect with legitimate wholesalers
Ideal for various locations and niches

One-time payment for lifetime access to the directory is quite high
Not a well-designed site
Lack of automated tools or an order management system
Pricing
There are two payment options for becoming a lifetime member of Worldwide Brands.
One option is to pay a single fee of $299. The other option is to pay $99 initially and then two monthly installments of $110 each. Both options grant you the same benefits and access as a lifetime member.
6. CROV

Finding Shopify dropshipping suppliers for your business is easy with CROV. It connects merchants to a verified list of US dropshipping wholesalers, covering a wide range of categories.
One outstanding feature of CROV is its product request tool, which enables you to get supplier recommendations catered to what your business needs by getting in touch with its expert sourcing team.
With CROV, you have access to 100,000 factories globally, with prices ranging depending on the suppliers of certain products and shipping options. Additionally, CROV maintains a US warehouse, making it possible for orders placed within the nation to be shipped out more quickly.
Pros & Cons 
✅ Pros
❌ Cons

Availability of various product categories
Unique product request feature
Helpful sourcing team

Few shipping options
Higher product prices
Pricing
Lifetime free plan.
7. Wholesale Central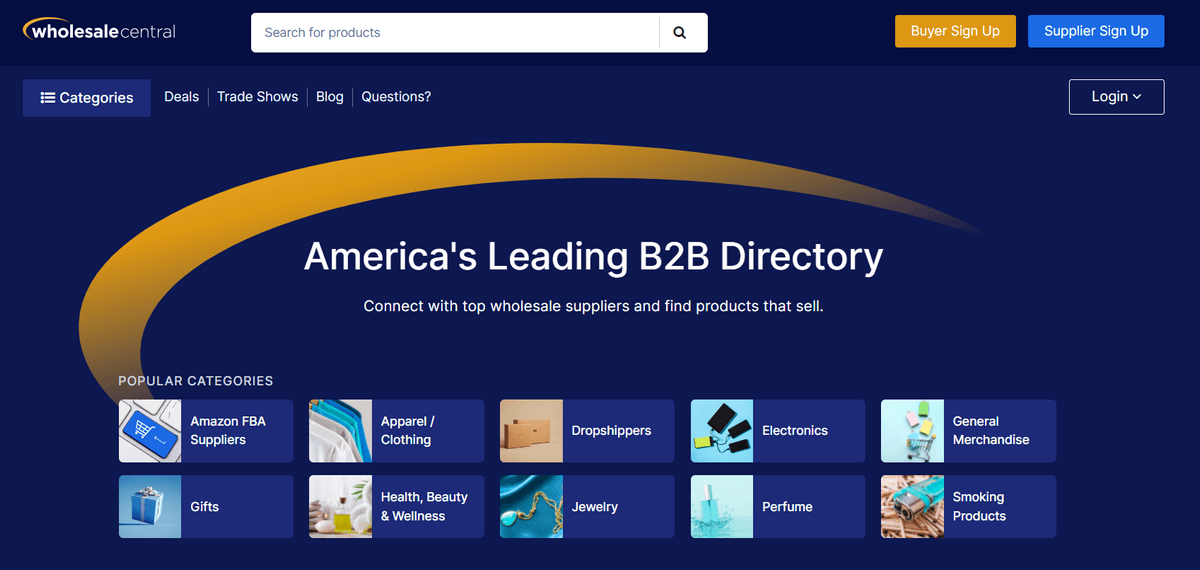 Wholesale Central is a directory of dropshippers, suppliers, and wholesalers. It provides a quick approach to locate a ton of possible suppliers for you.
You can browse a huge selection of Shopify dropshipping suppliers and goods on Wholesale Central. The suppliers' names, locations, and brief introductions are displayed on the list page. Even though Wholesale Central has vetted and screened every supplier, you are still recommended to proceed with extreme caution.
You can browse the contact details for a Shopify dropshipping supplier you are interested in working with and get in touch with them by phone or email once you have found your favorite one.
Wholesale Central has some interesting tools such as a Product locator, Trade shows calendar and directory, Resources for self-learning, etc. Yet, it doesn't offer any inventory management features.
Pros & Cons 
✅ Pros
❌ Cons

A low-cost option
Simple-to-navigate website

No order-management capabilities available to assist in synchronizing orders and products
No email or live chat options for support
Pricing
Free of charge.
8. Wholesale2B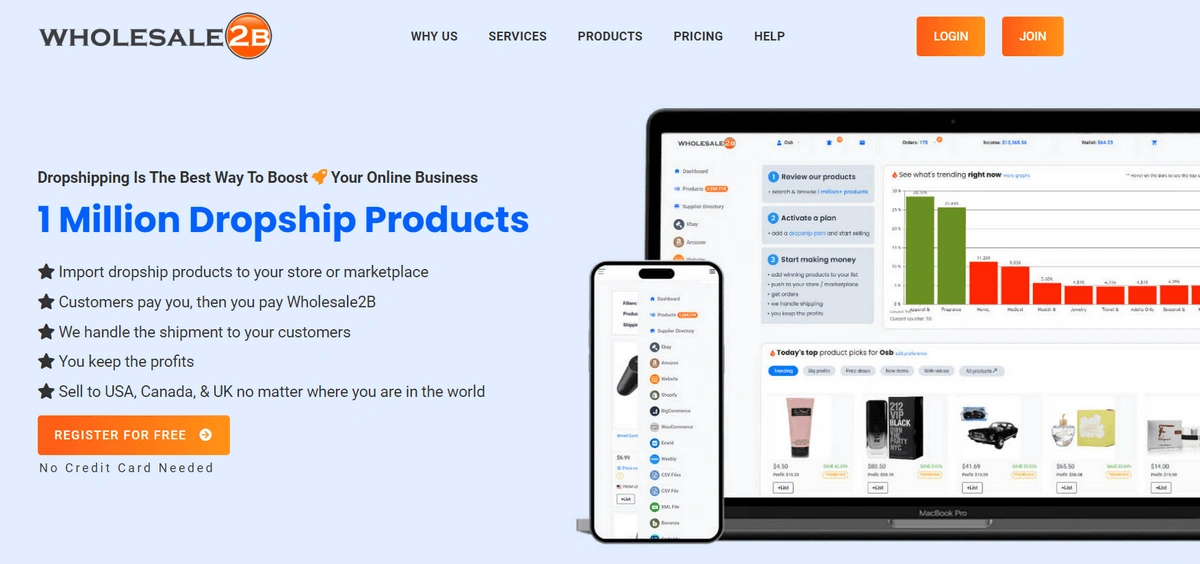 Wholesale2B, a supplier integration system, offers over a million products from wholesale Shopify dropshipping suppliers predominantly situated in the United States and Canada.
Since Wholesale2B provides real-time inventory automation, it is simple to import orders and track changes into your Shopify store. It's also effortless to construct distinctive collections with more than a million dropship-ready items from various niches.
Moreover, Wholesale2B offers a shipping time report that shows you the typical number of days it takes for each supplier to send products.
Products from Wholesale2B are delivered across both Canada and the US. So, customers from other parts of the world may have to wait a little longer to receive their orders.
No credit card is needed to register, and you can immediately begin browsing Wholesale2B's enormous product selection. You won't be charged until you begin dropshipping, so take your time.
Pros & Cons 
✅ Pros
❌ Cons

Useful automation and shipping tracking tools
Different pricing plans for different business sizes, which is good for scalability

Wholesale2B is not reachable by phone
If your buyer wishes to return the product, you may be required to pay a 20% restocking fee depending on the suppliers' policies
Products on Wholesale2B are often more expensive than those on other places
Pricing
The plans start with a free option and then, you have some paid ones, ranging from $37.99/month to $49.99/month.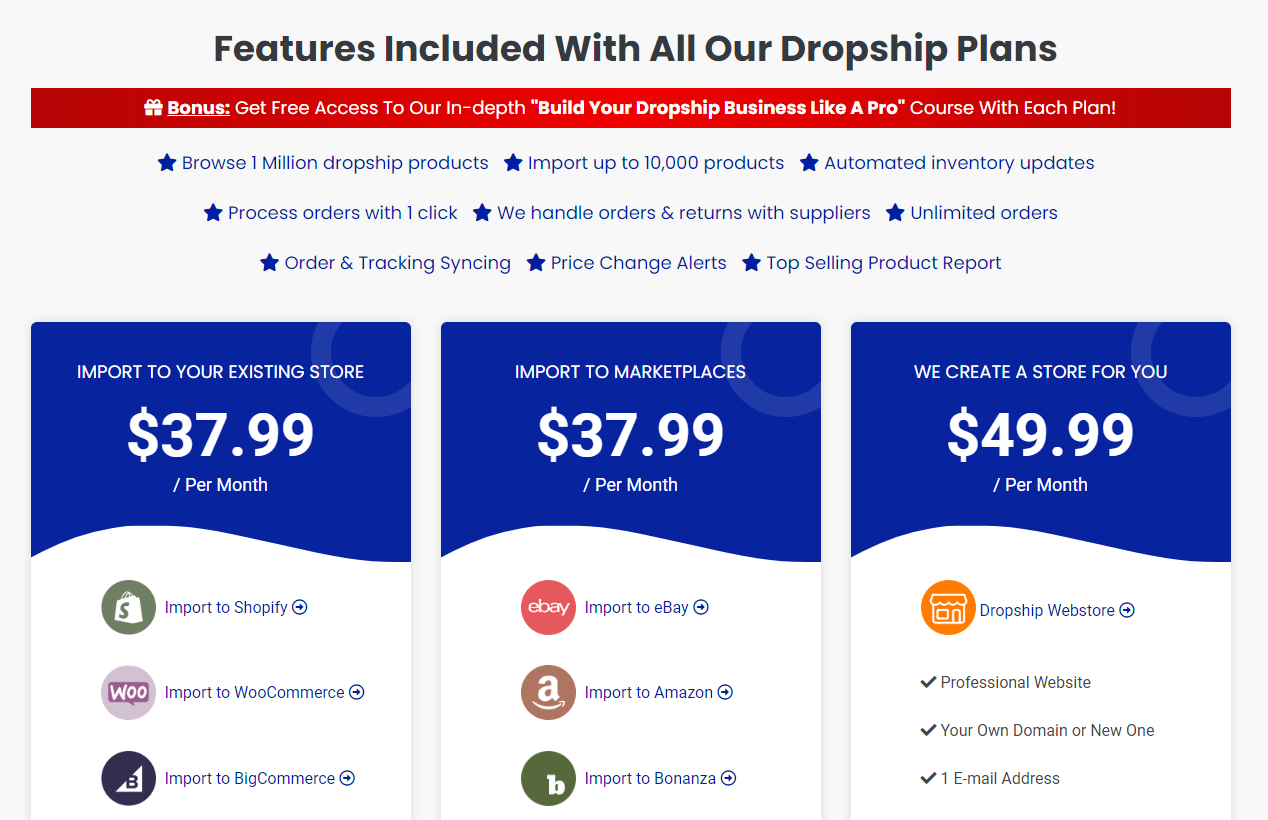 In Conclusion
And there you have it! The 8 fantastic Shopify dropshipping suppliers with millions of products to choose from and many useful features to help you run your dropshipping business.
By partnering with the top suppliers, you will have access to high-quality products at reasonable costs and the peace of mind that the items will be delivered safely and quickly to your customers. Ultimately, this will enhance customer satisfaction and your profitability overall.
Be mindful that finding the right dropshipping supplier is just one part of the game. There are lots of other things to do to get your business to the top. Take your time to browse around our blog to find other helpful information!