Shopify is a paid platform that comes with different price plans and enables you to develop an eCommerce site to sell your products. Ecommerce businesses based on Shopify are also able to sell in different physical locations via Shopify POS, a point-of-sale version of Shopify. If you're running an eCommerce as well as Brick & Mortar store, Shopify allows you to sync your inventory to track your record of stock variation. So, you can better manage your store using a single platform on your mobile, tablet, or PC.
To go deeper into what Shopify is, it's necessary to acknowledge that Shopify is not a standalone application. Shopify, being a complete package, is an eCommerce platform with a range of other utilities and top-notch features that offers a quick way to set up your eCommerce business & start selling your products. If you want further customization of your store or even develop it from scratch, Shopify features its own App Store and APIs to make your eCommerce experience seamless.
Whether you want to set up a simple eCommerce store to start your online business or are eager to discover some high-end features to ensure state-of-the-art CX to your store visitors, Shopify is scalable enough to sustain both requirements.
Let's go deeper into what Shopify is and what makes it one of the top choices as an eCommerce platform for entrepreneurs and eCommerce enthusiasts around the world.
What is Shopify?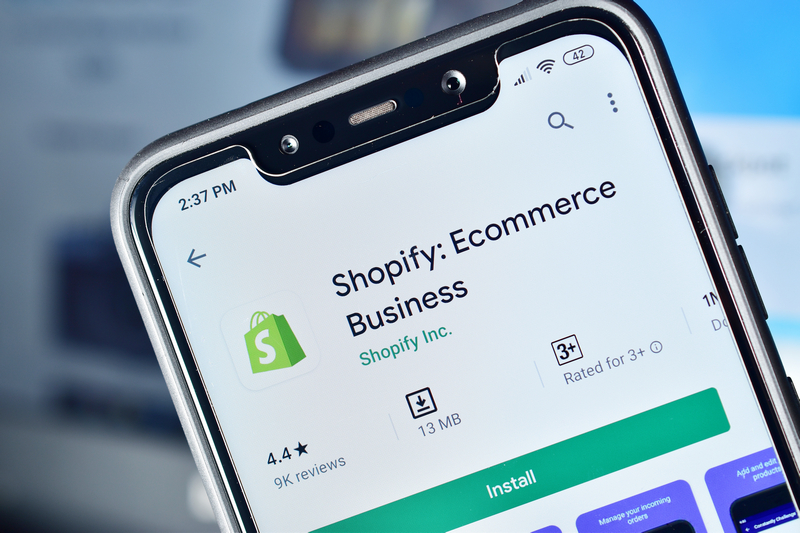 As we have discussed, Shopify, being a comprehensive eCommerce platform, enables you to initiate, scale, and handle your online business effectively. This subscription-based platform enables every non-tech savvy individual to create & Launch an engaging eCommerce store to sell their products.
How does Shopify work to give you the best eCommerce experience?
Shopify works by incorporating all your business functionalities into a centralized command console. As discussed earlier, if you're running a Shopify business for eCommerce and Brick & Mortar stores, you can synchronize your inventory to better manage your stores using a unified platform.
Using Shopify, you can develop and customize your eCommerce site to sell different items using different mediums like website, social media, brick & mortar stores, and other renowned marketplaces. Shopify also offers utilities to effectively manage products, stocks, payments, as well as courier services.
Shopify is a completely managed and cloud-hosted platform. It means you can access, manage, and run your store from anywhere using different devices without any need to troubleshoot software or set up in-house servers that come amidst high maintenance costs and low scalability. All you need is an internet connection and a compatible device that can be a laptop or your mobile or tablet.
Without any limitation of service hours, you can upload new products, delete obsolete ones, engage your prospects, receive payments, ship any product, and manage your daily finances as well as other crucial business functions. Some individuals opt for some poor-quality tools or platforms to end up wasting their time, energy, and capital due to their poor functionality and lack of essential utilities.
In simple words, Shopify offers a wide variety of effective and easy-to-use eCommerce tools that you'll need to successfully set up and run your online business. Shopify also allows you to seamlessly access & integrate third-party tools to make Shopify work for your existing business or website.
Layered Structure of Shopify Platform
Consider the Shopify platform with different layers that you can opt from to develop an effective eCommerce site for your business. Let's discuss these layers in detail
Layer 1 – The core product of Shopify
You get the first layer as soon as you choose from any Shopify price plans. It offers everything you require to swiftly turn your business plan into a working model and start locking sales. It offers built-in templates that enhance the appearance and vibe of your eCommerce store, different utilities to sell on multiple mediums, an integrated payment gateway, as well as SEO, and other marketing utilities. Shopify offers all these utilities as its core products. These are the foundational basis of any eCommerce plan that you are going to purchase.
For individuals who are eager to go deeper into the further nitty-gritty to enhance their eCommerce experience, they can gain access to Shopify APIs and customization tools to custom-built their eCommerce site as per their unique requirements or expectations.
Layer 2: Shopify's additional utilities
Every business is unique and keeps evolving as it grows over time. To address the challenges and requirements of evolving business, Shopify offers some remarkable upgrades to assist business owners in scaling their business without going out for third-party support. From user-friendly interface to swift payment gateways, these features and utilities are exclusive to Shopify customers and are developed to assist enterprise-grade businesses in making a shift toward the eCommerce domain.
Layer 3: Third-party apps developed by a trusted community of developers
Shopify's App Store offers a range of applications and utilities developed by third-party entities to further enhance your store's functionality without interfering with the code. Any feature you can imagine for your eCommerce store, there's a dedicated app that lets you turn your idea into practice. You'll discover some state-of-the-art tools and utilities to scale your eCommerce business in the Shopify App Store. It can be everything from modern SMS apps or the compelling social media advertisement tools.
There's also a community of experts that you can outsource to develop customized tools for your business. And if you are a tech-savvy individual who knows how to code, you can do it for yourself.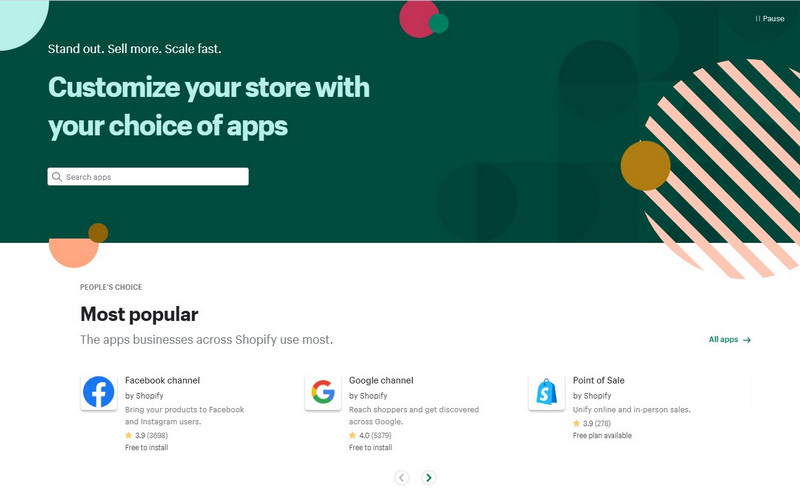 Utilities that come with Shopify's core product
Shopify's core product works the same way on each Shopify plan. Shopify, being a one-stop solution, offers you an appealing storefront, a fast payment system, shipping or courier services, and marketing headquarters. These are the functions that are mandatory to smoothly run any eCommerce business.
Let's discuss these unique and practical functionalities or features in detail.
Storefront
Web-hosted Store – With Shopify, you quickly gain access to a web-hosted eCommerce store where you can set up different product pages, publish articles on a dedicated blog section, and of course, sell your business offerings. You can leverage customization to enhance the appearance, theme, and vibe of your eCommerce site by choosing from the range of built-in templates. You have the freedom to choose any theme or color tone that matches your brand image from Shopify Theme Store.
Free online hosting services – A web-hosted platform means no need to deploy in-house servers due to the availability of managed network and cloud services that work around the clock to keep your business live and available 365/24/7. Shopify deals with every single challenge related to network or technology on its own, including cybersecurity, software updates, network maintenance, capacity issues, etc.
POS Lite – Shopify POS (point-of-sale) application enables you to sell your products and sync inventory for your brick & mortar store. All Shopify plans offer a free POS Lite plan. All you need to do is sign-up at a store and place an order for personal accompanying hardware.
Payment Options
Payment Gateways- On Shopify, you can opt from 100+ payment gateways, including Shopify Payments. Shopify payments eliminate any trouble that involves integrating a third-party payment gateway and saves transaction fees up to a notable extent. Whatever payment option you select, you can easily receive payments and sell your products in more than 100 currencies.
Shopify Checkout – Irrespective of the medium you're using to sell your products, like your Shopify website or social media pages, you can easily divert your customers to Shopify Checkout during the final stage of their sales journey. With more than 2 billion orders processed, Shopify consistently keeps optimizing the performance and customer experience of Shopify Checkout to offer you the most robust checkout system in the world.
Shipping or Courier Services
Shipping – You can set up a shipping partner that suits your business model. If your business is based in the USA, Canada, or Australia, you can feature live order tracking, quick delivery services, and discounted shipping charges using Shopify Shipping.
Remote Business Support
Shopify's Mobile Application – You can download and use the free Shopify application on your mobile devices to manage your business remotely. It offers all the features that are available on PC to let you manage your business from anywhere and anytime.
Interactive Dashboard – You can monitor your store performance, sales chart, orders history & status, and other relevant activities in real-time. You can access valuable insight into your website visitors using the interactive and user-friendly reporting dashboard of Shopify. You also get comprehensive reports, performance metrics, and stats related to different domains of your business. It helps you optimize your business strategies and curb any potential roadblocks.
The Shopify App Store – The Shopify App Store features a range of free and paid applications that are intended to further enhance your eCommerce site. It's a remarkable way to incorporate additional and unique features & functionalities into your eCommerce store. It can be a full-scale marketing application or onboarding local courier services.
24/7 Support – You can leverage 24/7 customer support, detailed technical documents, testimonials, as well as comprehensive user guides on Shopify's blog.
Marketing Optimization
Marketing Support Features – Shopify's marketing utilities enable you to engage more prospects on your website via content and SEO utilities, along with creating Facebook & Google Ad campaigns. You can track the KPIs of your different marketing strategies using a unified dashboard and gain insights into valuable customer or visitors data.
End words
Shopify isn't a standalone application but a combo of different state-of-the-art utilities, features, and functionalities that remain instrumental in growing any online business. Additionally, Shopify serves as a sustainable ecosystem and offers great value for your eCommerce business by onboarding web developers and eCommerce experts in the communal environment to make eCommerce adaptable for everyone.
Whether you're an SMB that is trying hard to make its digital presence or a traveling products brand engaging customers around the globe, Shopify is here to assist you in skyrocketing your eCommerce business.