You have built a beautiful Shopify store and launched various marketing campaigns but your eCommerce website still does not receive enough visits.
Well, that's because you are not doing enough for SEO (Search Engine Optimization). In fact, Shopify SEO provides many advantages and can dramatically boost the growth of your business.
So, how do you handle that? Perhaps what you truly need right now are SEO apps for Shopify! Hence, we have created this blog which lists the top 12 Shopify SEO apps to help improve your SEO effortlessly. More importantly, they are all FREE!
What Is An SEO App For Shopify?
SEO apps for Shopify are third-party apps that Shopify store owners can use to increase the traffic and sales through Search Engine Optimization.
By providing you with the tools to assess your Shopify SEO's current state and suggest improvements, these apps remove the challenges when dealing with your SEO. Moreover, they assist you with resolving site-related problems, monitoring progress reports over time and Shopify speed optimization.
With these apps, you may raise the search ranks, conversion rates, page views, and general customer satisfaction of your store. Eventually, you will enjoy increased traffic and sales!
There are many options in the Shopify App Store but we have tested and compiled a list of the best FREE SEO apps for Shopify to help you rank up your store organically. Keep scrolling to find them in detail!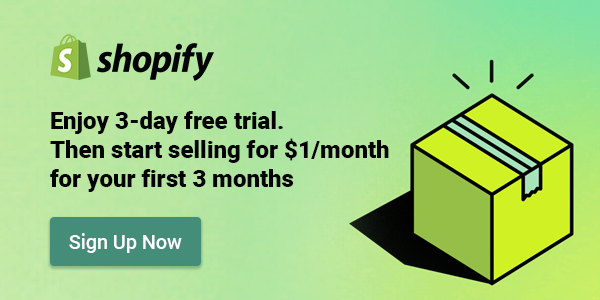 12+ Best Free SEO Apps For Your Shopify Businesses
Following are our best 12+ SEO apps for Shopify that offer you a free plan to let you enhance your SEO even when you are on a tight budget. Note that the features we discuss for each app are available in their free plans. Thus, you may not find all the useful features they offer here in the list.
Rating: 4.6 (257 reviews)
Pricing: Free plan available | $19/month – $49/month

Swift is definitely one of the must-have app for optimizing your Shopify SEO performance and store speed.
With Swift, you can not only turbocharge your website's loading times, ensuring a seamless user experience but also boosting your store's search engine rankings with SEO features such as web scan, optimizing meta tags, headings, image alt text and website sitemap.
With the free plan you can only get access to very basic SEO features. If you're planning to invest in optimizing your store SEO, we highly recommend you go for the Premium Plus plan we you get advanced SEO features and so much more room for growth.
Highlight features of Swift SEO Page Speed Optimizer:
Meta data optimization: Meta tags, automated image ALT images, and automatic sitemap set up.
Web scan: Address issues or areas to improve with Seobility SEO checker.
Redirection: Help customers and search engines in navigating the right content.
404 monitor: Track and monitor broken links, ensure no harm to SEO.
Snippets: Customize search results appearance to increase visibility and CTR.
Rating: 4.9 (4,517 reviews)
Pricing: Free plan available | $34.95/month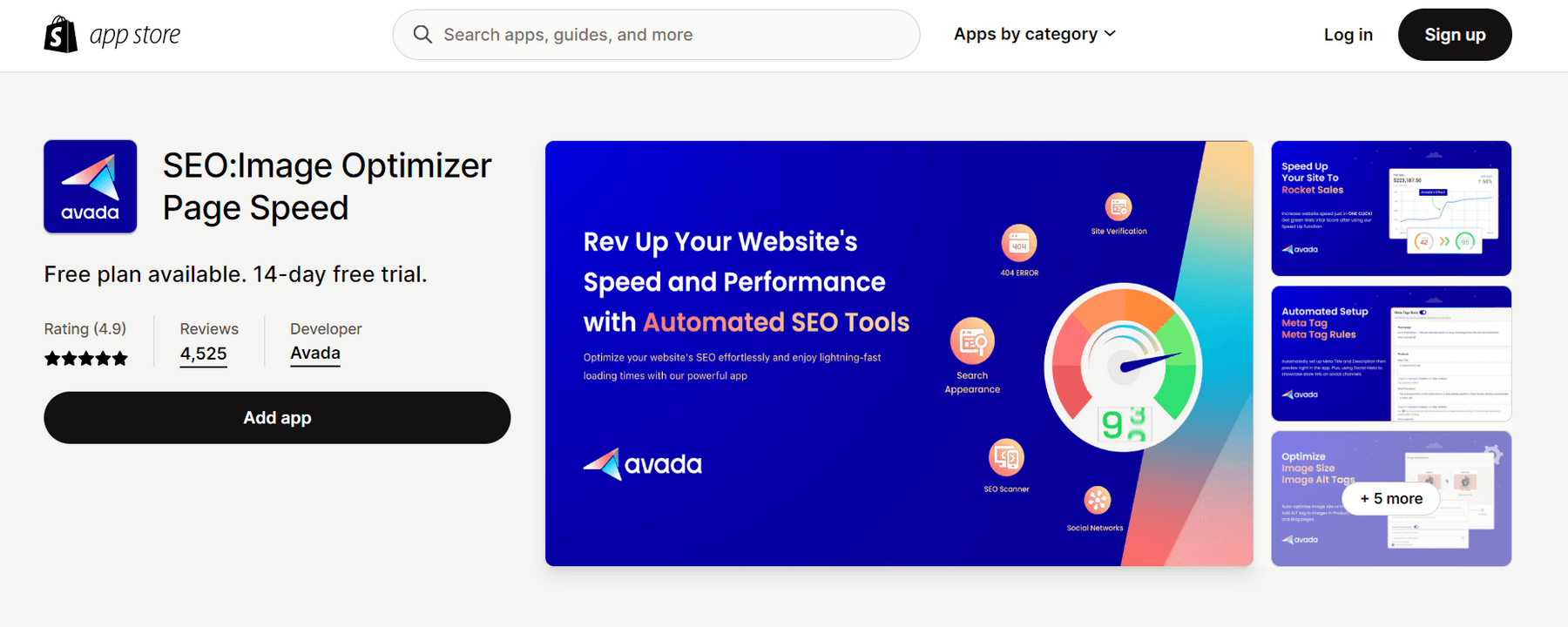 Your website may load slowly for a variety of reasons, causing it to appear at a very low position on search engine results pages. It is possible that your links are broken, your high-quality photographs are too large to load, or your website's social connections are insufficient.
When this occurs, SEO: Image Optimizer Page Speed by Avada could be your savior. It is one of the tenable SEO apps for Shopify that will meet all of your SEO needs.
The app is a complete solution for optimizing a website as it supports important SEO aspects like photos, structure data, HTML Sitemaps, and meta tags. Your page load time could be sped up by up to 3 times thanks to this app!
Moreover, this app will offer suggestions and improvements to assist you prevent problems in the future.
Finally, Avada's committed customer service team will also answer any inquiry in a flash. So, please don't hesitate to get in touch with them whenever you have any questions.
Highlight features of SEO: Image Optimizer Page Speed
Image ALT tag Optimization: On the following three pages – the collection page, the blog post, and the product page, ALT tags are automatically applied to each image
Image optimization: To speed up loading, images are optimized and compressed while maintaining the same level of quality
Meta tags & rules: Automatically optimize meta titles and description
HTML sitemap: HTML sitemaps make it easier for users to navigate your website
SEO checklist: A detailed and thorough SEO analysis of your product pages include problem reports and improvement suggestions
24/7 Support
Rating: 4.9 (4,835 reviews)
Pricing: Free plan available | $39/month – $69/month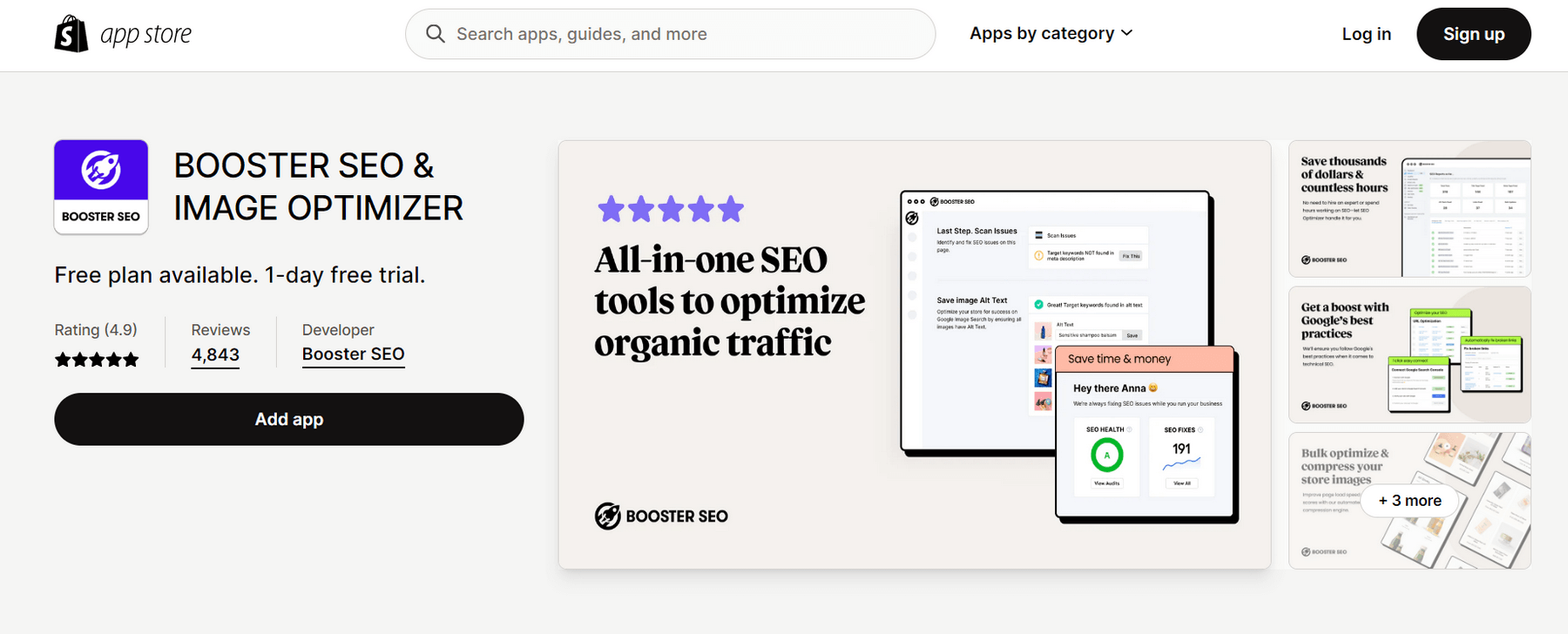 One of the top SEO apps for Shopify, Booster SEO and Image Optimizer is created by Booster apps to conduct SEO upgrades on your store immediately after installation.
With the help of this app, you can be confident that your website will be successful with On-page SEO, a crucial component of ranking well in Google search results.
No need for coding knowledge to use the app is another crucial benefit. You can get set up and begin enhancing your SEO in a matter of minutes with the one-click installation.
Overall, it helps to raise your sales revenue by maintaining a greater level of visibility that results from excellent SEO operations.
Highlight features of Booster SEO & Image Optimizer:
Alt-Text Optimization: ALT text is optimized and automatically added where necessary
Meta tags: Ensure your meta tags are relevant and optimized to rank and convert
Image optimization: Unlimited image sync quota and new images checked once per week
24/7 live chat human support
Rating: 4.9 (3,237 reviews)
Pricing: Free plan available | $39/month – $79/month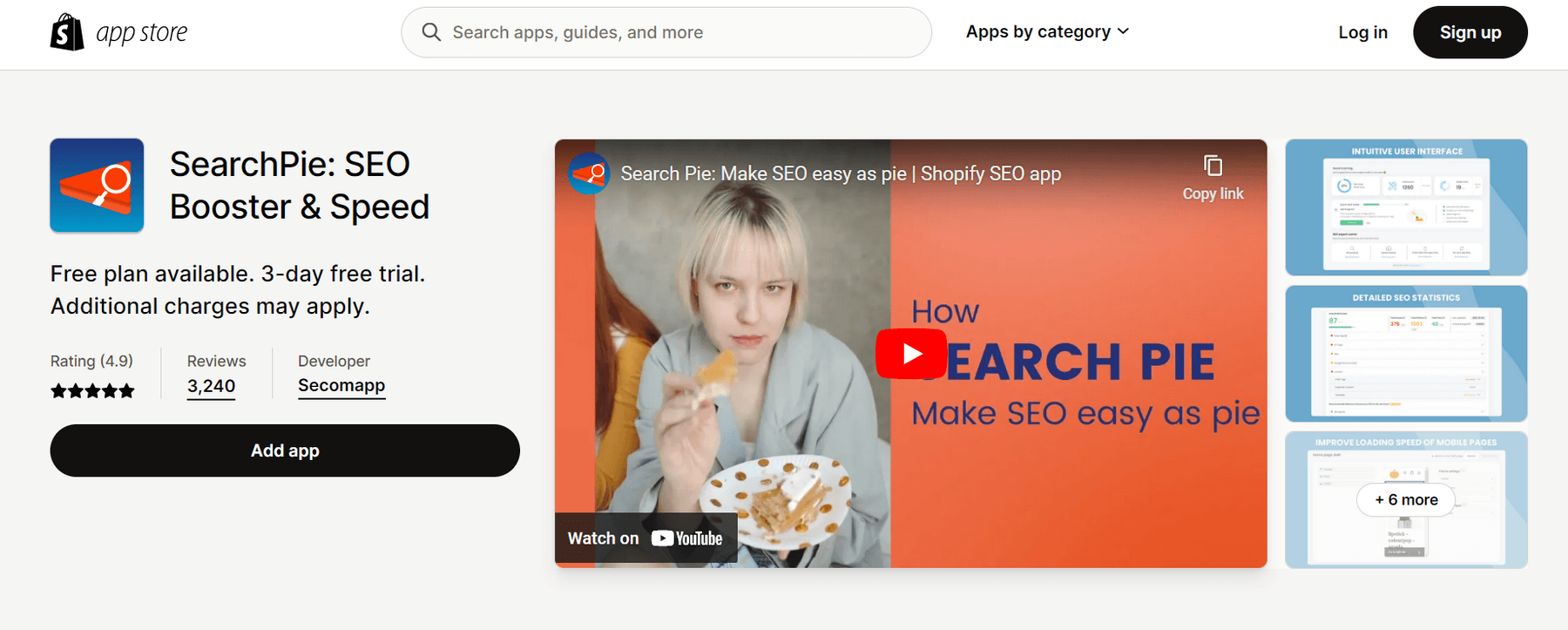 If you are not very technical, Search Pie: SEO Booster & Speed by Secomapp is your best bet of SEO apps for Shopify. Its name implies what it will do to your Shopify store.
Numerous businesses have improved their SEO marketing through the implementation of its strategies. All the problems, such as broken links, problems with ALT tags, and meta tag difficulties, are reported and displayed in a straightforward interface.
The app organizes your data in a way that makes it easy for search engines to identify your website and list it among the top results.
Highlight features of Search Pie: SEO Booster & Speed
SEO Report: Automatically and regularly check and fix Shopify SEO issues
SEO Tags Bulk Update: Include bulk update for meta titles, meta descriptions and alt tags
Basic Speed Up: Speed up loading time with Instant page, AMP,  and Image compressing features
Sitemap Submission: To track the search performance of your sitemap in Search Console, you can submit sitemaps and sitemap index files to Google
Live chat 24/7
Rating: 4.6 (675 reviews)
Pricing: Free plan available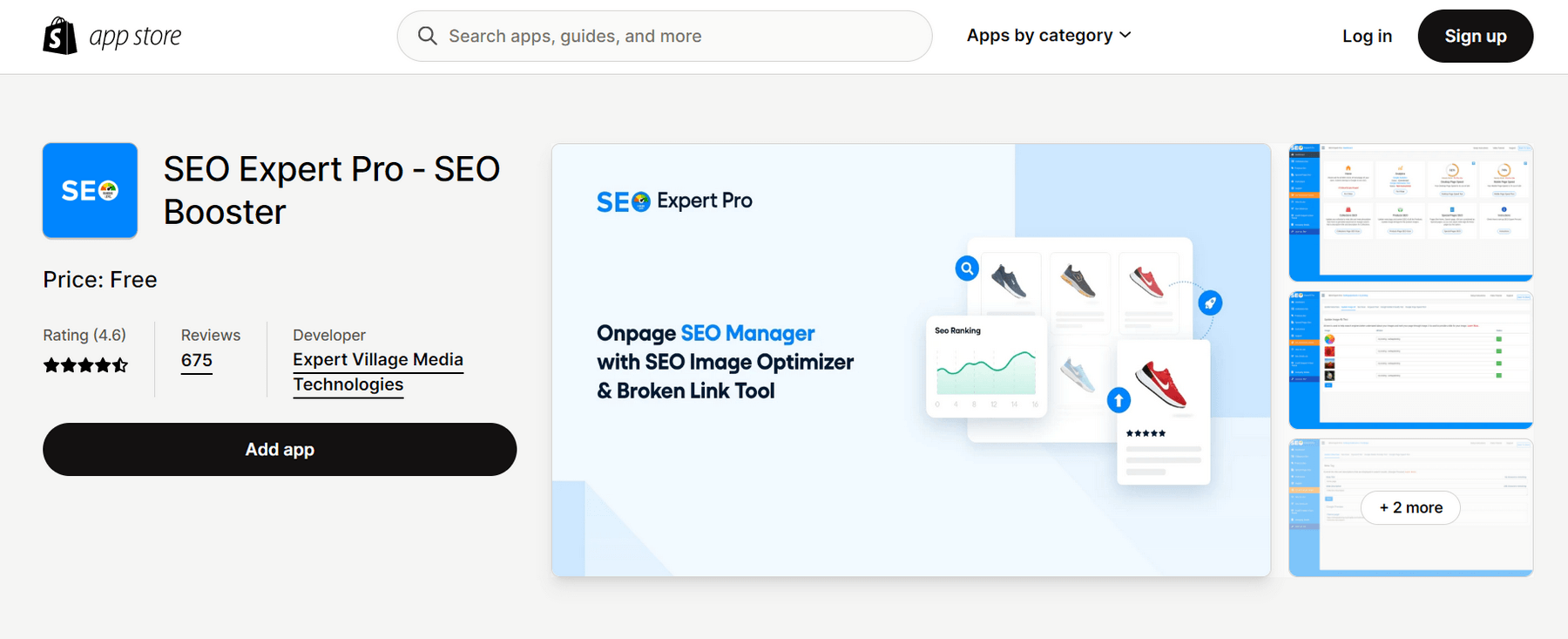 One of the top SEO apps for Shopify that deal with On-page SEO is SEO Expert Pro. It can help your Shopify store rank higher in search results, increasing traffic and revenue.
This app assists in examining your store's SEO issues, page performance problems, issues with meta tags, etc.
Then, the app's built-in features allow you to view problems and suggestions in a simple interface, so you can start fixing or adjusting them to improve your website performance in the search engine.
Highlight features of SEO Expert Pro ‑ SEO Booster:
SEO analysis: Analyze store SEO issues and check the SEO score
SEO Tags: Fix the meta tags, title tag and SEO parameters
Image Alt: SEO Image Tool allows you to refresh the alt text of all item pictures in a single click
Speed optimization: Check the page speed score and suggest tips to improve
JSON LD Rich Data Snippet Tool: Enable JSON LD on your store to deliver information to Google in well-organized order, which results in higher SEO rankings
6. Smart SEO by Sherpas Design
Rating: 4.9 (1,166 reviews)
Pricing: Free plan available | $9.99/month – $29.99/month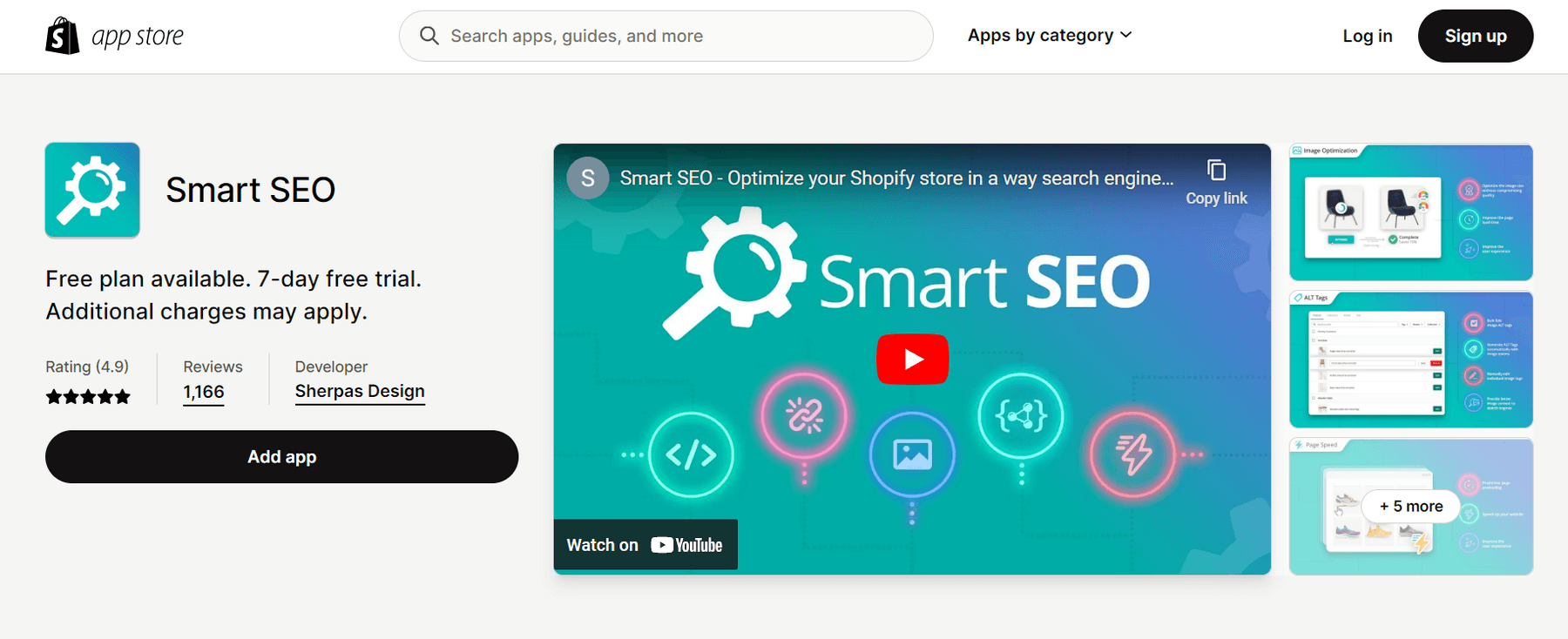 By automating your on-page SEO, the Smart SEO by Sherpas Design app aims to save you both money and time. You no longer need to manually construct meta tags and ALT tags for every entity; instead, you can relax while the app takes care of everything automatically.
It points out the issues so you would correct them before the search engine devalues your site as a result. Thus, you can act quickly to avoid long-term adverse effects and add your Shopify store to search engines' favored list again.
Highlight features of Smart SEO:
Meta Tags Optimization: Automatically create product meta tags for every entity in different languages
ALT Tags Optimization: Automatically create ALT tags for every entity
Broken Links: Automatically detect and fix broken links in your Shopify store
Image Optimization: Optimize your store images (up to 50 images) to enhance your SEO
Sitemap: Offer full control over the store sitemap
Noindex Tags: Use the "noindex" tag to prevent the unneeded pages and resources from appearing in the search results
Rating: 4.8 (2,202 reviews)
Pricing: Free plan available | $9.99/month – $49.99/month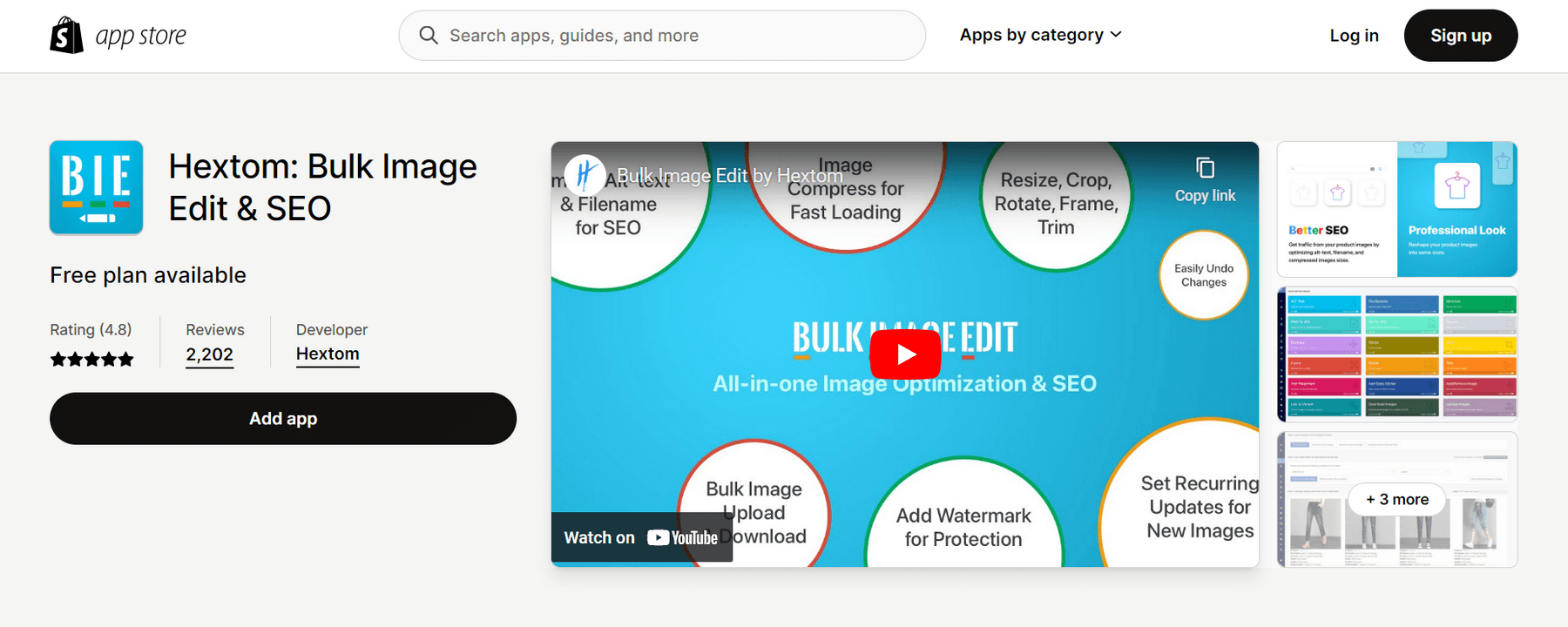 The Shopify image size of the products is a common topic for a lot of business owners. By offering low-quality images, you will negatively impact the user experience. Yet, if you continue to use high-resolution images, that will slow down the loading of your Shopify website.
Luckily, the Hextom: Bulk Image Edit SEO app can help you out of this pickle. It allows you to reduce the resolution of your product images while still maintaining the quality of the images.
In fact, this app can make images have the width to height ratio and can reduce images' file sizes by up to 51% without sacrificing image quality.
Furthermore, as its name suggests, this app allows you to optimize the images in bulk. That is vital if your store is using a lot of images and you need to speed up this important procedure.
Highlight features of Hextom: Bulk Image Edit & SEO
Image optimization: Optimize file sizes for product images or themes without reducing their quality
Alt Text optimization: Update ALT text and file name for images with custom templates
Resize to Square: Square-framing all images on your Shopify website and on social media (Facebook and Instagram)
Image editing: Make all of your images the same width and height by cropping them. Additionally, you have the option to undo up to 50 picture adjustments per month.
30 day backup: Enable storing your work of the last 30 days
PNG to JPG: Offer the option to convert image file types
Rating: 5 (535 reviews)
Pricing: Free plan available | $9/month – $99/month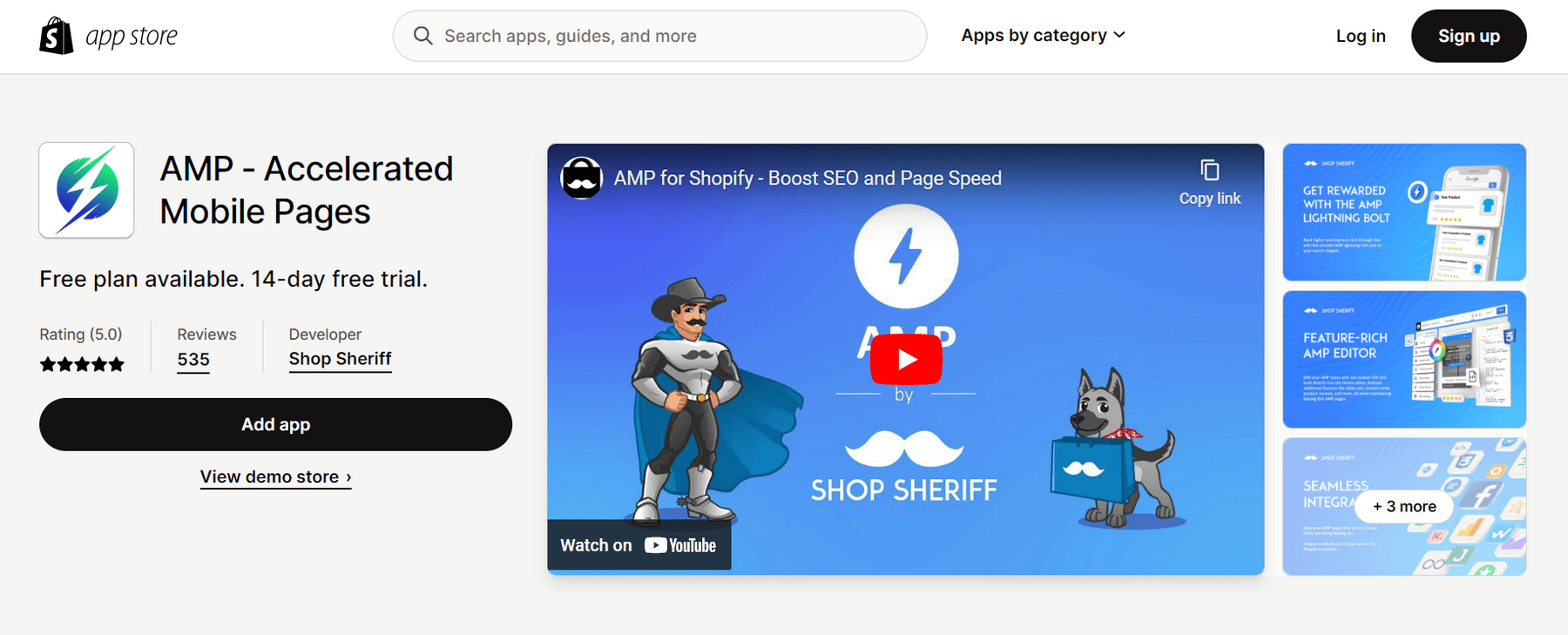 One of the most important ranking elements that Google takes into account is the mobile user experience. AMP (Accelerated Mobile Pages) represents a crucial step in making web pages faster accessible to your audiences via mobile devices.
With Shop Sheriff's SEO AMP app, you can optimize your website's URL, custom CSS, trust badges, cookie banner, Google Analytics, and Google Tag Manager to make your store load faster for mobile users.
The fact that technical knowledge is not necessary is a big advantage of this app.
Highlight features of AMP ‑ Accelerated Mobile Pages:
Infinite AMP products: Give you the option to configure AMP for your Shopify products so you may benefit from speed as a ranking element in Google search results.
Powerful page-builder: Generate mobile-optimized pages that are cached and pre-loaded by Google, to load immediately and improve your SEO
Page speed optimization: Integrate Google Analytics and Google Tag Manager to optimize your relevant pages for faster page speed
PWA Integration: Offer lots of AMP integrations with features like Reviews, Tabs, & more
24/7 Chat support
9. SEO King by Engage Apps
Rating: 4.7 (1,045 reviews)
Pricing: Free plan available | $9.99/month – $14.99/month

SEO King, a product of Engage Apps, can assist you in increasing organic traffic and revenue. The app offers highly customized features for managing keyword research, translation, photo enhancement, and SEO.
In terms of image optimization, you have access to dozens of tools that allow you to resize, square, and compress product images without losing any quality. Watermarks are a good way to prevent theft of your visuals offered by the app.
Overall, this app will enable you to get the best possible SEO results.
Highlight features of SEO King by Engage Apps:
Single product updates: Automatically update your product meta titles and descriptions
Shop scans: Scan your shop and point out any potential issue such as broken links, 404 errors, and index issues
Disable right click: Prevent thefts from copying your images
7-day trial on some bulk tools:  Bulk edit alt texts, meta meta titles, meta descriptions, URLs, image file names and product images across your Shopify site
Support: Extensive documentation and live-chat assistance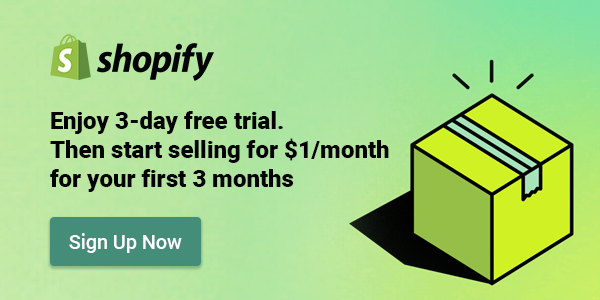 Rating: 4.8 (60 reviews)
Pricing: Free plan available | $15.99/month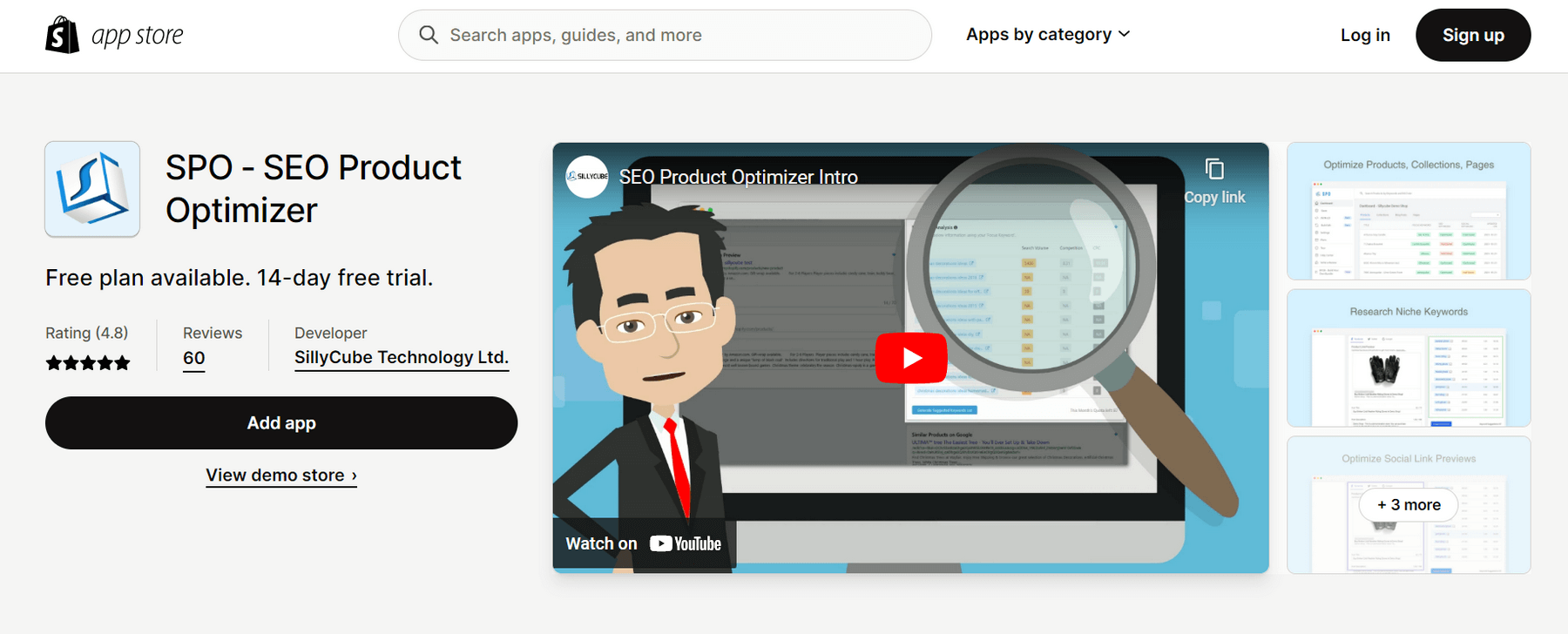 The next in the list of free SEO apps for Shopify, SPO – SEO Product Optimizer, allows you to find out which keywords your rivals are utilizing.
It allows you to choose appropriate keywords for the product title, description, URL handle, and meta tags that have a high search traffic but are not overly competitive. Additionally, it gives you guidance on SEO keywords that have been hand-selected by experts.
Generally speaking, this app was created to lessen your workload by providing excellent SEO tools that don't require coding knowledge and effective SEO keyword usage guidance.
Highlight features of SPO – SEO Product Optimizer:
Suggested Keyword Analysis: 10 Keyword Analysis per month, which help you to find out the niche keywords with high search volume and cost per click (CPC) to attract extra traffics
Image optimization: Optimize your social share images on social media channels (Facebook Open Graph, Twitter Cards, Instagram DM, WhatsApp, SMS), so you can create a promo image irrespective of your product or collection image
Custom Link Preview on Facebook & Twitter: Customize social link previews without code but only with a standalone social share image
24/7 support
Rating: 4.5 (64 reviews)
Pricing: Free plan available | $5.90/month – $29.90/month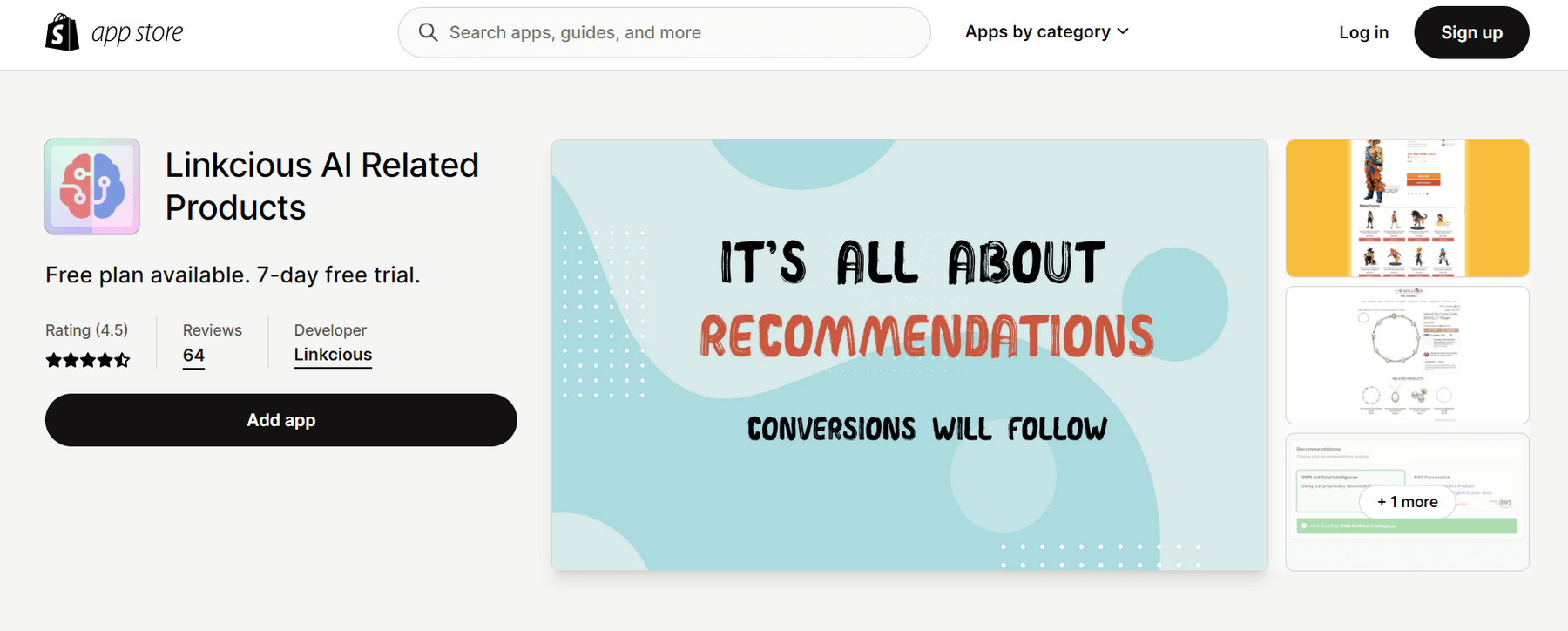 Using AI to learn from your store, Linkcious AI Related Products provide an efficient solution to raise the search rank and conversion rate of your Shopify website.
Links that are relevant are seen as being essential to white hat SEO. This app is for you if you have been manually struggling to generate these links between numerous websites for your products.
Why? Because this app creates high-quality links for you, using artificial intelligence (AI). Thus, you can expect to increase your white hat SEO and website traffic more effectively but with less effort.
With a touch of a button, you can leverage Amazon Personalize to take advantage of the technology of Amazon's search engine-like functionality. Additionally, you might gain benefits from their links that are search engine optimized.
Highlight features of Linkcious AI Related Products:
Proprietary AI-Powered Related Products: Related Products are automatically pulled from your store
Customizable Widget Appearance: Highly customizable dashboard for you to design your widget
Analytics: Provide SEO analysis and recommendations for improvement
24/7 assistance
Rating: 4.7 (21 reviews)
Pricing: Free plan available | $29/month – $59/month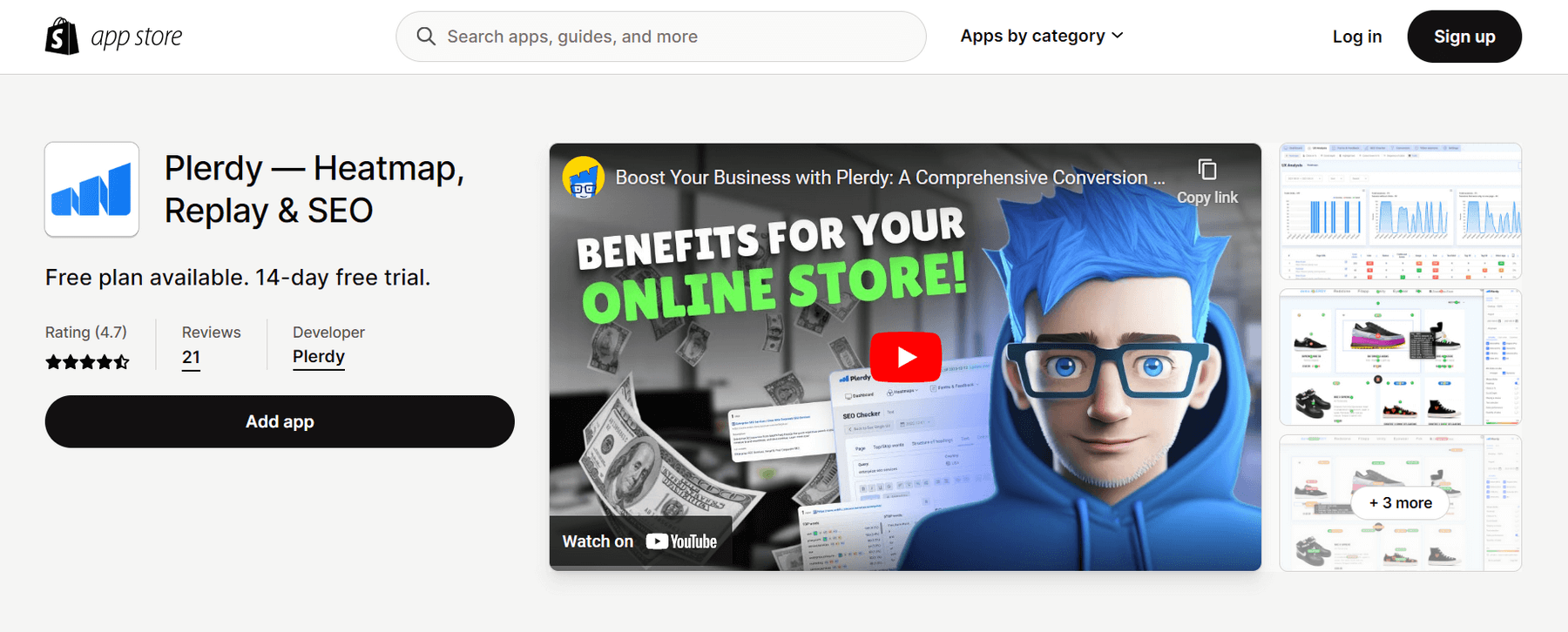 A robust analytics tool called Plerdy – Heatmap, Replay & SEO app will help optimize your online store for higher conversion rates.
You can use a variety of features, including heatmaps, session replay, SEO, popup surveys, and eCommerce monitoring, to better understand the behavior of website visitors and to guide their decisions.
Especially, you have the freedom to adjust all Shopify items and pages with cutting-edge SEO automation. Without coding knowledge, you can instantly address every issue and optimize hundreds of pages in a matter of minutes.
Overall, the Plerdy Shopify App is a thorough tool that gives your Shopify store the necessary information and tools to optimize its visibility and raise conversion rates.
Highlight features of Plerdy Shopify App:
Limited heatmaps and sessions replay: Use video session recordings and heatmap data to display user behavior on the store. With the aid of these capabilities, you can see possible issues with the layout of your websites, buttons, banners, or even marketing campaigns.
Active popup forms: This feature allows you to survey visitors, build email lists, boost sales, and target exit intent.
Bulk-editing feature: You will no longer need to manually add meta tags or ALT tags for every image, product, and page on your store
SEO audit: Provide daily analysis of titles, descriptions, keywords, and Google Search Console to help you optimize your website's content for SEO
24/7 support
Rating: 4.8 (773 reviews)
Pricing: Free plan available | $29.99/month – $59.99/month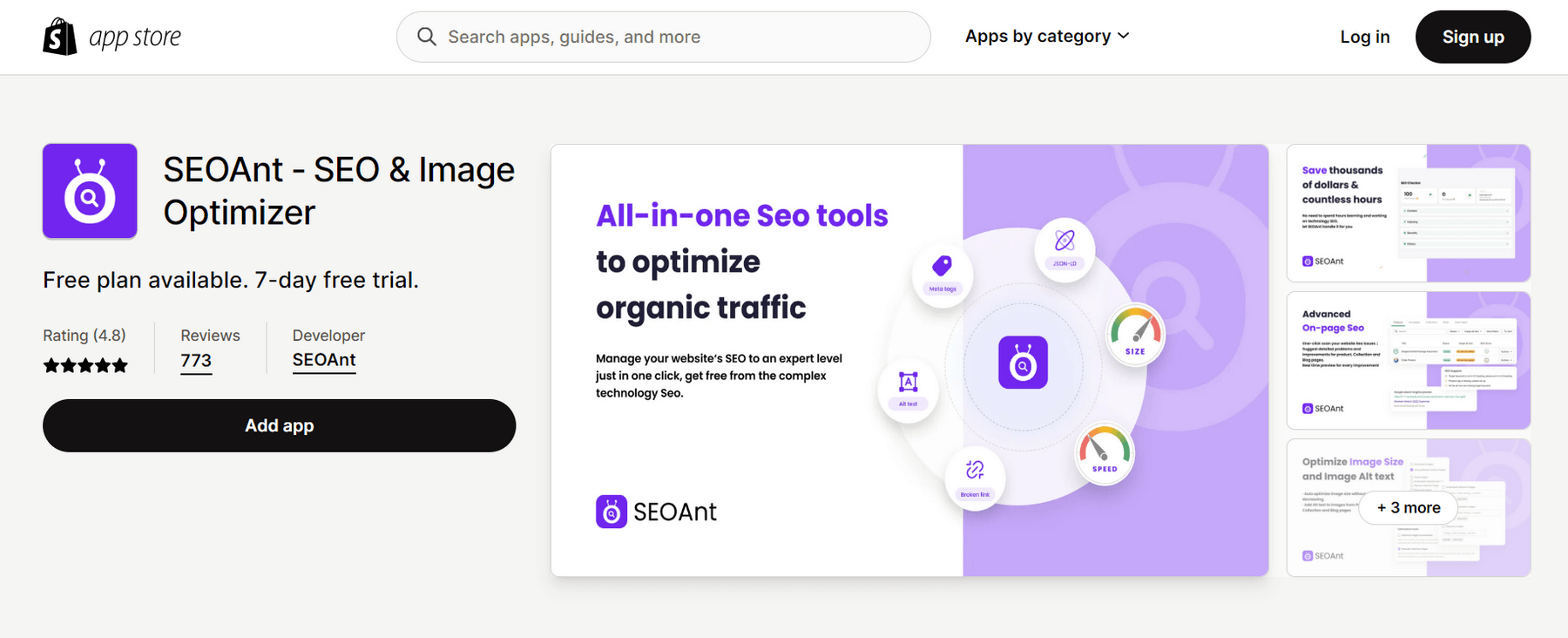 The final app aims to improve web-wide searchability for your Shopify store and products. With only a few clicks, SEOAnt – SEO & Image Optimizer provides all-in-one SEO solutions to enhance your Google search results.
This feature-rich app may help you get on the right track for better search rankings by covering every SEO requirement, including technical SEO, on-page improvements, keyword research, backlinks, and more.
In addition, it automates much of your SEO work, making it easier for you to find and fix problems.
Highlight features of SEOAnt ‑ SEO & Image Optimizer:
ChatGPT AI Writer: Create creative and compelling product descriptions in the matter of seconds
SEO Checker: Diagnose your website and suggest improvements to optimize for SEO rankings: Meta, Alt text, structured data, keyword research
Auto-scan SEO issues: Auto-detect 404 errors and other issues: indexing, speed, content, tag error, dead links and more
Optimize and edit Image: Optimize both image size and image alt text. You can also edit image alt in bulk to save you time and efforts
24/7 support

Final Words
There are several aspects to consider while choosing the best SEO apps for Shopify. We hope you will be able to pick your favorite one for your Shopify business through our list of the best free Shopify SEO apps.
Generally speaking, they could all help you save a ton of time while still effectively tackling your SEO issues. Since these apps streamline the entire process, you can then focus more of your time on other crucial business aspects that will increase your sales and help you dominate your niche.
Moreover, you can also have a look at our definitive SEO Shopify guide to maximize your effort to rank up your store on search engines in addition to acquiring SEO apps for Shopify!