Email marketing is a proven-effective strategy to increase sales for your Shopify store, whether you're a newbie or not.
In theory, with a thoughtful email marketing strategy, you can boost your return on investment (ROI) and consistently stay in touch with your current and future customers. But, how can you get the most out of email marketing? A Shopify email marketing app can be your answer.
In this blog, we will show you the top 9 best email marketing apps for Shopify, providing you with an idea of what to seek for in these apps and the steps to install them into your store. Let's start now!
What is Shopify email marketing app?
A Shopify email marketing app enables you to create, send, and track emails to your list of subscribers. Using this type of app makes it easier to build stunning emails, and gives you access to important statistics like open rates and click-through rates.
There are many options to choose from, and they can perform a wide variety of tasks due to the fact that email marketing is truly complicated.
There are various aspects to email marketing from getting visitors to subscribe to your mailing list, delivering your mails, and tracking results. While some apps are quite specialized and can only perform one or two of these activities, others can perform all of these.
In any case, bear in mind that the top Shopify email marketing apps ought to have the following characteristics:
Ease of use: The time spent using a Shopify email marketing tool shouldn't be too much compared to managing your store.
Automation: The best apps should offer automatic features or allow you to automate your email workflows.As a result, you can quickly and easily create an email sequence for your site visitors and clients.
Good email templates: It is crucial that email templates have a clean, modern look that also closely resembles the look of your Shopify website, this is for consistent branding purposes.
Audience segmentation: Send more tailored emails to your audience by simply segmenting them depending on predefined criteria.
Easy integration: It is quite obvious that the tool should be fully integrated with your Shopify app store, otherwise it makes no sense in this case at all. A Shopify embedded app might be even more easy to use.
Reporting tool: It should allows you to track customer behavior,  campaign performance, and other metrics to analyze the effectiveness of your campaign effectively.
💡 Looking for other best Shopify apps to supercharge your business? We've got you covered:
9 Expert-picked Email Marketing Apps For Shopify Store
Here is a list of the best Shopify email marketing apps that our team have tested so you can quickly see what they have to offer and how much they cost.
Disclaimer: All figures below were obtained at the time this article was written. By the time you read this, the numbers may have changed slightly.
Rating: 4.9 (501+ reviews)
Pricing: Free plan available | $9/month
Flowio is a complete solution that lessens your workload while assisting you in omnichannel sales growth. It automates your email marketing campaign so you can comfortably manage other aspects of your store.
The app provides a library of beautiful pre-built templates and workflows that span a wide range of use cases. For instance, the workflow for an abandoned cart can help you make up for lost sales, whereas the workflow for a loyalty program can help you keep customers and raise their lifetime value.
With Flowio, you can create and send personalized SMS in addition to emails that are more likely to connect with your audience and increase conversions.
Highlight features of Flowio:
Pop-ups: Eye-catching pop up templates to help you capture customers' attention and collect email addresses easily
Email/SMS campaign: Send customized emails or SMS with stunning templates with a few clicks
Marketing Automation: Automatically send emails, SMS and chat based on customer interaction.
Analytics: Provides you with analytics to track your campaigns and offers suggestions on what needs improvement
Contact List: Manage and segment your contact effortlessly while syncing with Google Ads
Good support: Address your customers' issues quickly with live chat or mobile apps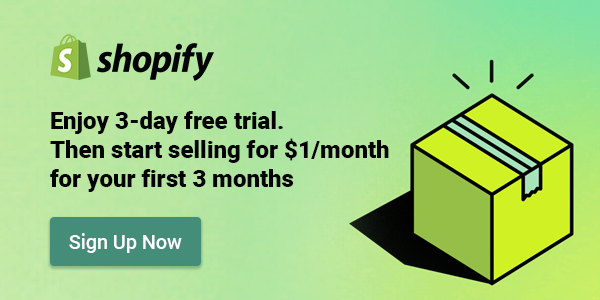 Rating: 3.8 (1,697+ reviews)
Pricing: Free plan available | $15/month – $20/month
Klaviyo: Email Marketing delivers a comprehensive suite of tools vital for email marketing, from registration forms, powerful segmentation to marketing automation across numerous channels.
This Shopify email marketing app helps you create email templates that go well with the graphics and messaging on your website. Additionally, it might be a fantastic tool for turning your website visitors into subscribers. Then, you can use its audience targeting functionality to send tailored messages to a selected segment of your audience.
It also enables you to gain a thorough analysis of the effectiveness of marketing campaigns and assess the general trend of customer purchasing behavior.
With the help of this Shopify email marketing app, companies like Glossier, Osea, and Loeffler Randall are able to transform transactions into profitable long-term relationships at scale.
Highlight Features of Klaviyo:
Abandoned cart and win-back emails: Recover lost sales with pre-built email flows
Audience segmentation: Collect data from Shopify and other apps to segment your audience and send customized, targeted email campaigns
100+ pre-built integrations: Ranging from shipping solutions to rewards programs
In-depth reporting and analytics: Better understand your customer behaviors and your campaign's operation to identify areas for improvement
Customer lists: Seamlessly sync your email lists to Facebook and Instagram to target the right audience, and help grow your business.
SMS delivery: Send timely text messages to customers who prefer receiving texts over email
Rating: 3.6 (472+ reviews)
Pricing: Free plan available | $13/month – $350/month
You can utilize Mailchimp, an email marketing and automation app, to develop your brands. Their professional insights, laser-focused emails, and robust marketing CRM equip you with everything you need to expand and increase sales.
Recently, Mailchimp re-launched their collaboration with Shopify and is now providing a direct interface. As a user of this Shopify email marketing app, you can link your accounts to your Shopify storefronts and exchange data between the two systems.
Highlight Features of Mailchimp:
Comprehensive Dashboard: Include a feed that summarizes your marketing activities and displays your contact list along with a few reports that highlight significant KPIs.
Data Integration and Storage: Collect and store data about your customers to segment your lists in order to send better targeted communications.
Email Builder: A tool for editing emails to be customized and look professional. You have the option of beginning from scratch when creating emails or using one of more than 90 templates.
A/B Testing: You may use it to improve the subject lines and emails you send.
Marketing Automation: You can develop drip campaigns that deliver customers a sequence of automatic messages using Mailchimp's Customer Journey tool.
Rating: 4.9 (4,551+ reviews)
Pricing: Free plan available | $19/month – $199/month
You can develop your SMS & email lists, retrieve abandoned carts, and send revenue-generating texts and emails with the help of SMSBump: SMS Marketing & Email by Yotpo.
You can engage with customers in real time and increase the impact of each customer interaction by using a library of SMS templates and automations that have a high conversion rate.
For acquiring SMS subscribers outside of your website, SMS Bump includes robust deliverability and compliance capabilities with mobile-optimized list-growth solutions that go beyond simply adding an SMS field to an email sign-up form.
Highlight features of SMSBump:
Real-time events and custom conditions: This allows you to power your SMS flows by offering customized experiences to your audience.
SMS segmentation: Capabilities for personalized communications, based on cross-product data from integrated Yotpo products
Detailed SMS performance tracking and reporting: Display necessary metrics such as Cost per message, ROI per message, Customizable attribution and UTM settings;
A/B testing: Test your campaigns to see how it appears to your subscribers.
Great support: Tips on SMS best practices, White-glove service and support.
Rating: 4.8 (5,109+ reviews)
Pricing: Free plan available | $16/month – $59/month
Omnisend, a multi-channel marketing tool, allows you to send targeted marketing messages to your customers over many channels, including SMS, Email, and Newsletters.
This feature-rich Shopify email marketing app aids in the expansion of sales for tens of thousands of online retailers. It enables you to effortlessly create emails using a variety of pre-made themes, as well as grow your email list using popups and landing pages.
With abandoned cart and welcome workflows, you can send more targeted emails and increase sales at the proper time.
Highlight Features of OmniSend:
Seamless integration: Drive sales at scale across multiple channels.
Robust segmentation: Send super-targeted and customized emails to your customers to enhance their experiences.
Customization tool: With their mobile-friendly and completely customizable signup forms (signup boxes, Popups, Wheel of Fortune, and Landing Pages), you can convert your visitors into subscribers.
SMS campaign: SMS is incorporated into your email marketing plan.
Rating: 4.8 (5,535+ reviews)
Pricing: Free Plan Available | $11/month – $179/month
The next Shopify email marketing app is Automizely Emails & Pop Up by Automizely & Aftership. It is famous for its strong automation and robust features that can dramatically improve your sales effectiveness.
In fact, you can discover top-notch sales and marketing tools in one simple portal.
In addition to email and SMS marketing, it offers you cutting-edge technologies like product suggestions powered by AI, countdown clocks, and promotional bars to build engaging user experiences that are known to increase sales.
Furthermore, none of these tools requires technical knowledge or support and may be utilized immediately with little effort.
Highlight Features of Automizely:
Automation: Use stylish themes to win back customers (abandoned cart emails, win-back emails, etc.) while also taking good care of your current customers (newsletter, thank you email, birthday emails, etc.).
Website pop-ups:  Exit intent pop-ups, upsell pop-ups, countdown timer pop-ups, and other forms of professional website pop-ups are available to help you grow your subscriber list.
Web push notifications: Enable you to send web push alerts to online buyers who have given their agreement to receive them.
Sales functions: Access its numerous features for increasing sales, such as hot badge stickers and free-shipping notification bars.
Live Chat: Automizely is well-known for enabling you to install a Live Chat widget into your website so that you can provide your clients with better and faster customer service in addition to email automation and website pop-ups.
Rating: 4.6 (24,847+ reviews)
Pricing: Free Plan Available | $30/month – $70/month
Another top Shopify email marketing apps is Privy – Pop Ups, Email, & SMS. Privy provides everything you need to leverage high ROI email marketing campaigns, thus it is definitely worth implementing.
It is praised by online businesses of all scales for improving website conversion, expanding their email list, and driving more sales. Also, it is integrated with Shopify and Shopify Plus to allow you to create an account quickly and launch your first campaign soon after.
Additionally, you can benefit from a ton of fantastic website features that will aid in expanding your marketing list. Moreover, as your campaigns can be activated in a variety of ways, you can pick specific campaigns depending on user actions and other factors.
Highlight features of Privy:
Email collection: Various forms of pop-ups (Spin-to-win, cross-sell, etc.), allowing you to expand your email list faster and better.
Effective targeting feature: Send your customers the most customized emails and texts based on their information.
Email automation: Identify return shoppers who have signed up for your email list before and automatically send them cart abandonment email if they leave your site without completing their purchase.
SMS marketing tool: Facilitate text message triggers including cart abandonment and welcome first-time buyers.
Free shipping bar: Set a fixed standard to reward your customers to make larger purchases.
Report and Analytics: Display live dashboards so you may see how your campaigns are doing on several important indicators.
A/B Testing: Perform automatic A/B split tests to see how conversion rates are affected by minor adjustments.
Rating: 4.9 (1,113+ reviews)
Pricing: Free Plan Available | $16/month – $47/month
AVADA Email, SMS Marketing for Shopify is an affordable option out of all the Shopify email marketing apps for you looking to convert customers and create enduring customer relationships.
Its marketing automation tool follows up with your prospects and prompts them to complete their purchase in order to maximize Abandoned Cart campaigns.
Even beginner users can easily utilize AVADA Email Marketing because of its user-friendly and straightforward UI. Additionally, this Shopify email marketing app provides ready-to-use email templates for those without design experience, which can save admins a ton of time and work.
Additionally, you can manage your contacts with ease using data that is automatically synchronized from your Shopify business. You will achieve the best results if you segment them and tailor your emails to particular groups of recipients.
Highlight features of Avada:
Automation Workflow: Give you the ability to build the most effective email flow ever to convert more sales. Among them are Upsell and cross-sell opportunities, transactional emails, holidays, personalized birthdays, etc.
Split testing: Allow you to split testing on your email campaigns
Pop-ups variety: Build up your email list with gamification pop-up, newsletter pop-up, add to cart pop-up, etc.
Abandoned Cart Email automation: Recapture lost sales and reduce this scary rate.
Advanced reports: Track ROI and other vital email marketing metrics.
Cross-sell and upsell emails: Motivate first-time buyers to buy more related products or higher-end items.
Segmentation functions: Send customized emails to your target audience to improve their experience.
Rating: 4.9 (963+ reviews)
Pricing: Free Plan Available | $10/month
Seguno Email Marketing aids in boosting the effectiveness of your email marketing efforts. You can now spend less time worrying about making mistakes and more time focusing on what matters—growing your business.
With the best practices built in and immediate access to your shop's data, you can create compelling emails, start automated sends, and monitor your success from one simple location inside the familiar Shopify platform.
There are numerous automatic email marketing templates included in Seguno that you can utilize as needed. With just a few clicks, you can use these templates to quickly and easily construct an email campaign for upcoming events, discounts, welcome messages, repeat purchases, etc.
Highlight features of Seguno:
Shopify integration: Access your segments, discounts, products, blogs, and so on.
Pre-built touchpoints: Utilize pre-built email series from a library to automate conversion-focused emails.
Canva embedded in a full-screen editor: Design beautiful emails in minutes.
Built-in deliverability assistance and spam protection: Send securely without annoying your audience
Custom support: Get help quickly from email experts regardless of your store size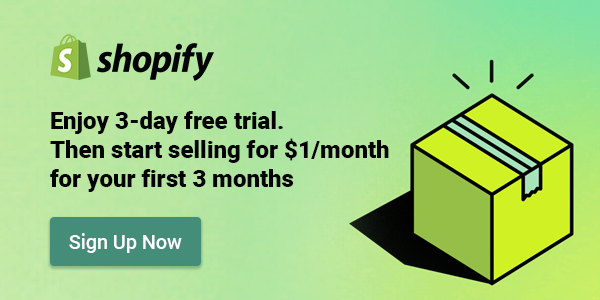 How To Install a Shopify Email Marketing App Into Your Store?
Finding the most suitable Shopify email marketing app for your store can be a long journey. Yet, once you find your favorite one, installing it into your store is just 3 steps away from the finish line.
Let's take Flowio as an example, you can install Flowio easily with our following guide and that guide is almost the same for other apps.
Note: There are two ways to install Flowio app into your Shopify store and we will show them all.
1. Install Flowio from Shopify App Store
The rest will be guided by the in-app onboard instructions from that point on.
2. Sign up for a new Flowio account
Step 1: Go to the Flowio website here.
Step 2: Click the Login button then enter the required information, choose the Login button to finish.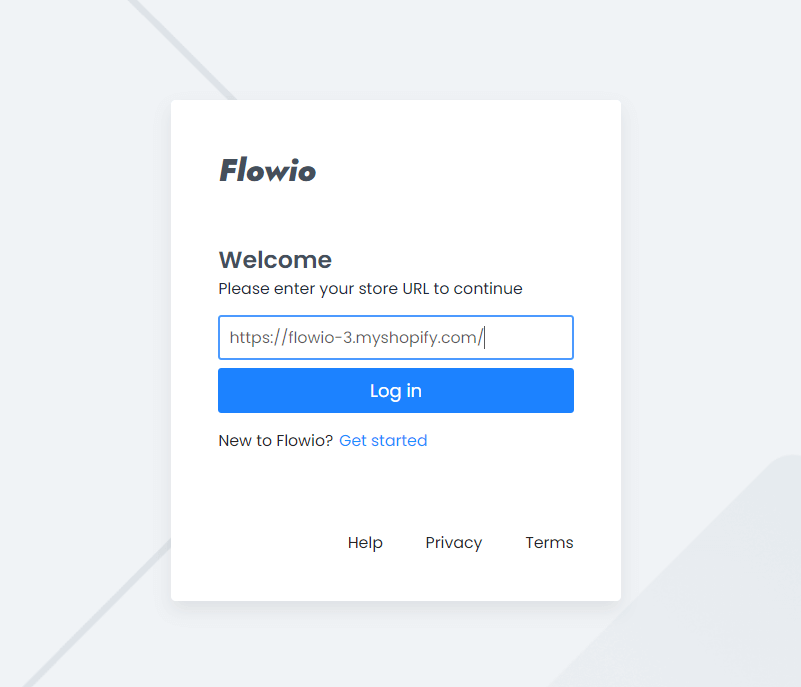 Step 3: Fill in your Shopify store address, then click the Install app button to finish.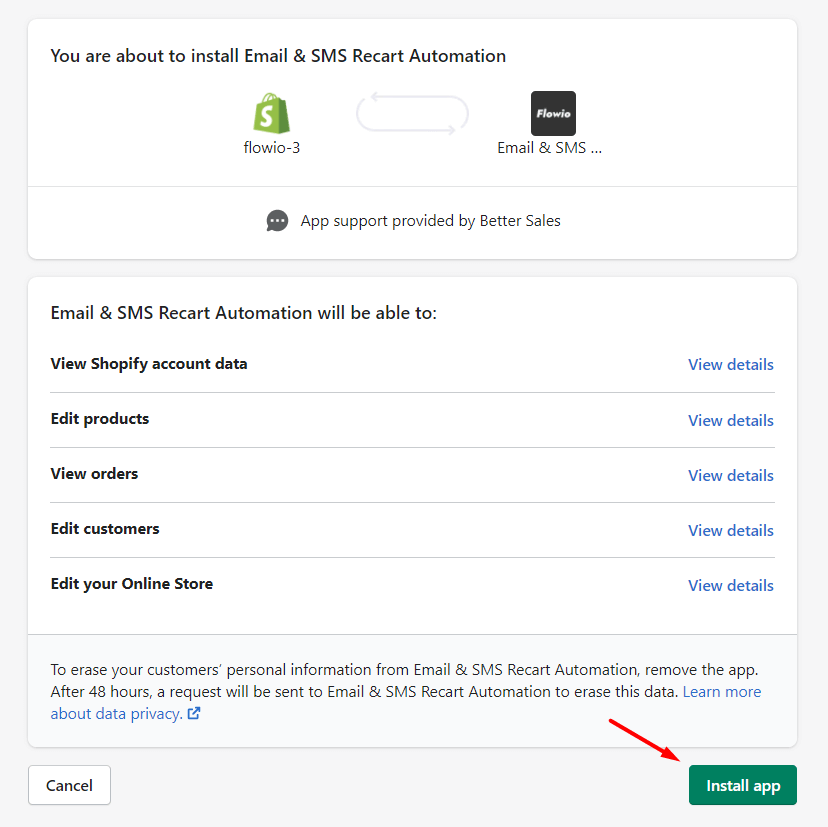 Final words
The list of 9 best Shopify email marketing apps is now complete! Noticeably, it is important to first clearly define your business demands and objectives in order to choose the best solution for your Shopify email marketing plan.
We hope that our blog will assist you with deciding which Shopify email marketing app to choose and how to install it into your Shopify store in a hassle-free way.
In the end, you can check out our list of useful Shopify email marketing strategies for more information on email marketing and effectively carry out your next campaign in addition to installing an app.