Can you believe that by 2027, it's estimated that world retail eCommerce sales will exceed $8 TRILLION!?
In the face of intense competition, Hubspot Shopify integration offers a practical solution to gain an edge over your rivals.
In this article, we will analyze Shopify & Hubspot in a comprehensive way, while exploring the benefits, and providing detailed step-by-step instructions about connecting them.
Let's go into detail!
💡 Based on your interest:
What is Shopify?
Shopify is an eCommerce platform that allows businesses of all sizes to start, grow, and manage their businesses.
Well-known Shopify brands include Gymshark, Sephora, Kylie Cosmetics, and Netflix!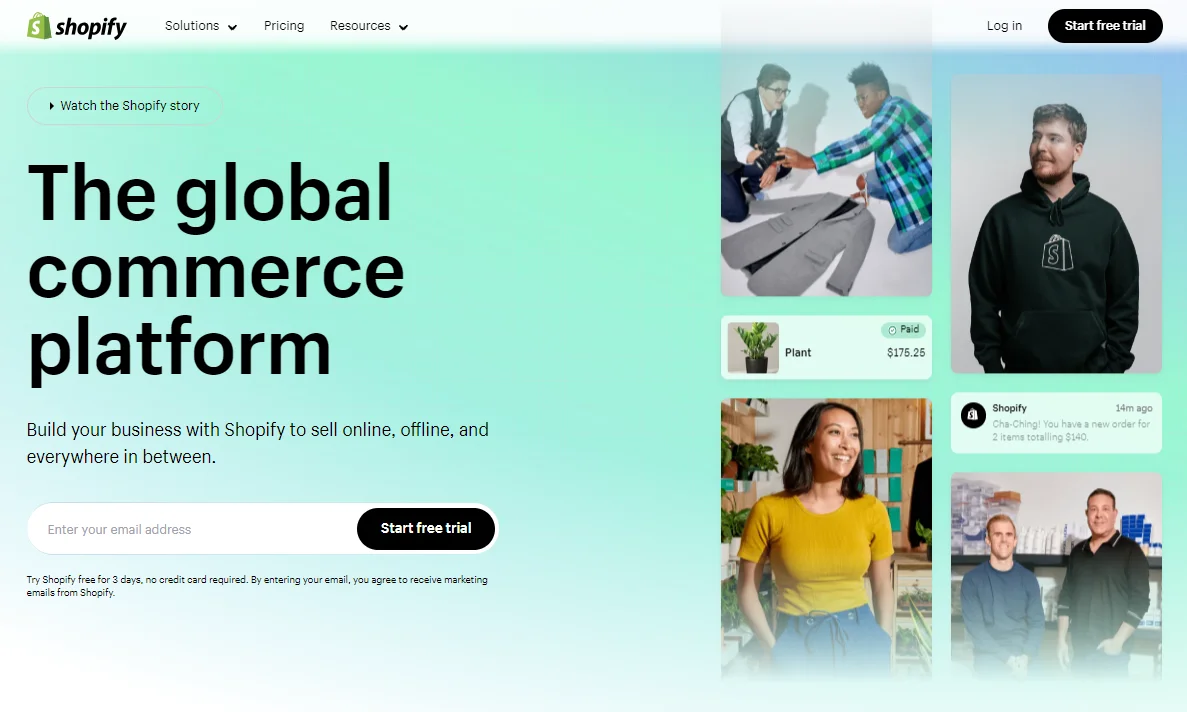 Shopify offers numerous benefits and advantages for businesses looking to establish and grow their online presence. It has a simple interface, powerful features, and a wide range of apps available.
With Shopify, users can quickly set up and personalize their online stores, handle inventory, accept payments, and track sales. This helps them save time, improve efficiency, and increase their revenue.
Additionally, for the grow the businesses, they support: 
Expand sales channels to various platforms (websites, mobile apps, social media, etc.)
Shopify App Store with 7000+ directly integrated third-party tools to reach new potential customers and drive sales
Provide detailed analytics and reports to track sales and growth over time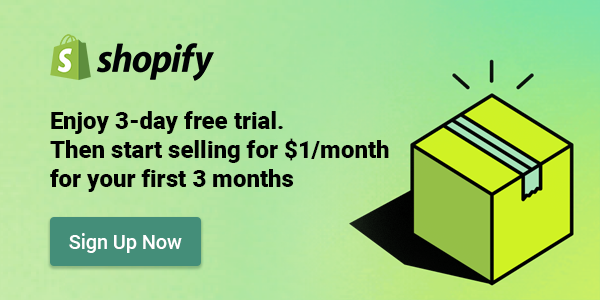 What is Hubspot?
HubSpot is an innovative inbound marketing and customer relationship management (CRM) platform that helps businesses attract, engage, and delight customers. 
Some successful examples using Hubspot include Lemonlight, SupportNinja, WeHero, Spacehuntr, Concept Marketing Group, and more.
Hubspot offers five tools to create personalized customer experiences, driving growth and success, including Marketing Hub, Sales Hub, Service Hub, CMS Hub, and Operations Hub.
Benefits of Hubspot Shopify Integration
The ultimate goal of selling on the Shopify store is to drive revenue and maximize profits. To achieve this, store owners must constantly strive to retain and attract new customers.
Integrating HubSpot into Shopify allows your business with remarkable capabilities. This integration creates opportunities for businesses to create highly customized marketing campaigns, automate their sales & marketing processes, and drive growth & success.
The benefits of this Hubspot Shopify integration are genuinely game-changing.
1. Sync Sales and Marketing Processes
By integrating the two platforms, businesses can create a seamless flow of information between their eCommerce activities and marketing efforts, allowing them to manage both in one place.
When a business integrates Shopify and HubSpot, customer data from Shopify is automatically synced to HubSpot. It includes order history, website behavior, and customer feedback.
2. Personalized Marketing Based On Segment Customer
Integrating Shopify and HubSpot allows businesses to create personalized marketing campaigns by syncing customer data from Shopify (order history, website behavior, and customer feedback) to HubSpot. This information supports businesses can segmenting their customers based on their behavior.
Once the company has segmented its customers, it can use HubSpot's marketing tools to create targeted, personalized marketing campaigns for each segment.
The business can build loyalty and encourage repeat purchasing by providing its customers with personalized content and offers.
For example, they could create an email campaign for customers who have purchased products in the past, promoting their new line of anti-aging products and offering a discount code to encourage them to make another purchase.
Another example is businesses could create a re-engagement ad for customers who have viewed a particular product on their website but have yet to make a purchase, offering them a discount code to encourage them to complete their purchase.

3. Enhance Conversion Rate
A study by Aberdeen found that personalizing email messages can increase click-through rates by 14% and conversions by 10% on average. It suggests that sending personalized emails to customers can increase their chances of engaging with the content and purchasing.
Integrating Shopify with HubSpot allows you to create unlimited triggered emails based on predetermined events enriched with your collected customer information.
Simply put, you can set up many automated emails to be sent to your customers when they abandon their cart or do not complete a purchase despite many considerations.
These triggered emails using the customer information you have collected, such as the customer's email address, first order date, the total of their most recent order, the total lifetime revenue of that particular customer, the specific types of products they've purchased, etc.
4. Automated recovering abandoned shopping carts
Did you know that around 68% of online shopping carts are left abandoned? It means e-commerce websites need to catch up on significant potential revenue.
One valuable feature of Hubspot Shopify integration is the automated tracking of abandoned carts, which allows you to remind customers of their purchase intention, persuading them to return and complete their purchases. It's a great way to increase conversions while saving time and effort.
For example, a business could create a smart CTA that promotes a discount code to customers who abandoned their shopping cart, encouraging them to complete their purchase.
5. Reporting & Analytics
Upon successfully integrating Shopify with HubSpot, users gain access to an e-commerce dashboard that provides valuable insights into their online sales performance. The dashboard features pre-built reports and charts that display key metrics such as online sales orders, customer lifetime value, abandoned cart information, and online sales revenue.
These reports enable users to easily monitor the store's performance and make appropriate decisions to optimize sales and marketing efforts.
Identifying areas where your business is underperforming and taking corrective action.
Getting new market opportunities and expanding your business into new markets.
6. Linking HubSpot Shopify Integration with Other Apps
When customizing HubSpot Shopify integration, you'll likely require data sync with other apps, including your CRM and eCommerce solutions. The advantage of custom integrations is their flexibility – it's not limited to one-to-one sync.
For example, you could connect your marketing data from HubSpot and your sales data from Shopify with your accounting software. Custom integrations are made just for your business, so you don't have to change how you do things to make them work.
These bespoke integrations are tailored specifically for your business, preserving your existing operations and eliminating the need to conform to standard processes imposed by other software. It's a seamless way to ensure all your data works harmoniously across various applications.
Hubspot Shopify Integration: A Complete Guide in 8 Steps
Requirement: Before integrating Shopify with Hubspot, you need to have special permission from the Super admin or have permission to use the App Marketplace in HubSpot.
Step 1: First, simply click on the Marketplace icon in your HubSpot account's main navigation bar. Next, choose Connected apps from the options available.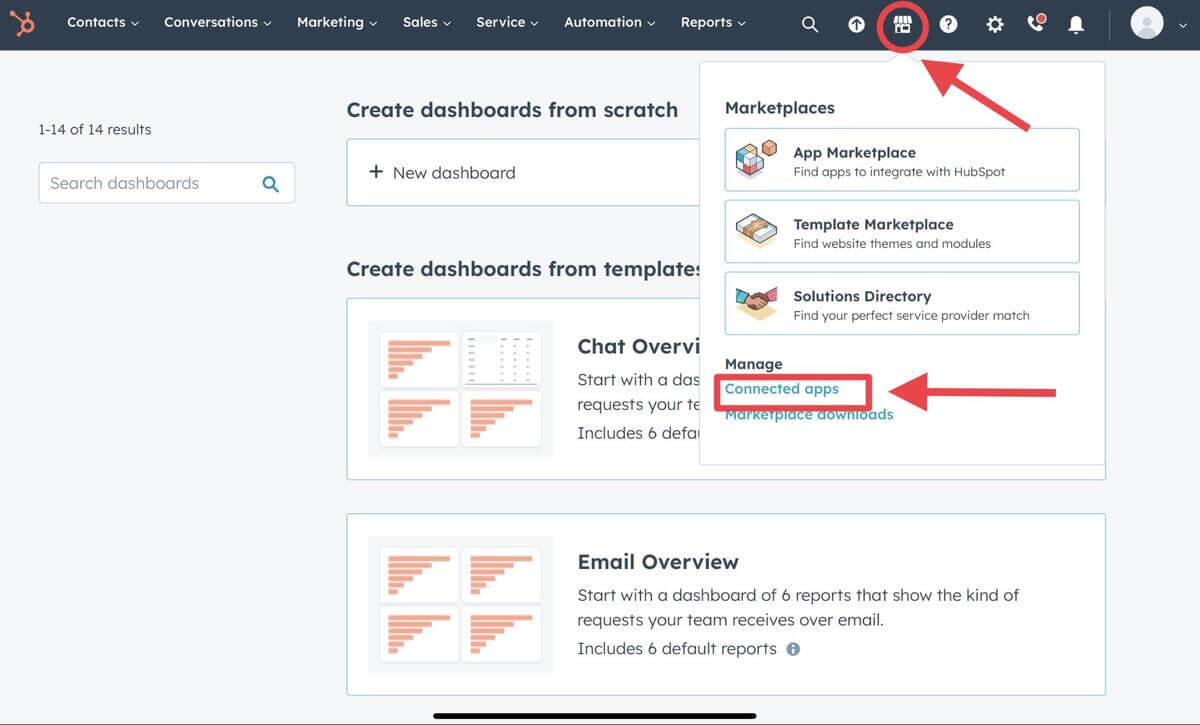 Step 2: When you visit the Connected apps page, choose Visit App Marketplace.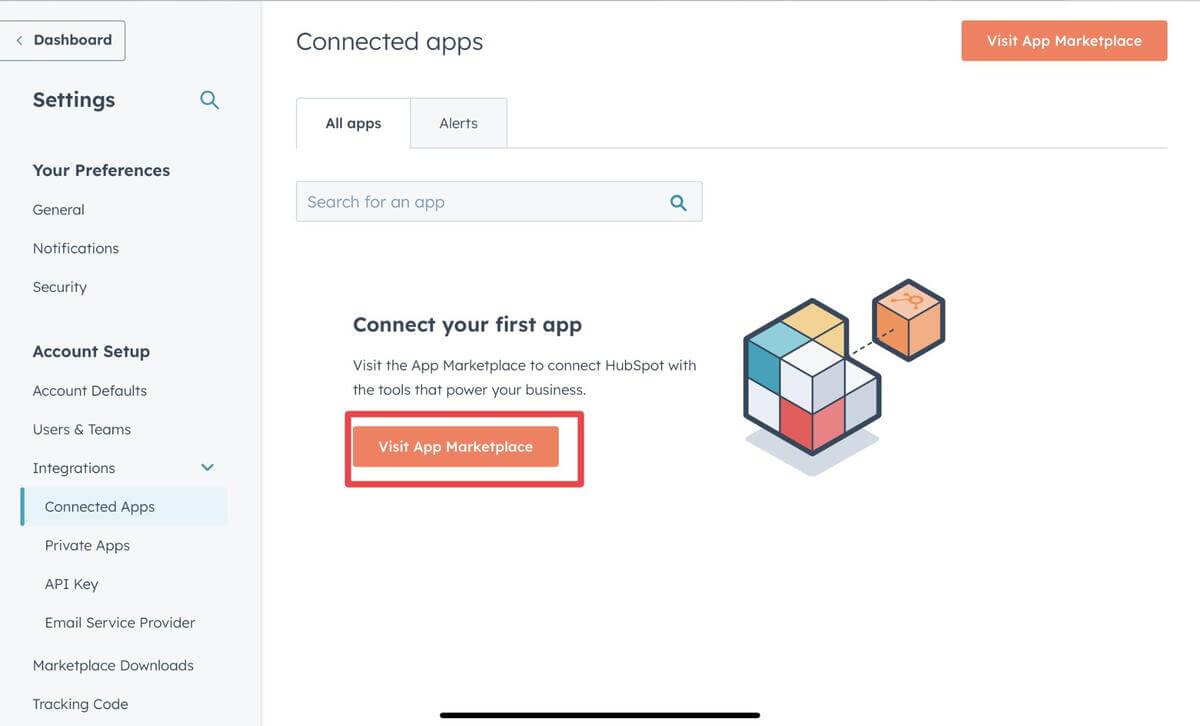 Step 3: In Hubspot App Marketplace, utilize the search bar to find and choose Shopify.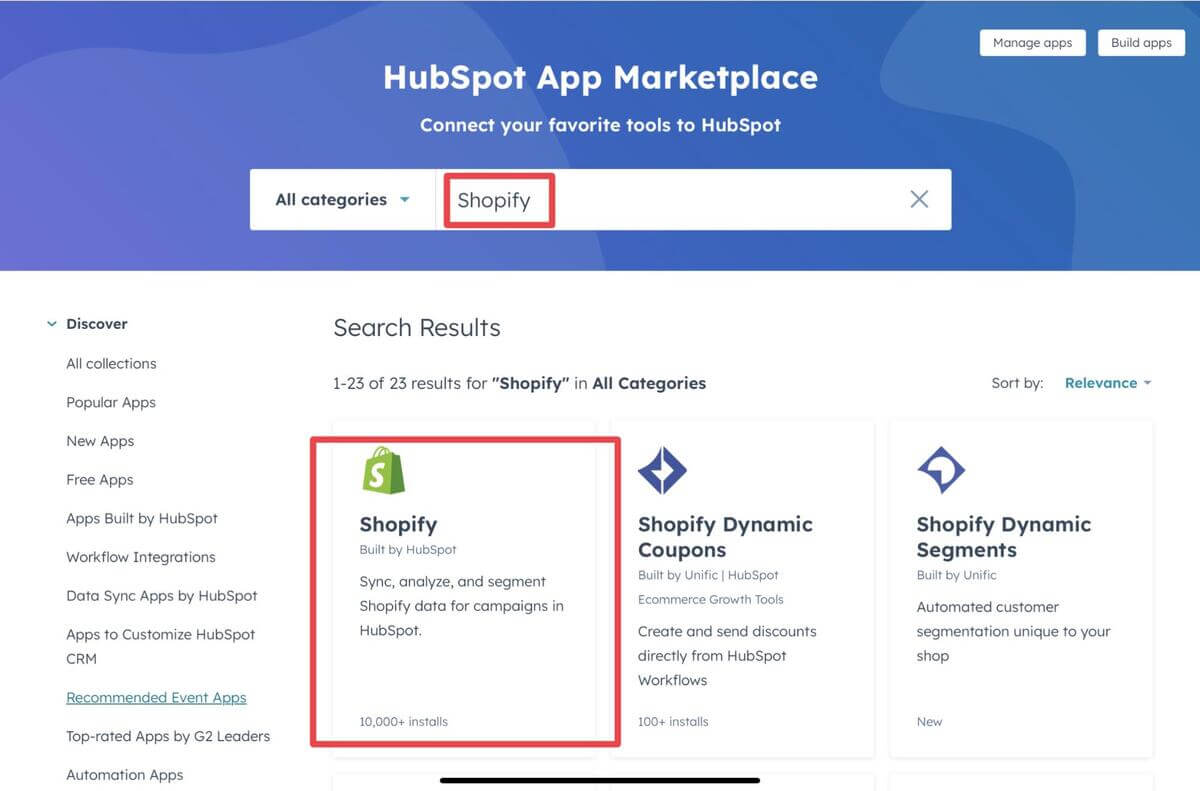 Step 4: In the upper right, click Install app.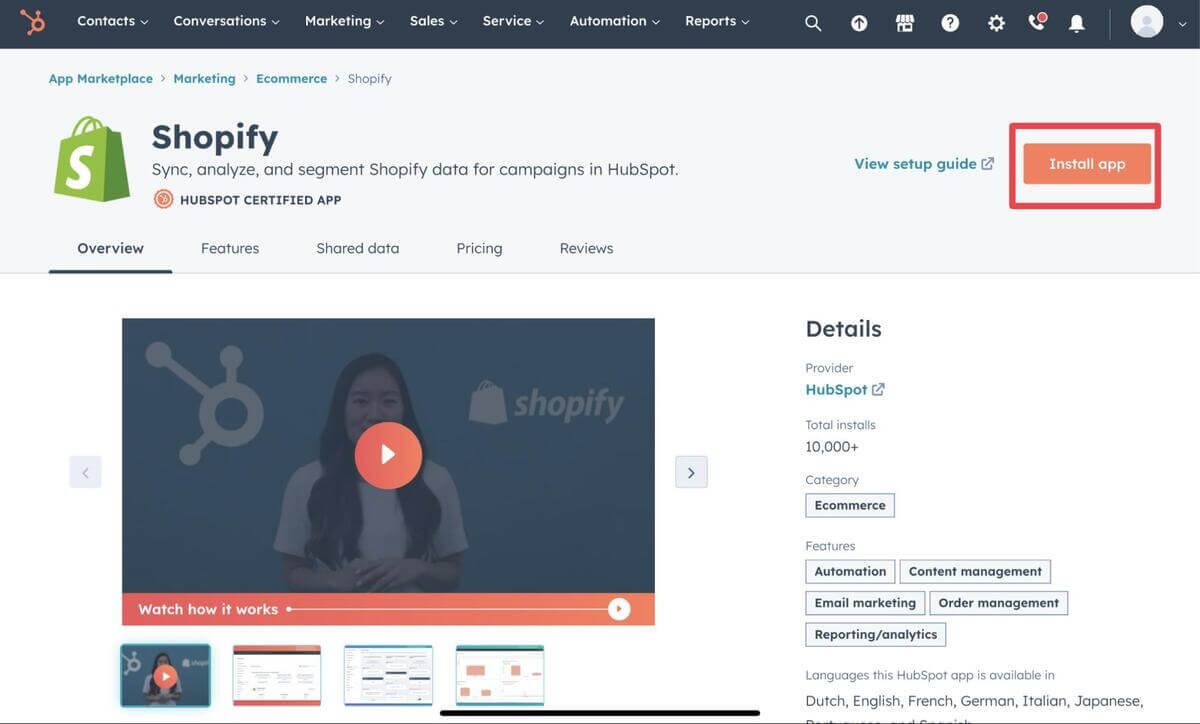 Step 5: In the dialog box, input your Shopify store's URL, tick I'm connecting a Shopify Lite store, and click Install app.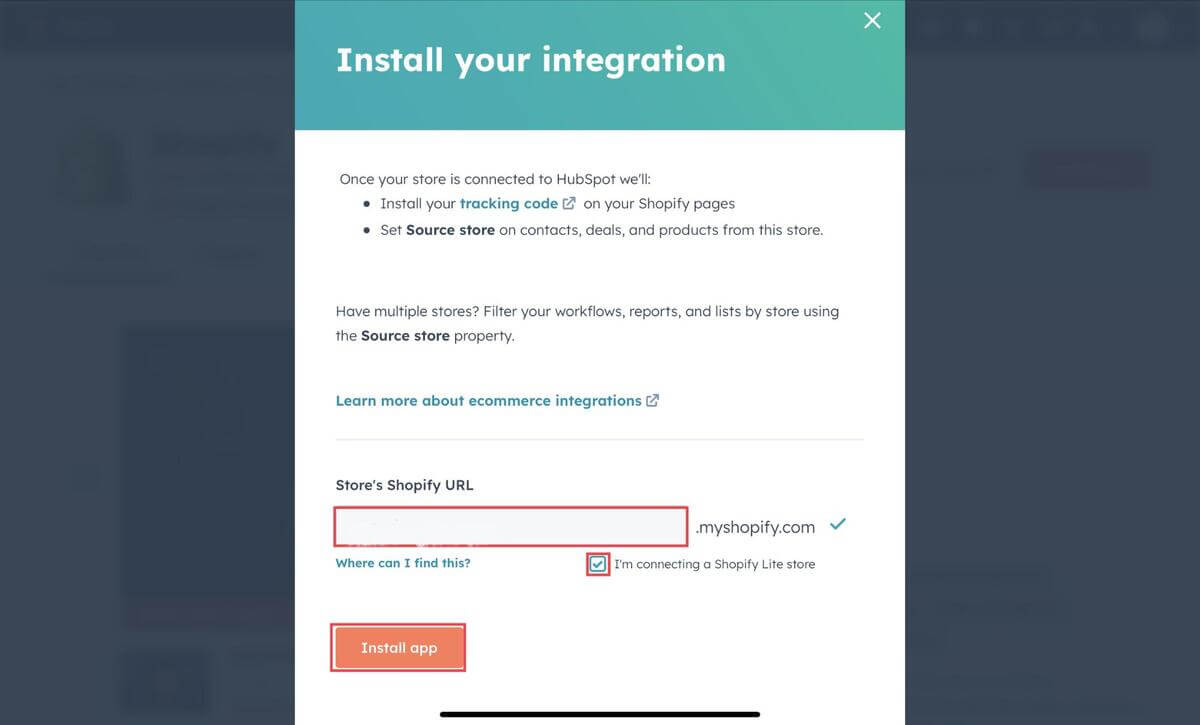 Step 6: In the pop-up window, provide your Shopify credentials and click Log in and Install app. Once done, you go to HubSpot and will confirm that your Shopify store has successfully connected to HubSpot.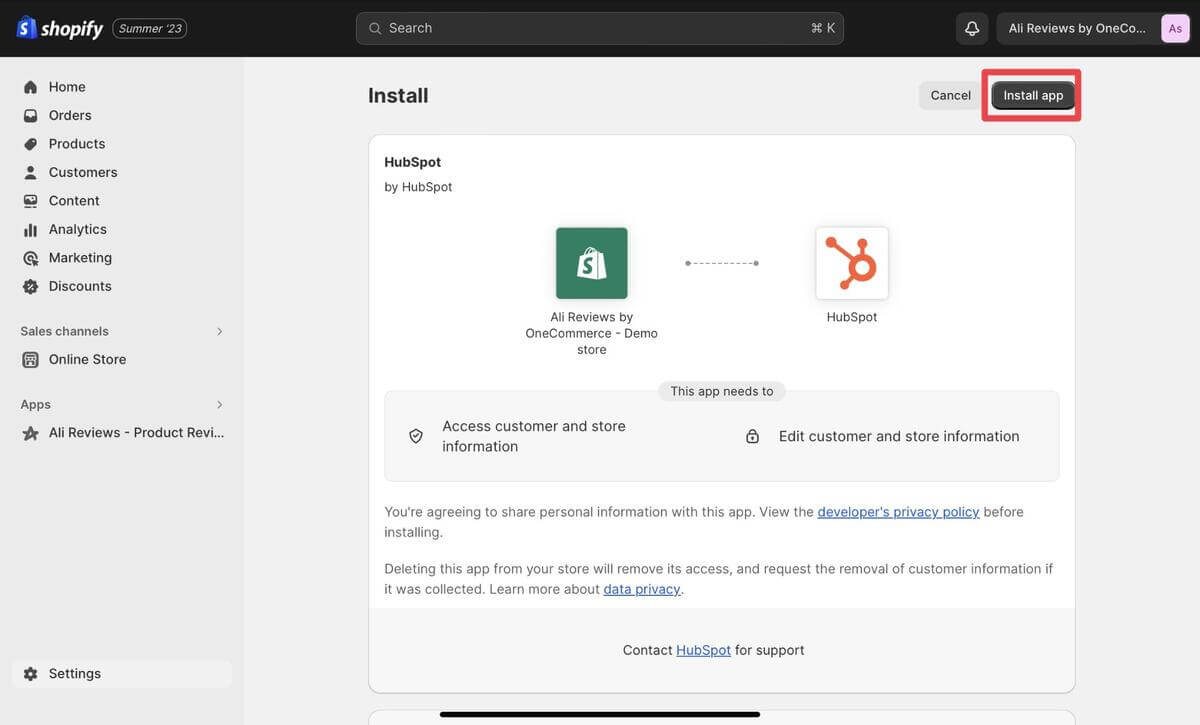 Step 7: Import your Shopify data to Hubspot by clicking the Import button.
The contacts, deals, and product property in the Source store help identify connected Shopify stores syncing with the object. It allows you to report, filter, and view data from individual stores or all your connected stores simultaneously.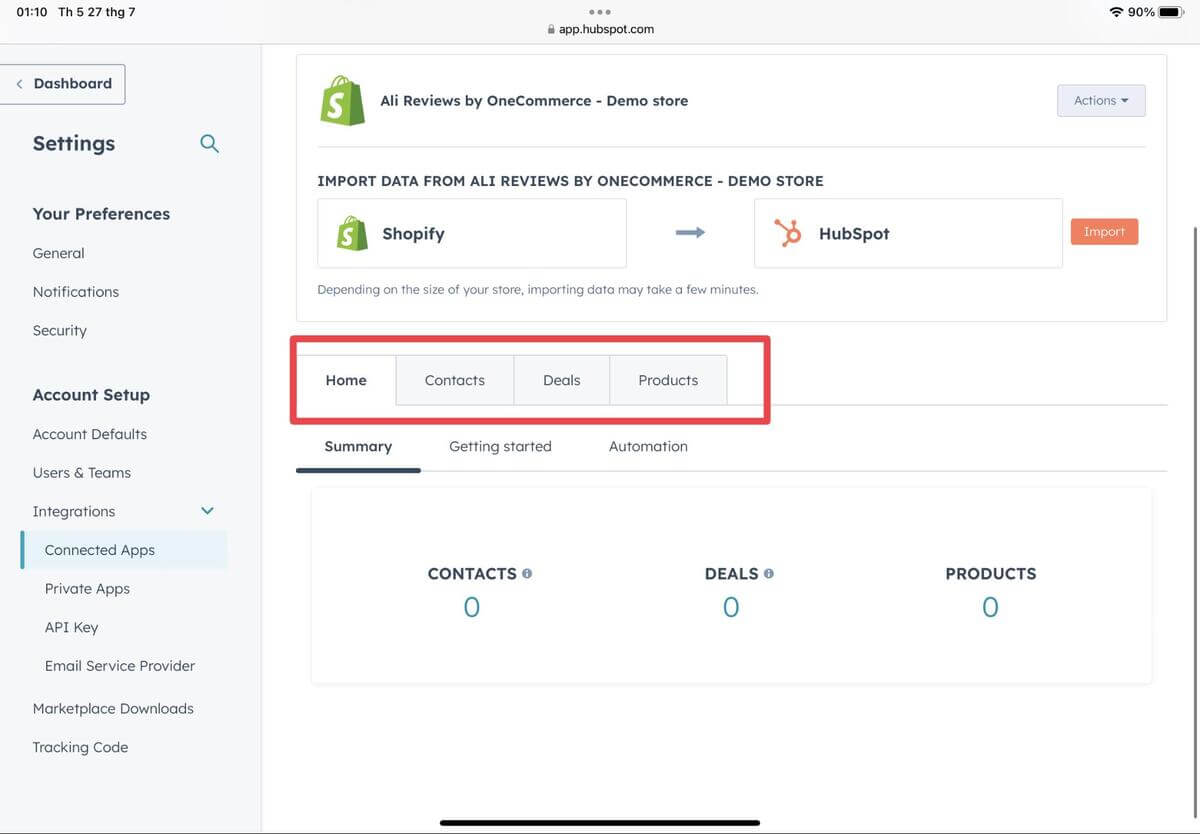 Step 8: After connecting your first store, you can easily add more Shopify stores from the integration page – It's a seamless process that allows you to manage multiple stores effortlessly. Click on the store's name:
If you want to add more stores, choose Connect another store
If you want to delete a store, choose Remove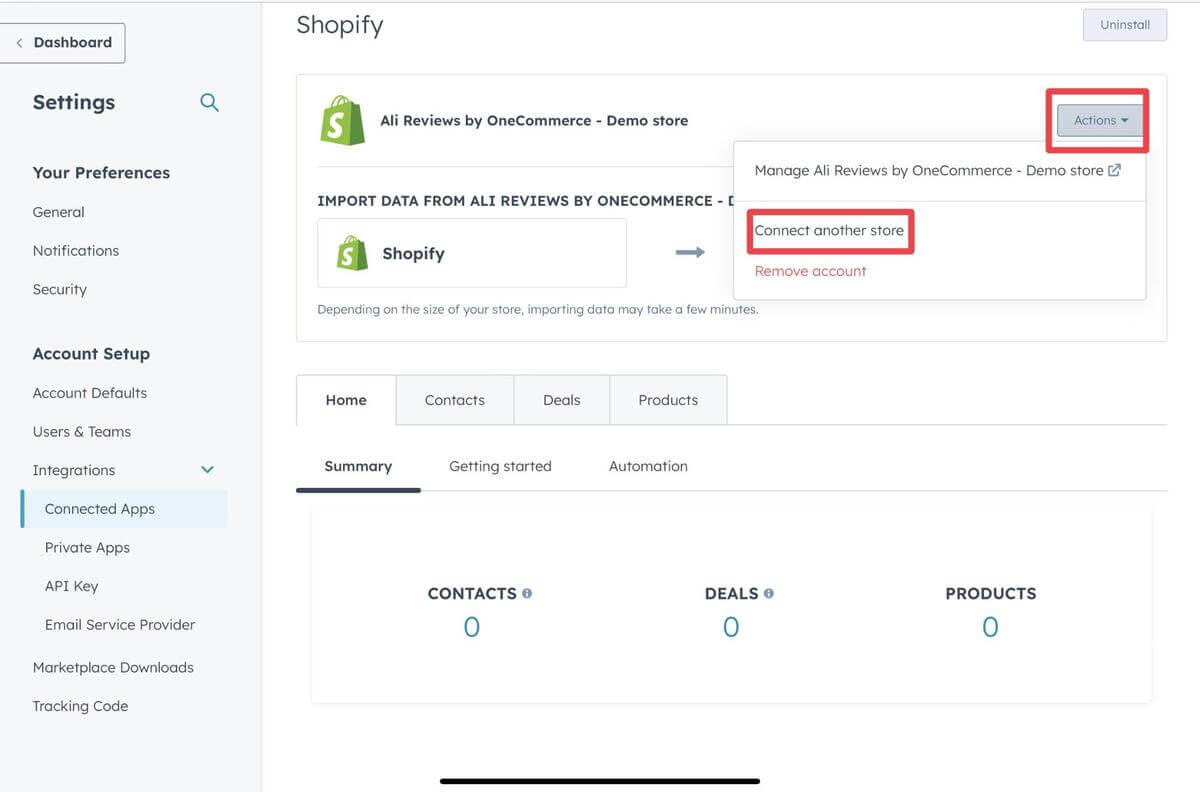 That's it! Your Shopify store is now added to the Hubspot platform, and you can rest assured that it's a strong tool to support you in generating more revenue and managing a successful marketing strategy.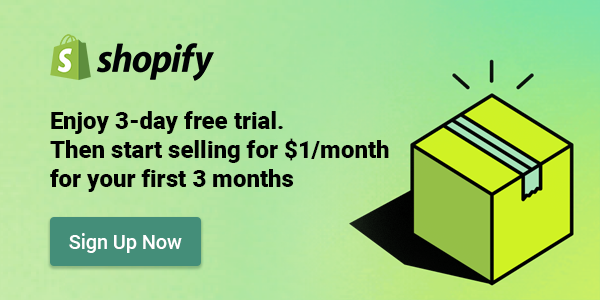 Conclusion
Hubspot Shopify integration provides a powerful solution for business owners, combining inbound marketing strategies with effective e-commerce tactics.
The integration offers several benefits, including streamlined sales and marketing processes, improved sales and conversions, and the ability to collect and analyze data to make informed decisions about your business.
Don't miss out on the future of e-commerce! With revenue in the e-commerce market projected to reach $1.1 trillion in 2023 in the U.S. alone, it's crucial that your business is equipped with the right technology to maximize your time and resources.
Take action now to ensure your business is ready to overcome any challenge and seize every opportunity for growth!