Imagine reaching millions of potential customers every day with your Shopify store.
With Shopify Amazon integration, this dream can become a reality! By integrating your Shopify store with Amazon, you can expand your brand's reach, increase organic traffic, and boost your sales.
In this article, we will walk you through the step-by-step process of seamlessly integrating your Shopify store with Amazon. Whether you're a seasoned seller or just starting, Shopify Amazon integration is a game-changer that can revolutionize your online business.
Let's get started!
What Is Shopify Amazon Integration?
Shopify Amazon integration is a game-changing solution that enables businesses to effortlessly link Shopify store with Amazon store, driving brand visibility and boosting product sales.
This seamless integration simplifies the task of exporting products from Shopify to Amazon, eliminating manual data entry and minimizing the chances of errors.
With the power of Shopify Amazon integration, businesses can tap into Amazon's extensive customer base and leverage its e-commerce infrastructure. It allows you to showcase your products to millions of potential customers on Amazon, significantly expanding your reach and maximizing your sales opportunities.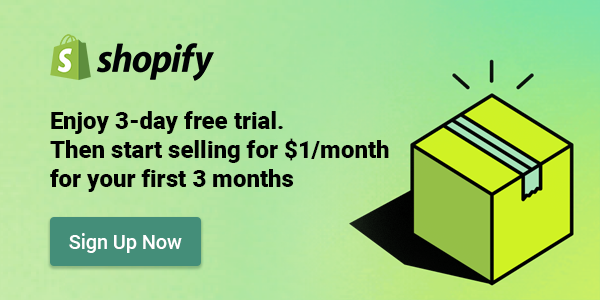 Benefits of Shopify Amazon Integration
Here are some of the benefits of Shopify Amazon integration:
Amazon orders can be quickly filled through Shopify.
Your Amazon Seller Central account needs to be linked with the product information, images, and variations.
Using the Shopify report, you can manage your Amazon sales revenue.
Every day, Amazon has millions of visitors, and you may increase organic traffic using Amazon's online store while requiring little marketing expertise. On the other side, Shopify's user-friendly layout enables you to sell products quickly. As a result, the Amazon-Shopify connection offers huge potential for revenue growth for retailers.
Multi-channel selling is preferred by vendors over standalone storefronts. Multichannel selling: What is it? Selling your items online through several channels is the norm. This has recently gained in popularity.
Improved Analysis of Customer Needs
You can find out who and where your potential consumers are with multi-channel selling. Additionally, studying customers on two different platforms can provide you with a more impartial and comprehensive picture of customer behavior.
What To Prepare Before Shopify Amazon Integration?
Let's look at the crucial points that require your attention before you start:
1. Choose which products to sell
1.1. Choose a niche
First, it's important to choose and stick with a particular product niche.
Products that cater to a specifically defined market or consumer sector, such as eco-friendly clothing for millennial women, pug owner attire, or at-home yoga equipment.
Your niche should ideally target a small, devoted set of customers who are searching for a particular product that isn't readily accessible or provided by well-known businesses.
When selecting a niche, take into account your hobbies, knowledge, and interests. It will be simpler to promote and sell things about which you are aware and enthusiastic.
1.2. Identify customers' pain points
Finding your target niche and your customer's pain issues comes next.
The issues and/or difficulties faced by customers in this market are referred to as "pain points" in this sentence. Once those problems have been identified, you may then try to offer a solution (a product that fixes the issue).
To pinpoint your customers' pain spots, you must conduct research. Here are some suggestions if you're not sure where to start:
Taking a survey of your target market
Reading client testimonials on Amazon and other online stores
Checking forums and blogs in the field.
1.3. Product Research
It's time to start looking at particular products now that you have a better knowledge of your customers' wants.
To find popular and lucrative products, you can use a variety of resources, including Amazon's Best Seller list, Google Trends, and Jungle Scout.
More specifically, you may use Google Trends to assess consumer interest in a given product or market over a predetermined period to decide whether the product is trending, has a steady following, or is losing popularity.
For example, let's pick a few niches such as "jewelry", "clothing", and "furniture" and test their popularity using Google Trends:
1.4. Keywords
Product and keyword research are closely related.
For those who are unaware, keywords are the terms individuals enter into search engines while looking for something (including products).
You want to find out if people are searching for keywords in your field and, if they are, how much competition there is.
Spending effort on keyword research will yield insightful information about consumer demand, purchasing patterns, pain areas, etc. You can then utilize this information to support your product research, improving your chances of selecting profitable things to market.
2. Choose a fulfillment service
We'll go over Amazon's main fulfillment structures below.
The procedure a merchant uses to complete customer orders is referred to as a fulfillment structure. This often comprises order processing, inventory management, and shipping.
Orders placed on Shopify can be filled using Amazon's fulfillment services when the two platforms are connected.
When a customer places a purchase through your Shopify site, the order information is automatically forwarded to Amazon's fulfillment system for processing and shipment in the event of FBA. This can ensure quicker shipment times and streamline the fulfillment process.
This is an Amazon fulfillment service, as the name so aptly suggests.
Sellers can store their goods at Amazon's fulfillment centers thanks to FBA. Amazon is also capable of handling customer service and deliveries.
How does FBA work?
First, your goods are delivered to Amazon's fulfillment facilities: Your purchases are packaged and shipped to an Amazon fulfillment facility.
Second, Amazon safely stores your products.
Third, Amazon completes client orders: Amazon picks, packs, and ships a customer's order for one of your products for them.
Next, providing customer assistance on Amazon: Amazon responds on your behalf if a consumer has a query or problem with one of your products.
Finally, the main advantage of this strategy is that Amazon handles most of the work for you. Your time will be freed up to concentrate on other things, including sales and marketing.
2.2. SFP – Member of Seller Fulfilled Prime
Seller Fulfilled Prime (SFP) allows you to provide your customers with the coveted Prime shipping benefits without relying on Amazon's fulfillment centers. By participating in SFP, your business can tap into a vast customer base and leverage the power of Prime delivery.
Here's how it works: Instead of Amazon managing your inventory and shipping, you take charge of fulfilling orders using your own facilities and logistics. This gives you more control over the process and allows for greater flexibility.
However, being part of the SFP program comes with strict eligibility requirements. To qualify, sellers must:
Maintain high-performance metrics
Offer Prime-qualified shipping options with guaranteed 2-day delivery.
While SFP offers increased flexibility, it also demands a higher level of responsibility. Sellers must prioritize customer satisfaction and ensure a seamless experience from start to finish.
2.3. Fulfilled by Merchant or FBM
Last but not least, using the Fulfilled by Merchant (FBM) program enables you to complete purchases independently of Amazon.
This is how it works:
You have your own warehouse or storage space where you keep your goods.
You pick, pack, and ship a customer's order for one of your products when it is placed on Amazon.
You manage the product's customer support if a consumer has a query or a problem with one of your products.
This might be a better choice for retailers who have their fulfillment infrastructure or for those looking for a less expensive fulfillment alternative to save money.

Requirements to Integrate Amazon With Shopify
1. Check for availability
To proceed with the process of building a Shopify Amazon sales channel, you must make sure that you have not selected FBA for the product shipment.
Your Amazon store should use the same currency as your Shopify store. That means you must have a Shopify U.S. store if you sell on Amazon.com.
You must have the UPCs for all the products you're selling on hand for a seamless Amazon Shopify integration. Additionally, Shopify's stock levels ought to reflect accurate values.
2. Additional seller's fees
Amazon Platform Fees: Amazon charges a commission for each product sold on its platform. Except for Amazon devices, referral fees are typically between 8 and 20%.
Amazon Closing Fees: These are extra referral payments for products in particular product categories, like DVDs, video games, and music.
Amazon FBA Fees: If you want to participate in Amazon's FBA fulfillment service, expenses are determined by the nature and dimensions of the goods you sell. Along with that, be prepared to pay for the following:
Inventory fees: A variable storage expense that is based on the length of time a product is kept as well as its size and category.
Order disposal fees (removing a product from Amazon's inventory): Depending on how much the item weighs, the price can range from $0.97 to $13.05 and up.
Return fees: Apply whenever a consumer returns an item that must be processed or restocked due to the size of the goods.
3. Prepare your Shopify store
The first thing you must do is open a Shopify store. To begin, go to the Shopify website and input your email address. Make your shop distinctive by adding your products to the appropriate categories.
Personal seller accounts and professional seller accounts are the two categories of accounts, as you are aware. On Amazon, make sure you have a professional seller account because it costs less than a personal seller account.
4. Shopify subscription & fees
After you open your Shopify store, consider the subscription plans as well.
Shopify offers a free (three-day) trial as well as several premium subscriptions. When it comes time to opt in for a Shopify subscription, you can choose between monthly and yearly pricing (the latter of which offers a 25% discount).
Other types of fees that merchants will be dealing with include Payment gateway fees, shipping and transaction fees, etc. For a more detailed assessment, consider checking out these blogs:
Shopify Amazon Integration: A Step-by-step Guide
There are 5 main steps to implement Shopify Amazon integration:
Step 1: Examine your eligibility and category approval
Create an Amazon Professional Seller Account.
The goods you intend to sell require permission. To gain permission and build the Shopify Amazon Integration, if necessary, get in touch with Amazon Customer Service.
Do not forget to sell your items on Amazon.com or Amazon.ca in USD or CAD. Only the region that matches the currency of your Shopify store may be sold on the Amazon sales channel.
Be sure you have a Shopify plan that is currently active.
Step 2: Include Amazon as a Sales channel
Your Shopify store needs to be linked to the Amazon Sales Channel. This step in the Shopify Amazon Integration process is crucial. Follow the steps listed below to link your Shopify store to your Amazon sales channel:
Log in to Shopify, then in your Shopify admin, select the "+" sign next to the sales channel.
Choose the Add channel option.
On the Amazon account screen, click Connect to Amazon.
To connect your Shopify and Amazon Seller Central accounts, follow the on-screen instructions.
After the procedure, you will be taken back to your Shopify dashboard. In the User Permissions section of your Amazon Seller Central account, confirm developer access for Shopify.
Step 3: Make an Amazon Listing or Offer
You can skip this step if you already sell your goods on Amazon and have them listed in the appropriate categories. The steps listed below should be followed if you're a new seller and wish to create a listing for your Amazon products:
After logging into Shopify admin, go to Amazon.
Choose Create Listing.
After choosing the item from your Shopify list that you want to sell on Amazon, tap Select Product.
On the Search screen, click Create a Listing.
Find the category that applies to your product on the category list.
Fill out the Amazon listing details to prevent changes to the Shopify content.
Select the product options that apply to your product under the Variants section.
Choose your version's picture after choosing your inventory management choices and, if necessary, enter the production time.
Click Publish after the process is complete.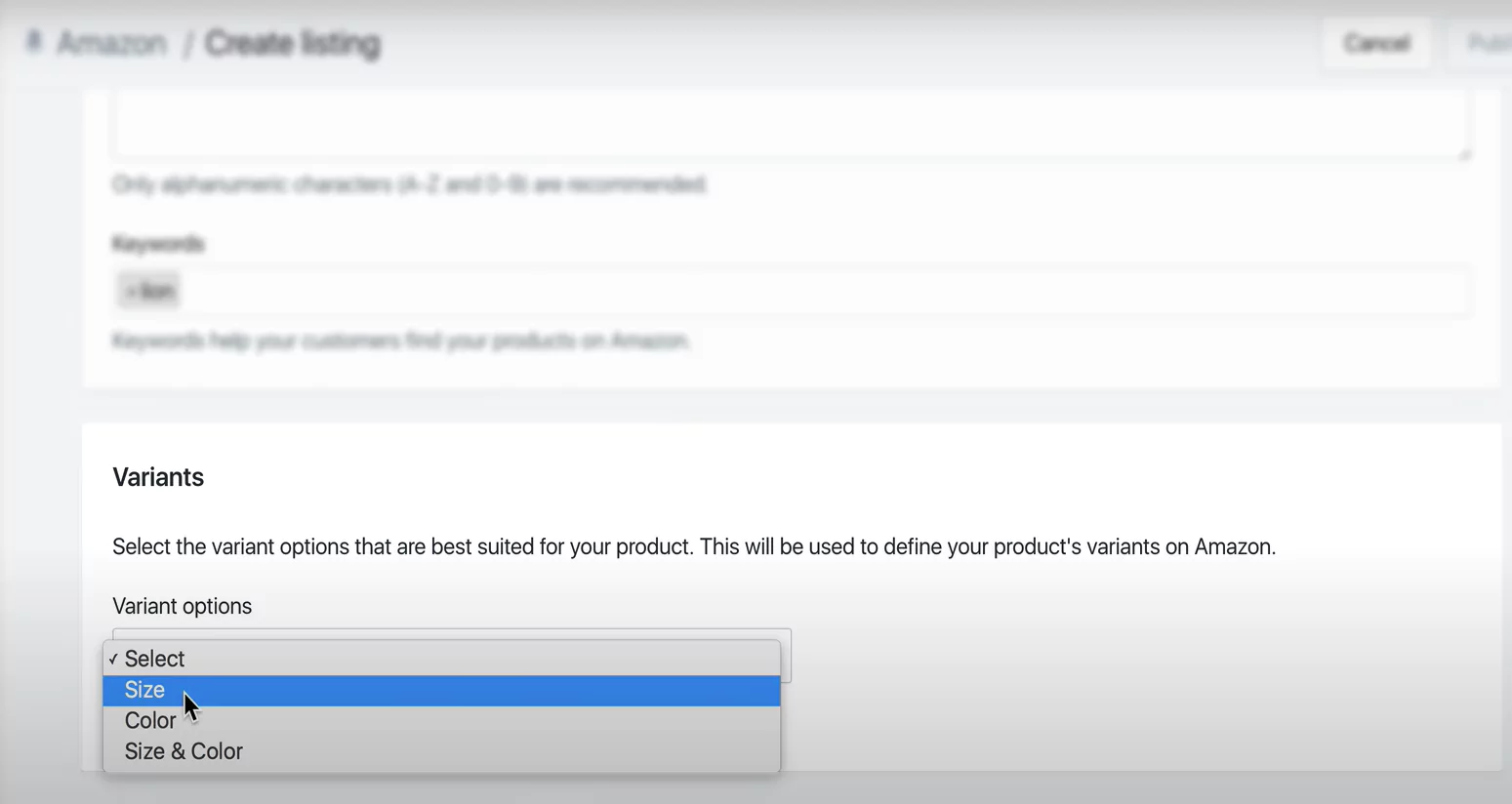 However, you can quickly link Shopify to your current Amazon listings if the things you sell are sold on Amazon.
Step 4: Configure inventory settings
Each customer who looks at your Amazon listings or offers will be able to see the stock levels for each variant.
There are two steps available to you for administering inventory settings.
You can first use the inventory tracking options on Amazon to automatically sync your product inventory.
Then, the inventory amount can also be managed manually.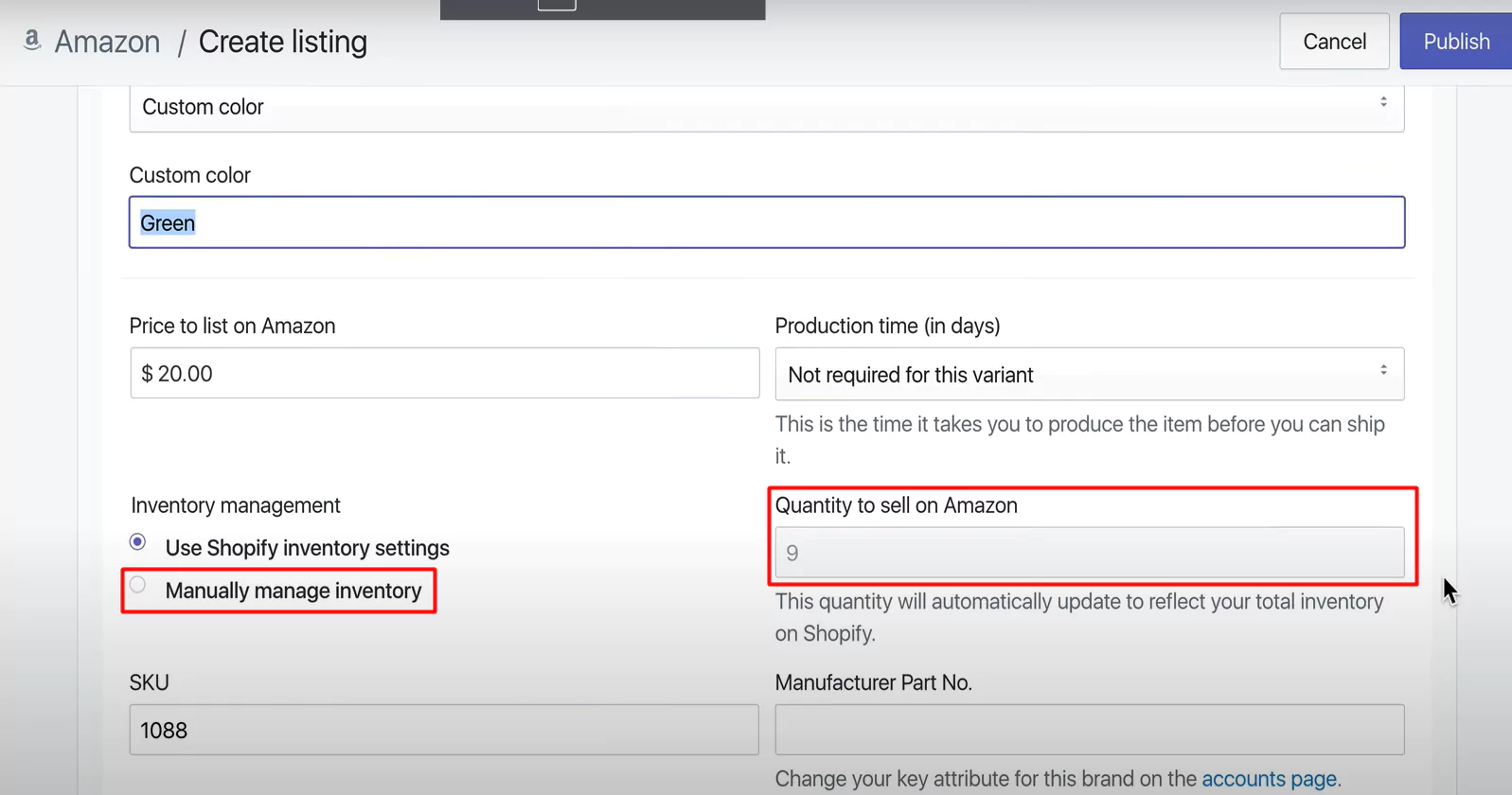 Step 5: Fulfilling customer requests
In the Orders section of the Shopify admin, you can maintain tabs on all Amazon orders. Amazon will mark these purchases.
When you complete Amazon orders using the Shopify dashboard, both Shopify and Amazon Seller Central will update the orders' status right away with the same fulfillment.
Be sure to follow Amazon's selling guidelines when fulfilling Amazon orders in Shopify and mark them as finished within Amazon's time constraints.
Shopify Amazon integration: FAQs
1. Can you connect a Shopify store to Amazon?
Yes, Shopify allows syncing inventory and selling products from Shopify stores to Amazon.
2. Can I use Shopify to sell Amazon products?
Yes, you can use a Shopify Amazon integration if you already have an online store based on the Shopify platform. By using it, you will effortlessly manage and keep track of the inventory and orders between Shopify Amazon sales channel.
3. How do I add items to Amazon sellers from Shopify?
Step 1: Log in to Shopify admin and select the "+" sign next to the sales channel.
Step 2: Choose the Add channel option.
Step 3: On the Amazon account screen, click Connect to Amazon.
Step 4: To connect your Shopify and Amazon Seller Central accounts, follow the on-screen instructions. Following the procedure, you will be taken back to your Shopify dashboard. In the User Permissions section of your Amazon Seller Central account, confirm developer access for Shopify.
4. What are the benefits of Shopify Amazon integration?
Quick and efficient fulfillment of Amazon orders through the Shopify Amazon sales channel

Increased potential for revenue growth by leveraging Amazon's large customer base and Shopify's user-friendly platform

Ability to sell products through multiple channels, reaching a wider audience and increasing sales opportunities

Enhanced analysis of customer needs by studying behavior and preferences across both Amazon and Shopify platforms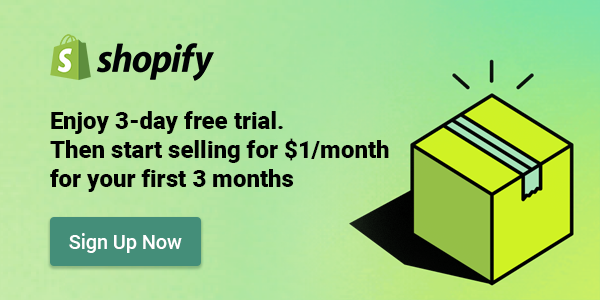 Final Words
With a large amount of traffic, Amazon is a dominant eCommerce platform. There are several possibilities for sellers. You can launch your brand successfully and with ease with Shopify Amazon integration.
Selling on Amazon and promoting your brand shop at the same time might increase your revenues as a vendor. There will be more updates and developments for the merchants as the two eCommerce platforms integrate.
Multichannel selling is a fantastic strategy to boost your brand's awareness and generate more sales, yet, it might not be the best one for all types of organizations. Therefore, think carefully and adopt the best plan for your organization after conducting extensive study.