Welcome to the ultimate guide on how to sell on Instagram with Shopify! If you're a Shopify merchant who's looking to expand your reach and increase sales from social media, don't miss out on this.
Throughout this article, we'll cover everything you need to know about Shopify Instagram integration including step-by-step instructions on the setting up process.
So grab a cup of coffee, sit back, and let's get started!
What Is Instagram Shopping?
Instagram Shopping is a feature that allows businesses to sell their products directly on Instagram, allowing them to tag products in their posts and stories.
When a product is tagged, users can see the product details, including price, description, and a direct link to purchase the product.
This feature is not only accessible for businesses to showcase their products but also simplifies the process for users to purchase those products without leaving Instagram.
In addition, Instagram Shopping also includes a dedicated shopping tab for Business profiles to showcase their products in a visually appealing way, making it easier for customers to browse and purchase without ever leaving the app.
FYI, Instagram Shopping can be integrated with a business's Shopify store, allowing them to sync their product catalog and manage sales from one place. This integration also provides businesses with real-time inventory and order tracking.
With Shopify Instagram integration, business owners can create an online storefront within their Instagram profile.  From there, it gets so much easier to facilitate the browsing and purchasing process.
💡More insights for Instagram:
The Importance of Shopify Instagram Integration
As a powerful tool that enables businesses to increase sales, Shopify Instagram integration can broaden the customer base, and gain insight into the target audience. It doesn't stop there!
Several benefits of using the Shopify Instagram integration include:
Real-time updates on your inventory levels and order statuses
Simplified shopping experience for your customers
Valuable information about your customer base
Increased sales and broader reach
Hootsuite reports 130 million users tap on shopping posts every month, and 81% of people use Instagram to research products or services before making a purchase.
It's no doubt that this has become one of the most valuable business opportunities for Shopify merchants. That's why we highly suggest that you take this as a stellar chance to take your Shopify business to the next level!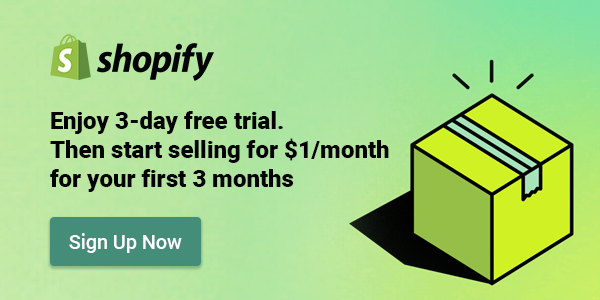 How Does Shopify Instagram Integration Work?
Now that we've explored the benefits of the Shopify Instagram integration, you may be wondering: "How does it work?" Let's take a closer look at the steps involved in setting up and using the integration.
Shopify Instagram integration allows you to sell your products directly on Instagram by tagging them in your posts and stories. To use this feature, you need to have:
An Instagram business account.
A Facebook Shop connected to your Shopify store.
You also need to meet the commerce eligibility requirements for your products and get approval from Instagram to enable shopping. When approved, you can add your product catalog to Instagram and start tagging your products in your posts and stories.
Customers who see your tagged products can tap on them to view more details. They can also click on View on Website to make a purchase on your Shopify store.
💡 Customers can find the Instagram store directly on the store's page through the "View shop" button.
Shopify Instagram Integration: Step-By-Step Guide
If you already have an Instagram business account and a Facebook Shop, you can skip to the integration steps. However, in case you are completely new to selling on Instagram and Facebook, here is a guide for initial preparations on how to sell on Instagram with Shopify.
1. Prerequisites Before Selling On Instagram With Shopify
#1. Check if you are eligible to use Instagram Sales Channel
Before setting up Shopify Instagram integration, you need to make sure that you are eligible to use the Instagram Sales Channel. For that, you need to meet the following requirements:
You need to be located in one of the supported countries. You can check out the list of supported countries.
You must comply with Facebook's Commerce Policies and also its Merchant Agreement.
#2. Sign in to your Instagram Business Account
Sign up for an Instagram Business Account if you don't already have one. This gives you access to Instagram's business features, such as Instagram Shopping.
After you've signed up to ensure everything is in order, sign in to your account. Don't forget to give your profile a comprehensive look and legit information, containing a profile image, bio, and website link, among other things.
You can also convert your regular Instagram account to Instagram Business account by following the steps below:
Go to Settings → Privacy & Security menu.
Click on the Switch to Professional account button.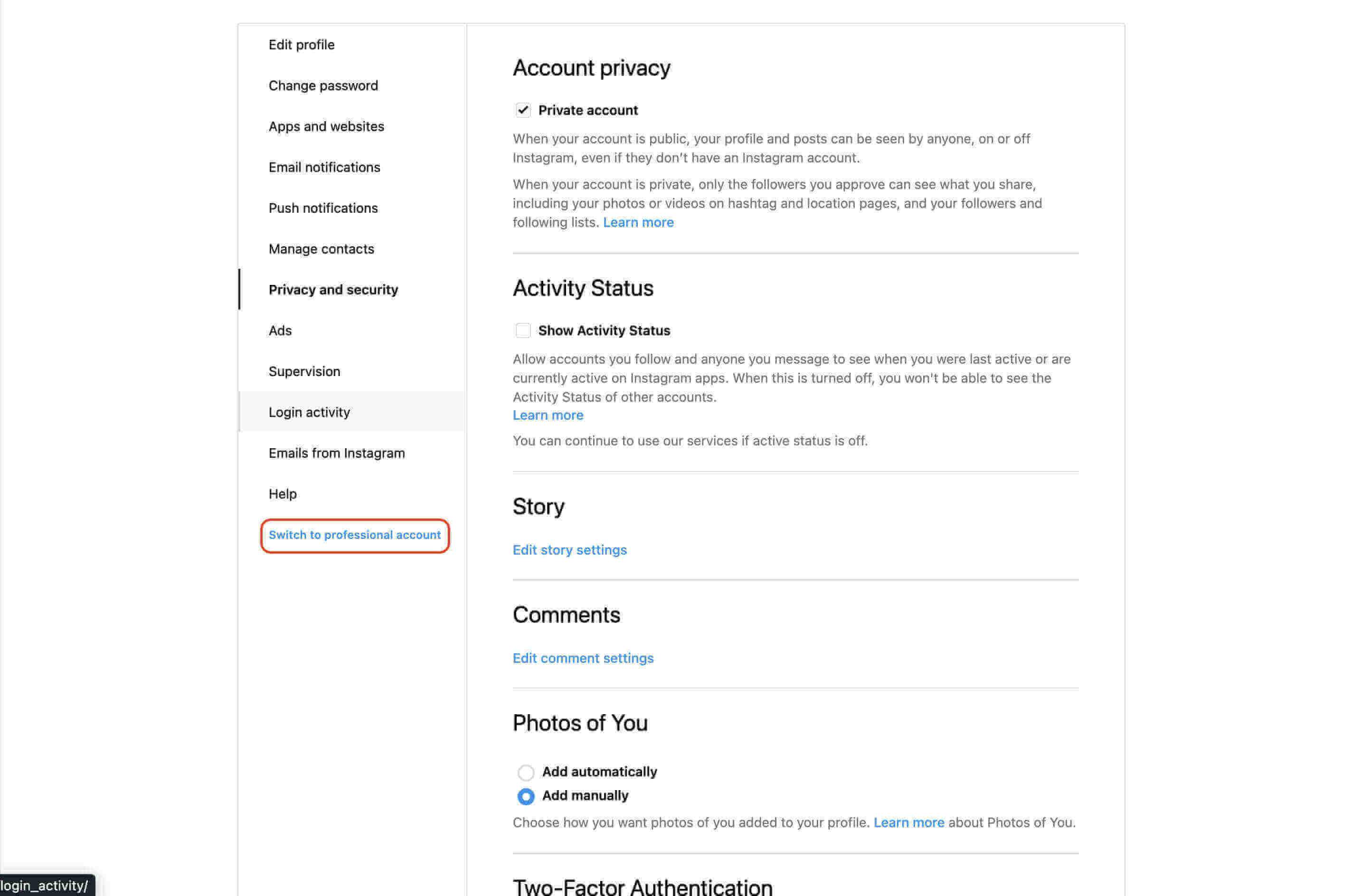 Choose Business and then click Next twice.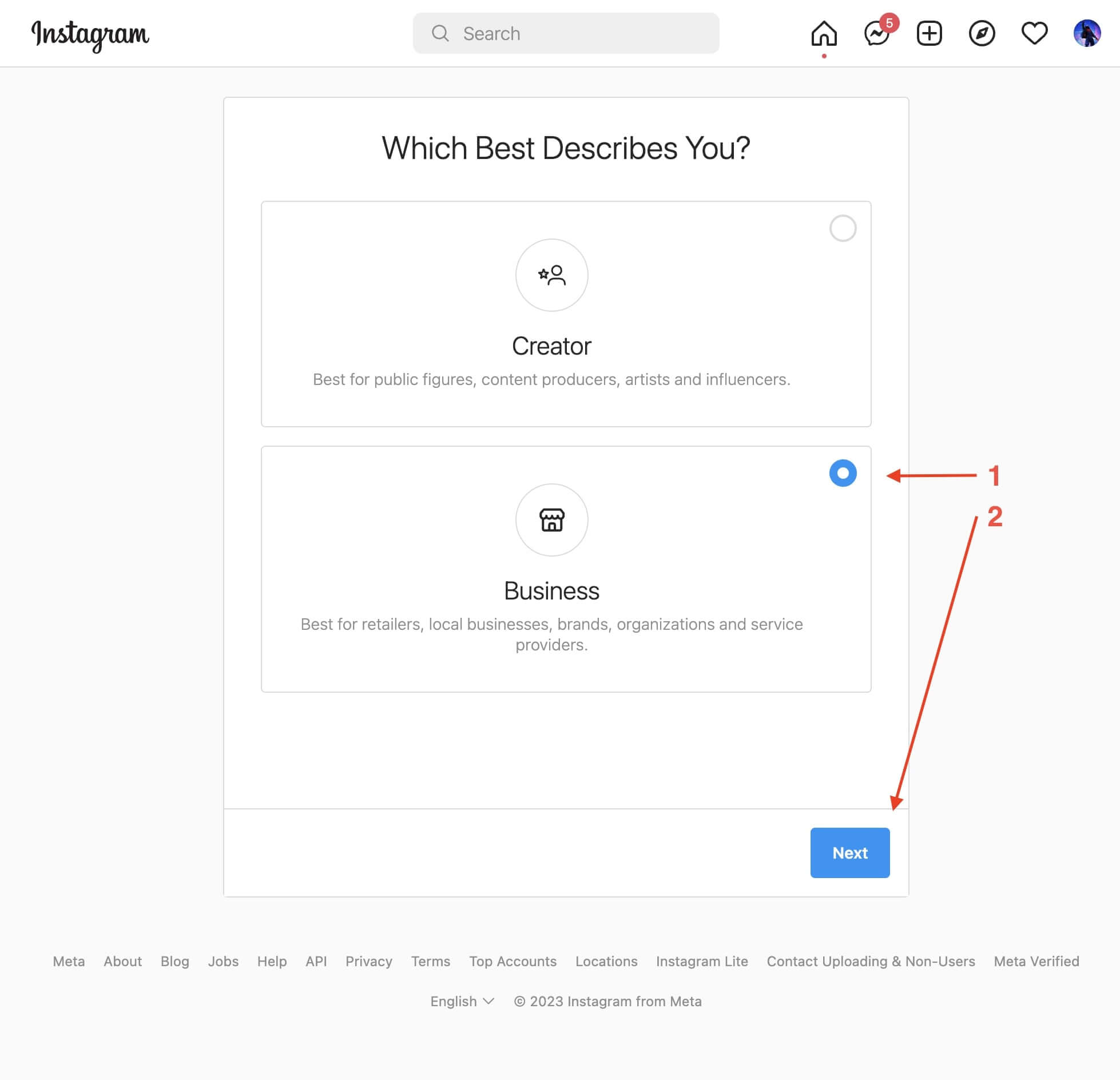 Select your business category and click Done.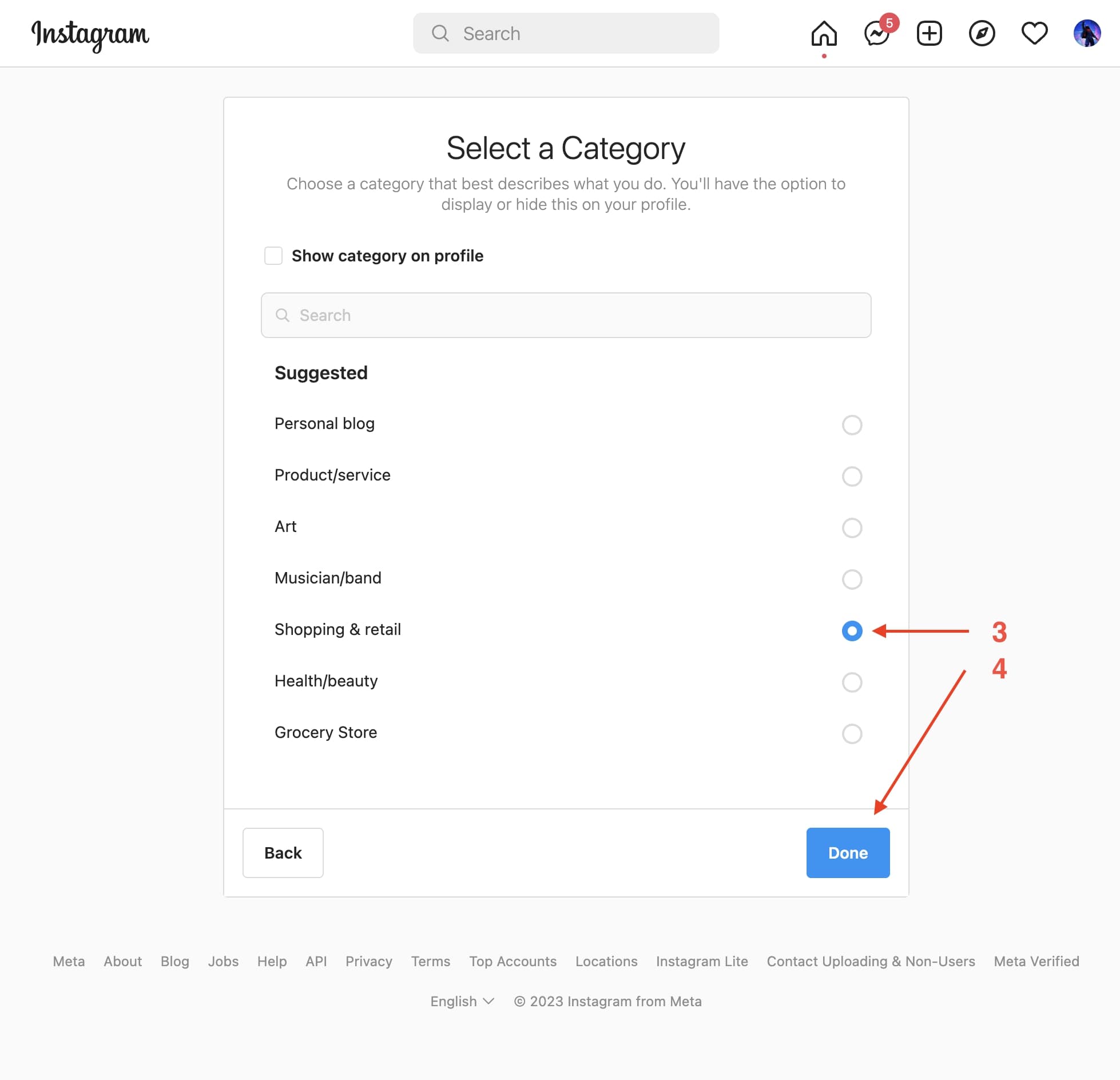 #3. Set Up a Facebook Shop
To use Instagram Sales Channel, you'll need to set up a Facebook Shop. This will allow you to create a catalog of products that you can sell on both Facebook and Instagram.
You'll need to have a Facebook Business Page, and you'll need to upload your products to Facebook's catalog.
💡 To set up your Facebook Shop, follow the instructions provided by Facebook.
Navigate to the Create Your Shop page.
Set up a payment method.
Choose your Page or Create a new one if you wish to sell on a Facebook business Page. Select your Instagram business account if you wish to sell on Instagram.
Choose an existing Business Account or create a new one.
Choose the catalog you wish to utilize in your business.
Review your shop's information and accept the Seller Agreement, and then Finish setup.
#4. Connect Instagram Account to Facebook Business Page
Once you've set up your Facebook Shop, you'll need to add your Instagram account to your Facebook Business Page.
💡 To add or edit the Facebook Page associated with your Instagram professional account, follow these steps:
Go to your Instagram profile.
Click Edit profile.
Under Public business information, select Page.
Depending on your status, you can choose to Create Facebook Page or Connect an existing Page.
After you've chosen a Page or created a new Page, tap Done.
After completing, select the Facebook shop you've just created as your catalog. This will give you access to Instagram Sales Channel.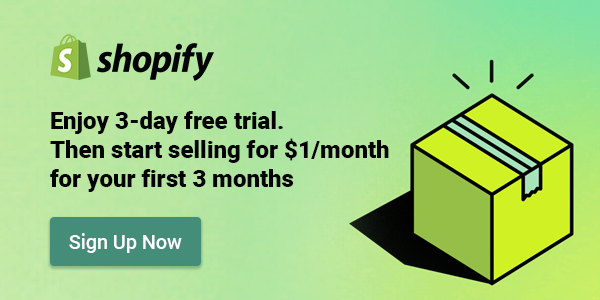 2. Shopify Instagram Integration: How To Add Instagram Feed To Shopify?
Step 1: Download an Instagram Feed app
Once you meet all the above requirements, the last step to Shopify Instagram integration is to connect your Instagram feed to Shopify. This is where third-party Shopify app comes in handy.
💡 One option that we highly recommend is Socialwidget!
Socialwidget is a powerful solution to help Shopify merchants drive engaging social proof by embedding shoppable & aesthetic Instagram feeds on Shopify storefront. With rich customization options, you can customize your Instagram feeds as much as you like from layouts, colors to fonts to fit your store's branding.
And guess what, Socialwidget offers a free trial period for you to freely test out the features and functionality before committing to a subscription.
To download this app:
Click Add app to install Socialwidget to your Shopify store.
Confirm by clicking the Install app button.
Step 2: Connect Your Instagram Account to Socialwidget
From your Shopify admin, go to the Apps section and click on the Socialwidget app.
Click Account and then click on the Add Account button.
Choose Business Account in the Add New Account pop-up box.
Log in to your Instagram account when prompted.
Allow the app to access your Instagram account.
Step 3: Create Shoppable Instagram feeds
The next step of Shopify Instagram integration is to set up your Shoppable Instagram feeds.
Go to Media Source > Choose Add new Source > Select your Instagram profile to sync media.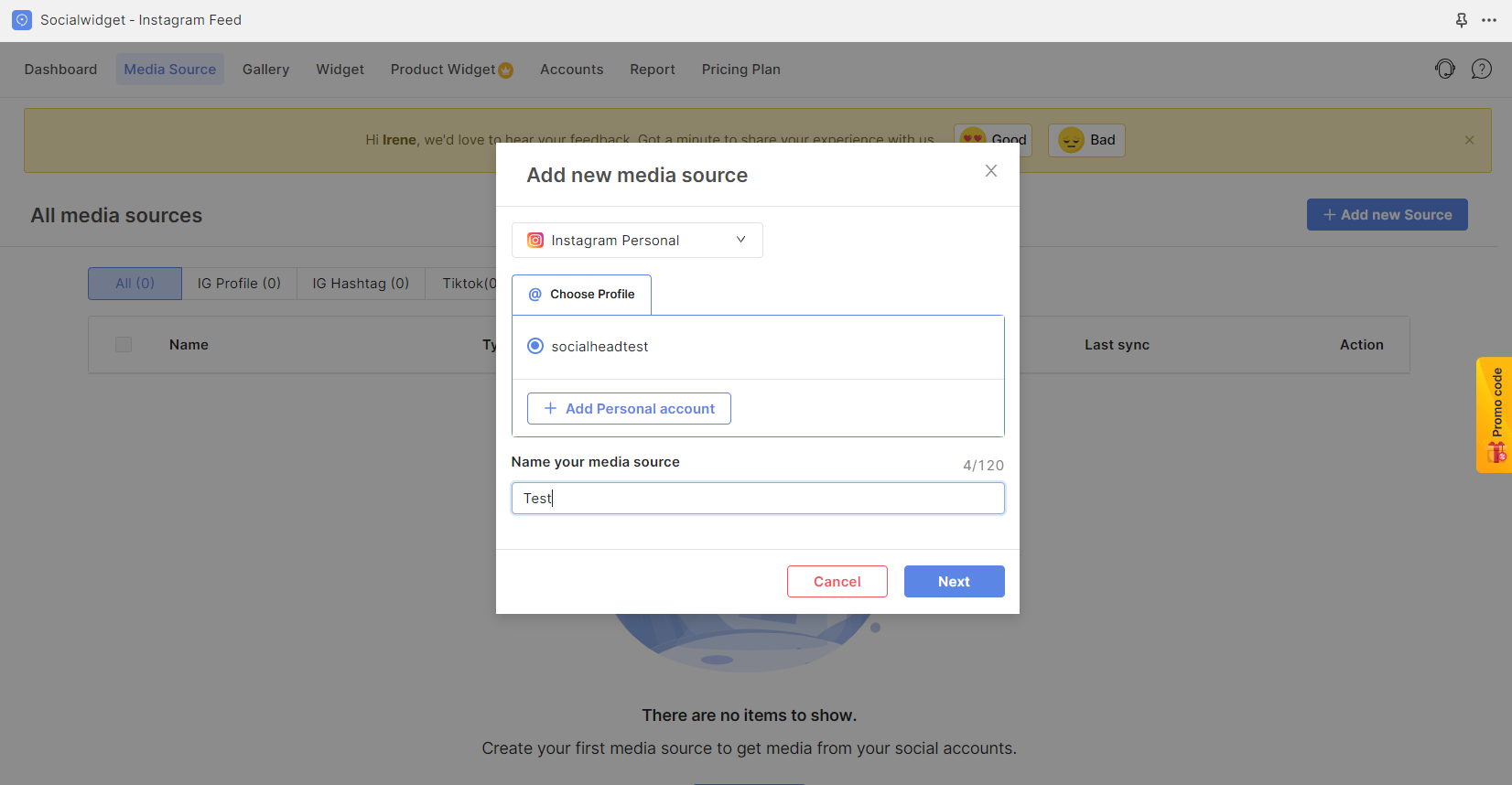 Choose Next > Save to confirm the import media source from Instagram.
Go to the Gallery >  Add new Gallery > Choose Instagram Feed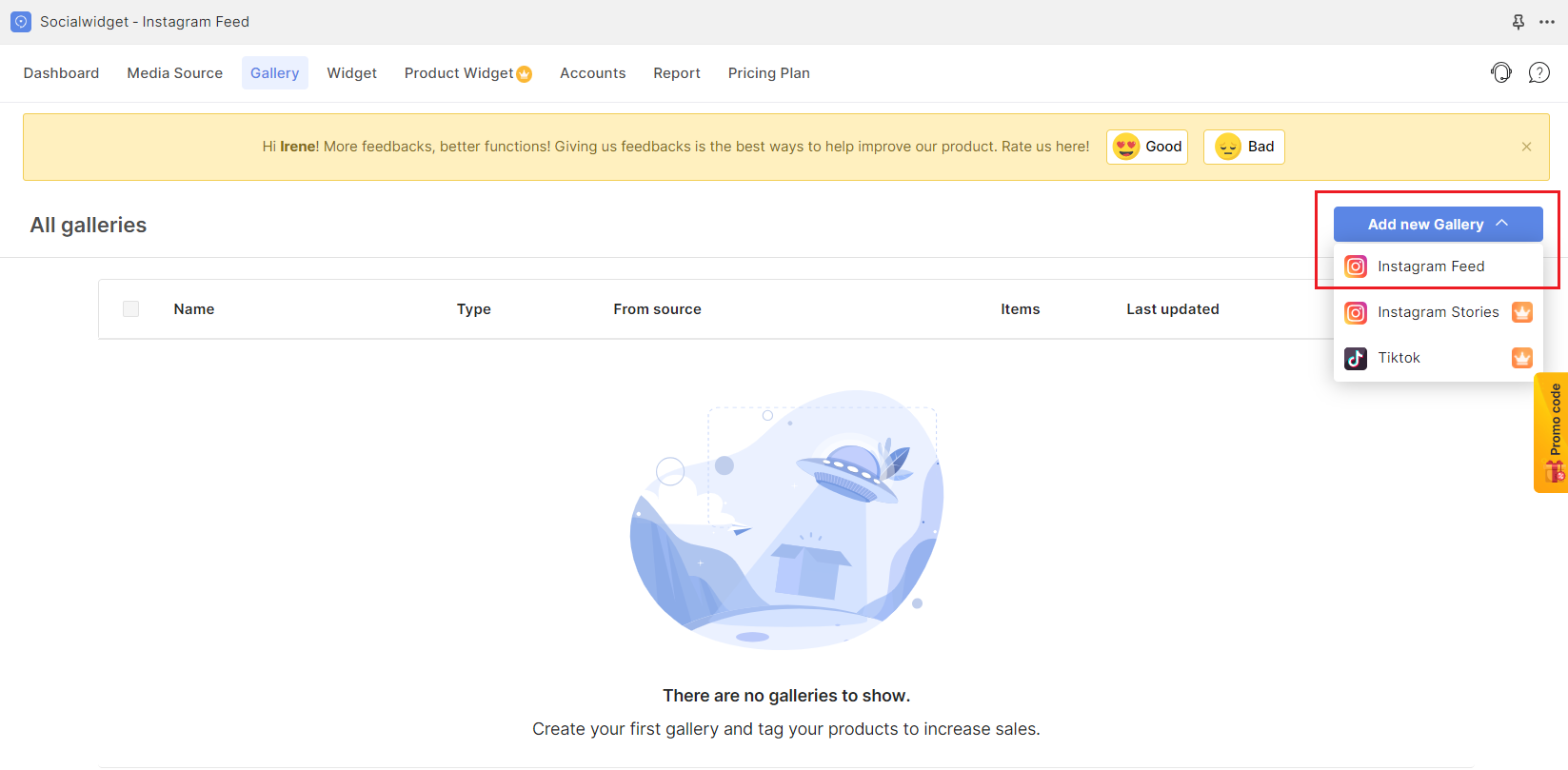 Name your gallery, and Choose media source(s) you've imported > Save.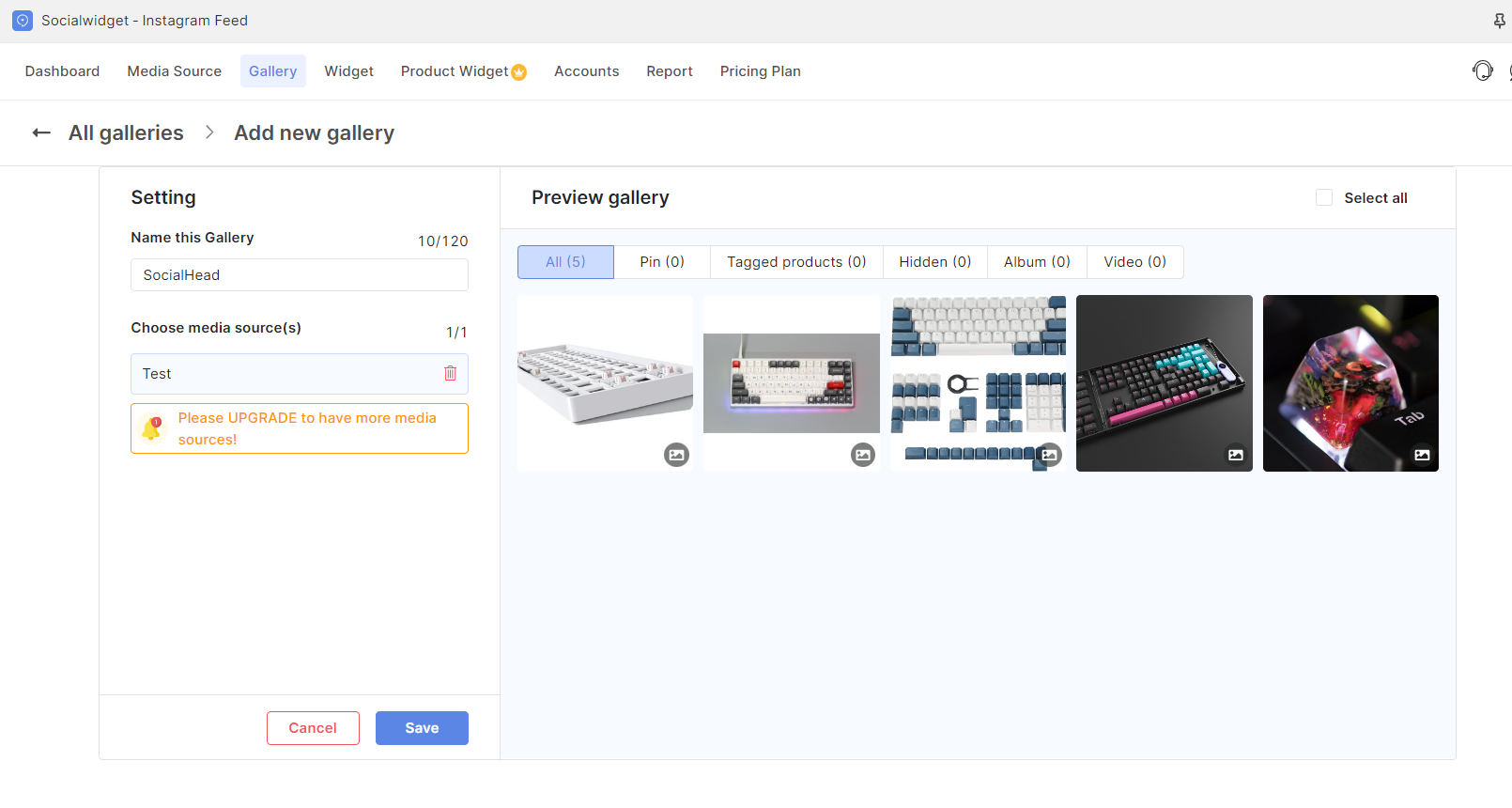 With the media source and gallery prepared, you can now start editing your Instagram feed further.
Move on to Widget > Create Widget > Instagram Feed. This step will lead you to the customized widget board.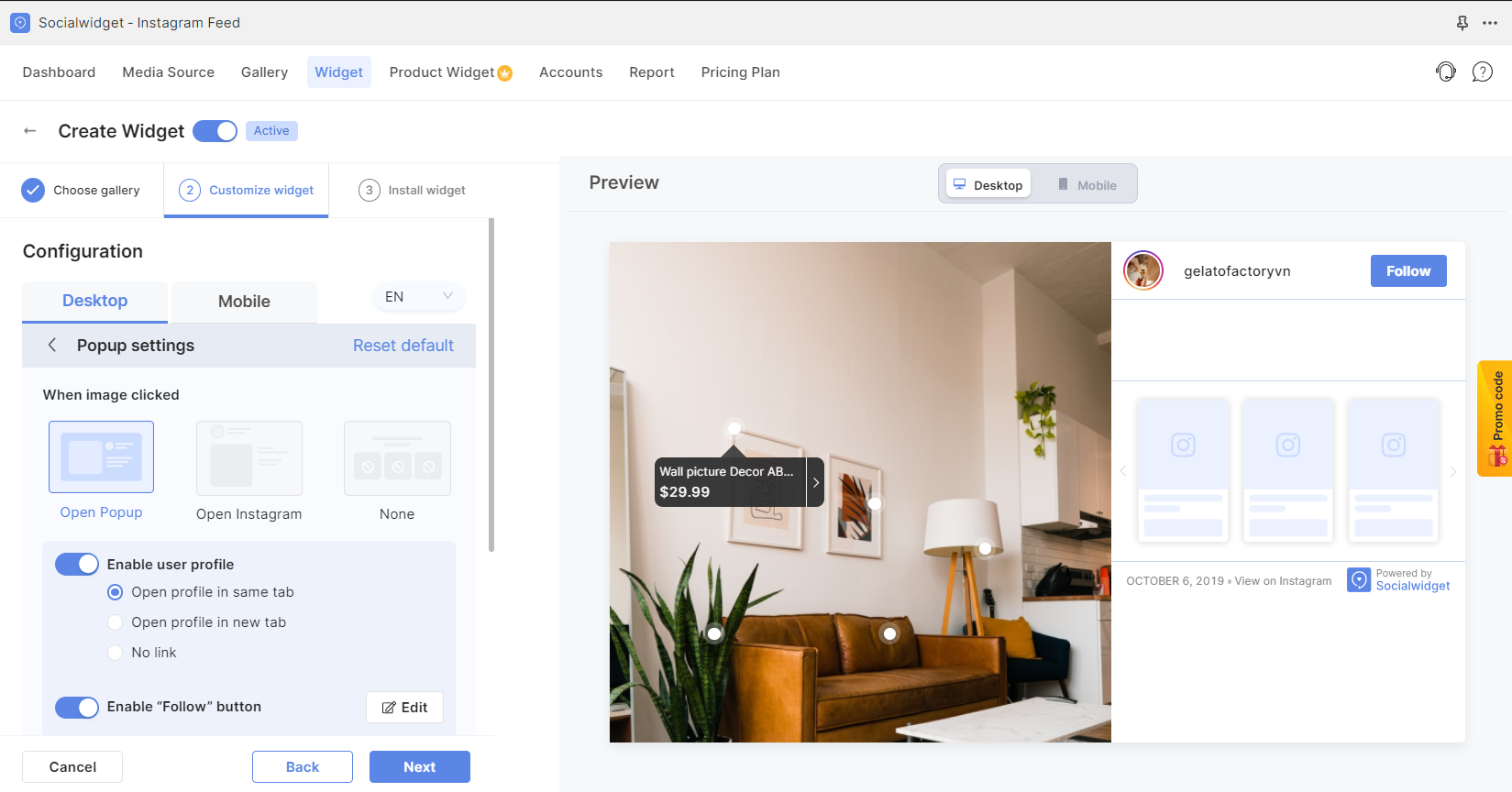 Here, you can experiment with a variety of templates and configured choices, from layout to shoppable settings. Play around with the app's functions to achieve the desired results.
After you've done adjusting your Shopify feed, go to the Install widget step. Select the location in which you want to place your Instagram feed and click Save and you're done.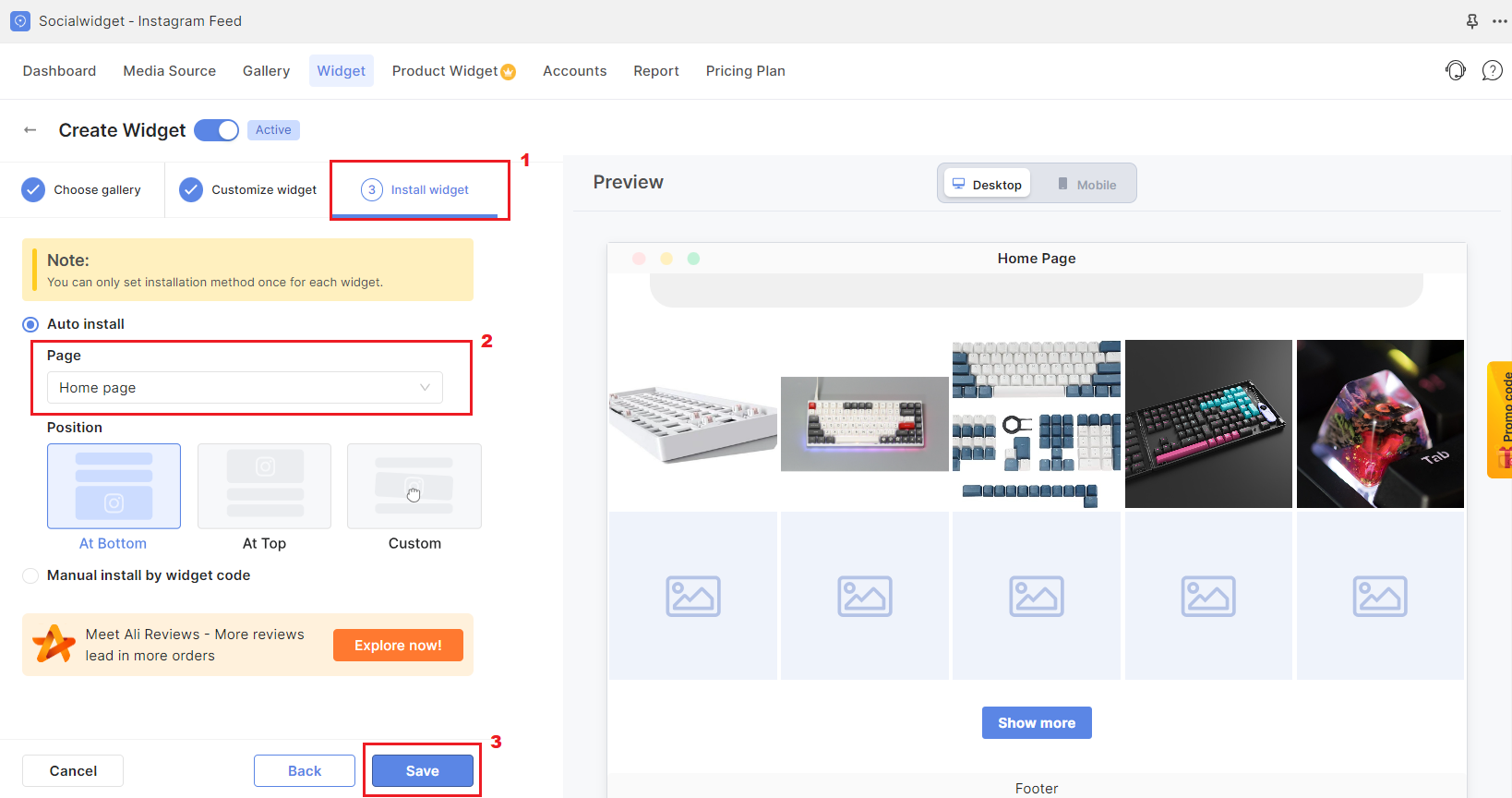 Final Thoughts
In short, Shopify Instagram integration can significantly enhance your online presence and help you reach a wider audience. With the right strategies and tools like Socialwidget, you can leverage Instagram's massive user base to drive traffic, boost sales, and grow your brand.
Don't forget to tune in to OneCommerce blog every week for more up-to-date guides, news, and insights!