Are you planning to establish a dropshipping business but don't know where to start? If yes, our suggestion is to find the best dropshipping platforms where you can quickly set up your business with full support from them.
There are many options available, so it is crucial to consider the cost, the size of the supplier network for your operations, and whether the platform can integrate with your online store when looking for the most suitable one.
Thus, we have put up a list of the top 11 dropshipping platforms of 2023 with all the necessary information to facilitate the process of learning how to start dropshipping on your own.
Ready? Let's start now!
💡 Based on your interest: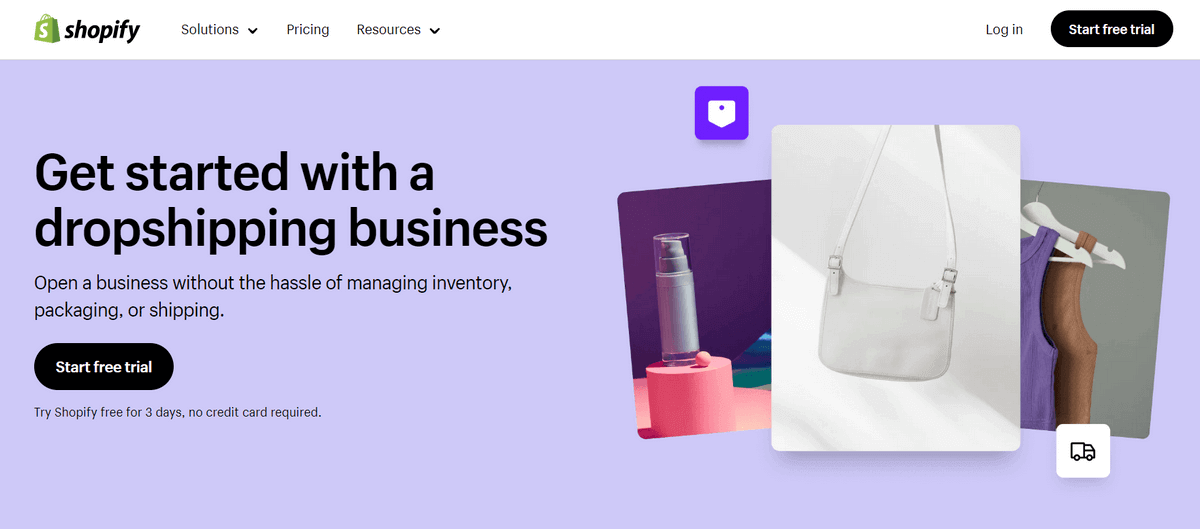 The first from the list of dropshipping platforms for dropshipping is Shopify, a SaaS (Software as a Service) solution. It offers one of the most popular ways to set up an online store and straightforward ways to connect it to other dropshipping platforms.
A lot of dropshipping businesses advise making Shopify your operational hub. Shopify functions are equally well for dropshipping as for conventional online stores and it integrates with many reliable dropshipping suppliers.
You can create a free Shopify account to access more than 70 different dropshipping applications. Next, join forces with a range of suppliers, distributors, and warehousing companies, then start selling.
Like any other dropshipping business, third parties manage the inventory and logistics. You simply need to spread the word about your items. The built-in marketing capabilities of Shopify can be useful in this situation.
Key features
Website Builder
Drag-and-drop editing
Creating Google ads, Facebook ads, or showcase your dropshipping items on marketplaces
Online checkout
Inventory and product management
Plenty of resources on Shopify if you are new to dropshipping
Hosting
Shopify dashboard automatically tracks where customers are coming from
Live chat and email support 24/7
Pricing
Shopify pricing plans start at $25/month with a 3-day free trial available. Additionally, there are credit card costs that depend on your plan as well as additional transaction fees if you want to use a different payment processor than Shopify Payments.
Pros & Cons
Pros
Cons

Shopify admin is easy to get started

You can use a ton of available themes without any prior design knowledge

Trustworthy hosting, which is tailored for eCommerce stores

Shopify is designed specifically for eCommerce stores, enhancing the online shopping experience for both shoppers and merchants

You don't have a store of your own, which means when you stop paying Shopify, it'll be taken down

Limited SEO functions

The checkout page is non-customizable
💡 Verdict
Shopify is a great platform for dropshipping, especially for beginners and small to medium-sized businesses. It is a user-friendly, secure, and versatile platform that is perfect to help you grow your online business.
💡 Interested in launching a Shopify dropshipping business? Check out these articles: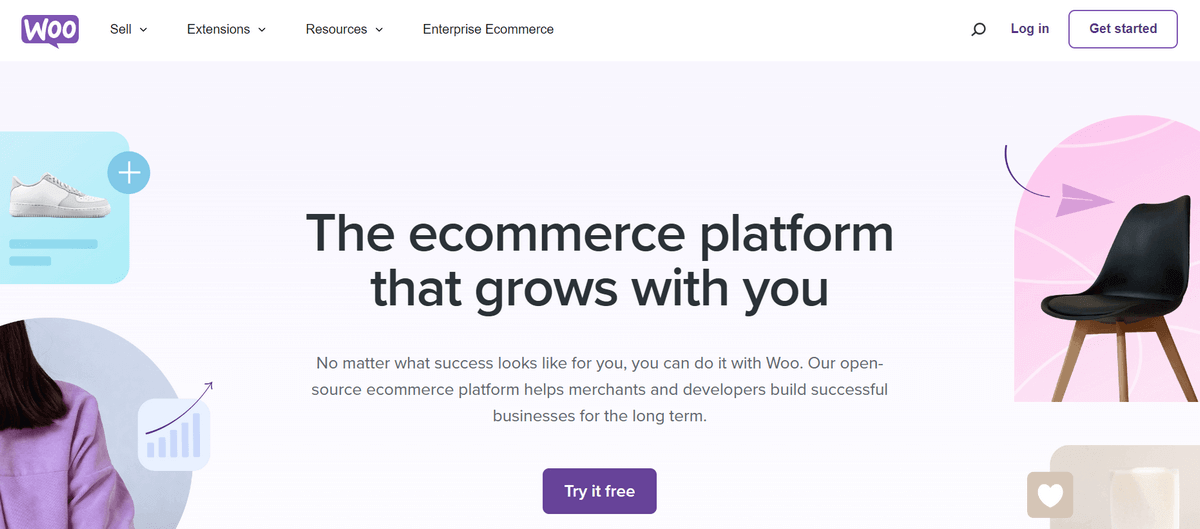 WooCommerce is one of the most popular dropshipping platforms for merchants across the globe, with over 1,000,000 distinct domains using it as their platform. WooCommerce is a desirable choice for newcomers because it tends more toward the user-friendly end of the eCommerce spectrum.
It is a WordPress plugin that is free at its core. This implies that setting up a WordPress website is a prerequisite before attempting to use WooCommerce.
This one of the best dropshipping platforms is quick and simple to set up. You may create a complete dropshipping store in a matter of days with the ability to customize every aspect.
With WooCommerce, you can easily add products, checkout pages, secure payment methods like Adyen, Mollie, Stripe, or other payment providers, use dashboards, and build up your Dropshipping store as you see fit.
In essence, WooCommerce excels as a dropshipping eCommerce solution for startups and small businesses. It expands essential eCommerce functionality while keeping user-friendliness by building on solid WordPress foundations.
Key features
Product and catalog management
Pre-installed multiple payment gateways 
Geolocation support
Real-time inventory updates
A plethora of over 75,000 plugins
Advanced customer support
Pricing
WooCommerce is a free plugin that adds eCommerce functionality to WordPress websites. However, to run a WooCommerce store, you also need to pay for a domain name, web hosting service, and optionally, a theme and some plugins.
The good news is that WooCommerce does not charge any sales-based fees, so you can keep all of your profit. The typical cost breakdown for a WooCommerce store is as follows:
Hosting: $5 – $110/month
Theme: $0 – $100/year
Extensions: $0 – $299/year
Pros & Cons
Pros
Cons

Open-source platform and free to download and use

Fundamental functionality and ease of use

Building a Dropshipping Store with WooCommerce from scratch will give you unlimited flexibility

Lack some of the advanced features

Poor customization due to its reliance on third-party plugins for added functionality

Numerous users express discontent with some plugins' customer service
💡 Verdict
WooCommerce is a powerful and flexible platform for dropshipping, especially for those who are familiar with WordPress or want to have more control over their store.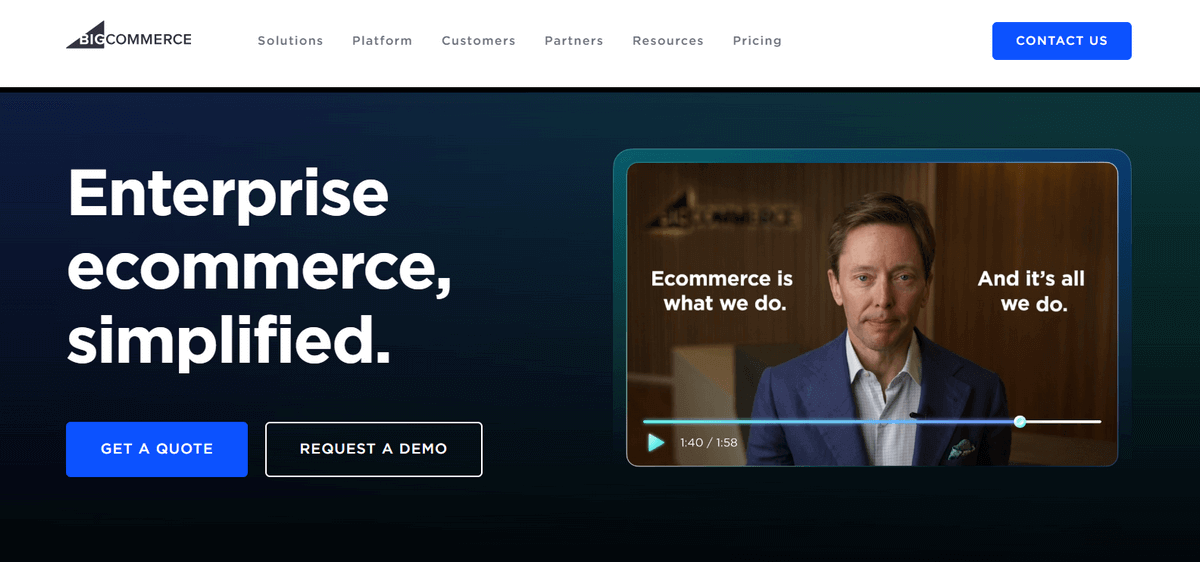 Among many eCommerce dropshipping platforms on the market right now, BigCommerce stands out as a potent and agile competitor. It skillfully mixes open-source platform flexibility with SaaS platform simplicity.
What makes BigCommerce stand out from other dropshipping platforms is that they combine the benefits of open-source and SaaS, including automated upgrades, a help desk, and limitless flexibility. For those without coding or technological ability, the combination could make the platform more challenging.
This platform gives you the freedom to expand your business as well. All sizes of businesses can use it, and its diverse price options make growth and expansion easy. However, like with most dropshipping platforms, there are fees involved with this scalability, especially as your sales volume rises.
Key features
Quick and easy order and inventory management
Streamlined product and catalog creation
Various integrated payment gateways
Integrated marketing tools
Compatible with famous services like ShipperHQ, ShipStation, and Avalara
A wide range of apps with various Dropshipping suppliers.
An array of support options including email, live chat, phone, and forums. Furthermore, the BigCommerce Resource Center is a treasure trove of guides and tutorials for DIY problem-solving.
Pricing
BigCommerce has three specified pricing tiers with monthly prices ranging from $39/month to $399/month each: Standard, Plus, and Pro. For larger enterprises, they also provide an enterprise solution, the cost of which is customized and accessible upon request. Additionally, the platform kindly offers a 15-day trial period.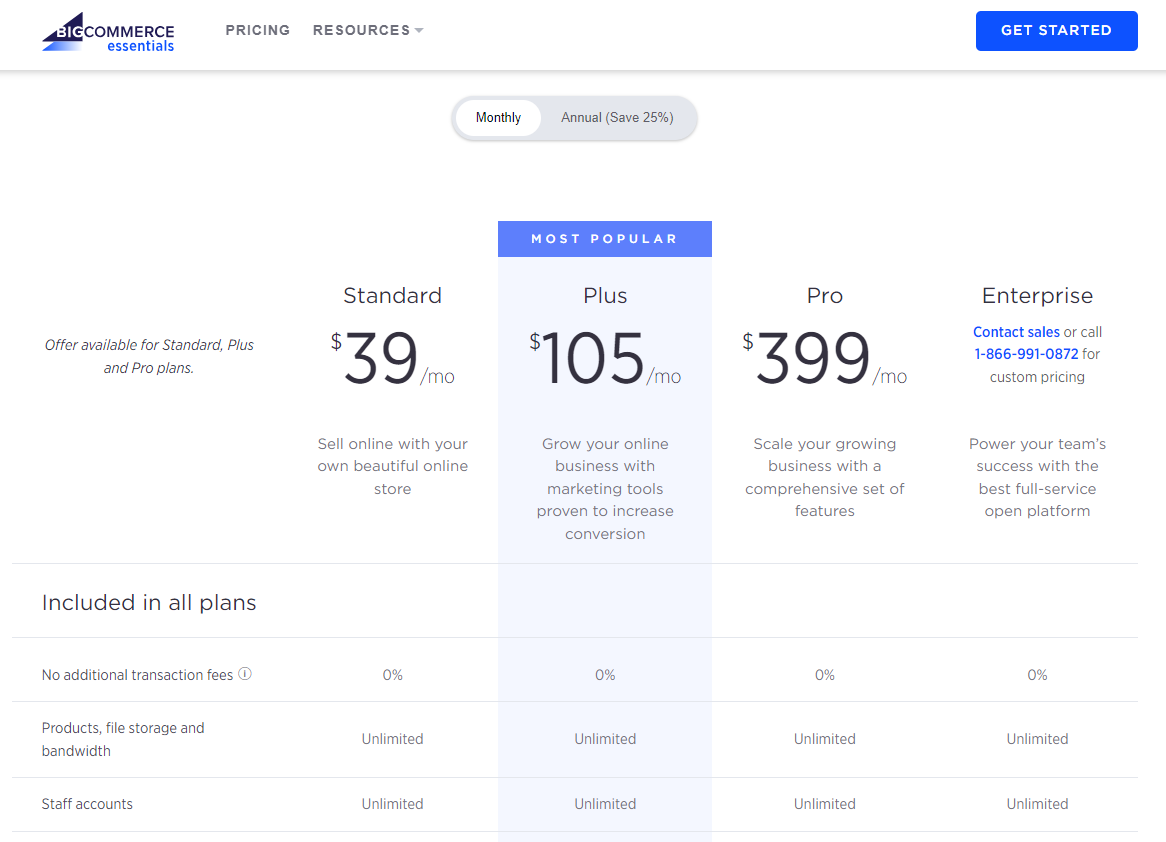 Pros & Cons
Pros
Cons

Setting up a BigCommerce store is a breeze

User-friendly interface

BigCommerce's strength is its hybrid nature, merging the benefits of SaaS with the adaptability of open-source platforms

It is required to upgrade to a higher plan after your store achieves a certain annual income threshold

Costs may accumulate over time if you are paying for the platform as well as numerous extensions

Assuming you wish to customize something, you probably won't find the solution right away
💡 Verdict
BigCommerce is a robust and scalable platform for dropshipping, and it is perfect for those who want to sell across multiple channels and access advanced features.
⭐ Shopify, WooCommerce, and BigCommerce are the three biggest and most popular platforms for dropshipping with thousands of merchants selling worldwide. Wonder which one takes the cake? Check out this video: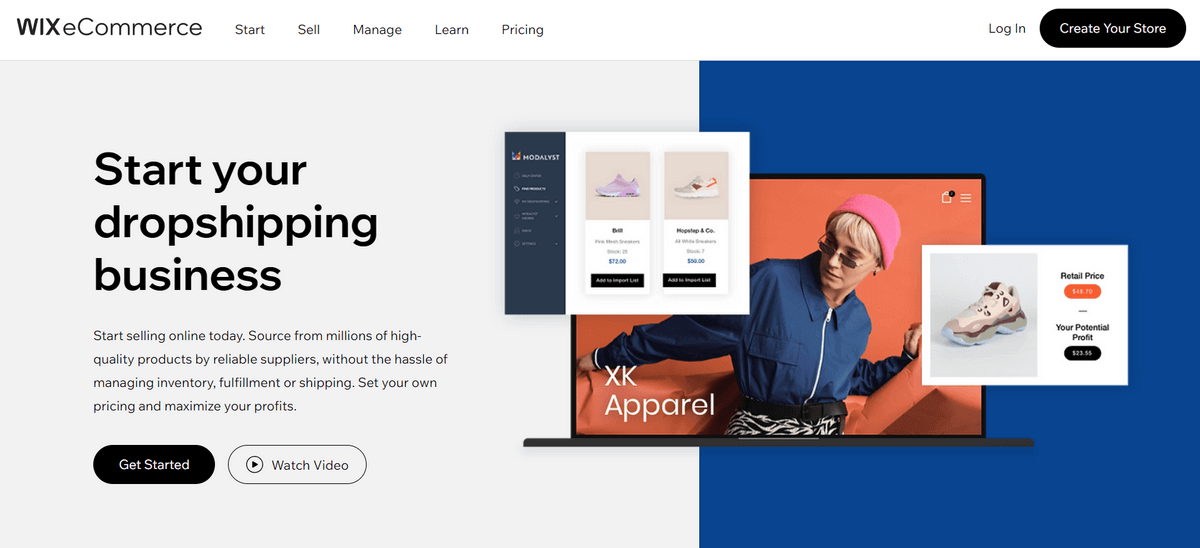 Wix was initially created as a platform for cloud-based web design with more than 500,000 distinct domains globally. However, it lacks features like payment options, shopping carts, and checkout pages to function as eCommerce dropshipping platforms.
However, the reason why Wix is on this list of dropshipping platforms is thanks to their decision to build Wix eCommerce in response to this. Compared to its larger brother, this Wix branch has only 100,000 unique domains using the Wix eCommerce platform.
Wix eCommerce only provides a small number of connections with dropshipping suppliers in comparison to other eCommerce platforms like WooCommerce and Shopify. Wix has a simple interface, so if you want to utilize it, be prepared for a lot of manual labor.
For online business owners who merely sell a few things, Wix is a great eCommerce platform. Unfortunately, it is identical to Shopify in that it requires a monthly subscription and vendor lock-in.
Key features
Intuitive drag-and-drop interface
More than 80 ready-made available templates
Automated marketing features
Wix and Modalyst integration
Set default price markups
Customize product details to fit your brand identity
Pricing
It has 3 Business and eCommerce pricing plans, including Business Basic for $17/month, Business Unlimited for $25/month, and Business VIP for $35/month. For large-scale businesses, you can opt for its Enterprise plan, which requires you to contact them directly for a quote.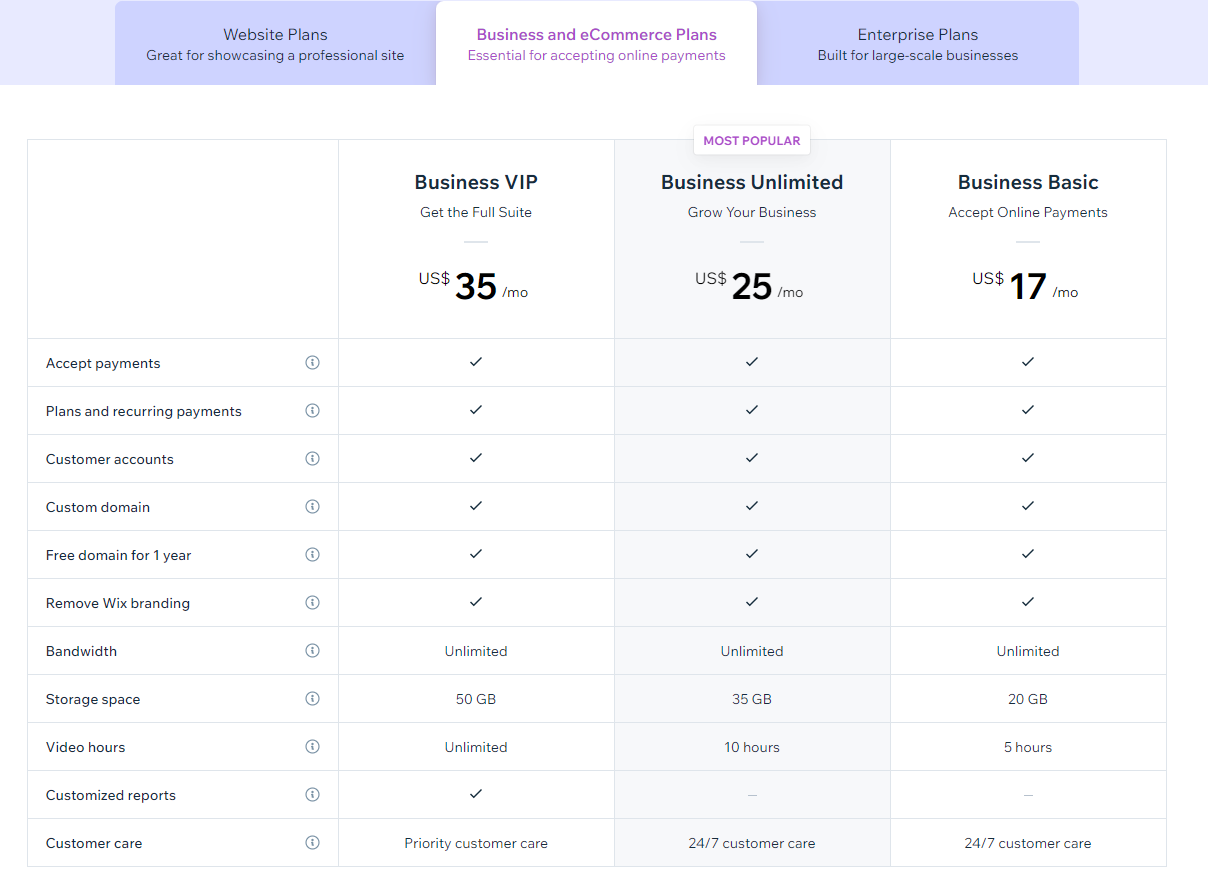 Pros & Cons
Pros
Cons

Easy to set up and use

Stunning free themes available

Easy to manage and control dropship products

Marketing automation included 

Affordable price plans with no additional fee

Limited dropshipping marketplace integration

Poor SEO performance

Limited sales functions

Its templates are not interchangeable
💡 Verdict
Wix eCommerce is a simple and affordable platform for dropshipping, ideal for those who want to create a stunning and user-friendly website without any coding skills.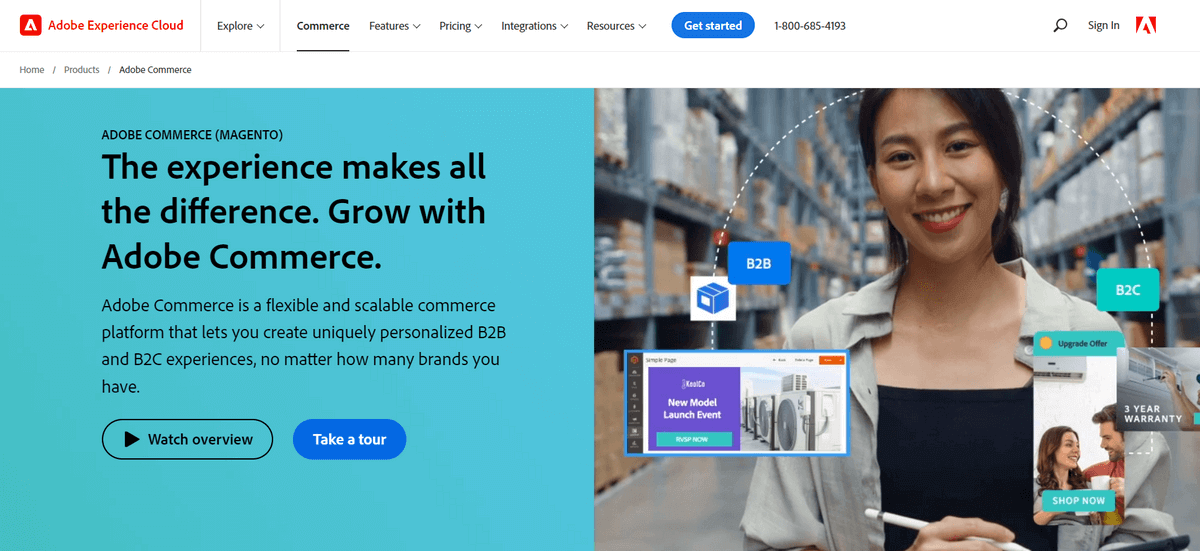 Check out Adobe Commerce if you are interested in the potent features that artificial intelligence has to offer. Adobe Commerce is a strong platform used by brands of all kinds in a variety of industries.
Its list of capabilities includes a page builder. The drag-and-drop feature makes content administration simple. Additionally, it contains helpful marketing tools like product recommendations and consumer segmentation.
Besides, to enhance crucial touchpoints like product recommendations, it combines advanced data exchange and AI to build end-to-end personalized commerce experiences.
Several software programs interface with Adobe Commerce's dropshipping capabilities. Popular inventory management, fulfillment, and shipping applications like Fishbowl and Shipwire are among the dropshipping programs that are integrated with it.
Key features
AI-fueled product suggestions
A catalog service for the fast product and category data retrieval
Reporting and visualizations
Diverse dropshipping extensions
AI-powered live search tool
Customer account management
Advanced SEO features
Different built-in marketing features
Pricing
Adobe Commerce currently provides three pricing options as follows:
Adobe Commerce (Magento) Open Source: The total cost of using this plan might range from $10,000 to $60,000.
Adobe Commerce (Magento) Commerce: This plan starts from $22,000/year and depends on your yearly gross sales revenue.
Adobe Commerce (Magento) Commerce Cloud: This plan is also based on your yearly gross sales revenue, and starts from $40,000/year.
Pros & Cons
Pros
Cons

Easy to scale up

Intuitive back-end interface

A comprehensive suite of eCommerce tools

An array of user-friendly features backed by AI

Require coding knowledge to set up

The majority of dropshipping extensions only support importing dropship products from AliExpress
💡 Verdict
Adobe Commerce (Magento) is a powerful and flexible platform for dropshipping, especially for those who want to create highly personalized and scalable ecommerce experiences across multiple channels.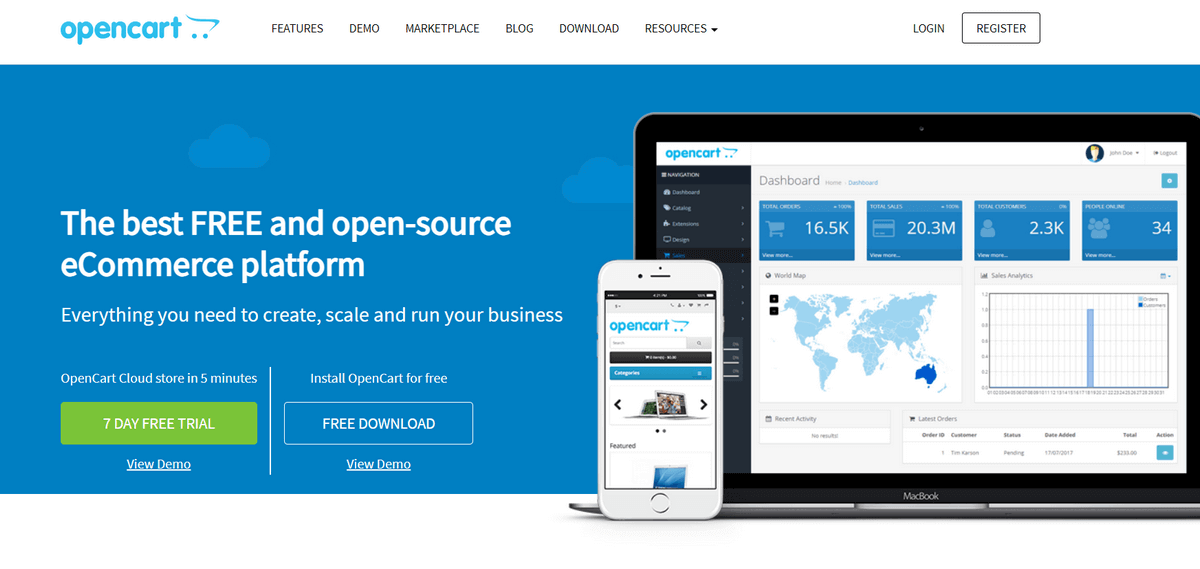 As a free, open-source eCommerce solution made for folks who are at least slightly technically savvy, OpenCart stands out from other dropshipping platforms.
Some of the factors contributing to its steady popularity include its comprehensive features and the convenience it offers the eCommerce industry.
Numerous dropshipping extensions that are compatible with the platform are also offered, with pricing starting at about $99. These add-ons, both free and premium, improve OpenCart's fundamental features and provide more customization.
Users of OpenCart can get email and ticket assistance. Additionally, it runs a forum where you can seek assistance with issues you encounter when setting up your stores.
Overall, it may be better suited for small to medium businesses and may appeal more to the technically inclined. OpenCart is the eCommerce platform of choice for numerous well-known online retailers such as the British Red Cross, For Fans by Fans, and 6 Dollar Shirts.
Key features
A comprehensive dashboard with insights into analytics, payments, and order volumes
Point-and-click system
Features for backups, restorations, and detailed sales reporting
Various free and paid plugins and themes for dropshipping
Product management for unlimited products and categories
Integrated payment gateways and diverse shipping methods
Tools for coupon creation and promotions
Global commerce with multi-currency support
Pricing
OpenCart is an open-source e-commerce platform that you can use for free. It gives you a solid and trustworthy base to create a successful online store. However, users must take hosting fees and possible extensions into account
Pros & Cons
Pros
Cons

Completely free to use

A welcoming platform for non-technical users

The platform's scalability may be less adaptable for those with goals for larger-scale operations.
💡 Verdict
OpenCart is an open-source and free platform for dropshipping, ideal for those who want a fast and lightweight eCommerce solution with a simple interface and a range of features.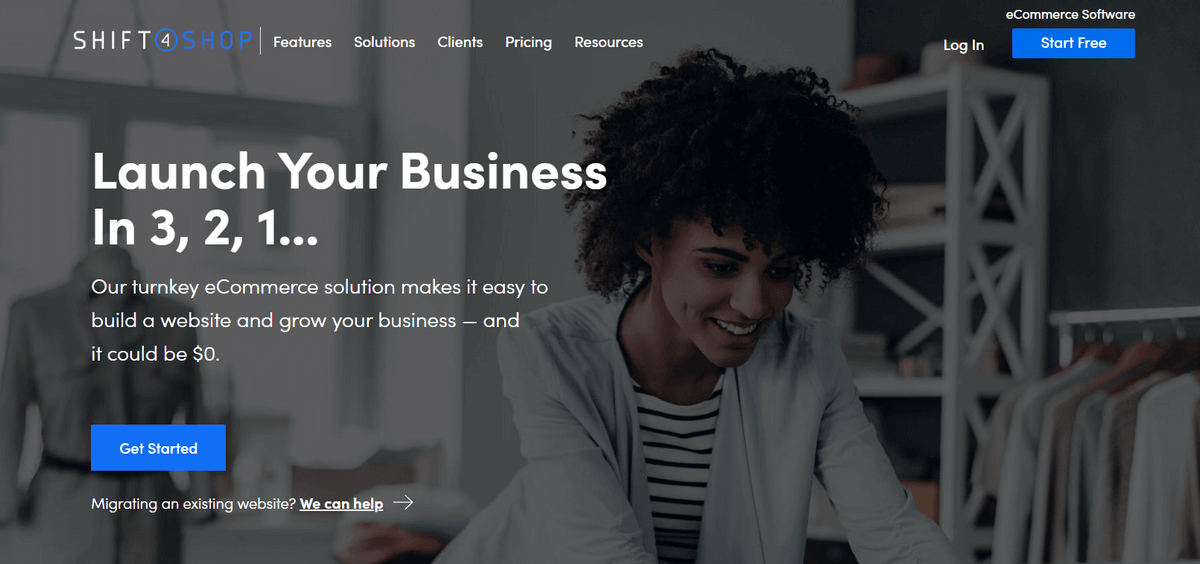 The Shift4Shop platform was formerly known as 3dcart until Shift4Shop purchased it. This is another SaaS-based eCommerce platform that focuses on usability so that even beginners without any coding experience can easily create their online store.
It comes as no surprise that Shift4Shop takes care of all the challenging chores for you, similar to other hosted eCommerce systems. With its user-friendly dashboard, everything could be done with ease, from setting up to designing your store.
There are numerous alternative themes and more than 200 built-in functions. Furthermore, it provides 24/7 support, and many tools, like email marketing, are free!
No transaction fees are charged to you. However, it does come at a cost, including variable customer service quality and being highly technical for some.
Key features
Products management with an intuitive dashboard
Multiple distributors and dropshippers connection
Update product information from the marketplace
Calculate shipping based on suppliers' addresses
Automatically send emails to suppliers about new orders and cancellations
Pricing
You can choose among its 3 pricing plans, including the Basic store for $29/month, the Plus store for $79/month and the Pro store for $229/month.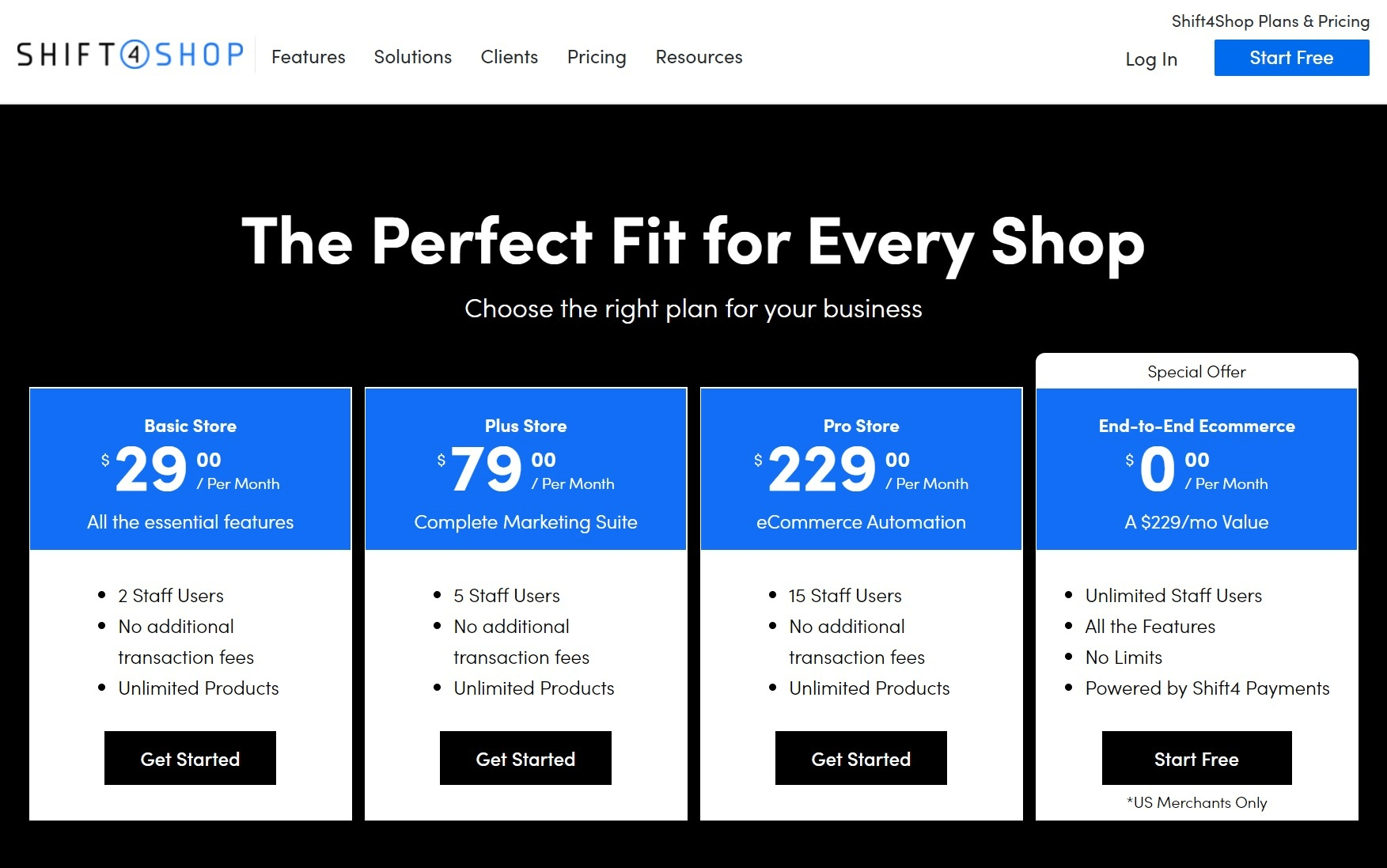 Pros & Cons
Pros
Cons

Affordable pricing plans

Useful business and customer management tools

Integrations with many renowned dropshipping suppliers

Very technical, not for beginners

Limited theme templates

Poor quality of customer service
💡 Verdict
As a dropshipping platform that is scalable and robust, Shift4Shop is ideal for those who want to access advanced features and sell on multiple channels.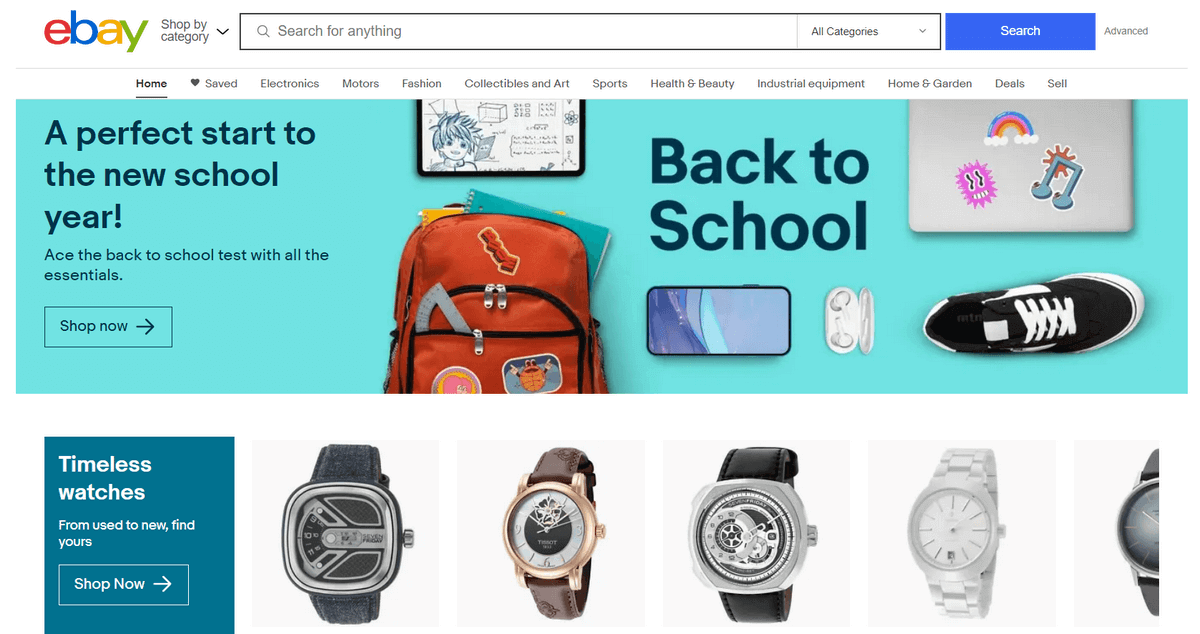 With millions of products accessible, dropshipping from eBay allows you to select from a variety of product categories or focus on a single market niche.
The best thing is that you don't have to worry about bringing customers to your online stores because eBay provides you with free organic traffic.
In addition, since eBay is a marketplace, you may dropship things without having to create a website. As a result, you can launch your eBay dropshipping business from anywhere in the world and begin selling right away!
Be mindful that eBay has modest starting seller limits that only allow you to list up to 10 items for up to $500. Luckily, eBay enables you to raise your selling caps through a variety of methods.
Moreover, you are not given the choice to build your domain, which limits your ability to personalize your store the way you could if you had your website.
Learn more: Eye-opening facts about Dropshipping eBay Policy!
Key features:
Free Listings
Quick product importing
Order management system
Buyer/Seller protection
24/7 customer support
Pricing
Here are the 5 eBay store subscription plans and the fees are billed monthly or yearly, depending on your business size and preference.

Pros & Cons
Pros
Cons

Effortless and well-designed for beginners

Free organic traffic

It doesn't require a website

Start selling from anywhere to anywhere

Low-profit margins

Lack of customization 

Intense competition
💡 Verdict
eBay is a popular and well-established platform for dropshipping, especially for those who want to sell a wide range of products to a large and diverse customer base.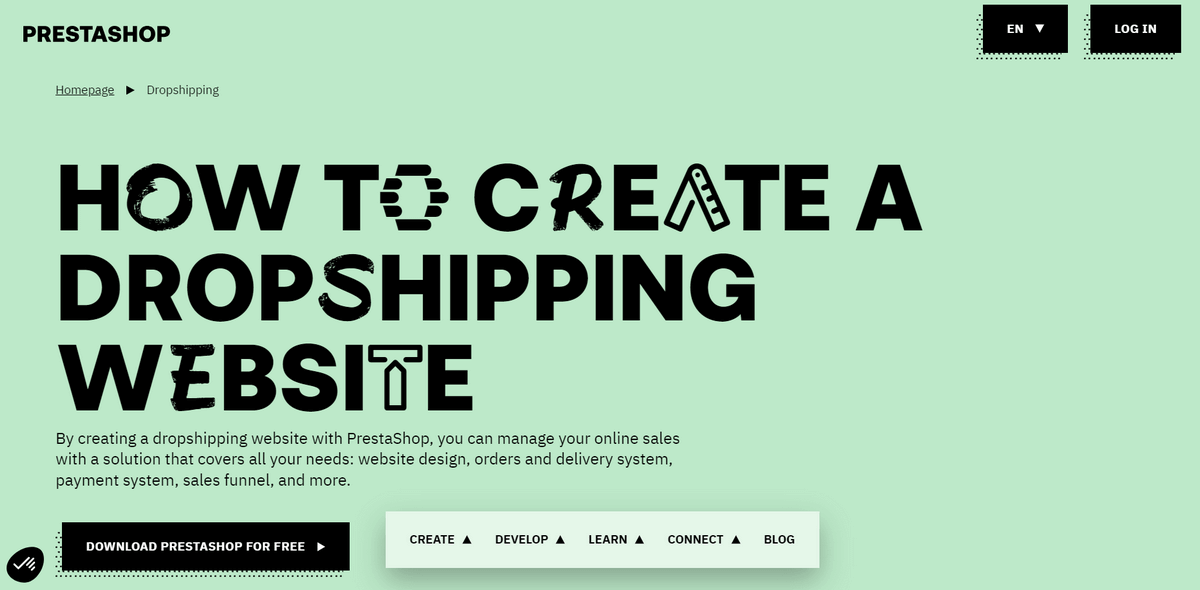 PrestaShop is another top-notch open-source dropshipping eCommerce platform. This eCommerce solution is renowned for being simple to use while still retaining all the customization options.
PrestaShop provides a demo online store so you can easily explore all of its essential features and see how well-functioning your online store will be in actual use.
Starting a dropshipping business with PrestaShop doesn't take much time because there are numerous ready-to-use beautiful theme designs that you can import to your store in a single click.
The dashboard is quite user-friendly, and managing products and customers regularly is not too difficult. PrestaShop also offers several integrated marketing & SEO solutions to aid in maximizing the performance of your store.
Although you don't need to be a technological specialist to launch and set up, it's best to arm yourself with basic coding skills to make your business operate to its full potential.
Key features:
No limit on product imports
Import bulk products from the marketplace
Automatic updates on products at your store
Global pricing rule control
Fulfill the order on the AliExpress website with one click
Create discounts to attract customers
Pricing
PrestaShop can be downloaded and installed for free because it is an open-source platform. However, you still have to pay for hosting, extensions, and developer costs:
Hosting cost: $4 – $14 per month
Developer cost: $50 – $80 per hour
Extension cost: from $35
Theme cost: $50-$699 (one-time purchase)
Pros & Cons
Pros
Cons

Free to download and use

No monthly fee

Solid built-in SEO features

Many add-ons modules to improve store performance

Limited supplier integration as most suppliers are from AliExpress

Page-load speed is not fast compared to other platforms
💡 Verdict
PrestaShop is a free and open-source platform for dropshipping, ideal for those who want a customizable and flexible eCommerce solution with a user-friendly interface and a variety of features.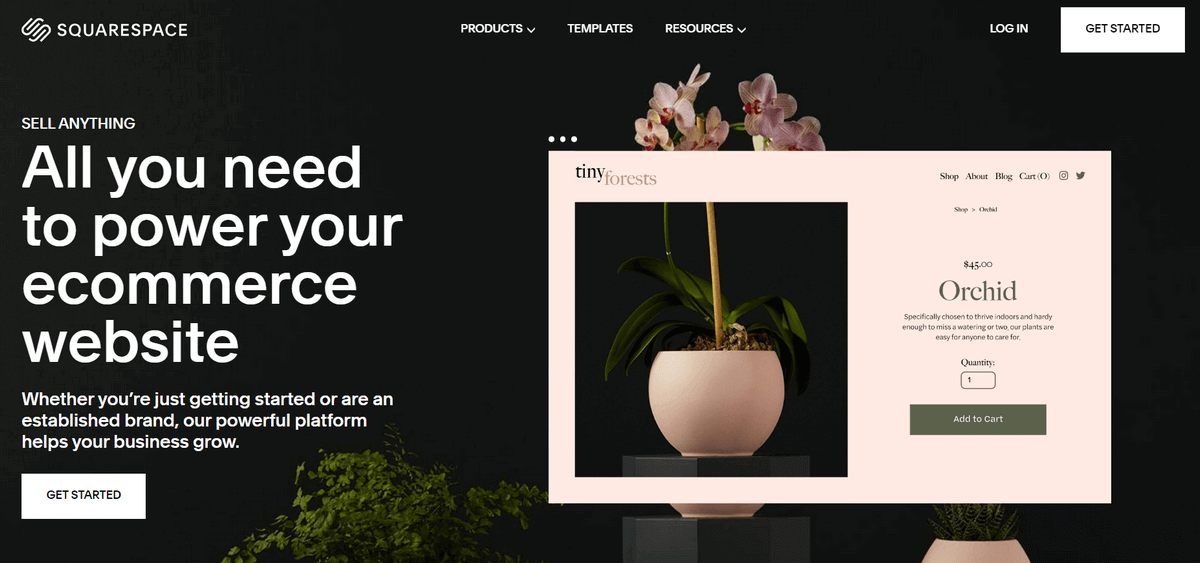 Like Wix, Squarespace started as one of the most well-liked CMS platforms before introducing Squarespace Commerce by integrating cutting-edge eCommerce functionality.
This is among the best dropshipping platforms that were created with small businesses in mind, and it offers a variety of attractive starting themes as well as an advanced website builder.
Since Squarespace is a SaaS platform, it covers all of your hosting and domain costs. All you have to do is sign up, choose one of their elegantly crafted templates, and begin quickly personalizing your store.
To assist you in managing your company for the best business growth, Squarespace also provides a variety of SEO services, marketing tools, and site statistics.
Key features
7 third-party fulfillment services to connect with your online store
Find and import trending products from the dropshipping market
Offer POD dropshipping & warehousing
Mobile-optimized website templates
Advanced website analytics
Promotional banners and popups
Pricing
It has 4 plans, including Personal at $23/month, Business at $33/month, Basic Commerce at $36/month, and Advanced Commerce at $65/month (billed monthly).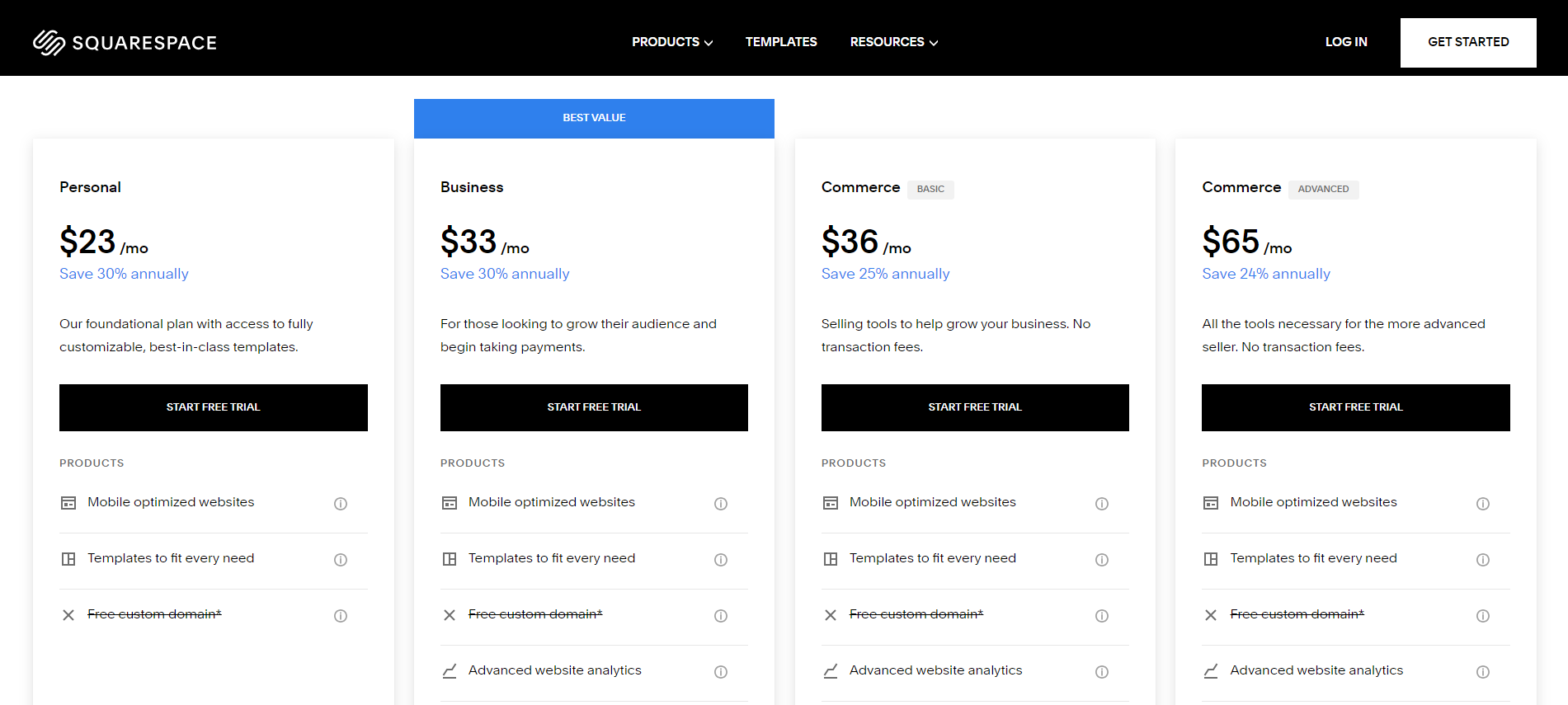 Pros & Cons
Easy to set up
Reasonable pricing plans
No additional fees
Eye-catching and professional website templates are ready to use.
Limited dropshipping suppliers
Limited payment gateways
Sales features are unavailable
Some complaints about its loading speed
💡 Verdict
Squarespace is a simple and elegant platform for dropshipping, ideal for those who want to create a stunning and user-friendly website without any coding skills.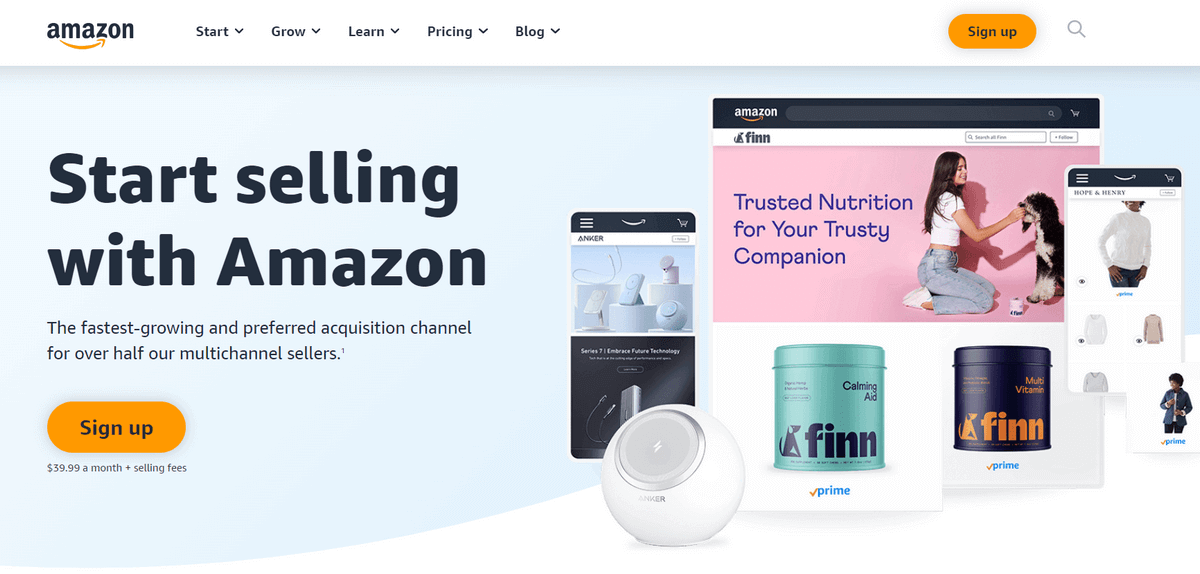 The last from the list of dropshipping platforms is Amazon. Dropshipping from Amazon can be lucrative. The typical margin for dropshipping is from 10% to 30%.
You may sidestep a lot of the difficult aspects of running your own business by dropshipping on Amazon. It is not your duty to build or ship your products. Instead, you are only required to ensure the consumer receives the items on time and is satisfied.
As long as you adhere to a few ground conditions, Amazon will let you dropship on the marketplace:
Be the product's seller of record at all times
On packing slips, invoices, and other documentation relating to merchandise, identify yourself as the seller
Before sending the order, remove all documentation that reveals the identity of the third-party vendor, such as packing slips, invoices, and external packaging
Continue to be in charge of processing and accepting returns
Meet all conditions of your seller agreement, Amazon policies, and dropshipping guidelines
Key features
Amazon Volume Listing Tools
Amazon's internal sponsorship program, Amazon Pay-Per-Click (PPC) promotes your products
FeedCheck allows you to view all your product reviews just in one place
Merchant Words enables you to view the search volume and data of keywords.
Sellery has repricing strategies to help you win the Amazon Buy Box
Spreadsheets with order and inventory data
Pricing and product quantities are editable
Pricing
Anyone who wants to use Amazon dropshipping must first sign up on the Amazon website as a seller. Its Individual plan costs $0.99 per item sold, while its Professional plan costs $39.99 regardless of how many products you sell. Amazon charges between 10% and 15% for dropshipping, depending on the kind of product.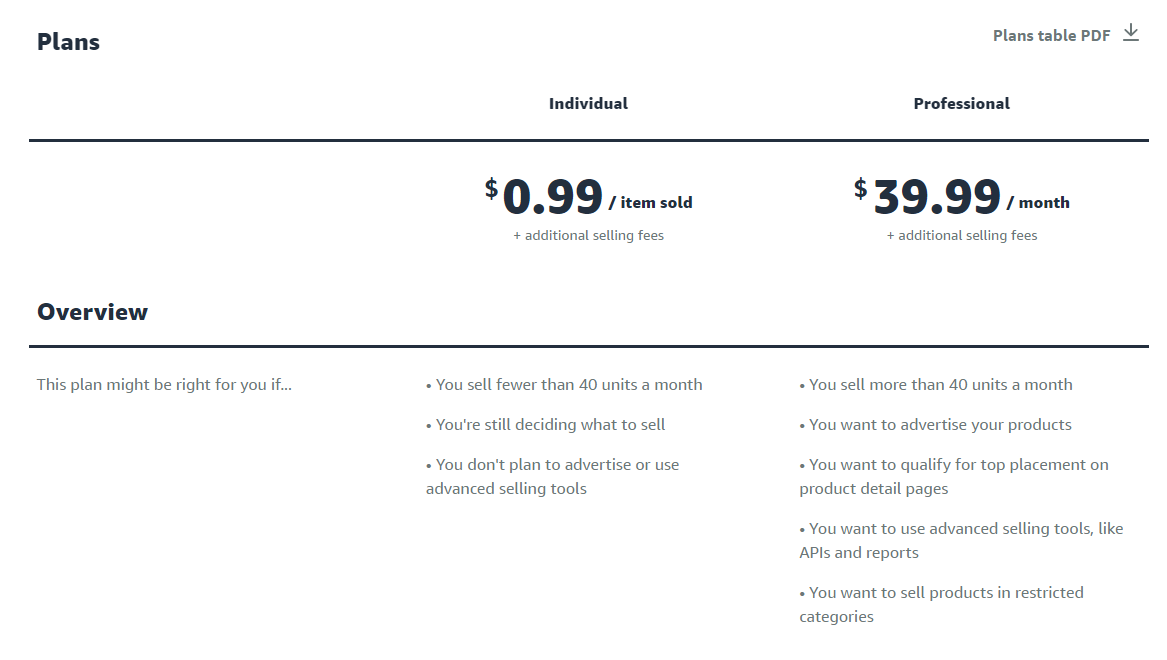 Pros & Cons
Fast to set up
Reliable Amazon dropshipping suppliers
No warehouse cost
Better chances for discoverability
Slow delivery times
Less long-term connections with customers
Less customization
Upfront investment
💡 Verdict
Amazon is a well-known and trusted platform for dropshipping, ideal for those who want to sell a wide range of products to a large and diverse customer base. 
💡 Not sure which one to choose between Shopify and Amazon? Check out our articles:
Dropshipping Platforms FAQs
1. What is the easiest platform for dropshipping?
There is no definitive answer to what is the easiest platform for dropshipping, as different dropshipping platforms may suit different needs and preferences. However, some of the factors that can affect the ease of use of dropshipping platforms are:
The setup time and process
The user interface and customization options
The pricing and fees
The integrations and features
The scalability and support
Based on these factors, some of the dropshipping platforms that are often considered to be easy to use for dropshipping are:
Shopify – offers user-friendly and simple UX/UI, best for beginners and small to medium-sized businesses.
Wix eCommerce – simple and elegant features to build a beautiful online store without any coding skills.
2. What makes dropshipping fail?
There are many factors that can make dropshipping fail, but one of the biggest reasons is choosing the wrong dropshipping platforms for your business.
Choosing the wrong platform for your dropshipping business can lead to various problems, such as poor store design, low functionality, slow performance, high costs, low profits, customer dissatisfaction, or legal issues.
Ultimately, different dropshipping platforms can work for different dropshippers depending on their goals and strategies. The best platform for dropshipping may not be the easiest one for you. Therefore, you should do your own research, compare the pros and cons of each platform, and choose a platform that meets your specific needs and preferences.
It's time to make your decision!
Generally speaking, the top 11 dropshipping platforms share many common traits. They provide quick shipping service and excellent customer care. Every item is delivered on schedule, undamaged, and matches the online images and descriptions.
Honestly, it is practically impossible to single out one option as the best eCommerce platform for dropshipping overall. Yet, to delight your customers and make a profit at the same time, you need to wisely go for the option that can consistently provide those things.
Dropshipping can be a successful eCommerce tactic, but keep in mind that everything begins with the appropriate dropshipping platforms. So choose carefully!