Time has swiftly brought us to the latter part of 2023! Looking to start a thriving dropshipping business?
If you answered yes, then you need to know about dropshipping websites!
These are platforms that allow you to sell products from third-party suppliers without ever touching them. You just focus on marketing your brand and connecting with your customers, while the dropshipping website handles the rest.
That's why we've done the research for you and compiled a list of the top 10+ dropshipping websites in 2023. These are the best platforms to launch your online store and grow your income.
Read on to find out more!
💡 Based on your interest:
Looking for reliable and easy-to-use dropshipping websites that can help you source dropshipping products from AliExpress and automate your orders? If so, you should check out Dser, one of the best dropshipping websites in the market.
Dser is a powerful tool that connects your online store with AliExpress, the largest online marketplace for dropshipping products. With Dser, you can browse through millions of products from trusted suppliers and import them to your store with one click.
That's not all! Dser also lets you place and track multiple orders at once, sync your inventory and prices, and manage your customer service. Plus, you can enjoy exclusive discounts and free shipping from AliExpress suppliers, as well as access to Dser's expert support team.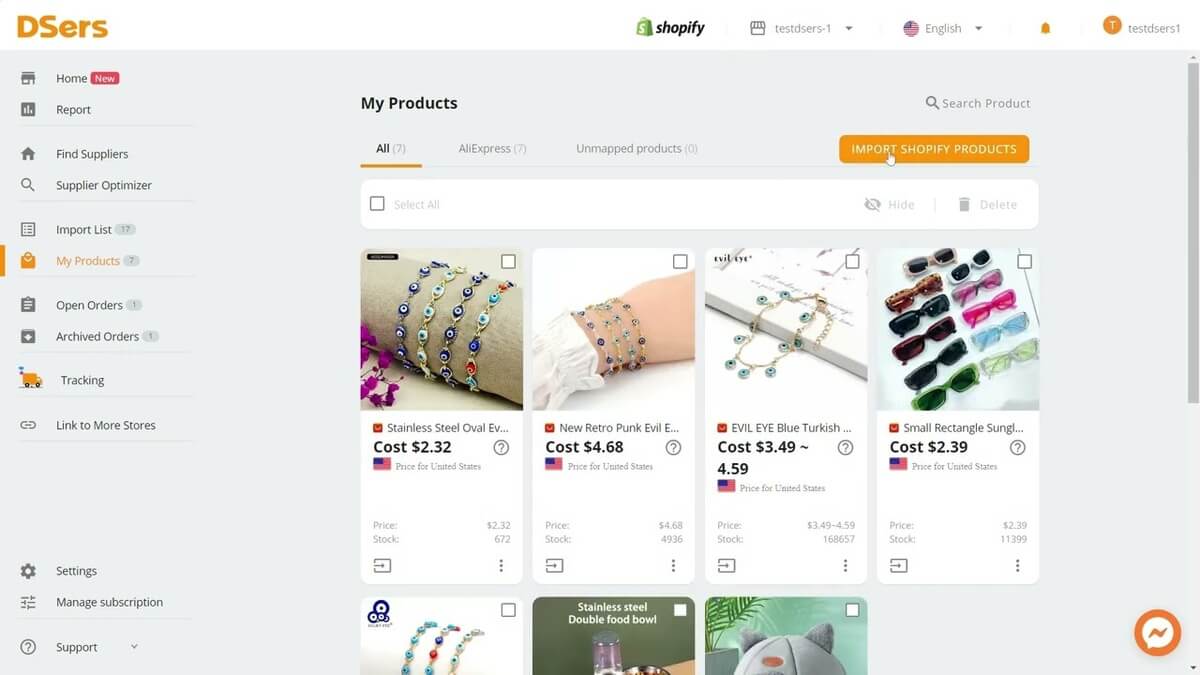 Pros & Cons
Easy to get started and use
Batch order placement and tracking
Free plan with unlimited products import and process 100 orders per day
Exclusive discounts and free shipping from AliExpress
Limited integrations: Shopify, WooCommerce, and Wix

Only works with AliExpress, so you can't source products from other platforms or suppliers

Not include auto-update products migrated prior 

No product editing or customization, mostly rely on the product descriptions and images from AliExpress
Pricing
Dser sets its pricing plans based on platforms (Shopify, WooCommerce, and Wix). Each Dser's pricing plan differs in the number of features such as store/product limit, automation, and customization abilities.
Best for: Medium store owners who want to make the most of their dropshipping businesses.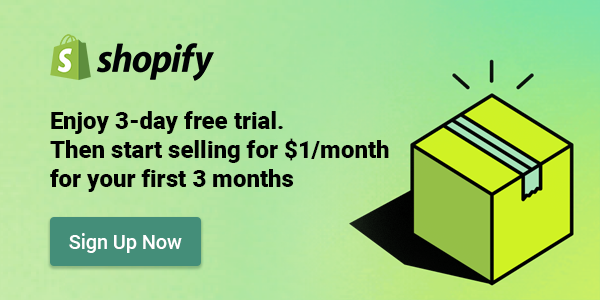 SaleHoo is a renowned one of the best dropshipping websites that serves as a valuable resource for merchants who focus on data-driven approaches. It offers market research tools, exploring insights into product sales rates and performance in other stores.
Furthermore, every product in SaleHoo maintains a profit margin of at least 3x higher than the cost. You can find Pricing Control which enables you to automatically apply a set profit margin to your product prices.
Pro & Cons
Comprehensive database
Enhanced profit margins compared to competitors
Pricing control functionality
Easy-to-use dashboard
Each service (SaleHoo Directory, SaleHoo Dropship, and Educate) requires a separate payment.
Manual import of products and orders between SaleHoo and Shopify.
Poor customer service.
No free trials
Pricing
There are 3 main packages in SaleHoo's pricing plan: Directory, Dropship, and Educate. For dropshippers, the SaleHoo Dropship solution will be the most suitable, with 2 tiers Basic and Premium.
Best for: Beginners who have already had a careful plan and want to start a dropshipping business.
If you want to apply outstanding dropshipping marketing, Printify will be the perfect starting point. This platform is a dynamic print-on-demand platform that empowers businesses and individuals to create custom-designed products without the need for large-scale manufacturing or inventory management.
With a vast network of print providers, you have the opportunity to engage in hundreds of dropshipping products, spanning from men's, women's, and children's apparel to fashionable accessories.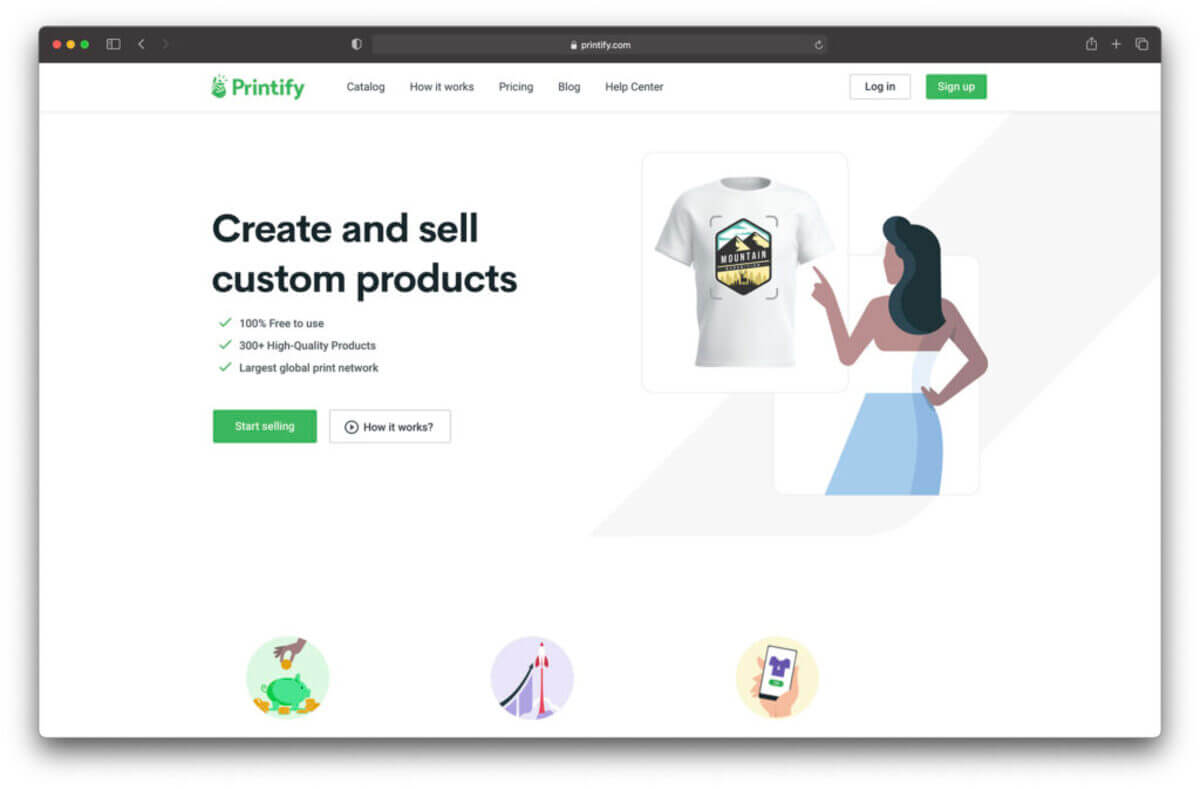 Pro & Cons
800+ customizable designs and items
No dropshipping order limits
Simple Mockup Generator
Extensive database
Large network of print providers
Constraints on customization and branding options
Poor customer service
Limited online integrations
Pricing 
Printify's pricing plans include 3 tiers: Free, Premium, and Enterprise.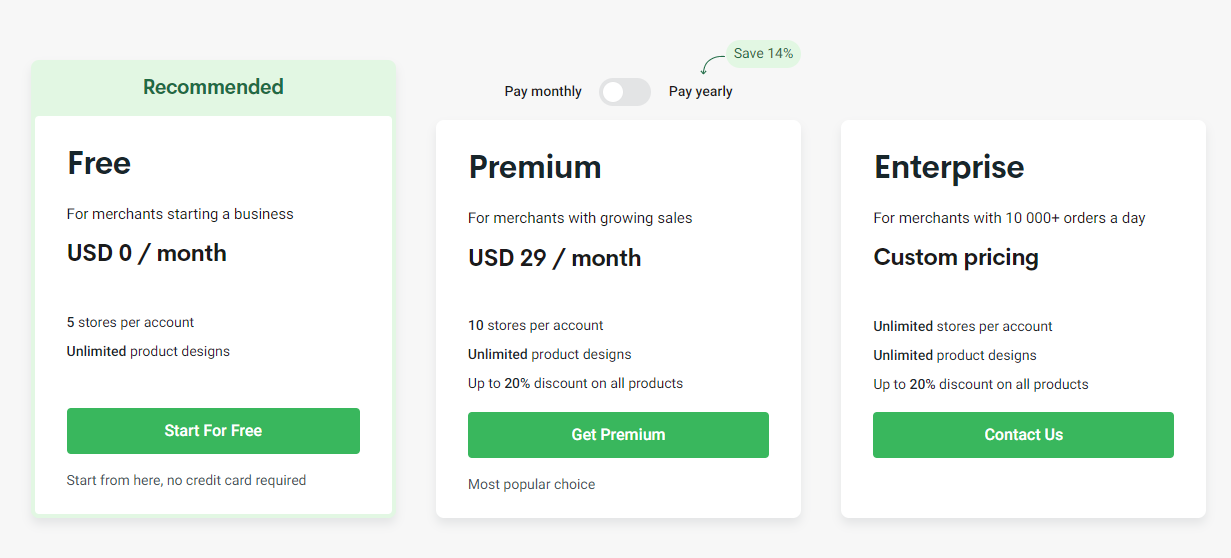 Best for: Sellers who want to create a wide range of custom-designed products.
If you want to find products to sell in your store, look no further than DropCommerce.
DropCommerce is one of the leading dropshipping apps on Shopify, allowing dropshippers to find tens of thousands of products from North American suppliers. With only a few clicks, merchants can import American products directly to their Shopify store, brand their invoices, and automate the fulfillment for when they sell. 

DropCommerce also offers integrations with other e-commerce platforms, and branded invoicing, and has a selection of prebuilt Shopify stores. You can check them out today by creating a free account (no credit card needed).
Pro & Cons
Easy to get started, and there's a free plan. 

You can set up automatic fulfillment so that you can process orders hands-off. 

You can set up branded invoicing, allowing you to maintain a seamless brand identity. 

Products ship quickly from reliable suppliers in the United States & Canada. 
There are somewhat limited integrations (Shopify, BigCommerce, Wix & Shoplazza). 

The product selection can be smaller than competitors including AliExpress. 

The profit margins are somewhat slimmer than you'll find on AliExpress (but still >30%)
Pricing
DropCommerce sets its pricing based on your order volume, the number of products you want to sell, and the degree of automation you're looking for. Most dropshippers will find that the Growth Plan covers all of the bases.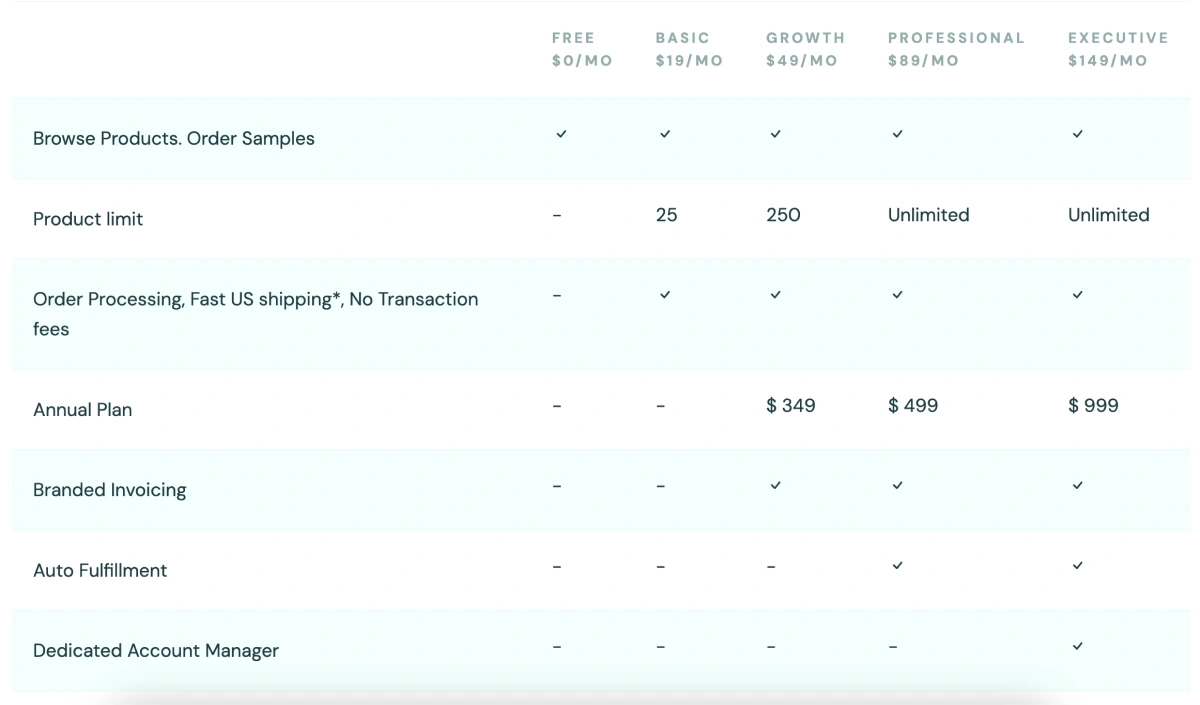 Best for:
 Small businesses looking for fast-shipping products from reliable US suppliers.
Modalyst is one the highly recommended dropshipping websites that connects you with thousands of suppliers from around the world, offering products from categories such as fashion, beauty, home, and more.
You can find products from famous names like Dolce & Gabbana, DSquare, Calvin Klein, and many others on the site.
Modalyst also lets you create your own private-label products with your own branding. You can choose from a variety of products and customize them with your logo, design, and packaging. Modalyst will handle the production and shipping for you, so you can focus on marketing your brand and growing your sales.
Pro & Cons
Cost-effective
Useful and convenient integrations
Wide range of trusted suppliers
5% transaction fee on all orders
Premium supply access is limited to the highest-priced plan.
Slow delivery sometimes
Pricing
Modalyst offers 3 pricing plans: Hobby, Start up, and Pro; with many exclusive features, suitable for merchants' business sizes and preferences: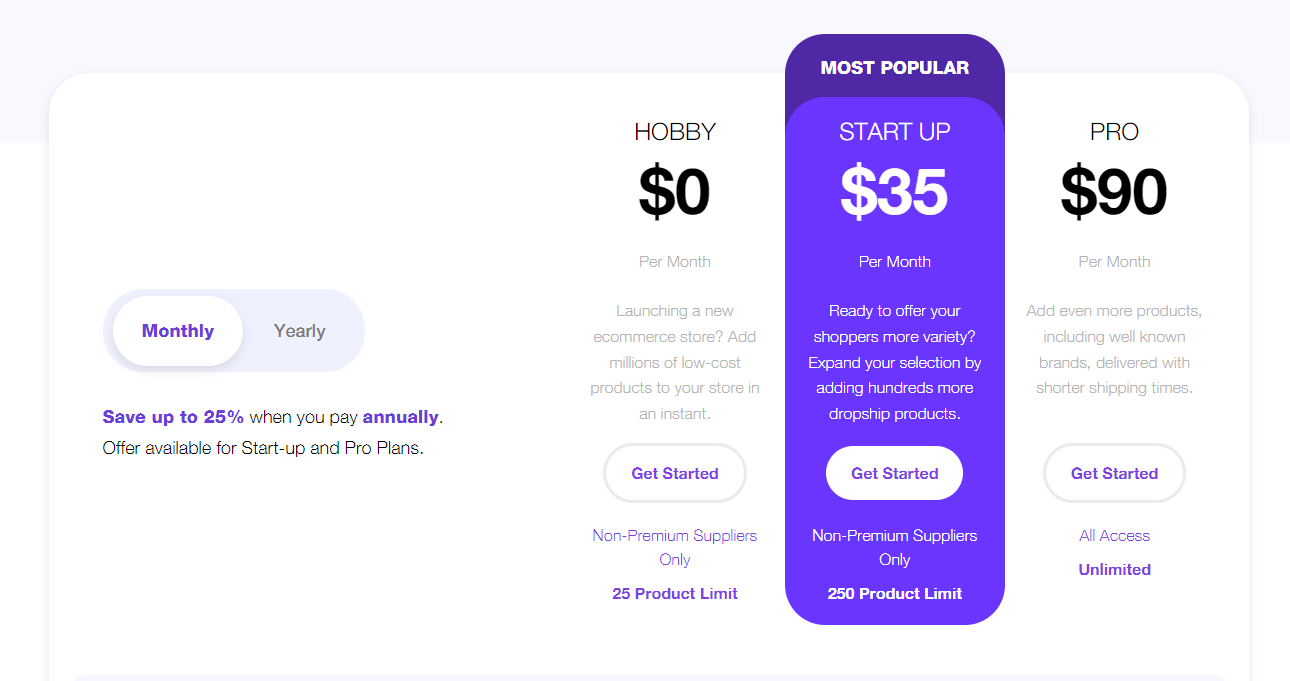 Best for: Sellers who want to prepare a cost-effective plan for high-quality and premium products, especially in the fashion niche.

Among the finest overall dropshipping websites, Sprocket is ranked at the top. It features the branded invoice feature, empowering you to produce a custom invoice for your brand.
A noteworthy 80% of its dropshipping suppliers originate from Europe or the US, which bodes well for those targeting customers within these regions. The added advantage is the availability of exclusive substantial discounts ranging from 30-40% across every item.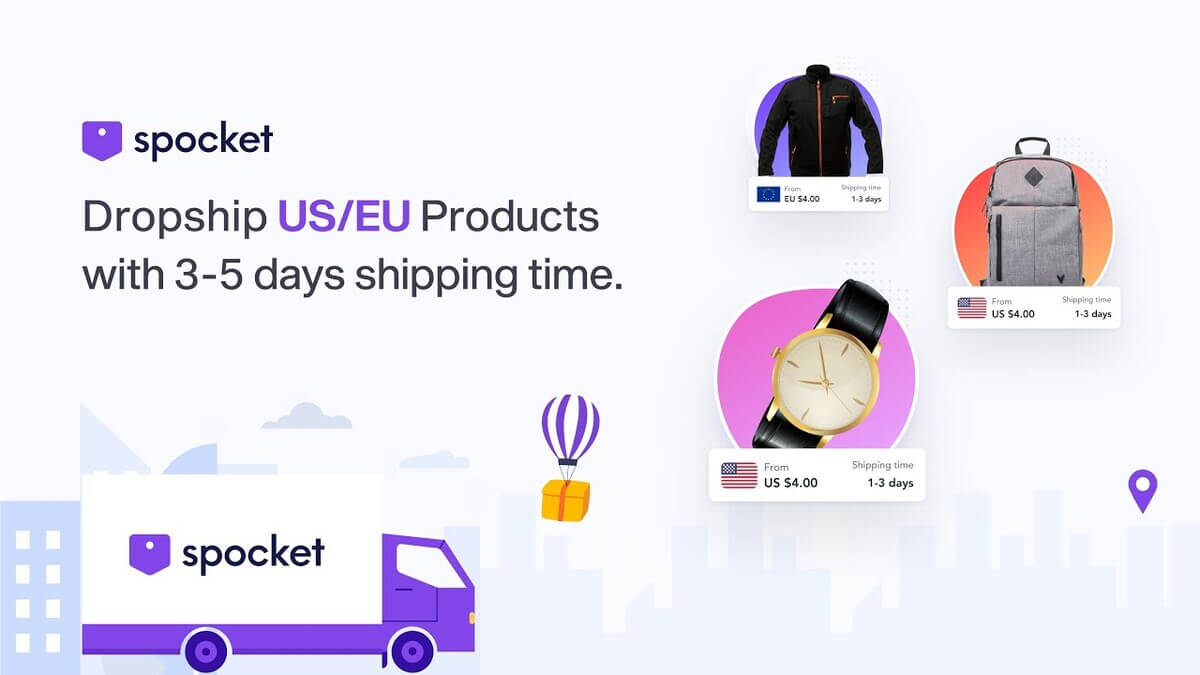 Pro & Cons
Wide variety of product catalog
Quick delivery
Branded invoicing accompanied by branded packaging
Simple integration with Shopify and Woocomerce
Helpful customer service
No free plan
Suppliers' inventory can't be viewed
Lack of advanced features and customization
Pricing
Spocket sets up 5 tiers of pricing plans, ranging from Free plan to Unicorn plan priced at $299/month, with a 14-day trial available before subscription: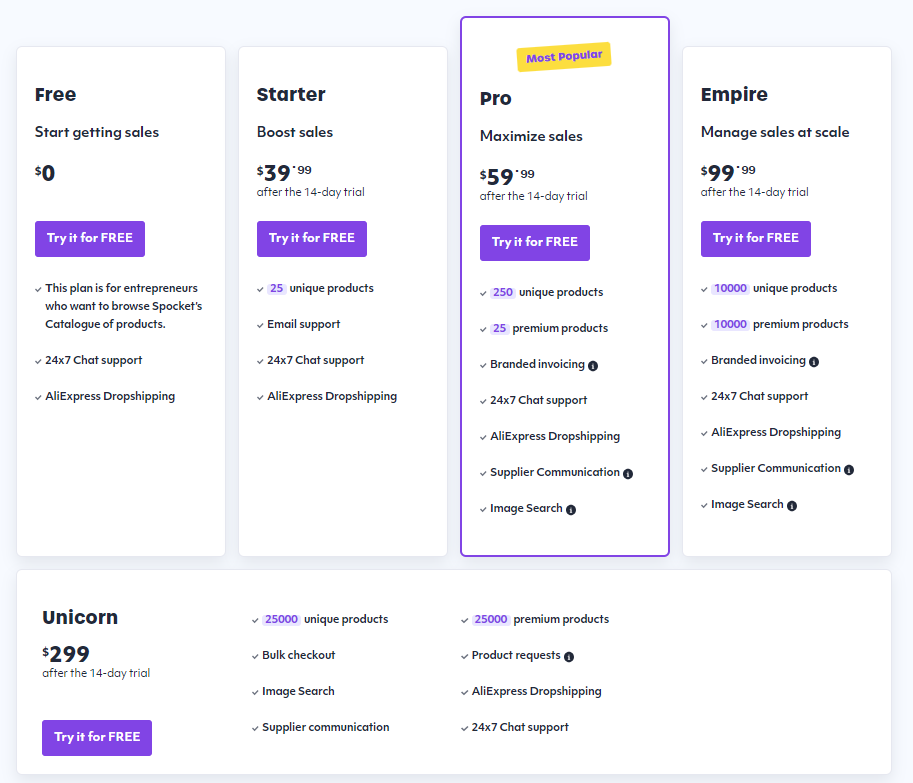 Best for: Sellers starting with a little upfront investment, who want to try dropshipping for the first time.
Are your target markets in the United States and China? If yes, Doba is the most friendly option since it provides entry to over 300,000 distinct products.
For those new to dropshipping and dropshipping websites, Doba's Supplier Scorecards present all the necessary supplier information as well as a list of high-profit margin products.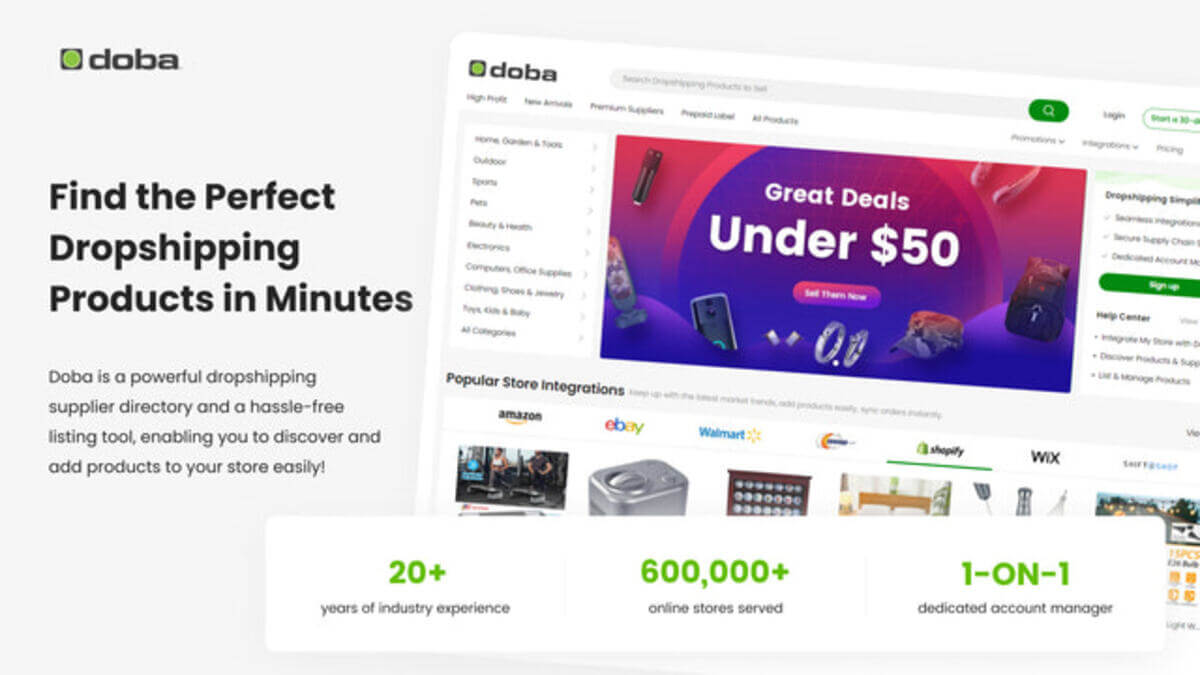 Pro & Cons
Product filtering in terms of time and origin
Inventory alerts
Nice UI
Educational sources included
Fewer suppliers
Higher price
Competitive environment
Pricing
Doba competitive pricing plans offer benefits such as access to a vast product catalog, automated inventory management, and dropshipping services.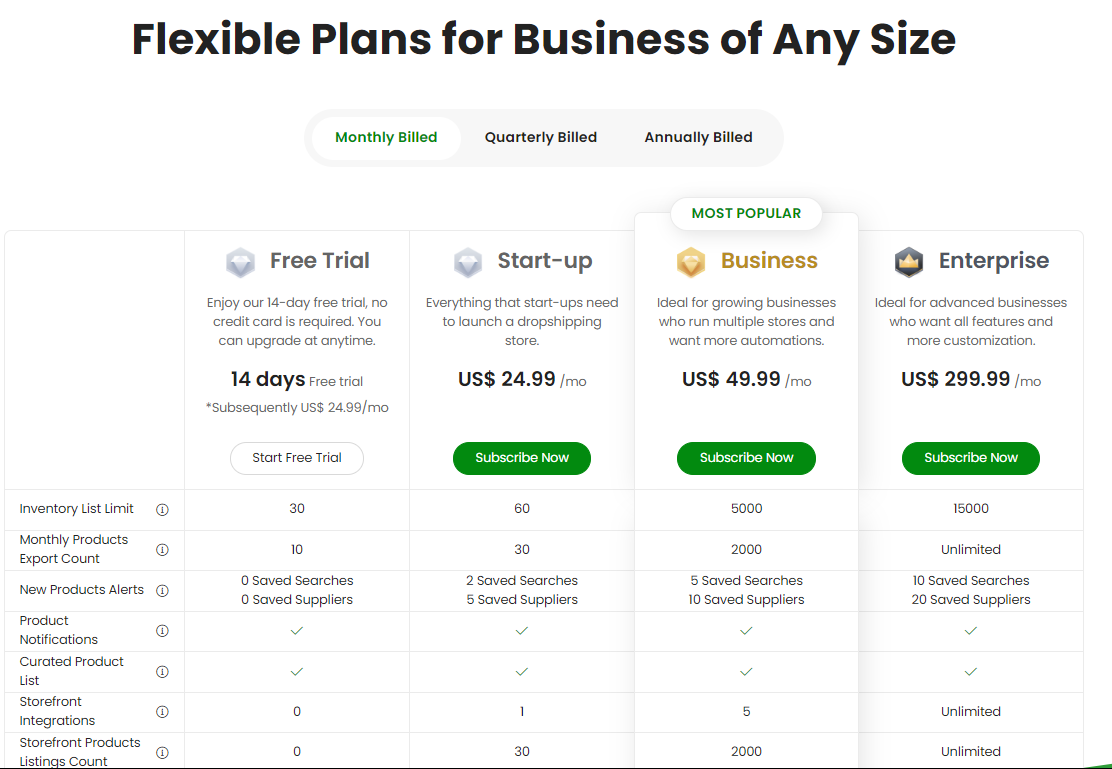 Best for: Sellers based mainly in the US and China.
Wholesale2B's website simplifies order management by extracting orders from your store, sending them to your chosen dropshipper for the fulfillment, and automatically adding tracking details.
The platform is also known as one of the best free dropshipping websites catering to the needs of Canadian and US merchants who are inclined to pay a small premium for products obtained from local sources.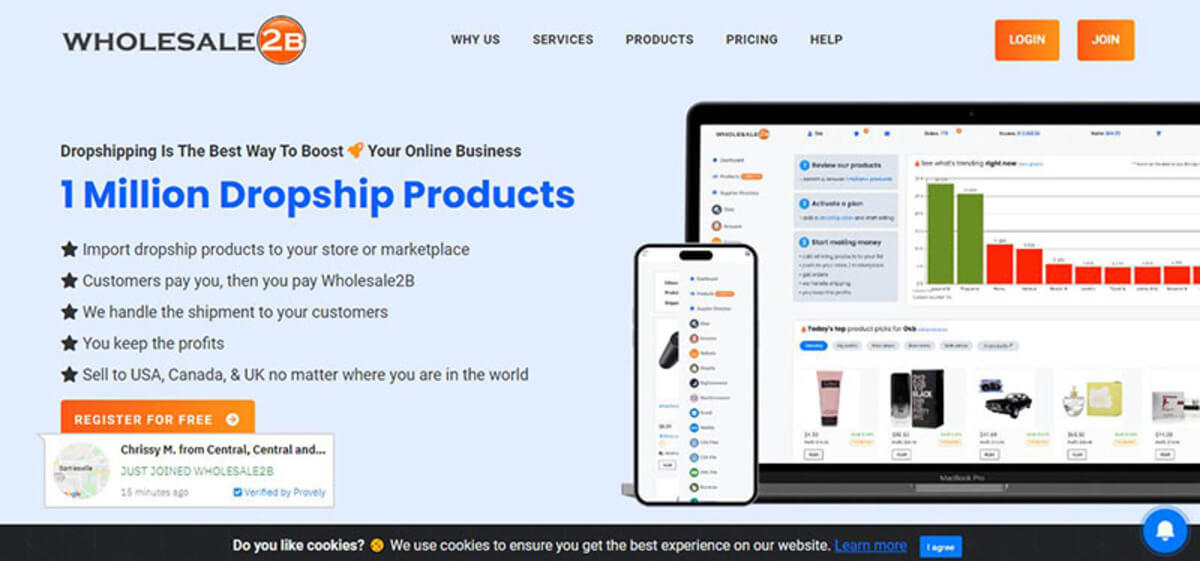 Pro & Cons
Quick delivery
Clear database
Lower profit margins
Higher product price
Limited suppliers outside the North American region
Pricing
Wholesale2b offers 3 pricing plans with a vast product catalog, seamless integration, and efficient dropshipping services, providing value-driven solutions for online businesses.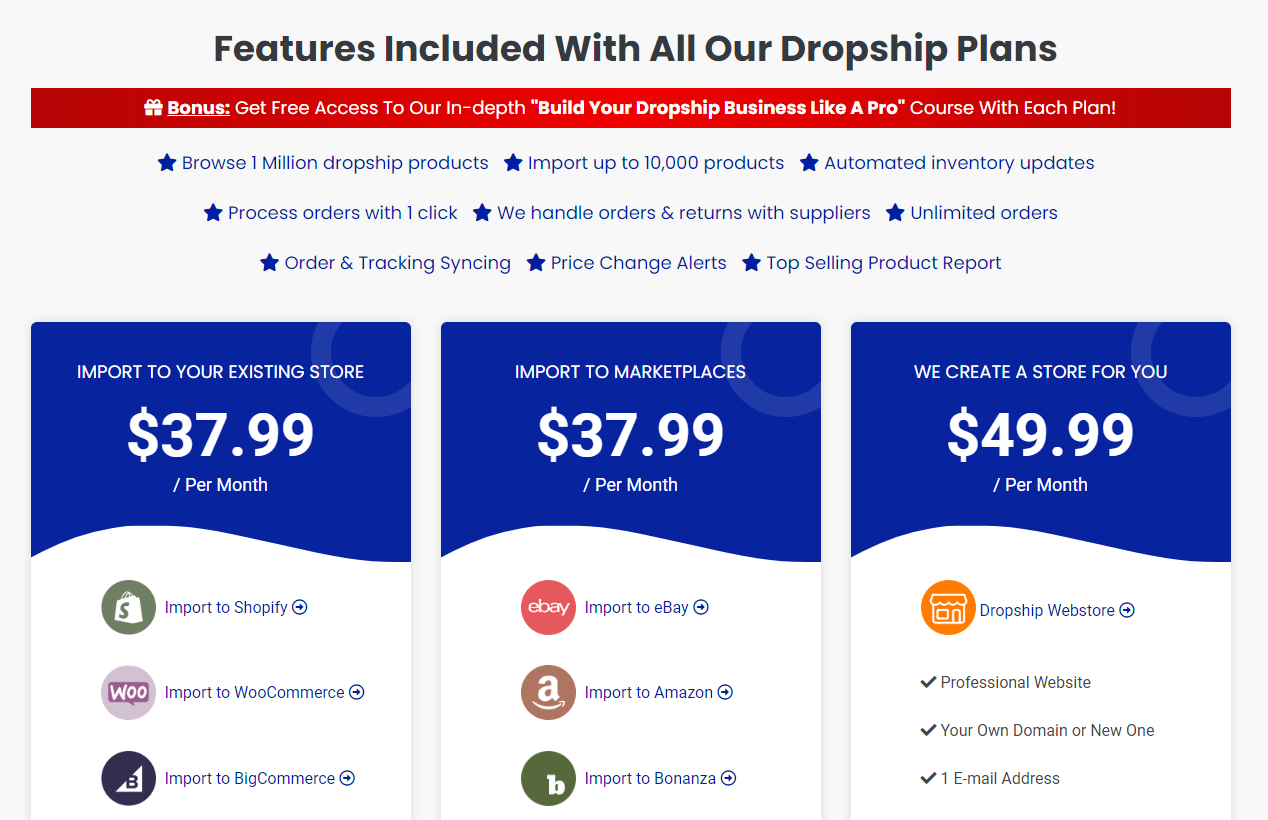 Best for: Sellers based mainly in the US and Canada.
Founded in 1999, Worldwide Brands is a directory for suppliers and dropshippers, extending opportunities to collaborate with new retailers.
This dropshipping website offers access to a vast repository of over 16 million accredited wholesalers, an assortment of wholesale products covering diverse categories, and a specialized list of certified dropshippers.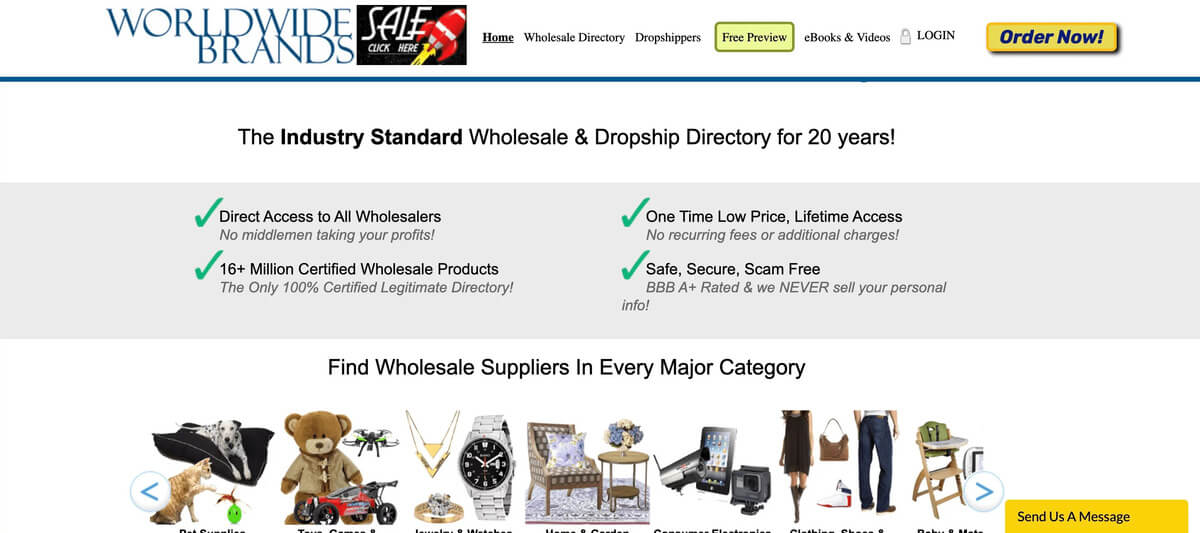 Pro & Cons
New wholesalers are added weekly
Reliable dropshippers
Helpful customer service
Not include automation and order management tools
High price
Pricing
You have the option of paying $299 for lifetime access or enrolling in a recurring payment plan. The payment plan requires a $99 down payment, followed by two payments of $110.

Best for: Sellers who want to build up relationships with a wide range of trusted suppliers.
Experienced merchants often seek Inventory Source since this platform enables seamless synchronization of products and inventory, as well as automated transmission of fulfillment details.
It establishes direct connections between stores and suppliers with a total of 230 suppliers and over 25 online marketplaces. Moreover, you can adjust products at a significantly reduced cost.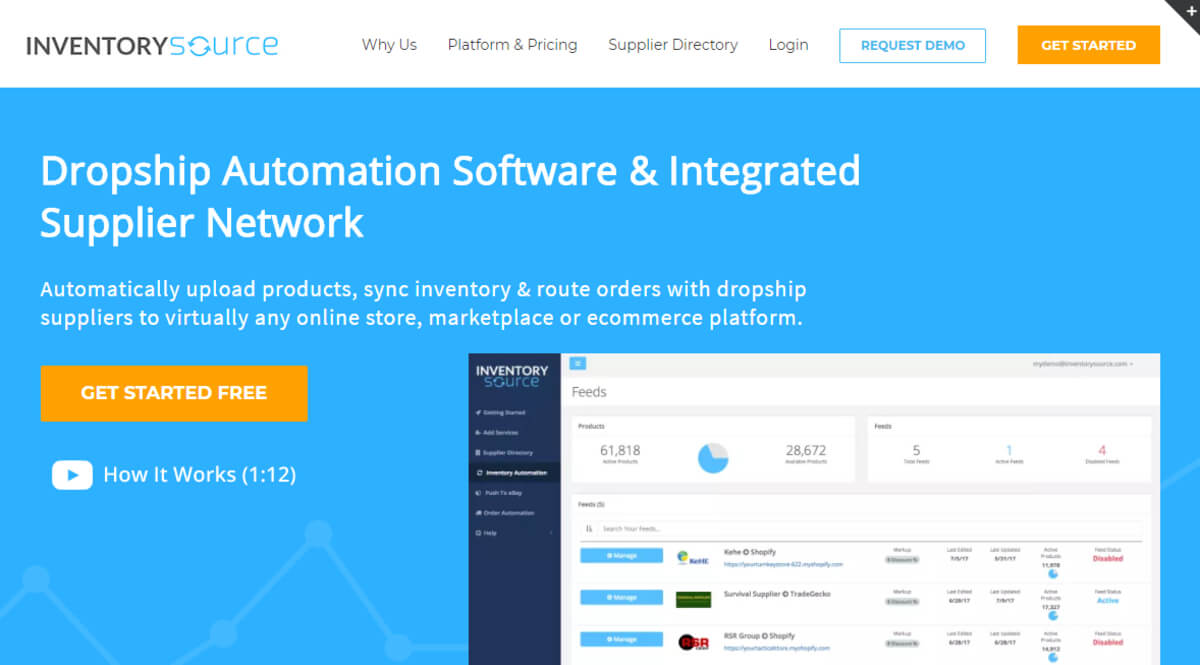 Pro & Cons
No extra product fees
Inventory automation feature
Higher price
Hard to use for beginners
No market research tool
Pricing
Inventory Source offers competitive pricing plans starting at $99 per month for Basic and $149 per month for Plus, helping businesses manage data, update product feeds, and push product details to sales sites.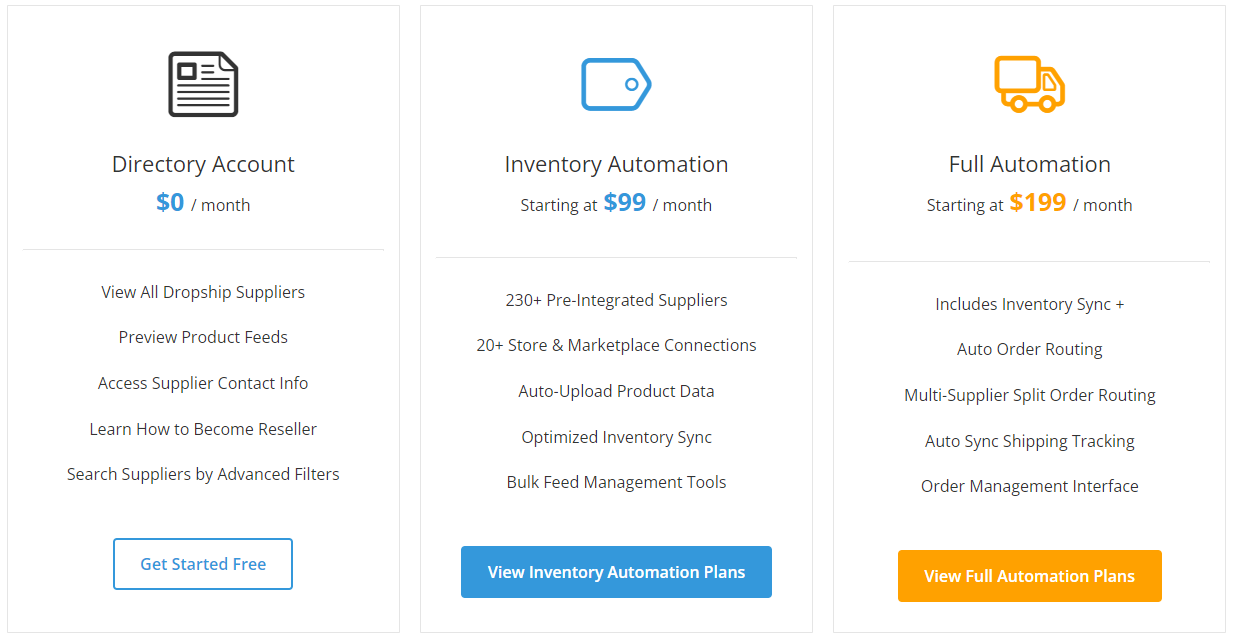 Best for: Sellers who want to build more personal relationships with a wide range of trusted suppliers.
Differing from other competitors, Wholesale Central serves as a directory featuring dropshippers, suppliers, and wholesalers instead of a platform.
Store owners have the option to peruse products and suppliers, or to conduct searches by product or supplier names. Also, it is one of the free dropshipping websites.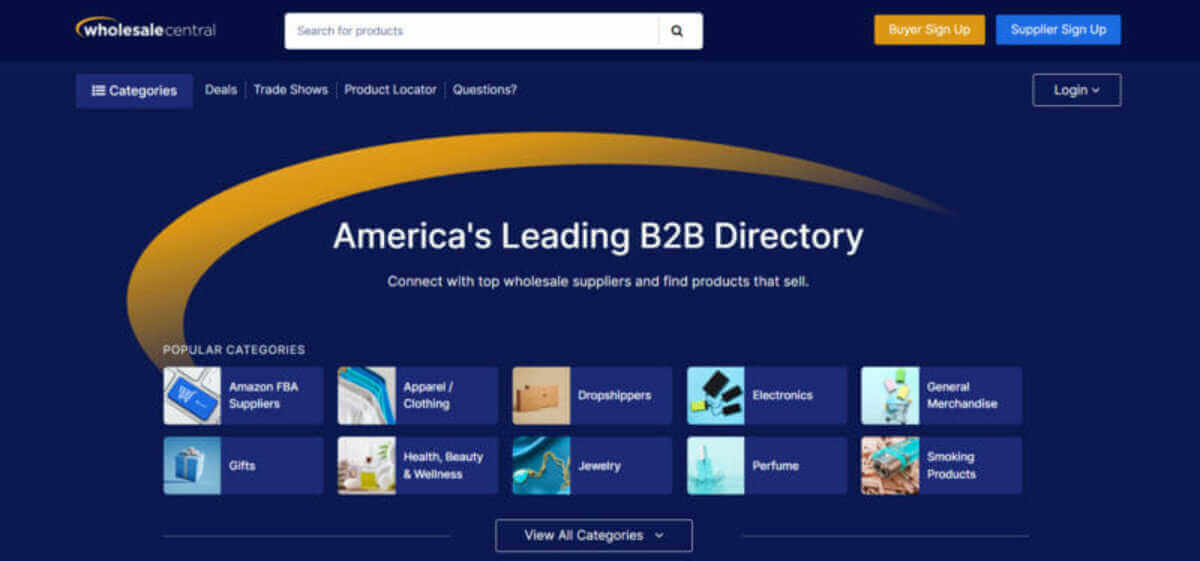 Pros & Cons
Cost-effective
Easy to use
A wide variety of automation tools
Not include management tools
Poor customer service
Pricing 
Wholesale Central offers a completely free service plan for merchants.
Best for: Sellers who want to open more networks with partners and suppliers.
What To Do Besides Choosing Dropshipping Websites?
Now that you've (probably) made up your mind on the website, you should also consider other factors such as products and suppliers that can work smoothly with your dropshipping websites.
For most of the dropshipping websites that partner with mega sourcing platforms, such as AliExpress, you might as well use tools and applications to get a better macro and micro view of the market. This can help you find better sources for your website, hassle-free.
Consider using Ali Hunter and Ali Orders for efficient e-commerce management! They're the perfect duo for simplifying your eCommerce game. These two tools are incredibly comprehensive and easy to use, making them a must-have for any online seller.
1.  Ali Hunter – Choose best-selling products and reliable suppliers
Ali Hunter is a tool designed specifically for product research on the online eCommerce platform AliExpress. It helps you manage your product range in an organized way by providing efficient research and organization assistance.
There are several benefits of using Ali Hunter. For example, the Insights feature on AliExpress gives you a comprehensive view of a product's sales trends, pricing history, and buyer reviews. Additionally, the Similar Suppliers feature helps you find more affordable or superior suppliers.
Main features of Ali Hunter for dropshippers:
Product Research: Find profitable products with high demand and low competition. 
Competitor Analysis: Analyze top competitors' pricing strategies, product selection, and customer reviews. 
AliExpress Integration: Seamlessly integrates with AliExpress, making it easy for dropshippers to import products, manage inventory, and fulfill orders directly from AliExpress.
Sales Tracking: Detailed sales tracking and analytics, giving dropshippers valuable insights into their store's performance.
Price Monitoring: Price monitoring capabilities, allow dropshippers to track price fluctuations of their chosen products.
2. Ali Orders – Automated dropshipping management
Designed exclusively for websites integrated with the Shopify platform, Ali Orders is an application with a specific focus. Its core function is to aid dropshippers in effortlessly importing a large number of products from AliExpress to their Shopify stores.

The main features that you can accomplish with Ali Orders:
Import different products from AliExpress
Automate order status (Track and update)
Manage storefront products
Automatically update price and inventory
Track sales
Build trust and relationships with partners and suppliers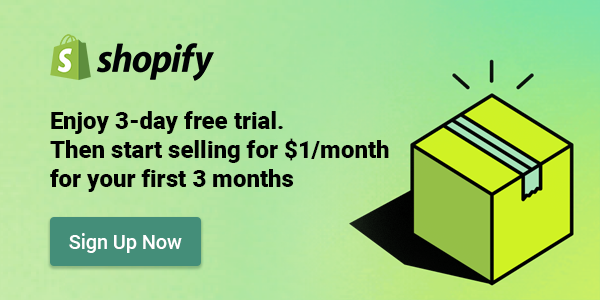 Dropshipping Websites FAQs
Dropshipping is a retail fulfillment approach characterized by the selling entity's absence of product inventory maintenance.
In this model, upon receiving a customer order, the store procures the item from a third-party supplier and arranges for its direct shipment to the customer.
Currently, there is a vast array of both free and paid dropshipping websites in the market. The progress of dropshipping is simple, including 9 steps below:
Commit to a dropshipping venture
Select a concept for your dropshipping business (dropshipping products, dropshipping business names,…)
Research competitive analysis
Opt for a dropshipping supplier
Establish your online store
Choose your business framework
Organize your financial budget
Promote your dropshipping store using marketing tools
Evaluate and enhance your product offering
Moreover, you can refer to some online dropshipping courses on the Internet!
3. How profitable is dropshipping?
The profitability of dropshipping can vary widely based on several factors.
While dropshipping offers a low barrier to entry and the potential for flexible operations, it's important to note that success isn't guaranteed and not all dropshipping ventures are equally profitable.
Do you want to begin with a profitable niche? Learn more from our article: Top 6 Most Profitable Dropshipping Niches [Best-Sellers 2023]!
Final Words
And there you have it, the top 10 dropshipping websites to kickstart your online business in 2023!
However, remember that success in dropshipping is not a one-size-fits-all approach. Careful consideration of your business goals, target market, and operational preferences will guide you toward the dropshipping platform that resonates most with your vision.