Searching for the best business idea for 2023? Look no further than dropshipping!
As the global market size is expected to register a compound annual growth rate (CAGR) of 23.4% from 2023 to 2030, dropshipping is a great way to start an online business.
In this article, we'll guide you through all the steps you need to take to start your own dropshipping business today and provide you with 10+ dropshipping business ideas to help you begin with.
Let's get right into it!
ℹ️ Heads up:

This article aims to provide business ideas and potential niches on AliExpress, therefore, the suggested information is based on the analysis of Ali Hunter calculation and data from various credible sources.
15 Best Dropshipping Business Ideas To Start Today!
1. Pet Supplies
Supplier: 520MAO Store, ZIMIN Store, CDDMPET
Demand: High ⬆
The pet industry is a booming niche that offers a wide range of products, including but not limited to dog beds, collars, and cat toys. The increasing number of pet owners around the world has made this industry highly profitable.
According to a recent study, the pet industry is expected to reach $269.9 billion by 2025. This means that there is a huge potential for growth and earning in this niche.
Check out some of the best-selling products for your business: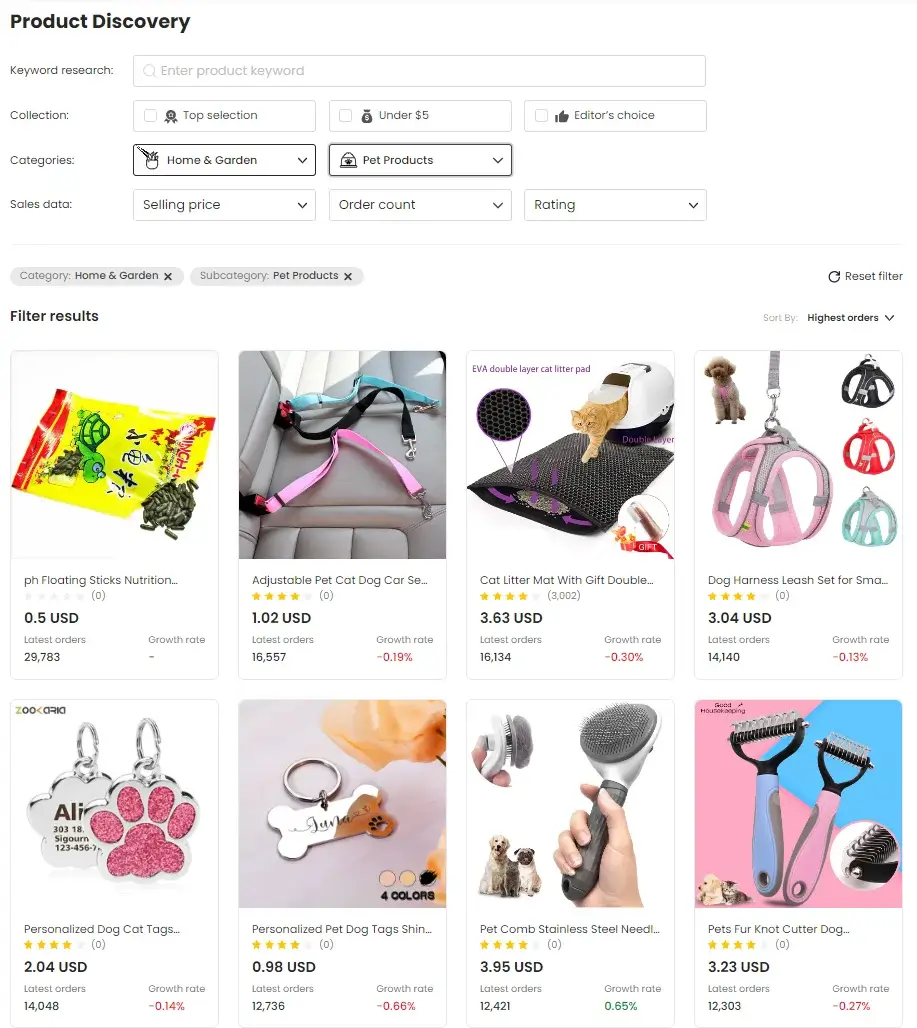 2. Beauty Products
Supplier: Ucanbe, Imagic, Focallure
Demand: High ⬆
Vast and diverse, the beauty industry is a niche that caters to various needs and preferences. It encompasses makeup, skincare, hair accessories, nail polish, and many other products that aim to enhance one's physical appearance.
With the rise of social media and influencers, the beauty industry has become a significant player in the global market. Beauty enthusiasts and consumers are continually seeking innovative and trendy products, making the demand for beauty products skyrocket.
Some of the best-selling products for your business are waiting for you – don't miss out: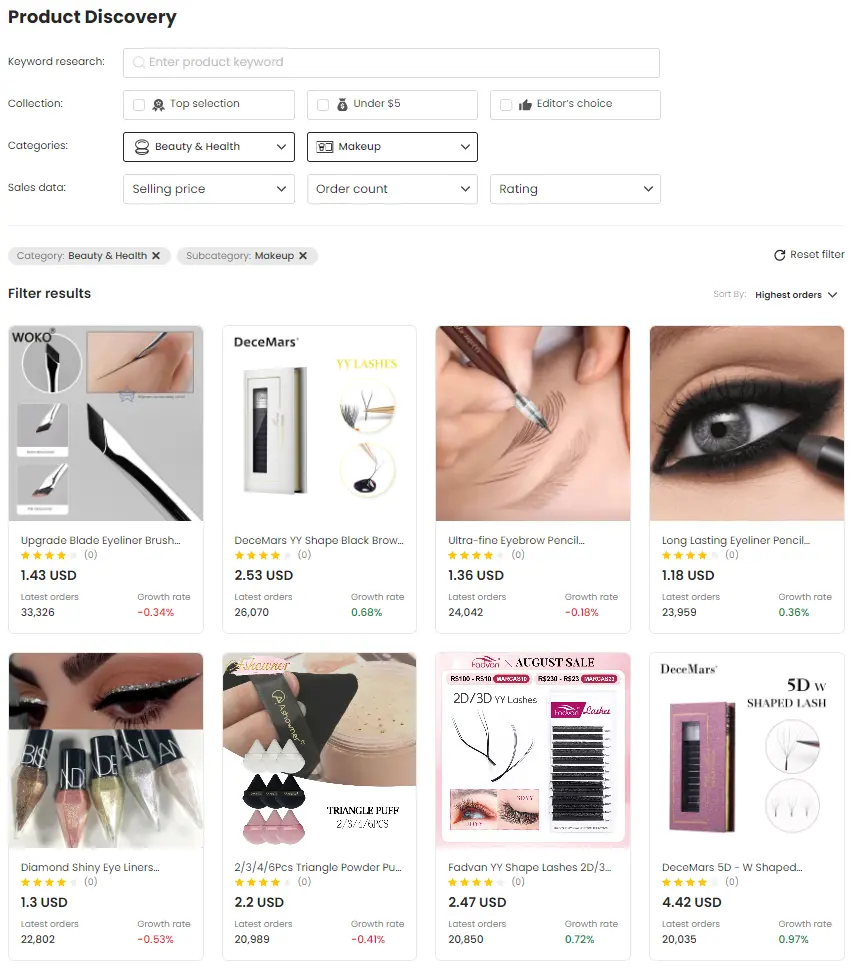 3. Fitness Gears
Supplier: Aolikes, J Bryant, Kyncilor
Demand: High ⬆
Fitness is a highly lucrative niche that includes a wide range of products such as yoga mats, resistance bands, dumbbells, and workout clothes.
As people become increasingly aware of the importance of maintaining a healthy lifestyle, there has been a significant surge in demand for these products. This trend is expected to continue in the coming years, making it an excellent time to invest in the fitness gear market.
Some of the hottest products for your business are right here: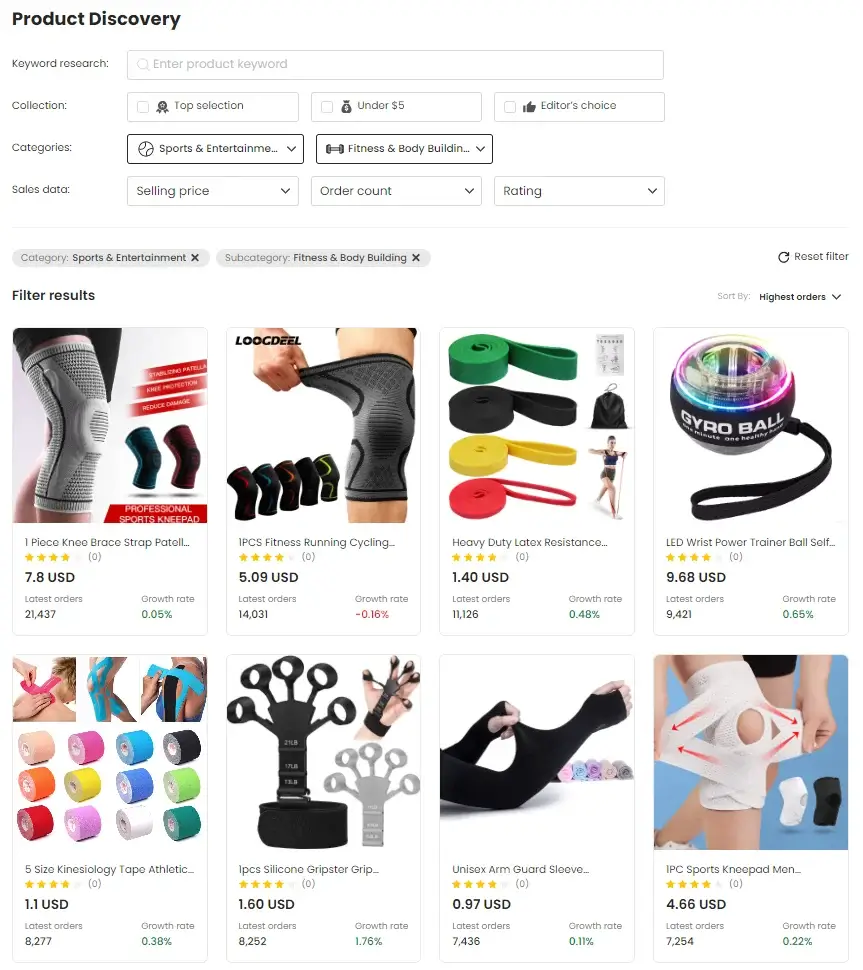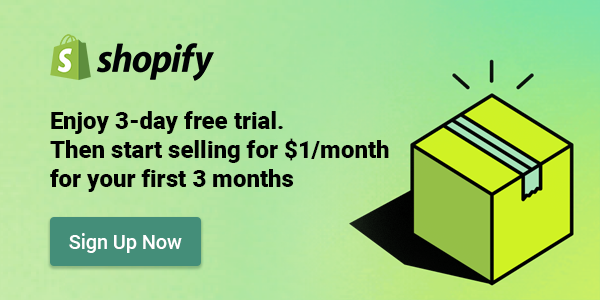 4. Baby Clothes and Toys
Demand: High ⬆
This niche covers everything that babies and toddlers need, from clothing and accessories to toys and games. You can find a huge variety of products to sell, such as adorable outfits, cozy blankets, soft toys, and fun learning tools.
Whether you want to cater to parents who are looking for practical items or those who want to spoil their little ones with cute and trendy products, you can find something that suits your style and budget.
As more people become aware of the benefits of quality baby products, they are willing to spend more on them. This creates a great opportunity for entrepreneurs who want to tap into these babycare dropshipping business ideas.
Explore some of the best-selling baby clothing products…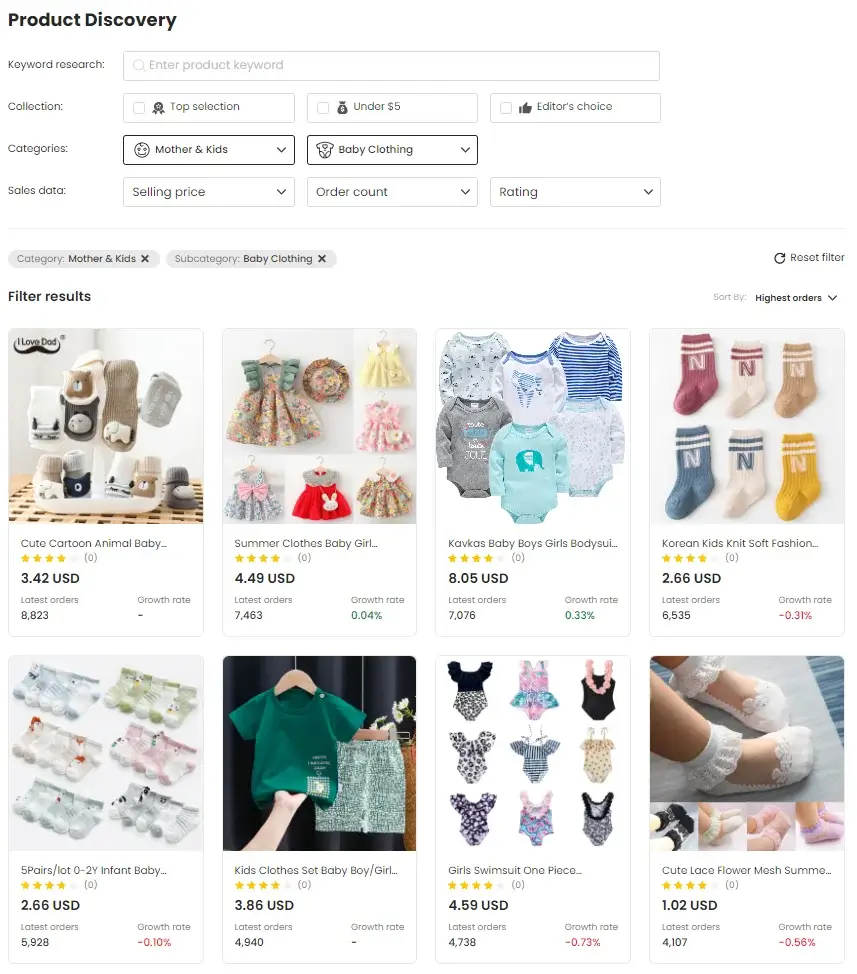 … and baby & toddler toys: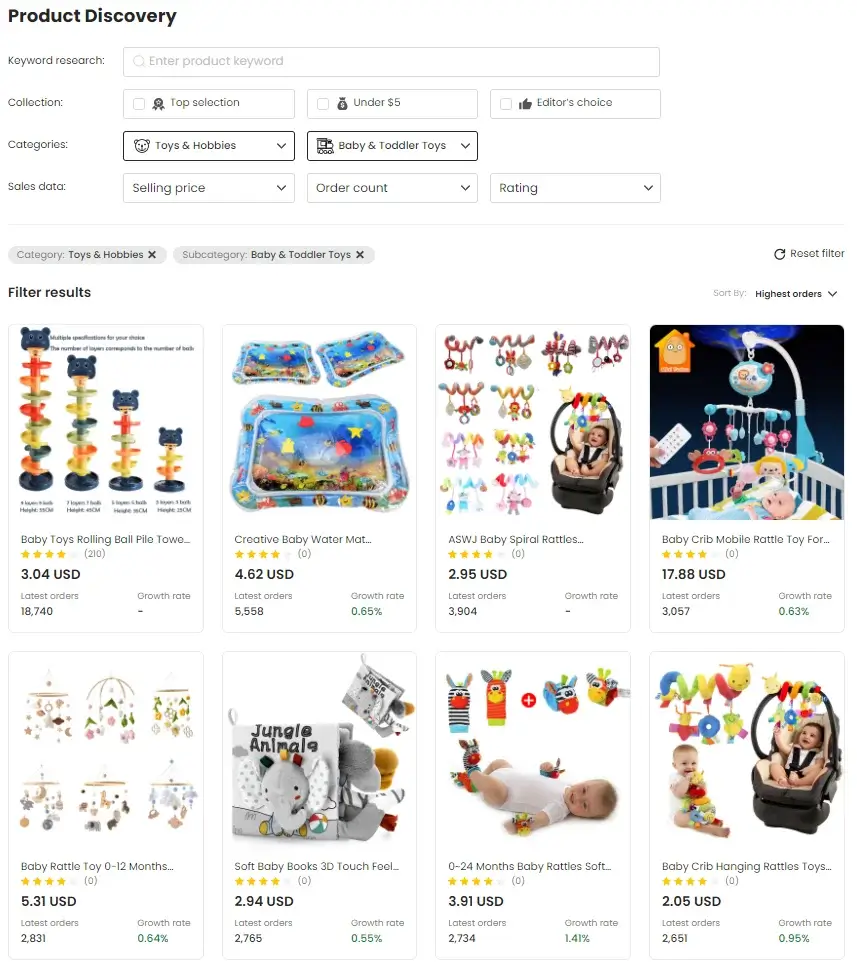 5. Home Decor
Demand: High ⬆
The home decor industry encompasses a wide range of products, from wall art and picture frames to furniture and bedding.
As the popularity of home renovation shows and social media platforms like Pinterest continues to rise, so too does the demand for high-quality, affordable home decor items.
The home decor industry has seen significant growth in recent years, becoming one of the most lucrative and competitive markets in the world, and one of the most highly chosen dropshipping business ideas to tap into.
Here are some of the products that are trending for your business: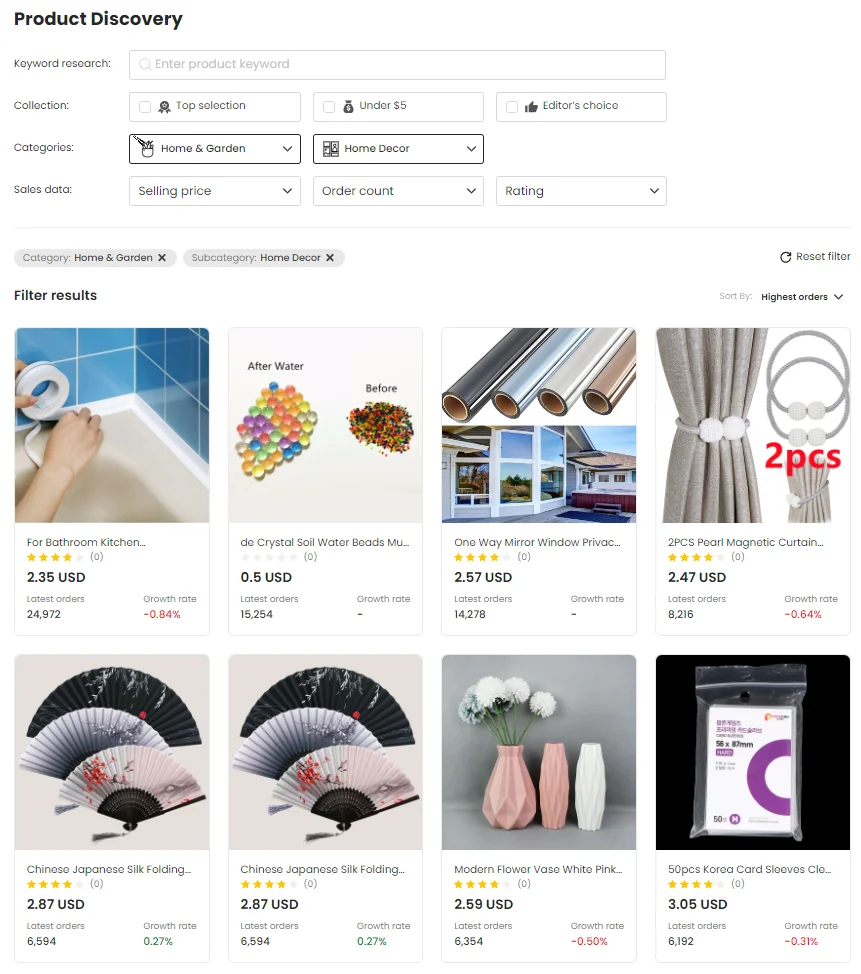 6. Phone Accessories
Supplier: Mofi, NILLKIN, Baseus
Demand: High ⬆
This industry is a thriving and rapidly growing dropshipping niche in the world of e-commerce. It encompasses a wide range of products such as phone cases, screen protectors, cables, chargers, and other mobile phone accessories.
The demand for these accessories is increasing day by day, primarily due to the growing number of people using smartphones worldwide. The mobile phone accessories market is projected to see a compound annual growth rate of approximately 5.8% from 2020 to 2025, according to a report by Mordor Intelligence.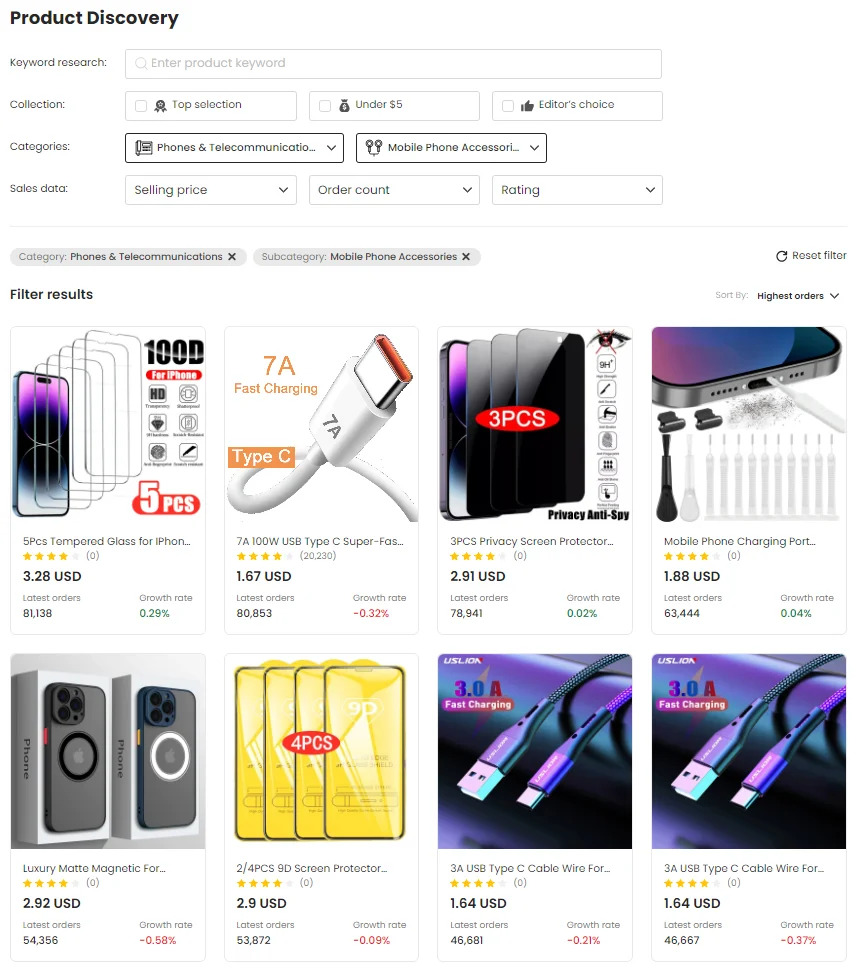 7. Travel Gears
Supplier: OZUKO, MARKROYAL, DIDA BEAR.
Demand: Moderate ➡
This is one of the most exciting dropshipping business ideas to get into. It includes luggage, travel accessories, and gadgets that make travel easier and more enjoyable.
As the world becomes more interconnected and people travel more frequently, the demand for travel gear is growing. With the rise of travel bloggers and influencers, the travel industry is set to experience explosive growth in the coming years.
Here are some of the best ones to sell for your business: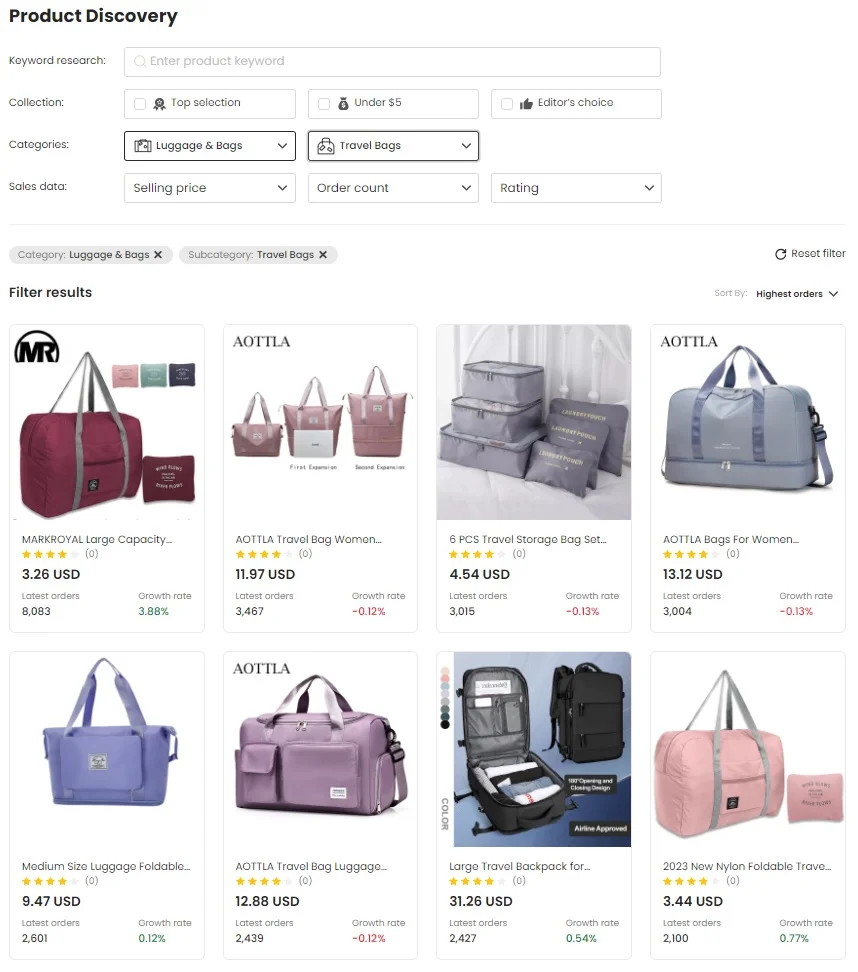 8. Kitchen Appliances
Demand: High ⬆
This niche is a goldmine for online sellers. It features devices that simplify and enhance cooking and cleaning, such as refrigerators, ovens, microwaves, dishwashers, and more.
The demand for kitchen appliances is skyrocketing as the world population grows and urbanizes. Online shopping and home delivery are also boosting the growth of the kitchen appliances market, which is expected to hit USD 210.80 billion by 2027, with a CAGR of 3.7%.
Furthermore, consumers are looking for products that can save energy and offer convenience and connectivity, which drives the trend of energy efficiency and smart home appliances.
Here are some of the products that are rocking the sales charts for your dropshipping business ideas: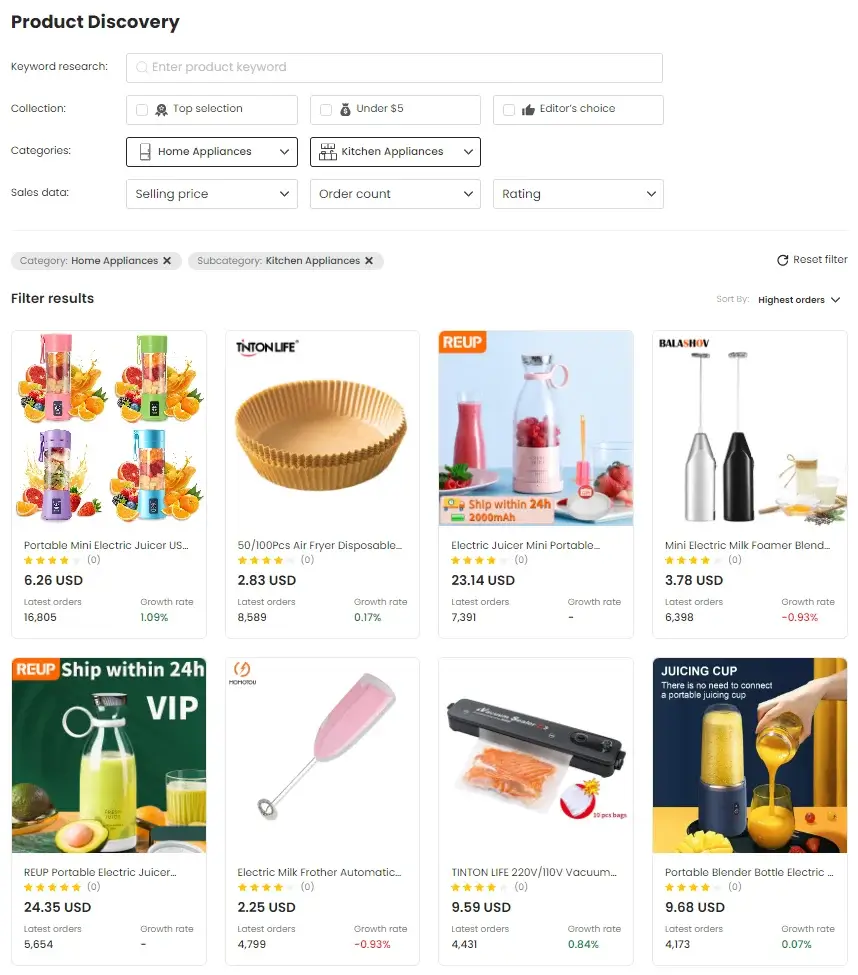 9. Electrical Equipment & Supplies
Supplier: JZLTOOL, E-LINE Electric
Demand: High ⬆
As technology advances, we rely more and more on electricity to power our lives. Whether it's for lighting, heating, cooling, or entertainment, we need electrical equipment and supplies to make it happen.
As one of the most unique dropshipping business ideas, this niche offers devices that make electrical work easier and more effective, such as connectors, switches, relays, power supplies, motors, generators, solar power, and more.
Moreover, consumers can enjoy competitive prices and a wide range of electrical products from AliExpress, thanks to the trend of online shopping and free shipping.
These are the products that are dominating the sales market: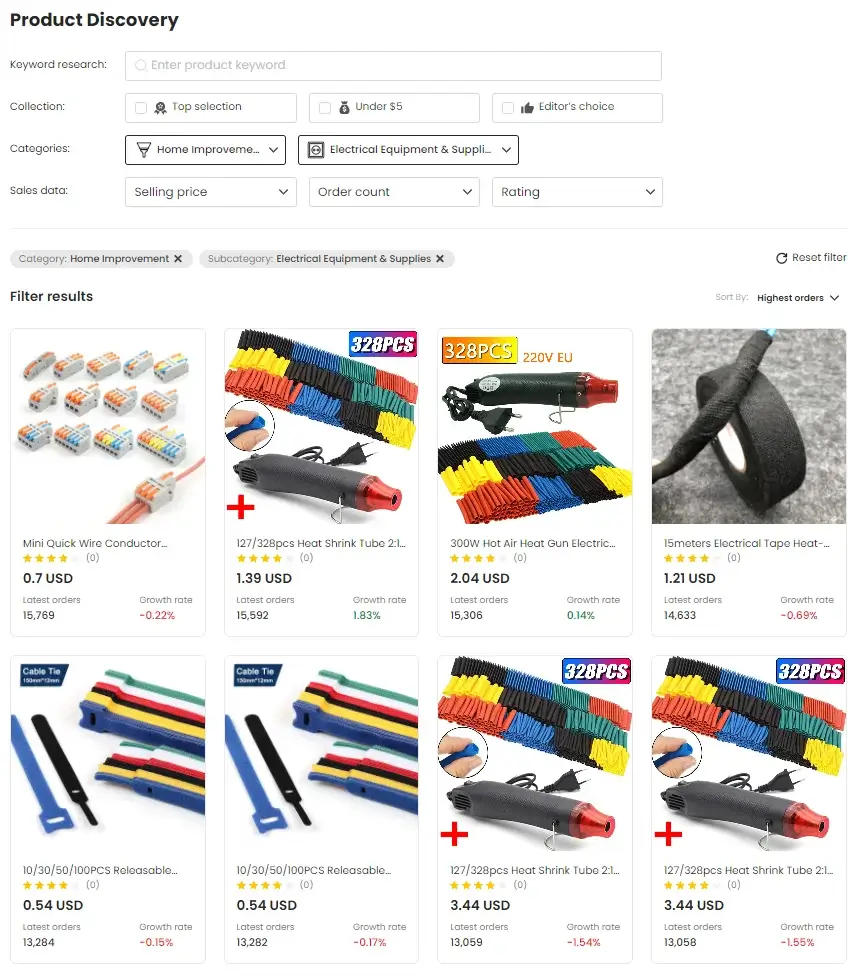 10. Gaming Accessories
Supplier: 8BitDo, Global Game Direct, Delux, Motospeed
Demand: High ⬆
Gaming Accessories, a niche that includes gaming mice, keyboards, and other similar devices, has experienced remarkable growth in recent years, mainly due to the increasing popularity of esports.
As a result, the gaming industry has significantly expanded, opening up new opportunities for entrepreneurs who want to venture into this sector.
Some recommendations for gaming accessories: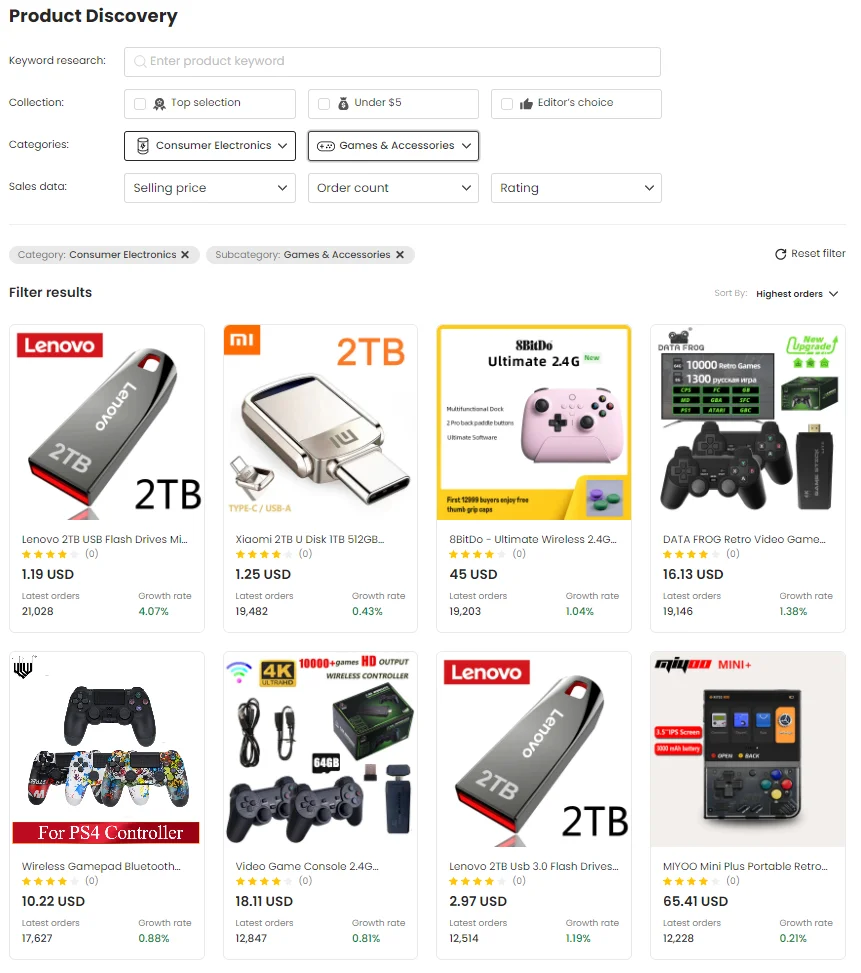 11. Jewelry
Demand: High ⬆
Jewelry is a timeless niche that appeals to a wide range of customers, from fashion lovers to gift seekers. Jewelry can express one's personality, style, mood, and emotions. It can also symbolize love, friendship, faith, and gratitude.
Jewelry is a profitable niche because it has a high perceived value and a low production cost. Some variety of jewelry products are handmade sterling silver pieces, stainless steel accessories, gemstone rings, and charm bracelets. You can find jewelry for any occasion, budget, and preference.
These are the products that are ruling the sales charts:
12. Clothing
Suppliers: PRIVATHINKER, CAKULO
Demand: High ⬆
When talking about dropshipping business ideas, the first thing that comes to mind will most likely be clothing.
Clothing is a huge and diverse niche that covers a wide range of products, from casual wear to formal wear, from sportswear to underwear, from accessories to shoes. The clothing niche never goes out of style, as people always need clothes for different occasions, seasons, and purposes.
Learn about these awesome products that are sparking interest: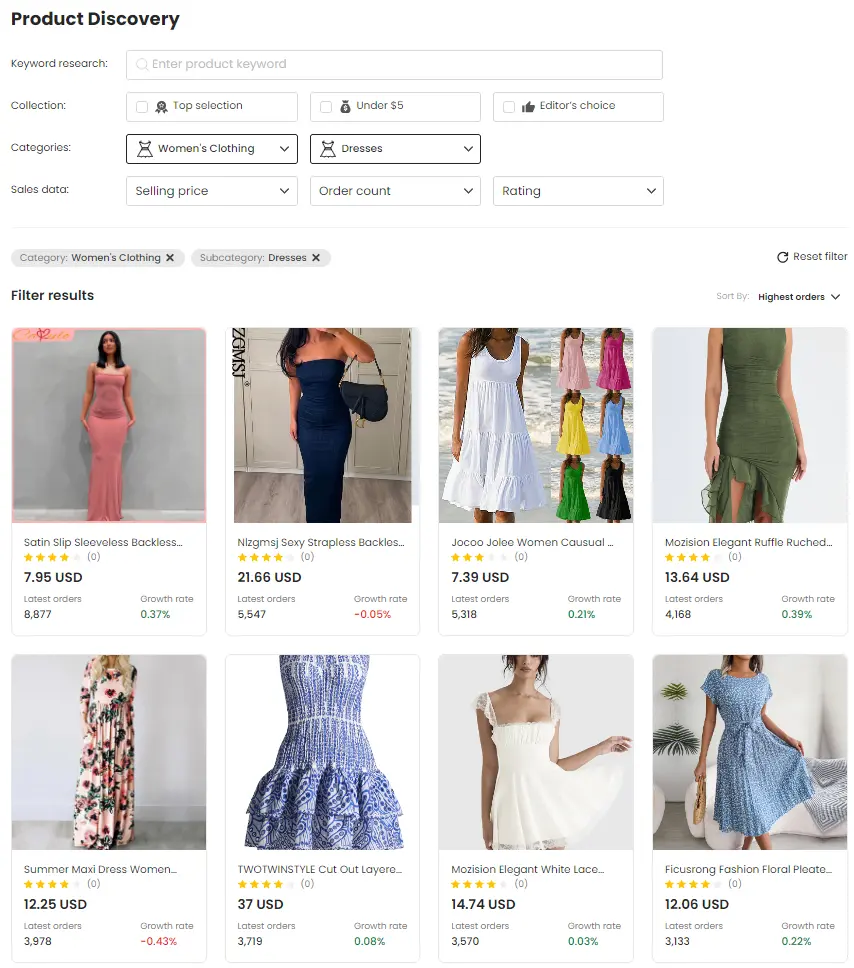 13. Healthcare products
Suppliers: Healthy Care Manufacturer Direct, World-Healthy-Care
Demand: High ⬆
Healthcare products are used to enhance, maintain, or restore health and well-being. Healthcare products include medical devices, personal care products, hygiene products, and wellness products.
Healthcare products are a niche that has a high and growing demand, as more people are seeking to improve their quality of life and prevent health problems. Healthcare products can cater to different segments of customers, such as individuals, families, professionals, and institutions.
These are the products that are topping the charts in the sales sector: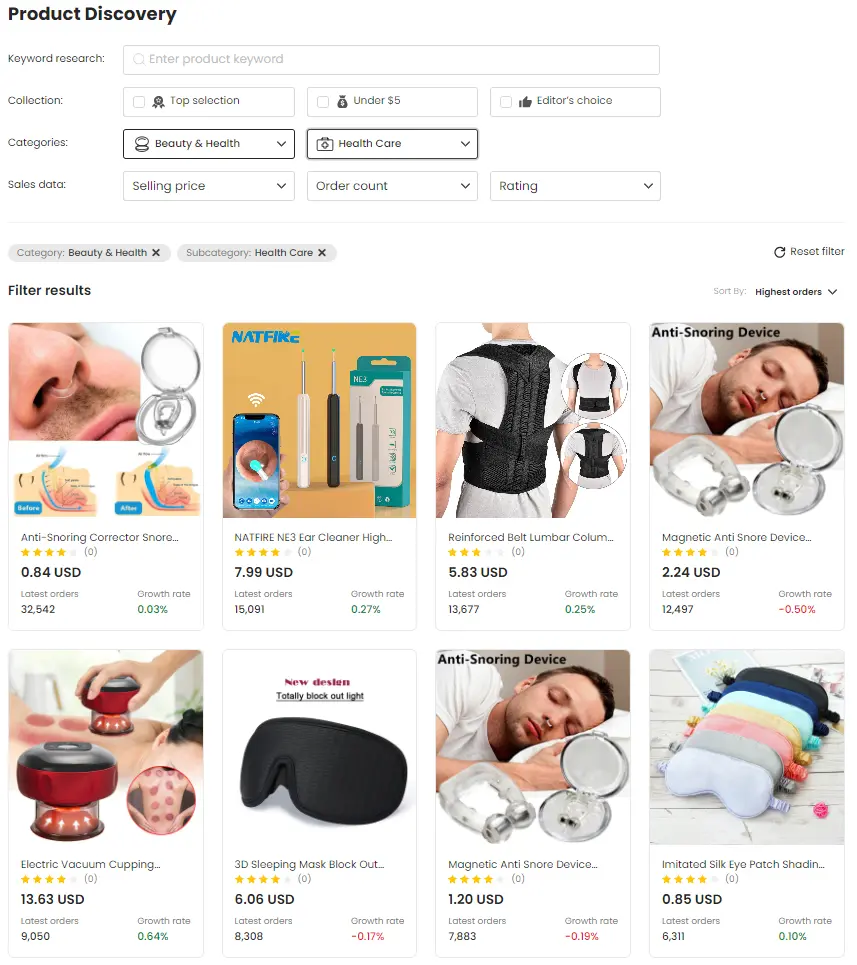 14. Security & Protection
Demand: Moderate ➡
Security and protection products are used to safeguard people, property, and information from various threats and hazards. Security and protection products include surveillance cameras, alarms, locks, safes, personal protective equipment, and security software.
Security and protection products are a niche that has a high and steady demand, as more people are concerned about their safety and privacy in an increasingly uncertain and digital world. Security and protection products can appeal to different segments of customers, such as homeowners, businesses, travelers, and online users.
Discover these amazing products that are attracting attention:
15. Office & School Supplies
Suppliers: YIXIAOJIANDA, AIWOSUOAI, Campus Stationery
Demand: High ⬆
Office & School Supplies products are used to facilitate work, study, and creativity in various settings. Office and School Supplies products include writing instruments, paper products, stationery, desk accessories, filing supplies, and office equipment.
Office & School Supplies is a niche that has a high and consistent demand, as more people are engaged in office work, remote work, online learning, and personal projects. Office & School Supplies products can serve different segments of customers, such as students, teachers, professionals, and hobbyists.
Grab these incredible products that are making a difference in the sales scene for your dropshipping business ideas: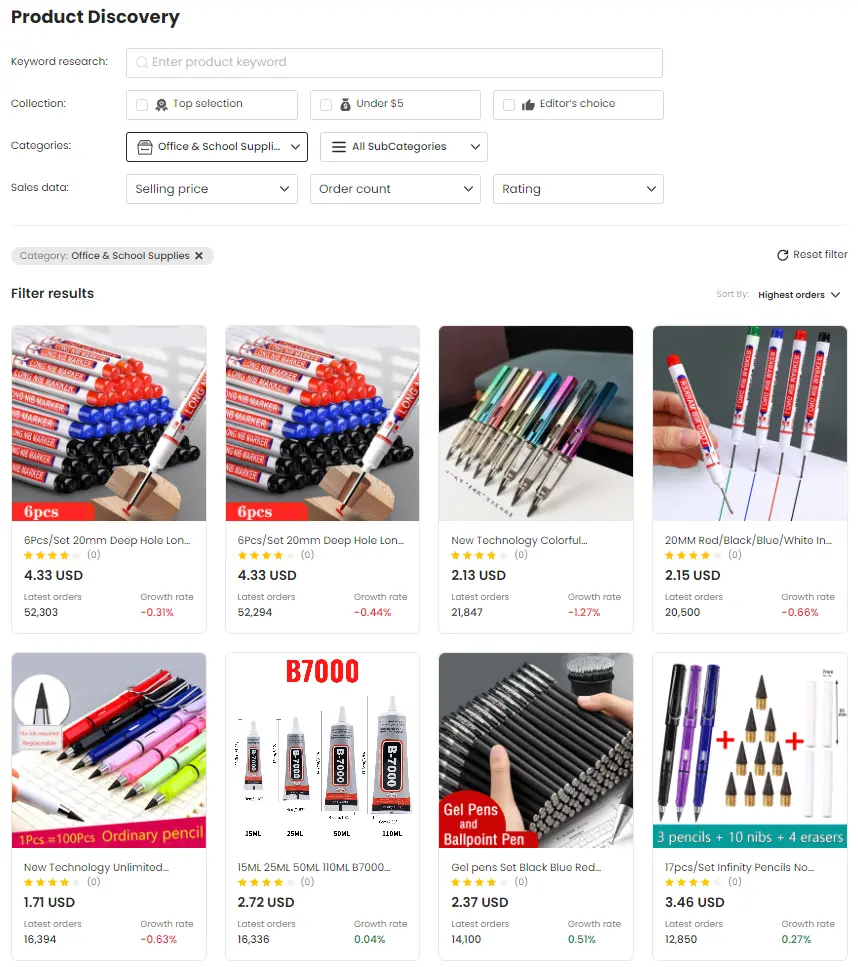 How To Choose The Best Ideas For Your Dropshipping Business?
You may all be wondering: "How to start dropshipping?".
Starting a dropshipping business requires careful planning and research if you don't follow, your business can't grow.  Here are some detailed steps you can take to get started:
Step 1: Market research
Researching your business market will give you a better understanding of the dropshipping business ideas you want to sell, the demand for the products you want to sell, and your potential competition.
To conduct market research, there are various online tools available that can provide you with valuable information about the market you want to enter.
Google Trends can help you identify the popularity of certain products and search terms over time.
SEMrush and Ahrefs can help you analyze your competition and their search engine optimization strategies.
Conducting thorough market research before starting your business can help you make informed decisions about your products, pricing, and marketing strategies.
It can also help you identify potential challenges and opportunities in the market, which you can use to your advantage.
So, take the time to conduct market research and gather as much information as possible before launching your business.
Step 2: Define what you need
After conducting extensive market research, it is essential to take the time to develop a detailed business plan that effectively outlines your dropshipping business ideas, goals, and strategies.
This includes identifying reliable and trustworthy suppliers that can offer a variety of products, as well as setting up a website that is user-friendly and visually appealing to attract potential customers.
When it comes to finding suppliers, there are several popular dropshipping platforms available in the market, such as AliExpress, Oberlo, and SaleHoo.
These platforms offer numerous products and reliable suppliers, making it easier to start your dropshipping business. Additionally, it is also important to establish strong relationships with dropshipping suppliers to ensure timely and efficient deliveries.
In order to establish a strong online presence, it is crucial to set up a website that is both functional and visually appealing.
Platforms such as Shopify, WooCommerce, and BigCommerce offer a variety of features such as customizable website templates, secure payment gateways, and efficient inventory management systems that can help you streamline your business operations.
Dropshipping on Shopify? Learn with us!
Step 3: Choose the competition
Finally, when choosing your competitors, conducting thorough research and analysis is a must. Look for other dropshipping businesses in your niche and examine their strengths and weaknesses.
Take note of their pricing strategy, marketing efforts, customer service, and product offerings. This will give you a better understanding of what you are competing with and help you identify areas where you can stand out.
In conclusion, dropshipping business requires extensive research, careful planning, and continuous adaptation to the market. By following the steps outlined above, you can establish a successful dropshipping business.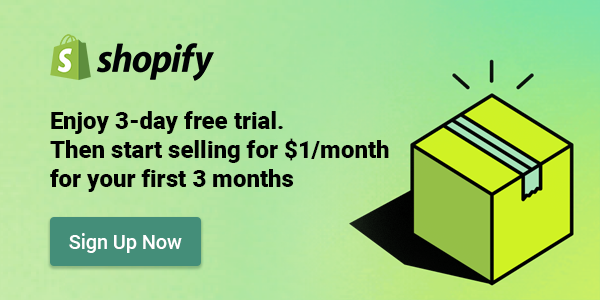 Conclusion
Dropshipping can be a lucrative and rewarding business model for those willing to put in the time and effort to succeed.
By finding the right dropshipping business ideas, working with quality suppliers, and providing exceptional customer service, you can build a successful online business and enjoy financial freedom.
And always remember, success in dropshipping can only be achieved via continuous learning and the understanding of the market's latest trends.
With the right mindset and strategies in place, you can create a thriving dropshipping business in 2023 and beyond!