Are you ready to start your own business, but feeling overwhelmed by all the steps involved in setting up a traditional retail store? Instead, are you thinking of how to dropship on Shopify?
Shopify is one of the most popular e-commerce platforms for dropshipping thanks to its convenience to get your online store up and running. With Shopify, you can easily set up a store, choose from thousands of products to sell, and have them shipped directly to your customers, all without ever having to touch the merchandise yourself. It's like having your own personal fulfillment center, without the hassle or expense.
In this guide, we'll show you everything you need to know on how to dropship on Shopify. From setting up your store to deciding the right products to sell, we will help you get started on your journey to e-commerce success!
So buckle up, grab a cup of coffee, and let's get started!
You may be interested about:
What is dropshipping?
Dropshipping is a business model where you, as the store owner, don't hold any inventory. Instead, you partner with a supplier who stocks and ships the products directly to your customers.
You simply act as the middleman between the supplier and the customer, handling the marketing, customer service, and website maintenance.
How does dropshipping work?
It's actually quite simple.
You set up an online store, choose the products you want to sell from your supplier's catalog and list them on your website.
When a customer makes a purchase, you place an order with your supplier, who then ships the product directly to the customer. You keep the difference between the supplier's price and the price you charge the customer, as your revenue.
And if you're interested in how to dropship on Shopify, they have a wide range of resources covered there, too. Dropshipping with Shopify is just as easy as running a regular e-commerce store. You'll still need to pay the monthly fees, but with the help of a third-party app like Ali Orders installed, you can source products seamlessly and manage your orders with ease.
The difference between dropshipping vs traditional business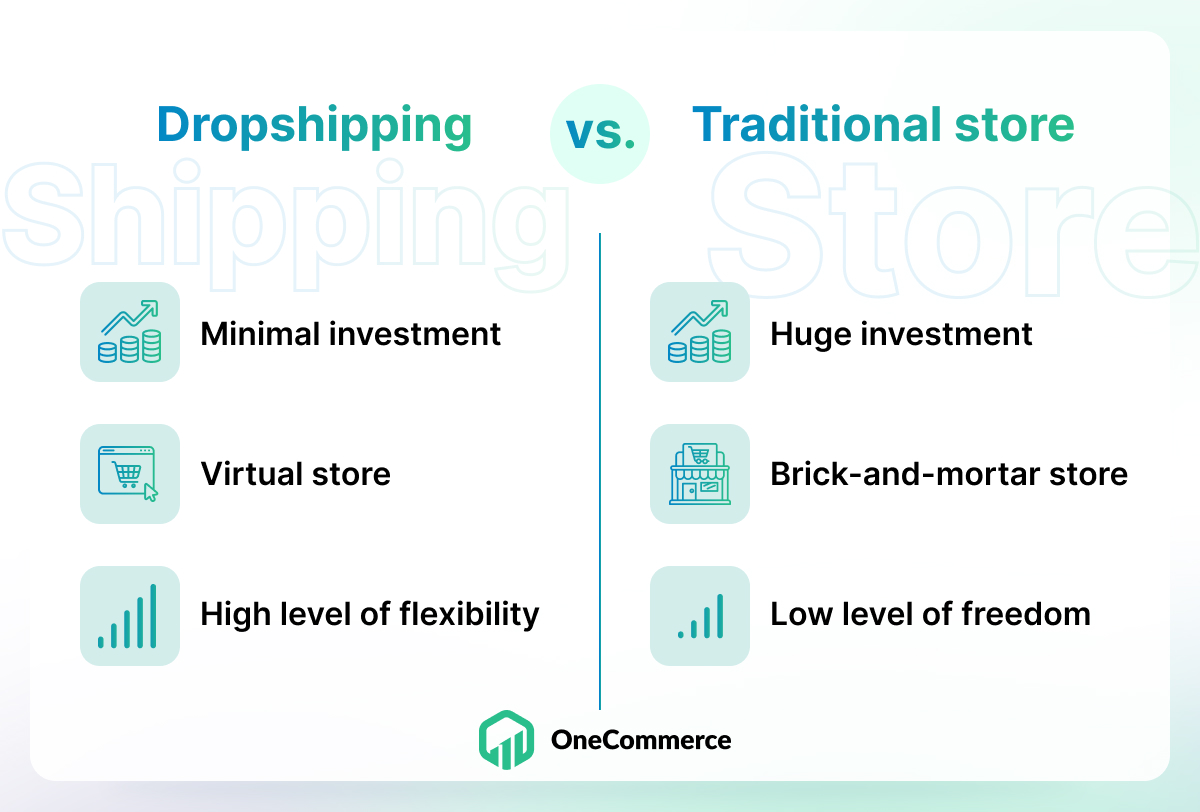 Dropshipping is a revolutionary business model that's taking the e-commerce world by storm. It's the perfect solution for anyone who wants to start an online store without the hassle of managing inventory or shipping products. Here are some key differences between dropshipping and traditional business:
| | | |
| --- | --- | --- |
| | Traditional Business | Dropshipping Business |
| Inventory | Requires a huge investment upfront in inventory, storage, and logistics | Minimal investment is needed as the supplier handles inventory and logistics |
| Location | Requires a physical store that needs to be managed and staffed for customer service | Can be managed from anywhere in the world |
| Risk | Can be stressful and risky, especially during difficult economic times | Eliminates financial risks and overhead costs of traditional retail |
| Opportunity | Can be a daunting and often risky undertaking | Provides a low-risk, high-reward opportunity for anyone with an entrepreneurial spirit |
| Freedom | Typically requires sacrificing personal time and freedom | Offers the ultimate freedom to create a successful business that fits your lifestyle and goals |
In short, drop-shipping is an innovative and modern approach to starting an online store that offers entrepreneurs a chance to build a successful business without the financial risks and burdens of traditional retails.
How to dropship on Shopify – Step-by-step guide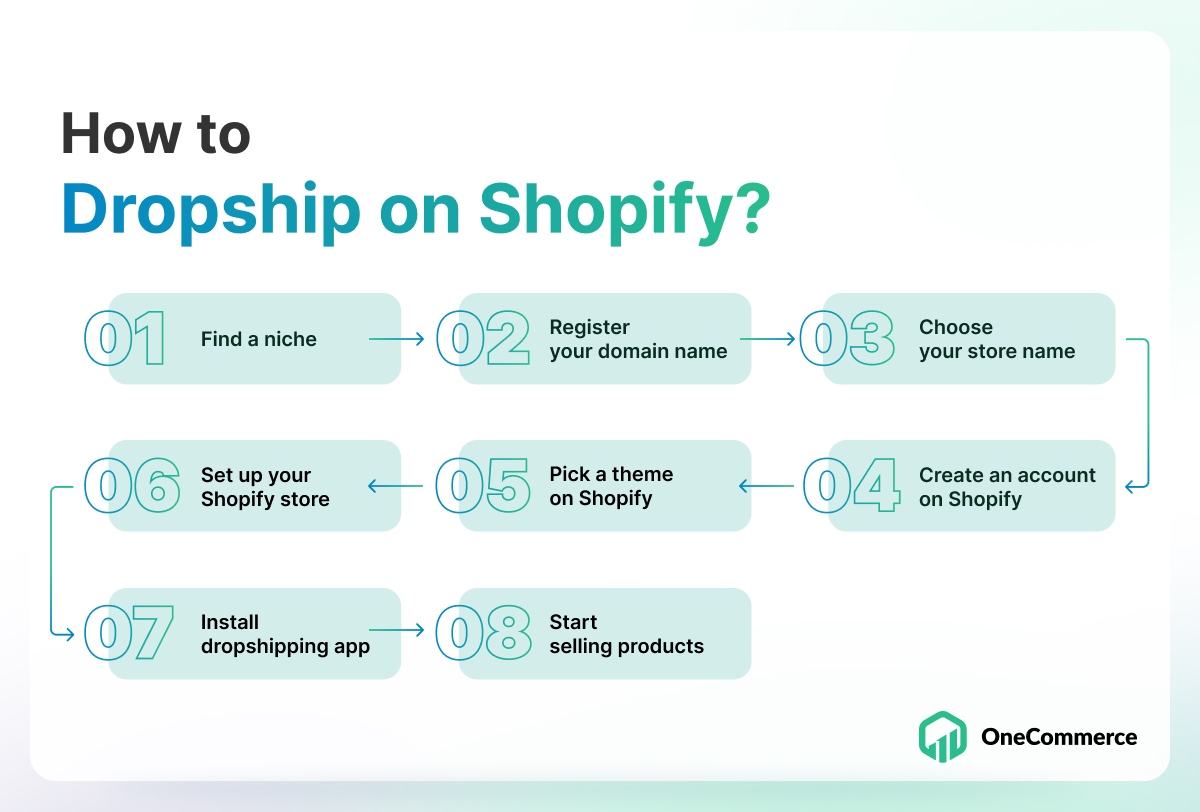 There are 8 steps in doing dropshipping on Shopify, including:
Find a niche
Register your domain name
Choose your store name
Create an account on Shopify
Pick a theme on Shopify
Set up your Shopify store
Install dropshipping app
Start selling products
Before you do that, if you need a little help to set up your Shopify store to stand out, you'd better check this video out:
1. Find a niche
To start your journey on how to dropship on Shopify with success, you need to find the right niche. With new sellers, instead of competing in the mass market with popular products, focusing on finding a specific niche with unique needs, preferences, identities, or interests can be better off.
By narrowing down your target audience, you'll be able to reduce the level of competition and increase your chances of success.
But how do you find that perfect niche? You need to validate your product idea and make sure there's a market demand for it. Luckily, there are tools available that can help you do just that:
To perform keyword research, you'll need a dedicated SEO tool like Ahrefs or Semrush. These tools will help you find out how many people are searching for a particular phrase each month. Then, it can establish how difficult it is to rank in search results and get suggestions for other phrases that might be easier to rank for.
Google Trends gives a free, easier way. To conduct basic market research, the tool would analyze the popularity of top search queries in Google Search across various regions and languages. You should ultilize Google Trends' 'Shopping Trends' section that breaks down shopping-related searches into various categories to give more dropshipping product ideas.
Advertising data services can tell you how big the audiences for particular products are likely to be, and how expensive it will be to display ads to these audiences.
For instance, with Facebook Audience Insights, you can tap into the interests and demographics of Facebook's 2.9 billion monthly active users. This can help you decide upon the niche you decide to operate in.
2. Register your domain name
Registering your domain name is an exciting next step in our "how to dropship on Shopify" instruction. Your domain name is essentially the online identity for your website or business, so it's important to choose one that reflects your brand and is memorable for your audience.
It can also be a bit nerve-wracking to choose the perfect domain name. You might feel pressure to choose something that's already available, or worry that your chosen name won't resonate with your target audience.
Take the time to brainstorm and come up with a unique and memorable name that reflects your niche and differentiates your brand from others.
Pro tips: To come up with a good store name, keep it short and easy to remember. Shorter names are easier to pronounce and harder to misspell in address bars.
Once you've settled on a few name options, it's significant to check if they are available. Do a Google search to see if any other businesses are using the same name, and check if the .com domain is available for purchase.
Pro tips: If your first choice is already taken, consider using a unique domain extension like .shop, .store, or something more specific to your products, like .shoes.
3. Choose your store name
Similarly, creating a unique store name is crucial when it comes to building brand awareness and standing out in a crowded market.
With the same rules, after you've narrowed down your list of potential names, it's important to check if the name is available. You can check the availability of your desired name by using a search engine like Google to see if there's already a .com domain attached to the name.
To make the process easier, Shopify provides a free online domain name generator tool that allows you to enter any word you'd like your store name to include. Once you've entered your desired word, the tool generates a list of business names from which you can pick your favorite to be your Shopify dropshipping store name.
4. Create an account on Shopify
To continue learning how to dropship on Shopify, you'll need to create an account on the Shopify website.
To create your Shopify dropshipping store, the first step is to create an account on the Shopify platform. Start by going to Shopify's homepage and clicking on the "Start free trial" button.
You'll be asked to enter your email address on the next screen, followed by creating a password and choosing a name for your store. Keep in mind that the name you choose should be reflective of your brand and resonate with your target audience.
After filling out some questions about your e-commerce experience and personal details, your Shopify account will be created.
While most people simply stop at the "free trial" button to get started, drop shippers can benefit from signing up for Shopify's free dropshipping starter kit. This kit includes a free trial of Shopify and a wealth of training materials to help you get started with dropshipping.
By accessing the dropshipping starter kit, you'll receive regular emails containing useful resources to help you succeed in the world of dropshipping. These resources have been created by experienced and successful Shopify dropshippers, so be sure to read any guides or watch any videos they provide before launching your store.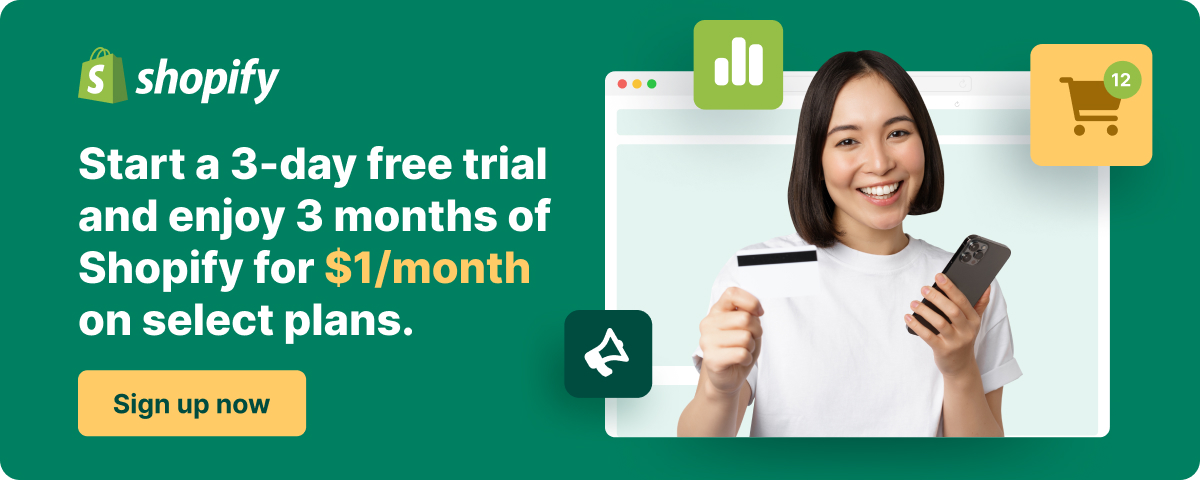 5. Pick a theme on Shopify
Your Shopify dropshipping store's design holds great significance since it is how you present your store and brand. The aesthetic of your e-commerce store is just as important as a brick-and-mortar store having an enticing shop window since it is the user's first impression of your business, and first impressions count.
Thus, in this step of how to dropship on Shopify, we'll discuss the themes of your store.
To pick a theme for your Shopify dropshipping store, Shopify has a theme store where you can find a wide variety of themes, including free and premium options. If you're starting with a tight budget, we advise selecting a free theme.
Then, maybe you would want to take some time to consider how you want your logo to look and how it will fit in with the rest of your store's design. You can create your logo using Shopify's free online logo maker by experimenting with fonts, colors, icons, and positioning.
If you're interested in creating a more customized logo, you can use graphic design software like Photoshop or Canva, or outsource high-quality graphic designs from freelance platforms like Upwork or Fiverr.
Once you've chosen your theme and created your logo, your store will start to take shape. For further inspiration, check out some amazing e-commerce website designs that we've prepared for you.
6. Set up your Shopify store
The very next step to know how to dropship on Shopify is to optimize your settings. This step involves various settings you need to optimize, however, configuring the payments, creating store policies, and setting up shipping rates are those most vital priorities.
To start, you need to add your payment information. Go to the "Settings" page, click on the "Payments" tab, and add your preferred payment method.
Tips: Shopify often recommends setting up a PayPal account, as it's a simple process, even if you're not technically proficient.
Next, you need to create your store policies. Shopify provides tools that automatically generate a standardized privacy policy, refund policy, and terms and conditions. Access these tools from the "Settings" tab in your settings and click on the "Policies" button to create the necessary policies.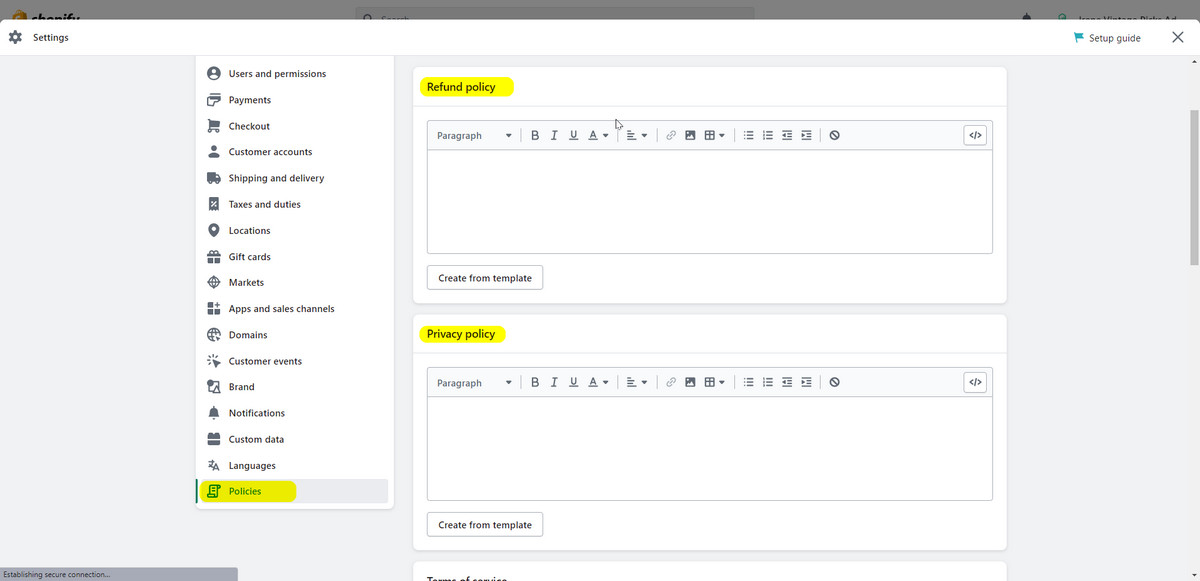 For apparent shipping rates for your store, we recommend offering free shipping as the easiest option. You can incorporate your shipping fees into the price of your products and make shipping free.
For instance, if you're planning to sell a DIY can for $30, raising the price to $45 and offering free shipping can be a more attractive deal.
To set up free shipping, go to the "Shipping" tab in your settings, delete all domestic shipping zones, and add "Free International Shipping" to the "Rest of World" section. Then select the "Rate: Free Shipping Rate" option.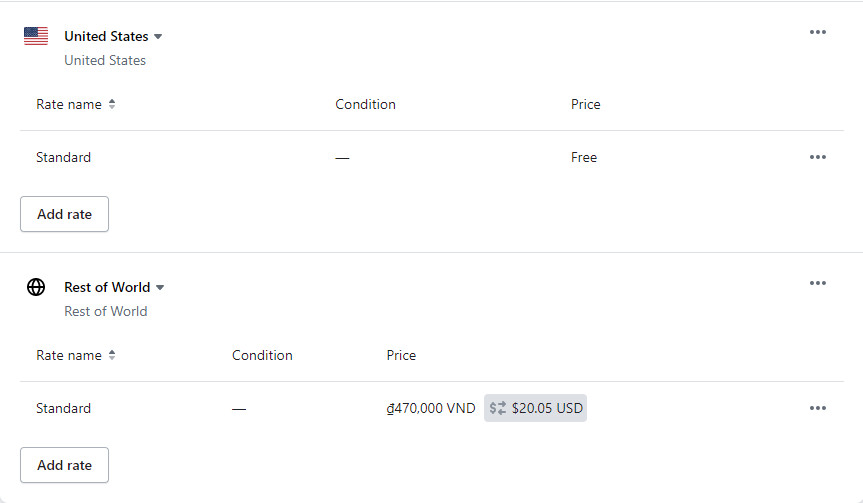 Once you've optimized your settings, you're ready to launch your Shopify dropshipping store. Go to the "Sales Channels" tab on your Shopify admin dashboard, select the "Add an online store" option, and you're done. Your online store is now up and running, and you can start selling your products!
7. Install dropshipping app
Now, it's time to install a dropshipping app such as Ali Orders and start adding products to your online store.
This app is a lifesaver for e-commerce entrepreneurs who want to import high-quality dropshipped products seamlessly. As Ali Orders is integrated with AliExpress, you can even start importing and selling products from Day 1! With just a click of a button, you can import them directly into your Shopify dropshipping store. It's that easy!
Once you've installed Ali Orders in your Shopify store, you can create a category for the products you plan to sell. Whether it's t-shirts, jewelry, or electronics, name your category after the type of products you'll be selling. This will make it easier for customers to find what they're looking for on your website.
8. Start selling products
Congratulations! You've made it to the last step of our "how to dropship on Shopify" guide: selling products! This is where all your hard work pays off, and you start to see the results of your efforts.
To start selling your products, you'll want to make sure you have your marketing strategy in place. Spread the word about your store through social media, such as Facebook, email marketing, and paid advertising. Engage with your audience and build a community around your brand.
Don't be afraid to experiment with different marketing channels and strategies until you find what works best for you. Keep track of your metrics and adjust your approach as needed.
As you start to make sales, make sure to provide exceptional customer service to keep your customers happy and coming back for more. Respond to their inquiries promptly and make sure they receive their orders on time.
Remember, building a successful Shopify dropshipping store takes time, dedication, and hard work. But with the right mindset and approach, you can create a thriving online business and achieve your goals. So go out there and start selling those products!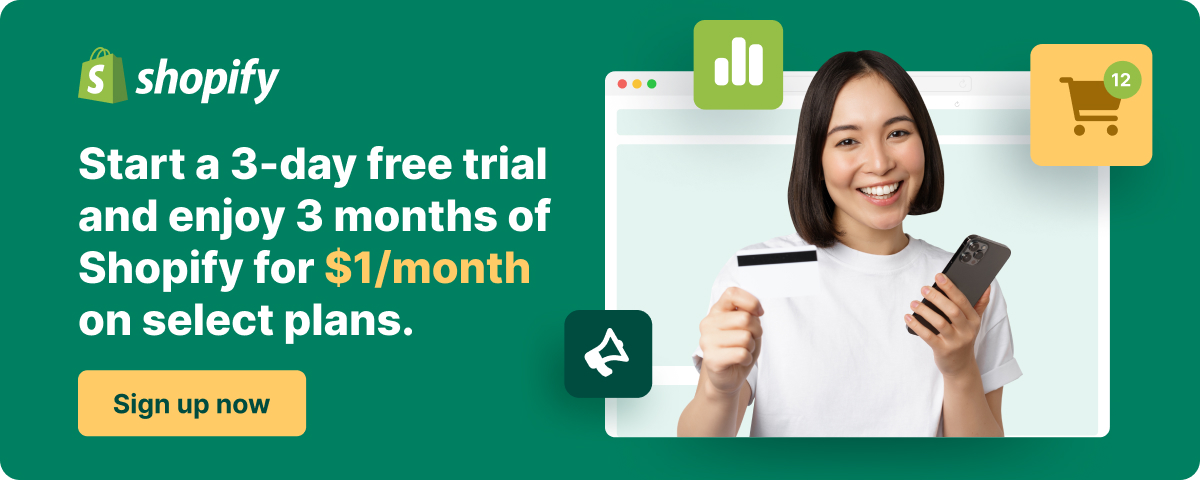 Pros and Cons of dropshipping on Shopify
can be a great way to start your own business with minimal investment. However, it's important to weigh up the pros and cons before getting started and be prepared for the challenges that come with knowing how to dropship on Shopify. Let's take a look at some of them.
Pros:
Low startup costs: One of the most significant benefits of dropshipping on Shopify is the low cost of entry. You don't need to worry about inventory, warehousing, or shipping, which means you can start your business with minimal upfront costs.
Easy setup: Shopify makes it incredibly easy to set up an online store and start dropshipping products. You don't need to be a tech expert to get started.
Wide range of integrations: Shopify integrates with a wide range of apps and tools, making it easy to streamline your operations and automate various processes.
Access to a large customer base: With millions of people using Shopify, you have the potential to reach a large audience and attract more customers to your store.
Flexibility and scalability: Shopify allows you to scale your business as it grows, and offers flexibility in terms of product offerings and business models.
Professionalism and customizability: You can customize your Shopify store to reflect your brand, and create a professional, polished online presence for your business.
Customer support: Shopify offers excellent customer support, including live chat, phone support, and a comprehensive help center.
Cons:
High transaction fees: Each sale made in your Shopify dropshipping shop will incur a transaction fee from Shopify equal to the cost of the Shopify plan you have chosen. There will be a 2% fee for Shopify Basic, a 1% fee for Shopify, and a 0.5% fee for Shopify Plus. Thus, this can add up and affect your profits, making it harder to reach your financial goals.
Various supplier issues: You may encounter difficulties in finding trustworthy suppliers on AliExpress or other dropshipping marketplaces, putting the quality of your products at risk. Moreover, because you're relying on a third-party supplier to fulfill orders, you may experience unexpected inventory issues or delays, leading to unhappy customers.
Fierce competition: The number of dropshipping sellers can be fierce on Shopify, and it can be challenging to stand out from other dropshipping stores in your niche.
Conclusion
The article has come to an end, and now, you've now learned how to dropship on Shopify! It may seem overwhelming at first, but with the right mindset and tools, you can create a successful business in no time.
Don't be afraid to take risks and learn from your mistakes. With hard work and determination, you can build a thriving online business and live the life you've always dreamed of. Happy dropshipping!