As an online business owner, you have probably heard of the two big names in e-commerce platforms: Shopify vs BigCommerce. But which one should you choose?
It can be difficult to decide between the two giants, so we've created this comprehensive head-to-head comparison of Shopify vs BigCommerce. We'll look at the pricing models, features, scalability, and more to help you make a decision based on your business needs and budget.
By the end of this article, you should have all the information you need to decide which platform is right for you. So read on to find out everything you need to know about Shopify vs BigCommerce.
What is Shopify and How does it work?
Shopify is an online e-commerce platform that enables users to create, launch and manage their own online businesses easily. In other words, Shopify will provide the all tools necessary for merchants to set up, operate, and maintain their own online stores with ease.
Through Shopify, merchants can create webpages, manage payment methods and shipping options, add products or services for sale, customize the look and feel of the store, and track orders and customer data. Shopify also offers marketing solutions to help merchants reach their customers, as well as analytics to measure performance.
Besides, by using Shopify, merchants can quickly get up and running with their own online presence without having to worry about coding or servers. With a few clicks of the mouse, merchants can start accepting payments, managing orders, and selling products to their customers.
In short, Shopify is a great way for merchants to get started in the world of e-commerce without having to invest too much time or money.
Learn more about Shopify here:
What is BigCommerce and How does it work?
Just like Shopify, BigCommerce is an e-commerce platform designed to help online sellers create and manage their own stores. The platform provides users with tools to design, set up, and run an online store on the internet. BigCommerce also offers a range of rich eCommerce features such as product management, payment processing, order fulfillment, marketing tools, and more.
Furthermore, users can also access a range of third-party integrations to help automate processes and make their stores more efficient. With BigCommerce, users have complete control over the look and functionality of their store, making it easy for them to customize their experience. Additionally, with the platform's user-friendly interface, even those without coding knowledge can set up their store quickly and efficiently.
Finally, BigCommerce has a range of security measures to keep customer data safe, as well as 24/7 support to help users with any queries they might have.
Overall, BigCommerce is an excellent platform for merchants looking to take their business online. With its wide selection of features, integrations and security measures, BigCommerce is a great tool to help them set up and run an online store.
Shopify vs BigCommerce: Head-to-head comparison
When it comes to online e-commerce stores, two of the most popular names on the market are Shopify and BigCommerce. Both offer robust platforms that enable users to quickly and easily set up their store, upload their products, and get selling. But there are some specific differences between them that make it suitable for a particular group of merchants.
Here we take a detailed look at Shopify vs BigCommerce comparison to help you decide.
1. Pricing
Shopify's pricing plans range from $19/month up to $299/month with a few advanced options for larger businesses if users choose to pay monthly. If you choose the annual plan, it could save you a few penny.
On the other hand, BigCommerce pricing plans start at $39/month and go up to $399/month, with an additional Enterprise plan for larger businesses if you choose to pay on a monthly basis.
From the pricing plan, you can see that Shopify pricing plan is a little bit more affordable compared to BigCommerce. However, we have yet to come to the conclusion that starting a business on Shopify is cheaper because you have to pay other fees when running your business.
Luckily, if you cannot decide which one to make a try, don't worry because both platforms offer free trials, which can be helpful to explore their features before committing.
When it comes to comparing the pricing of Shopify vs BigCommerce, the only significant difference we notice is that BigCommerce doesn't limit the number of staff accounts you can create, while Shopify Basic allows only two. Both provide unlimited products, file storage, and bandwidth, as well as 24/7 live chat and phone support.
For the more advanced plans, Shopify offers $49 and $299 plans while BigCommerce charges $105 and $399 for its top-tier plan. Both offer the same range of features with their advanced plans, such as abandoned cart recovery, fraud analysis and customer segmentation. However, Shopify Advanced also includes an advanced report builder, which is useful for tracking and analyzing sales data.
Besides, there are other fees you should be aware of when comparing Shopify and BigCommerce. Both platforms charge credit card processing fees, in the range of 2.05% to 2.9% + 30c per transaction.
In addition, as businesses grow, the cost of hosting e-commerce stores can become quite expensive. This is especially evident when comparing Shopify vs BigCommerce.
While Shopify may have an edge in terms of features and ease of use, once your sales hit a certain volume threshold (approx $125,000), BigCommerce will start to become more expensive than its Shopify counterpart.
This is due to BigCommerce's recently changed pricing model, which requires businesses to upgrade to an Enterprise plan if they make more than $125,000 in sales. This means that growing businesses may find themselves paying anywhere from about $900 to $1,500 dollars a month on their hosting fees. A cost that can easily outweigh the benefits of an upgraded plan.
Overall, Shopify and BigCommerce have similar pricing plans that fit different e-commerce business sizes and needs. So depending on what you're looking for, either platform could be a great option for you.
Enterprise Plan
If you run a large-scaled business, the Enterprise plan is probably the most important factor to consider.
BigCommerce Enterprise and Shopify Plus offer all of the benefits that regular BigCommerce and Shopify platforms already have as well as more advanced features designed to make e-commerce business operations easier, faster, and more secure.
High server uptime is a must for any online store, so both BigCommerce Enterprise and Shopify Plus include dedicated IP addresses and SSL certificates for extra security. Additionally, both platforms offer advanced API support that makes it easy to integrate with other applications and services.
Finally, the enterprise versions of BigCommerce and Shopify come with extra security features that ensure your store is safe from hackers and malicious software.
Once you decide to upgrade to an Enterprise plan with either Shopify or BigCommerce, it's time to contact the team for each platform and get a quote. This is necessary because even though both platforms offer Enterprise plans, their services are tailored to meet your individual needs. Therefore, you'll want to make sure that whatever platform you choose can provide all the features, support, and services that you need for your business.
BigCommerce Enterprise
Shopify Plus

No extra transaction fee
A 24/7 customer support team
Highly customizable and responsive user interface
Powerful tools and built-in apps
Advanced DDoS protection
Selling on multiple channels, such as Amazon, Facebook, Google Shopping, and eBay

3D product pages, customizable checkout pages
Enhanced security
Custom automation strategies
Improved checkout performance
Localized experiences for global customers
No additional transaction fees
2. Key eCommerce features
When it comes to Shopify vs BigCommerce, both platforms are reputable and reliable of e-commerce features. Both come packed with every standard one you'd expect such as:
Mobile responsive website
Mobile app
Unlimited orders
Unlimited bandwidth
24-hour live chat and phone support
Inventory management
Shipping options
Customer accounts
There are several features that you can easily find out on the Shopify and BigCommerce platforms. So, there is not much difference in the platform features and capabilities when compared Shopify vs BigCommerce. Both offer comprehensive e-commerce solutions that can meet a wide range of business needs and preferences.
Nonetheless, to help you pick the right one and not waste too much time making a comparison, you can simply takeaway that Shopify is popular thanks to its ease of use and a rich Shopify app store. Additionally, it has a powerful dropshipping system that makes it easy to get started.
On the other hand, BigCommerce will be an excellent choice if you're looking for a reliable platform with extra security and rich built-in features. They offer three tiers of hosting solutions and include DDOS protection, ensuring your store never goes down. Additionally, they provide tools that make it easy to get your products listed on product comparison sites like Google Shopping.
3. Designs and User Experience
About Shopify
The Shopify themes come grouped into categories, so if you have a particular niche in mind (clothing, fashion, home goods, etc.), it's going to be easy to find something that fits your needs. Moreover, the ability to customize these themes is impressive as they offer features like drag-and-drop elements and sections, and the ability to customize colors and fonts.
In other words, Shopify offers you more features, more control over the look and feel of your store, and more third-party integrations.
Besides, Shopify themes are mostly created by third-party designers. When comparing Shopify vs BigCommerce, the main difference is that Shopify has a much larger selection of premium themes, which range from $80 to $200. Meanwhile, BigCommerce does offer some free and paid templates, but they tend to be a bit more limited in features and customization options.
In terms of user experience, both BigCommerce and Shopify are top-notch choices thanks to their hosted nature. Originaly hosted eCommerce platform was born to serve merchants who are not tech-savvy.
With Shopify, you can enjoy easy navigation an intuitive dashboard. The admin dashboard is also very user-friendly, making it easy to find the information you need, even if you're a first-time user.
About BigCommerce
Now let's move on to BigCommerce. While Shopify has crafted its user experience by taking cues from existing online tools and content management systems (CMS), BigCommerce takes a more unique approach to much of its platform's interface.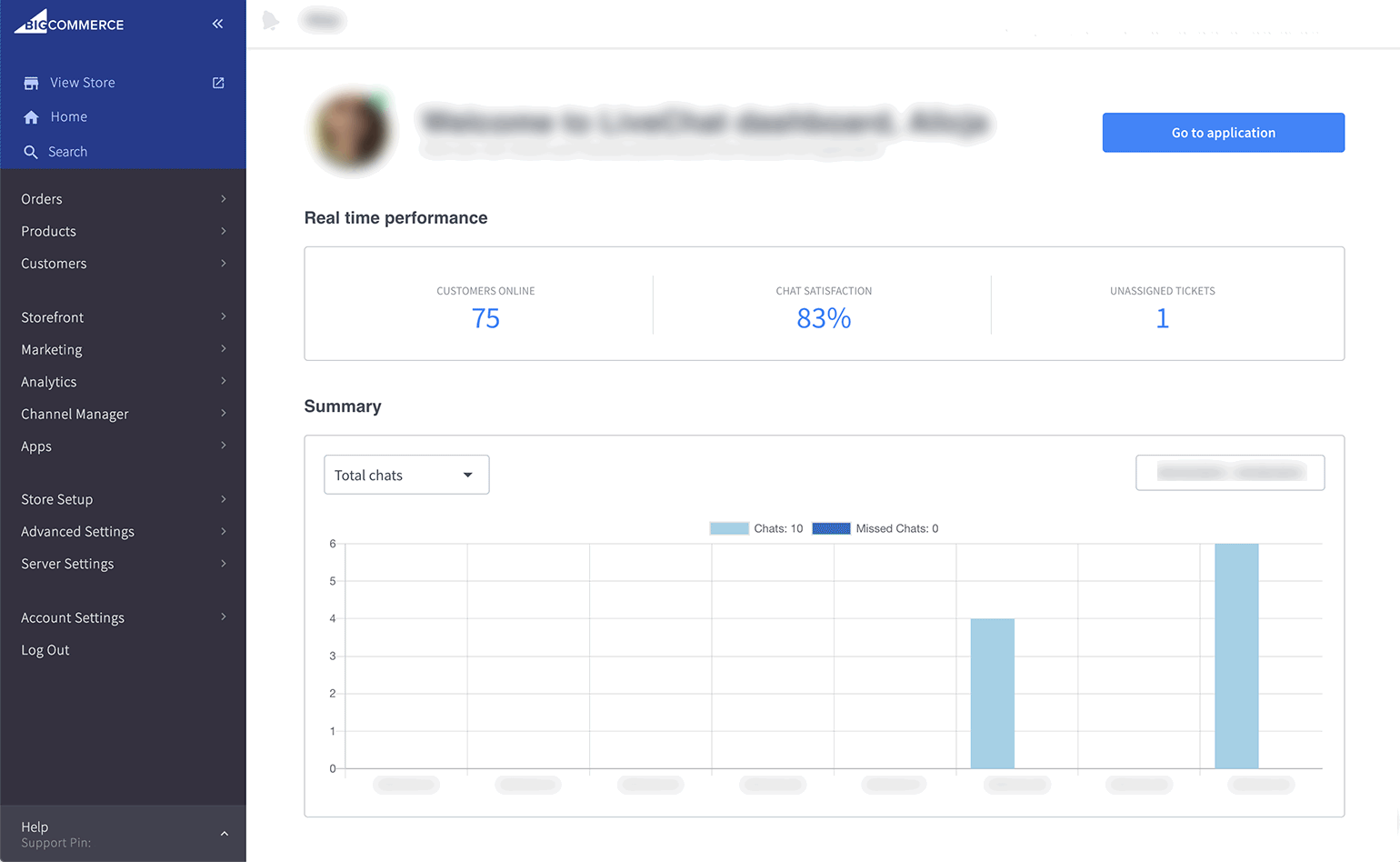 The benefit of this dashboard lies in the additional, more advanced options that are available for tasks like adding a product. This provides users with greater control and flexibility over their store than is available with Shopify. On the other hand, certain basic tasks may be slightly more cumbersome on BigCommerce than they are on Shopify due to its complexity.
Just like Shopify, BigCommerce has a wide range of themes as well, with about 70 free and paid options for you to choose from. BigCommerce's themes come with some great options like mobile-responsive designs and support for multiple languages. It also offers greater customizability, allowing you to quickly and easily make modifications and add custom CSS if you need.
Ultimately, when it comes to user experience, it comes down to individual preferences. All we can say is, if you are looking for more control and flexibility over your store, then BigCommerce may be the better option. Otherwise, if you prefer intuitiveness and ease of use, go for Shopify.
4. Extensions
When it comes to Shopify vs BigCommerce app store, we are a little bit biased towards Shopify. Don't get me wrong, both platforms have a wide range of apps available in their respective app stores. Let's go into more details:
About Shopify
Shopify app store offers over 8000 different apps developed both in-house and by third-party developers, giving you access to a variety of solution from store builder to optimizing conversions, SEO, marketing, customer retention, social media integration and products fulfillment. Shopify also has an extensive set of APIs which allows users to extend their store with custom solutions.
About BigCommerce
Just like Shopify, BigCommerce offers over 1100 free and paid apps that store owners can use to add additional features with a few clicks.
With BigCommerce, you can also take advantage of built-in features like product reviews, custom fields, and abandoned cart emails. Besides, BigCommerce also offers an extensive library of resources to help its customers on their ecommerce journey.
All of these features make it easy for store owners to create a unique shopping experience tailored to their customers' needs. Thus, it's no wonder that BigCommerce is one of the leading choices for growing stores.
Although both platforms offer a great selection of apps from a wide range of categories, Shopify's app store is slightly richer in terms of overall options. That being said, you'll be hard-pressed to find an app on Shopify that you cannot find a comparable version of on BigCommerce.
5. POS Solutions
When it comes to the ability to accept payments in person, Shopify and BigCommerce offer similar capabilities. Both platforms allow users to set up a Point of Sale (POS) system using their own mobile devices. This system provides all the necessary tools for efficient transactions such as barcode scanners, receipt printers, label printers, and cash registers.
When comparing your POS options with Shopify and BigCommerce, you should consider the level of user-friendliness you are looking to create. Do you need a simple system that is easy to setup and use? Or do you need something more complex in terms of features and capabilities? Both Shopify and BigCommerce have the tools necessary to support your needs.
When setting up, BigCommerce requires you to integrate hardware with third-party platforms, such as Square and Shopkeep, while Shopify offers direct POS hardware solutions from its own brand. This eliminates any confusion around dealing with multiple brands.
However, Shopify's POS does come with an expensive add-on called Shopify POS Pro, which costs $89 per month. Nonetheless, you do get much more out of it than the standard plans, such as detailed analytics and marketing tools that help you better understand your customers.
If you're considering building an ecommerce website for your small business, Shopify and BigCommerce offer add-on support that can help make the process easier. Both platforms provide features like multiple selling locations, collect in-store and buy online functionality, printed receipt support, staff role and permissions management, and sales attribution for specific staff members.
| | | |
| --- | --- | --- |
| Feature | Shopify POS | BigCommerce POS |
| Pricing | Starts at $29/month | Starts at $29.95/month |
| Hardware compatibility | Works with a variety of hardware devices | Works with a variety of hardware devices |
| Payment methods | Supports credit cards, Apple Pay, Google Pay, and more | Supports credit cards, PayPal, Amazon Pay, and more |
| Customizability | Offers a range of customizable templates and themes | Allows for more advanced customization through APIs and webhooks |
| App marketplace | Offers a large app marketplace with many integrations | Offers a smaller app marketplace with fewer integrations |
| Inventory management | Offers advanced inventory management features, including product variants and stock management | Offers advanced inventory management features, including product options and low-stock alerts |
| Sales reporting | Offers detailed sales reporting and analytics | Offers detailed sales reporting and analytics |
| Customer support | Offers 24/7 customer support via phone, email, and chat | Offers 24/7 customer support via email and chat |
Ultimately, the choice between Shopify and BigCommerce comes down to your store's needs – which platform best fits the type of products you're selling, budget considerations, and any other specific requirements.
6. Payment Process
Shopify and BigCommerce both offer comprehensive payment processing solutions for your e-commerce businesses.
| | | |
| --- | --- | --- |
| Aspect | Shopify | BigCommerce |
| Payment gateways | Offers a wide range of payment gateways, including Shopify Payments, PayPal, Stripe, Amazon Pay, and more | Offers a wide range of payment gateways, including PayPal, Stripe, Amazon Pay, and more |
| Transaction fees | Charges additional transaction fees for using external payment gateways, ranging from 0.5% to 2% depending on the plan | Does not charge transaction fees for using external payment gateways |
| Payment processing fees | Shopify Payments charges a credit card processing fee ranging from 2.4% to 2.9% + 30 cents per transaction, depending on the plan and country | BigCommerce does not charge additional credit card processing fees for using third-party payment gateways |
| Payment options | Allows for flexible payment options, such as installment payments and buy now, pay later | Offers some flexible payment options, such as PayPal Credit and Afterpay, but not as many options as Shopify |
About Shopify
Shopify provides a wide range of payment options, but the only one that is fee-free among more than 100 other payment providers is Shopify Payments. This service lets you accept payments from various countries and offers a great way to save on costs.
Shopify Payments gives you plenty of flexibility and is straightforward to use without the need to set up separate gateways like Stripe and PayPal. You may want to offer customers different payment options for better conversion rates. In addition, Shopify has great tools to enhance your sales including a powerful inventory, multi-channel selling capabilities, and abandoned cart recovery.
Furthermore, the platform offers incredible support, such as customer service and analytics to track your business performance. It is also designed to be user-friendly, with easy integration with other apps and services. With Shopify Payments, you can rest assured that your transactions are safe and secure. It's a great option for e-commerce businesses of all sizes looking for a reliable payment processor.
Finally, Shopify offers a wide range of apps and add-ons to expand the capabilities of your ecommerce site. You can even control your store from any location with the convenient mobile app. With Shopify, you don't have to worry about being restricted by pre-built tools—you can customize your experience as much as you want.
About BigCommerce
BigCommerce offers a wide selection of more than 65 payment gateways to choose from, supporting over 100 countries and 250 local payment methods. With its easy one-click setup, it's simple to accept all major credit cards, as well as popular services such as Apple Pay and Amazon Pay. Stripe is also included for secure transactions.
Moreover, BigCommerce makes it easy to sell a variety of products, from digital services to physical goods. Plus, you won't have to worry about transaction fees or downloading extra apps – BigCommerce is optimized for mobile and supports multiple currencies, giving customers an excellent buying experience regardless of their device or location.
Nonetheless, BigCommerce provides a lot of features that can make running an online store simpler, but getting everything set up is not always an easy process. As there are more complex options to choose from, it can be difficult to get everything going initially.
Still, the platform has built-in safeguards like fraud prevention tools and regulatory compliance measures which provide added security.
Both Shopify vs BigCommerce offer secure and reliable payment processing solutions for eCommerce businesses. However, their features and capabilities differ depending on the size and complexity of your online store. Consider your needs carefully before deciding which platform is right for you.
Shopify vs BigCommerce: Which one is better?
Now we've come to the end of our head-to-head Shopify vs BigCommerce comparison. Both 2 of them are amazin solution for store owners to set up and launch their store easily.
Before making the decision to choose one, remember to weight down all the pros and cons of each platform and consider your business goals, strategies & needs.
Shopify
BigCommerce
Pros

User-friendly interface and easy setup
Wide range of customizable templates and themes
Large app marketplace with many integrations and add-ons
Strong SEO features
Excellent customer support
Reliable hosting and security features
Offers a wide range of payment gateways

Strong built-in SEO features
Advanced customization options for experienced users
Robust inventory management features
Large number of product options and variations
Good integration with third-party tools
Reasonably priced for the features offered
No transaction fees for using external payment gateways

Cons

Limited customizability for advanced users
Can be more expensive than some competitors
Transaction fees for using external payment gateways

Steep learning curve for beginners
Limited selection of templates and themes
Smaller app marketplace than some competitors
Can be slower than some competitors
Customer support is not as highly rated as Shopify
Conclusion
To wrap up, both Shopify and BigCommerce offer powerful e-commerce solutions that are suitable for businesses of all sizes. However, each platform has unique features and capabilities that may be better suited for certain types of businesses.
When deciding between Shopify vs BigCommerce, it is important to consider the needs of your e-commerce business in terms of features, scalability, and price. Shopify is best suited for businesses that need more features, while BigCommerce is better equipped to handle large-volume stores. By carefully weighing the pros and cons of both platforms in a head-to-head comparison, you can make an informed decision about which platform will work best for your online store.