Imagine this: You've spent countless hours creating the perfect online store, filled with beautiful products, catchy product descriptions, and stunning visuals.
You launch your store, excited to see the sales roll in, but then you start to wonder – how much does Shopify take per sale?
It's a critical question for any e-commerce entrepreneur and one that can significantly impact your bottom line.
Luckily, we've got you covered.
In this article, we'll take a deep dive into Shopify's pricing structure, including transaction fees, subscription plans, and more, so that you can make a more informed decision.
You might also be interested in:
What is Shopify?
Shopify is a complete commerce platform that lets you start, grow, and manage a business
If you're looking to build your own online store, Shopify is an application that can help you do just that. With Shopify, you don't need to worry about installing any software or buying hosting because it's a 'hosted' solution that runs in a web browser.
Depending on the pricing plan you opt for, Shopify offers an array of functionalities that allow you to sell an unlimited number of products, whether they're digital or physical. Plus, you can pick a 'theme' to use as the basis of your store design.
We have a detailed explanation of Shopify through the article How does Shopify work? You can read for more information.
Just in case you wanna know more about Shopify and how to set it up, you can check out our video right here:
Shopify offers 5 different pricing plans that cater to businesses of all sizes and budgets.
These plans are Starter, Basic, Shopify, Advanced, and Shopify Plus, with prices ranging from $5 per month to negotiable rates of Shopify Plus.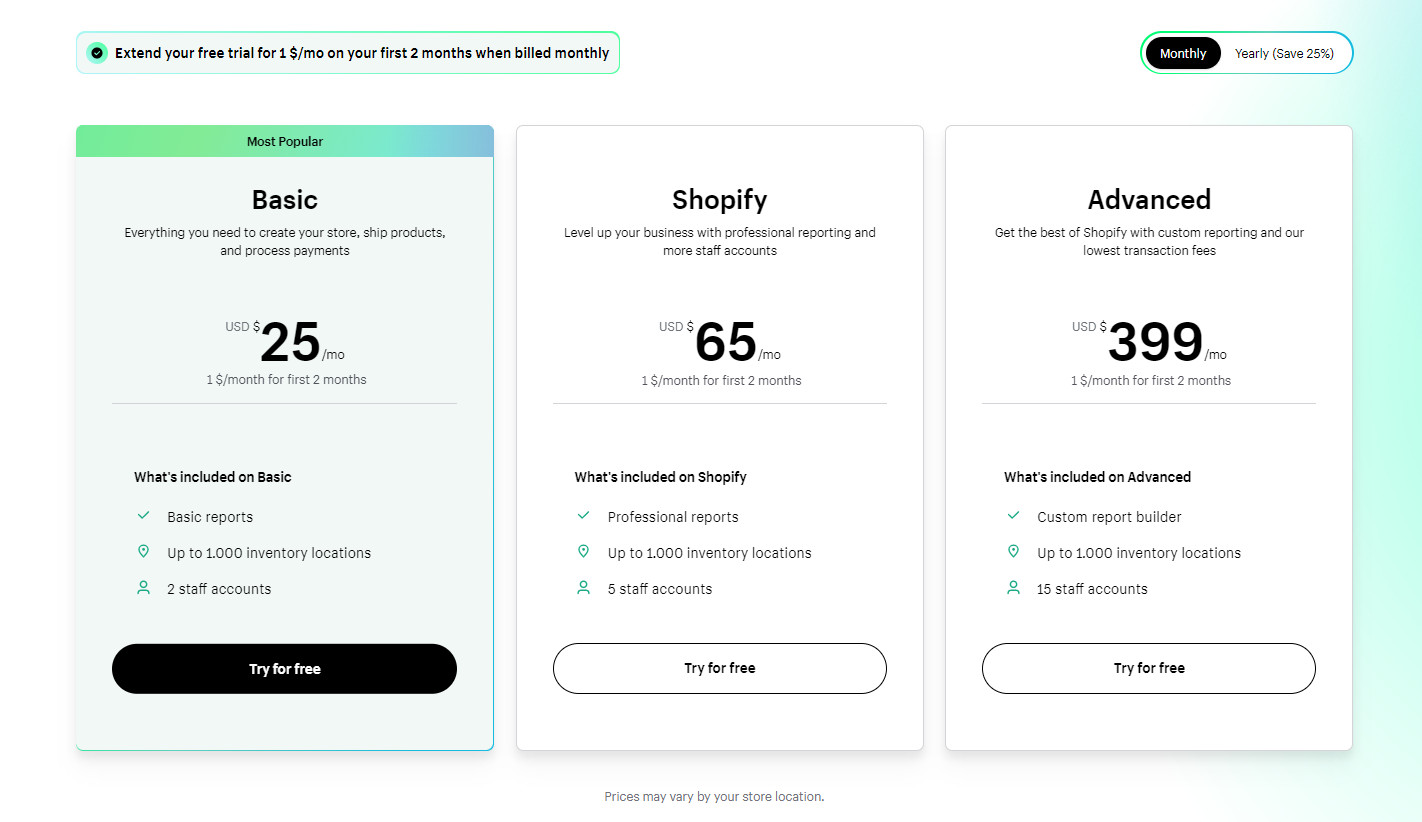 However, Basic, Shopify, and Advanced are the most popular for many merchant owners:
The Basic plan starts at $25 per month and includes everything you need to create an online store, ship products, and process payments. It includes basic reports, up to 1,000 inventory locations, and 2 staff accounts.
The Shopify plan starts at $65 per month and provides professional reporting, up to 1,000 inventory locations, and 5 staff accounts. This plan is suitable for businesses looking to level up their online presence and expand their staff accounts.
Finally, the Advanced plan costs $399 per month and is designed for businesses that need the best of Shopify. Additionally, the Advanced plan has the lowest transaction fees of all Shopify plans.
Regardless of which plan you choose, Shopify offers a free trial, so you can test out the platform and features before committing to a subscription. Moreover, by purchasing an annual subscription, you can significantly reduce your costs, as Shopify offers a 25% discount at the time of writing.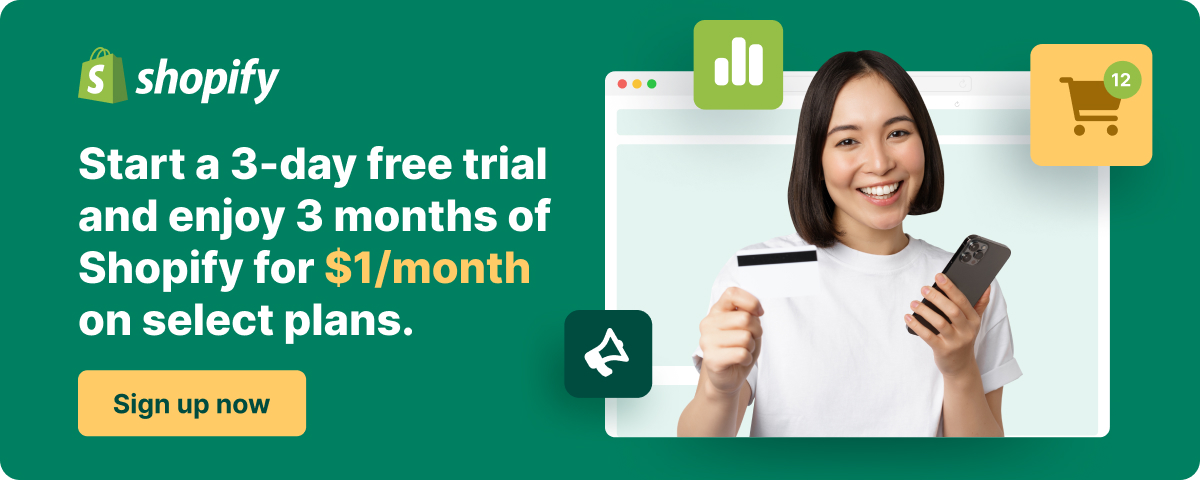 Shopify Pricing Plans
1. Starter
The Shopify Starter plan is designed for new merchants who want to sell through social media or messaging apps without the need for an online store. This plan lets you create product links that can be shared on social media posts or messages, and when you're ready to start selling, you can activate checkout by deciding on a paid plan or removing your storefront password.
In addition to the standard features, the Starter plan offers competitive transaction fees, the Spotlight theme, reporting tools, and support for international commerce through Shopify Markets.
2. Basic
If you're just starting out with your online business, Shopify's Basic plan has everything you need to get up and going. With this plan, you'll get access to the Shopify admin where you can set up and personalize your online store, and manage your products, orders, and customers.
The Basic Shopify plan supports two staff accounts, offers competitive transaction rates, and comes with an SSL certificate to protect your online store's data. It also has a built-in blogging engine, so you can use it to share news and promotions with your audience.
3. Shopify
With all the same features as the Basic Shopify plan and cheaper credit card rates and transaction fees, the Shopify plan is ideal for expanding enterprises. In the Shopify Admin, you have access to robust reports that provide you with specific sales statistics, allowing you to better plan for expansion. In addition, you can learn more about your clientele and their shopping habits by perusing customer reports.
Some of what you get with a Shopify subscription:
Low, market-based transaction costs: The Shopify plan has lower transaction fees than the Shopify Basic plan. Shopify's price page lists the particular transaction costs for each plan in your location.
Staff access: Up to five employee accounts are allowed with the Shopify plan.
Reports: Using reports, you can keep tabs on how well your company is doing.
Shopify Markets: A cross-border management tool included in your Shopify package that allows you to tailor your store's configurations for each international market.
4. Advanced
The Advanced Shopify plan is a comprehensive e-commerce solution that offers advanced features to help you manage and grow your business. It includes all the features of the Basic Shopify and Shopify plans, as well as additional tools like carrier-calculated shipping and custom reports.
With the lowest transaction fees and support for up to 15 staff accounts, this plan is ideal for businesses looking to expand internationally and succeed in the competitive e-commerce landscape.
5. Shopify Plus
Shopify Plus is a plan offered by Shopify that is specifically designed for high-volume merchants. It offers a variety of features to help merchants grow their businesses. Here are some of the features included in Shopify Plus:
Shopify's organization admin
Specialized apps and channels
Unlimited staff
Customizable checkout
API resources
Launch team support
Merchant Success Program
And many more!
For more information, we have indeed explained the details about what Shopify Plus is in our article. You are welcome to read it for more information of your choice!
Shopify costs
Shopify offers different pricing plans to cater to the needs of businesses of all sizes. The rates we discussed earlier were based on the assumption that you will be paying monthly. However, Shopify provides discounts when you purchase an annual, biannual, or three-year plan.
If you are new to Shopify, it's best to start with a monthly plan so that you can determine which plan suits your business needs.
Once you are sure about the plan you need, you can cut costs by purchasing an annual, biannual, or three-year plan depending on your budget and business requirements.
Here are the fees for each pricing plan:
Basic Shopify:

Monthly: $25 per month
Annually: $225 per year (equivalent to $19 per month)
Shopify:

Monthly: $65 per month
Annually: $588 per year (equivalent to $49 per month)
Advanced Shopify:

Monthly: $399 per month
Annually: $3,588 per year (equivalent to $299 per month)
Shopify Plus:

Monthly: Starts at $2,000 per month
Annually and bi-annually: Pricing is customized and negotiated based on your business needs
In addition to the plan fees, Shopify charges a credit card rate and the transaction fee for each sale made on the platform. The rates for these fees vary depending on the country where your business is located. Shopify also offers additional features and services for an extra fee, such as domain name registration, shipping and fulfillment services, and advanced analytics.
How much does Shopify take per sale?
Shopify does deduct a small transaction fee from the proceeds of each sale, but this price is little in the grand scheme of things. In fact, which Shopify package you select will largely determine your processing fees. Each transaction's processing charge will be established by the mode of payment selected by the consumer.
Moreover, Shopify charges a flat processing fee based on the selected payment gateway. Except for those on the cheapest "Starter" plan, the processing charge for these alternative payment methods is cheaper than that for credit cards.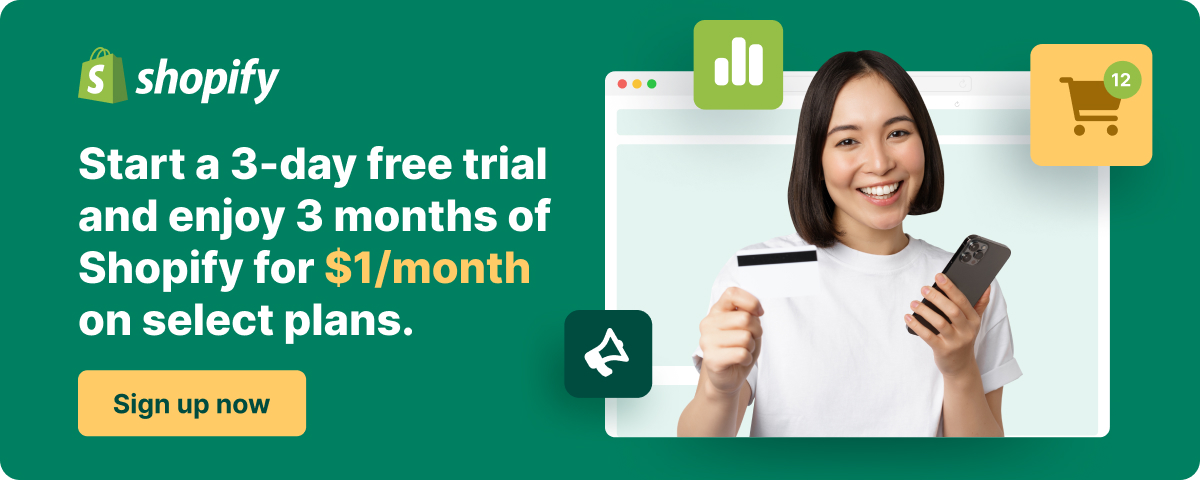 The percentage Shopify takes per order
As mentioned, Shopify charges a percentage fee per order based on the plan you choose and the type of transaction you make.
Here's a breakdown of the percentage Shopify takes per order for each plan:
| | | |
| --- | --- | --- |
| Plan | Monthly Cost | Transaction Fees |
| Starter | $5 | 5.0% |
| Basic | $29 | 2.0% |
| Shopify | $79 | 1.0% |
| Advanced | $299 | 0.5% |
| Shopify Plus | Starting from $2000/month | 0.15% |
Additional costs per order
In addition to knowing how much Shopify take per sale, there are other costs that merchants should also be aware of when running an online store. These costs include payment gate fees, shipping fees, and transaction fees.
1. Payment gateway
Payment gateway fees are fees charged by third-party payment processors such as PayPal, Stripe, and Square for processing credit card transactions. These fees can vary depending on the payment processor and can range from 1.9% to 3.5% per transaction.
2. Shipping fee
Shipping fees are the fees charged by carriers such as USPS, UPS, and FedEx for shipping products to customers. These fees are determined by factors such as the weight and size of the package, the shipping destination, and the shipping method. Merchants can choose to pass on these fees to customers or include them in the product price.
3. Transaction fee
Banks and credit card firms impose transaction fees on customers in exchange for handling financial transactions. These costs are typically between 1.5% and 3.5% of the total value of the transaction. A flat transaction fee is an additional fee that may be charged by some payment processors.
4. Other fees
In addition to these fees, merchants may incur other costs, such as chargeback fees, which are levied by financial institutions for handling customer requests to reverse previously authorized purchases. The costs of using Shopify's marketing and shipping tools, for example, can pile up quickly.
When determining their product prices and margins, retailers should take these additional costs into serious consideration. These expenses need to be accounted for to keep the firm sustainable and profitable.
Break down merchants' costs using Shopify
Here we will detail the many fees that merchants will incur when utilizing Shopify, including transaction fees, payment gateway fees, shipping fees, and others. With this knowledge in hand, businesses may set more realistic prices and maximize their profits.
Fee Type
Starter Plan
Basic Plan
Shopify Plan
Advanced Plan
Shopify Plus
Monthly Fee
$5
$29
$79
$299
Starting from $2000/month
Credit Card Fees – Online
5.0% + $0.30
2.9% + $0.30
2.6% + $0.30
2.4% + $0.30
2.15% + $0.30
Credit Card Fees – Physical
–
2.7%
2.5%
2.4%
2.15%
International/AMEX Fees
3.9% + $0.30
3.9% + $0.30
3.6% + $0.30
3.4% + $0.30
1.0%
Third-Party Payment Fees
5.0%
2.0%
1.0%
0.5%
0.15%
Shipping Fees
Vary
IMPORTANT NOTICE: Shipping fees are not included in the table as they vary depending on the merchant's shipping carrier and the customer's location. Shipping fees are typically calculated and charged separately by the merchant and are not processed through Shopify.
How to reduce Shopify costs and save more money for merchants
Shopify is a great platform for online stores, but it may be expensive to use, especially for new firms. In the following section, we will go through a few different ways to cut the costs of using Shopify and save more money.
1. Use Annual Shopify Plans
One of the easiest ways to save money on Shopify is to sign up for an annual plan instead of a monthly plan. If you pay for an entire year of Shopify in advance, you can save 10%. This equates to a yearly savings of $35 for those on the Basic plan. If you use Shopify, you can save $94 yearly, and $358 by opting for the Advanced plan.
2. Use Free Shopify Themes
Shopify offers a wide range of themes for merchants to choose from. While some themes are paid, there are also many free themes available. By using a free theme, you can save money on the cost of hiring a web developer or designer to create a custom theme.
Free themes are also mobile-responsive and optimized for SEO, so you can ensure that your store looks good on all devices and is easy to find on search engines.
3. Use Free Shopify Apps
Shopify's app store allows retailers to customize the platform to meet their own needs. There are some commercial apps, but the majority are entirely free. Rather than spending money on a developer to make unique functions for your store, you can get what you need from existing free apps.
Because they are so simple to install and configure, free mobile applications not only save you money but also a significant amount of time.
Conclusion
In conclusion, knowing how much Shopify take per sale is crucial for merchants to make informed decisions about using the platform for their business. While the fees may seem high, Shopify offers a range of plans and features to suit businesses of all sizes and needs.
By carefully selecting a plan, utilizing Shopify Payments, and taking advantage of cost-saving measures such as free themes and apps, merchants can minimize their costs and maximize their profits.
Ultimately, the benefits of using Shopify, such as its user-friendly interface and wide range of integrations, may outweigh the fees for many businesses.