Imagine that you are an entrepreneur with a passion for design and a vision for success. You want to create your own brand of T shirts that will appeal to both sellers and customers in the online world. How do you achieve this goal?
The answer is simple: dropshipping T shirts!
This is a great way to start your own business, without having to worry about inventory, production, or shipping. You can focus on creating amazing designs and marketing strategies that will make your T shirts stand out from the crowd. All you need are some guidance, tools, and tips, which we will provide you in this guide.
By the end of this guide, you will be ready to launch your own custom T shirts dropshipping business and make your dreams come true.
Are you ready to join us on this exciting journey? Let's get started!
🔑  KEY TAKEAWAYS:
Custom T-shirts are garments that are personalized with graphics, text, or artwork to reflect the style, message, or branding of individuals, groups, or businesses.
The demand for custom T-shirts remains consistently strong, with low overhead costs as there is no need to invest in inventory or warehouse space.
The top suppliers for dropshipping t shirts include AliExpress, Shein, and CJDropshipping.
What Are Custom T-shirts?
Custom T-shirts are clothes that are personalized or customized according to the preferences of the customer. Custom T-shirts can have different designs, colors, sizes, styles, logos, texts, images, or other elements that make them unique and expressive.
The demand for this type of product is always high, no matter the season. The global market for custom T-shirts was worth USD 3.64 billion in 2020 and is expected to more than double by 2028, reaching USD 7.57 billion.
That's a huge opportunity for anyone who wants to join this exciting and creative industry, and there's no sign of it slowing down.
Is Dropshipping T-shirts Profitable?
Yes, dropshipping t-shirts offer immense potential for high profitability thanks to their low overhead costs, abundant customization opportunities, and ample marketing and branding possibilities.
When it comes to dropshipping, you can imagine a ton of product lists that can be potential. According to Statista, the fashion industry, particularly custom clothing, is a top performer in total eCommerce, with projected spending reaching USD 205 billion in 2022.
And here's why dropshipping tshirts is profitable:
Low Overhead Costs: One of the primary advantages of dropshipping is that you don't need to invest in inventory or warehouse space
Customization Opportunities: Custom T shirts allow for personalization, and customers often seek unique designs or messages that reflect their interests or identities. This opens up opportunities to create niche-specific T shirt designs that resonate with specific customer segments.
Marketing and Branding: T shirts can serve as walking advertisements for brands, causes, or messages. You can leverage this marketing potential by creating T shirts that convey compelling messages or promote popular trends.

Top 5 Custom Dropshipping T shirts Suppliers
When it comes to your suppliers, it's essential to choose the most suitable one carefully. The suppliers are the ones responsible for ensuring your customers get the exacst ordered T shirts, on time and in great quality.
Here are the top 5 custom dropshipping T shirts suppliers:
AliExpress
CJDropshipping
Gelato
Printful
Shirtee
Let's go into more details:
1. AliExpress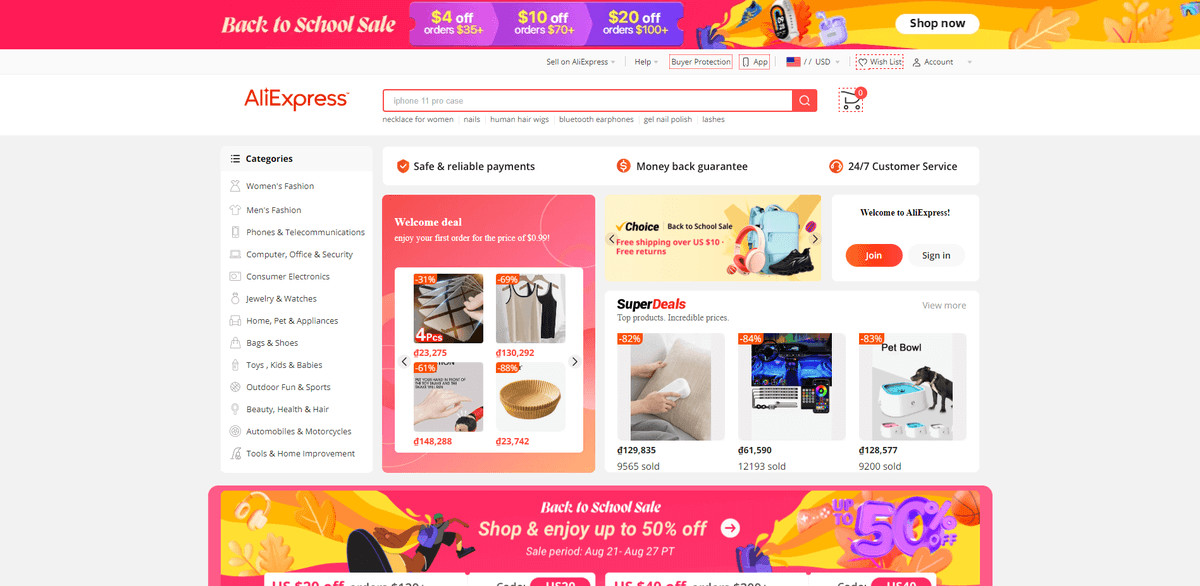 Our first dropshipping T shirts supplier is AliExpress, an online retail platform known for its vast product selection, sourced from sellers worldwide.
You can explore the best-selling items, and filter by categories, ratings, prices, and more. Plus, you get to enjoy the protection and security that AliExpress provides for both buyers and sellers. With AliExpress, you can dropship millions of custom products from sellers all over the world!
✅ Pros
❌ Cons

Offer a wide variety of products
Save costs

A highly competitive environment
Slow delivery sometimes

📍 Pricing: No initial expenses or fees.
2. CJDropshipping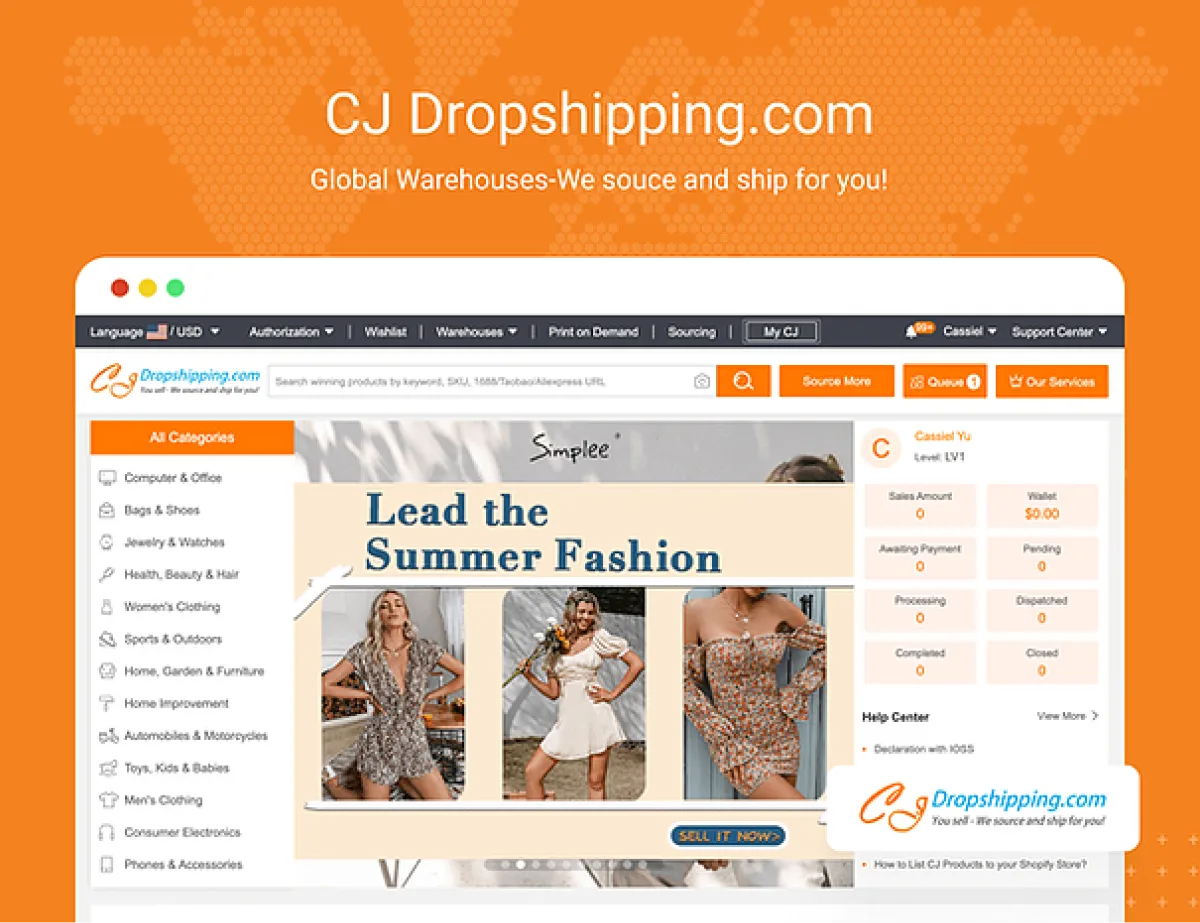 CJDropshipping is a platform that connects dropshippers with trustworthy suppliers. It offers a wide range of products, including custom dropshipping T shirts. You can find the perfect products for your niche and target market by browsing through thousands of options.
CJDropshipping displays information about each product, such as the variations, the compatible online store platforms, and the available shipping methods.
Moreover, the platform has 32 warehouses worldwide, so you can deliver your products to your customers quickly and efficiently. You can choose from three different shipping methods: CJPacket Liquid Line, Post NL, and DHL.
With CJDropshipping, you can enjoy high-quality products, fast delivery, and excellent customer service.
✅ Pros
❌ Cons

Automatically fulfill orders and purchase bulk
Support supplier communication
List products on various social platforms, including Shopify, WooCommerce, Amazon, and TikTok.

📍 Pricing: No initial investment is required to create an account and place orders.
3. Gelato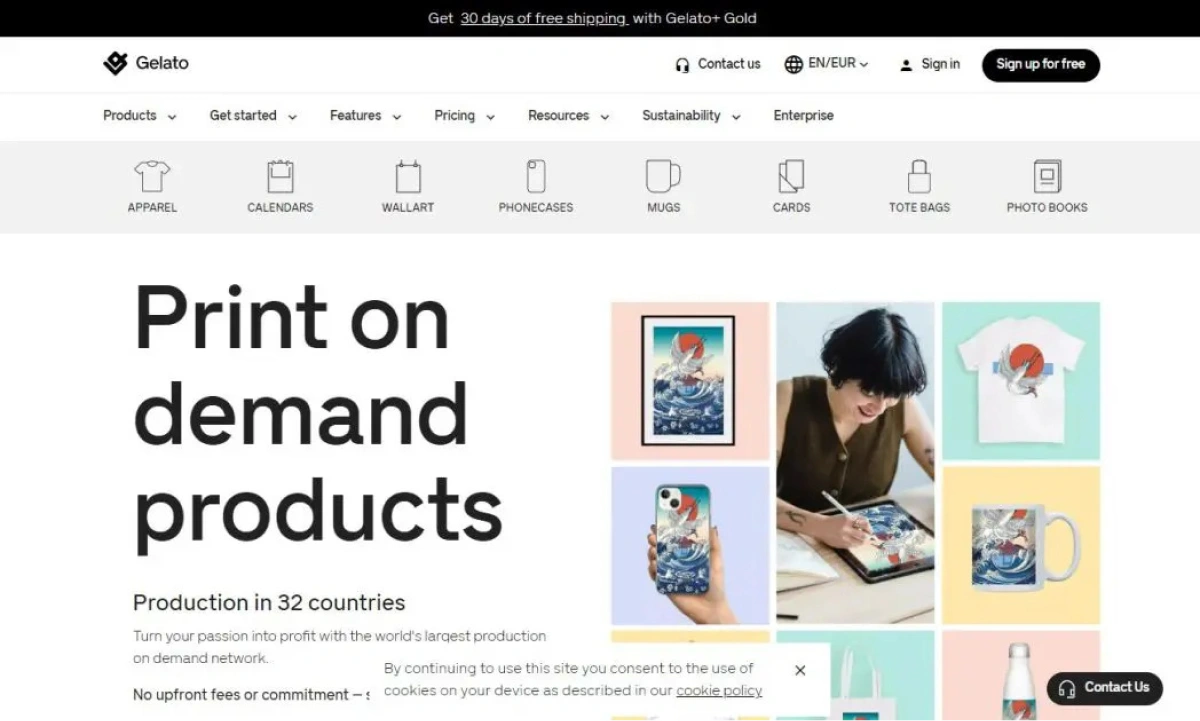 In contrast to some aforementioned competitors, Gelato may not have the same level of recognition. However, it has a presence in 34 countries and collaborates with over 100 trusted print partners.
Additionally, Gelato is the preferred choice for thousands of eCommerce stores that specialize in offering a wide array of customized items produced locally. Consequently, these items can often be delivered within a swift 72-hour timeframe.
✅ Pros
❌ Cons

Intuitive and easy-to-use UI
Employs print solutions sourced locally to minimize the environmental impact
Free Plan and Gelato+

No phone support is available
Access to high-quality stock images requires a Gelato+ subscription

📍 Pricing: There is no charge for signing up, and as an added benefit, once you've registered, you have a 72-hour window to avail of a 50% discount on your first order.

Gelato offers a paid plan called Gelato+, which includes a 30-day trial period and is priced at $7.99 per month when billed annually.
4. Printful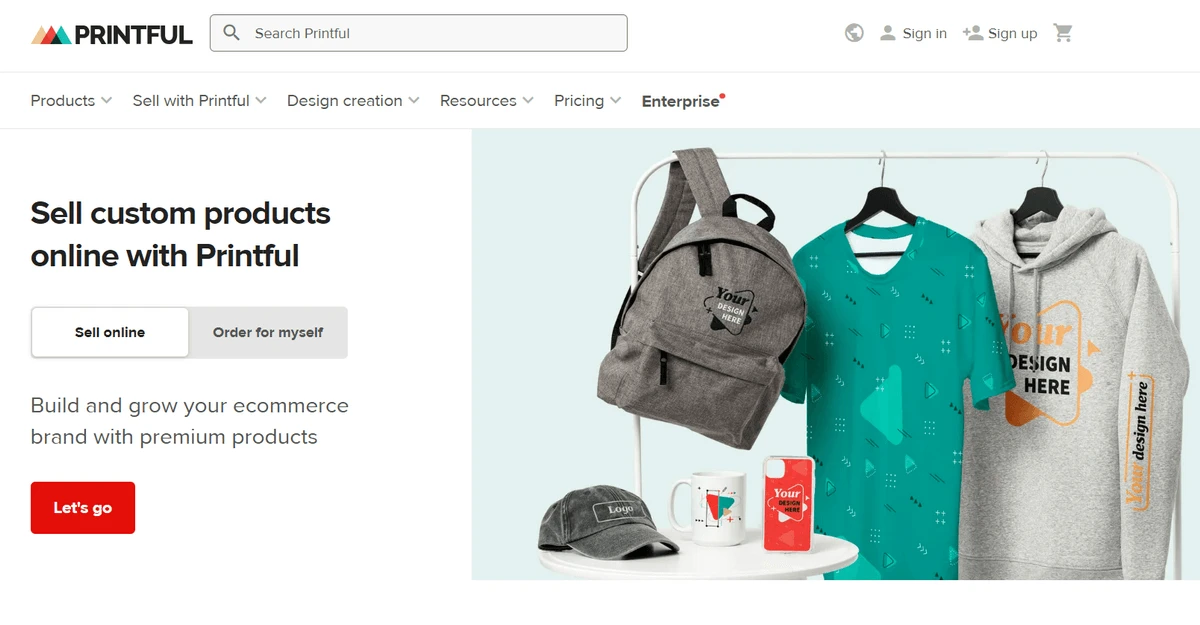 Over 390,000 clients are an astonishing number that Printful serves, specializing in printing T shirts on demand. It is distinguished by its seamless integration with nearly every major e-commerce platform, marketplace, sales channel, and API.
Furthermore, you can find various premium products, such as clothing, mugs, backpacks, stickers, posters, flip-flops, and more. The service is super careful since you are offered replacements for stolen or damaged items.
✅ Pros
❌ Cons

Fast delivery
Compatible with Shopify, WooCommerce, Amazon, and Magento
Offer a mockup generator
Have branding options

Fewer product options compared to CJ Dropshipping
Delay sometimes when printers are unavailable

📍 Pricing: No minimum order quantity is needed.
5. Shirtee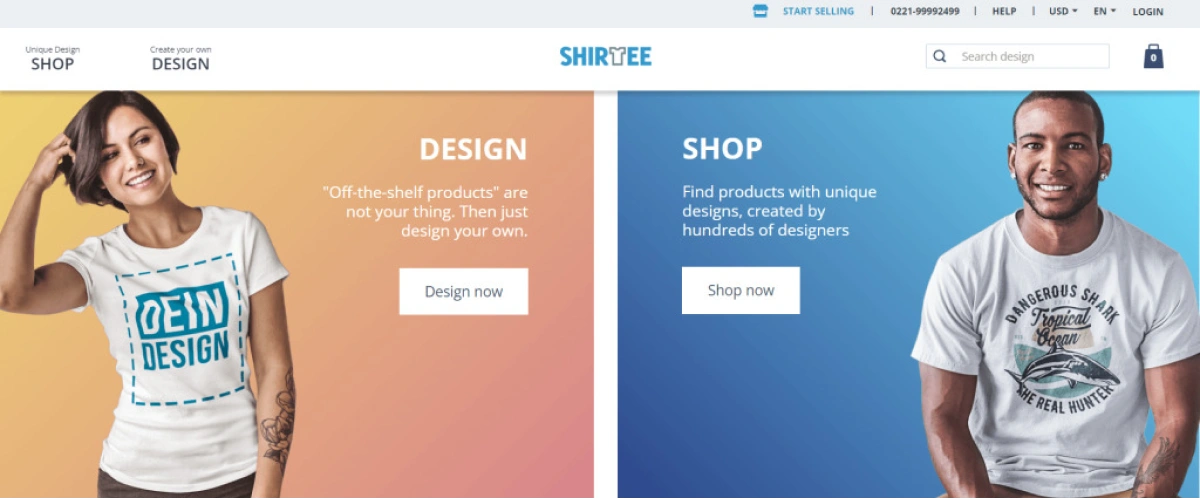 Shirtee, based in Germany, specializes exclusively in the on-demand printing of T shirts and shirts. Your own business can produce premium products for both private-label and white-label dropshipping.
Moreover, dropshippers benefit from an easy-to-use system that allows them to create and import designs directly into their online stores for efficient order fulfillment. Even if your preferred platform isn't directly supported by Shirtee, you can still place bulk orders and request manual order fulfillment.
✅ Pros
❌ Cons

Have branding options
Low MOQ of 20 bulk orders

Limited product variety (40+ items).

📍 Pricing: Free, except for bulk orders.
How To Start a Custom T-shirts Dropshipping Business?
As a beginner, navigating the path to success in dropshipping printed T shirts might initially seem challenging, with each step requiring a clear definition. But fear not; we're here to guide you every step of the way!
In the following 8 initial steps, we will take you from conducting thorough market research and creating standout designs to choosing the optimal dropshipping platform and crafting a seamless customer experience strategy. Buckle up and let's get started:
Step #1: Find Your T shirt Niche
Think about what you are interested in and passionate about. This will be the inspiration you should use for your T shirts. Your enthusiasm will inspire you to make amazing designs and market them to your buyers.
But you also need to be smart and do some research to ensure you're dropshipping T shirts that are in high demand and can be profitable. You can look at various topics, such as humor, fashion, space, or sci-fi, and check what people are purchasing.
There are a lot of different tools on the market that can help you do niche research but the one we choose to recommend to you is Ali Hunter.
Ali Hunter is the ultimate dropshipping tool that can literally give you all the insights you need to do dropshipping product research & spy on your competitors to eventually find your desired niche or products.

With Ali Hunter,  you can see which products are trending, which country is the best target for it or which competitors are running TikTok ads with the most viral videos.
👉 Let's pause for a bit, and check out this basic 2-minute tutorial on how to use Ali Hunter's Product Discovery feature to see how easy it works:
Alright, got everything? Here's how you can use Ali Hunter's Product Discovery to find a T-shirt niche:
Step 1. Go to alihunter.io and log in with your account. In the dashboard, to your left, click Product Discovery.
Step 2. There are 2 approaches to research:
The first option is in Product Discovery, find a T-shirt niche by entering its keyword. For example, I start by using a broad keyword like "tshirt", and filter the products with over 500 latest orders and 4+ ratings.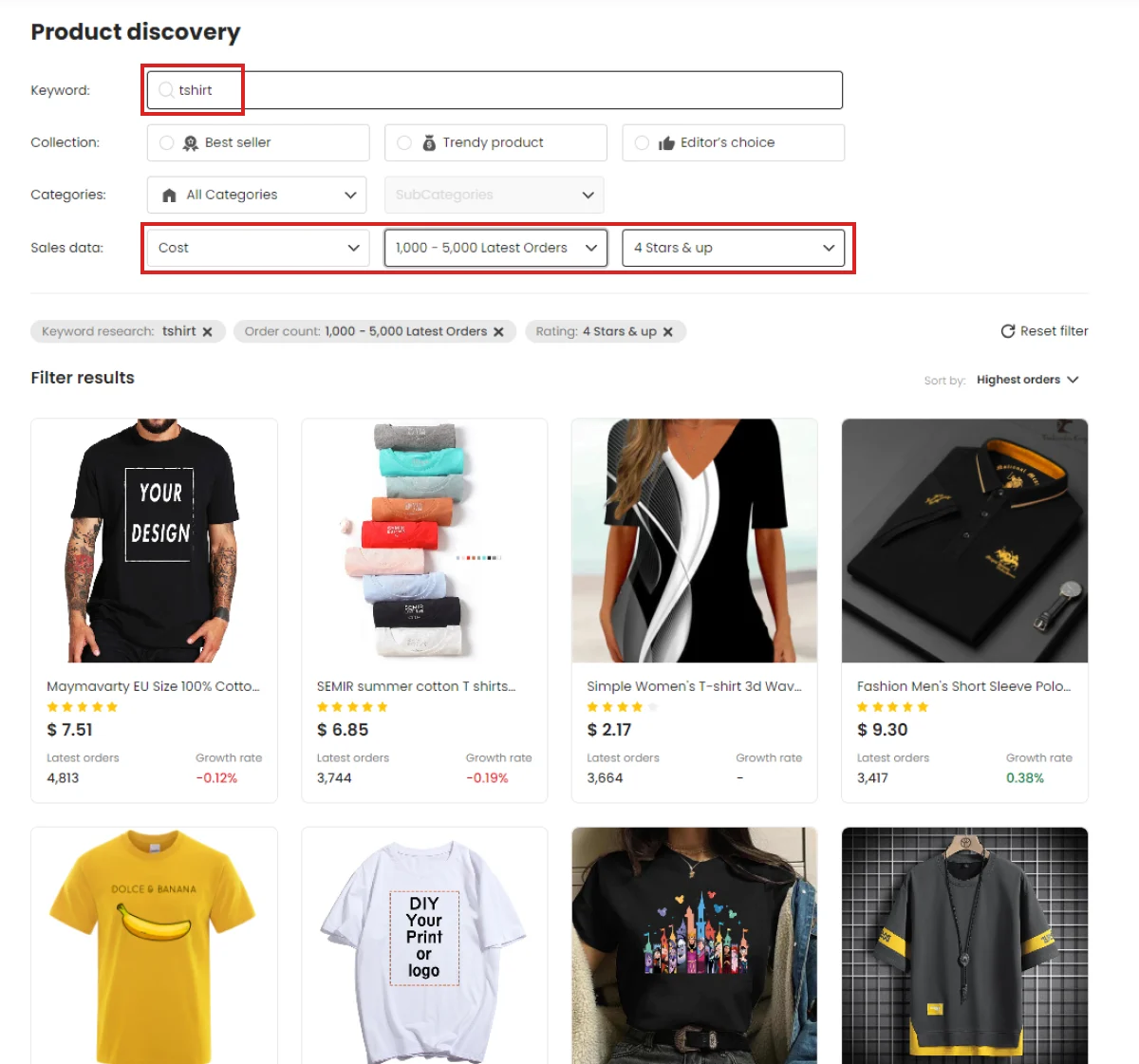 The second way is to find products by sorting the categories and sub-categories. For example, at the Product Discovery dashboard, I choose "Women's Clothing", with the sub-category "Tops & Tees".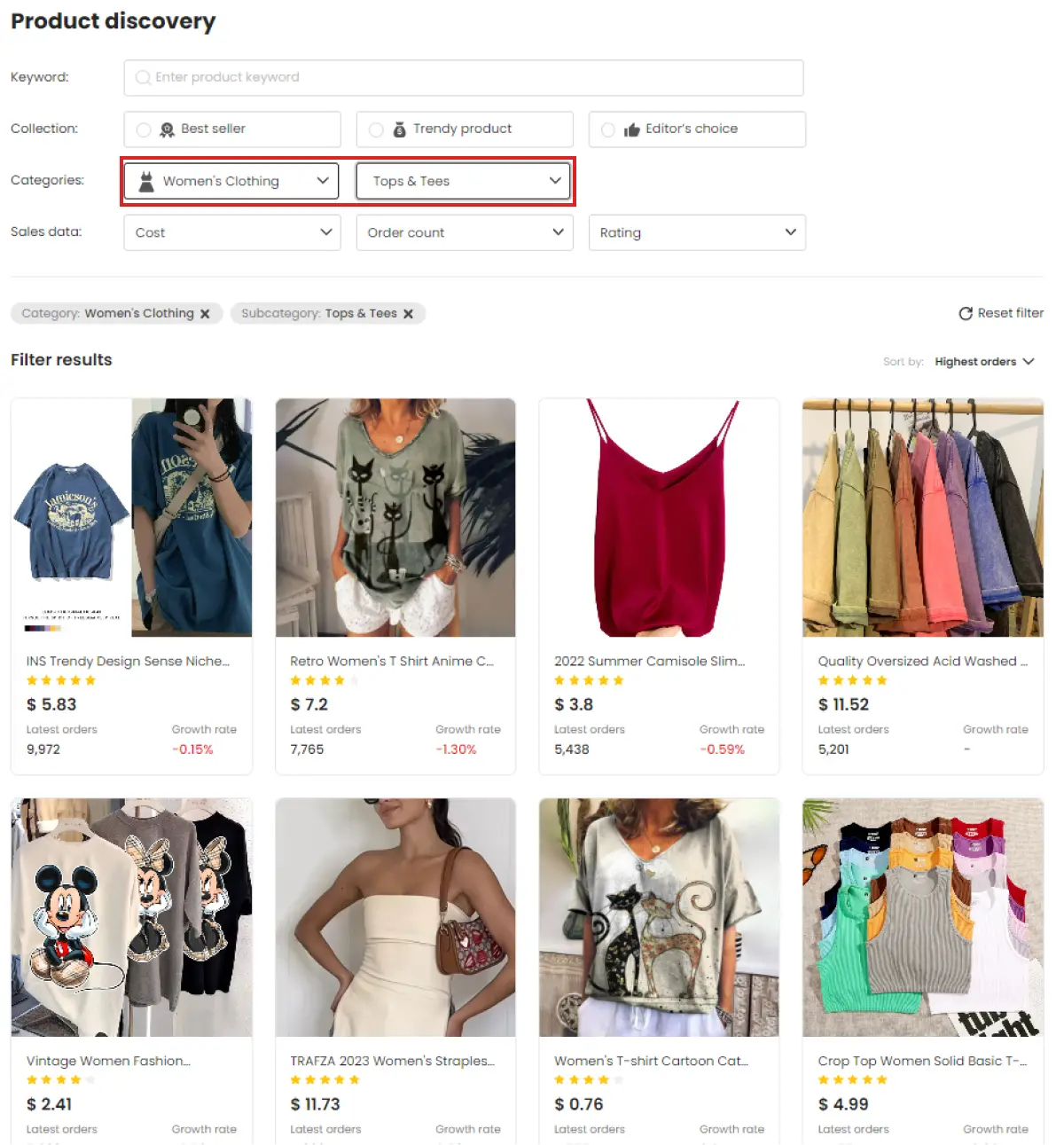 Step 3. Click on the product that catches your attention to view its full details.
The design below is absolutely adorable, with a lot of variants of sizes and colors to choose from. What makes this product a profitable choice is that it has received more than 1,000 orders recently and has had a consistent demand in the past week!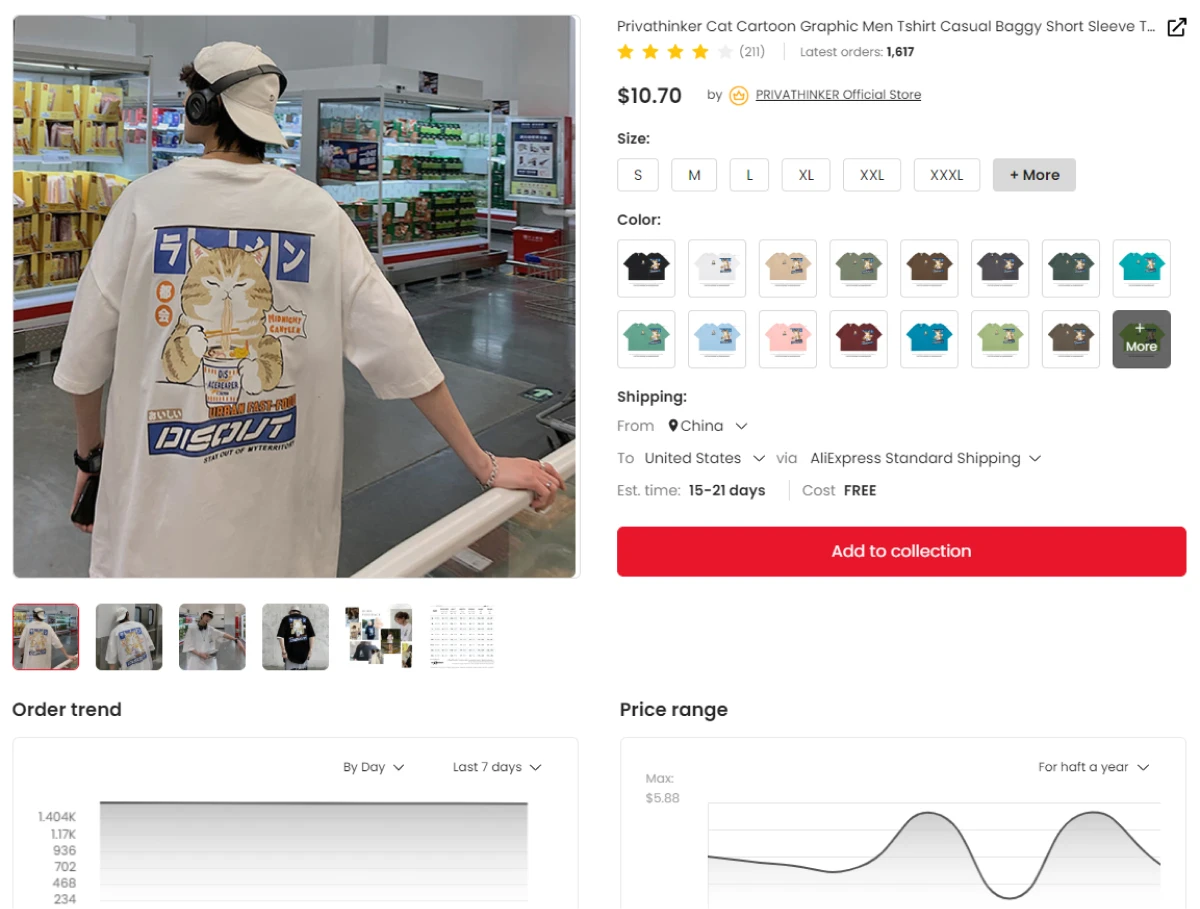 Step 2: Choose Your Dropshipping T shirts Suppliers
Engaging with multiple dropshipping suppliers brings forth several benefits for our online endeavors. There is a wide range of things like an expanded product portfolio, a competitive edge, and heightened flexibility.
However, it seems frustrating to pick your suitable dropshipping suppliers at first. Therefore, make sure to look at these criteria:
Positive Customer Feedback and Reviews: They serve as indicators of supplier trustworthiness, you should aim for the overall ratings of over 4.5 stars.
Extensive T shirt Variety: A diverse range of T shirt choices empowers us to cater to a wide spectrum of customer preferences.
Shipping, and Payment Policies: Clearly defined and practical policies governing returns, shipping, and payment procedures streamline business operations.
Global Warehouses (especially vital if expanding market reach is your aim).
And don't forget our list of recommended dropshipping suppliers!
Step 3: Set Up Your T shirt Dropshipping Store
In this step, you have 2 options: Choose a marketplace or an e-commerce customizable website that aligns with your needs.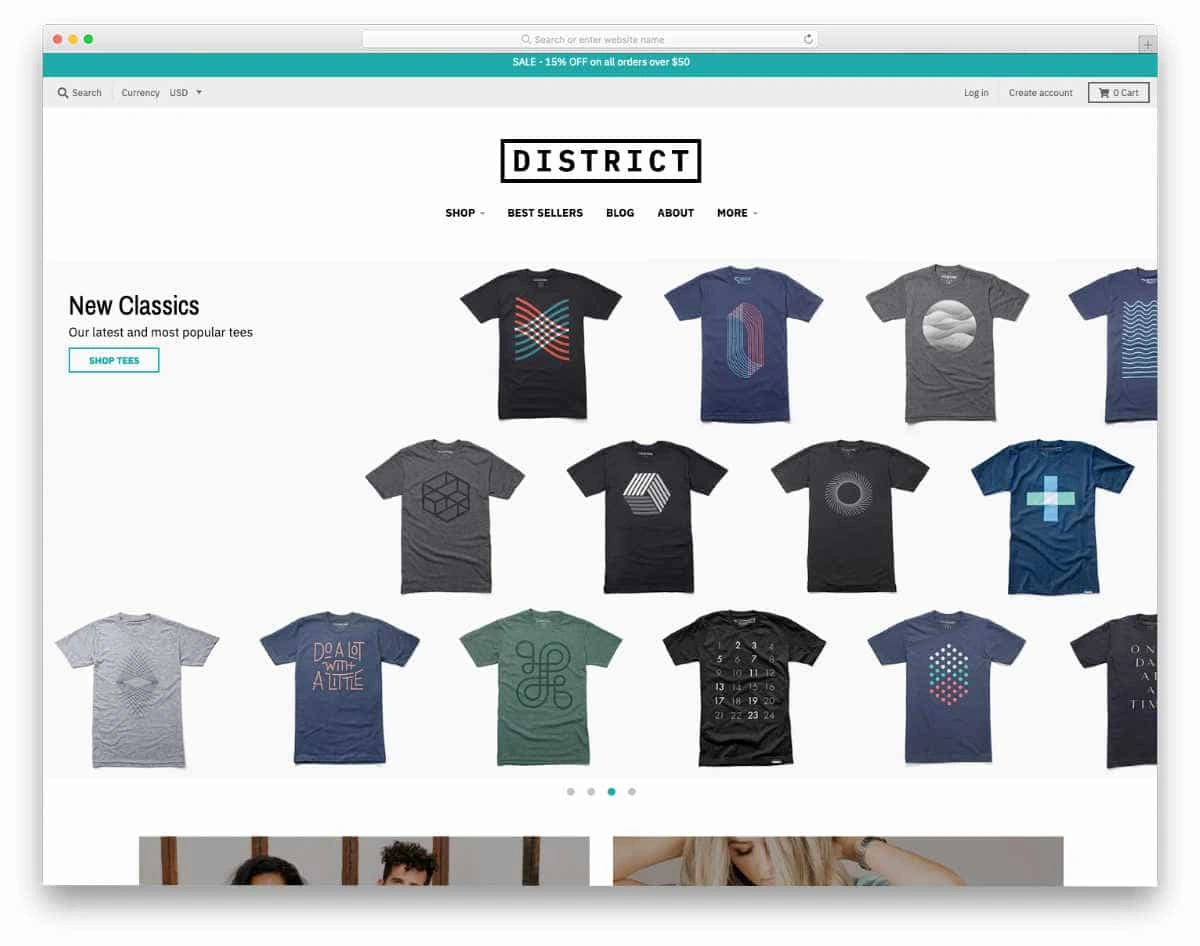 With a marketplace, you can operate within the marketplace's existing structure without the need for heavy website development and maintenance. This choice is well-suited for dropshipping T shirts businesses aiming to tap into an existing customer base and marketing channels.
However, a customizable website such as Shopify, WooCommerce, or Wix… will be better for dropshippers who want complete control over their online presence.
Step 4: Import Products To Your Dropshipping Store
Since Shopify is one of the most widely-used eCommerce platforms, we'll use Shopify as our example in this part of the article.
Now that you have set up your store, you need to add some products to sell. You can do this by importing products from AliExpress, one of the largest online marketplaces for dropshipping T shirts.
There are two ways to do this: 1. Import your products using CSV files, or 2. Using a third-party application.
For application, we highly recommend you use Ali Orders, one of the best tool that can help you automatically import AliExpress products to your Shopify stores. And here's how:
4.1. Import products using CSV files
Go to the Products page in your Shopify admin.
Click Import.
Click Add file and select the CSV file that you want to import.
Review the import settings and click Import products.
4.2. Import using Ali Orders extension
Install Ali Orders Chrome Extension.
Visit AliExpress.com, select your desired products, and click Ali Orders's purple icon to import products directly into Ali Orders.
After successfully importing, you'll receive a notification, and your products will be accessible in the Import List tab in Ali Orders
4.3. Import using Ali Orders application
Log in to your Shopify account.
Install the Ali Orders application from Shopify App Store, and connect the app with your store.
In Shopify Admin, go to Ali Orders > click on to Find Products tab
To add an item to your Import List, hover over it and then click the "Add to Import List" option.
The products will be moved to the Import list
💡 Recommended reading: The Ultimate Beginner's Guide to Shopify Import Products
Step 4: Promote your T-shirts store
Promoting your dropshipping T shirts business will be the most interesting part since you can learn how to understand your customers' insights and optimize them to bring the most profits.
And don't worry if you use a variety of platforms, we have different types of promotion.
Wix / WooCommerce / Shopify
Amazon
Facebook & Other marketplaces

Content

Email marketing

Ads

Sales Event

Amazon Sponsored Brands, Displays, and Stores

Volume Discounts

Promotions

Groups and Communities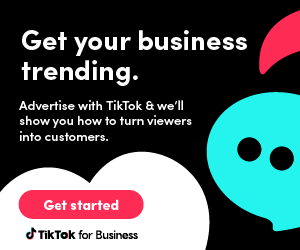 Step 5: Fulfill Customer Order
Now that you have imported your products and set up your store, you are ready to start selling your custom dropshipping T shirts. But how do you handle the orders that come in from your customers? This is where order fulfillment comes in.
Again, there are two ways to fulfill customer orders: manual and automatic.
5.1. Manual Order Fulfillment
Manual order fulfillment means that you have to go to the supplier's website and place the order yourself for each customer.
You have to enter the customer's details, such as name, address, phone number, and email, and pay for the order. This method can be slow, tedious, and prone to errors, especially if you have many orders to process.
5.2. Automatic Order Fulfillment
Automatic order fulfillment means that third-party apps like Ali Orders will do the work for you. You just need to click one button, and Ali Orders will automatically place the order with your supplier, using the customer's details that you have collected in your store.
Plus, Ali Orders will also track the shipment and update the tracking number on your store, so you and your customer can see where the order is at any time.
You can learn more about how to use Ali Orders for order fulfillment from this video:
Step 6: Leverage The Customer Experience
Last but not least, making customer satisfaction a priority and ensuring customers are content with our offerings is essential. The aim is to construct customer loyalty, increase sales, and bolster our brand reputation.
You can refer to some of our suggestions below:
FAQ pages
Live chatbot
Email marketing
Phone contact
Survey
E-gifts
Ticket submissions
💡 Pro tip: Customer reviews are also a great way to show social proof and increase conversions on your Shopify store, and you can do this with Ali Reviews!

Ali Reviews is a product review app that helps you collect, manage, and display authentic and honest reviews from your customers. You can try Ali Reviews for free for 14 days and see how it can improve your store's performance.
Collect, Manage, and Display Authentic Customer Reviews

Build trust and drive strong social proof for your Shopify store!

Try Ali Reviews Free
FAQs
1. Are shirts good to dropship?
2. Is selling T-shirts on Shopify profitable?
Selling T-shirts on Shopify can be profitable if you have a good product, a strong brand, and a smart marketing strategy. That also means it is not a get-rich-quick scheme that requires no effort or investment. There are some costs and risks involved that you need to consider before starting your t-shirt business, such as products, branding, marketing, etc.
Final Words
To succeed, it's essential to start with a solid business plan and clear explanations for all the things in the long run. Keep in mind that persistence, adaptability, and a commitment to delivering top-notch products will be your greatest allies!
So, as you embark on the adventure of custom dropshipping T shirts 2023, you're not just selling clothing; you're offering a canvas for self-expression, a medium for creativity, and a piece of personal identity. Good luck!