Dropshipping home decor has become popular thanks to its advantages. The demand is consistently high, and you don't need to worry about storing, packaging, or shipping delicate and bulky items.
Instead, you team up with dependable suppliers who take care of these tasks, allowing you to focus on marketing the products. This article covers 10 reliable furniture suppliers for a profitable dropshipping partnership.
Additionally, we have some helpful tips for selecting suppliers on your own. Stay tuned for more information!
🔑  KEY TAKEAWAYS:
Home decor is a good niche in dropshipping for the growing decor industry (people are increasingly shopping for furniture online).
The key to success in dropshipping home decor is sourcing from trusted suppliers who can offer affordable pricing and seasonal inventory.
The top three home decor wholesalers are Oberlo, Benzara, and Inspired Home.
Why is Home Decor Good for Dropshipping Business?
Furniture and home decoration are a necessity in every household. According to Statista, the home decor industry is projected to generate a revenue of $125.50 billion globally by 2023. It's also expected to continue its upward trend in the coming years.
Compared to other dropshipping products, this high demand for home decor presents a lucrative opportunity for online retailers.
Moreover, recent research indicates that more and more adults in the US are now comfortable shopping for furniture online. This trend has been further accelerated due to the Covid pandemic, with people spending more time at home. This shift towards online shopping is beneficial for both sellers and dropshippers.
So, if you're looking to make it big with dropshipping in the home decor niche, you need to know how to find the right suppliers. They're the key to winning the million-dollar prize in this business game.

How to Choose a Reliable Supplier for Home Decor Dropshipping Business?
Just because there are many dropshipping home decor suppliers out there, it doesn't necessarily mean that all of them provide excellent service. While they may compete with each other, it's important to remember that not all suppliers are created equal.
Below are things to consider when choosing a home decor wholesale supplier.
1. Seasonal inventory
If you are involved in dropshipping home decor or have studied it extensively, you may know that most resellers/dropshippers generate greater profits by selling seasonal items! This principle also applies to the home decor industry.
Although people do not always search for home decorations, they tend to do so during specific seasons and holidays to celebrate. Therefore, it is crucial to ensure that your supplier keeps up with trends and seasons. Otherwise, you may lose sales to your competitors.
(*) We're working on our 2024 calendar, so please stay tuned!
2. Pricing
Finding home decor dropshipping suppliers can be challenging, as negotiating prices with multiple suppliers is uneasy.
Home decor or furniture costs are often high due to the materials used. Certain types of furniture can cost thousands of dollars because of the type of wood used. Some are expensive for the intense artwork put into them.
However, the difficulty of finding affordable suppliers depends on what you choose to dropship. Ensure your chosen supplier offers pricing that fits your budget. This sets a fair profit margin that benefits you and your customers.
Our recommendation is to maintain your profit margin at least 20-30%.
3. Products
Working with a home decor dropshipping supplier is like choosing a recipe for a dinner party. You want to make sure the ingredients are high quality, there's enough variety to please everyone's taste buds, and it matches the party's overall theme.
The key point? High quality is a must! (highlight this one in your notebook)
You want to ensure the customer will buy again and avoid returns as much as possible. Plus, when customers are happy with how the home decor products add beauty, comfort, and style to their rooms, they recommend you to many others.
Here are 3 basic criteria for choosing a high-quality product:
Check the product images and descriptions (high-quality product images & clear descriptions is highly appreciated)
Check the product reviews and rating (look for products with at least 100 reviews and overall ratings > 4.3)
Check the product specifications and certifications
You also want to have a wide range of items in your store. The more you have, the more audience you attract. Besides, the supplier's item must align with your brand to keep a consistent customer experience and differentiate you from competitors.
4. Customer service
When dropshipping home decor, you may encounter various issues. Even a tiny scratch on a coffee table can lead to a customer returning the item and requesting an exchange or refund.
While such situations are inevitable in this industry, they can be resolved with the support of dedicated home decor dropshipping suppliers.
Therefore, it's essential to consider the supplier's reputation for quality customer service. Before proceeding further, carefully examine reviews about the supplier you want to work with.
Top 10 Trustworthy Dropshipping Home Decor Suppliers
Finding reliable and high-quality home decor suppliers can be challenging, as you need to consider factors such as product selection, price, shipping, customer service, and reputation.
To help you with this task, we have compiled a list of the top 10 dropshipping home decor suppliers that you can work with.
These suppliers offer a wide range of home decor products, with competitive prices, fast and reliable shipping, excellent customer service, and positive reviews.
📍 Here are the top 10 dropshipping home decor suppliers that you can check out:
Supplier
Niches
Pricing plans
Oberlo

Wide variety of home decor products

Free plan with limited features
Paid plans start at $29.90/ month

Benzara
Furniture, home decor, and lighting
Free
Inspired Home
Furniture, home decor, and lighting
Free
Ashcroft Furniture
Furniture
Free, $50 palletized shipping fee per order (if any).
AliExpress
Wide variety of home decor products
Free, MOQ (Minimum Order Quantity) varies depending on suppliers.
SaleHoo
Access to a wide range of pre-vetted suppliers and products

Basic Plan: $27/ month
Premium Plan: $97/month

HomeRoots
Home decor products
Free
Doba
Wide variety of home decor products

14-day free trial
Paid plans start at $24.99/month

Homespice
Furniture, home decor, and gardening
Free
Wayfair
Wide variety of home decor products
Free
1. Oberlo
If you're a dropshipper looking to sell home decor products through your Shopify store, then Oberlo is a great platform to consider.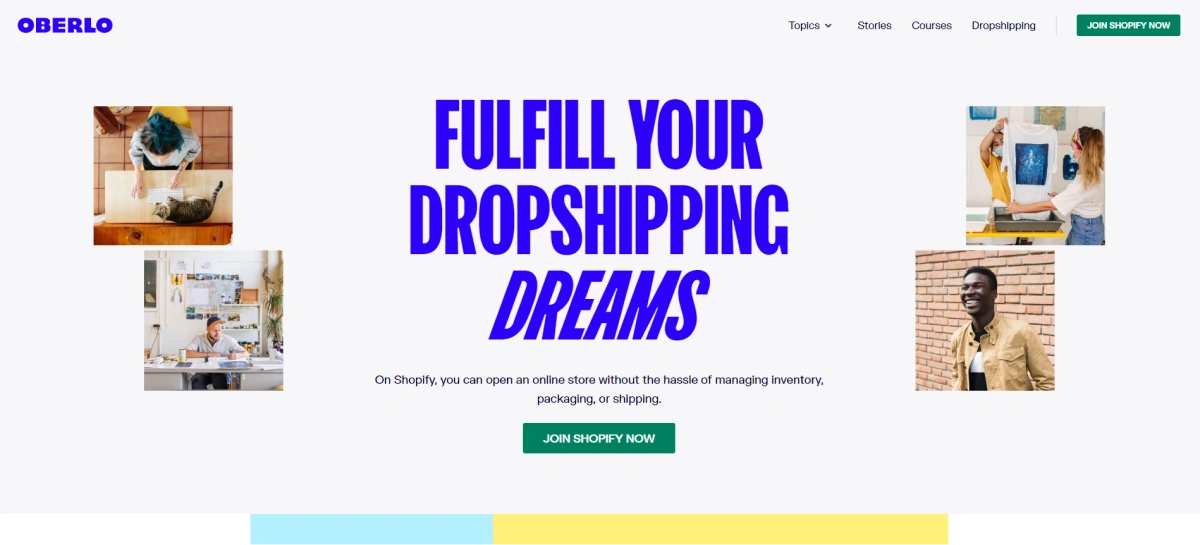 With Oberlo, you can easily import products directly from suppliers and ship them to your customers. You'll find various home decor suppliers on the Oberlo marketplace, offering everything from furniture to artwork.
Adding these products to your store is just a few clicks away, and you can also manage your inventory, orders, and pricing through Oberlo.
Additionally, its official website offers resources and tips to help you grow your online home decor business. Oberlo is one of the most reliable sites for finding trustworthy dropshipping partnerships.
Pros & Cons
✅ Pros: Importing products from AliExpress, customizing product details, automating order fulfillment and tracking, and getting started for free.
❌ Cons: It only works with Shopify and AliExpress and has limited control over customer service.
Pricing
3-day free trial
Starter plan (free): up to 500 products
Basic plan ($29.90/month): up to 10,000 products and extra benefits like variant mapping, automated listing, real-time shipping monitoring, etc.
Pro plan ($79.90/month): up to 30,000 products with prime benefits like unlimited orders, multiple staff accounts, CAPTCHA solver software, etc.
2. Benzara Inc.
Benzara is a comprehensive supplier for dropshippers worldwide, specializing in home decor. As a wholesale leader in the industry, they offer a range of decorations and furnishings to help you resell online.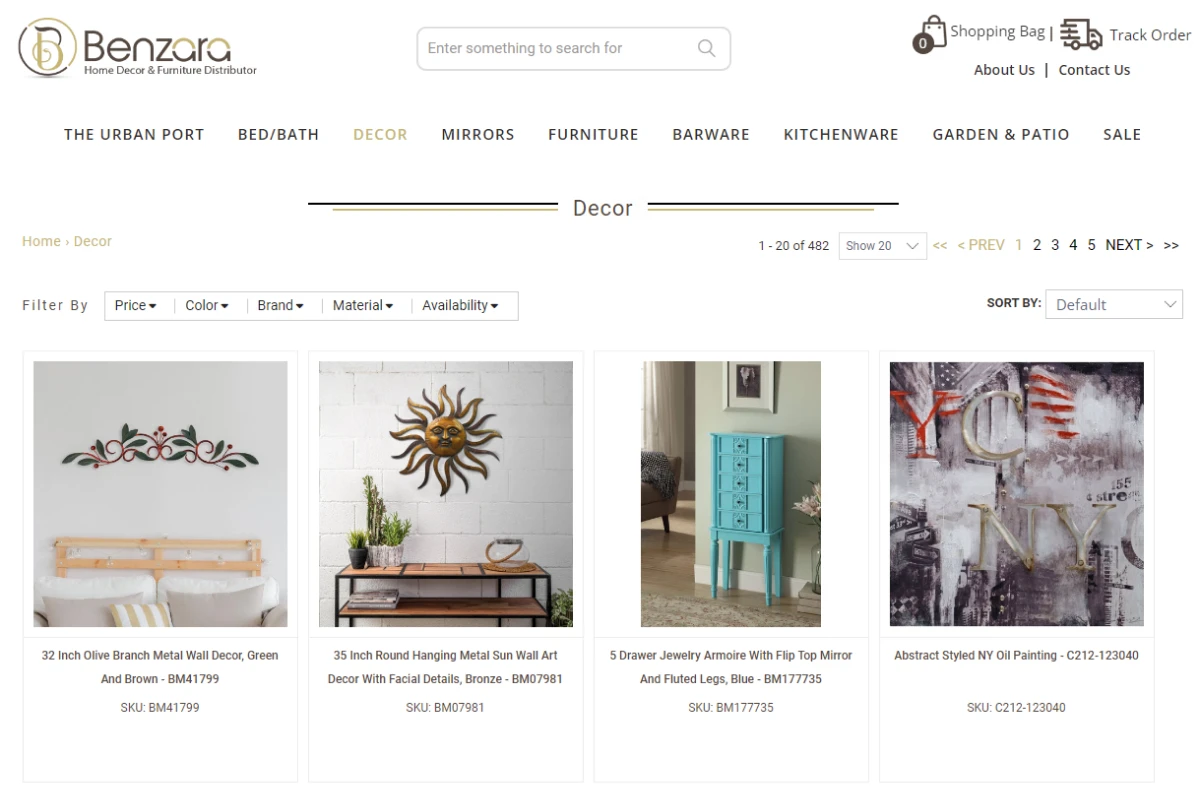 To collaborate with Benzara, simply register on their website, provide proof of your business license and tax registration, and browse their product catalog to find your niche.
You can then easily place orders online and receive free shipping within the USA. Benzara has trusted shipping and return policies to ease your customer service duty.
Pros & Cons
✅ Pros: Reselling many home decor products in different styles and themes without minimum order quantity.
❌ Cons: The supplier requires proof of business registration for a collaboration.
Pricing
Free of charge & no MOQ (Minimum Order Quantity).
3. Inspired Home
Based in New York and Canada, Inspired Home prides itself on delivering timeless aesthetics in different home decor items across the globe. The products range from sofas to gaming chairs, taping with every space and corner of your house.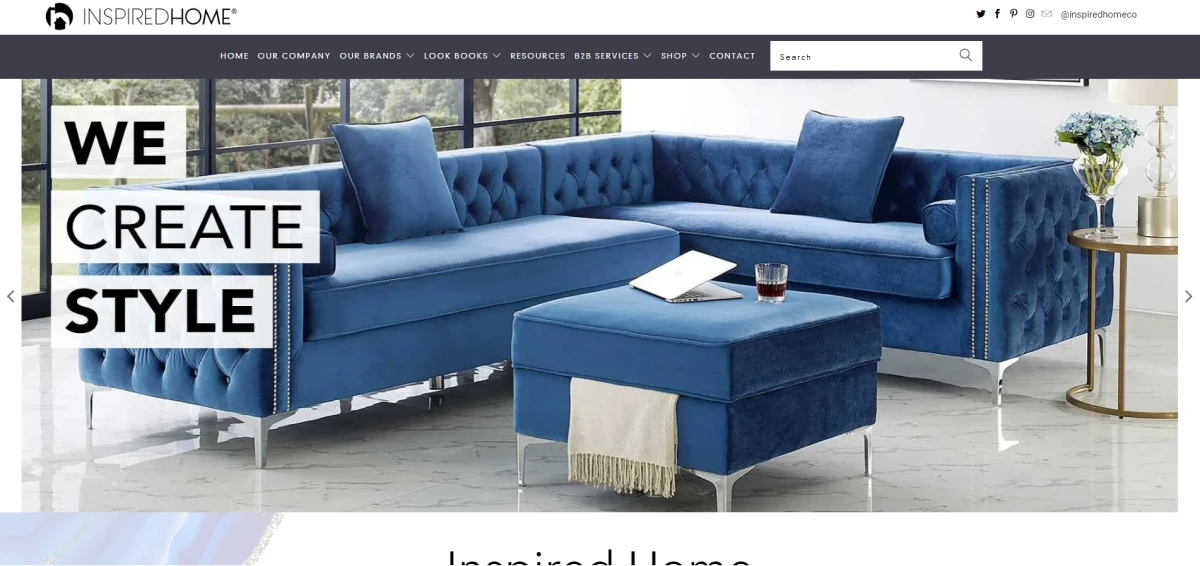 Inspired Home especially keeps up with trends regularly. Its best-selling items are the Cindy 3-in-1 tabletop mirror, Juliet vanity set, loungie recliner chair, and radiant cheval mirror.
The company offers B2B Solutions to integrate with retailers anywhere they're located worldwide. You sell it; they ship it. With warehouses in LA and the US East Coast and offices in China, this supplier makes an ideal dropshipping partnership.
Pros & Cons
✅ Pros: selling furniture that's on trend with different vibes.
❌ Cons: It requires business and tax registration for B2B Solutions.
Pricing
Free of charge & no MOQ.
4. Ashcroft Furniture
Looking for trendy and modern tables and chairs? Look no further than Ashcroft Furniture—a go-to destination for over 25 years with a wide range of affordable and luxurious furnishings.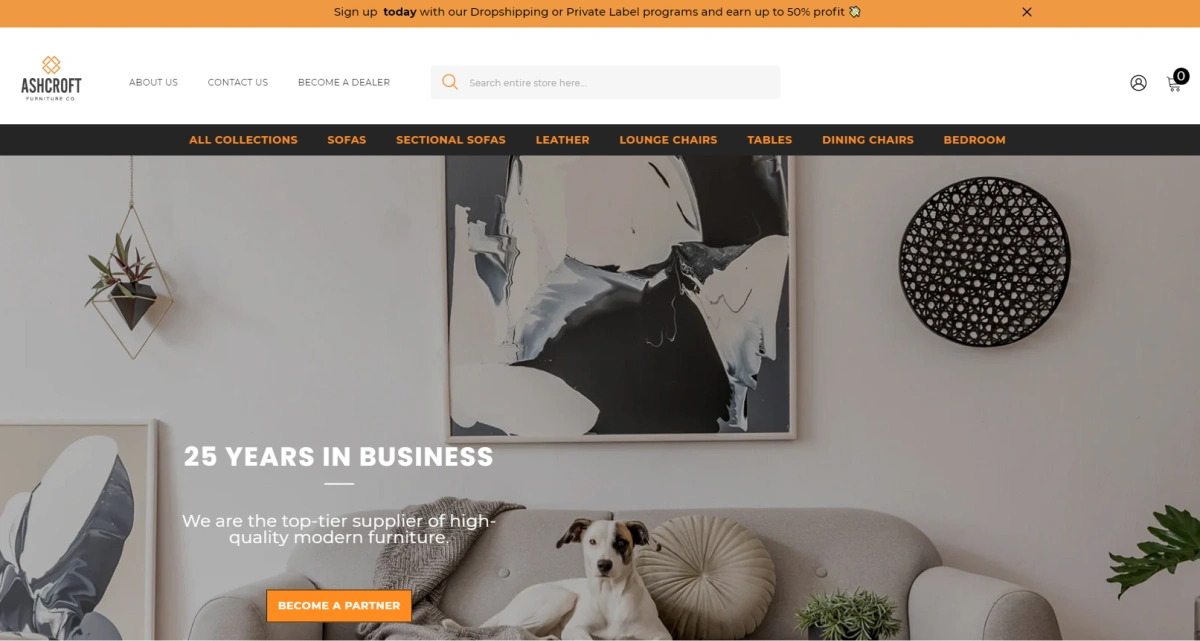 Known for offering premium-quality modern furniture at unbeatable prices, Ashcroft Furniture is a trusted brand by industry leaders such as Wayfair, Amazon, and Houzz.
Thanks to its 100,000-square-foot automated warehouse, Ashcroft Furniture can offer customers fast shipping and local pickup options. And with a high customer satisfaction rate, you can trust in their dedicated customer support.
The best part? You can join their exclusive Dropshipping or Private Label programs and earn up to 50% profit on every sale!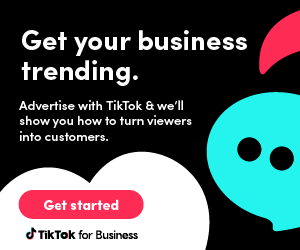 Pros & Cons
✅ Pros: Consistent product quality, fast delivery, and simple integration with Shopify and WooCommerce.
❌ Cons: All orders are limited to the US market (not shipped internationally).
Pricing
Free of charge & no MOQ.
5. AliExpress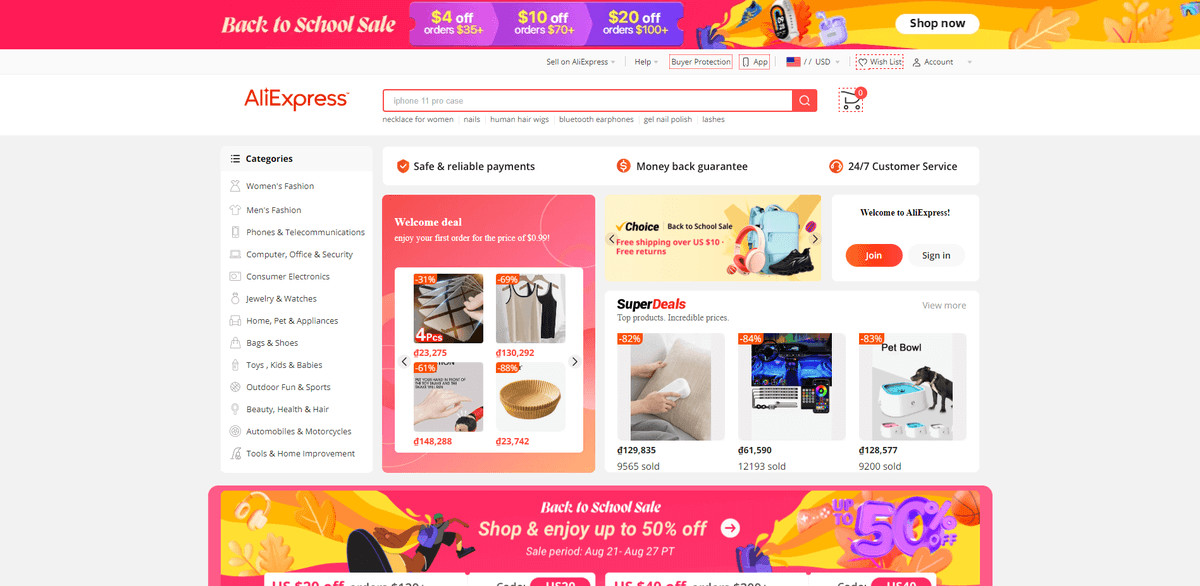 AliExpress is a globally recognized marketplace based in China that offers a vast selection of suppliers across all categories. Recently, many have taken notice of their affordable home decor options.
However, it's important to note that not all suppliers offer the same level of quality, so it's crucial to take the time to choose carefully.
One of the standout features of AliExpress is the wide range of home decor categories available, including furniture, wall decor, vases, figurines, candles, and more. Additionally, they offer international shipping options for furniture purchases.
Pros & Cons
✅ Pros: Those looking for low-priced deals and who don't mind dealing with different sellers.
❌ Cons: Difficulty returning or exchanging products can involve high shipping costs, complicated procedures, or lack of communication with the seller.
Pricing
Free of charge; MOQ (Minimum Order Quantity) varies depending on suppliers.
6. SaleHoo
SaleHoo offers an inventory of more than 2.5 million products from over 8,000 reliable suppliers. This is an excellent opportunity for new dropshipping businesses to find top-quality home items.
However, to access the suppliers on the platform, you need to pay for a monthly or yearly membership. SaleHoo Dropship has two plans available: Basic and Premium. The Basic plan costs $27 per month, but you can get a discount of $270 for a one-year subscription.
Once you subscribe, you'll have premium access to their store registries, Market Research Labs, and email support.
SaleHoo has an impressive collection of furniture, wall stickers, and DIYs. However, you can only place orders after becoming a member.
Pros & Cons
✅ Pros: Affordable yet high-quality products from pre-vetted suppliers.
❌ Cons: There's no free trial or demo.
Pricing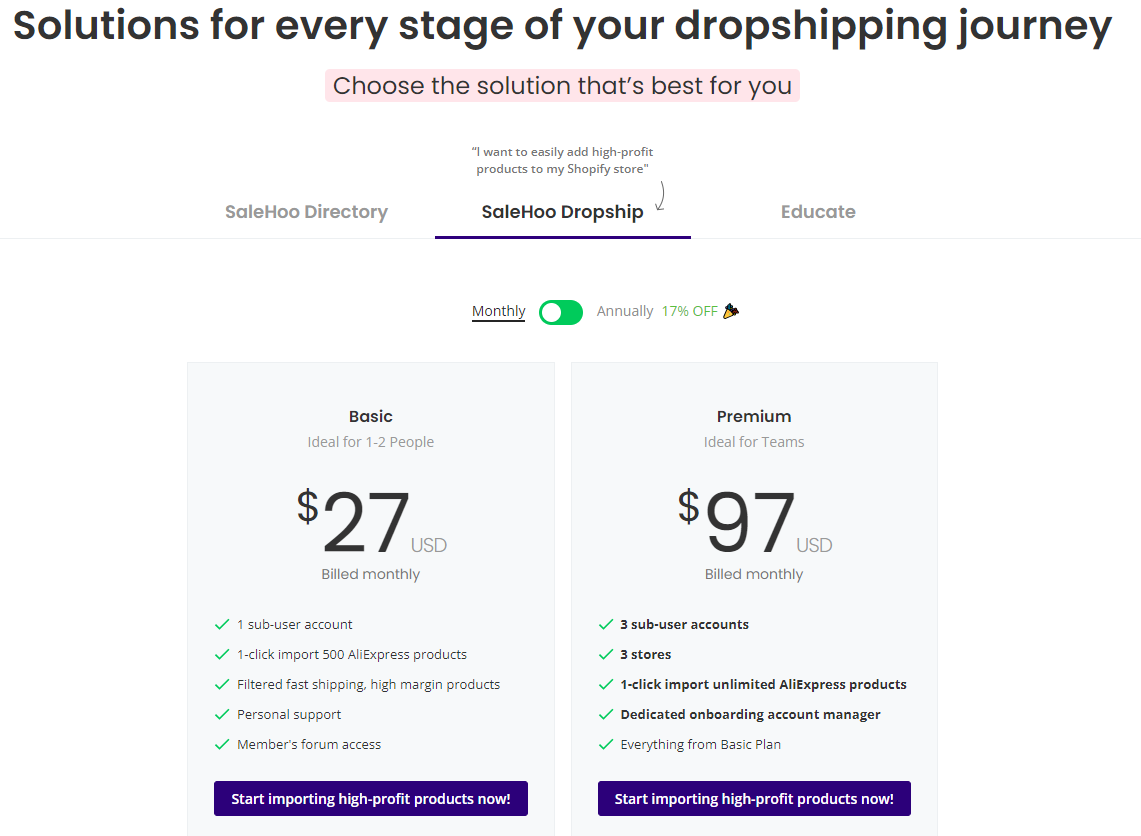 Basic plan ($27/month): 500 AliExpress products, personal email support, one-click import from AliExpress to Shopify, and more.
Premium plan ($97/month): Unlimited AliExpress products, onboarding account manager, one-click import from AliExpress to Shopify, and more.
7. HomeRoots
Located in New Jersey, HomeRoots acts as a mediator between furniture and home decor suppliers and dropshippers.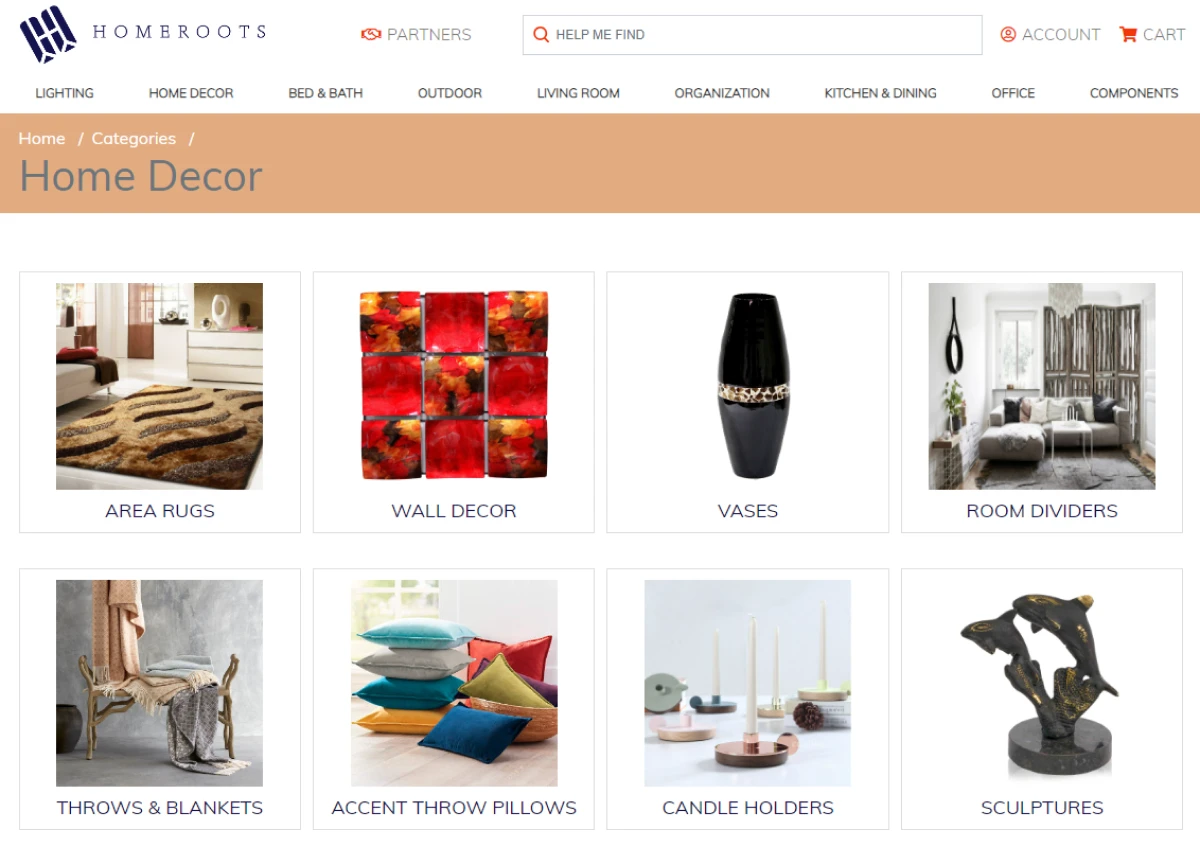 Their wholesale selection includes diverse items, including sofas, tables, lamps, rugs, and pillows, all at competitive prices. The best part is that there is no minimum order quantity requirement.
Furthermore, HomeRoots is a partner of Shopify. That provides a simple way to import products directly to your Shopify store and begin dropshipping. We highly recommend HomeRoots for free or low-cost shipping within the USA and reasonable international shipping rates.
Pros & Cons
✅ Pros: Access to thousands of products from different categories and styles, live chat support, low shipping rates, and easy integration with Shopify.
❌ Cons: It requires proof of business registration and tax ID and has high competition as a popular go-to for dropshipping home decor.
Pricing
Free of charge & no MOQ (Minimum Order Quantity).
8. Doba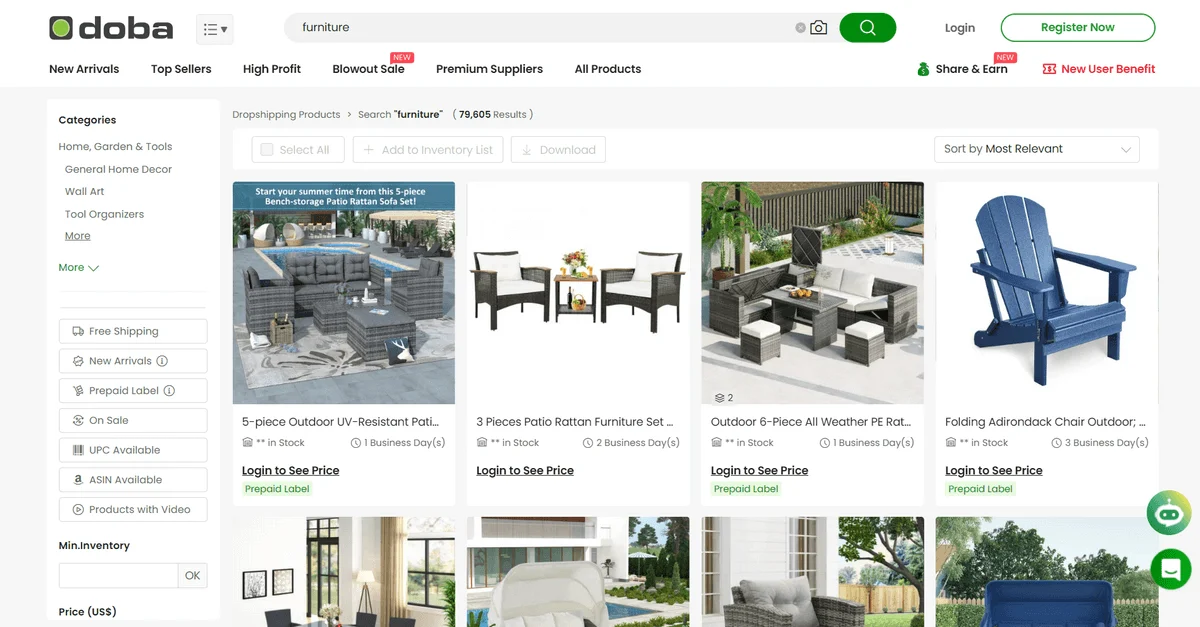 Doba is another marketplace that bridges the gap between wholesale suppliers and retailers. Based in Utah, the company offers free shipping for particular items within the USA.
Entering its official website, you're treated with numerous suppliers of home products, including decorations and furniture. Also, Doba shows each supplier's fulfillment rate and processing time for you to examine before any direct contact.
If you have a Shopify store, Doba is a great option as it can be integrated into platforms. With a free plan that includes up to 100 exported items monthly and 1000 items on your inventory list, it's easy to kickstart your business with Doba.
Pros & Cons
✅ Pros: Responsive customer support team and a helpful web design with essential information.
❌ Cons: You must pay a monthly membership fee to continue using Doba.
Pricing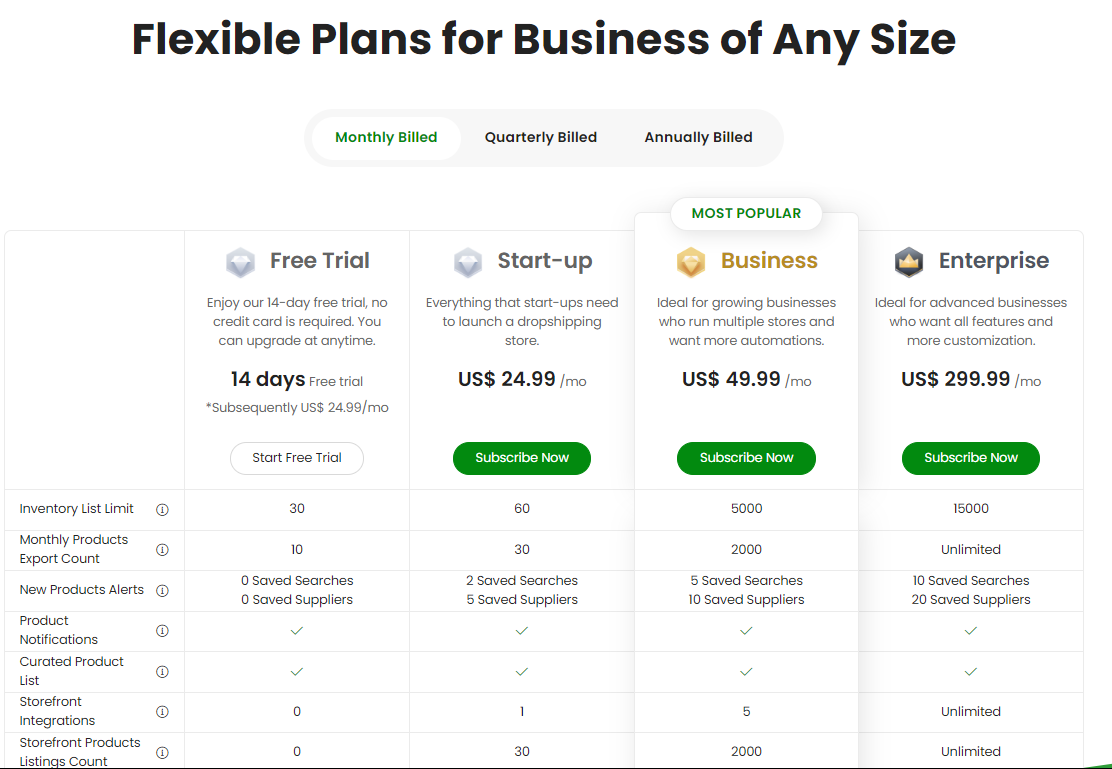 Free trial: 14 days with 30 products added to your inventory list.
Start-up plan ($24.99/month): 60 products in the inventory list and extra benefits
Business plan ($49.99/month): 5000 products in the inventory list and extra benefits.
Enterprise plan ($299.99/month): 5000 products in the inventory list and extra benefits.
9. Homespice
Homespice is a family-owned company that specializes in producing and selling handcrafted braided rugs and accessories for home decor. They have shipped their unique rugs to thousands of retailers in the US, Canada, and Central America for over four decades.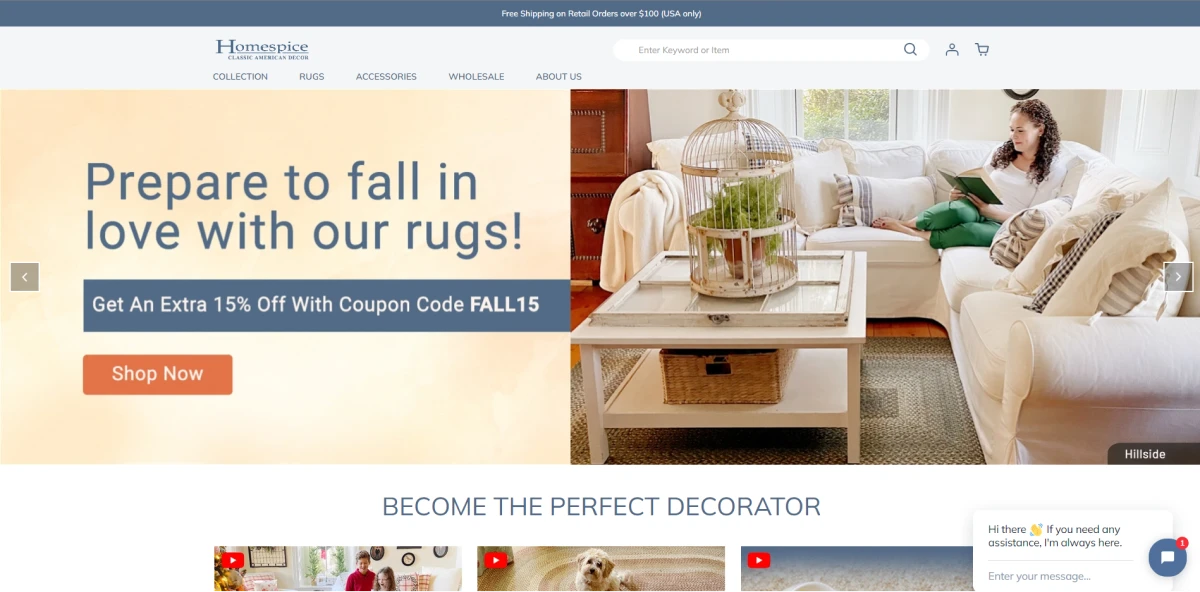 If you're looking for dropshipping home decor ideas, Homespice's rugs are a top-selling option. They take pride in offering robust support to aspiring dropshippers and make the process hassle-free.
Simply create an account on their official website and handle the entire order fulfillment process there. To get started, Homespice requires your store details and tax ID. Your first order with them must be at least $500, and subsequent orders must be a minimum of $200/order.
In addition to rugs, Homespice also offers trivets, coasters, table runners, placemats, stair treads, and other matching accessories for their rugs.
Pros & Cons
✅ Pros: Homespice provides the best wholesale rugs in the industry with 40 years of experience and trust.
❌ Cons: Limited range of home decor products (only rugs, mats, and items alike)
Pricing
Free of charge & no MOQ.
10. Wayfair
One of the top-tier home decor dropshipping suppliers is Wayfair. This American e-commerce giant offers over 18 million products in 13 furniture and home decor sectors.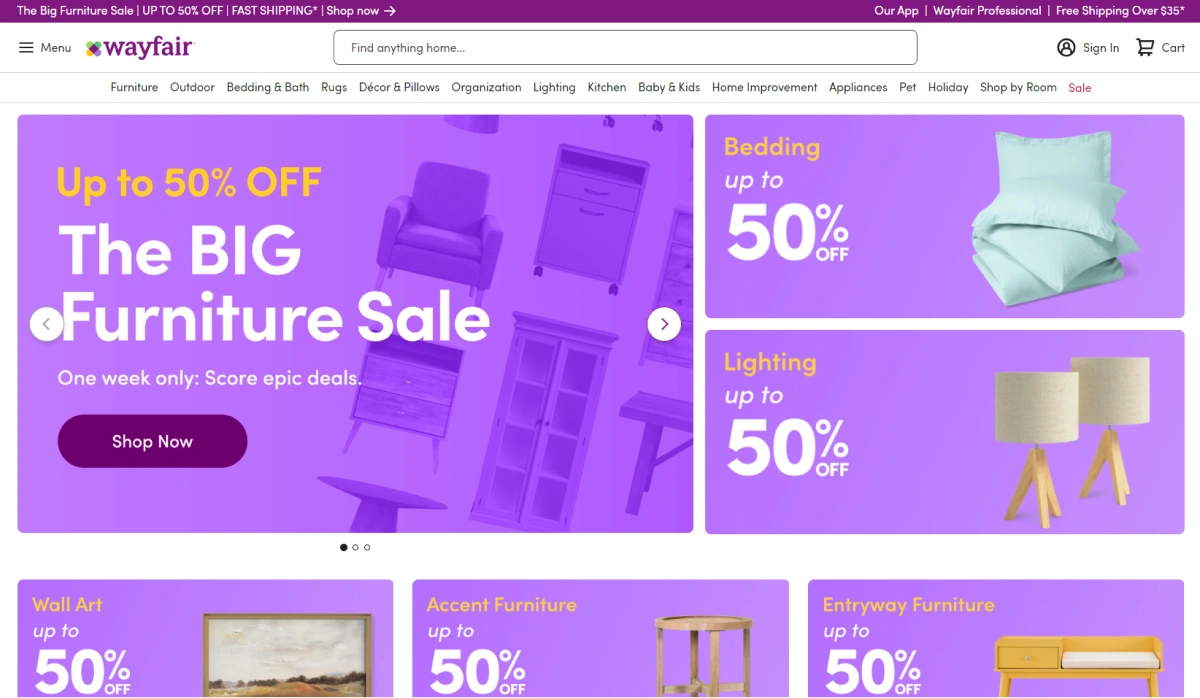 Wayfair started as a dropshipping home decor business and now has a network of more than 12,000 suppliers, many of whom offer dropshipping services to online sellers.
You can easily filter and search by category to find the items or wholesalers you need on Wayfair. Plus, you can use various platforms like Shopify, eBay, WooCommerce, and more to create your online store and list Wayfair's products for sale.
When you receive an order, Wayfair will process and ship it directly to your customer. You can easily track the order status and shipment details on their website or app.
Most products are shipped within two business days in countries like America, UK, Germany, and more. Overall, Wayfair is a reliable and convenient platform for dropshipping home decor products.
Pros & Cons
✅ Pros:
Many warehouse locations in the US & UK with a wide variety of products for the Home category
Fast shipping
Exciting promotions and sales up to 70%
❌ Cons: The customer service via third-party suppliers isn't always supportive.
Pricing
Free of charge & no MOQ.
Bottom Line
That's our curated list of reliable suppliers for your dropshipping home decor business. Whether it's a marketplace or an original wholesaler, you must spend more time gauging each one's potential to know what's best.
You can start the research with your niche, products you love to resell, and the characteristics you value most from a supplier. Take your time! And keep in mind that suppliers are the backbone of your dropshipping business.