For many furniture retail businesses, dropshipping furniture is quickly becoming an alluring business model.
It reduces a lot of the stress associated with operating a traditional furniture business by eliminating the need to make an upfront investment in inventory and enabling the entire outsourcing of product development and order fulfillment.
However, it also comes with a variety of challenges, including logistical difficulties, fierce rivalry, high shipping costs, and vulnerability to damage in transit — especially finding reliable, and high-quality suppliers.
Therefore, to relieve you of all the anxieties, we prepared this guide to make it simple for you to get started and stay on the right track to success!
🔑 KEY TAKEAWAYS:
The furniture market has seen significant growth, with online furniture sales increasing by an average of 19.6% annually. It also has a high average order value (AOV), making it a lucrative niche for dropshipping.
Dropshipping furniture offers flexibility in terms of product categories, such as office furniture, outdoor furniture, and specialized furniture, allowing retailers to test different options based on customer preferences.
The benefits of dropshipping furniture include high consumer demand, flexibility in product offerings, and increasing online opportunities for furniture sales.
A Look at The Furniture Market Value
Dropshipping furniture is a successful industry. IBIS World Research estimates that between 2017 and 2022, online furniture sales increased by an average of 19.6% annually. Additionally, compared to other dropshippable goods, furniture has a high AOV. In actuality, wealthy US households spent, on average, $1,490 on furnishings in 2021.
Strong margins are also a plus point for this dropshipping niche. In fact, according to Statista's measures, the US furniture and home goods market's gross margin share increased to 33.3% in 2021.
Furniture categories are also broad. Office furniture, outdoor furniture, and highly specialized furniture are all things that you can sell. Dropshipping allows you the freedom to test out several product categories to see which ones are most popular with your customers.
Furthermore, customers are becoming more acclimated to ordering furniture online as a result of the pandemic. For instance, 58% of US shoppers say they feel very or extremely comfortable ordering large furniture online, like dining tables.
Overall, these factors should motivate you to start your dropshipping furniture business. With the right suppliers and strategies, you will increase your chances of success!
What is Dropshipping Furniture and How Does It Work?
Dropshipping furniture involves retailers contracting with furniture dropshipping suppliers who, on their behalf, ship the furniture directly to customers after it is picked up from the retailer's warehouse, packed, and sent.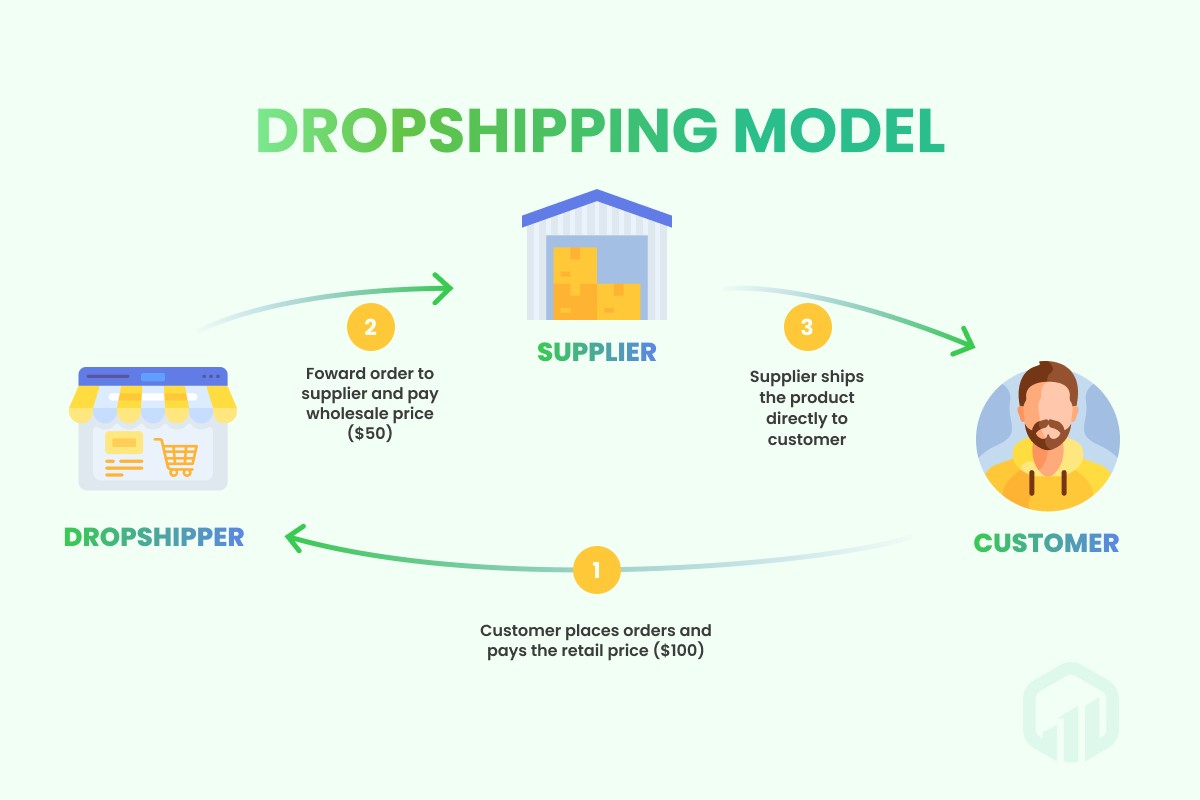 Businesses can easily connect with suppliers by integrating with well-known eCommerce platforms and establishing smooth communication channels via API, EDI, XML, CSV, and other connections by utilizing the latest dropshipping technology solutions.
With this approach, the difficulties and expenses of managing furniture storage and shipping are removed, allowing you to concentrate on establishing your brands and attracting customers.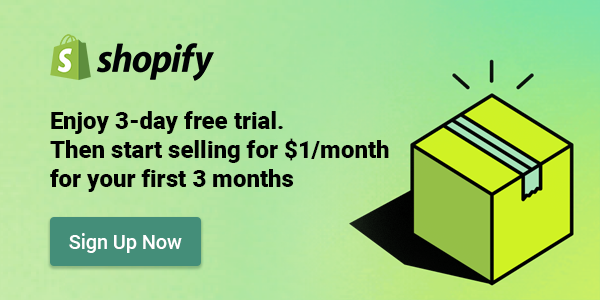 The Pros and Cons of Dropshipping Furniture
You should be aware of the pros and cons of this niche you are considering now that you have a desire to enter.
Let's begin with a look at the benefits of dropshipping furniture:
High consumer demand: If you intend to sell furniture online, we hope you're glad to know that the demand for it is strong and steady. In 2021, furniture accounted for more than 17% of all online sales. By 2025, some predictions place the global furniture market at $718.3 billion.
Great flexibility: Given how diverse the furniture range is, you can practically take this niche in any direction. When it comes to dropshipping businesses, flexibility is essential, especially if you want to be able to quickly change course to take advantage of new trends.
Increasing online chances: Online purchases of substantial furniture are becoming more commonplace. Additionally, compared to standard searches, furniture-related online searches are more transactional. 62% of furniture searches result in transactions, whereas 36% of searches yield information. 
Considering how fiercely competitive this market is, dropshipping furniture does have certain drawbacks:
Competitiveness: The online furniture business is crowded; according to some estimates, there are over 3,000 online furniture businesses, and a Google search returns an endless list of results. You'll face competition while dropshipping furniture, not just from other dropshippers but also from well-known furniture brands.
Damage vulnerability: Furniture is one of those products that could be damaged during shipping, which would result in expensive return and refund fees.
Difficulty in closing the sale: No matter the market, it can be challenging to make your first sale, but furniture sales can be particularly challenging. Furniture has a lower average conversion rate than most other categories, at 0.68%. In general, it's simpler to sell inexpensive things than expensive ones. As a result, it can be harder to persuade customers to spend a lot of money on luxury items—and furniture is usually more expensive than ordinary online purchases.
Shipping issues: Shipping is one of the major challenges when it comes to online furniture dropshipping. Furniture is frequently bulky and heavy by nature, making shipping them costly and dangerous. For large, overweight packages, carriers demand greater fees. Additionally, there is a chance that something could get broken on the way. In addition to dissatisfied customers, damaged goods often result in lower revenue due to refunds.
8 Top Dropshipping Furniture Suppliers
The top furniture dropshipping suppliers truly depend on what you need in particular. Both the types of consumers you want to target and the types of home furnishings you want to offer must be taken into account.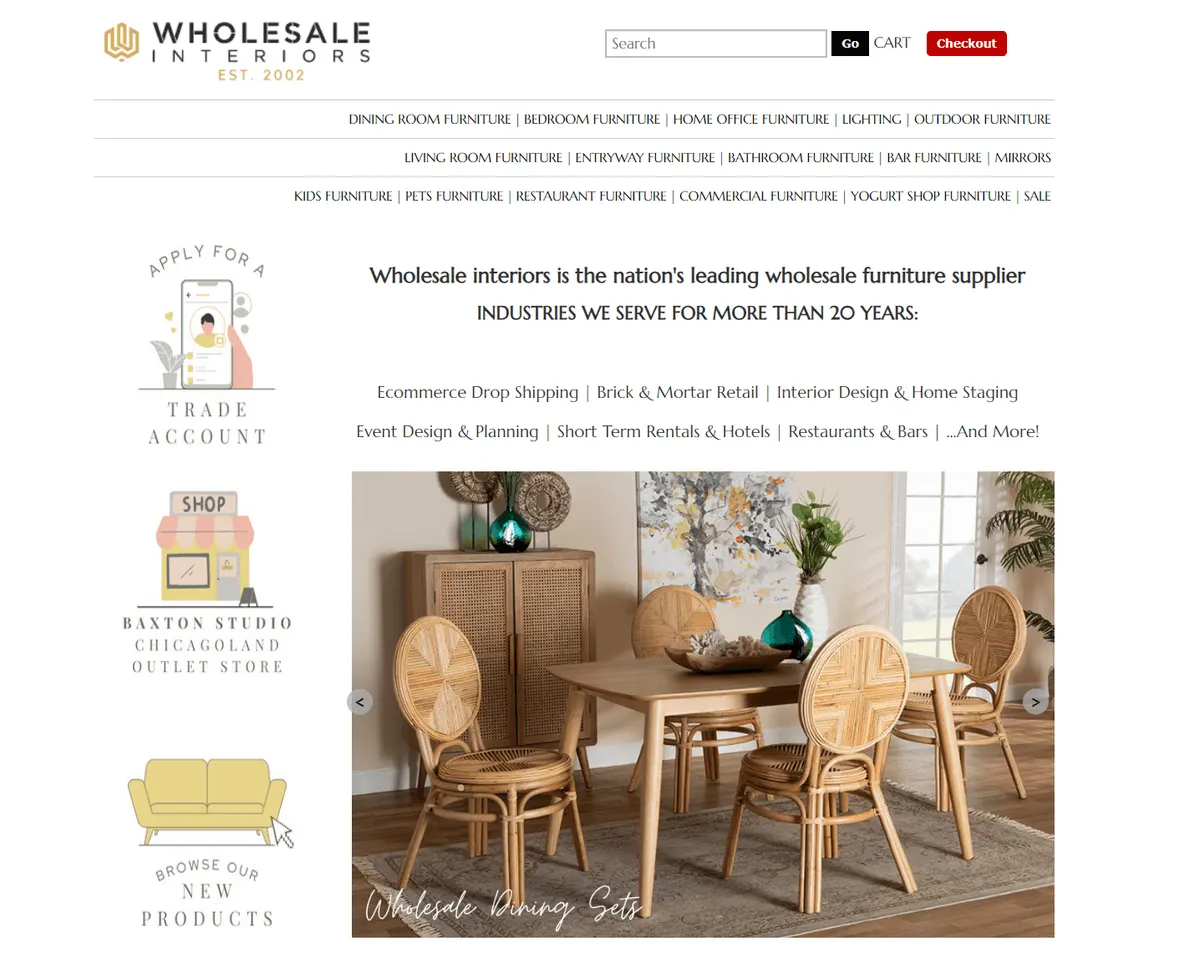 Furniture supplier and manufacturer Wholesale Interiors is situated in Chicago and has more than ten years of experience in the manufacturing industry.
Along with a broad selection of furniture, they also provide accessories and commercial furniture. To view the pricing and stock, you need to have a registered trade account.
They exclusively hire, educate, and retain the best artisans in the upholstered furniture industry. Their cutting-edge factory makes use of the finest old-world craftsmanship and design effectiveness.
Your order will be scheduled for production as soon as it is placed. Your furniture order will be finished by their team of skilled frame carpenters, seamstresses, and upholsterers in around 11 weeks.
Orders are processed by Wholesale Interiors in three business days, and shipping might take one to seven days. Orders are sent out of Illinois and California.
Furthermore, Wholesale Interiors' own branding, "Baxton Studio," is visible but not on the receipts, invoices, packing slips, or labels.
One last thing, you must submit a free application and proof of your company's registration.
⭐ Best for:

Merchants who want to sell high-quality home and commercial furniture items to dropship

Plans and costs

No subscription requirement. However, a trade account must be applied for and approved.

Recommended furniture ideas

Commercial furniture

Restaurant furniture

Pet furniture

Entryway furniture

Best countries to start

USA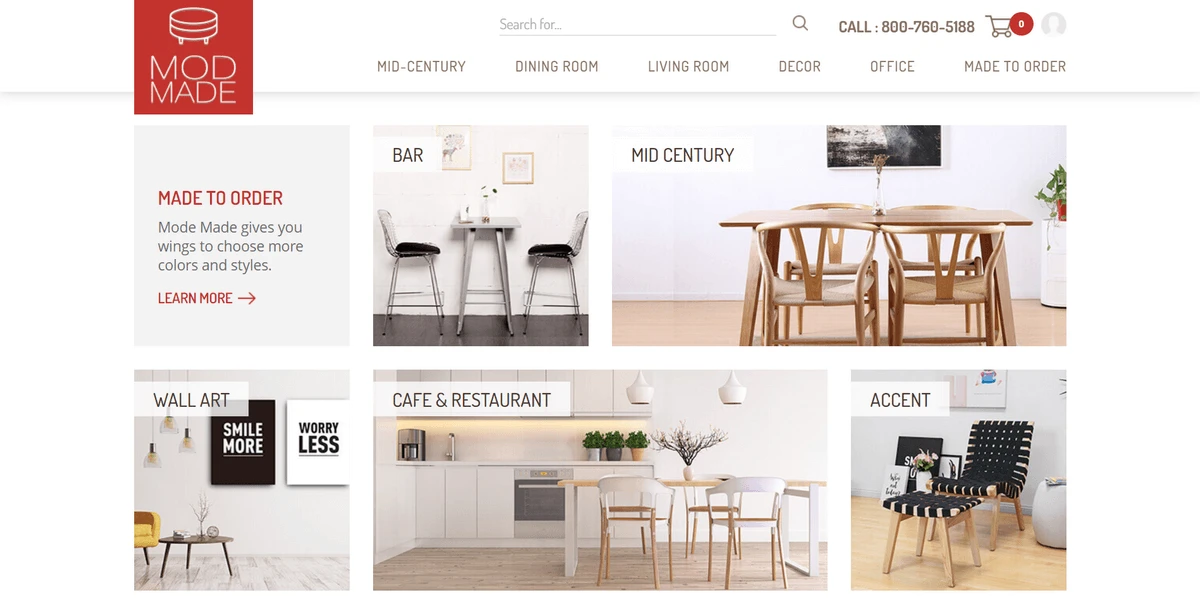 Wholesale furniture is provided by ModMade to interior designers and furniture retailers. They also make dropshipping easier for you if you want to.
From their California warehouse, items are delivered within three days. This implies that your customers will promptly receive their orders.
You can sell their decor products as well as larger furniture pieces in your shop with no minimum purchase requirement.
All things on Mod Made have an SRP (recommended retail price) attached to them. They have the right to end your ModMade account and cooperation if you don't list your products at this price.
⭐ Best for:

Merchants who want to sell trendy, contemporary, and Scandinavian-style furniture

Plans and costs
There are no plans or subscription costs. On their website, you can register for a ModMade account.
Recommended furniture ideas

Mid-century dining sets

Dining tables

Bar stools

Best countries to start

USA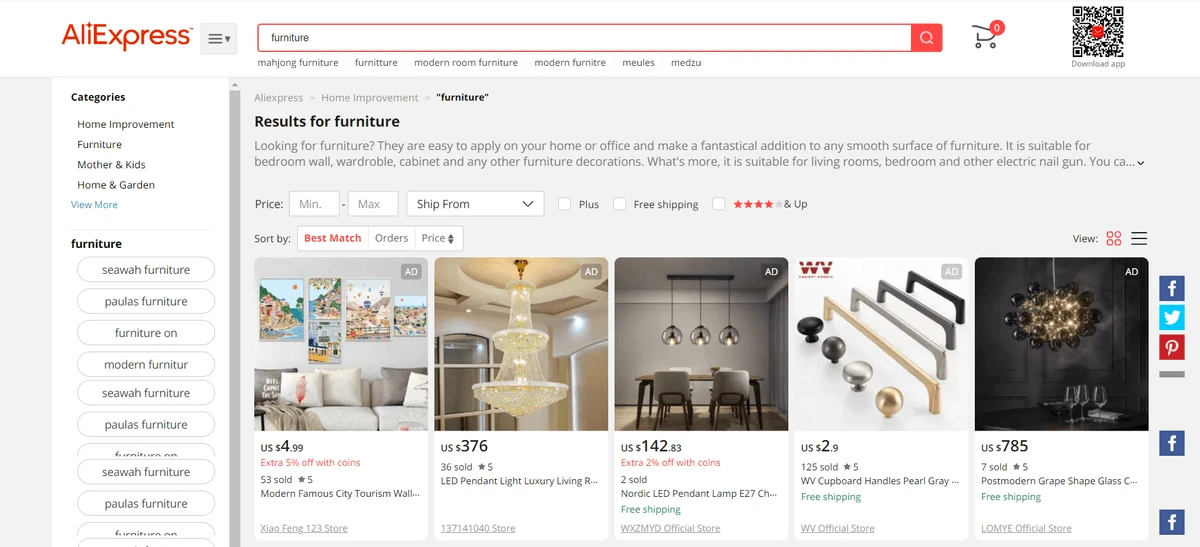 With over 100 million dropshippable items accessible across numerous categories, including furniture, AliExpress, a Chinese-based online marketplace, is a great place for you to source products.
You may find practically every type of furniture with AliExpress dropshipping. The things you need are typically sold at a fair price, enabling you to make money.
Unfortunately, none of the providers have been thoroughly checked. As a result, each product will have a different quality. We advise getting samples or hiring a product-quality inspector.
This will make it easier to guarantee the furniture's high quality and usefulness.
⭐ Best for:

Merchants with plans to expand their product line.

Plans and Costs

Both searching and purchasing on AliExpress are free.

To sell on AliExpress, suppliers do, however, have to pay a commission. Usually, the commission will be included in the product's ultimate price.

Recommended furniture ideas

Trending furniture

Modern furniture

Best countries to start

Worldwide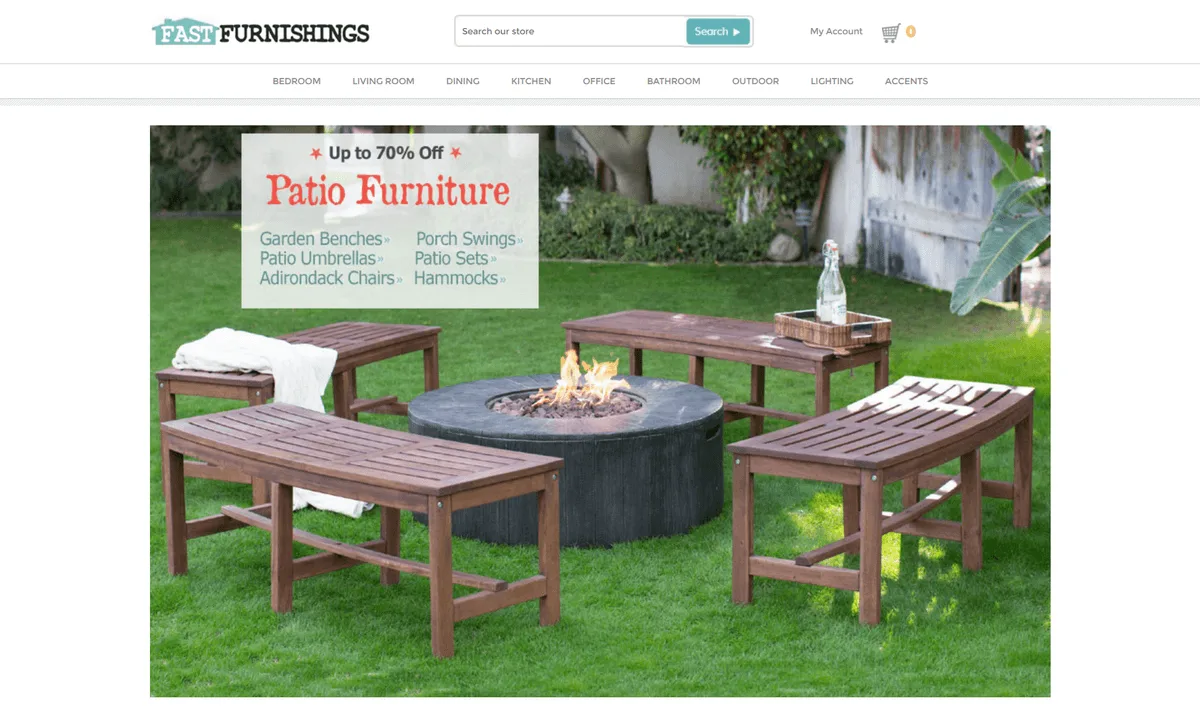 FastFurnishings is a U.S. wholesale and dropshipping supplier of outdoor and indoor furniture. They offer over 3,000 home furnishings products available for sale on eBay or individual websites.
Furniture for the bedroom, living room, dining room, workplace, bathroom, kitchen, and outdoor spaces, as well as lighting accessories, are all available for selection.
They provide a dropshipping scheme that lowers your cost relative to what they charge online. The website allows B2B sales through its Wholesale Drop-Ship Reseller Program as well as B2C sales through its website. Before starting to dropship furniture with Fast Furnishings, you must submit an application and wait for acceptance.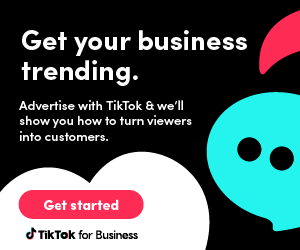 The ordering procedure isn't automated, though. This implies that you will have to manually order the item from Fast Furnishings whenever a consumer purchases from your store. Managing this might be time-consuming and difficult depending on your order volume.
⭐ Best for:

Merchants who want to source high-quality dropshipping furniture from industry experts

Plans and Costs

Entrepreneur, which is free;
Pro, which costs $49 per month or $39 per month if paid annually.

Recommended furniture ideas

Bathroom furniture
Dining room furniture
Bedding and comforter sets

Best countries to start
USA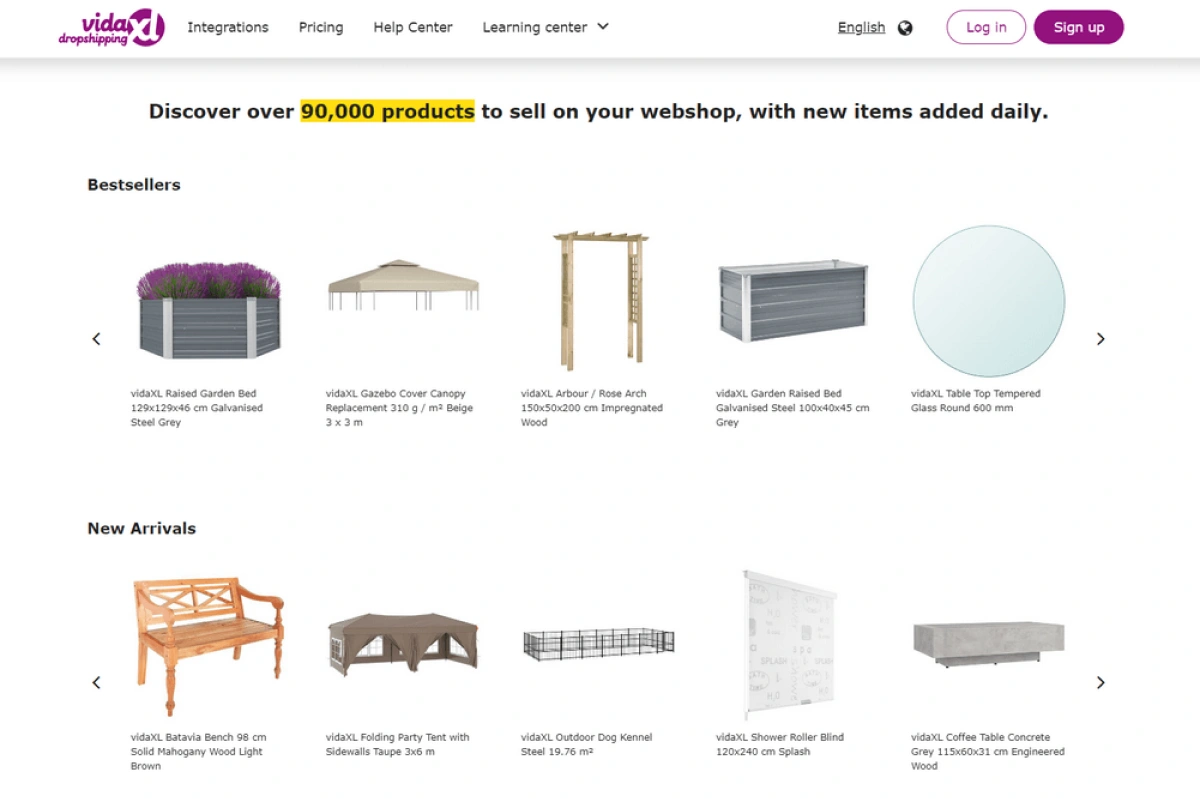 Vida Dropshipping XL is an end-to-end fulfillment service. You can browse through their 90,000-item catalog to discover the ideal piece of furniture.
Once you've identified your favorite piece of furniture, you can link a tool with your store to automatically import the goods. Your customers will have a smooth experience thanks to this.
For quick shipping, they currently have warehouses in the USA, Europe, and Australia. The good news is that the majority of Europe, the US, and portions of Australia all offer free shipping.
⭐ Best for:

Merchants looking for low shipping costs

Plans and Costs
The only plan offered by Vida Dropshipping XL has a monthly cost of €33.

You need to be a member to utilize Vida Dropshipping XL and access the product catalog.

Recommended furniture ideas

Cabinets and storage
Wine racks
Outdoor furniture

Best countries to start
UK, USA & Australia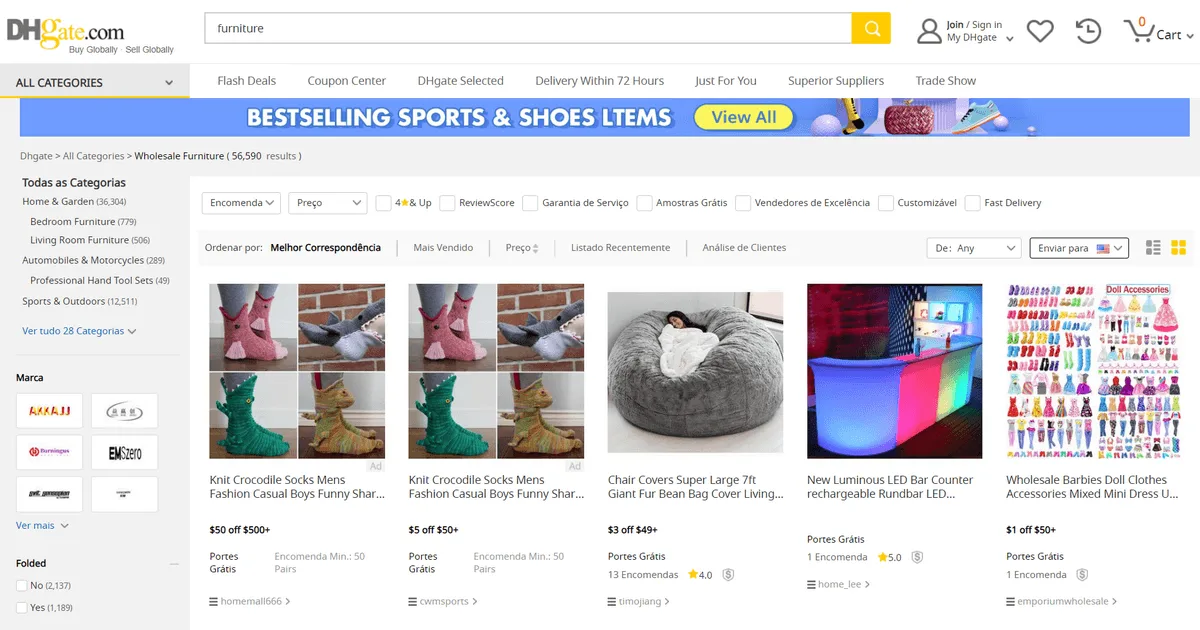 Another Chinese marketplace for dropshipping goods in a variety of areas is DHgate. On DHGate, you can choose from approximately 100,000 different furniture items. Almost every item you require for your dropshipping store can be found.
You can look over each supplier's items, get in touch with them directly, and read other customers' reviews. Additionally, DHgate provides consumer protection for damaged or misrepresented goods, giving retailers some assurance when using the platform.
To automate your dropshipping process, you can integrate DHGate with Shopify.
⭐ Best for:

Merchants who want to source affordable dropshipping furniture with buyer protection.

Plans and Costs
Free of charge. There are no membership fees or paid subscriptions required to make a purchase.

Suppliers who list their products on DHGate are required to pay a service fee.

Recommended furniture ideas

Sofa sets
TV stands/multimedia unit
Vanity sets/dressing table

Best countries to start
Worldwide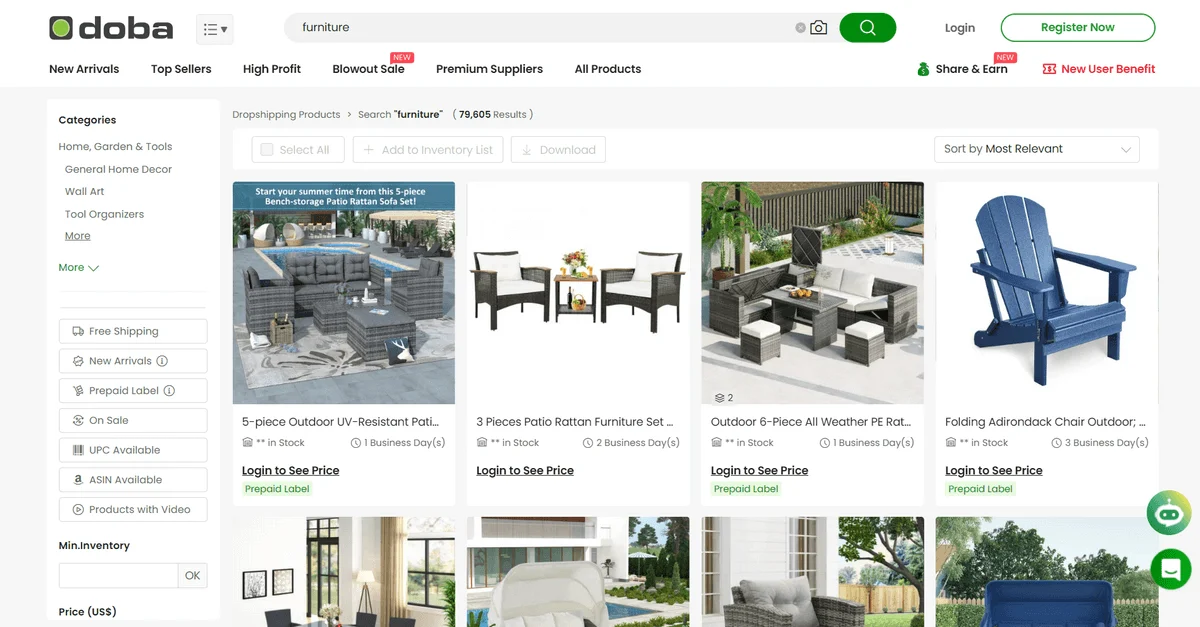 Doba is a shopping platform where you can look through, evaluate, and get in touch with millions of products from numerous dropshipping providers. Products of all kinds, including furniture, are available here. To buy and add items to your store, you need an account and subscription.
The platform is simple to use and navigate. The following criteria can be searched for using the filters:
Price
Shipping From Location
Shipping To Location
Processing Time
Shipping Time
Thanks to this, it is easier to identify the ideal supplier for you with the help of these filters.
They also provide training materials and fulfillment choices to aid new dropshippers in their success.
Doba can be integrated with marketplaces like Amazon, Walmart, and eBay as well as e-commerce platforms like Shopify. Doba's responsive customer care service is one of its key differentiators.
⭐ Best for:

Merchants who want to access a large and diverse product catalog, save time and hassle by using a single platform

Plans and Costs
On Doba, three different plans are offered.

The first is a no-cost strategy dubbed Start-Up. New dropshipping businesses should use this strategy.
The Business plan is the following available plan. Doba promotes this approach as being excellent for expanding enterprises.
The Enterprise plan is the most expensive option. For sophisticated organizations that need all of the functionality available, it is perfect.

Recommended furniture ideas

Kids furniture
Outdoor furniture
Bathroom storage

Best countries to start
Worldwide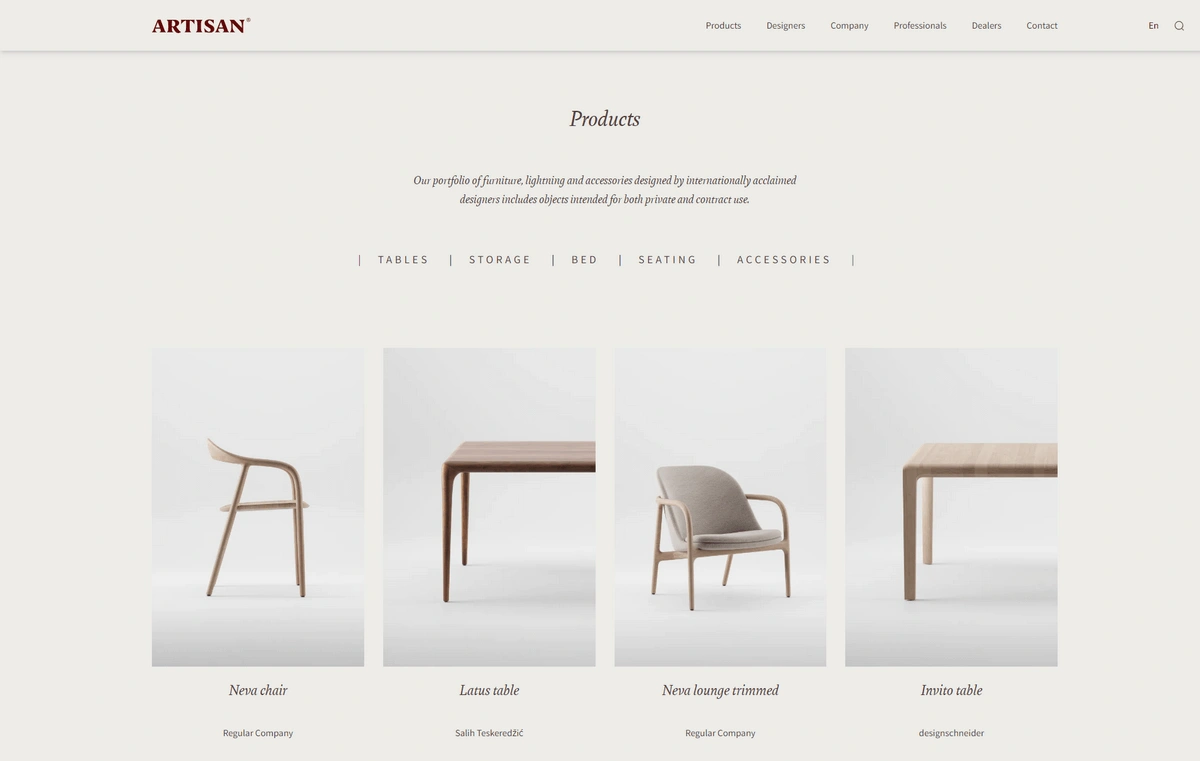 Solid, handcrafted furniture that has been fully built can be purchased through Artisan Furniture.
You can buy products via their dropshipping service, and they will send them straight to your customers. The merchandise will have white labels, so customers won't be aware that Artisan Furniture sends the goods.
They have storage facilities in the US and the UK, which makes shipping quick and cost-free in these locations. When it comes to furniture, this is a fantastic perk. That is because furniture is frequently bulky and expensive to ship.
Additionally, you can order custom furniture by altering the shape, size, fabric, and other characteristics.
⭐ Best for:

Merchants who want to sell solid wood handmade furniture

Plans and Costs
For Artisan Furniture, there is no membership or application fee.

Yet, you are required to pay the usual price for each item under the dropshipping program.

Recommended furniture ideas

Console tables
Bedside table/nightstands

Best countries to start
USA & UK
What You Should Know About Furniture Dropshipping to Make Money?
There are a lot of things you need to learn and prepare when launching a dropshipping furniture business. Being well-prepared is always a good thing to do to avoid any problems down the road. There are 3 important things we want you to keep in mind:
1. Find reliable furniture dropshipping suppliers
The reputation of your business depends on its furniture dropshipping suppliers upholding specific standards, such as providing high-quality goods and services, excellent shipping, etc.
Meanwhile, there are huge risks associated with poor suppliers, including delayed manufacture, damaged or defective furniture delivery, and even the sale of fake goods.
Those defects can be expensive since you must offer discounts or refunds to make up for supplier errors in most cases. Even then, your business could lose devoted clients, especially if mistakes are made often.
Besides, mid-market and enterprise companies must collaborate with furniture dropshipping suppliers who offer excellent furniture items and have a wealth of experience managing orders and fulfillment for intricate omnichannel retail operations if they are planning for a great expansion.
2. Find the target countries
When marketing pricey and sophisticated goods, be sure to focus on countries where online buying is sufficiently mainstream.
Why does that matter?
It all comes down to the customers' desire to make online transactions. You have no chance of success with costly things that require planning and research before purchase if online shopping is a mystery for them.
So pay attention to those countries where consumers are accustomed to purchasing from online merchants.
Furthermore, they shouldn't have any issues purchasing expensive and complex products online without having a chance to inspect them first.
3. Build your brands
It would be wise for you to create good branding if you have chosen to focus on a single product area of dropshipping furniture. For a portion of prospective customers, you will compete against exceptionally strong competitors.
You must therefore focus on more than just the cost and quality of the goods; while also leaving a lasting impression on your target audience.
Numerous advantages, including customer retention, repeat business, market capitalization, etc., can come from brand recognition. This may offer you the chance to earn more money as well as a measure of insurance in case anything doesn't turn out as planned.
Building a powerful brand is a difficult process. However, if you implement our best dropshipping marketing strategies, you're bound to enjoy the aforementioned advantages.
Final words
Overall, this guide is intended to help you decide whether dropshipping furniture is right for you and what it entails. Generally speaking, dropshipping furniture requires extra effort, research, testing, and selection of the best platform and furniture suppliers.
We hope that this guide has helped you to make an informed decision about whether dropshipping furniture is right for you and how to find a reliable partner for your online store.
Remember, dropshipping can be a lucrative and rewarding business, but only if you work with the best suppliers in the industry.