Did you know that you can still sell your products even though you don't have them yet? This is possible through Shopify pre order apps.
To some online stores, selling is put to a halt when stocks run out. While that's only logical, we believe that closing sales on your online store should be a never-ending process. Because… Why say "no" to sales and potentially disappoint excited customers?
So if you always run out of stock on your products, or if you have a supplier with limited supply, Shopify pre order apps should be in your store to maximize your potential sales.
In this article, we have listed down our top picks so you don't have to worry about choosing which one works best for you. Keep reading.
💡 Based on your interest:
Benefits of Shopify Pre Order Apps
Shopify pre order apps should not be viewed as unnecessary expenses. Instead, view them as tools to maximize your income. Here are some of the benefits of using them:
Enhance initial sales and income: Allowing your customers to pre order products will help drive revenues and boost your cash flow.
Spark Anticipation Before Launch: Pre orders generate anticipation for upcoming products. This can increase customer engagement and conversion rates.
Cultivate Customer Dedication and Promote Repeat Transactions: Offering pre-orders promote customer trust and loyalty. And when the pre orders are delivered on time, customers gain confidence in buying from you.
Establish Payment Systems with Increased Versatility: Some Shopify pre order apps allows for flexible payment structure such as partial pay and payments in full. This gives customers a choice that fits their preferences.
Assess Interest in Upcoming Products or Marketing Choices: Allowing pre order sales in your online store gives you valuable insights into customer preferences. This will help you make data-based decisions for future product launches or inventory restocking.
💡 You might be interested: How To Open and Manage Multiple Shopify Stores (Tips + Apps)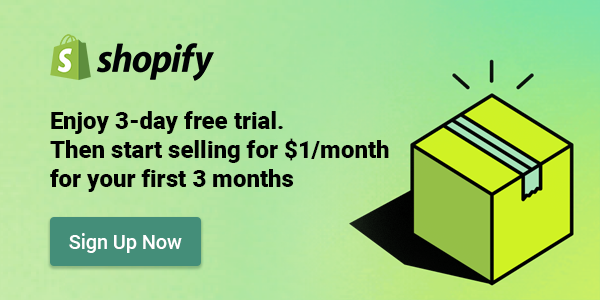 5 Best Shopify Pre Order Apps
The benefits of Shopify pre order apps surely puts your business in an advantageous position. So if you are convinced that these can help your online business, check out our Top 5 Shopify pre order apps below.
Rating: 5/5 (1000+ reviews)
Pricing: Free plan available | Pricing plans start from $6.65/month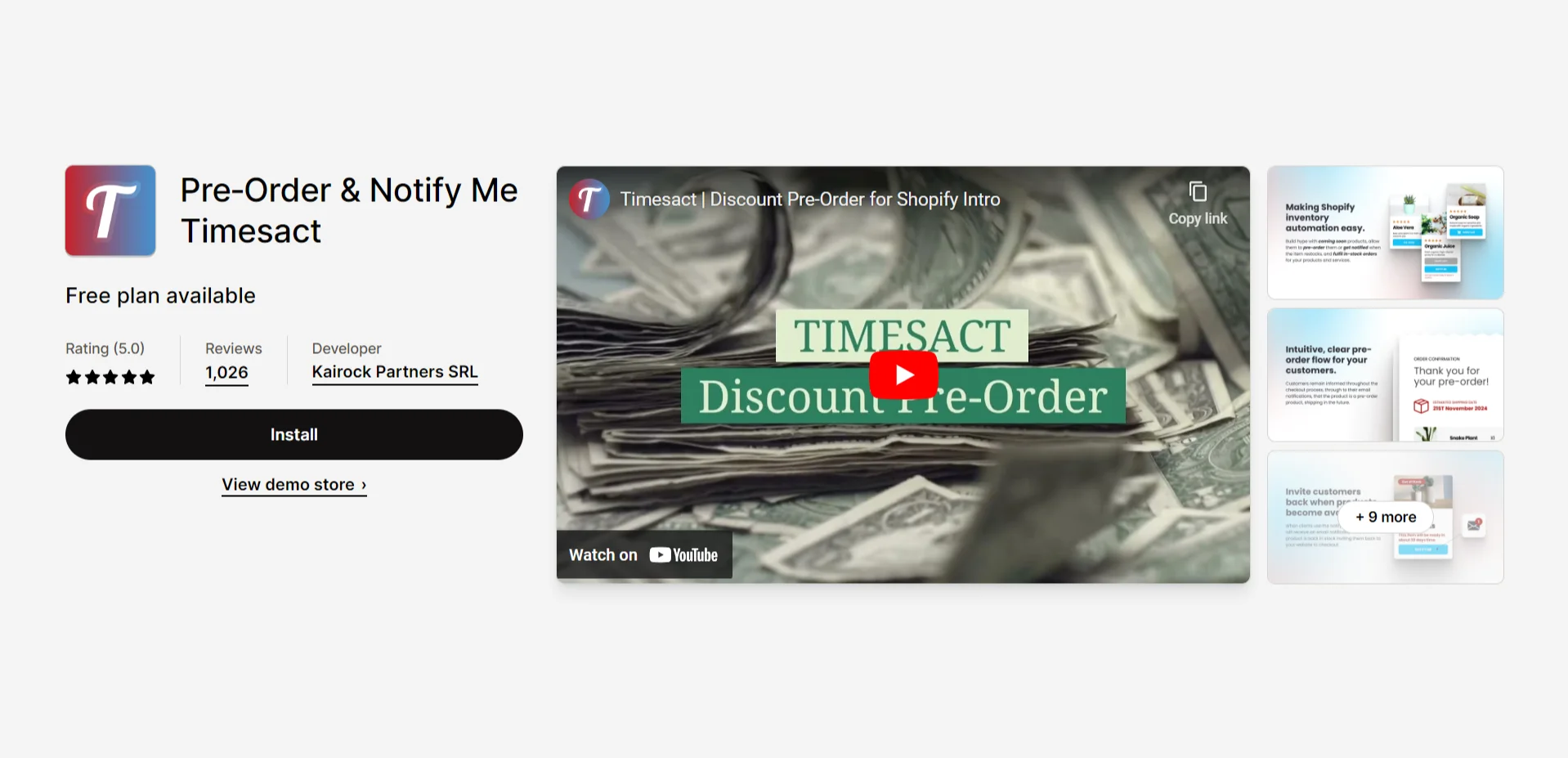 First Impressions
The first one in our list of Shopify pre order apps is Pre-Order & Notify Me Timesact by Kairock Partners SRL. This is also the cream of the crop in this list as it gets a perfect 5-star rating from more than 1000 reviews. The Shopify rating is enough to convince us that it is indeed a great app and favored by present users.
Timesact automates your inventory's status depending on your set parameters. So, you can choose to display "pre order" instead of "add to cart" on out-of-stock products or when the product count reaches your set trigger. It also allows you to set payment terms such as partial or full payments, and even offer pre order discounts.
What we liked most about it is that it has a "notifications" function that will allow you to automate customer notifications about the status of their products – you can choose between email and SMS (coming soon).
Timesact has a dedicated dashboard where you can find all the functionalities that it offers. The menu items are properly sorted so you won't get lost while using it – even if you are a beginner.
Features
30-minute hands-on assistance by their specialists (for first-time users)
Allows for partial payments and discounts for pre orders and back orders
Automated email alerts to customers
Countdown timers to build anticipation
Automated inventory status updates
Price

Timesact allows new users to experience the app without an upfront financial commitment because it has a generous Free plan. Afterward, it has a uniform of $6.65 per month for each of their products.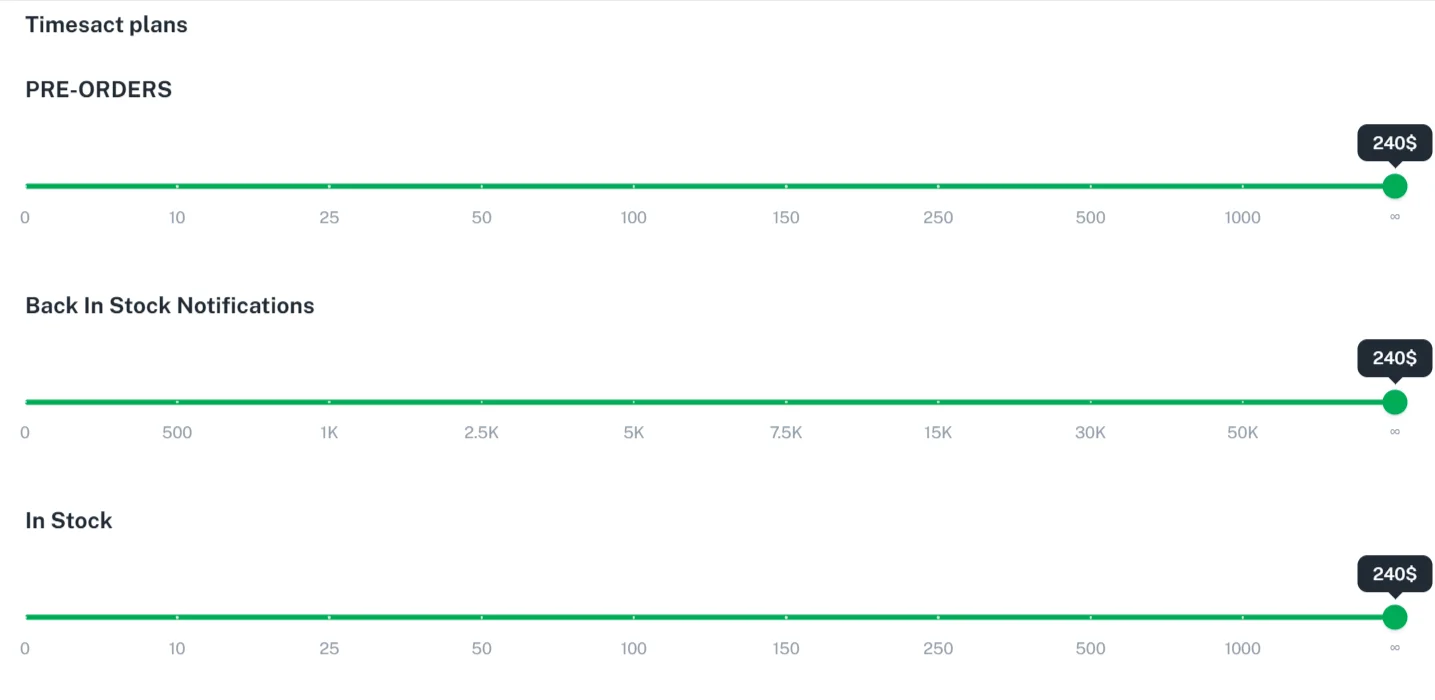 However, actually using it can set you back a hefty amount depending on your needs. The image above can be found on the Timesact dashboard where you can tailor your plan depending on how much you need. These amounts are paid per month.
Rating: 4.9/5 (700+ reviews)
Pricing: Free plan available | Pricing plans start from $19.90/month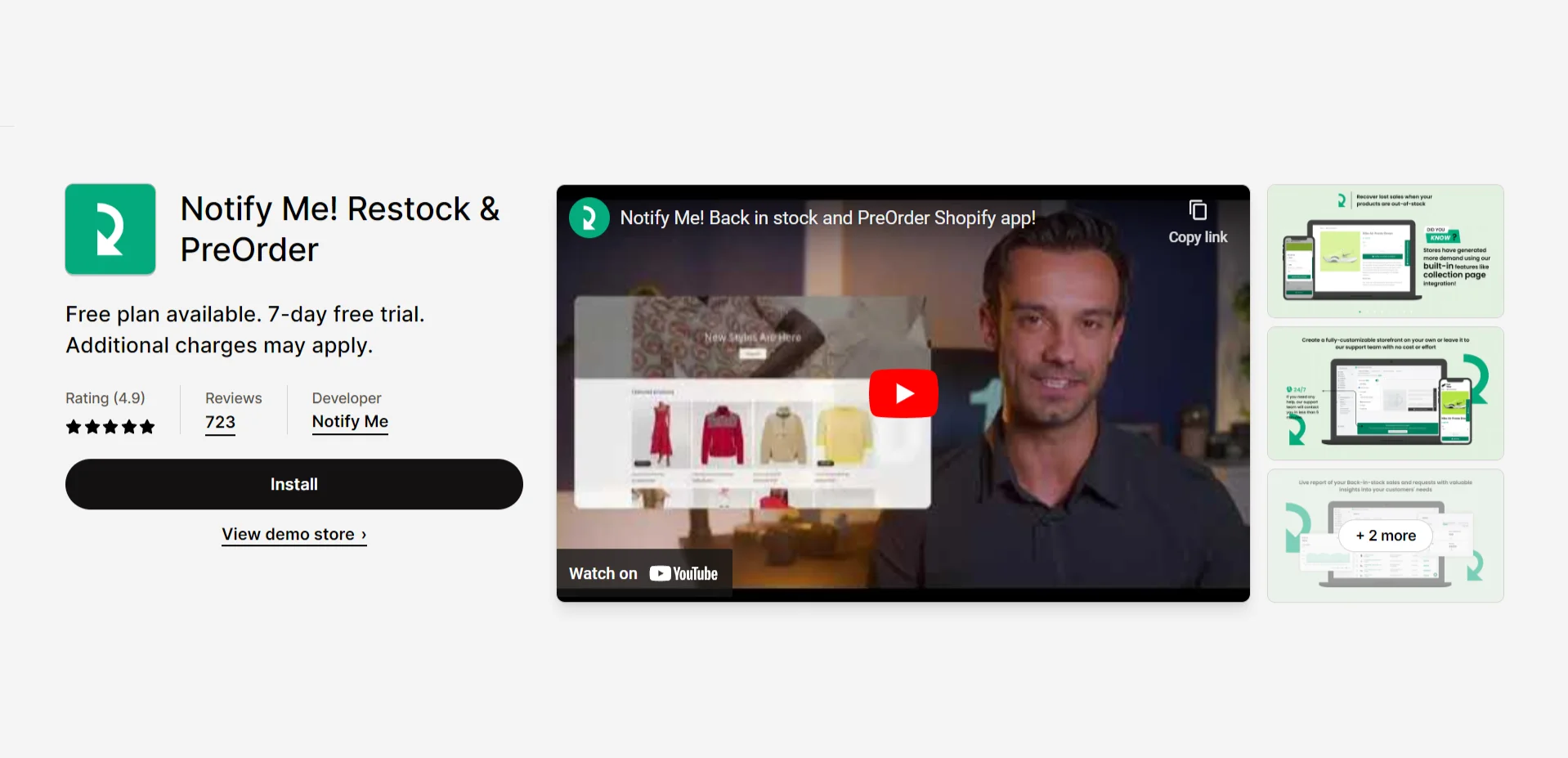 First Impressions
Notify Me! Restock & Pre Order allows customers to be engaged and informed of your inventory status even if they don't place a pre order. This is done by automatically adding a "Notify Me" widget underneath your product listing when the item runs out of stock. This feature allows you to acquire future customers even if they are not yet ready to pay for the product at the moment.
Additionally, it has a "pre order" widget that will allow customers to place back orders.
Using the app is effortless as it is directly integrated into your Shopify dashboard. The interface is basic but all things you'll need while using it are properly sorted by the menu items at the navigation panel.
What we liked most about Notify Me, rather than other Shopify pre-order apps, is that their customer service is highly efficient. They automatically send live chats and they fix errors without even asking. Kudos to their customer support team!
Features
Pre order discounts and automated restock alerts templates
The app is theme-agnostic
Works with other other marketing tools for workflow creation
Responsive customer support
Clean and comprehensive built-in reporting tool.
Price

New users will be delighted to know that in these top Shopify pre-order apps, Notify Me! as its Free plan offers enough features to make it actually applicable. However, the Essentials and Pro plans can be a bit burdensome coming at $19.90 and $39.90 per month respectively.
Rating: 4.8/5 (400+ reviews)
Pricing: Free plan available | Pricing plans start from $7.99/month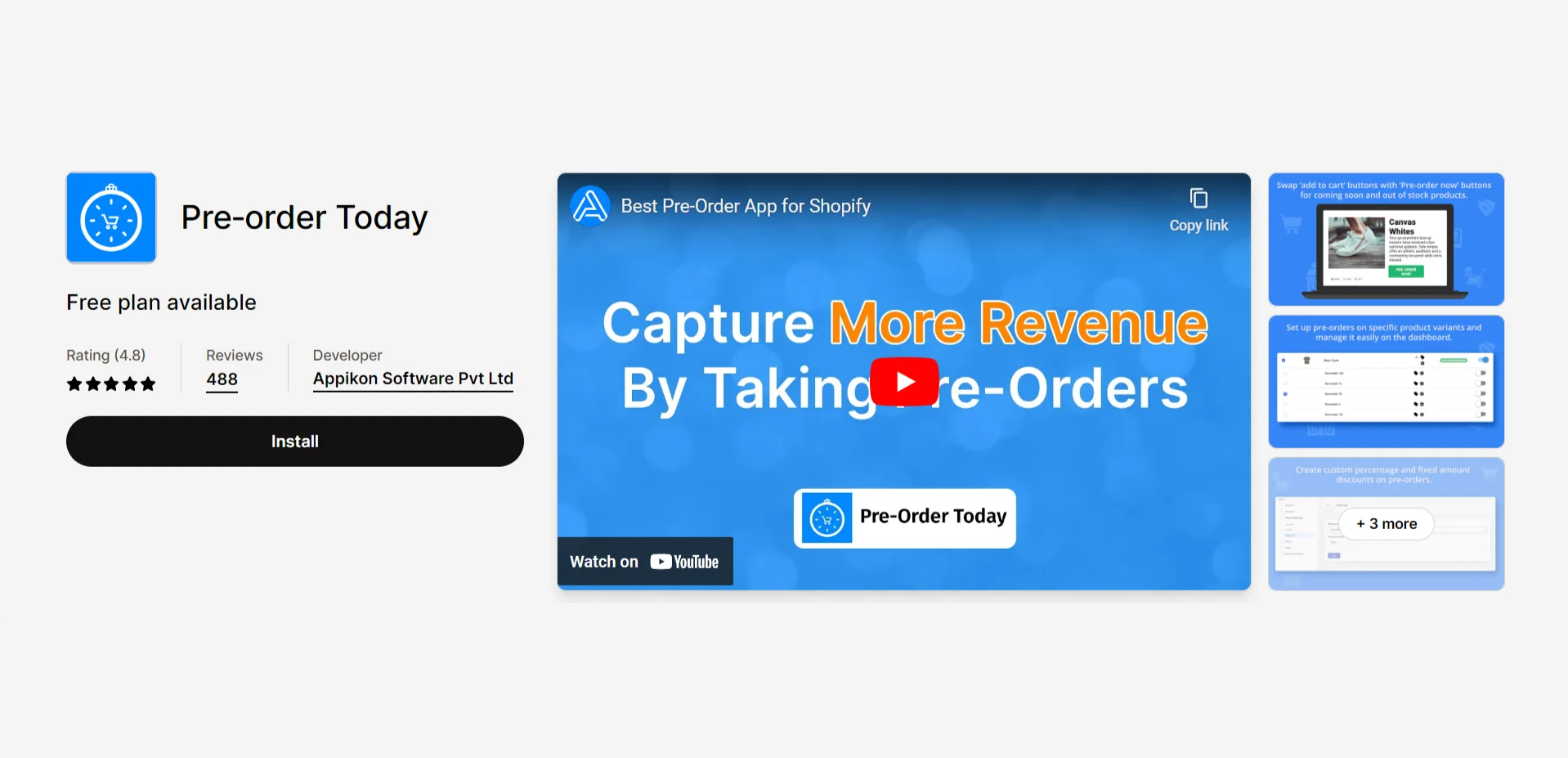 First Impressions
Pre Order Today by Appikon Software is an affordable app in these top Shopify pre order apps that lets merchants add pre order buttons to their inventories in just a few steps. Unlike the other Shopify pre order apps in this list, Pre Order Now was made for a specific purpose, to enable customers to place advance orders and send email notifications, and nothing more.
💡 Read more: 100 Shopify Stores Examples to Inspire You Launch New Business
Through this dashboard, you can create selling plans, choose payment structures, customize your buttons, and craft notification emails. It also has an analytics menu so you can monitor all your pre orders and fulfillments in real time.
Their custom service is also pretty efficient. They have email chat support built within their dashboard.
If you are looking for a straightforward and beginner-friendly Shopify pre-order apps, this is the ideal option for you.
Features
Create pre order and waitlists while you replenish your inventory
Switch "Add to cart" to "Pre order" buttons with a flick of a switch within the app
Offer pre order discounts and back ordering
Capture emails and send fulfillment notifications
Price

Pre Order Today is definitely an affordable choice for new eCommerce entrepreneurs. There's a Free plan for those who want to test the waters (although it is limited to just one product). And since it's cost-effective, even its Premium plan won't break the bank.
So, if your products always run out and you can't stock as many as you want due to constraints, this is the app that you should consider using. It is easy to use and it's inexpensive.
Rating: 4.7/5 (1100+ reviews)
Pricing: Free plan available | Pricing plans start from $19.95/month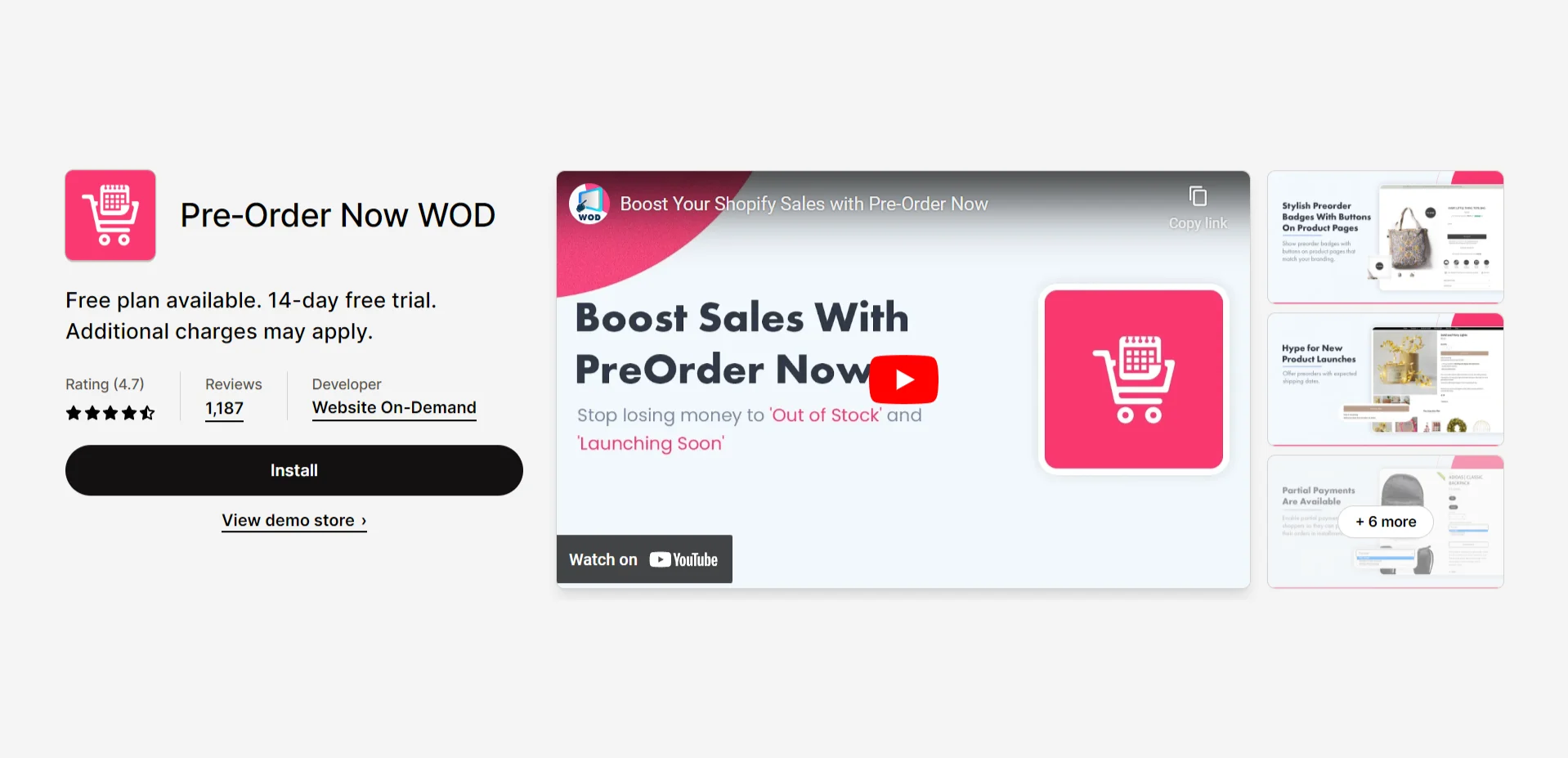 First Impressions
Pre-Order Now by Website On-Demand is an intuitive application in the list of Shopify pre order apps that lets your customers place advance orders and allows you to create hype on upcoming new products. Just like the other Shopify pre order apps, this lets you accept partial payments and send automated back-in-stock emails so your customers are up to speed with their order status.
Your concerns will always be answered by their developers as their customer support team is prompt at responding to queries. They have a floating chat icon in their app so you can easily bring up your problems as they happen.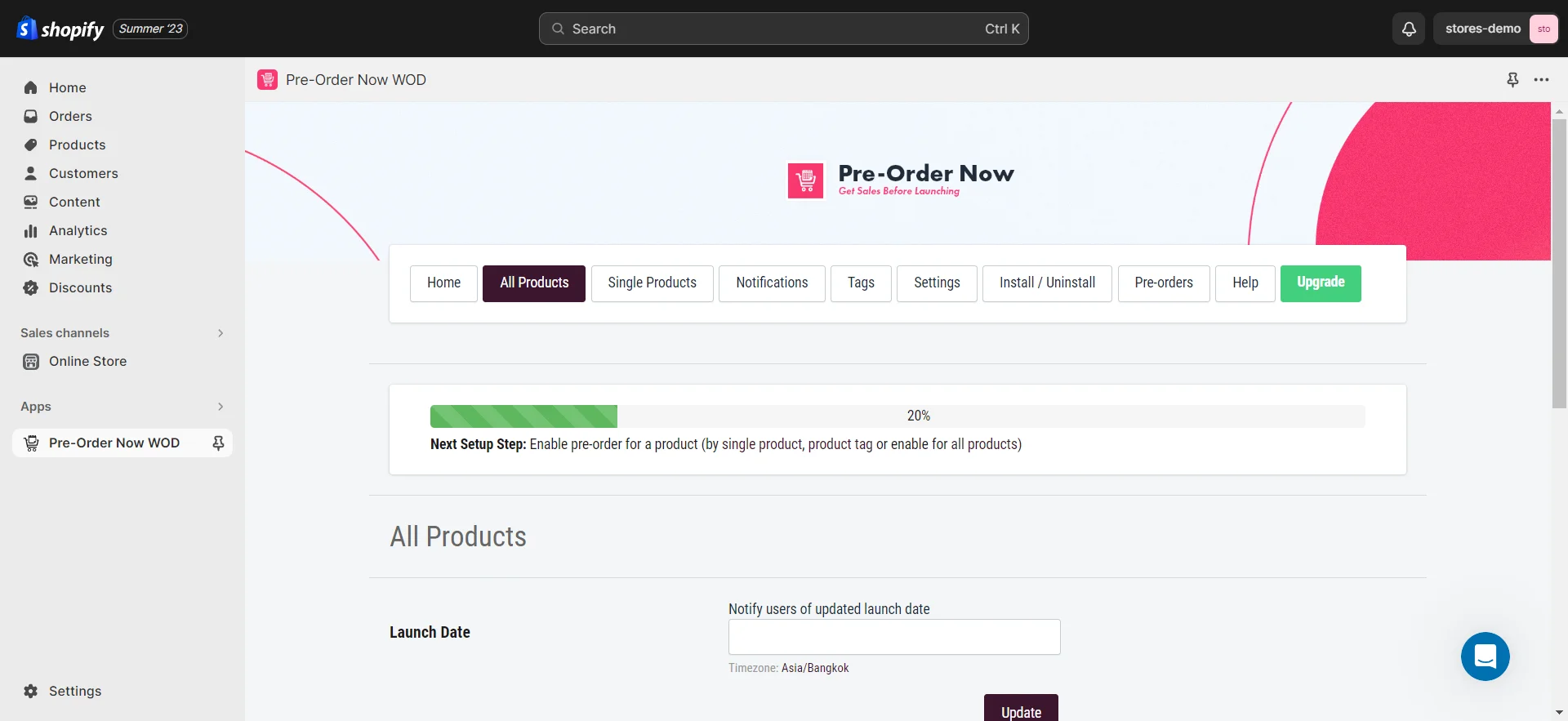 Pre-Order Now by WOD offers a user-friendly experience because it is integrated directly into the Shopify dashboard. Here, you can set parameters to enable pre ordering of your products (based on remaining inventory), customize badges, pre order duration, and email notifications.
However, we noticed that it's lacking a reporting menu where you can see pre ordered products and other insights. Instead, it uses Shopify's Order menu (see left panel of image above) to track your orders.
Features
Mixed cart alerts to notify customers when both pre-order and in-stock items are checked out
Implement pre order discounts to incentivize customer purchase
Allows for partial payment upon order placement and charges the balance prior to shipping
Customizable pre order badges so it fit in your branding
Automated emails to notify customers when your products are replenished
Price

This pre order app offers a 14-day free trial for 1 product. After that, it charges a monthly fee depending on your current Shopify plan:
The good thing here is that even with the Basic plan, you get a feature-packed app. However, if you want the functionalities of higher plans, you should also upgrade your Shopify plan – thereby adding up to your expenses.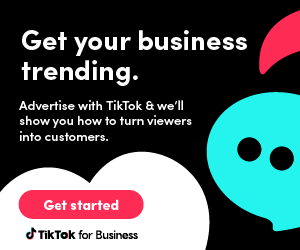 Rating: 4.7/5 (700+ reviews)
Pricing: Free plan available | Pricing plans start from $6.70/month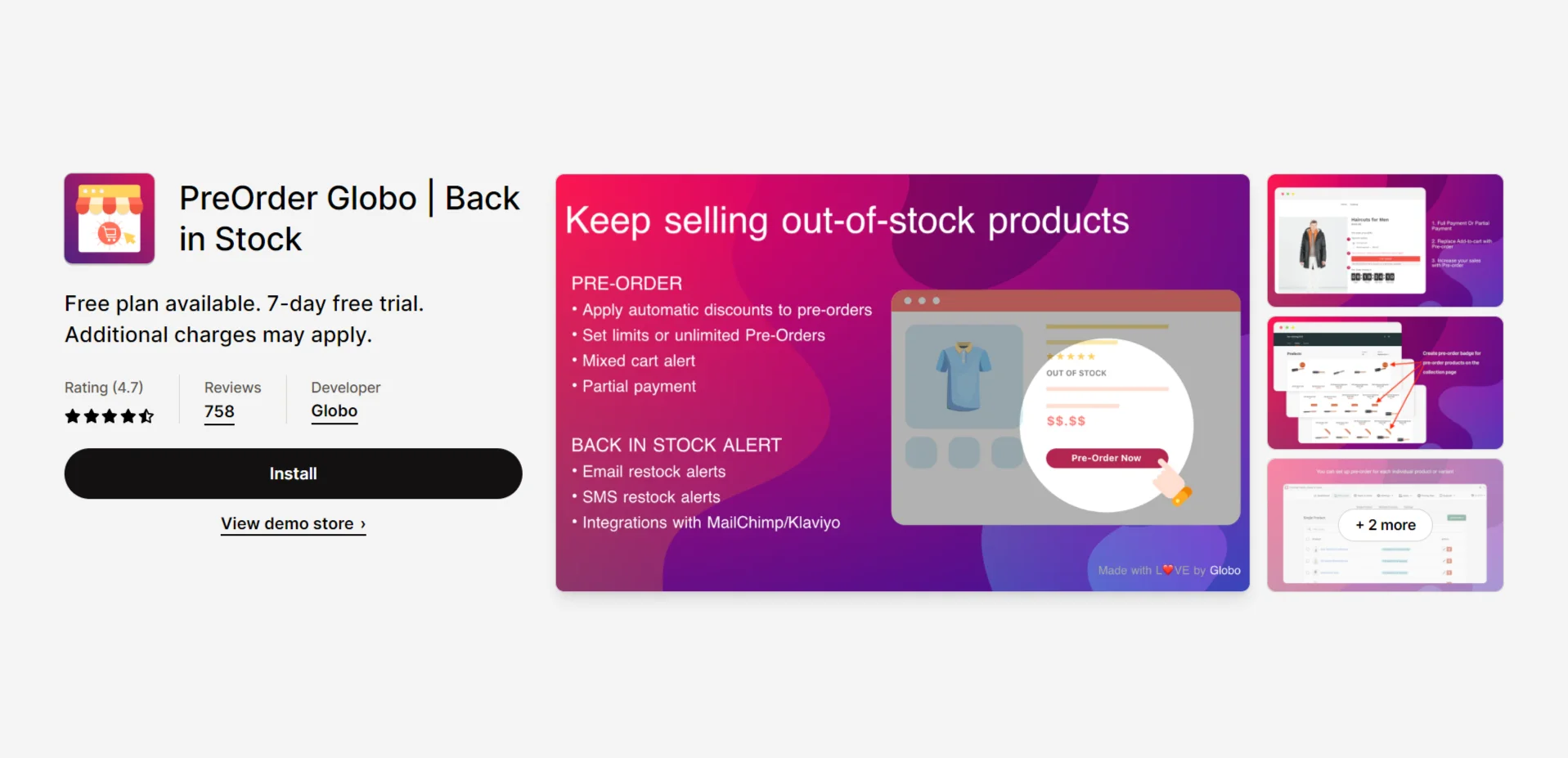 First Impressions
PreOrder Globo | Back In Stock boasts easy-to-configure pre order buttons and durations based on inventory. Aside from pre order buttons, this app also allows you to place "Notify Me" buttons so you can keep customers engaged even if they are not yet ready to financially commit. It isn't yet equivalent to revenues, but this nifty feature increases your chances of converting customers when you already have the products on hand.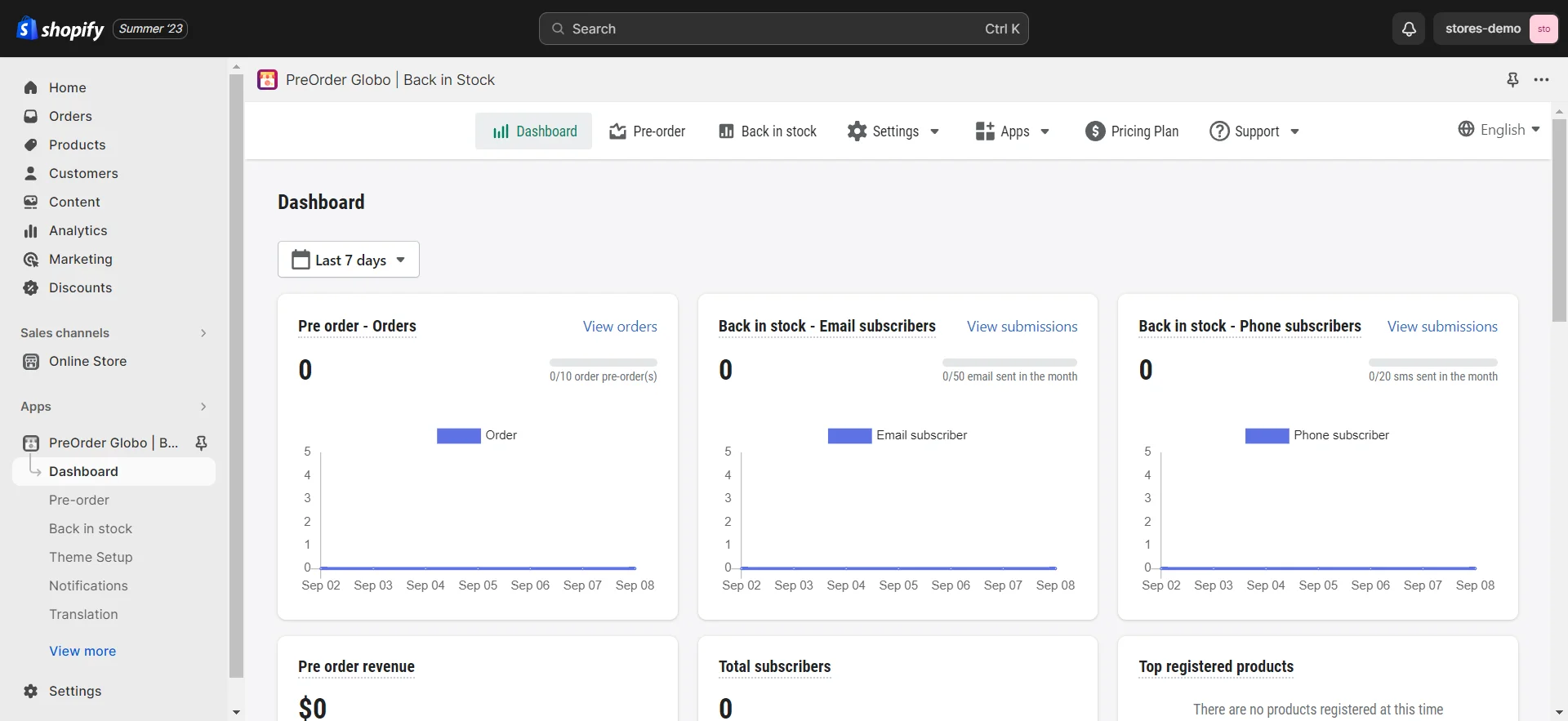 We experienced quite a bit of friction when we installed Pre-Order Globo for the first time. It did not automatically integrate with our existing theme and it required us to go to our Shopify theme settings and activate the app there. Nonetheless, the experience was smooth thereafter.
This pre order app's dashboard is integrated into the Shopify dashboard thereby providing a smooth sailing experience while using it. We value numbers and data, that's why we appreciate that Pre-Order Globo has a dashboard that provides all numerical details needed.
Features
Easy-to-configure pre order buttons
Partial payments, automatic pre order discounts, preselling, and back ordering
Customizable pre order button descriptions
Capture email by enabling "notify me" buttons on out-of-stock items
Automated email notifications to customers
Price

If you are a first-time user, Pre-Order Globo has a 7-day free trial with extra generous offerings so you can explore all that it offers. After the trial expires, you have an option to choose between:
Basic – $6.70 per month
Premium – $9.90 per month
Pro – $19.90 month
The good thing about their pricing structure is that they don't cheap out on the Basic plan. All subscriptions enjoy full app features. Where the differences lie are in the amount of pre-orders, emails, and SMS. If you asked us, this is a reasonable pricing structure. Well done!
No Product On Hand? Use A Shopify Pre Order App
When your stocks run out, you miss out on potential sales. But with these Shopify pre order apps, you no longer have to worry about that.
Like we mentioned from the beginning, your online store should never stop closing sales. Because if you are willing to wait for your products to arrive before you start selling them again, your customers might not be. In fact, it is very easy for them to hop on Google and find another online store that offers similar products.
You might not realize it, but that hurts your revenues.
Shopify pre order apps are designed to bridge the gap in your supply chain by enabling you to continuously sell while replenishing your inventory. Seize the opportunity to make the most out of your online store by using the Shopify pre order apps we mentioned above.
Wait, aren't you using Shopify for your online business yet? Read this article: Shopify vs Your Own Website: Which One to Invest in 2023?