Despite the fact that Shopify already provides certain fundamental SEO practices for its users, it's hard enough to get your business to the top of search engines. And especially, if you are a newbie to Shopify, you can have a look at our article about what is Shopify. Then, you'd better learn to optimize for all aspects of SEO at the beginning.
Thus, in this article, we will explain the fundamentals of SEO Shopify and what you will need to get started on growing your business organically. Keep scrolling as there is a lot waiting for you!
Fundamentals of SEO Shopify users need to know
The technique of increasing the number and quality of visits to your website through organic search engine results is known as SEO (Search Engine Optimization).
For a given search query, search engines compile a ranked list of results using various website data. They choose the websites that are most relevant to the search query, after which they present the results in order of the degree of relevance.
In the eCommerce world nowadays, most online businesses conduct SEO White-hat tactics (Providing high-quality content and services, Fast-loading site and mobile-friendliness, etc.) that focus more on the human audience instead of search engines and work within the search engine's policies. 
Sadly, there are still businesses that exercise SEO Black-hat practices such as Hidden Text or Links, Keyword Stuffing, etc., which are deemed to be negative activities and a violation of the search engine's terms of service.
We only encourage you to play by the rules and propose a customer-centric SEO Shopify campaign because creating true value for customers is the ultimate way to attract them and build loyalty.
1. 4 key SEO factors that will help your website rank
Learning the factors that affect your ranking and creating a better experience for your customers will help you build an enhanced SEO Shopify strategy. They are:
Page speed
It plays an essential role in offering shoppers the best user experience by giving them the answers they are searching for as soon as possible.
Meta description
It includes and emphasizes the specific keywords that shoppers enter into the search engine. This factor can help you gain more traffic since your target customers will know what your page is about.
Links
The more websites connect to yours, the more traffic you receive. Furthermore, it shows that your website is a trustworthy source of information. Thus, link building should be a component of your SEO Shopify strategy.
Content
You can improve the visibility of your website with the aid of its content. To produce high-quality content, you have to use your selected keywords and decide the kind of content that will appeal to your target audience.
2. About SEO Shopify 
In the context of eCommerce, SEO Shopify refers to SEO advancements that are more specific to Shopify than to other websites. Shopify businesses have certain SEO benefits, such as a blog and the ability to redirect.
Shopify makes it easy to understand many of the confusing terms used in SEO and rapidly pick up the fundamentals needed to enhance SEO. The three types that apply to SEO Shopify strategies are:
Technical SEO
Technical SEO includes the activities that affect whether search engines index your Shopify stores, such as site speed optimization, structured data, canonicalization, and other related actions.
On-page SEO
The term refers to the strategies you use to make your content easier for search engines to understand and rank. This includes making your content useful and geared toward your target audience before optimizing headings, tags, and links to make your content more search-engine friendly.
Off-page SEO
All actions taken on another website or platform, such as link building, social media marketing, local citation management, and landing page reviews, are considered off-page SEO.
2. Simple SEO Shopify Guide for ranking your store 
Step 1: Technical SEO
Although technical SEO is invisible to shoppers, it can help your website to be optimized for mobile, crawlers, and site speed. It improves the technical elements that will influence how well your website ranks. If done correctly, it may result in:
Better website engagement is the result of how quickly and easily people can reach it.

Greater organic traffic thanks to easy crawling
In fact, Shopify handles technical SEO quite well with a sitemap and robots.txt file. However, there are a few things that you need to work on, so let's dig into them now.
Set your preferred domain 
This step is known as domain canonicalization which means you will choose a preferred version of your domain for search engine indexing and ranking. It comes after you have launched your Shopify store. 
For instance, you can access your Shopify store at:
For Shopify, the auto-generated canonical tags are added to pages and the platform will redirect alternatives to the domain it believes to be your preferred one. Unfortunately, it's not always accurate. 
Therefore, if you want to check and change this, navigate to the Domains settings. Then, click the version of your preferred domain that Shopify didn't select as the primary and click "Set as primary".
Define your store structure logically
For e-commerce websites, site structure is crucial since it makes it easier for visitors and crawlers to find your website. It will facilitate the spread of link equity across your website. 
You will often utilize the following page types in Shopify:
Homepage

Collection Pages

Product Pages 

Informational Pages (Contact us, About…)

Blog 
With this structure, you will allow potential buyers to find what they're looking for in three clicks or less. In addition to enhancing user navigation experience, this structure enables your Homepage to authorize all of your main categories and product pages, improving their chances of ranking well in search results.
Create separate products for product variants 
Product variants refer to products with minor differences. For example, if you're selling a "Chanel perfume" that comes in several colors, then you may create product variants. 
Shopify adds ?variant=$id  at the end of the product's URL to introduce product variants. Let's take a look at the URL: example.com/products/chanel-perfume?variant=192068877092
To stop being indexed, product variations are by default canonicalized to the main product URL. While this is beneficial in most cases, this possibly results in a missed opportunity if customers look for a different version of your product.
Hence, the best course of action in these situations is to create a separate product rather than a product variant and support it with original content to maximize ranking potential.
Increase Your Page Speed
As mentioned above, page speed is one of the factors affecting your website ranking. Increasing accessibility is the key to maintaining the speed of your website. There won't be any frustrated visitors if your site is quick to navigate and everything runs properly, and there's a good chance they'll want to stay on it longer.
That's why we suggest three easy tips to optimize your site speed:
Compress your high-quality images.

Eliminate unnecessary elements such as sliders or unused apps, etc.

Select quickly-loading eCommerce themes for your store.
Secure Your Website
Using SSL, or Secure Sockets Layer, for your store is vital since it shows that your website is safe. To guard against hackers, SSL will secure an internet connection and the data transferred between two systems.
Because the search engine only wants to display reliable websites, this is a crucial criteria to rank on the Search Engine Results Page.
STEP 2: Conduct a keyword research
SEO Shopify is centered upon search engines where keywords are the search queries. This implies that users of search engines receive results depending on the terms or search queries they enter.
As a result, you must determine which high-value search terms your potential clients may be using. You can achieve that by conducting eCommerce keyword research, which can be done in a variety of ways.
Since each keyword type has different purposes, you need to be aware before starting your keyword research. Your SEO Shopify plan can be enhanced by using the right keyword types. What are these then?
Informational keyword

: This type matches the first stage of online shopping –

Awareness

. Informational keywords are used by customers to find out more about a subject, issue, or product.

Navigational keyword

: It corresponds to the second stage of online shopping –

Consideration

. To discover more about a particular item, shoppers use navigational keywords. These keywords frequently contain brand-specific terms and navigational phrases like "Near me", "Features of", "Reviews", and "Prices".

Transactional keyword

: This type matches the third stage of online shopping  –

Conversion

. Transactional keywords, also known as product-focused keywords, will be used by buyers who are prepared to make a purchase. As a result, these keywords frequently contain terms like "discount," "purchase," "for sale," "where to buy," etc.
You will need to create content such as blog posts, videos, and tutorials with navigational and informational keywords to direct potential customers to your store and familiarize them with your brand.
Simultaneously, you use transactional keywords on your product pages to tailor them and align them with the conversion stage of the buying process.
Once you understand these types of keywords and how to use them, you can move on to the keyword research process. 
1. Find keywords
Keywords are the core part of SEO analysis. You need to have the right keyword to help your products come in sight of customers more easily. There are some ways for you to find keywords but we suggest the two most effective ways.
Use Google or other eCommerce sites for keyword research 
Undoubtedly, you are aware of Google's autocomplete feature. Google provides relevant queries as you input your search query. Furthermore, you can find more relevant search queries at the bottom of the page. When you already have several basic keywords in your head, they could be a goldmine for keyword suggestions.
You can take the same steps on Amazon and AliExpress to find good keywords. Start by entering the keywords that best describe your product and review the suggested results.
Yet, unlike Google, their keyword suggestions are product-focused, which will offer some information related to keyword ideas. For example, they can provide you with some potential pricing categories that you can add to your website.
You could use tools to automate this process. For Amazon, the task can be automated with the help of some Amazon Keyword tools which are mostly free. For every keyword you enter, these practical tools will automatically scrape Amazon's autofill suggestions quickly. As a result, it will save you time, especially if you have a large inventory of goods. 
Whether you use Google or Amazon, pay attention to long-tail keywords, which often contain 3 to 4 words. The longer the keywords are, the more specific they are. These keywords tend to convey a clearer buying intent, have greater conversion rates, and lower competition.
Keyword research tools 
In our opinion, the most effective way to find keywords is through a keyword research tool. The tool can save you time and effort with its smart and flexible functions. The following SEO tools for keyword research are the most popular and helpful options.
Ahrefs is a fantastic tool for keyword research with a pricing plan of $99 per month. 
You can begin by entering your keywords or uploading a CSV file with all of your keywords in it. You will then receive a thorough report that includes keyword difficulty, search volume, and a list of your rivals that are also ranked for your searched keywords.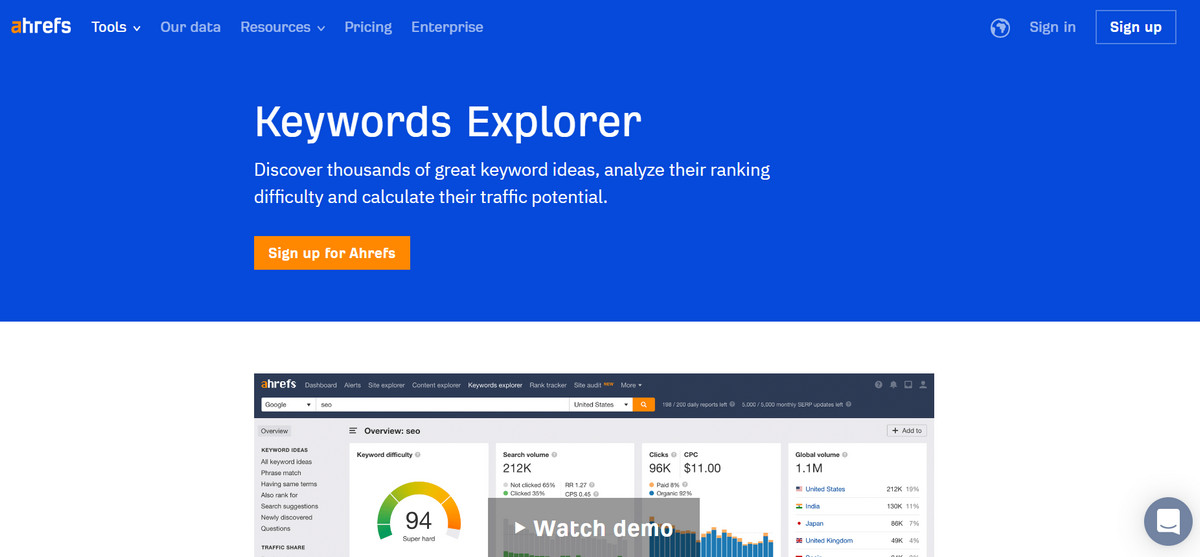 Consider that you are a rival to the online pet retailer Chewy.com. You enter the domain into the Ahrefs research tool and click the number under "Organic keywords" at the top. Scroll down and you can see all of the keywords Chewy.com ranks for. 
You will also find metrics like Volume showing which keywords on its website have the highest volume. You can narrow down your search by including or excluding keywords. Moreover, you will have a list of the websites that link to Chewy.com to get an idea of the ones that can be connected to your website. 
This built-in feature in Google Ads aids in keyword research and provides search volume and forecasts. To access it, all you need to do is register for a Google Ads account, which shouldn't take more than a few minutes.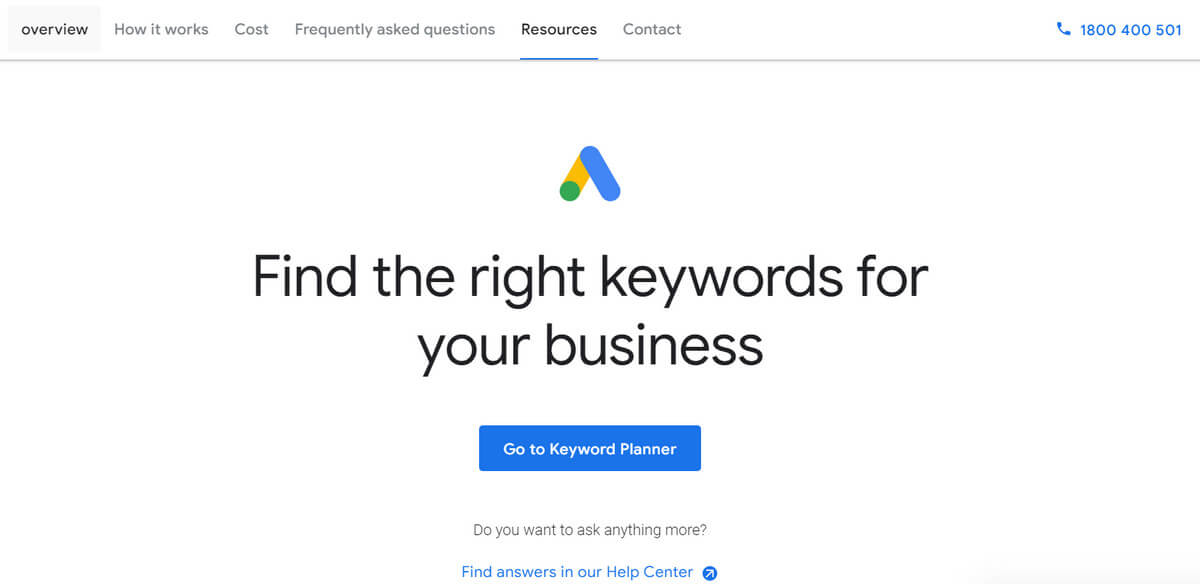 Go to Ads.google.com -> Tools and Settings -> Keyword Planner to get started. You have two choices: either explore keyword suggestions or obtain search volume information for the keyword you've chosen.
You can manually type your keywords into the search box or upload a CSV file containing all of your keywords. Then, click the "Historical Metrics" tab to get data on search traffic and competition.
Another powerful tool to research the right target keyword is SEMRush which can help to widen your website's keyword pool. 
SEMrush Keyword Research Tool provides you with well-used and tested keywords that have assisted in ranking the websites of your competitors and industry frontrunners in Google's top results.
You can learn more about their value through both organic and paid research. You will receive helpful information, like CPC, the volume of results, trends, and ad copies, for any keyword that is listed in the databases.
Additionally, you will know what pages on their website are most frequently used for tracking conversions. Last but not least, you will be able to assess this data via both desktop and mobile indexes.
2. Choose the right keywords 
Your list of potential keywords is probably rather lengthy at this time after utilizing one of these tools above to discover the correct target keyword. Now, all you need to do is make a shortlist and concentrate on the most important keywords based on the following criteria:
Volume:

The higher the volume of search, the more potential traffic to your site. Yet, keywords with high volume often indicate a high degree of competition.

Competition:

You are more likely to rank for the keywords with lower competition. 

Relevancy:

The more relevant your product page or category page to the search term, the more effective your SEO Shopify. So, choose the keywords that are closely related to your products.

Intent:

You need to pick keywords that emphasize commercial intent. For instance, if you run a wedding store, you probably have to select the phrase

"white wedding dresses"

which is more of the right intent rather than

"white work dresses"

.
STEP 3: Site architecture for eCommerce
How your website's pages are built and organized has an impact on your search engine rankings as well as user experience (UX) in terms of SEO for eCommerce.
In essence, you need to make it simple for search engines and customers to locate the items in your store. Additionally, make sure every page of your site is only a few clicks from your homepage, or keep your site structure easy to scale as your business expands.
Yet, those are just basic things you can do for SEO Shopify. Below are some advanced tips if you wish to create a more effective SEO Shopify strategy.
Use mobile-first Shopify themes
Making sure that your store runs flawlessly on mobile devices is essential since more and more customers are purchasing through their smartphones. 
You have to utilize a quick, mobile-friendly theme. Moreover, every page ought to be as viewable on a mobile device as on a desktop.
Optimize some levels of your website structure
The problem of thin content and content duplication is one of the most prevalent ones for eCommerce websites. Thin content refers to the notion that, in contrast to a blog or software website, an eCommerce site has less real text whereas content duplication refers to content that appears on several web pages.
These issues occur due to the fact that many internal levels of your website structure, including filters and attribute-focused pages, only have a few items that are also featured on other pages.
Therefore, we suggest you utilize the supply and demand principle to determine the levels of your website structure, from categories to characteristics, brands, or filter listing pages, that are worthwhile to index and optimize. By doing that, your website will fulfill an actual audience demand.
Improve credibility
You would need to include an About page and a Contact page on your website in addition to the product and category pages. Don't skip out on these pages since they will offer users and search engines the impression that they are visiting a reliable and trustworthy website.
Add a search box
Finally, you'd better have a search box on your website to allow your visitors to find what they are searching for quickly. It is a crucial component of SEO Shopify which helps you maximize the revenue from the customers.
STEP 4: On-page SEO for eCommerce
This section of the SEO Shopify tutorial will cover on-page SEO for your online store now that you've finished your keyword research and have a solid site structure.
The optimization of your website for SEO is referred to as on-page SEO. URLs, title tags, content, and other elements all fall under on-page SEO. By working hard to optimize these elements, you may get a high search engine ranking and persuade users to visit your website.
If you already use Shopify, you are probably aware of the built-in SEO Shopify tools available for you. Yet, they may require some optimization skills. You can master these skills by looking through our following guidelines.
Optimize your store's URL
There are several techniques that you can use to make your URLs search-engine friendly.
Keep your URLs short and easy to scan:

Long URLs are less effective than short URLs. Google cares about accessibility, so your URL should be simple to read and understand for actual people. Therefore, try to keep it between

50 and 60 characters

or less than

560 pixels.
Use the main keyword in URLs:

This is strongly advised because they will be easily visible in search results. Besides, words like "and," "of," "the," and "a" should not be used unless they are a part of the keyword.

Change the automatic blog page URLs:

The website you are using for blogging may create an automated URL each time you publish a blog post. The article's title is frequently ambiguous, complex, and long. Hence, instead of accepting the URL you receive, you'd better change it to reflect an understandable and concise perspective of your blog content.

Redirect the URLs from expired products:

Use 301 redirects –

permanent redirects that pass full link equity (ranking power) to the redirected page

. This helps to ensure that when customers use the old address, they can be routed to the new site after you change the URL of a page from X to Y. You can easily insert the URLs by going to the dashboard's URL Redirects section.

Avoid keyword stuffing:

Repeating a keyword meaninglessly or excessively won't fool Google but instead, that can cause your store to look spammy.
Optimize titles and meta descriptions
SEO Shopify provides a simple method for editing titles and meta descriptions. Choose one of your product or collection pages, navigate to the "Search engine listing preview," then click "Edit website SEO," and choose to edit meta information.
However, writing a unique title and meta description for your products is truly challenging. Hence, you should go through our following tips and implement them into your writing process.
Titles 
Your titles are crucial as they are one of the very first things your customers see and what they are looking for. Therefore, you need to use the keywords in your titles to enhance clickthrough rates.
Naturally, you want to include the main keyword in the Titles regardless of whether it is a blog page or a product page. But that is what everyone is doing, so to stand out in the crowd, you need to: 
Keep the length of your titles between

50 and 60 characters

or

under 560 pixels.

Add emotion-triggering, click-magnet words and state your USP (Unique Selling Point) such as free shipping, great deals, discounts, inexpensive, etc. Because buyers are just human, they can be easily influenced by words like

X% off, Free Shipping, Guarantee, etc.
Meta descriptions
Meta descriptions, which explain the subject of your website, need to include the target keyword, related keywords, and product attributes. Moreover, they should be no longer than 320 characters, or 990 pixels.
Keep in mind that stuffing your meta description with keywords will do nothing to improve your SEO Shopify. Hence, you should focus on: 
Including power keywords such as

Try now, Get it now, Buy now, Sales off, etc. 

Being descriptive by letting the audience know what to expect 
Replace thin content pages with unique product descriptions
When it comes to eCommerce SEO, Google and other search engines base their decisions on the content of your page when determining which keywords to rank it for and where it should appear in the search results. Therefore, Google doesn't have a lot of information if your product page only has a brief description and a few other details. 
Moreover, most stores' category or product pages skip introductions and go straight to the items, which is bad for both the user experience and search engine optimization. Moreover, some stores take shortcuts by using the same product descriptions for an entire category of goods. 
Don't step on the same rake as them! Keep in mind that content duplication hinders ranking. That's why we recommend you create unique product and category descriptions on each page to help customers understand more about the page. 
Shopify has a place for collection and product descriptions in the dashboard. Here's some advice on how to write a perfect description:
Aim for a

300-word intro

with your keyword, making it flow and look natural.

Contain keywords at least 2 or 3 times.

Answer visitors' questions within product descriptions.

Use simple words instead of jargon and overcomplicated ones.
To be honest, creating distinctive descriptions for each product and category page takes a lot of time and effort. Thus, you should prioritize your most important pages that need optimizing first. 
If your catalog is extensive, pay attention to your best-selling items or those that appear initially on the bottom of the first page or top of the second page.
Include a schema markup for rich snippet eligibility
Your snippets can become rich and stand out from the other search results on Google thanks to schema markup. When you use rich snippets, your SERP will appear more appealing to both online shoppers and search engines, increasing your ranking and improving your click-through rate.
It not only helps visitors better understand your site, especially product pages but also provides Google with valuable information about your products (e.g. pricing, availability, rating, number of reviews, etc.). 
Additionally, it may provide comprehensive information about your business (e.g. logo, address, contact information, connected social media pages, founders, subsidiaries, etc.).
Almost all Shopify themes come with support for the schema. Simply complete all the required details to be qualified to show up as a rich result. Yet, there are a few themes that don't support schema. If that is your case, consider utilizing an app like Smart SEO to allow rich results for your items.
Enhance Shopify image SEO
Although Google can't read images, it can decipher alt text (alternative text) to know what they illustrate. This gives you another chance to add your keyword on the page, but in case it is relevant.
Therefore, alt text is a great point to start when optimizing images on your Shopify store. To begin, go to Shopify and choose an image, then select "Add alt text." 
Additionally, it advised giving picture file names that are descriptive. For instance, nike-air-force-1.jpg is a better name for the image of a Nike shoe than IMG695642.jpg.
Finally, increasing your website speed is truly important as we've discussed above, so pay attention to image file size. If you keep using big-size images, the loading speed of your website will be slowed down, hindering the user experience and search engine rankings. 
Still, if you want to quickly get things done, we highly recommend AVADA SEO Suite with the ability to optimize images for better page speed. It is a Shopify app to help you outrank your competitors and gain higher rankings in search engine results. Additionally, AVADA SEO Suite provides image compression, optimization of meta tags and store's pages as well as sitemap generation. 
With AVADA SEO Suite, you can auto-insert ALT tags into your images and compress them to speed up your site's loading speed. Moreover, title tags and meta descriptions can be rewritten to obtain higher rankings. The app also adds a social meta description in order to provide accurate page previews on social networking.
Likewise, automatic Google structured data addition makes it simpler for the search engine to comprehend the content of your page and gives it a higher priority on the search result page.
The dedicated customer service team at AVADA will answer any inquiry with lightning speed 24/7. Thus, you can feel free to reach out to them whenever you have any concerns.
This task should not be a huge concern since you can use apps, especially AVADA SEO Suite, to compress images before uploading them to your Shopify site.
STEP 5: Off-Page SEO
Off-page SEO refers to actions taken outside your website that have an impact on your ranking. Off-page ranking criteria include the relevancy, trustworthiness, and authority of a website.
It can include (but is not limited to) content marketing on other platforms or outlets, link building, social media, and reviews. Let's dig in and see how you can take advantage of them.
Content marketing
Content is the reason why people visit your site and it is a key component of a good SEO Shopify strategy. By using content marketing, you can rank higher. 
Content marketing is considered as a top-of-funnel strategy to attract visitors who are just discovering your website and are still in the "awareness" stage to keep coming back to your website. As the owner of an eCommerce business, you should think about producing unique and strategic content.
There are many different sorts of content, but we recommend the two that will help your SEO Shopify strategy the most.
1. Blogging 
Blogging is a popular form of content marketing where you can implement on-page and technical SEO Shopify techniques to improve your website's search visibility. 
It helps to ensure that search engines regard your website as trustworthy so that it can rank for particular keywords that correspond to the wants and demands of your target audience.
When you blog, SEO serves as the driving force behind an ongoing long-form content plan. Every blog you publish has the ability to:
Establish your site as a reliable source.

Raise the authority of your website.

Boost visibility in organic search.
A well-written blog provides your site with a consistent flow of unique content. Your credibility as a source of information will increase as more people find your content. In turn, this raises your ranking.
An integrated blogging platform is included with your Shopify online store. Hit "Blog posts" in the sidebar and select "Create blog post" to add your blog articles to your Shopify store.
2. Product video reviews
People usually view videos of reviews and comparisons as a tool for purchasing decisions. Therefore, consider making these videos and posting them on YouTube, especially if the types of products you are selling are usually promoted that way.
Link building
One of the off-page optimization strategies that can help you raise the popularity of your Shopify website is link building. The importance of link building for SEO Shopify may be attributed to two key factors.
First off, the following links are what Google bots are utilizing to discover your content. Without links pointing to it, Google may never come upon it.
Second, Google considers links to be one of the most significant SEO ranking elements when determining the authority and relevancy of your site for particular search queries. 
According to Google's SEO Algorithm update, the highest quality content could be obtained if websites were awarded "authority" based on the number of citations they receive, similar to how academic publications are granted authority. In our case, citations are also called backlinks.
As a result, you need other websites to connect to yours in order to enhance your authority. Your content will rank better if you have more credible links pointing to it as this shows that your website is trustworthy.
1. Look for websites that link to your competitors
The best place to start when building links to your Shopify store is probably by reusing the standard homepage links connected to your rivals' websites. These can be located by utilizing Ahrefs. Here is how it works:
Step 1:

Enter your domain into

Site Explorer

Step 2:

Navigate to Ahrefs'

Link Intersect tool

and fill in some of your rival websites.

Step 3:

Switch all URLs' search modes to

"URL"

and choose

"Show link opportunities."
Then, you can see websites that link to one or more of your rivals but not to you. The next step is to sort through the list to find those that could be replicable.
2. Write guest posts
Guest posts can be a terrific approach to increase backlinks if the content is relevant and offers both your audience and the audience of your partners' genuine value. Below are quick and simple steps to identify guest post opportunities with Ahrefs:
Step 1:

Fill in a broad query into Ahrefs'

Content Explorer

which specifies your niche.

Step 2:

Change the search mode to

"In title

.

"
Step 3:

Sort out the pages published in the last 90 days to ensure they are still active.

Step 4:

Filter for English pages.

Step 5:

To eliminate low-quality websites, filter for pages on DR 30-70 websites.

Step 6:

Set a filter for pages with at least 1,000 words to exclude eCommerce pages from the search results.

Step 7:

Tick the

"one page per domain"

box.

Step 8:

Select the

"Websites"

tab.
The top websites that have written about your topic should now be visible to you. Look through the list for sites that are relevant, have a lot of traffic, or have many authors. Then, select one that you find most suitable for your SEO Shopify.
Social proof is your social media visibility perceived by search engines, including likes, shares, and views of social media posts on different social platforms.
Social proof has a direct influence on your SEO Shopify since it shows how valuable your URL is and the authority of your domain. A page that receives a lot of likes or shares signals to search engines that the audience is receiving real value from it.
As a result, developing a social media strategy will help you increase sales and brand recognition in addition to optimizing your SEO Shopify.
Use online reviews 
Making use of reviews is another effective off-page SEO Shopify tactic. Online reviews can boost sales for your business while also assisting Google in its website analysis. 
You must, thus, gather reviews for your eCommerce business if you want to further improve your chances of appearing higher on the SERPs. 
These reviews may be found directly on your product pages' comment section or on online forums where people can discuss your products and share their evaluations. 
Final thoughts
There are some SEO Shopify features integrated into your store. The platform handles page speed and automatically refreshes your sitemap on a regular basis. You can also change your store's elements to comply with SEO best practices.
However, Shopify alone won't ensure that your website ranks highly in search results. That is why we have created this guide for you. Since this is a beginner's guide, we've tried to cover as many fundamental concepts as we can.
Unfortunately, SEO is huge, and we can never be sure of what Google's next update will be. Therefore, if you're just starting to establish your Shopify store without a great budget to implement SEO Shopify strategies, you should focus on creating high-quality content and constructing high-quality backlinks in order to achieve success for your business in organic search.