Are you a dog lover who wants to make money by dropshipping dog products? If so, you're in luck!
In this article, we'll show you the top 8 products for dogs and the best suppliers to source them from. You'll learn how to find high-quality and affordable items that your customers and their furry friends will love.
But that's not all. You'll also get some valuable insights into the dog supply market, with expert tips and strategies to run your own business. This article will help you boost your sales and grow your online business while having fun providing what our pets need!
Are you ready to unleash your potential and become a successful dog product dropshipper? Then let's get started!
🔑  KEY TAKEAWAYS:
Dropshipping dog products can be a profitable business model, particularly in the food and treats category, with the global pet care market experiencing significant growth, projected to reach USD 368.88 billion by 2030.
The top dropshipping dog products include dog toys, dog apparel, collars & leashes, etc.
Recommended suppliers for these products include GreenDropShip, PetStoresUSA, Go Pet Club, etc.
The Dog Market Overview
It's amazing to see how much the global pet care market is growing. In 2022, it was worth USD 235.32 billion. By 2030, it's projected to reach USD 368.88 billion, with a Compound Annual Growth Rate (CAGR) of 5.92%.
Dogs are truly a part of the family for many people, and there are so many different products available to choose from. Whether it's food, health and hygiene products, toys, furniture, collars, bowls, or feeders, there's something for every breed and every budget.
The good news is that shopping for pet products is easier than ever before, with more online and brick-and-mortar stores offering a wide variety of options.
Additionally, the coronavirus pandemic led to an increase in pet ownership, as people had more time to spend with their furry friends. While it's hard to predict what the future holds, one thing is clear—the recent trend towards natural, organic, and free-from products is driving the pet market forward.
In general, dog products never cease to stop the rise in demand. There are hundreds of big players in this industry to compete, but the supply seems never enough.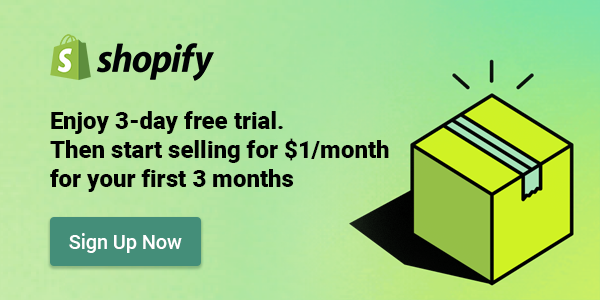 Is Dropshipping Dog Products Profitable?
It's possible to create a profitable and successful business by dropshipping dog products online. In the pet market, food and treats are the most lucrative products, and they're perfect for dropshipping.
Dropshipping dog products is a business model that costs you little upfront cost because you don't worry about inventory, packaging, and delivery. Those are your supplier's tasks.
As a dropshipper for dog supplies, you only put your mind into sourcing and introducing the best items ever to pet-loving customers. By "sourcing", we mean looking for reliable suppliers who manufacture high-quality dog products. There are lots of wholesalers ready to dropship their items anywhere globally.
But, it's never about picking the best supplier of all when it comes to dropshipping. You need a suitable collaboration, as we'd prefer to say.
Once you've found a partner that fits, you focus on marketing to make a fraction for your brand and then sales. It's a step-by-step process for dropshipping products regardless.
Since you're a starter, we'd love to recommend a list of 8 dropshipping dog products to follow. Continue reading!
Top 8 Dropshipping Dog Products to Start Selling
To help you out, we have compiled a list of the top 8 dropshipping dog products that you can start selling today. These products are based on our research of the current trends, customer reviews, and market analysis.
Top dropshipping dog products are: 
All-natural treats
Dog toys
Puppy potty training aids
Dog apparel
Collars & leashes
Bed & Furniture
Grooming tools
Dog food
Let's get to more details!
1. All-natural treats
Organic dog treats offer even more health benefits for our puppy pals. They contain better quality sources of nutrition and are more digestible than non-organic brands.
Feeding dogs all-natural food can lead to stronger immunity and better digestion. It's free from artificial sweeteners, colors, preservatives, and potentially harmful ingredients found in conventional dog treats.
In a nutshell, all-natural dog treats are dropshipping-friendly due to their growing eco-friendly demand, repeated consumability, and low shipping costs.
2. Dog toys
Dogs have natural instincts to hunt, scavenge, and explore their surroundings. They enjoy playing with toys, chewing, and chasing after them.
The market for dog toys is growing rapidly, with the global pet toys market being valued at USD 7.57 billion in 2021. Plus, it's projected to reach USD 12.63 billion by 2029, exhibiting a CAGR of 6.73% during the forecast period.
The trend of nuclear families is increasing the demand for pets among consumers, which, in turn, is surging the market for pet toys. Consumers are also looking for safer and more durable toys for their pets.
Some popular options for dog toys include chew toys, puzzle toys, and fetch toys.
Chew toys are ideal for dogs who enjoy gnawing and chewing. These toys come in various materials, such as rubber, nylon, and rawhide, and can help clean your dog's teeth while promoting healthy chewing habits.
Puzzle toys are designed to challenge your dog's mind and keep them entertained. They typically involve hiding treats or kibble inside a toy your dog must figure out how to access.
Fetch toys are perfect for active dogs who love to run and play. They're made of durable materials, such as rubber or tennis balls, and can be thrown long distances for your dog to retrieve.
3. Puppy potty training aids
Using puppy potty training tools can help the pup learn to eliminate in a specific area. These tools come in various forms, like puppy pads, indoor potty systems, and outdoor potty systems.
Puppy pads are absorbent pads that you can place on the floor as a designated area for your puppy to eliminate.
Indoor potty systems are similar to puppy pads but more permanent and can include artificial grass or other materials.
In contrast, outdoor potty systems are designed for use outside and can come with natural grass or artificial turf.
Using these potty training aids is crucial for puppies because they help establish good habits and prevent accidents in the home. It's essential to provide them with a designated area to do so since puppies have small bladders and need to be eliminated frequently.
4. Dog apparel
There are many dog apparel products that you can sell, such as dog sweaters, jackets, and coats. These items are perfect for keeping dogs warm during the winter months. Other popular items include dog boots, hats, and sunglasses. They're perfect for protecting dogs from the sun and other elements.
Though dropshipping dog products is an evergreen business, meaning you can sell well year-round, there are sales peaks during particular seasons or holidays.
For example, many stores run dog coat ads for months before Christmas. This helps them deliver items that best fit the upcoming season. Jumping into a high-demand period with suitable offerings increases sales faster.
5. Collars & leashes
Dog collars and leashes are always in high demand, making them timeless pet accessories. One successful example is Tail-Wag, a handmade business that sells funky and affordable collars and leashes on Shopify.
Additionally, there are independent brands worldwide that offer wholesale options on Faire. Petco is another popular online store that sells a range of collars, harnesses, and leashes for all dog sizes.
You'll learn a lot about how to make your business outstanding from those businesses. Keep in mind that the market is extremely competitive.
6. Bed & Furniture
Dog owners often purchase beds and furniture for their furry friends to ensure their comfort and happiness. Since dogs are den animals, they appreciate having a designated spot to relax.
There are various dropshipping products available in the dog bed and furniture category, including orthopedic dog beds, elevated dog beds, and dog sofas. Other popular items include dog stairs and ramps, which can assist older dogs in getting onto furniture or into cars without hassle.
Additionally, dog crates and kennels are great options to provide a safe and comfortable space for dogs to rest.
7. Grooming tools
Routine grooming sessions allow the dog owner to examine his dog's coat, teeth, eyes, ears, and nails for signs of health problems.
Brushes help keep the dog's coat healthy and shiny by removing dirt and debris. Other grooming tools like nail trimmers keep the dog's nails at a healthy length.
There are many trendy dog grooming tools available. Some popular items include slicker brushes, used to break up tangles and mats in medium to long-haired dogs. Rakes and mat breakers work best on more severe tangles and mats.
Also, shedding tools have special teeth that remove excess hair from double-coated breeds and reduce shedding. Common variations are shedding blades and FURminators.
8. Dog food
Although there is a high demand for it, dog food is ranked lower on our list due to intense competition. While dropshipping dog food is possible, significant marketing efforts may be needed to generate sales.
However, we acknowledge the potential profitability of this pet category, as it is likely to remain popular indefinitely. To succeed in the dog food market, establishing trust and uniqueness is essential.
To set yourself apart from competitors, consider offering products that are not widely available.
For example, you can offer specialty dog foods that cater to specific dietary needs or preferences. You can also consider offering personalized dog nutrition plans based on their breed, age, and health needs.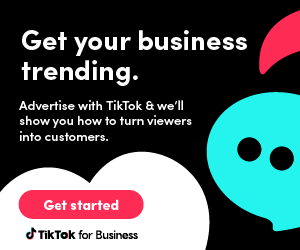 Top 8 Reliable Dropshipping Dog Suppliers
In accordance with the recommended dropshipping dog products above, we've compiled this list of 8 dropshipping dog suppliers to follow along:
GreenDropShip for natural & organic dog treats
PetStoresUSA for dog toys
Go Pet Club for dog potty training aids
A Pet's World for dog apparel
K9 Bytes for dog collars & leashes
Majestic Pet Products for dog bed & furniture
AliExpress for dog grooming tools
Amazon for dog food
Let's dig in:
1. GreenDropShip for natural & organic dog treats
GreenDropShip's selection of natural and nutritious dog treats is perfect for pet owners who want only the best for their furry friends.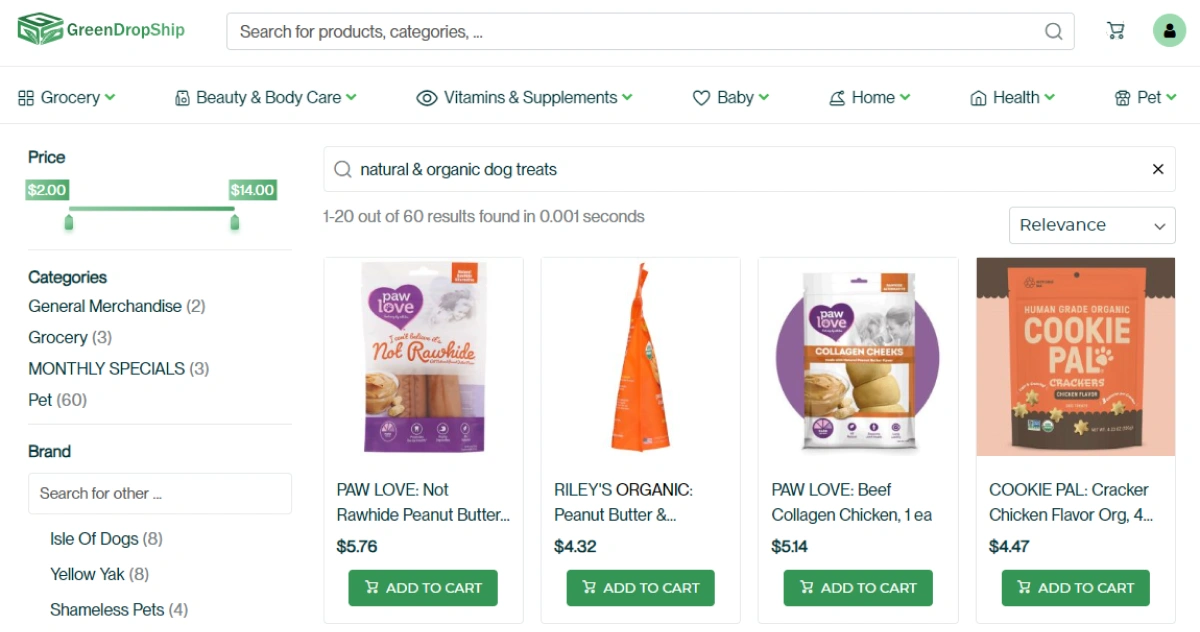 Whether you prefer to use their dropshipping program or buy in bulk, this wholesaler has you covered. And with their convenient Shopify dropshipping app, it's easy to add wholesale dog treats to your online store.
2. Pet Stores USA for dog toys
Based in Ohio, Pet Stores USA is a trusted wholesale pet supply and dropshipping company. With over 2,500 products in various categories, including dog toys, it's claimed to be the leader in dropshipping services to the pet industry.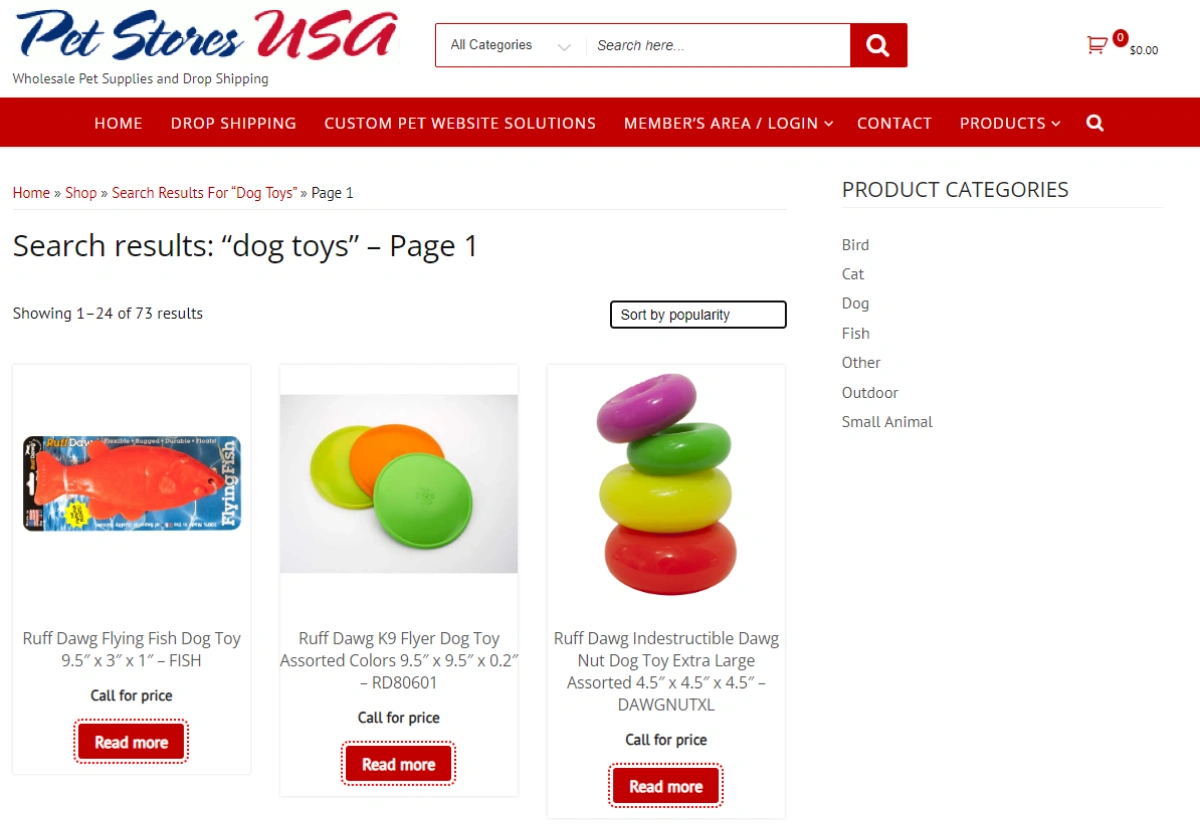 The wholesaler has over 50 years of experience partnering with quality suppliers and retailers worldwide. Though there's no support for integrating eCommerce platforms, PetStoresUSA is a worthwhile option due to its affordability and premium quality.
3. TopDawg for dog potty training aids
TopDawg is a USA-based dropshipping supplier that offers a variety of pet products, including dog potty training aids such as pee pads, grass mats, and spray attractants.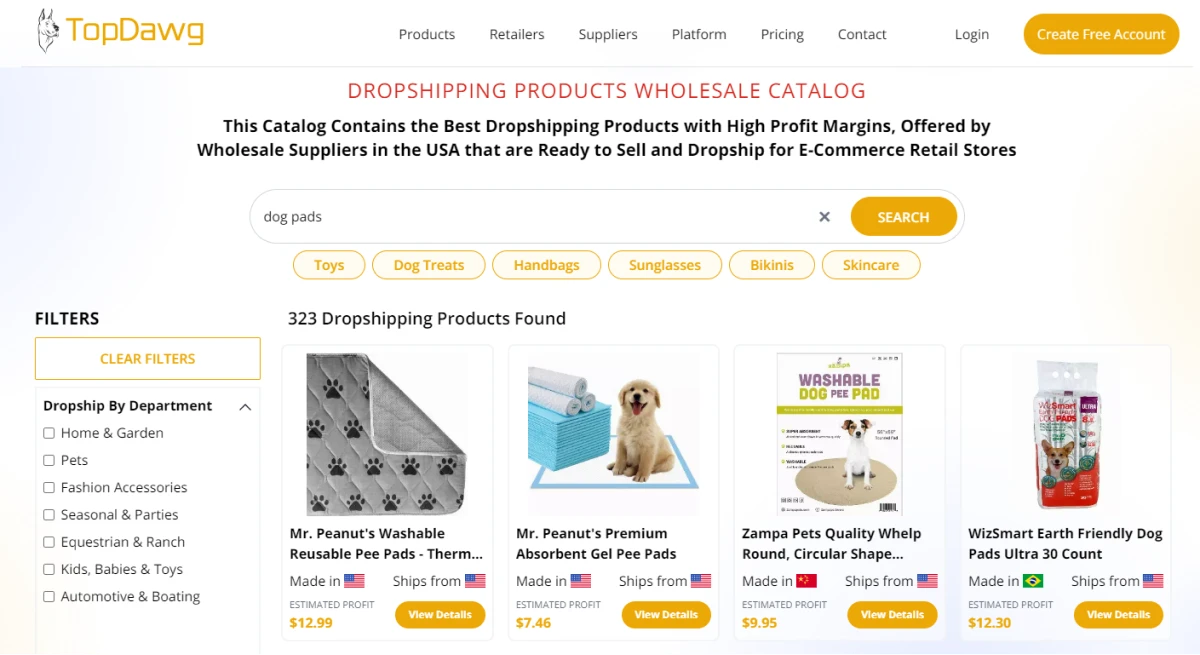 Their products are high-quality and affordable. Plus, TopDawg provides fast and reliable shipping, easy integration with popular platforms, and dedicated customer support.
4. A Pet's World for dog apparel
A Pet's World is a US-based dropshipping supplier of pet supplies and accessories. They offer products ranging from $20-50 and have an average processing time of 7+ days. They also offer wholesale purchasing and ship worldwide using UPS and USPS.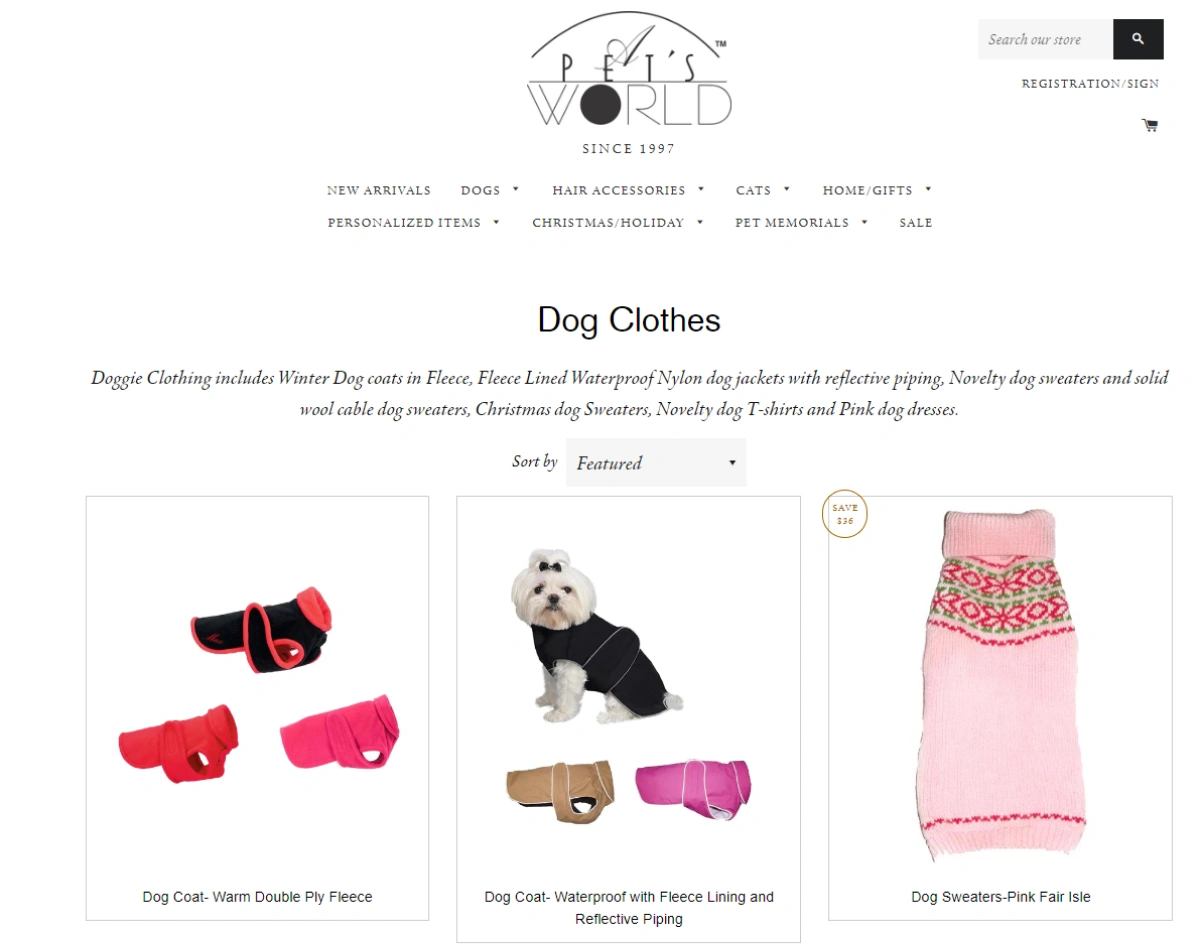 Products include clothing, toys, ID tags, carriers, collars, leashes, and even hair accessories for dogs and cats. They also sell pet memorials, personalized items, and furniture for the home.
5. K9 Bytes for dog collars & leashes
K9 Bytes in Oregon offers unique handmade pet gifts for cat and dog lovers, including collars, treats, blankets, shampoos, and more.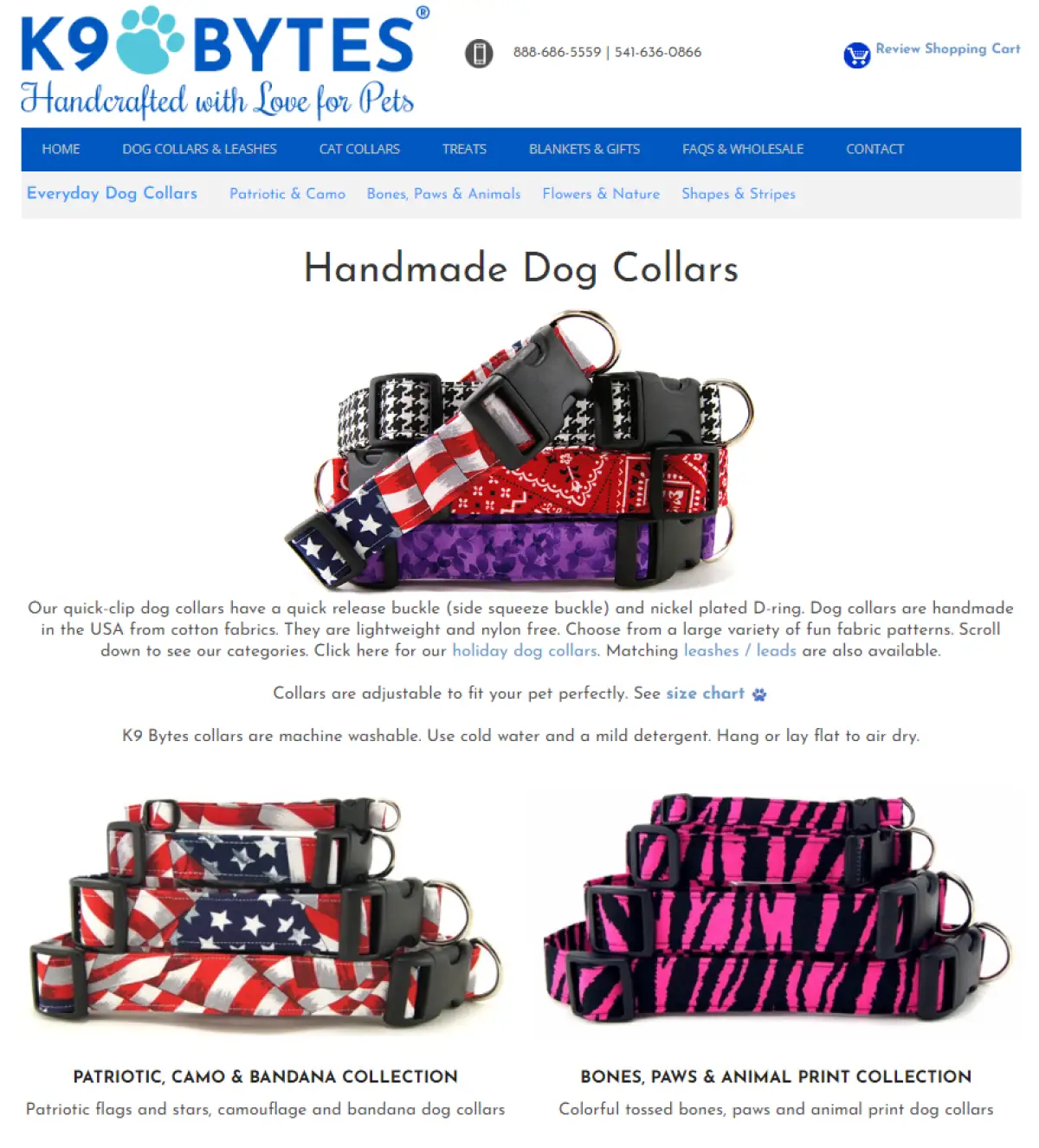 Free shipping on orders over $39, with delivery throughout the US. Resellers can contact them for closeouts and special deals. Plus, products range from $10-20, with wholesale options for brick-and-mortar stores.
6. Majestic Pet Products for dog bed & furniture
The US-based Mirage Pet Products offers a variety of pet supplies, including over 15 types of dog collars and leashes. They can ship worldwide with a quick average order processing time of one day.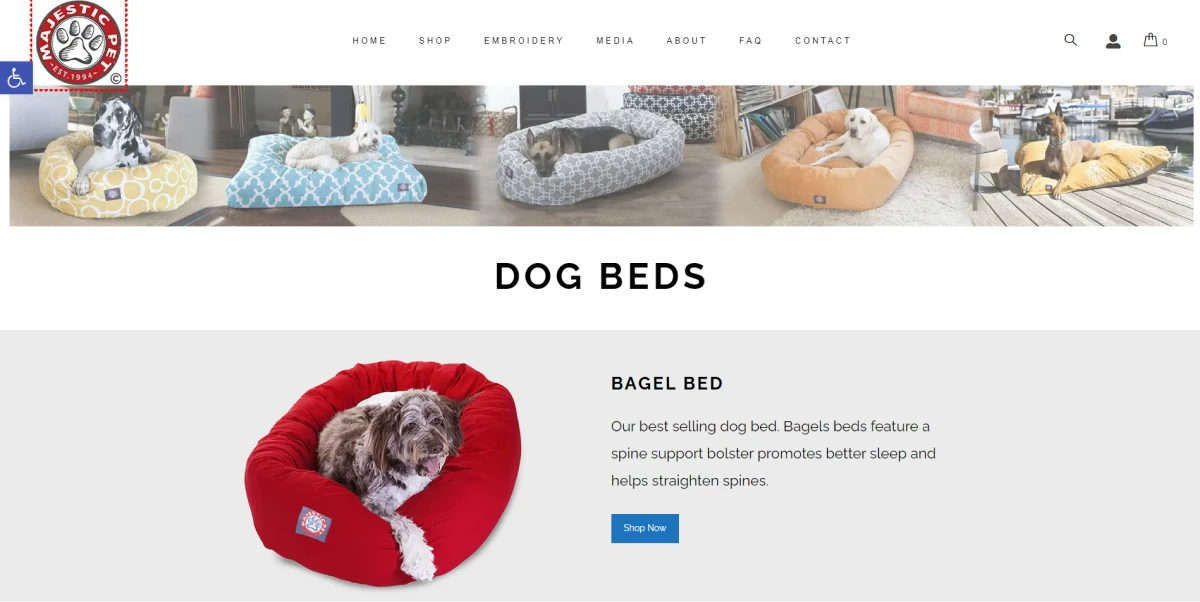 Plus, they offer wholesale and dropshipping programs, but it's unclear if it's blind or labeled dropshipping. There are just flat-rate shipping costs. And you must sign up for an account to start reselling their products.
7. AliExpress for dog grooming tools
AliExpress is another vast resource of pet supplies, especially grooming tools for dogs. This China-based marketplace involves many suppliers with affordability and smart items.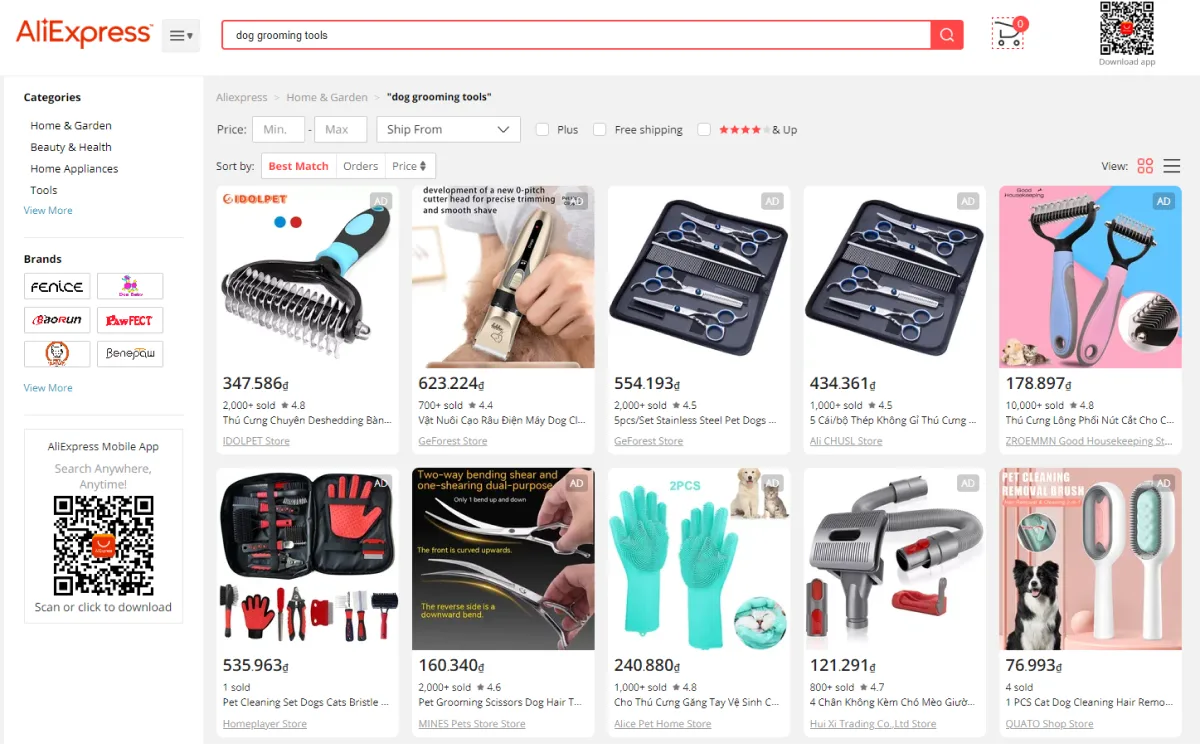 Dropshipping from AliExpress isn't as hard as it was years ago. Now, you can integrate AliExpress into your Shopify store with just a few clicks.
When outsourcing pet care tools from the marketplace, it's best to negotiate the price with your chosen supplier before actually working with them.
8. Amazon for dog food
There's no other place better than Amazon for shopping and outsourcing dog food. The marketplace is well-established, with severe standards for food supplies for your pet.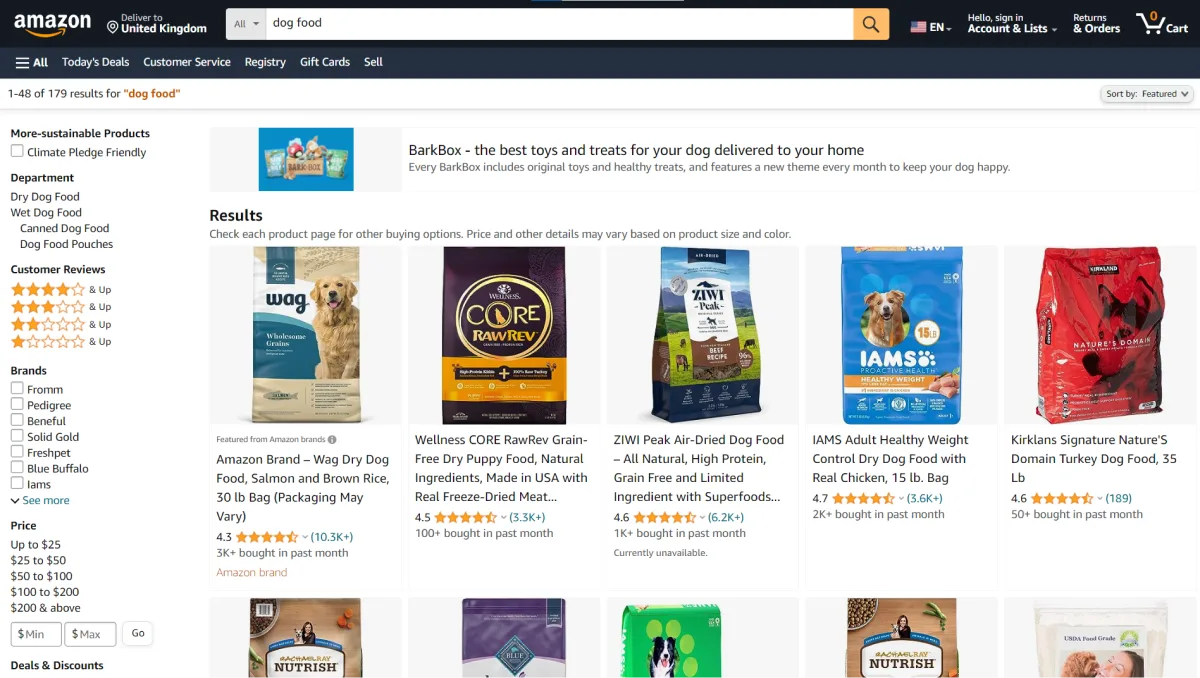 You can find just about any dog food from many wholesalers there. Simply ask them for a dropshipping collaboration. Or, integrate Amazon into your Shopify store to begin reselling.
How to Start Dropshipping Dog Products? (Simplified Version)
Step #1. Identify profitable dropshipping dog products
Here are several tips for spotting profitable dropshipping dog products:
Consider popular items like biodegradable poop bags, paw cleaners, chew toys, pet beds, fetch discs, and seasonal fashion items for dogs.
Look at retail price and item cost to determine potential profit.
Choose lightweight and compact products for cheaper shipping.
Consider consumable products for repeat business and embrace the trend towards eco-friendly products.
Choose products that fit with the geographical location and stand out with excellent customer service and branding.
Step #2. Create your dog dropshipping store
Launching your dropshipping store is a no-brainer with Shopify. The platform gets you covered, from domain and hosting services to a wide selection of pet themes for your site.
On top of that, you can source the suppliers of your needs offered by Shopify. The platform covers a variety of dog wholesalers to partner with. Good news: There's a free trial plan that's worth checking out.
📍 Here's our detailed guide on how to dropship on Shopify!
Step #3. Promote your dropshipping store
Once you've established the store, it's time to bring it to light.
First, style the store to align with your business value, mission, and products. Then, put more effort into marketing through your strategies with social media, pay-per-click ads, and search engine optimization.
Step #4. Fulfill the orders
As you receive orders, forward them to your supplier manually or automatically. Most Shopify sellers do it automatically using third-party apps like Ali Orders (automated for fulfillment from AliExpress to the Shopify store), which saves lots of time and effort.
While the orders are being processed, keep your customer constantly informed about the shipping status of his order. This is a chance to prove your excellent customer service and earn positive reviews eventually.
Final Thoughts
Remember that dropshipping dog products is fairly competitive yet can be profitable with the right strategy. The pet market worldwide is worth approximately $261 billion, indicating a vast profit potential.
As a dropshipper, your first task is to source the best products from suitable suppliers. This lays the foundation for your business. We hope this article has sparked brilliant ideas for dropshipping pet supplies.