Let's suppose you're looking for China-based dropshipping suppliers who are capable of supporting your store in the long run and allowing you to sell other products at a cheap wholesale price. Or perhaps you just want trustworthy suppliers to source items.
If that's the case, Alibaba dropshipping suppliers might be the key to your full potential.
In today's article, we'll walk you through the process of purchasing items directly from Alibaba's best suppliers and delivering them to your customers' doorsteps.
Plus, we'll cover everything you need for you to know more about this platform, including:
What is Alibaba and its differences from AliExpress
The detailed instructions on how to start Alibaba dropshipping and search for reliable suppliers
How safe it is to do Alibaba dropshipping
Now, scroll down for more!
🔑  KEY TAKEAWAYS:
Alibaba is an ideal platform for dropshipping, whether you are a beginner or an expert.
Alibaba dropshipping allows dropshippers to negotiate the best prices for the products they want to sell and maximize their profits.
To find an Alibaba dropshipping supplier, try using filter search, finding suppliers with the blue icon "Verified" tag, and checking product-specific manufacturers' information.
What Is Alibaba?
Alibaba Group is a leading global company that operates in various fields of e-commerce, technology, cloud computing, and entertainment.
Alibaba Group is one of the largest and most influential companies in the world, with a market capitalization of over $500 billion and an annual revenue of more than $109.5 billion as of September 2021. But what makes Alibaba Group so remarkable is not just its size, but its diversity and innovation.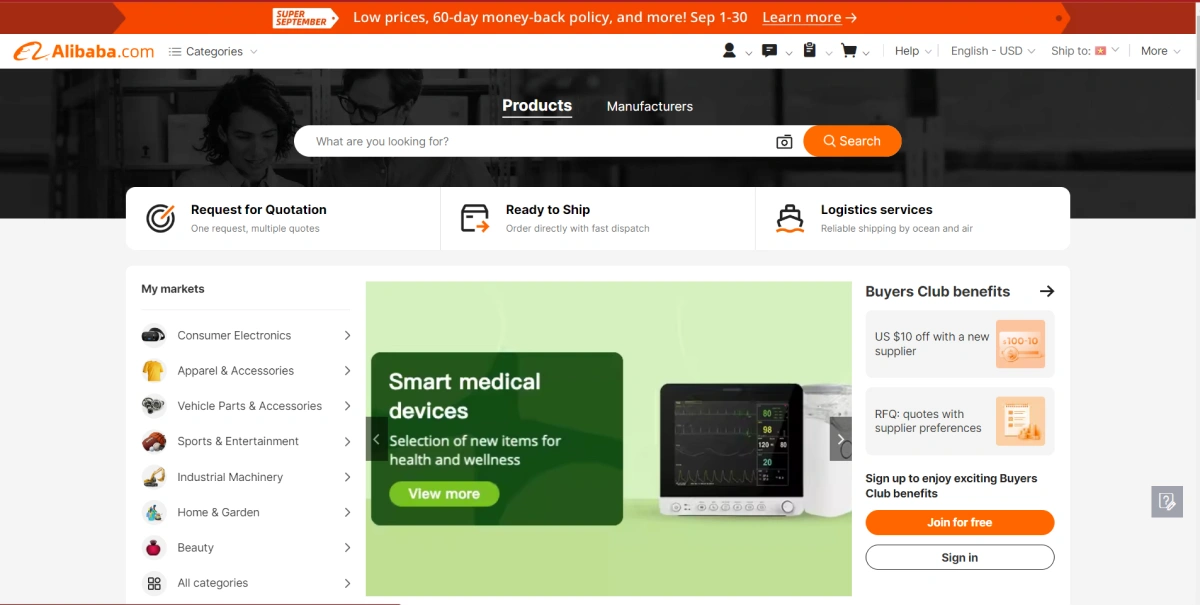 Alibaba Group owns and operates several online platforms that cater to different needs and markets, such as AliExpress, Taobao, Tmall, and Alibaba.com. These platforms have hundreds of millions of active users from all over the world, offering a wide range of products and services.
Alibaba Group is not only a leader in e-commerce but also in technology. Alibaba Group has invested heavily in cloud computing, artificial intelligence, blockchain, quantum computing, and other emerging fields. Alibaba Cloud is one of the top cloud service providers in the world, serving millions of customers across various industries!
Now, here's the million-dollar question: would this make Alibaba a promising chance for dropshipping?
For your information, dropshipping is a business model where you sell products online without having to handle inventory, shipping, or fulfillment. You find a supplier who can ship the products directly to your customers on your behalf. This way, you can focus on marketing and customer service, while saving time and money.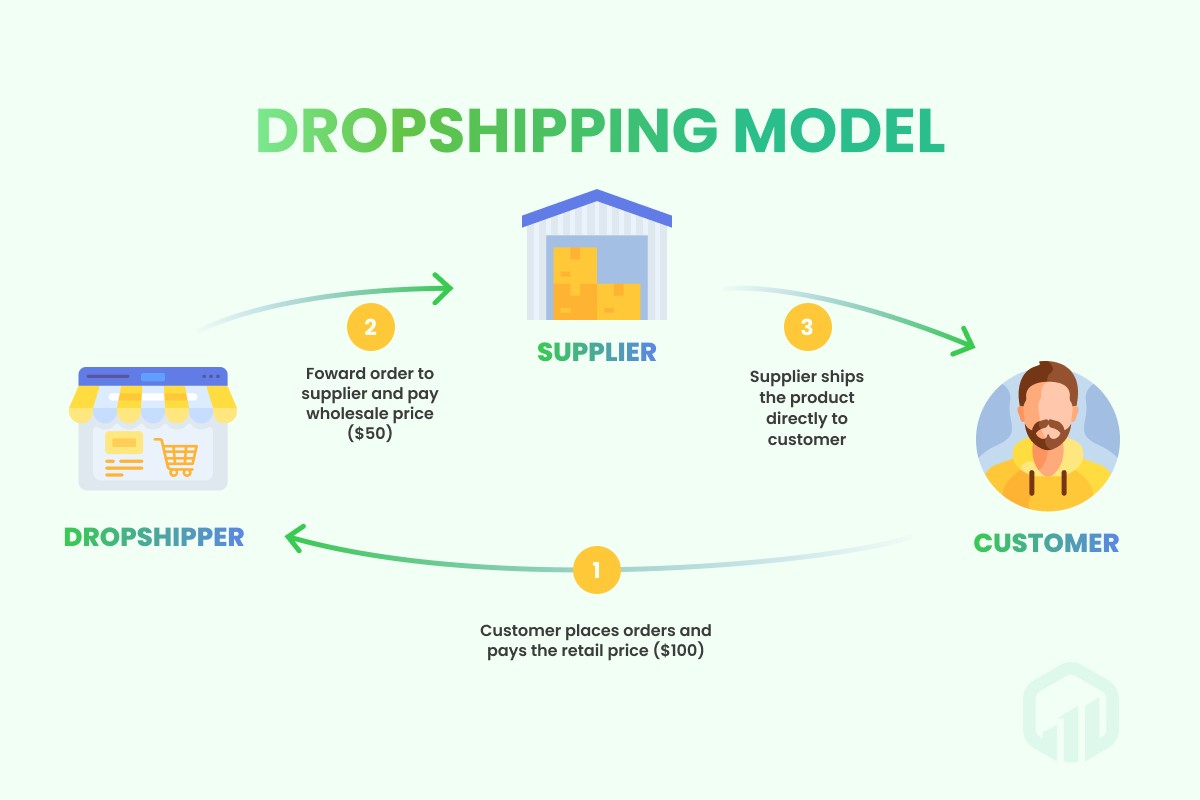 And this is where Alibaba comes in handy. Alibaba is an ideal platform for dropshipping, whether you are a beginner or an expert.
With Alibaba, you can access millions of suppliers from China and other countries, who can offer you high-quality products at low prices. You can also communicate with them easily through the platform, negotiate terms, request samples, and place orders.
Alibaba also offers various tools and services to help you with your dropshipping business, such as product sourcing, quality inspection, logistics solutions, trade assurance, and more.
So, is Alibaba good for dropshipping? Yes! Alibaba provides cost-effective and profitable solutions for merchants to start selling online, which can help you launch and grow your dropshipping business with ease and efficiency.

Alibaba vs. AliExpress: What Is The Difference?
AliExpress is a subsidiary specializing in the retail segment of Alibaba; therefore, it differs from its holding company, which specializes in B2B. Aside from that, each of them provides specific advantages, and here are some you can consider:
| | | |
| --- | --- | --- |
| Criteria | Alibaba | AliExpress |
| Prices | Negotiable | Fixed |
| Minimum Order Quantity (MOQ) | Adjustable, but usually limited to over ten or more | One item per order |
| Ability to contact suppliers | Open, easy-to-contact | Harder to contact |
| Ability to provide customized products | Straightforward, easy to process | Take more time, not convenience |
| Lead time [*] | Usually from 15 days to 6 months | From 5 to 40 days |
| Shipping fees | Depend on the suppliers  | Can be free |
| Order fulfillment | Sellers take care of their own orders  | Suppliers take care of the orders and ship directly to the supplied address |
[*] Time gap from when you place your order to when your order is completed.
Whether you choose Alibaba dropshipping or AliExpress dropshipping, we assure you that they are all beneficial. The most important you should do here is evaluate which advantages of these platforms suit your business requirements the most.
For example:
If you don't have much money to invest in a bulk of products at a time, AliExpress dropshipping might be a better option as they don't limit each order.
Otherwise, if you want to bargain the targeted items to earn more profit, Alibaba dropshipping is the right choice.
What Is Alibaba Dropshipping Center?
Alibaba Dropshipping Center allows you to search for manufacturers or products straightforwardly.
As you can refer to the table above, Alibaba has some disadvantages compared to AliExpress regarding dropshipping-friendly, such as limited minimum orders or lead time. However, the Alibaba Dropshipping Center covers that already, and there are even more.
Let's take a more in-depth look at the pros and cons.
✅ Pros:
It's a free tool. While other platforms might charge you hundreds of dollars to use their extended features, Alibaba Dropshipping Center is free.
More lower-priced items. Since your suppliers are almost all from China, you are now quite close to the cheapest source of goods in the world.
No MOQ is needed. It's a significant improvement in the Alibaba Dropshipping Center compared to the original version. With this, you will have more item options to opt for without worrying about their cost.
More shipping methods to choose from and a much shorter shipping time (around 6 to 10 working days). How impressive!
It's now easier for sellers to add and push the items directly into their online stores on other E-commerce platforms, like WooCommerce and Shopify. All you have to do is add the product you want to the "import list" and click on the "Push to store" button.
❌ Cons:
Lack of analysis tool. This feature is pretty important for any seller as you need to track your customers' current buying/searching.
May not have the best product selection. The Alibaba Dropshipping Center only shows products that do not require a minimum order quantity, which means you may miss out on some products that are more popular, profitable, or unique.
How To Do Dropshipping With Alibaba: Definitive Guide (2023)
Before searching for a qualified supplier for Alibaba dropshipping, it's essential to choose items that align with your niche, target audience, and business goals first.
Here are some suggestions for popular dropshipping product categories:
Home and garden: Home decor, kitchen gadgets, gardening tools, and furniture can be famous for those targeting the home improvement and lifestyle niche.
Health and beauty: Cosmetics, skincare products, vitamins, and fitness requirements cater to a broad audience looking for wellness and self-care items.
Pet supplies: Pet food, accessories, and grooming products cater to pet lovers, a niche with dedicated and passionate customers.
Outdoor and sports: Camping gear, outdoor equipment, and sporting goods are excellent choices for adventure enthusiasts and fitness buffs.
Electronics and gadgets: This category includes items like smartphones, accessories, smartwatches, and electronic gadgets, which often have a broad consumer appeal.
Apparel and fashion: Clothing, shoes, jewelry, and fashion accessories are perennial favorites for dropshipping due to their consistent demand.
Remember that market trends can change, so it's essential to conduct thorough market research, analyze competition, and consider factors like seasonality before selecting products.
Next is the part you are most interested in; below is your suggested guidance on how to get started with finding proper suppliers. Scroll down now!
1. Find reliable suppliers and create a shortlist
There are 3 main methods to do this:
Method 1. Using filter search
First, type the name of the products you want to sell and then click on the options on the left side. You should always choose "Trade Assurance" and "Verified/Verified Pro Suppliers". You can also pick "Ready To Ship" or "Paid Samples" if you want.
To see if the suppliers are okay with dropshipping, you can change the "minimum order" to 1. Also, you can check their business location on Google Earth or Maps to make sure they are real and not fake. It's better to be safe.
Method 2. Opt for the suppliers with the blue icon "Verified" tag
These suppliers have been verified by Alibaba and tend to be more reliable; therefore, you can notice that and save time.
As mentioned, Alibaba's "Verified" suppliers are businesses that have undergone a verification process conducted by Alibaba itself.
Method 3. Find manufacturers
This method is absolutely more straightforward since you will directly find the manufacturers for your desired products.
Step 1: Change the search status to "Manufacturers"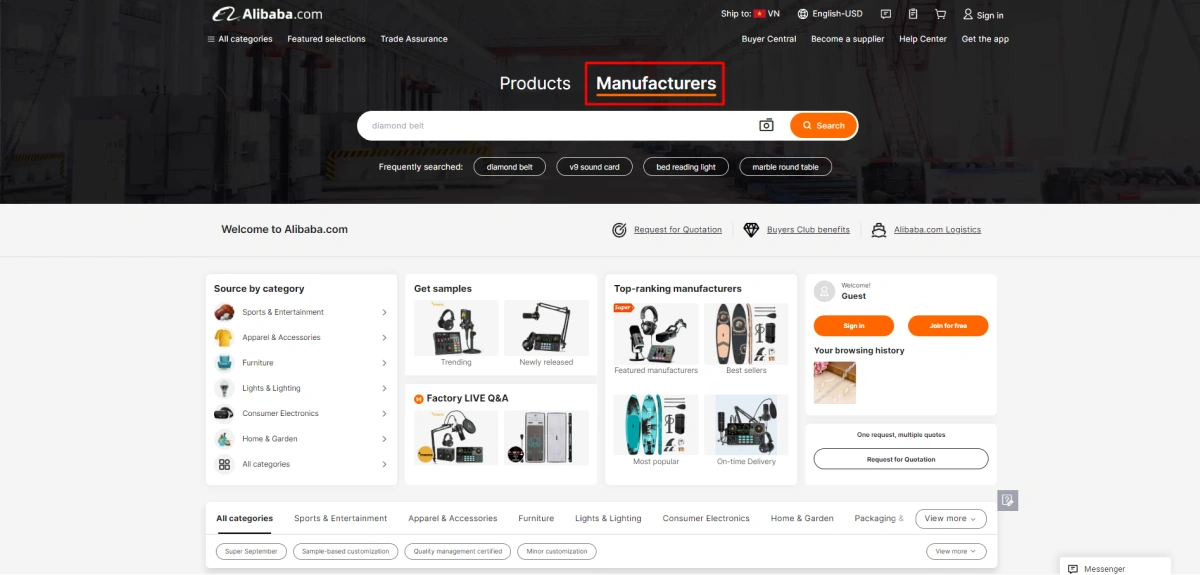 Scroll down and you can see there are many manufacturers listed below. Their basic business information is also shown here.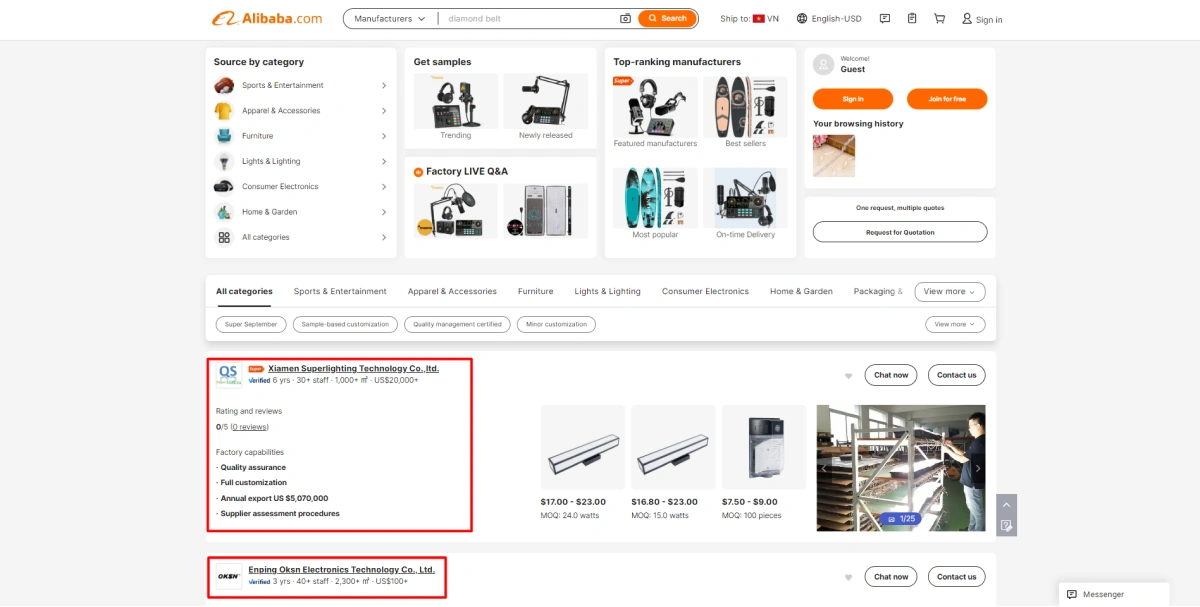 Step 2: Enter the products you want on the search bar and start looking for the appropriate suppliers.
2. Check the MOQ
In case there is no Alibaba dropshipping supplier to set their minimum order quantity (or MOQ) to 1, you will need to do some math.
Take the image above as an example, and you can see this supplier only allows their MOQ to be over 10, which means you need to pay at least $2400 plus a shipping fee once you order here.
Besides, you should also remember to refer to the previous buyers' reviews, ratings, actual feedback, or on-time delivery rate to evaluate your wanted items' quality and the suppliers' service.
3. Shortlist the suppliers and products
After gathering and considering some potential suppliers, you will need to decide who is to be sorted out and who is good enough to collaborate.
Remember to pay full attention to the products' cost per unit, lead time, order fulfillment times, quality of customer care, and return policy.
In case you still need some recommendations for suppliers, these are some of the best in their fields:
Guangzhou Wesmo Home Decor Technology Limited: 20+ years of experience in producing bathroom and home decor.
Shenzhen Eboda Electronics & Technology Co., Ltd: 16+ years of experience, specializing in headsets, earphones, speakers, etc.
Hangzhou Elite Fabric Co., Ltd: 18+ years of experience producing and supplying pet products.
Shenzhen Aung Crown Industrial Ltd.: Specializing in caps/hats (for example, snapback caps, baseball caps, trucker hats, bucket hats), 12+ years of experience in the industry.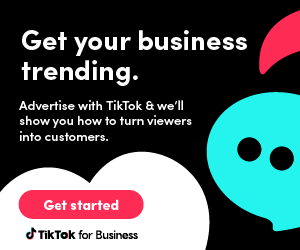 4. Contact the suppliers
It's time to open an invitation to cooperate with a supplier. Since most of your suppliers will come from mainland China, Alibaba uses an automatic translation tool so that you can communicate with each other.
Therefore, when writing contact messages with manufacturers, you need to choose short sentences that are easy to understand to avoid mistranslation.
At this step, you can also ask for their business licenses or other certificates to verify their identity and credibility. This can help you avoid scams and find reliable suppliers for your business.
Feel free to use this sample email whenever you want to contact the suppliers:
Subject: Inquiry about [Product Name]
Dear [Supplier's Name or Company Name],
I hope this email finds you well. My name is [Your Name], and I am interested in sourcing [Product Name] for my business. After researching potential suppliers, I came across your company and was impressed by your products and services.
I would like to request more information about your [Product Name], including:
Product specifications, such as size, material, and packaging options.
Pricing details, including MOQ (Minimum Order Quantity) and any bulk discounts available.
Payment terms and methods accepted by your company.
Lead times for production and delivery to [Your Location].
Any relevant certifications or quality assurance measures in place.
Additionally, I would appreciate it if you could provide samples of [Product Name] to evaluate the quality and packaging.
Please provide the necessary details, including your catalog or product list, so I can better understand your offerings. If you have a price list, please attach it to your response.
Thank you for your time and consideration. I look forward to your prompt reply. If you have any questions or need further information from me, please feel free to ask.
Best regards,
[Your Name]
[Your Company Name (if applicable)]
[Your Contact Information]
💡 Please note that you should customize this script to suit your specific needs and details.
5. Decide on a suitable payment method
No matter which method you choose, safety always goes first.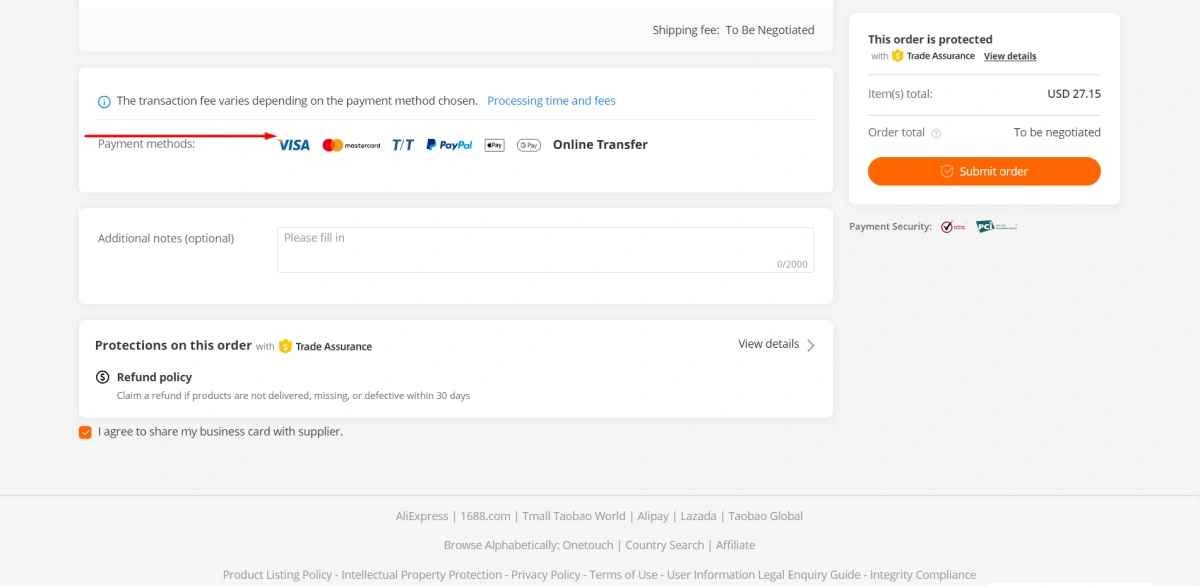 Paypal, AliPay, and Letter of Credits are the most recommended here because they are more reliable and safer for new buyers. However, if your suppliers don't allow these, you should carefully negotiate all the return policies and customers' protection terms to avoid fraud and scams.
And that's all! We've gone through the 5 fundamental steps to start Alibaba dropshipping. Here's a simple recap of what we've discussed:
Steps

What To Do

Step 1: Find reliable suppliers and create a shortlist
To find good suppliers, you can use these three tips:

Use the filter option to narrow down your search results.
Look for the "verified" icon next to the supplier's name. This means they have passed Alibaba's inspection.
Search for manufacturers instead of traders. They usually have better prices and quality.

Step 2: Checking the orders' minimum on Alibaba

Opt for suppliers with MOQ 1, which means you can buy just one item.

If not, you need to calculate how many items you need to buy to meet the MOQ.

Step 3: Shortlist the suppliers and products on Alibaba
To choose the best suppliers, you need to compare different factors, such as cost, lead time, service quality, return policy, etc.
Step 4: Contact the suppliers and ask for dropshipping
Be clear and simple. You can use English or Chinese, or use a translation tool if needed. Consider requesting business licenses or certifications for verification.
Step 5: Decide on a suitable payment method
Use PayPal, AliPay, or Letters of Credit, which are safe and reliable payment methods. Remember to negotiate protections when unavailable.
Is Alibaba Safe For Dropshipping?
Yes, and here is why:
1. Strict Requirements On Verifications For Alibaba Suppliers
To protect their users and ensure their partners are legit, Alibaba requires multiple verifications and licenses and performs a business audit of the suppliers.
Businesses who want to apply to become suppliers on the platform need to report a lot of information to them, such as business licenses, contact addresses, ownership status of the premise, verified main products, compliance with laws and regulations, etc.
Aside from that, this platform also requires its suppliers to respect intellectual property rights, so you don't need to worry about accidentally buying counterfeit or infringing products here.
Overall, once you want to start a dropshipping service with Alibaba, you can rest assured that the Verified and Verified-Pro suppliers on this E-Commerce platform are entirely safe.
2. Reviews From Previous Customers
To avoid confusion when buying from Alibaba, always monitor the Alibaba ratings and reviews of potential suppliers before proceeding with the transaction.
Ali Reviews' (an Alibaba-owned tool) comment reminders for previous buyers also contribute significantly to the variety and authenticity of reviews or product details of any suppliers on the platform.
3. Secured Payment
Trade Assurance is a "shield" for Alibaba to protect customers and their reputation because this "insurance" ensures you do not unjustly lose money for any item. Besides, this platform also allows many reliable payment methods to protect users' information and money.
Alipay (or escrow), Paypal, and Letter Of Credit are the most common. However, we recommend you use Alipay as it accepts both credit and debit payments, and the budget will remain in your escrow until you receive the item. In addition, complaints about defective or poor-quality products will also be easier to resolve if you use Alipay.
On the other hand, Western Union and T/T Upfront Bank Transfer might be risky payment methods for new sellers. While Western Union does not support your refund method, T/T Upfront Bank Transfer requires you to pay the supplier 100% of the goods in advance.
FAQs About Alibaba Dropshipping
1. Can I dropship from Alibaba to Shopify?
Yes, you can dropship from Alibaba to Shopify. Here are the steps:
Create an account on dropshipping.alibaba.com and connect your Shopify store to your Alibaba account.
Browse or search for products on Alibaba that you want to sell on your Shopify store.
Sync the products that you want to sell from Alibaba to your Shopify store.
When a customer places an order on your Shopify store, you can fulfill it by placing an order on Alibaba with the supplier. The supplier will ship the product directly to your customer.
Track the order status and delivery information on Alibaba and update your customer accordingly.
2. How to find dropshipping suppliers on Alibaba?
You can find Alibaba dropshipping suppliers with 3 methods:
Method 1. Using filter search on Alibaba
Method 2. Opt for the suppliers with the blue icon "Verified" tag
Method 3. Find manufacturers
Final Words
Alibaba dropshipping is a great way to source products from China and sell them to your customers worldwide, no doubt.
Merchants like you will be able to benefit from the low prices, high quality, and variety of products offered by Alibaba's suppliers. You can also enjoy the convenience and flexibility of dropshipping, which means you don't have to worry about inventory, shipping, or customs.
To start Alibaba dropshipping, find a niche, search for reliable suppliers, place a sample order, create a website, promote your products, and forward the orders to your suppliers. It sounds simple! But it's never easy to build your own business.
Work hard, be patient, and learn from your mistakes. And remember, the rewards are worth it. You can achieve financial freedom, personal satisfaction, and global impact with Alibaba dropshipping.
So what are you waiting for? Start your dropshipping journey today!