So, you're thinking of starting a dropshipping business? That's great! It's a popular business model worldwide, thanks to its low investment and high-profit potential. If you're targeting the US market and are struggling to find qualified dropshipping suppliers USA, then you've come to the right place.
In this article, you'll learn:
Everything you need to know about USA dropshipping suppliers
Tips to choose reliable and trustworthy suppliers
Top 5+ most credible dropshipping suppliers USA on our experience
If you're interested, let's start!
Dropshipping Suppliers USA: What You Need To Know
What is dropshipping all about anyway? Simply put, it's when you sell products online and let a third-party supplier take care of the rest. All you have to focus on is marketing and customer service while saving time and money.
But dropshipping is not a walk in the park. As a seller, you'll have to make some important choices, like picking the right supplier for your dropshipping business. The supplier you pick will make a big difference in the quality of your products, the speed of your delivery, and the happiness of your customers.
If you want to sell to the US market, you might want to think about dropshipping suppliers USA. Working with US-based suppliers has some great advantages:
Faster and cheaper shipping: When you ship domestically in the USA region, it can take only 2-5 days, compared to 2-4 weeks from China or other countries. This can make your customers more loyal and satisfied, and also lower the chance of losing or damaging packages. Plus, shipping from the USA can also save you money on customs fees and taxes.
Higher quality products: Dropshipping suppliers USA usually have higher standards of quality control and customer service than overseas suppliers. This can mean fewer complaints, returns, and refunds for you, and also boost your brand reputation and trustworthiness.
Effective communication: When you work with USA suppliers, you don't have to worry about language and time zone differences that often happen with overseas suppliers. You can communicate more easily and effectively with your suppliers, and solve any issues or problems faster.
But working with dropshipping suppliers in the US also has some drawbacks, such as:
Higher product costs: USA suppliers usually charge more for their products than overseas suppliers, because of higher labor and production costs. This can affect your profit margin and competitiveness, especially if you are selling low-priced or high-demand products.
Limited product selection: USA suppliers may not have as many products or niches as overseas suppliers, especially if you are looking for unique or trendy items. You may have to do more research and testing to find the best products for your target market.
So, before you decide to work with dropshipping suppliers USA, it's best to do your homework and weigh the pros and cons carefully. After all, the one fundamental goal you need to achieve is to find reliable and reputable suppliers that can meet your expectations and requirements.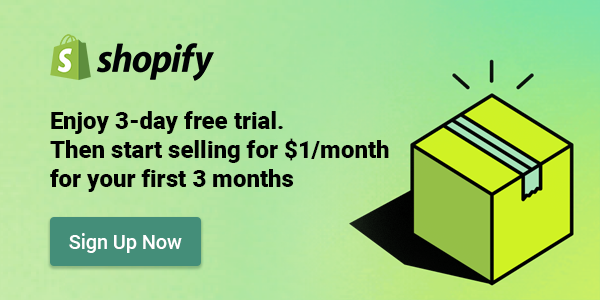 What Can Be Considered As The Reliable Suppliers?
Many factors make a dropshipping supplier perfect for your business, and it seems daunting to beginners, so here are my tips for you:
Fast and affordable shipping to the US customers, as well as quality products and customer service.
Large and diverse product catalog that covers various niches and categories, as well as the ability to customize products according to the customer's preferences.
User-friendly and secure website or platform that allows easy integration with popular e-commerce platforms like Shopify, WooCommerce, or Wix.
Transparent and fair pricing policy that includes all the fees involved in dropshipping, as well as a flexible return and refund policy that protects both the seller and the buyer.
Good reputation and track record in the dropshipping industry, as well as positive reviews and feedback from previous customers and partners.
How To Find Dropshipping Suppliers In The US?
Finding good dropshipping suppliers USA can take time, but it's easier than you think. Here are a few suggested steps for you to refer to:
Step 1: Find one who offers the products or niches you want. Remember to do the required market research.
Step 2: Estimate your available budget and check whether any suppliers meet it. For example, if your budget is around only $30 per month, then Wholesale2B might be great enough.
Step 3: List your requirements for one supplier's service and evaluate whether they match them. In case you need your suppliers to deal with fulfillment progress quicker, you'll need to test it carefully by trying to order some items.
Step 4: Verify whether your potential supplier is compatible with the E-commerce platform you are using. As an illustration, assuming you need to discover US dropshipping suppliers for Shopify, then Spocket and Wholesale2B are suitable.
You will save a lot of time looking for perfect dropshipping suppliers USA once you follow my instructions here. Now, let's move to the next part, and I'll show you some top-notch dropshipping suppliers you should never ignore!
5+ Best Reliable Dropshipping Suppliers USA in 2023
Ready to discover some of the most popular and trusted dropshipping suppliers USA? These suppliers can offer you thousands of types of products that you can sell to your customers in the US. Plus, they are all experts in their field and have proven track records of success.
Let's take a look at some of them!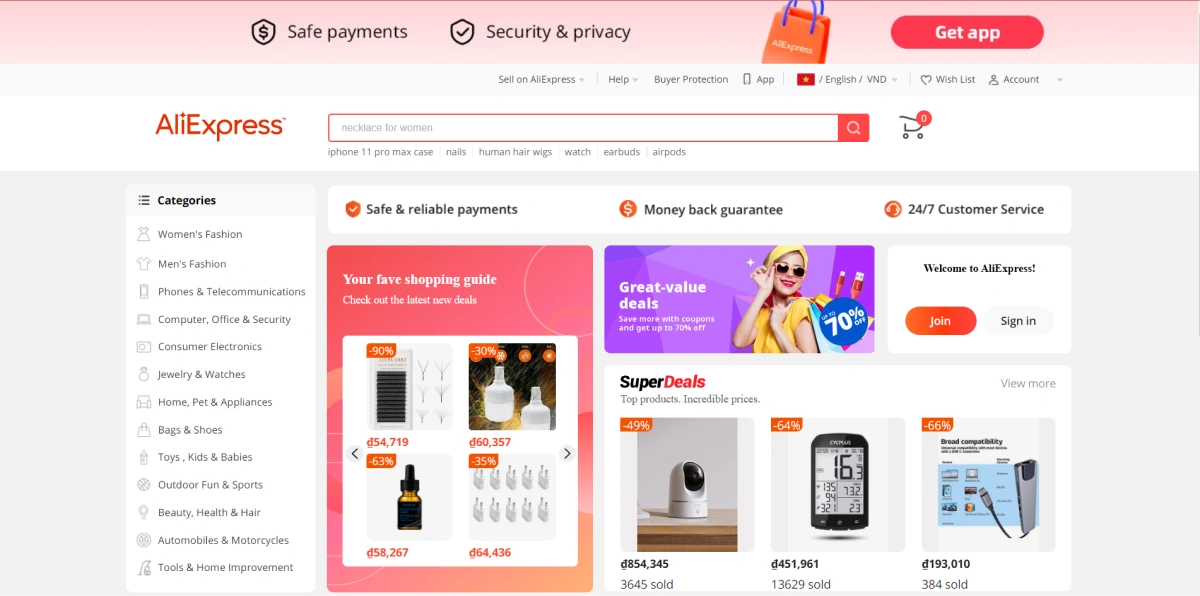 AliExpress is a well-known subsidiary of Alibaba, so in case you are a beginner, doing dropshipping with AliExpress seems more reliable and convenient. Although the platform originated in China, its manufacturers are settled around the world, including the US.
Pros & Cons
Offer white-label or private product services depending on the buyers' needs.
Have great customer protection policies, especially with false products.
Able to connect with the suppliers/manufacturers directly to make a deal faster.
Support various payment methods and shipping options.
Free membership services.
No integration with other platforms.
Notice to sort out the USA-based manufacturers or warehouses beforehand to avoid mistakenly choosing those in China.
Pricing
AliExpress does not charge any monthly fees or commissions for dropshipping. However, dropshippers may have to pay for some optional tools or services, such as AliDropship plugin, custom stores, or premium suppliers.
Wholesale2B has more than a hundred dropshipping companies from various regions of the world.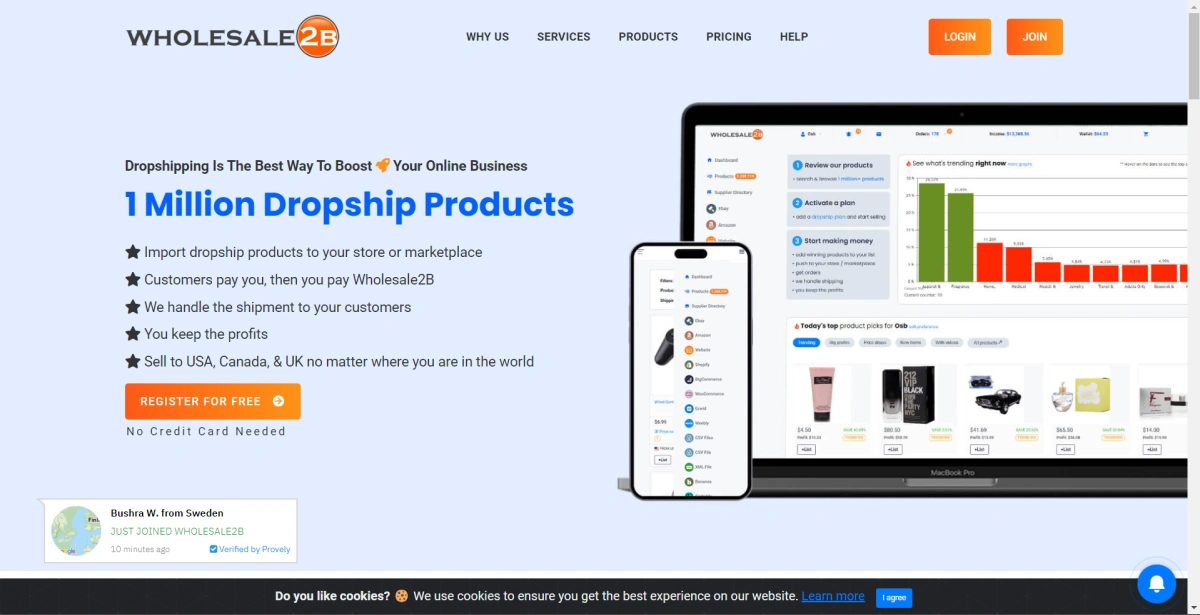 Be able to create a seller account for free. From that, they allow you to browse the complete product catalog without paying any penny.
Offer many automatic features, from order/inventory automation and order tracking to the auto push-to-store tool. Auto-delivery tracking is also helpful, as you will receive every order shipping notification directly into your integrated store's mailbox.
Require users to pay monthly membership fees for every e-commerce platform they want to connect with through Wholesale2B. For instance, if you integrate this supplier with Shopify, WooCommerce, and BigCommerce, you'll need to pay $29,99 per month for each of them.
Pricing
Wholesale2B offers different pricing plans for dropshippers who want to import products from various suppliers and sell them on different platforms. Depending on the plan, the monthly fee ranges from $37.99 to $49.99. Wholesale2B also provides a free account that allows users to browse products and suppliers without a credit card.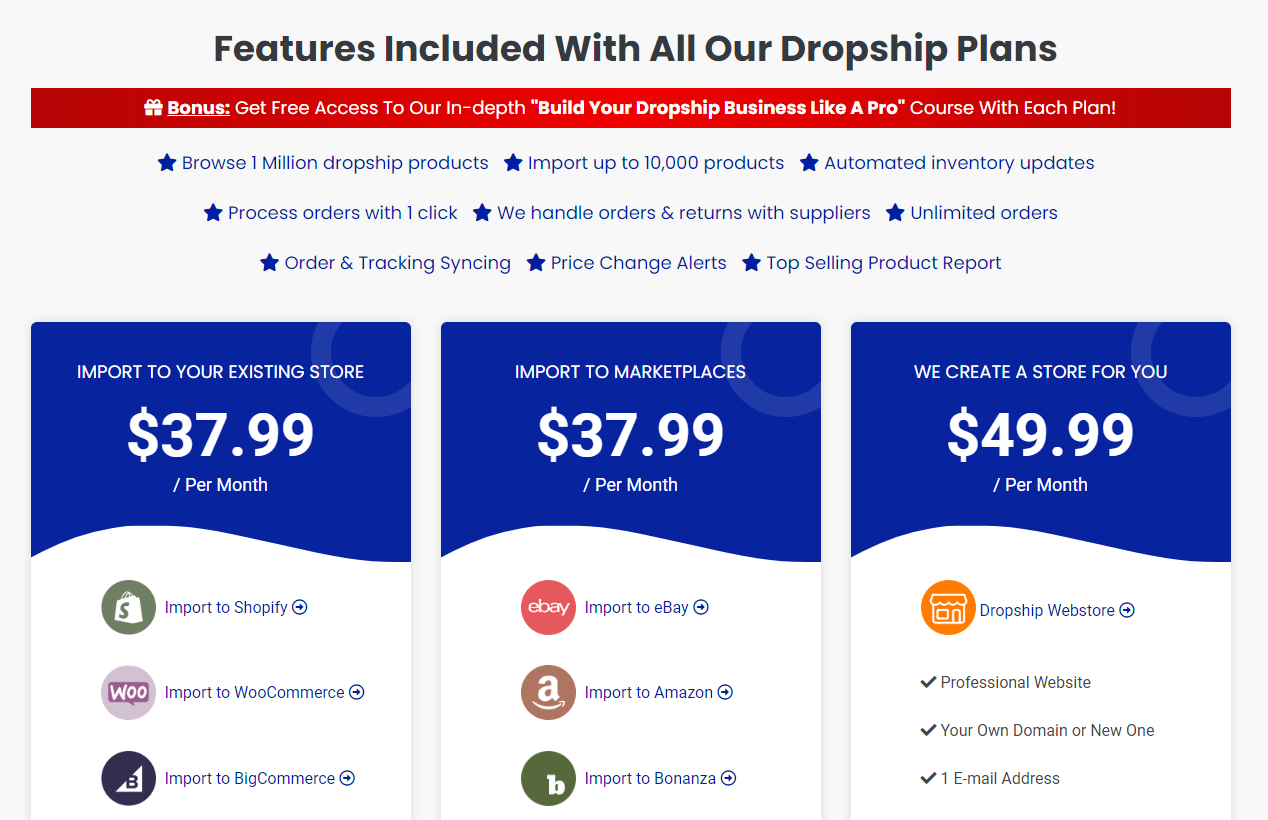 Sellvia is a service that can help you boost your dropshipping business with fast delivery times. It is powered by AliDropship, a well-known company in the dropshipping field.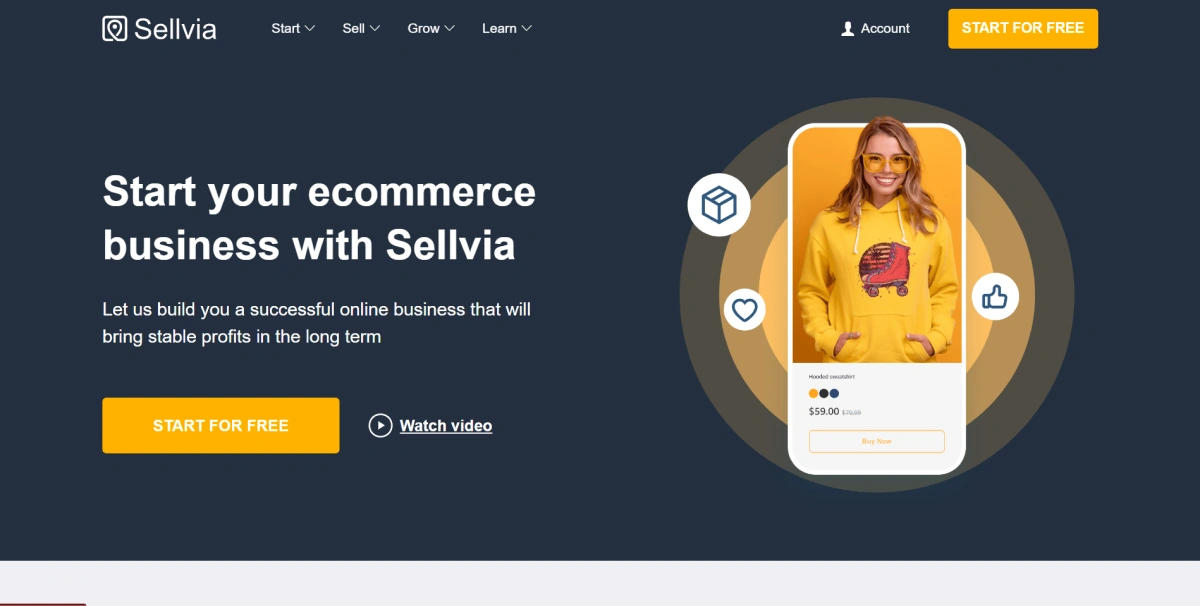 Sellvia has a special feature that sets it apart from other dropshipping suppliers USA: it can ship your products to your customers in just one to three days, regardless of their location.
How is that possible? Sellvia has a huge warehouse in the US, where they keep thousands of products from different categories. They handle everything from picking, packing, and shipping your orders. That's why they can offer you the best delivery times in the industry.
Pros & Cons
Can handle quick product shipment time. As mentioned above, you can expect the customer to receive their orders within 1 or 3 days.
Allow to pay with a credit card.
No free shipping is available. The expected profit margin listed on the page might appeal, but you should remember that no shipping fee is included.
High membership fees compared to others. One regular package charges $39 monthly, and the Sellvia PRO will cost $49.
Pricing
Sellvia offers two pricing plans for dropshippers who want to use their US-based fulfillment service. The first plan is Sellvia, which costs $39 per month and is suitable for existing e-commerce businesses. The second plan is Sellvia PRO, which costs $399 per year and includes a turnkey store with a dedicated manager.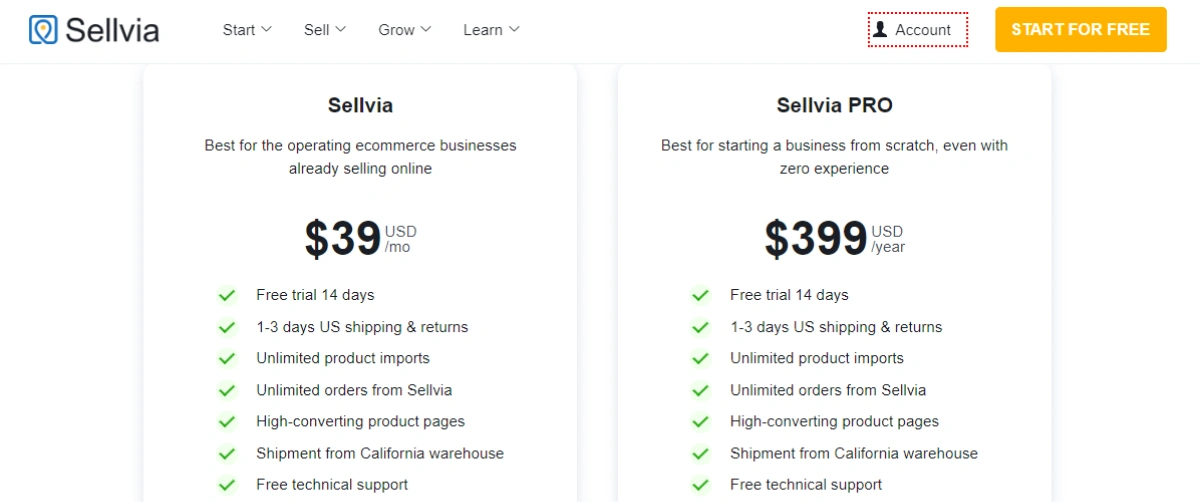 If you are looking for a wholesale dropshipping supplier in the USA that can offer you high-value products, you should check out Doba.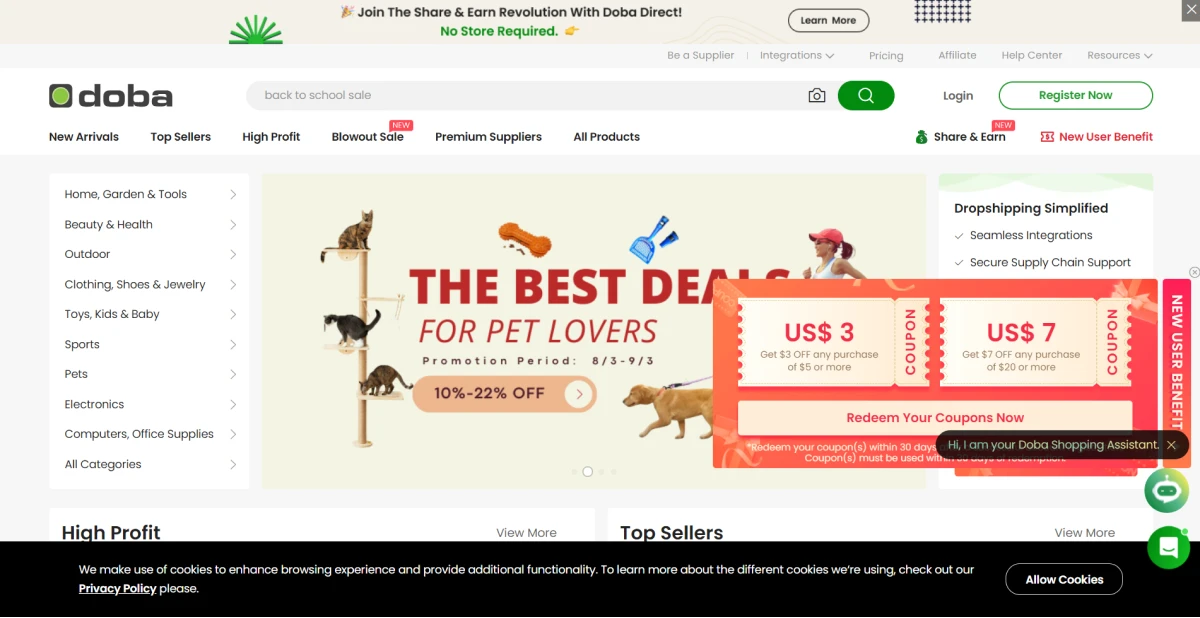 Doba is not just a supplier, but a network of verified and trusted dropshipping suppliers that can provide you with a wide range of products. With Doba, you don't have to worry about getting scammed or dealing with low-quality products. Doba makes dropshipping simple and easy for you.
Pros & Cons
User-friendly. No matter what action you want to take with Doba, from searching for suppliers to posting items to your e-commerce shops, it will be straightforward.
Integrating with various prominent e-commerce platforms, such as Shopify, eBay, BigCommerce, Wix, Newegg, WooCommerce, and Amazon.
Easy to keep track of your order. They will automatically inform you of every note related to the shipping period.
Excellent customer support over the phone.
Expensive membership fees per month. Depending on which plan you want to choose, your membership can cost around $59.95 to $89.95 per month.
Pricing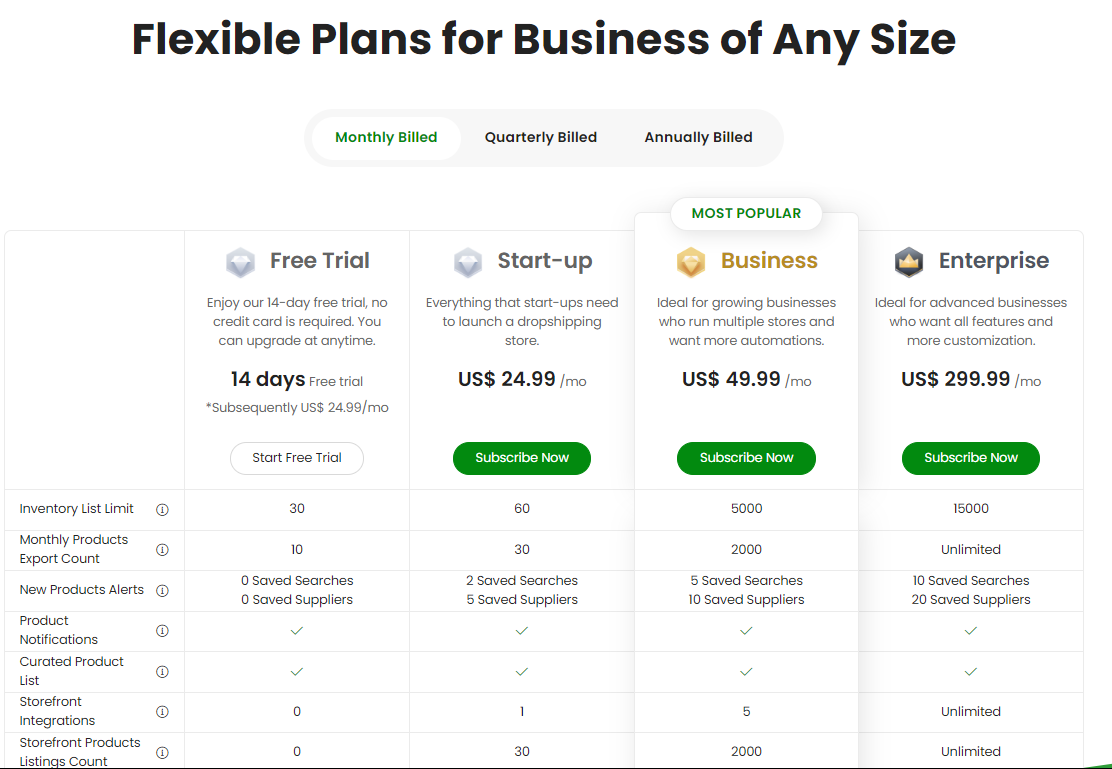 Doba offers different pricing plans for different levels of access and features. Some of the plans are:
Basic: $29/month for access to 1.4 million Doba products
Advanced: $69/month for access to curated products, chat support, and one premium data export
Pro: $249/month for access to all Doba suppliers and 1.9 million products
Enterprise: custom quote for API integration, sandbox dev environment, and account manager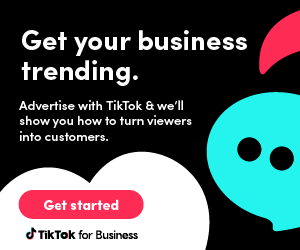 With over 8,000 wholesalers and dropshipping suppliers, SaleHoo is a prominent director in this field.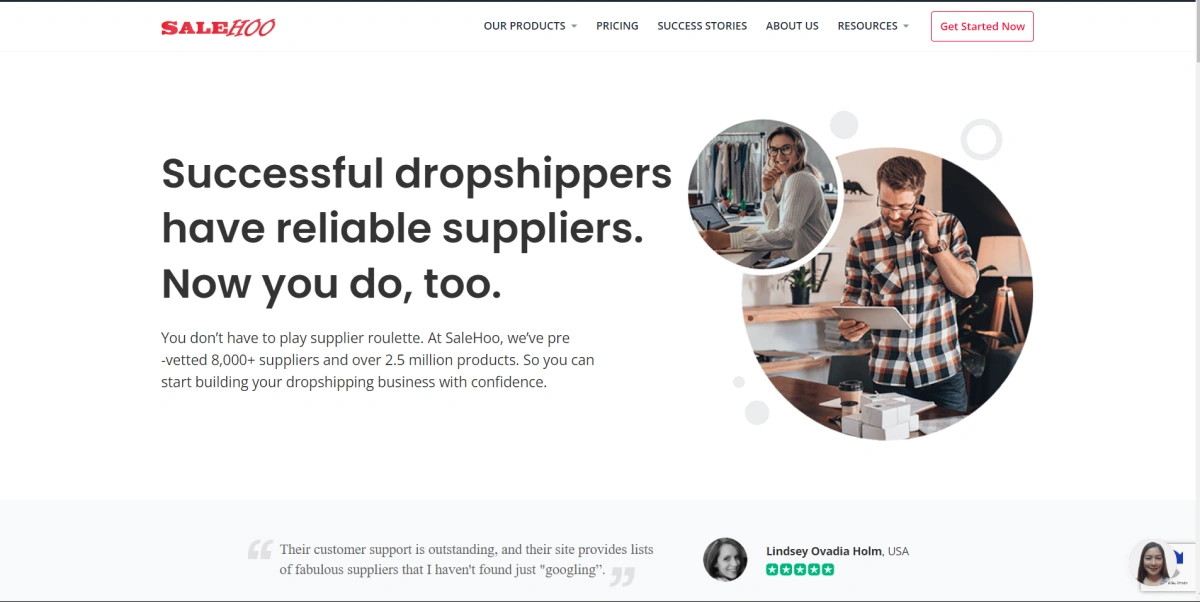 SaleHoo is an e-commerce platform that started in New Zealand, but it has grown to have many manufacturers and warehouses in other countries, such as the US, Australia, Canada, and the UK.
This means that you can find a supplier that can ship to your customers from different regions and offer a variety of products. If you are looking for a supplier with a large and diverse international community, you should consider SaleHoo.
Pros & Cons
Give the members free market service. SaleHoo automatically tracks the selling-buying of all products in their directory, so once you need them, they will suggest which ones are the best immediately.
Offer reasonable prices for membership fees. For annual access, you only need to pay $67. On the other hand, you are only charged $127 for the lifetime access package.
Provide 100% satisfaction or money-back guarantee for registered members.
Manufacturers/suppliers vetted carefully. SaleHoo manages its suppliers in the directory quite well, so you can be assured of not being scammed while working with them.
Don't provide location-based search features. Due to that, it's pretty hard to perform a search on SaleHoo.
Pricing
Salehoo Dropship is a pricing plan that allows you to access and sell over 10,000 vetted AliExpress products on your Shopify store with one-click import and automated order fulfillment.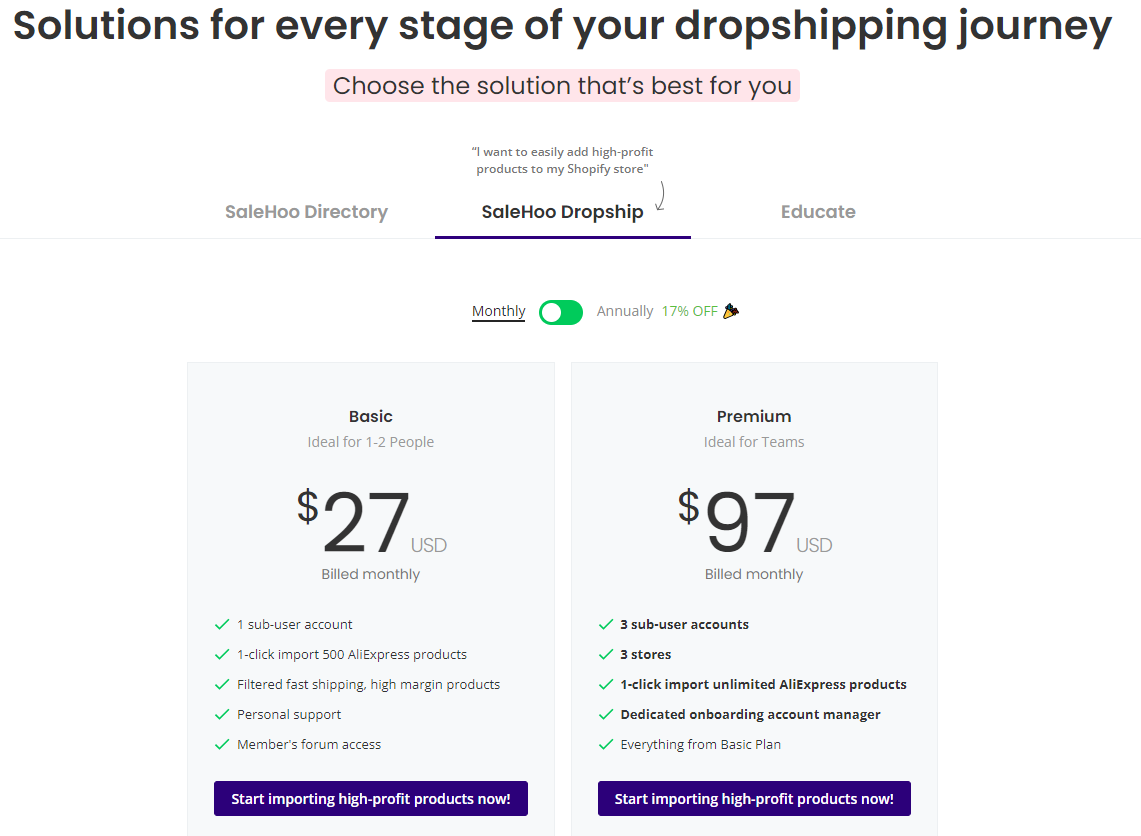 You can choose between the standard plan ($27/month) or the premium plan ($97/month) depending on your needs and preferences.
Spocket is one of the most friendly e-commerce platforms for beginners.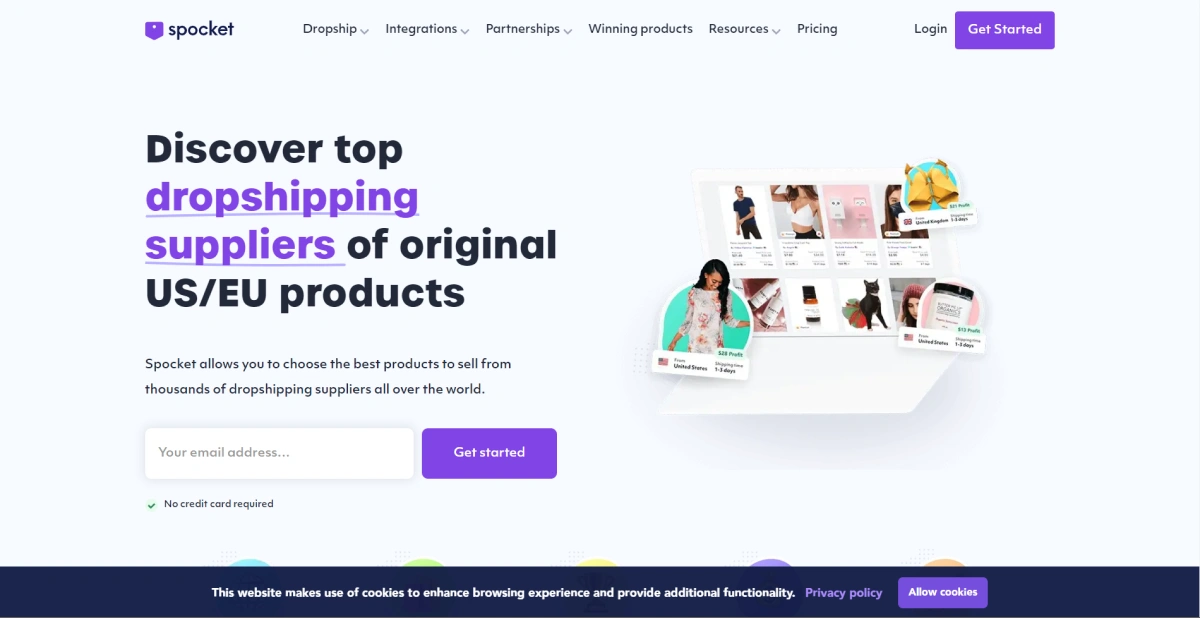 Spocket is a dropshipping marketplace that features thousands of products from EU and US dropshipping suppliers. You can browse and import products to your online store with just a few clicks, and enjoy fast and tracked shipping, branded invoicing, and 24/7 customer support.
Spocket is compatible with Shopify, WooCommerce, Wix, BigCommerce, and more. With Spocket, you can start your dropshipping business with confidence and ease.
Pros & Cons
Reasonable membership fees range from $0 to $99.99, depending on your requirements.
Offering branded invoices for those who want to scale up their business.
Smooth integration with many big platforms, like BigCommerce, Shopify, WooCommerce, and Wix.
Always handling products' quality control before shipping.
Not allow private label packaging or products.
Pricing
Spocket offers 5 pricing plans, ranging from a Free plan for rookies who are just starting their sales, to a Unicorn plan ($299/month) for mega-corporations that require access to exclusive features. All plans come with a 14-day trial.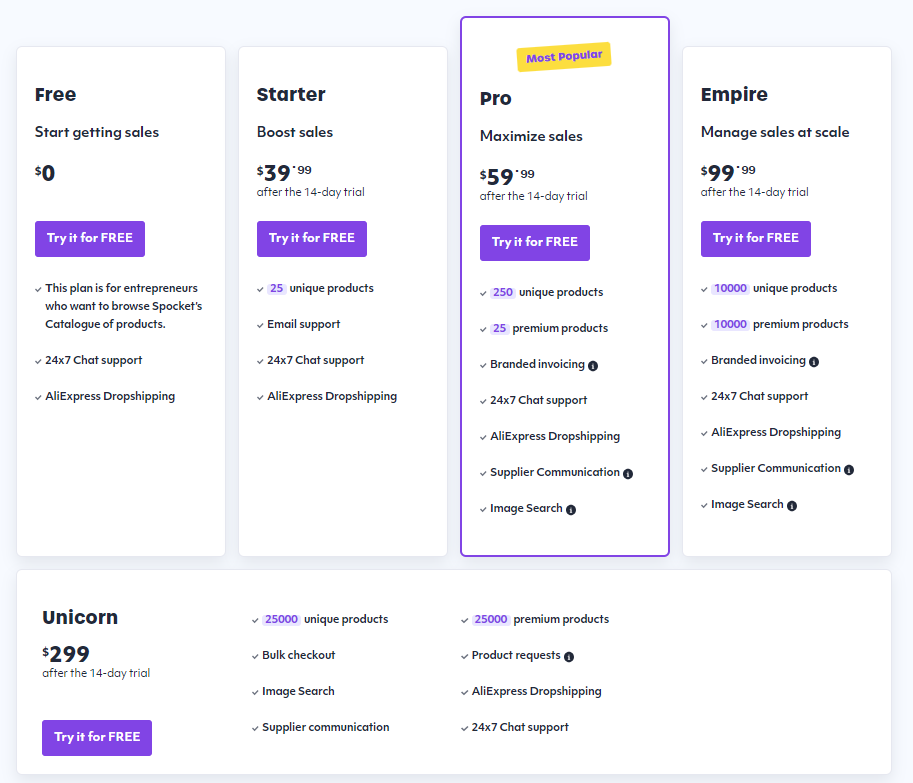 Recommended Suppliers For Specific Niches
In case you are now fond of some special niches and still cannot choose dropshipping suppliers in the US through the previously suggested E-commerce platforms, feel free to check some names right below.
1. Home And Garden Decor
Looking for some furniture dropshipping suppliers USA? Below are my best suggestions for you:
Oilo Studio: Full refunds for returns within 30 days, 24/7 customer service, free shipping on less-than-$45 orders (exclude furniture).
White Lotus Home: Known for handmade and organic products, free shipping for US-based orders.
Harbor Mill Candles: Order fulfillment time is around ten business days, and private-label products are available.
AppScenic: Systems work automatically and can integrate with many e-commerce platforms (such as Wix, eBay, or Shopify).
2. Pet Products
Who can resist the allure of four-legged friends? For those who love pets but are busy, buying essential items such as toilet sand or packaged food is much more convenient. Then, here are some potential suppliers for you in this field:
Essential Pet Products: 24/7/365 online ordering, wholesale pricing, no minimum purchase requirement.
Fido Pet Product: Free shipping is available and multiple payment methods.
Patriotic Pet Products: Free shipping for US-based orders, multiple payment methods allowed, connect directly with Amazon.
Pawsome Couture: It takes 3 to 7 days to fulfill the US-based orders, clear refund and return policy.
Love Long Long: Many interesting designs for pets' clothes, free shipping globally.
Cool Pet Stuff: Free shipping for orders over $49, reasonable returns policies, especially for defective or damaged items.
3. Jewelry
The market for jewelry products, especially customed or personalized ones, is always crowded, but there is always room to squeeze in and make a profit.
It's advised to sell these products in shops connected to social networks to gain more popularity. For instance, TikTok, Facebook, and Instagram are some of the most common platforms.
Richard Cannon Jewelry: Compatible with multiple E-commerce platforms (eBay, WooCommerce, Shopify, Amazon), custom jewelry available.
Topearl: Renowned for pearl jewelry, free dropshipping service, no minimum order quantity needed.
EPROLO: Wide range of products, shipping worldwide, personalized jewelry available.
Modalyst: Famous for POD (print-on-demand), links with the most popular E-commerce platforms, and imports any products you want in one click.
4. Medical Supplies Or Medicines
When dealing with health-related commodities, you must carefully consider which items are for sale because the US Food and Drug Administration may hold you liable for any fault.
Dr. Joseph's Healthcare Products Inc.: Most famous for diabetic foot care kits, flexible shipping fees, and shipping worldwide.
Blue Sky Farms CBD: Mainly offers CBD products, shipping worldwide, processing time of around 1 to 3 days.
Optimal Chemical Inc.: Known for household cleaning products, shipping worldwide.
Pure Xen: Renowned for vegan Delta 8 gummies, free shipping worldwide.
Dear Jane Medical: Wide range of products, impressive available profits (up to 20%, with products costing over $100).
Final Words
Starting a dropshipping business is an adventure, and you've taken the first step. With the knowledge you've gained about dropshipping suppliers USA and the tips to choose the best ones, you're well-equipped to make your mark in the market.
Remember, success in dropshipping is all about the partnerships you make with your dropshippers. Trust your instincts and the insights you've gathered here. And when it comes to those credible dropshipping suppliers in the USA, your path is paved with opportunity.
So, go ahead and chase your entrepreneurial dreams. Your journey is just beginning. Happy selling!