As we all know, Black Friday is one of the most profitable sales days of the year for most retailers. According to Adobe Analytics, Black Friday sales reached a record-breaking $8.9 billion in 2021. 
With so much money involved like that, it's no wonder that marketers are coming up with many ways to convince shoppers to part with their cash. And this is not just about offering discounts to customers, but also trying to make the best out of them.
Furthermore, this event has become even more crowded with other businesses. Hence, your company needs to develop great sales strategy tips if you want to stand out from the crowd. But with so many options available, knowing which one to choose can be challenging.
Fortunately, we have gathered the top 5 Black Friday upsell tips that will help you ensure you're on the right track with Black Friday and the following holiday season. If done correctly, not only can you increase your average order value (AOV), but you can also gain customer loyalty and garner the interest of new customers.
Sounds good? Let's get started! 
What is upsell?
As Black Friday approaches, retailers are looking for ways to boost sales and take advantage of the influx of shoppers. One way to do this is through Black Friday upselling.
Upselling is when a retailer tries to sell a more expensive or upgraded product to a shopper. This can be done in several ways, such as offering a higher-end model of the product they're interested in or adding additional items that complement the purchase. But there's more to it than just that. 
To successfully upsell, you need to have a well-thought-out strategy. You can't just try and sell anything related to the product. It has to be something that brings value to the customer.
How to succeed in Black Friday upsell?
Nowadays, Black Friday upselling is only effective when it's done with the customer in mind. Businesses should place their customers on top of their priorities. It also means understanding their needs and desires and making recommendations that will genuinely improve their experience.
According to a report, the chances of selling to existing customers are 60%-70%, while the possibility of selling to a new prospect is only 5-20%. So, if your upsells are coming from a place of greed, they'll be pretty easy to spot. And your customers will see right through them and be more likely to put their cash in another place.
Moreover, upsells can drive up to 10-30% of revenue. Therefore, it's important to offer the right products at the right time to the right customers.
Here is one of the best-upselling examples on the Apple Website
There's no doubt that upselling is a fantastic way to boost sales and increase the average order value. So, if you're not incorporating upsells into your Black Friday marketing strategy, you're missing out on easy sales that could be made with every single order.
Besides, if you want to achieve the best results with your online store, you need to take the time to chart out your goals carefully. 
This means preparing in advance all the Black Friday upsell tips that you can use to reach your target audience. By doing this, you can avoid making mistakes that could leave a ton of money off the table.
Top 5 effective Black Friday upsell tips to nail more sales
Black Friday is the perfect time to implement upselling techniques, as shoppers are already in a spending mindset and more likely to make additional purchases. 
Here are a few tips to help you make the most of this opportunity.
1. Make sure your Black Friday upsell recommendations are suitable for each customer
When upselling, it's essential to tailor your recommendations to each customer. This means taking into account their specific needs, and preferences. Then, your job is to suggest products or services that will address those needs. 
If a customer is looking for a new car, you might recommend a model that's a step up from their current one in terms of features or price. Or, if your customer is looking for a new TV, you might recommend a model with a larger screen or better resolution. 
Here is one of the best-upselling examples on the Samsung Web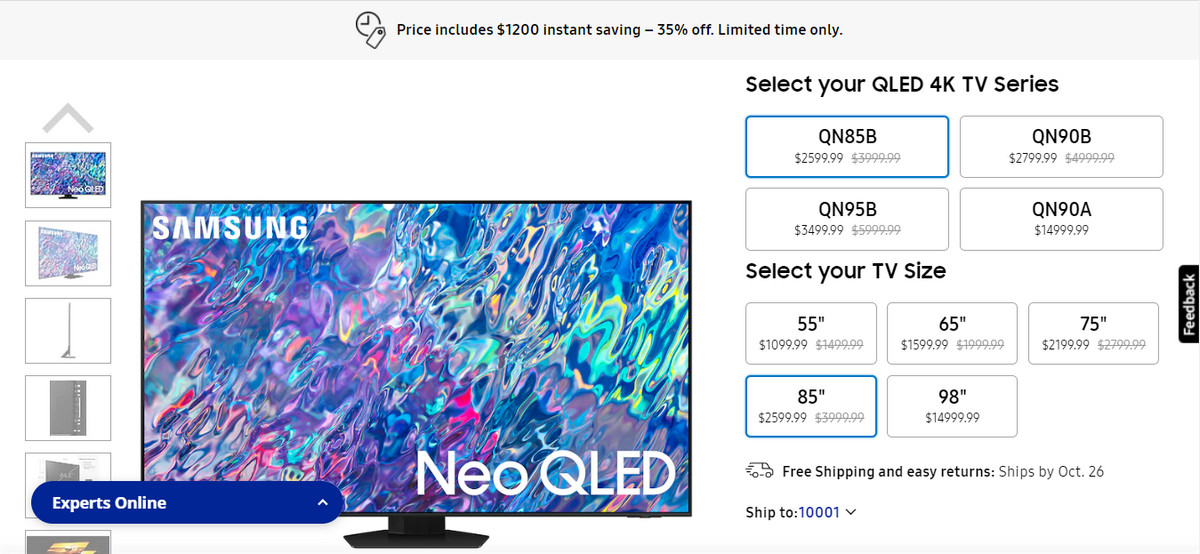 After selecting a 55" Samsung QLED 4K TV, customers have the opportunity to upgrade to a 65" one with just a few hundred dollars more. It's reasonable to believe that customers who want a 55" might prefer a 65" as well, and it's not presented aggressively.
Upselling may have its benefits, but being too forceful about it could do more harm than good in the end. 
In 2015, Wharton conducted a study that found when sales agents are too focused on upselling, they may see a successful sales rate. However, their customers are 5.5% less likely to come back to their company in the future. 
Although this research was done a few years ago, it's still insightful today. It should be taken into consideration when thinking about whether or not upselling is the best tactic for your company.
2. Offer free shipping to upsell your customers
For every sales campaign, you must have seen lots of ways that store owners use to offer free shipping to get more sales. Especially these two examples:
"Add X amount more to your order to receive free shipping" or "Spend X dollars more to get free shipping" – These legendary quotes are always a great motivation for us to spend more money shopping on Black Friday. We guess that you know why now.
Adding a certain amount more to an order to get free shipping is a great way to encourage customers to spend more in your store.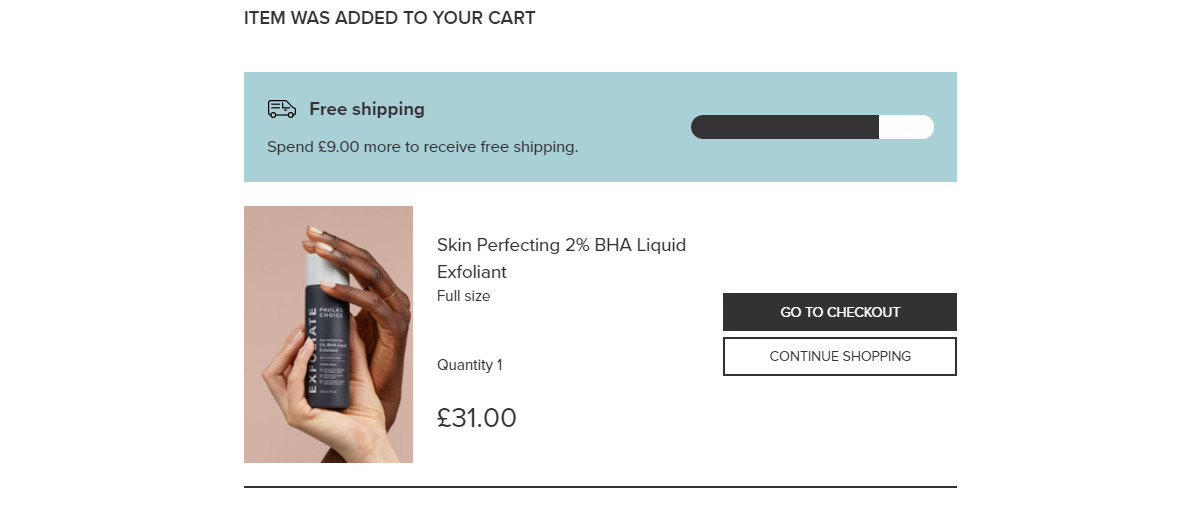 Besides, 9 out of 10 customers see free shipping as a big incentive, making them more willing to pay for complementary products that they see as valuable.
Moreover, this Black Friday upsell tip is simple to implement, and it's something that almost all customers these days expect from online shopping experiences. 
3. Creating a sense of urgency before Black Friday
With Black Friday just around the corner, retailers are starting to ramp up their marketing efforts to create a sense of urgency and encourage consumers to start their holiday shopping.
There are a few things that retailers can do to create a sense of urgency before Black Friday: 
First, you can start releasing Black Friday deals

earlier

. This will get consumers thinking about their holiday shopping and what they want to buy. 

Second, your business should create special Black Friday deals that are

only available for a limited time

and

in a limited quantity

. This will encourage consumers to act quickly and not wait until the last minute to shop. 

Finally, don't forget to

send out reminders

to consumers about Black Friday and encourage them to start their shopping early.
Plus, you can find many examples of how urgency has led to a significant increase in conversion rates
For example: from 2.5% to over 10% (How Creating a Sense of Urgency Helped Me Increase Sales By 332%)
And last but not least, you should make your offer unique and limited by using phrases like "Only today," "Time-limited offer" or "Only for the first 100 customers." 
By doing this, retailers can encourage consumers to start their Black Friday shopping early and get the best deals. More importantly, you can use OneUpSell to use all the features above and create the FOMO (or Fear Of Missing Out) effect to engage your customers.
Bring urgency to your Black Friday campaign

Use Flash Sales or Time-limited deals to encourage your customer to make that purchase! Try OneUpSell
4. Black Friday upsell through bundles and add-ons
Is it better to Black Friday upsell through bundles or add-ons?
We would like to say Black Friday upselling through bundles (grouping 2,3, or 4,… products together for a relatively lower price compared to purchasing individually) and add-ons (enticing consumers to purchase upgrades or additional products usually at the end of the checkout process) can WORK. But if only you do it in the right way! Both of these strategies are effective ways of increasing your average order or transaction value.
However, if you're only focused on what you might earn from them, and not on your customers, there's a good chance they won't work. This means you are creating a self-serving mindset that prioritizes what the business may earn over what's best for the customer.
If you have multiple items that can be bundled together, you may want to consider doing so as it could make your products more affordable for customers – who in turn might be more likely to buy from you! Instead of selling shampoo, conditioner, and body wash separately, try creating an all-in-one bundle at a discounted price.
Here is another example of providing a bundled offer: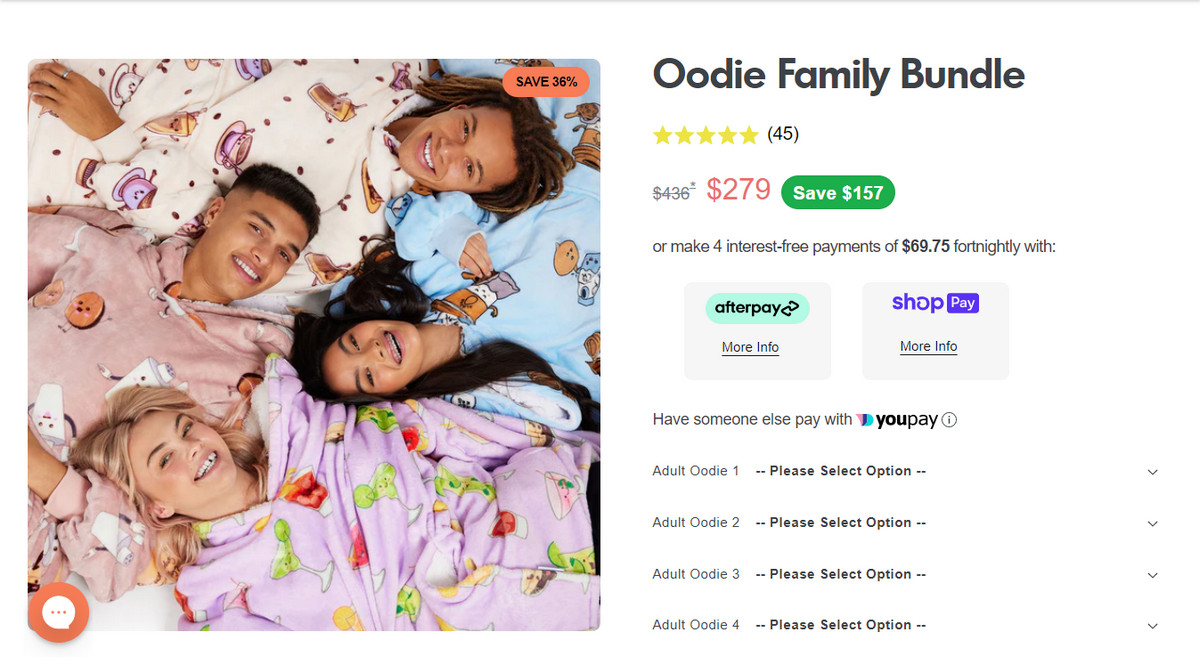 The Oddie Hoodie Company offers a great deal on their hoodies – you can buy a four-pack for your family for only $257, which saves you up to $157.
Overall, bundles and add-ons can both be effective methods to increase conversions. However, for Black Friday upselling to work, it's important to make sure that:
The product you're offering as an addition is a good match for the original product that your customer chose. You don't want to just recommend anything – it has to be something that compliments what they already bought and makes sense for them to purchase together.
Offer personalized products
Make sure to personalize your bundles and add-on strategies. This means more than just using your customers' names – although that's definitely a plus. Use your customers' buying histories to recommend products they'll be interested in.
Offer a frictionless process
Your Black Friday upselling process should be frictionless, meaning it should be quick and easy for customers. They shouldn't have to enter their payment information multiple times or go through a long and complicated process. Make it easy for them to buy bundles and add-ons with just one click.
5. Use product comparisons to encourage Black Friday Upsell
Nowadays, customers who shop online typically research various aspects of a product before making a final purchase decision – such as price, features, reviews, and availability. Therefore, you should make this process easier for your customers and turn it into a Black Friday upselling strategy by showing them more than one product at a time. 
For example, many software as a service (SaaS) product pricing pages uses this approach. However, this tactic can also work for eCommerce businesses.
When customers are browsing your store, you should show them similar upsell products and highlight the primarily featured differences. This way, they won't have to click through multiple pages to compare what features they're looking for in each product.
*The K-cup product page upsells by displaying a comparison with the upsell item:
By basing this comparison on features, K-Cup makes it possible for customers to buy exactly what they're looking for, even if it costs more.
And there you have it! Top 5 Black Friday Upsell tips to help you boost your revenue and conversions in 2023. By following these tips, you can create a successful campaign that will help you reach your goals. 
It's never too late to start planning your sales strategy for Black Friday. So what are you waiting for? Get started today and make the most of the upcoming Black Friday!
Final Words
We hope you've found the tips in this article valuable and that they've helped you plan out your own Black Friday upsell strategy.
As we mentioned earlier, upsells are a great way to boost your holiday sales. More importantly, these Black Friday upsell tips can also help you drive repeat customers throughout the rest of the year once the holidays and the deals have ended.