So, you've decided to take the plunge and invest in a Black Friday Cyber Monday email marketing campaign. You're not the only one – more than half of marketers are planning to invest in this kind of campaign this year. But with so much competition – over 116.5 million emails were sent in 2021, then how do you make your BFCM email marketing Ideas stand out in 2022? 
If you're thinking of sending out a mass blast or newsletter as your BFCM campaign, think again. Recipients are likely to mark it as junk mail without even reading it. And don't forget, you're not the only one sending Black Friday emails. Fortunately, there are other ways to leverage this opportunity. Let us help you devise a winning strategy for your BFCM campaign that will drive ROI instead of just clicks.
Now, check out 8 BFCM email marketing ideas to help you achieve your business's goals this holiday season.
Why email marketing is essential for BFCM
As we all know, email marketing is an essential tool for any business, but it is especially important during the holiday season.
Black Friday and Cyber Monday are two of the busiest shopping days of the year for retail and eCommerce stores, and that's when BFCM email marketing should come into play! This is a perfect way to reach your customers and promote your deals these days.
Note:
BFCM 2022 falls on the weekend from 25th to the 28th of November.
With email marketing, you can target specific customers with personalized messages and ensure that those who are most likely to take advantage of your deals see them. After that, you can track your results and see how your campaigns are performing. Finally, you can also adjust your campaign as needed.
Moreover, BFCM is a great opportunity for businesses to take advantage of increased sales and traffic. 
But if you're still not convinced, let's take a look at some important statistics. Then, you will know why you should consider BFCM email marketing ideas for your campaign.
Nearly

180 million

people shopped over BFCM 2021.

There were 88 million shopping online the Friday after Thanksgiving compared with 77 million on Monday.

Shoppers spend an average of

$301.27

on gifts.

Over

47 million

people were buying from Shopify-powered stores. 

The average cart value for BFCM shoppers would reach around the

$100 range

.

Worldwide sales increased by

23%

between 2021 and 2020 BFCM sales.

Product discovery and browsing happen primarily on mobile devices, with

69%

of shoppers using their phones or tablets to browse.

Mobile devices are also attributed to

43%

of Black Friday revenue.
Did you know that people are still shopping more from their desktop computers than from their phones, even though we tend to use our phones for everything else? The conversion rate for desktops is 4%, while the conversion rate for mobile is only 2%.
These data show a big portion of what happened to retailers after the emergence of Covid-19. The pandemic influenced the holiday shopping season, resulting in a significant drop in face-to-face sales. As a result, this encouraged many retailers to take their businesses online, benefiting from the growing trend for online shopping.
One more reason why you should care about BFCM email marketing ideas: This is not just about the potential rewards – preparing for BFCM also means being ready to face some stiff competition. Besides, BFCM is not just getting bigger – it is becoming more and more competitive every year. 
Additionally, you can always visit Flowio to level up your email marketing and enhance your business. With this app, you can send high-converting emails and SMS with pre-built templates, ready for any campaign. 
And if you want to stay ahead of the game, you need to prepare BFCM email marketing ideas NOW. 
8 BFCM email marketing ideas for a successful campaign
As the holiday season approaches, we know that your main goal is to increase sales and grow your business. However, in order to do so, you'll need to have some email marketing tips up your sleeve! And this is the right place you can take it!
With these tips, you can make your brand stand out and be top of mind for your customers. Here are 8 ideas you can utilize on Black Friday and Cyber Monday to grow your sales.
1. Send BFCM coupons early
The first BFCM email marketing idea we will cover today is to send your coupons EARLY. The pre-BFCM period can be a great opportunity to start teasing your audience with amazing deals and discounts.
As you may know, all marketing campaigns need time to work. That's why you shouldn't promote your BFCM sales on Black Friday or Cyber Monday because people's inboxes will be flooded with promotional emails. Moreover, your BFCM emails are more likely to be neglected!
Instead of waiting until the last minute, you should run the sales campaign a week or at least a couple of days earlier so that your subscribers have time to notice and get excited about the sale. By starting early, you can increase the chances they'll spend more money on your business on the big day.
Not only will this help you keep your brand top of the customer's mind, but it will also encourage users to buy from you early. Moreover, this will give you a great opportunity to build your BFCM email list, something very important in generating revenue in the following holiday seasons. 
2. Send your VIP "EXCLUSIVE" BFCM discounts
The loyal customer list – or we can call them VIP customers – is crucial. They are the ones that will help keep your open rates and unsubscribe rates low as you approach the sales period. 
So, on this Black Friday and Cyber Monday, make sure your VIPs feel extra special with exclusive discounts just for them. Send them an email with a unique promo code that they can use to save big on their purchase.
In return, they'll appreciate the extra savings and buy more while you'll end up scoring some major brownie points with your best customers.
3. Add a countdown timer to your BFCM email marketing campaign
Countdown timers are a great way to boost urgency and encourage your subscribers to take action right away. You can use it to mark the days, hours, or even minutes until Black Friday and Cyber Monday.
So, if you have a new product or special deal that you want to promote on BFCM, don't forget to add a countdown timer. This is always one of the greatest BFCM email marketing ideas to boost your sales.
Moreover, a countdown timer is a helpful way to create an urgency feeling for your customers, especially if you have limited quantities of products. 
As you may know, countdown timers and limited products are key factors that can make your customer feel a sense of urgency, deadline, and the fear of missing out (FOMO).
And you know what, we leveraged this sense of urgency by sending countdown timer emails eight and six hours before the end of the sale period. This actually helped our brand a lot to motivate customers to make a purchase before it was too late. So, there is no reason to skip an amazing BFCM email marketing idea like a countdown timer.
4. Send product recommendations based on shopping behavior
Now, find out what products your subscribers have purchased in the past. This will allow you to send them product recommendations based on their preferences. If your customers have previously bought from you, they will likely purchase from you again. This is especially true if they're happy with the product and the customer service they received. 
Moreover, you can also send product recommendations to your subscribers based on the products they've viewed but haven't purchased. 
If they've looked at, but not purchased a toy car, for example, then you should send them a discount code for that item. 
By sending out these product recommendations, you'll build trust with your subscribers, and they can feel your brand really cares about them. Plus, you'll also show them that you understand their needs and have products to meet them.
5. Offer free shipping with BFCM promotions
The next BFCM email marketing idea that we recommend is to offer free shipping.
This year, you should take advantage of Black Friday and Cyber Monday promotions by offering free shipping on all orders. This will help to drive traffic to your site and increase sales. 
And be sure that you advertise this promotion heavily leading up to the big weekend. This is a great way to encourage your customers to purchase even more. 
Not only does it benefit your bottom line, but it's also likely to increase your customer satisfaction. Free shipping is always a popular perk, so take advantage of it!
6. Hook users with a gaming twist
Instead of sending a straightforward BFCM email – which normally includes text and an image, you can consider adding a gaming twist (email gamification). Why not?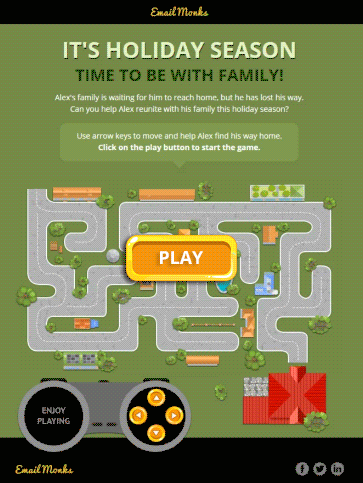 Create a simple game that users can play to win a discount on your products or services based on their shopping behavior.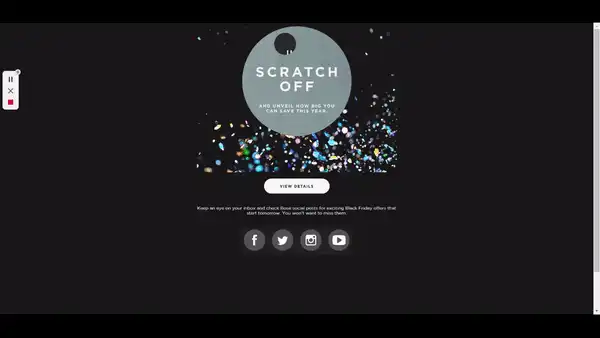 Source: How to Use Email Gamification to Make Emails More Entertaining
Not only will this add a fun element to your marketing campaign, but it will also incentivize people to actually open and engage with your email.
7. Ask for user feedback and insights with a survey
While it's essential to send out BFCM emails, it's just as important to send out surveys! Asking for user feedback and insights through surveys is a great way to improve your product or service. 
Moreover, it allows you to understand what your users think and how they feel, and what they don't like about your product or brand.
Creating a survey can be a bit daunting, but there are a few things you can keep in mind to make it successful.
First, make sure you craft clear and concise questions that will get the information you need. 

Second, give your users an incentive to participate, such as a discount or prize. 

Finally, make sure you promote your survey to ensure you get a good response rate.
8. Send a "thank you" email after BFCM is over
When you send out product recommendations and surveys, don't forget to send a "thank you" email to your customers. 
After Black Friday and Cyber Monday have come and gone, take a moment to send a thank you email to your customers. Thank them for their purchases, and let them know you appreciate their support. This is a great BFCM email marketing idea to build goodwill and keep your customers coming back for more.
There you have it! Top 8 BFCM email marketing ideas to help you boost your sales and conversions for the holiday season in 2022. By following these tips, you can create a successful campaign that will help you reach your goals.
So what are you waiting for? Get started today and make the most of the holiday shopping season!
Conclusion
Email marketing is a tried-and-true strategy that still works wonders. Not only does it reach a high percentage of your customer base, but those who receive your messages are almost guaranteed to open them and see what you have to say. 
If done right, these BFCM email marketing ideas can be both a great source of revenue and help you build brand awareness. However, you can't just send a blast email and expect it to work.
Therefore, to ensure that your BFCM campaign is successful, you need to put in the time to create effective and engaging emails. With these best practices in mind, you'll be well on your way to sending attractive and effective BFCM email marketing campaigns.