With more and more businesses selling similar products and services, it's becoming increasingly challenging to keep customers loyal to your brand. And implementing a point reward system is an excellent way to not only retain customers but also boost your customer lifetime value.
Did you know that 75% of consumers value reward points as one of the most important aspects of their shopping experience? So, if you're not already offering a rewards system, now is the time to start thinking about how you can be more creative and unique in your approach.
This blog will explore some ways you can make your rewards program more enticing for customers by allowing customers to redeem their accumulated points with various reward options. Plus, you'll also learn 7 tips to make your point reward system work for your business and your customers.
Sounds good? Let's get into it!
What is a point reward system?
A points rewards system is a great way to show your customers that you appreciate their business. By offering reward points, you are giving them a tangible form of acknowledgment. 
This is valuable because it shows that you are willing to put a monetary value on their loyalty. Customers feel appreciated when they receive such rewards, which is why this system is so effective.
Run lucrative loyalty programs in minutes!

With OneLoyalty, you can instantly activate various loyalty programs that your customers love from point earning to VIP tier and more! Get OneLoyalty
What are loyalty points?
Loyalty points are the points your customers earn while shopping with your brand, which they can redeem for your rewards. Customers can accumulate loyalty points by placing an order, following brands on social media, signing up for the program,…  and then redeeming those points for discounts, free shipping, freebies, etc. 
The more loyal a customer is the more points they can rack up, and the greater the rewards they can receive. 
In addition, loyalty points can be used as a marketing tool to track customer behavior and spending patterns.
Now, let us give you a few ideas of ways that shoppers can redeem points from your loyalty program.
Ways To Redeem Reward Points
We are always excited when we redeem our reward points, especially when we can get discounts on affordable purchases. And there is no exception for your customer.
For example, I once bought an item that was originally $70, but because I had loyalty points and the reward program offered promo codes for special discounts, I only ended up paying $55. 
That's why customers always appreciate stores offering these kinds of deals – it saves them a lot of money that they can use on other things.
And it is also an effective way for a store owner to leverage points from loyalty programs to maintain customers' loyalty. Here is one of the creative ways for customers to redeem reward points.
Let's take a look! 
1. Merchandise 
Customers can redeem their reward points for a multitude of products from your store as well as other brands associated with your company.
2. Experiential rewards 
Customers can use their reward points to book one-of-a-kind experiences like adventure trips, events, and unique access. To make reward points eligible for booking, the company needs to partner with vendors that offer travel packages. 
Moreover, customers are more likely to appreciate the status and exclusivity that experiential rewards provide. As a result, they will be more willing to earn rewards over a longer period of time to experience these significant benefits. This is a great way to give your most loyal customers access to special experiences they can't get anywhere else.
3. Gift cards
A gift card is a popular way to show customer appreciation and can easily be integrated into a point reward system. This is a great way to give them the flexibility to use their points how they want.
It functions like a prepaid debit card with a set value that can be used for different purchases. The value of the card is determined by redeeming reward points. 
In the points-rewards program, there are two different kinds of gift cards that can be used:
Closed-loop gift cards

: These are gift cards that can only be used

at the specific store

or merchant where they were purchased. 

An example of a closed-loop gift card would be a Nike gift card that can only be used to make purchases at Nike's stores.
Open looped gift cards

: These gift cards can be used

at any store

or merchant that accepts the card network indicated on the card.

An example of an open-looped gift card would be a Visa Gift Card that can be used to make purchases anywhere that accepts Visa.
4. Charity
When consumers purchase products, they want to feel good about the companies they are supporting. One way companies can show that they share the same values as their consumers are by donating to charity.
In fact, research has shown that consumers are more likely to buy from companies that support charitable causes:
Consumer brand preferences are driven by an alignment of the consumer's values and the brand's purpose.

Consumers care about buying from environmentally friendly brands that support social causes.
Allowing loyalty members to redeem unspent points as charitable donations is a way for your company to join forces with them to make a difference in the world, as well as build emotional bonds. 
This is a great way to show your customers that you care about more than just making a profit – you also want to give back and make a positive impact!
How to create an effective point system for rewards?
An effective point reward system will have twofold:
Motivate customer behavior that grows your business 
Build brand loyalty by rewarding your most loyal customers.
Customers appreciate it when businesses offer incentives that encourage them to keep doing business with them. This creates a feedback loop where businesses can learn from their customers to improve their loyalty programs. 
For example, if you measure the types of offers customers are most likely to accept, you can use that information to tailor your future loyalty program promotions. This will help your business grow while also showing your appreciation for the customers who keep coming back.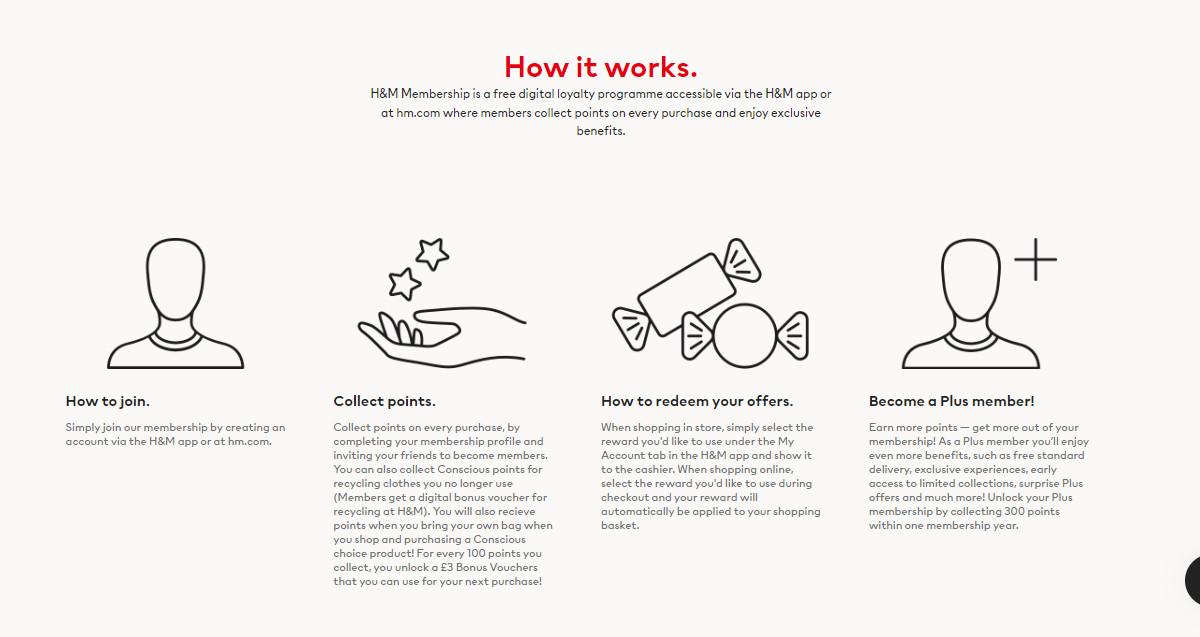 Besides, 44% of consumers are unsatisfied with rewards programs because the bonuses feel irrelevant to them. This means that it's worth putting some extra thought into your loyalty program strategy!
More so, a loyalty program that is customer-focused and specific to your brand community is key to success.
But how do you implement a strategic point reward system? 
It can be challenging to do on your own, but with the right help, it's possible. 
Let's take a look at how to implement a strategic point reward system that will keep your customers coming back for more!
#1. Set clear goals for what you want your rewards program to achieve
First and foremost, it's essential to have a goal in mind before starting anything – otherwise, you'll just be wasting time. The same goes for loyalty programs and point reward systems. 
The key to a successful points system is to identify your goals and work towards them. Once you know what you want to achieve, you can start thinking about how to make it happen.
Here are a few questions to consider when planning your loyalty program: 
What's the main goal of your program? What do you hope to achieve by implementing a loyalty program? 

Who is your target audience? Who do you want to enroll in your program, and what motivates them? 

What type of loyalty program do you want to create?
All loyalty programs are designed to encourage specific customer behaviors. When you first start designing your loyalty program, choose one or two key goals so that you can track progress and then build from there. This will help you create a more effective loyalty program that will benefit your business in the long run.
#2. Decide how customers will earn points
Secondly, you will need to decide how customers can earn rewards. Besides transaction-based point-earning missions, consider giving your customers more ways to earn their points without feeling pushy:
Place an order

Sign up

See what's new in stores

Leave a product review

Celebrate a birthday

Follow on social

Share on social media 

Play game

Refer a friend
#3. Choose how you will reward your members
When selecting rewards for your customers, it's important to remember that they are the primary motivator for people to earn points. 
Don't make the mistake of thinking that customers only want to earn points – rewards are what actually motivates them! Choose rewards that will appeal to your target audience and encourage them to keep using your product or service.
Your first step is ensuring the

integration with your eCommerce checkout, and POS should be seamless

to make it easy for customers.

The next step is to

set a timeline for how your rewards system will work

. When will customers be able to redeem their points? Will they receive a coupon or code for their next purchase, or will you send them something for free? By mapping out a timeline, you'll be able to track your progress better and ensure that your rewards system is working as intended.

Lastly, it's crucial to think about

what form their rewards will be in

(we will talk about it later). It could be something other than points they can spend in-store. It could be access to exclusive sales or early bird tickets to events.
#4. Decide on the value of your rewards
The value of your loyalty point currency is one of the most critical aspects of customer retention. You can offer many ways to earn points and desirable rewards. 
Still, if it requires an unrealistic amount of purchases over a long period of time to claim a single reward, it's unlikely anyone will remain a member of your program. 
For example, if you require $5,000 in purchases over 4 years to claim a single reward, your customers will likely become discouraged and leave your loyalty program.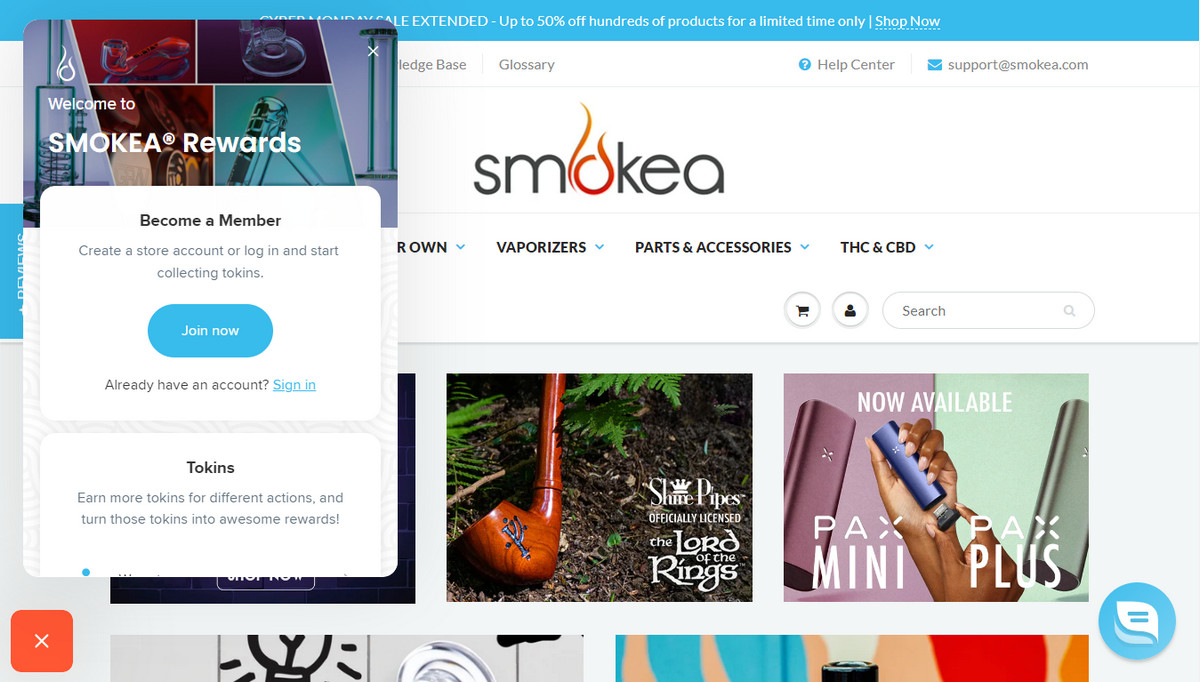 To ensure customers are motivated to earn points and redeem rewards, it's important to offer rewards with a high perceived value but actual low cost. This will strike a balance between the cost of points for you and the value of points for your customer. Ultimately, this will help build customer loyalty and keep them returning to your brand.
#5. Add a catchy and memorable name to your loyalty program
Starbucks is the king of loyalty program branding. Why? Because they understand how important it is for a loyalty program to feel like it's a natural extension of their store and not just some random outside thing.
They have built an impressive brand around its loyalty program, making it one of the world's most famous and effective coffee rewards programs.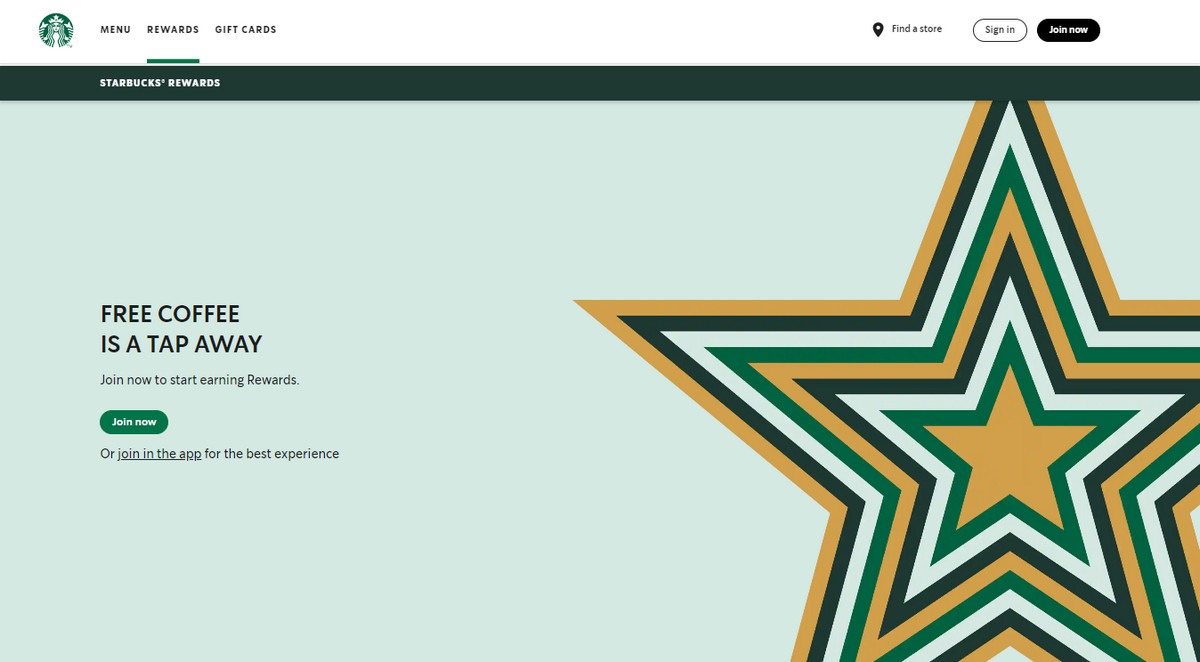 Your rewards program is one of the many details that your customers pay attention to. To make sure it's the one that stands out in their minds, put some effort into its name and design. Create a memorable name, call your currency something catchy, and style your program. Then, you are sure to break through the noise!
>> If you're looking for more currency (the currency of the loyalty program) and brand name ideas for your point reward system, scroll down to the "Creative reward points names" section. Those brands will surprise you a lot!
#6. Launch and let customers know about your program
You have worked hard to create an amazing rewards program, and now it is time to let your potential customers know about it! 
After launching your loyalty program, you should email your existing customer database to remind them about the rewards program. It would help if you told them what your program offers and how they can benefit from it. If people know about your program and it's awesome, they will be more likely to sign up and participate.
So, do you want your program to stay in front of your users long after they've received your email? 
Here are some tips for promoting your point reward system online:
Build an explainer page that illustrates exactly how to earn and spend points.

Create excitement around your program by hosting events, giving out prizes, or offering exclusive deals to participants.

Let your customer know about your program by posting on social media.

Use an omnichannel marketing platform to integrate your POS with your online point reward system.
#7. Finally, never stop improving!
As a marketer and also a store owner, your job is to continuously improve the experience that your customers have. It can be tempting to see positive results and stop there, but it's important to keep learning their responses and interests – it never hurts to try something new.
Ideally, you want to build a rewards program that takes into account the customer's experience and makes it easy for them to contribute. Remember that point reward systems work best when they are tailored to your customers' interests and experiences, not just yours.
Want to enable a point reward system in your Shopify store?
If you have a Shopify store and want to activate a custom loyalty program. Then Oneloyalty is a good choice to get started!
For example, the OneLoyalty app helps retailers create a point reward system and referral programs on their own. It offers merchants the following: 
Though the app is free of charge, it is packed with lots of handy features to run and manage your loyalty programs with ease:
Various top-industry loyalty templates that you can customize to your brand theme

Easily set rules and expiration dates to spice up your loyalty programs

Run VIP tiered programs to incentivize your customers to keep coming back for more

Keep your customers in the loop and engaged with smart automatic emails
Customers can also earn Shopify loyalty points on their mobile devices. This allows them to manage their account, redeem rewards and accumulate points anywhere they are.
So, you have information about loyalty points, how to redeem them, and how to create a program with a completely free app. Now is the vital section that makes customers remember your program brand once and forever!
Run lucrative loyalty programs in minutes!

With OneLoyalty, you can instantly activate various loyalty programs that your customers love from point earning to VIP tier and more! Get OneLoyalty
Top 5 creative reward points names
An excellent way to make sure your point reward system is unforgettable is by ensuring that it has strong branding. You can begin with colors, logos, and product pictures, but what will really stick in customers' minds are the name of your program and what you decide to call your currency.
One thing to remember, a successful rewards program doesn't just blend in with the others – it stands out by being memorable. So, we've gathered 5 of our favorites, and we hope you'll be inspired to apply some of these concepts to your own program. 
Let's see who you will remember the most and how they can do that.
In no particular order, here are the 5 point reward systems that we love and admire: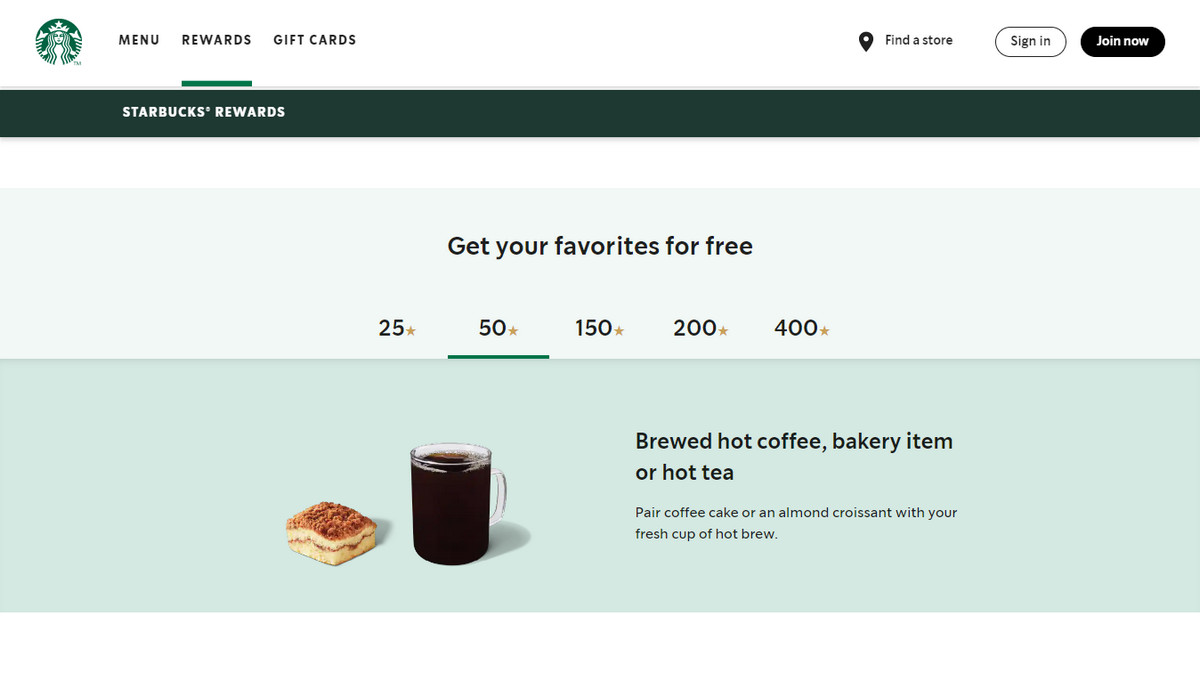 The currency of the program: Gold Star 
It's incredible how something as simple as a gold star can greatly impact the customer experience. Since Starbucks Rewards debuted, customers have been eager to collect the coffee giant's shiny, five-pointed symbol of customer loyalty. And they show no signs of stopping anytime soon!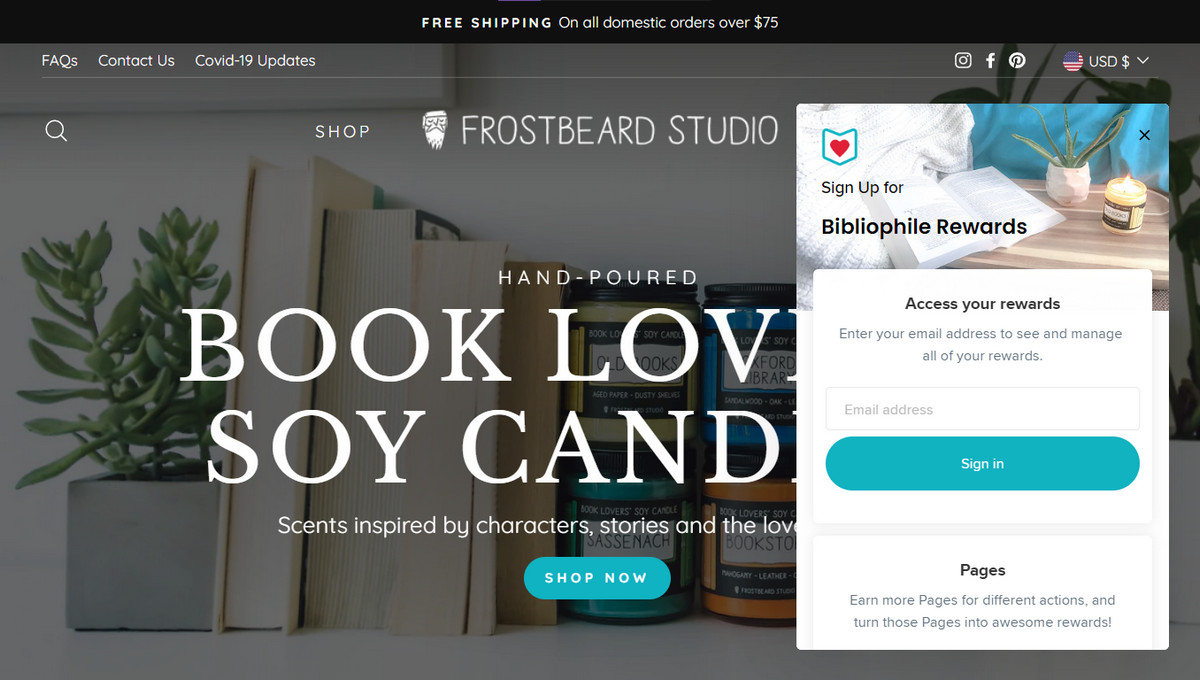 The currency of the program: Pages
At Frostbeard Studio, they make it no secret who their target market is – readers! Book lovers will feel right at home on their website with all of the references to literature and reading. Moreover, they even have a point reward system for their customers!
The Bibliophile Rewards Program at Frostbeard Studios is exactly what it sounds like – a rewards program for customers who love books! 
Customers can earn Pages by completing various actions, such as making purchases, sharing on social media, or referring friends. This is a very clever way of connecting the satisfaction of earning a reward to flipping through the pages of a fantastic book, and it's sure to please reading enthusiasts everywhere!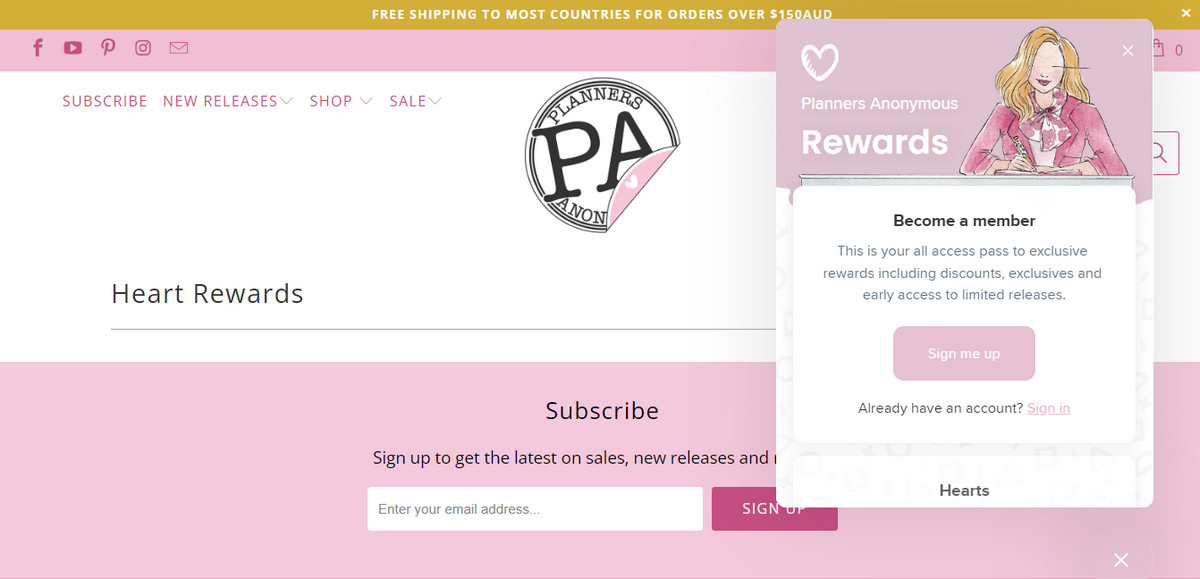 The currency of the program: Hearts
Planners Anonymous has cleverly associated its rewards program with something that is universally loved – hearts. 
By using this iconic symbol, they have created a strong association between their brand and love. From their pink heart-shaped launcher to their clear and catchy messaging, it's evident that their point reward system is admirable.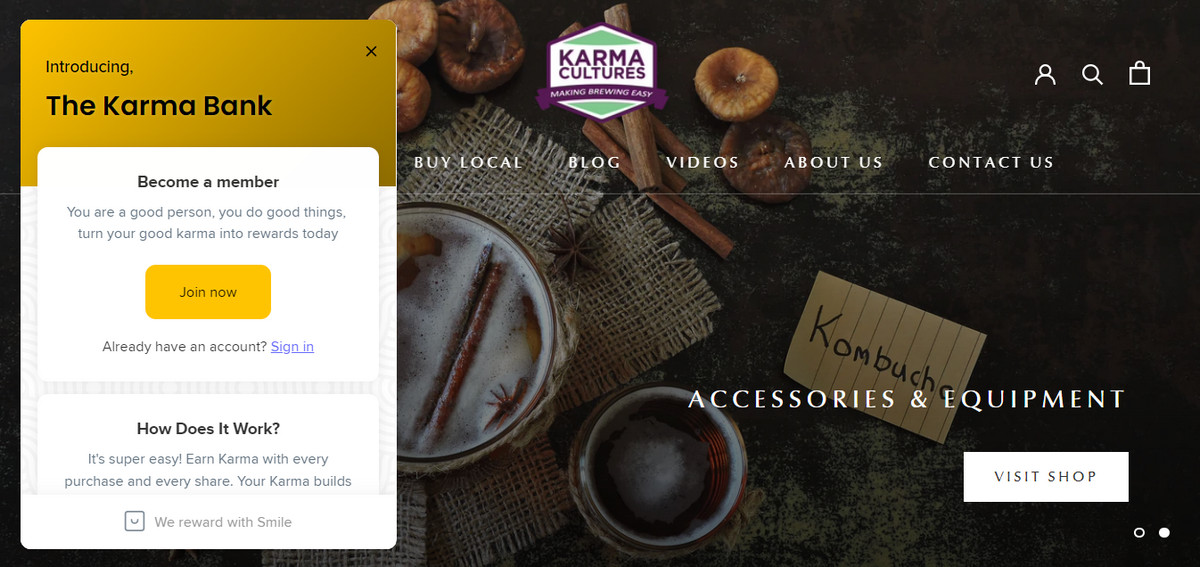 The currency of the program: Karma
Karma Culture's loyalty program, The Karma Bank, is all about giving customers good karma. With their cause-and-effect-based system, customers can buy, earn, and redeem karma with every purchase. 
This simple system is an excellent way for the kombucha brand to drive home its brand values and make sure that customers always come back for more.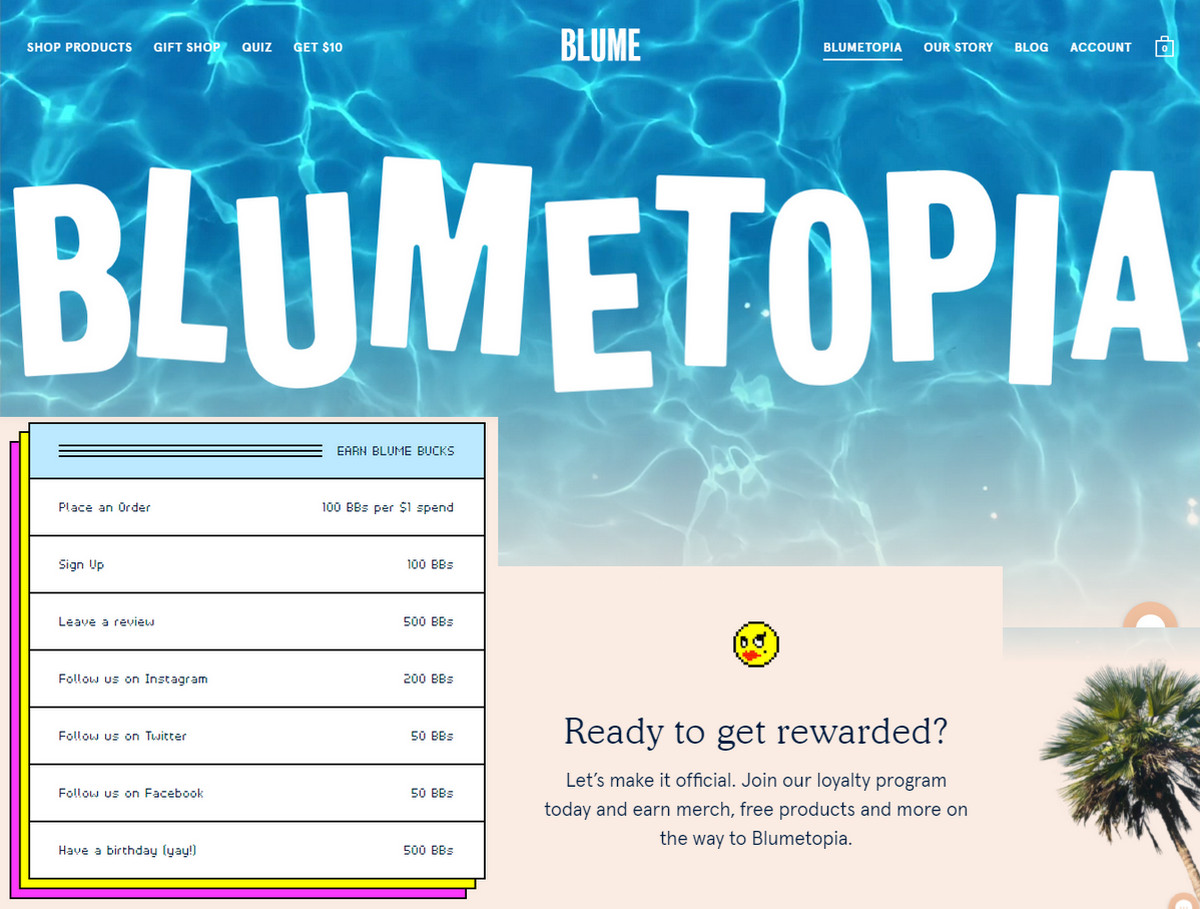 The currency of the program: BBs (Blume Bucks)
Blume's Blumetopia is definitely one of our all-time favorite reward experiences! From the minute you land on their website, you feel like you're a part of their world and it makes you want to earn BBs even harder to reach Blumetopia. 
By having an eye-catching explainer page and utilizing friendly calls-to-action, such as "Are you a Blume Babe?" Blume creates an on-brand customer loyalty experience. 
Everything from the branding to the layout is just perfect and makes you feel like you're getting a real taste of what the company is all about.
Furthermore, their Blume Bucks are easy to remember due to the clever alliteration as well as the incorporation of the brand name within the title itself. Additionally, by associating the concept with cash, it becomes more relatable for customers.
As you can see, each of these brands has come up with a name for their reward point that is reflective of their brand identity, be it through puns, clarity of vision, or brand culture. 
So, which brand is the most memorable to you? We guess you're really impressed by how they do the program.
Overall, it's important to put some thought into what you name your rewards program because it will be a reflection of both your brand and the community you're trying to build. Your currency name is often the first (and sometimes the last) impression customers will have of your program, so make it count.
Last but not least
In today's competitive marketplace, customer loyalty programs and point reward systems effectively improve customer retention rates, boost customer lifetime value, provide good customer service, and inspire brand loyalty. While the traditional punch card may work for some businesses, a truly innovative approach to customer loyalty programs can create huge value for retailers.
So, how will you reward customer loyalty with your own point reward system? Brainstorm a few ideas and get creative! Your loyal customers will appreciate the extra effort.
For the latest news, information, and updates about eCommerce, don't forget to follow us on Onecommerce.