So, you want to start your own dropshipping business. Naturally, Spocket looks to be a good place to start.
No one can doubt Spocket dropshipping alternatives' power: since its establishment in 2017, Spocket has continuously ranked as one of the largest dropshipping and wholesale marketplaces in the world.
It integrates well with Shopify and WooCommerce, allowing you to quickly build a dropshipping business selling products from suppliers in the US and EU.
This distinguishes Spocket from its competitors, as most other solutions rely on products sourced from AliExpress.
However, for many users, Spocket has significant drawbacks (which we'll discuss below!). That is why we have created a list of the top 4 best Spocket dropshipping alternatives options for 2022!
Let's get started!
Why would you need a Spocket dropshipping alternative?
Spocket is undoubtedly one of the most frequently referenced names in any dropshipping discussion. Many vendors, though, believe they have had enough and need a more effective alternative.
They think that the problems come from:
Limited supplier locations:
Spocket dropshipping alternatives allow sellers to generally use the services of suppliers based in the United States, the United Kingdom, and Central Europe, as well as those in New Zealand and Australia. 
As a result, if you want to export items from suppliers outside of these nations, you may expect higher shipping costs and longer delivery times.
Unavailable customized packaging:
You can't change the packaging of your goods to represent your own brand. If this is vital to you, Spocket dropshipping alternatives are not the best solution.
Excluded customs duty and taxes: 
You may be aware that customs duties and taxes differ per country. Spocket dropshipping alternatives do not include these fees in the overall cost of their products. Therefore, you'll need to consider this in your bottom line before selling your product.
Difficulty in selling products on some platforms:
Spocket items can be sold on Shopify, WooCommerce, Facebook, Instagram, YouTube, and Pinterest. Spocket is not for you if you are an online merchant who relies on Amazon, Etsy, eBay, Wish, or Groupon.
Difficulty in contacting suppliers directly:
Spocket dropshipping partners with a large number of merchants, making it very hard for these vendors to respond to every query. However, you can contact Spocket's central support team if you have any concerns or queries.
Here are the best 5 Spocket dropshipping alternatives to consider.
Top 5 Spocket dropshipping alternatives in 2022
Dripshipper
Dripshipper is one of the highly specific Shopify dropshipping alternatives. While Spocket allows you to select from numerous categories, Dripshipper is solely for coffee.
This means that you can sell your own branded coffee with your logo on it. Have you ever aspired to be a coffee magnate? Here's your golden opportunity.
The application has garnered numerous positive reviews and has a sizable user base. Dripshipper is the way to go if you want to dropship coffee through Shopify.
Dripshipper handles everything for you when people visit your website and order coffee. They package coffee with your label and brand so clients know it's from you rather than a dropshipping firm. 
The freshly roasted coffee is then shipped straight to clients within 3-5 business days of the order being placed. Because their facilities are in the United States, you may be confident on the quality.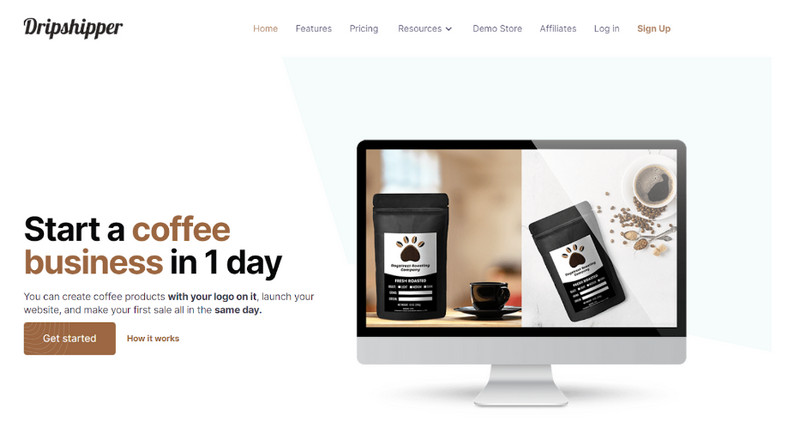 What makes Dripshipper stand out among Spocket alternatives?
It's hyper-niche – a great dropshipping software if you want to get into the coffee industry.

Because you only need to focus on one niche, managing your products and other business tasks becomes easy.

For consumers in the United States, shipping takes only 3 days.

The facilities are located in the United States.

Its packaging and coffee design tools are attractive and simple to use.

Order fulfillment is fully automated.

Everything is customized to your business.

There are no setup costs, label charges, or per order charges.

Dripshipper provides a free 14-day trial period so you can determine if it fulfills your needs.
From only $30/month, you'll experience all of the above awesome features of Dripshipper.
Modalyst
Generally, Modalyst functions similarly to some of the apps on this list. It allows you to search for and sync products with your online store.
The key distinction is Modalyst's access to suppliers such as Puma, Calvin Klein, and Timberland. Of course, your prices are far more than the usual Chinese provider, but you are able to give your consumers the greatest products available.
Modalyst also works directly with Shopify, BigCommerce, and Wix to import products from thousands of global suppliers. Whether you want to sell women's clothing or electronics, its assortment of over 10 million products is likely to have something for you.
Modalyst also enables you to communicate directly with your suppliers, resulting in a stronger partnership.
What makes Modalyst one of the best Spocket alternatives?
Modalyst mainly dropships name brand products, so your customers won't get stuck with questionable items from random suppliers.

The shipping is faster than most dropshipping apps. You can get free shipping to the US since most dropshippers are from the US. 

You can communicate with suppliers directly.

Modalyst offers an excellent tool for pricing rules, which helps with setting and changing prices automatically based on how much profit you would like to make.

Modalyst offers a free plan for up to 25 products per month.
Inventory Source
Inventory Source has a great reputation in the dropshipping community for its ability to offer things on marketplaces other than Shopify, such as eBay and Amazon. Actually, over 20 different E-commerce platforms are supported, offering you greater reach and flexibility.
All product data is automatically submitted and linked to inventory synchronization. Inventory Source's cataloging and customization capabilities can help you manage your products.
‍Another excellent aspect of this platform is that there are no middlemen costs. You only have to pay for the Inventory Source monthly membership. Product pricing is obtained directly from your vendors. ‍
What makes Inventory Source one of the most effective Spocket dropshipping alternatives?
Inventory Source provides a dropshipping network of over 180 suppliers with a wide range of categories to pick from.

The management areas and automation tools are simple to grasp and apply.

It provides a free account that grants access to all suppliers and specialties.

You can add custom or private integrations if you upgrade to its paid pricing options.

Customer service is eager to assist you with various aspects of your business, including backorders and returns.
GreenDropShip
As a US dropshipping supplier, GreenDropShip focuses on natural, organic, and specialized products created in the United States.
GreenDropShip also allows you to sell your products on popular e-commerce platforms like Shopify, Amazon, eBay, and WooCommerce. In their catalog, you may find up to 20,000 products in various niches such as food, cosmetics, and health.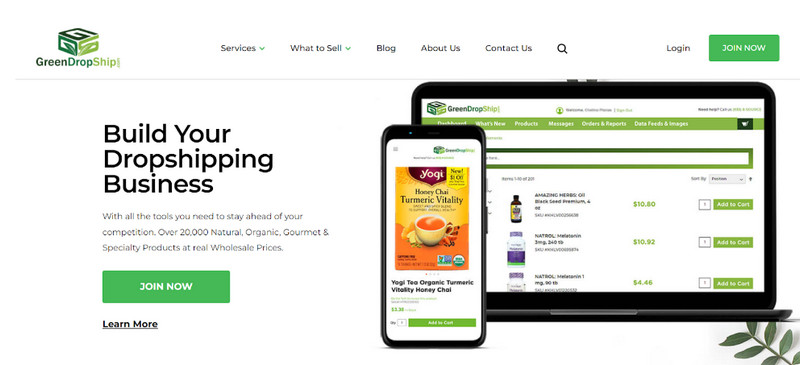 What makes GreenDropShip one of the top Spocket dropshipping alternatives?
GreenDropShip specializes in natural, organic, and specialty products made in the US.

GreenDropShip offers more than 20,000 products from various sustainable brands.

GreenDropShip supports integration with other platforms like Shopify, Amazon, eBay, and WooCommerce.

GreenDropShip offers a lot of high-quality organic products that are affordable.

GreenDropShip offers a fast delivery service. 
Conclusion
There you have it! These five amazing Spocket dropshipping alternatives might be chosen as your dropshipping supplier in 2022.
Hopefully, our article can assist you in choosing suitable spocket dropshipping alternatives.