As one of the top E-Commerce platforms, Shopify gives businesses a place to market their products and grow their customer base. This platform has state-of-the-art and user-friendly features that can meet your needs and let you design and build amazing storefronts. For a more specialized user experience, you can also utilize it to customize your website.
Yet, that is not everything! These benefits from Shopify don't just apply to online businesses; instead, the platform uses its Shopify Partners Program to assist the growth of its merchants in a unique way.
This is an ecosystem of designers, developers, marketers, and affiliates which contributes to the success of millions of merchants. Through this unique partnership program, individuals can collaborate with Shopify to expand their businesses and boost earnings.
From store theme designs to application development, these partners provide Shopify's business owners with a wide range of services. This devoted community also includes Shopify fulfillment partners as well as specialized marketing guidance. 
You will learn everything about Shopify Partners in our in-depth blog, including how to monetize, the guide to joining, the pros and cons to watch out for. 
Who are Shopify Partners?
Shopify Partners are members of the Shopify Partner Program which is a large community of experts, including designers, coders, developers, marketers, photographers, influencers, and freelancers who provide specific services.
They are usually entrepreneurs who have a contract with Shopify to assist shop owners in expanding the success of their Shopify stores. These agreements are normally reviewed once a year.
In other words, the Shopify Partner Program can be considered as a collection of resources and tools that Shopify users can utilize to expand their businesses. Shopify Partners provide a variety of services, including creating and developing Shopify themes and apps, sharing affiliate connections, promoting Shopify, etc.
Moreover, Shopify Partners can use the many tools offered by Shopify to boost their profits and there is so much room to explore their ideas.
What do Shopify Partners do?
The primary goal of Shopify Partners is to help expand Shopify merchants' online businesses. They are there for you when you're selling online and want to grow your customer base, create easier ways to access your store or increase the conversion rate. The Shopify Partners Program allows partners to share their expertise with merchants by offering the following services.
1. Development
Experts specializing in Shopify store development can create apps that benefit Shopify store owners in a number of ways, such as boosting traffic and sales or enhancing the operation of the store.
A Shopify developer can build an app or change the functionality of your website in case you need something to enhance the performance. These apps will help you augment your profits in the short or long term. 
2. Design
Shopify designers assist Shopify store owners with design needs ranging from store design to graphics and branding. These experts will give advice on the most trendy colors for your store or develop ads that stick in people's minds. They frequently have to collaborate closely with developers on some projects like modifying Shopify themes and templates.
3. Photography
Shopify business owners are more aware of the value of excellent photos for an eCommerce business. With the help of Shopify photographers, they can make their items seem more appealing and professional to customers.
4. Marketing
Shopify users that want a more defined audience, streamlined campaigns, or optimized content can make use of the marketing services provided by Shopify partners. They will use their knowledge and experience to support store owners in expanding their target markets and developing more effective marketing plans.
Shopify affiliate marketers are influencers, content creators, and literally everyone who can share affiliate referral links to get more people to use Shopify. Every new user who registers for Shopify via their affiliate link earns money for them.
Affiliate marketers may provide practically any service on the Shopify platform, from influencer marketing to content creation. You may seek assistance from these affiliate marketers to increase sales and spending when word-of-mouth remains the most reliable source of referrals—even for online sales.
Levels of Shopify Partnerships
Along with the aforementioned several types of partners, Shopify also offers various levels of partnership that people and organizations can apply for, such as:
Shopify Partners:

Shopify Partners' entry-level position is this one. You will have unrestricted access to test stores as part of this program, giving you the opportunity to customize and polish your work. Additionally, you will become a part of the global collaborative community. Finally, you will receive a commission each month for each action (Customer Referral, App Creation, or Graphic Design).

Shopify Plus Partners:

This level is exclusively for developers, designers and marketers who provide Shopify merchants with outstanding quality, performance, service, and support. It often consists of agencies, enterprise consultants, and system integrators, as well as individuals who can offer end-to-end solutions for business owners.

Shopify Fulfillment Partners:

Fulfillment partners, unlike those in the Shopify Partner Program, are a part of the Shopify Fulfillment Network and can operate both inside and outside of the Shopify Partner Program's bounds.
Features of the Shopify Partners Program
The Shopify Partners Program offers valuable assistance to its partners. It includes many tools for every field from development, and design to eCommerce marketing and affiliate marketing. Here are some of the most interesting features:
Unlimited free development stores:

You have the complete freedom to experiment with as many themes, stores, and functionalities as you want.

Smooth interface

: You can count on self-explanatory buttons, clear pages, links, and forms, as well as solid customer care to help with your work.

On-site resources:

There are tons of materials and resources for you such as the library of how-to tutorials, 24/7 live chat, phone or email support service, access to the Shopify Academy, Polaris design tools, and perks for discounts on useful software and services.
How much do Shopify Partners earn?
How much you possibly make as a Shopify Partner is the huge question you've undoubtedly been asking yourself when you want to join the Shopify Partner program. With this program, there are many ways to rake in, and the activities you engage in inside the Shopify ecosystem and the Partner program will determine how much your earnings are.
You should be aware that Shopify receives a commission for any apps, store themes, and other digital products offered through the program. Following is a summary of possible payouts based on your activities:
Developmental store:

As long as the merchant continues with Shopify and the partner is still active, the partner will continue to receive a monthly commission equivalent to 20% of the merchant's subscription fee. For instance, if a merchant signs up for the Advanced Shopify plan for $299 per month, you will get $59.80 each month that their membership is active.

Digital marketing services on Shopify:

This service covers campaign management, mapping strategy, audience engagement, etc. 10% commission will be deducted from partner payments paid twice monthly, which means Marketing Partners can earn 90% of each service.

Affiliate referrals:

The commission is equivalent to the merchant's two-month subscription charge, less any reductions or credits. Each referral that enrolls in a premium plan generates an average commission of $58 for Shopify affiliates.

Shopify apps:

Partners get 80% of the total revenue from one-time sales or monthly subscription fees, and any software upgrades purchased through the Shopify App Store, with 20% of that revenue coming to Shopify as a commission.

Shopify graphic designs

: This service includes logo creation, optimizing color schemes, etc. Partners will get 90% of the revenue of each design sold to their customers while 10% will be deducted as commission to Shopify.

Shopify themes:

For those who offer unique Shopify themes, there are two methods of payment.

First

, partners receive 70% of every theme sold, but they are also in charge of handling any bug fixes and customer support. They are, however, free to sell the theme on their corporate website.

Second

, while partners receive 50% of each theme sale, they are solely in charge of issue fixes because Shopify will assist in answering merchant inquiries. Please be aware that choosing this option will prevent you from selling your theme through private channels.
Overall, how much you earn is based on the type of payouts, as well as the number of your jobs. People who put a lot of time, effort, and expertise into the Shopify Partner Program will expect to make more money than others who only devote a modest amount of their time to the program as a side source of revenue.
Pros and Cons of becoming a Shopify Partner
What makes the Shopify Partner Program so alluring is not simply the fact that it is free to join. Moreover, their fascinating support systems are designed so that you may start operating and earning money as soon as possible. 
The Shopify Partners Program and its ecosystem benefit its members more than disadvantage them. Here are a handful of the Shopify Partners Program's pros that we believe are the most significant, along with some of its cons.
1. Pros:
No registration or subscription fees are required

Excellent access to a variety of tools

Good user experience and user-friendly features

Strong customer service

Being a part of the Shopify Partners Community allows you to support other partners, get help and collaborate on projects.

Lots of perks from Shopify's partners to boost your business

Unlimited access to app and theme stores

Strong commission and pricing structures (free account set up, competitive commission rates)

Access to the Shopify Academy, which offers online courses and certified training

Large collection of how-to documents or marketing materials to promote your business

Working together on stores without restricting customers' staff access Increasing your authority and demonstrating your competence

By creating a portfolio and being listed on partner directories, it's simple to attract new clients and grow your clientele

Exclusive access to discounts on solutions that may help you manage and grow your company
2. Cons:
Some tools need improvements since they are pretty simple

Learning a Liquid programming language for templates might be challenging
How to Become a Shopify Partner
When you want to create a side gig to earn money for yourself passively, the Shopify Partner program is a great option. To make it work for you, though, you will need to put in the time and effort. Furthermore, if the plenty of perks we have already covered sound good to you, you can follow our step-by-step guide on how to become a Shopify Partner:
Step 1: Learn More About Shopify Partners
Apart from reading our blog, you should spend more time learning from Shopify's partner page, reviewing their guides and looking for meetups in your region. There are a lot of virtual events that offer a fantastic chance for networking and learning more about the partner program's specifics.
Step 2: Join the Shopify Partner Program
This step is fairly straightforward. To start, head to the Shopify Partner Program page. A blank bar will be shown immediately next to the "Join Now" button. After entering your email address, press the "Join" button.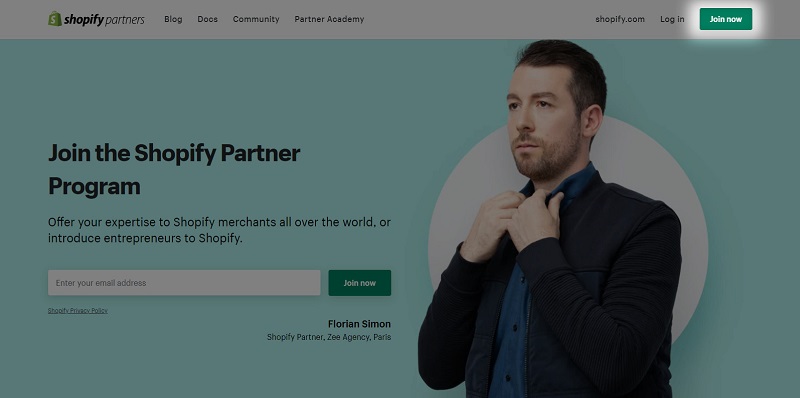 After that, you'll have to enter your password and complete a form. To maximize security, your password should contain letters, numbers, and symbols. Once your password has been verified, click the "Create Shopify ID" button and wait for the confirmation email.
Step 3: Verify Your Email Address
You will receive an email requesting you to click a link in order to validate your email address after creating an account. This must be completed within 24 hours upon receipt.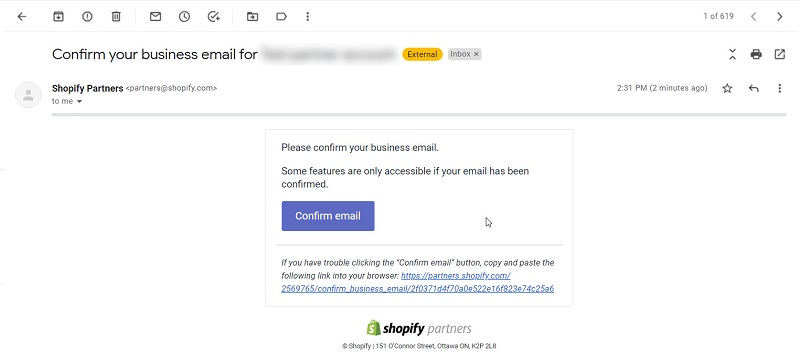 The link takes you to a page with a "Confirm Email" button after you click the link. Then, after choosing the button to confirm your account, you will be redirected to the Shopify accounts page. Finally, select "Shopify Partners" and then "Create New Partner Account" from the drop-down menu.
Step 4: Enter Required Information
Once successfully creating an account, you must complete the form that pops up and requests information about your business by entering the necessary information. Fill out all of the required fields unless noted as 'optional'.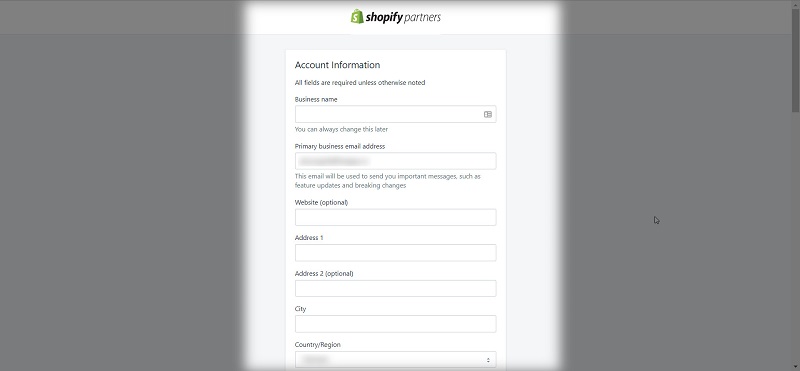 Next, scroll down to the "Business goals" section and choose the type of partner you want to be. You can pick from the following options:
Developing apps

Building new Shopify stores for clients

Offering services to existing Shopify merchants

Introducing merchants as an affiliate

Selling products as a Shopify merchant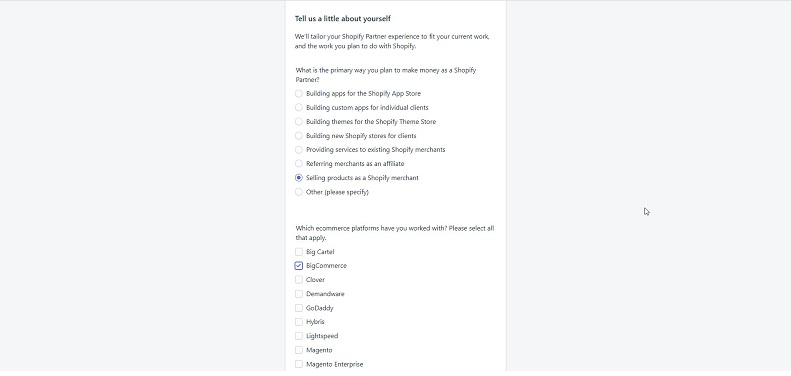 After picking the appropriate option, scroll down until you find the section of platform usage. You will see a list of eCommerce systems here, including:
BigCommerce

Lightspeed

Magento

PrestaShop

Square

Squarespace

Wix

WooCommerce

WordPress

None

Other
You can choose the ones you are using. By doing this, Shopify can better tailor the tools and resources to your business.  Next, use the embedded link at the bottom of your screen to see the Partner Program Agreement. Check the box at the bottom of the page to indicate your acceptance of the terms. Finally, select the "View Your Dashboard" option to kick off.

Step 5: Exploring Shopify Dashboard & Get Started
Your dashboard is the heart of your Shopify business. You need to apply to one of the various Shopify Partner programs listed under the "Get started" section on the Shopify Partner dashboard.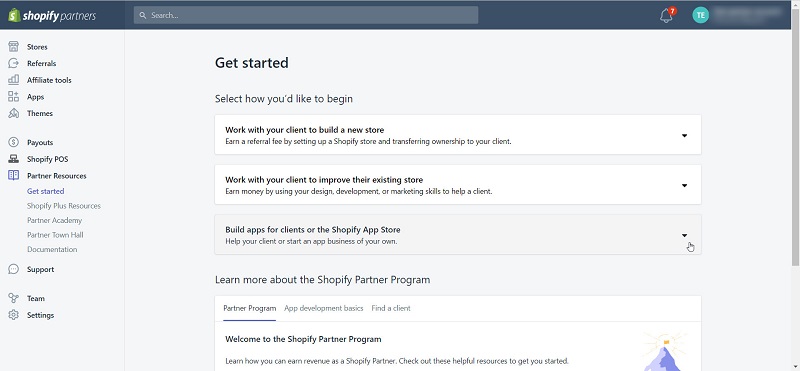 Select the ones that work best for you and click "Apply Now." After that, a short form will appear asking you to briefly describe your reasons for getting into the program.
Note that obtaining certain credentials may be required for you to be admitted into the programs. You can get some by browsing the free Shopify Partner Academy courses and selecting the ones that you find the most suitable to learn.
Therefore, don't worry when you're not accepted into a program right away because you can still utilize your dashboard to develop and sharpen your skills thanks to endless courses offered by the Shopify Partner Academy. Furthermore, you can take the accompanying test as many times as you want to broaden your knowledge.
You can begin making money after being accepted into one of the Shopify Programs. Payments are made via PayPal on a bimonthly basis. If you have any questions, you should also go to the Partner Dashboard. To get assistance with your inquiries, you may reach Shopify Support via the website at any time and from any location.
How do I add partners on Shopify?
When you become a Shopify Partner, you can network and team up with other Shopify Partners. To do this, Shopify gives you the option to add partners to a project. 
You can invite other partners to collaborate with you on your project as either "owners" or "staff members". While "owners" have unrestricted access to the project, "staff members" only have limited access that is managed by "owners".
Below are steps on how to invite other partners to your project:
Step 1:

Navigate to the

"Team"

tab on your Partners dashboard

Step 2:

Choose

"Invite Owner"

or

"Invite Staff Members"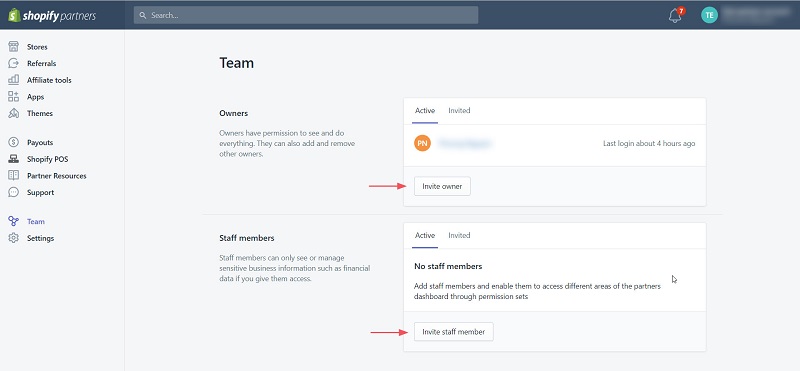 Step 3:

Enter the email address of the partners who you want to collaborate with and send them an invite.
Besides, you can request collaborator access from your clients by taking the following steps:
Step 1:

Tap on the

"Manage Stores"

section on your dashboard 

Step 2:

Choose

"Add Client Store".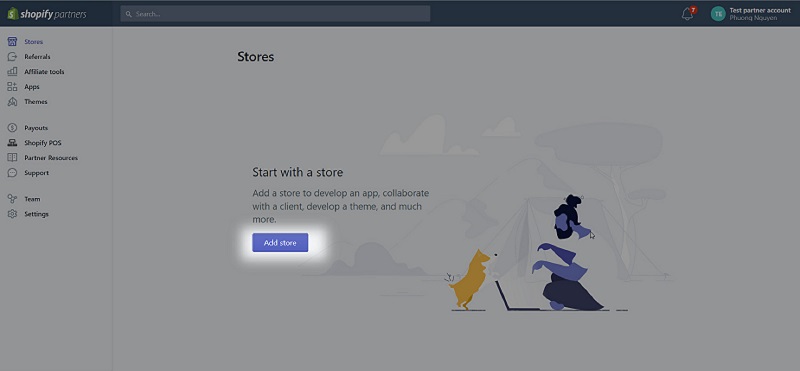 Step 3:

Type in the client's Shopify store URL, select the appropriate permissions and leave a message for the client. You can access the client's store by simply logging in after receiving his permission.
Measuring the success of Your Shopify Partnership
After setting up your dashboard, getting approved into a few programs, and working for a few months, you're now curious about how successful your Shopify partnership is.
Fortunately, one of Shopify's strongest features is the comprehensive tracking system that is built in to help you assess your performance, identify patterns and determine whether adjustments work so you can modify your strategy if necessary.
The success of your work can be measured based on a variety of metrics, but the six important indicators listed below will help you determine how strong and successful your partnership is. For a complete picture of your achievement, we advise keeping an eye on these numbers on a daily, weekly, and monthly basis.
1. Lead Conversion Rate (LCR) 
This metric measures the number of leads that are converted into customers during a certain time frame, often in increments of 30 days.
It is a crucial metric to monitor since it can highlight how successful your campaigns are at converting attraction into qualified leads. Here is a formula for determining the lead conversion rate.
LCR = (Number of new customers in the last X days/number of leads in the last X days) x 100
2. Lead Velocity Rate (LVR) 
This figure depicts the real-time sales performance. Thanks to its predictive nature, the metric is ideal for projecting revenue growth. Here is the formula for calculating Lead Velocity Rate.
LVR = (Number of qualified leads this month – number of qualified leads last month) / number of qualified leads last month x 100
3. Monthly Recurring Revenue (MRR) 
This metric is representative of revenue instead of the amount of money that is actually collected. It is a good indicator of success since it informs you if your leads are turning into actual customers within a predetermined time frame. Here is the formula for calculating Monthly Recurring Revenue.
MRR = Number of customers x average billed amount
4. Churn Rate
The number of customers who discontinue using your service over a specific time period is the subject of this measure. The effectiveness of your marketing initiatives and onboarding procedure can be evaluated using the churn rate. There are two types of churn rate and below are the formulae to calculate each type.
User Churn = (Canceled users in the last 30 days / active users 30 days ago) x 100
Revenue Churn = (MRR lost to downgrades & cancellations in the last 30 days ÷ MRR 30 days ago) x 100
5. Average Revenue Per User (ARPU)
You can use this metric to calculate the average amount of money that each user generates. This figure is helpful to evaluate marketing successes and failures and predict revenue targets.
ARPU = MRR / active users
6. Lifetime Value (LTV) 
This measure reflects the total amount of money a user will spend on your service during the course of your partnership. This statistic helps you decide if it is more crucial to retain current clients or seek out new ones.
LTV = Average monthly recurring revenue per customer / user churn rate
Shopify Partners and Shopify Experts: What's the difference?
You may come across 2 different terms: Shopify Partner and Shopify Expert when you initially begin to explore the Shopify Partner program. Despite the fact that these two concepts have a lot of things in common, there are still some distinguishing characteristics between them.
1. Shopify Partner
A Shopify Partner is someone who makes money through referrals, website building, or app development via the Shopify Partner platform, as we've already mentioned above.
2. Shopify Expert
In the Shopify Partnership Program, Shopify Experts are partners at the elite level. They are a group of highly qualified and reputable professionals who actively offer top-notch services to aid Shopify merchants in starting and expanding their businesses.
Marketing and Sales, Store Setup, Development and Troubleshooting, Content and Branding, Content Writing, and Guidance are among the areas in which Shopify Expert specialize.
You can greatly augment your earning potential while receiving all the privileges and benefits that regular Shopify partners have by becoming a Shopify Expert. Additionally, you are free to charge how much you want for your services as long as you adhere to Shopify's rules. You can also send your customers invoice directly and request payment via Shopify's platform.
Importantly, to join Shopify's network of experts and obtain access to the Experts Marketplace, where you will earn extra perks, there are several requirements you must fulfill.
You must have a Shopify Partner account

You must show notable records of proficiency in creating and managing at least five Shopify stores

Your affiliate link and the Shopify logo or banner must be displayed on the landing page of your business website.
You must complete the Experts Marketplace Request Form in order to apply for a position in the Shopify Expert Marketplace.  After reviewing your application, the Experts Marketplace team will determine whether to approve you. The staff will get in touch with you to walk you through the subsequent steps if they grant your request.
In summary
As businesses start to expand more and more, managing massive amounts of work and enhancing performance have become essential for achieving the desired results. However, business owners alone cannot handle them all, so they may need some help from people with expertise and skills. The constant increase in the need for assistance presents a world full of opportunities for Shopify Partners.
Anyone with a good knowledge of Shopify and some skills such as digital marketers, developers, or graphic designers can apply to become Shopify Partners. You can lend store owners a helping hand and receive a commission in return. This is a good way for you to grow your income and broaden your portfolio.
After all, if you're thinking about partnering with Shopify, make sure you actively track the proper data and disregard vanity metrics that don't really matter for overall performance. 
Hey, want to know more about OneCommerce? CHECK IT OUT!