Did you know that affiliate marketing accounted for 15% of the revenue of all digital media last year?
We all have gone through a tough year, especially for entrepreneurs. With the huge impact of Coronavirus last year, Brands have been focusing on other tactics to make sales such as affiliate marketing. This new trend is going crazy all over the internet and gaining mind-blowing success. 
This also means that affiliate marketing will continue to thrive for at least a few years ahead
Therefore, we thought it was high time to look back on the performance of affiliate marketing last year and predict the latest trend to help you stay ahead of the curve this year!
Let's dig in!
1. What is affiliate marketing and how does it work?
Affiliate marketing is a type of advertising in which the affiliate marketer receives a commission for promoting a product or service.
The process is pretty straightforward, the affiliate searches for the products they enjoy, share the products with their audience and earns profit from each sale their audience makes. The links that they share are affiliate links and sales could be tracked from there. 
To put it simply, here is how affiliate marketing works
2. How do affiliates get paid?
The affiliates can get paid in various ways: pay per sale, pay per lead, or pay per click. However, pay-per-sale is the most common method.
There are 3 common types of affiliate marketing:
1. Unattached affiliate
Unattached affiliate marketing is the affiliate model in which the affiliate has little or no knowledge or connection with the products they are promoting. 
This also means that the affiliate does not have any presence online or does not make any claims about product usage. 
They simply put a link on the internet to earn a commission for every click they receive.
2. Related affiliate:
In this type of affiliate marketing, the affiliate has his/her own presence online and some connection to the products. 
For example, the blog the affiliate is writing about skincare and the products is also a beauty-related one. 
In this case, the affiliate puts the link of the products onto his/her presence but doesn't actually try out the product. 
3. Involved affiliate: 
In this type of affiliate marketing, the affiliate has actually used the products and recommended them to other people. Needless to say, this is the most attractive offer of all. 
However, the disadvantage of an involved affiliate is that you have a lot of authority and trust from your audience. On top of that, the level of responsibility is also the highest with this one. If you recommend low-quality items, you'll probably lose the credibility that you've been building for years.
Key affiliate marketing statistics
If you're not yet convinced about the power of affiliate marketing, let me show you some astonishing statistics:
Mediakix has revealed that 80% of brands have affiliate programs
Get cake said 79% of marketers use affiliates to engage existing customers. 
Backlinko stated that 40% of US merchants reported that affiliate is their top customer acquisition channel. 
CyberCash Worldwide acknowledges that 74% of US online shoppers check various affiliate websites before deciding to purchase any item.
Believe it or not, these numbers blew our minds about how powerful affiliate marketing is. If you've not stepped in the game, what are you waiting for?
There are our predictions on the top trending affiliate marketing trends for 2022. Scroll down!
Top affiliate marketing trends to watch out for in 2022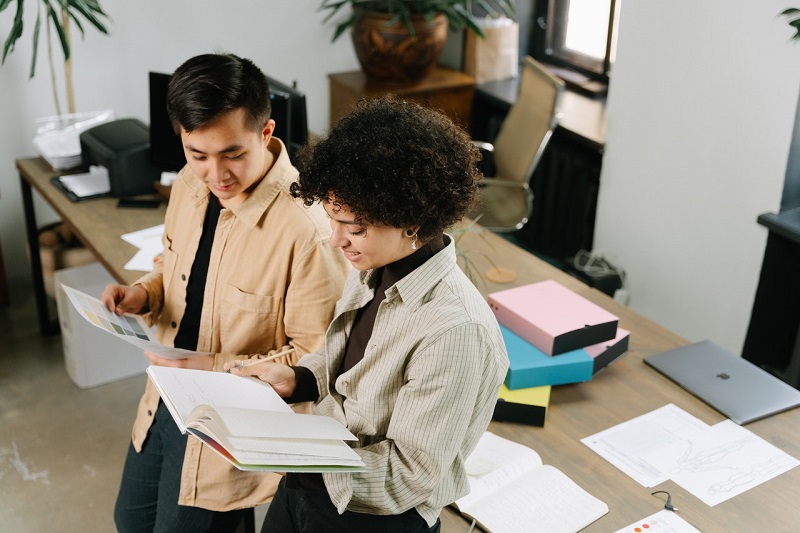 #1. Use micro influencers instead of macro influencers
Typically, micro influencers are defined as the ones having from 10,000 to 500,000 followers, and above that number, we have macro influencers. 
Normally people might think that using macro influencers can help them reach a broader audience group and therefore drive more conversions from affiliate marketing. 
But, now in 2022, that is no longer appropriate. Using macro influencers is revealing a lot of downsides to certain businesses. 
The cost of hiring is so expensive that most brands cannot afford to run macro influencers campaigns. 

Since they have larger audiences, macro influencers are always in high demand. As a consequence, the partnership forming process could be long and in the worst scenario, you cannot partner with them at all. 

Imagine what would happen if an influencer worked with too many brands? Their audience will start losing trust in them because they believe their recommendations are part of the affiliate programs. No trust, no sale. 
Due to the above-mentioned reasons, this year more brands actually prefer using influencers with smaller audience groups since this could bring several benefits.
Firstly, using micro influencers is more budget-friendly. Partnering with people with fewer followers is surely more cost-effective. Thus, you can allocate your money to expand your reach by partnering with more influencers on different platforms. 
Secondly, micro influencers have a closer relationship with their followers. According to Social Bakers, micro-influencers "boast up to a 60% increased engagement rate compared to macro-influencers." The audience trusts their recommendations and therefore the conversion rate could also be higher. 
Last but not least, micro-influencers have the ability to engage audiences in conversation about topics that are specialized to a certain interest. This type of micro-influencer is usually an expert in their field and has a large following due to their specific interests. Brands may tap into these highly selected networks, allowing for a level of targeting that macro-influencers can't match.
#2. Personalized content is key

 
The process of creating personalized content is making use of the personal information of the customers to build a close relationship with them. 
The more detailed information you have, the more personalized your content can be. The information allows the algorithm to figure out who is visiting your website, following you on social media, or receiving your emails. 
As eCommerce is on the rise, consumers are becoming pickier with their purchases. They only buy products recommended by the affiliate if they believe the person has already tried the products before recommending them. 
This level of personalization can only be achieved if the firm lets the affiliate pick and choose the products they want to promote. 
And on the other hand, the affiliate has the freedom to choose things that you believe in, so make sure your ads are focused on truly valuable products that consumers will like. You'll boost your conversion rate while also establishing the trustworthiness of your personal brand.
#3. Live shopping will become more common
Originating from China, live shopping is now the hottest trend in this country and started to grow in other nations as well. 
What makes live shopping so special is the real-time interaction between the buyers and the sellers. The buyers are more confident to make the purchases since they are able to engage in the conversation, chat with the seller and see what other people think of the products they are wanting to buy. Therefore, consumers are more confident to buy the products.
As the trend starts, influencers are increasingly engaged in live shopping and there is spacious room for affiliate marketing to thrive in this channel.
#4. Video marketing becomes more common than ever
According to statistics, approximately 84% of the buyers said that watching a brand's video encouraged them to buy a product or service. 
When being asked how they'd prefer to learn about a new product or service, 66% claimed they want short videos.
Since people are loving short videos so much, platforms such as Instagram, TikTok, and Youtube have become the ideal place to share content, ideas, promotions, and more!
When using short videos, brands and influencers have the golden opportunity to engage with the audience, gain views, increase brand awareness, and drive conversions. 
Therefore, video marketing is definitely one of the hottest affiliate trends you should look out for. 
#5. Cryptocurrency is booming in several regions. 
It is not an exaggeration to say that 2021 is the year of crypto. 
Governments and banks are starting to accept payments using cryptocurrencies, which lead to the increasing demand for this new kind of money.
While Bitcoin remains on top of the list, newbies such as NFTs are not far behind in the game. 
And yes, as people continue to invest in crypto, this will soon become the beautiful land for crypto affiliate programs to shine and drive conversions. 
We began this year with such bad news for affiliate marketers, Google Chrome – the biggest browser in the world is planning to block all third-party tracking cookies. 
The following is Google's Privacy Sandbox program, which will give user data anonymity. All user data will be sent to the browser and kept and processed there. It will also rely on anonymized signals to gain access to users' browsing habits rather than cookies.
This new change of Google Chrome is surely a big hit to the firms who are running affiliate campaigns based on third-party cookies while first-party cookies users will continue doing affiliate as usual. 
The fact that many businesses can no longer collect third-party cookies will result in a huge data loss and they've got to find another way to save the business.
One thing we know for sure: First-party data will be the king this year!
#7. AI will step deeper into the game
This is not to say that a lot of robots will try to sell us stuff. I'm mentioning the voice search trend these days. 
As more people utilize voice-activated AI like Siri, Alexa, or Cortana, the affiliate business in this industry will surely expand significantly. 
Customers' attitudes about information are shifting. People now rely on voice searches far more than they do on textual information. 
Advertisers will have to find a way to leverage voice search to do affiliate marketing if they want to stay ahead of the curve in 2022. 
To do so successfully, businesses must analyze how individuals speak and ask questions vs how they type and phrase written queries.
However, businesses should keep in mind that with voice search, the keyword could be in different forms. 
For example, instead of typing into Google "SEO for Shopify" they might ask Siri "Hey Siri, show me how to do search engine optimization for Shopify"
Interacting with people via their speech is equal to more audience participation and maybe more conversions. 
#8. Increase budget for affiliate marketing
With more companies paying attention to affiliate marketing trends as the result of the covid pandemic in 2021, this year we are expected to see another tremendous increase in the investment in this trending marketing method. 
To your surprise, according to Statista, affiliate marketing spending is projected to reach $8.2 billion in 2022, the highest jump since 2015. 
The root for this plunge is the vast increase in the number of influencers and influencers working as affiliates nowadays.
Instagram and TikTok are the two most popular social networks to do affiliate marketing and they might continue to dominate in 2022 thanks to loving short videos of literally every generation.
Wrapping up
And that wraps up our prediction of the 8 affiliate marketing trends for 2022. 
Still, I have to emphasize that affiliate marketing has been one of the most trending marketing methods among marketers and entrepreneurs.
If you haven't taken advantage of it, you'd better step into the game right now
Hey, want to know more about OneCommerce? CHECK IT OUT!