It can be frightening to launch a Shopify business. You have to worry about a lot of things, such as where to get your items, how to make your landing pages as high-converting as possible, and what to call your business. If you struggle to come up with store ideas on your own, you can hunt for some inspiration!
In fact, there are millions of Shopify stores out there, so we've compiled this list of the top Shopify stores to save you time. They are all thriving online businesses that paved their own paths to success. Only the finest ones made the list after we examined their websites and business procedures.
Let's start your Shopify store inspiration journey now!
Top Shopify stores #1: Food & Drink
Shopify makes it simple to launch a food or beverage business, thus there are many examples of websites in this niche. These websites below are all among the top Shopify stores available, which come from the food and beverage sector.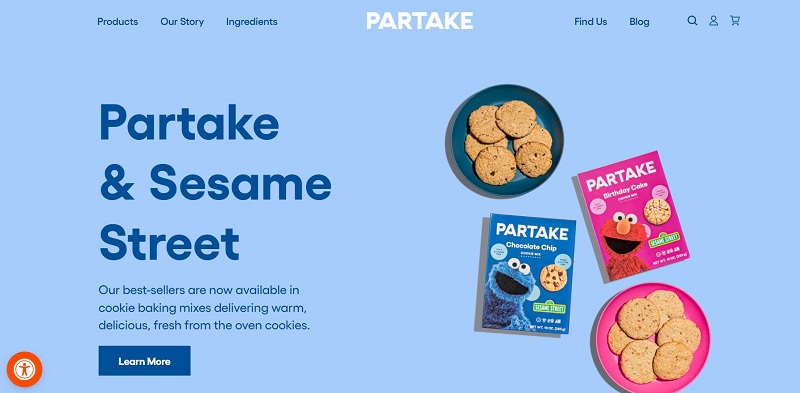 Headquarters

: New Jersey, United States

Estimated revenue

: $1 million – $5 million
Denise Woodard launched this Shopify business to increase accessibility to allergen-free cookies. This popular Shopify shop has a very unique story behind it. Denise Woodard started Partake Foods because she was unable to find her daughter healthful snacks that were also allergy-friendly.
Starting off the top Shopify stores, Partake provides school-safe cookies in varieties like chocolate chip, birthday cake, and ginger snaps that are devoid of artificial colors, preservatives, and genetically modified ingredients as well as the top 8 allergens.
One interesting fact is that 86 investors had rejected Woodard's proposal before getting the startup funding from a Jay-Z investment firm. Moreover, the business is now flourishing, generating millions of dollars in income annually.
The brand has a stunning Shopify website that adheres to the greatest eCommerce standards. Its layout aids in demonstrating how Partake Meals produce allergen-free foods, fostering customer confidence.
For instance, the webpage features many headings ("Safe to share," "Because ingredients matter") to appeal to the target market because allergy-friendly components are a key selling advantage.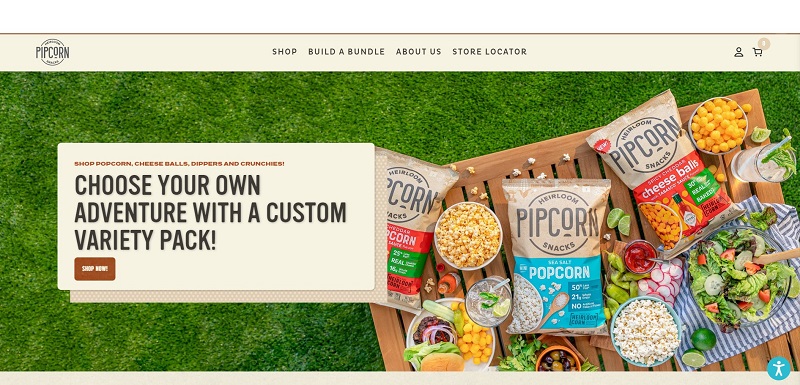 Headquarters

: New York, United States

Estimated revenue

: $5 Million
Pipcorn is the vibrant introduction to the world of food on Shopify. They will make you hungry by offering delectable snacks that can be enjoyed daily. 
Many people avoid eating popcorn because they believe it to be unhealthy. Since Pipcorn is aware of this, their website has a straightforward motto that reads, "Most tender, crunchy, delicious popcorn… and it won't destroy your teeth like the 'generic' stuff" in an effort to keep customers' fears away and persuade them to purchase popcorn from them.
Good brands always know the main issues that their target audience has and present solutions to those issues up front. And Pipcorn has successfully conveyed the brand's lively personality and highlights the benefits of its non-GMO, vegan, gluten-free, and whole grain items.
Through engaging animation, vibrant illustration, and lifestyle photos, their online experience completely immerses us in the world of the business, making it stand out from the competition. 
We have to say that Pipcorn is one of the best-looking Shopify stores because of its innovative design and brand storytelling.
Moreover, Pipcorn is a fantastic example of a landing page design for a product subscription. Their subscription website is well designed, lists several customer perks, and provides information with a brief FAQ section at the bottom.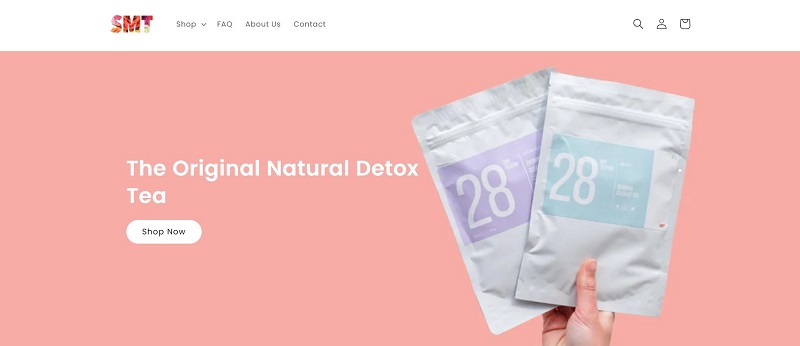 Headquarters

: Victoria, Australia

Estimated revenue

: $6 million
This company, established in 2012, offers herbal detox drinks with the intention of assisting people in achieving their wellness and health goals. This Shopify shop started operating in just nine months and was already bringing in $600,000 per month.
SkinnyMe Tea prominently features social proof and invites customers to "join over 400K happy sippers and save up to 50% storewide." This Shopify website has a sizable section called "Results" that features client photo reviews. For a health-related product to gain the trust of prospective clients, such material is essential.
The brand has created a user-friendly and conversion-focused Shopify store. The customer evaluations (including before and after photographs) provide a genuinely personal touch while proving that the product works. Besides, the online store has simple navigation choices and categories ("detox tea" vs. "everyday tea").
Furthermore, fantastic blogs, a ton of client testimonials, and even a free detox program are also available. 

Headquarters

: London, United Kingdom

Estimated revenue

: $5 million – $10 million
The industry leaders in meal subscription services, Georgie and Ed, are the one who created this Shopify store. The founders of PRESS foods grew to adore cold-pressed juices and relied on them as a quick, delectable, and nutritious addition to their diets.
Juices from this brand are made to help you achieve your daily nutritional needs while also being a source of enjoyment. The benefits of their products are described simply and logically on the homepage, enabling clients to understand what the items can provide them and quickly make their purchase.
If you want to start a similar business, we think this is a wonderful model to follow.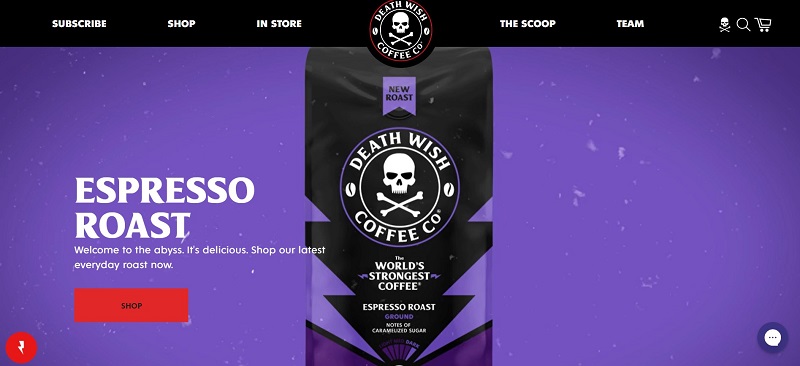 Headquarters:

 New York, United States

Estimated revenue:

$15 million – $25 million 
When Mike Brown developed the formula for Death Wish Coffee, he sought to produce a potent mix of organic coffee with an exceptional flavor. He had no idea that his coffee would rise to a very well-known brand in the industry.
Rich, dark, and red hues combine to provide a simple, energizing website design. This color scheme, which alludes to the product's power, is perfect for highlighting the distinctiveness of the brand.
This Shopify business gives off the impression of being a coffee roasting facility thanks to intriguing videos and visuals. Moreover, you will have a close-up look at the roasting, packing, and other procedures.
Media outlets like Good Morning America featured and praised this distinctive brand. Many coffee lovers, including those on the International Space Station, recognized his brilliance as he created a quick freeze-dried mix that NASA transported to orbit.
Top Shopify Stores #2: Beauty and health
It takes work to build attractive Shopify stores in this market. But you'll find plenty of motivation from these successful cases to begin going in the correct direction.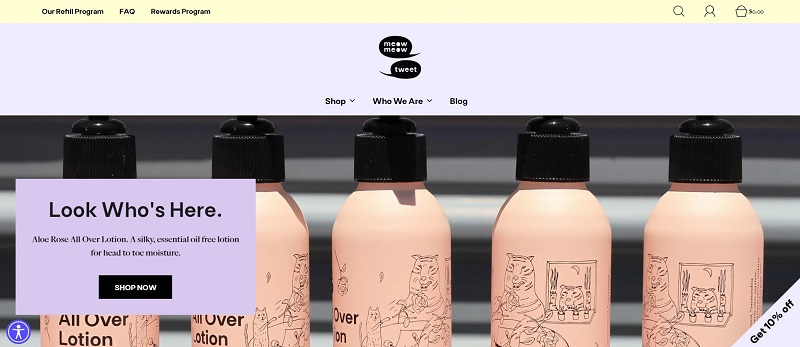 Headquarters

: New York, United States

Estimated revenue

: $1 million – $5 million
Tara Pelletier and Jeff Kurosaki, partners in life and business, created this distinctive line of soaps with a catchy name that was inspired by their cats and art. 
This organic, vegan skincare line is renowned for its all-natural ingredients and its eco-friendly packaging which features humorous artwork created by Jeff.
Not only their name but also their website is truly unique and memorable. By utilizing Shopify to build a fantastic, distinctive website, this business has done a fantastic job of brand differentiation. In addition, we highly appreciate their animal drawings which can bring joy to every customer.
Meow Meow Tweet provides a bulk refill service to decrease packaging and waste in addition to a method for customers who would like to return their empty containers for the team to repurpose. This expresses their efforts and commitment to social and environmental responsibilities.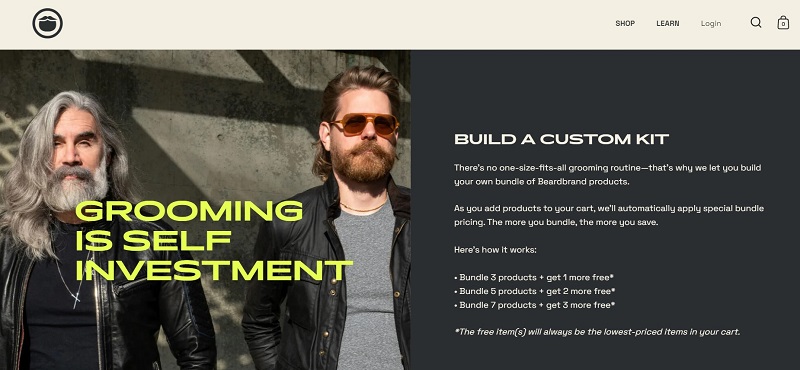 Headquarters

: Texas, United States

Estimated revenue

: $5 million – $10 million
This website for men's beard care was created by Eric Bandholz. The business had a monthly revenue of $120,000 in less than a year. The email list for Beardbrand also expanded swiftly, reaching over 7,000.
Beardbrand recognizes that grooming facial hair can be difficult, therefore it's working to give you a solution with a personalized approach. Because of this, the company's content for its Shopify store is focused on assisting men in caring for their beards.
To receive suggestions for products and grooming methods, visitors will take a quick survey. As a result, customers can easily choose the ideal fragrance for their skin, beard, and hair and put an end to smell uncertainty.
This strategy has brought success to the brand since it caters to a sizable untapped market of beardsmen with personalized care. Moreover, Beardbrand customers are welcomed into an active community where you can get specialized, tailored advice as well as items for your beard.
Due to all of the advantages listed above, Beardbrand continues to rank among the finest solutions despite fierce competition in the beard care industry.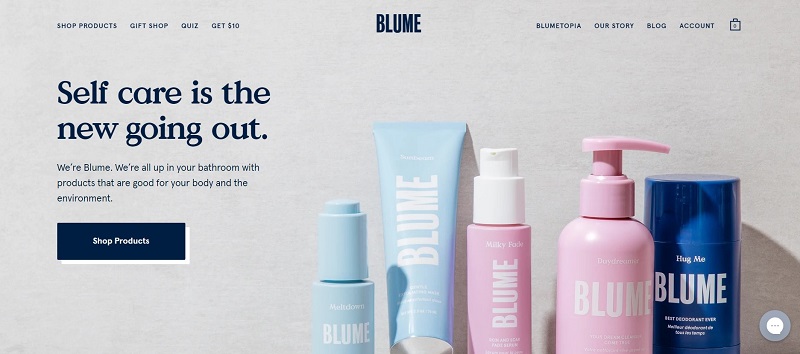 Headquarters

: Illinois, United States

Estimated revenue

: $15 million – $25 million
Blume is a self-care company that sells goods free of dangerous substances. In just one year, Blume reached the seven-figure revenue mark. The brand's co-founders, Taran and Bunny Ghatrora, saw an excellent chance to take on large self-care brands whose branding was antiquated.
The two developed a clever and unique plan for marketing to Millennials and Generation Z rather than using regular marketing techniques. Blume concentrated on teaching people about subjects that are normally forbidden (sex ed, skincare, and puberty).
Besides, the homepage of this Shopify shop gives customers a sense of the brand's values, unique selling proposition, and purpose, which aids in their understanding of the business's value and mission.
They also use the product quiz to promote personalized customer experience in eCommerce. The plan actually worked since this Shopify store witnessed a 45 percent rise in sales month over month.
In addition to personalized experience, the brand encourages customers to build a solid routine with natural products catered to their personal needs.
Top Shopify stores #3: Art & decor
If you want to offer home goods like art or décor, Shopify is an excellent choice. Check out the list of Shopify stores below to see for yourself.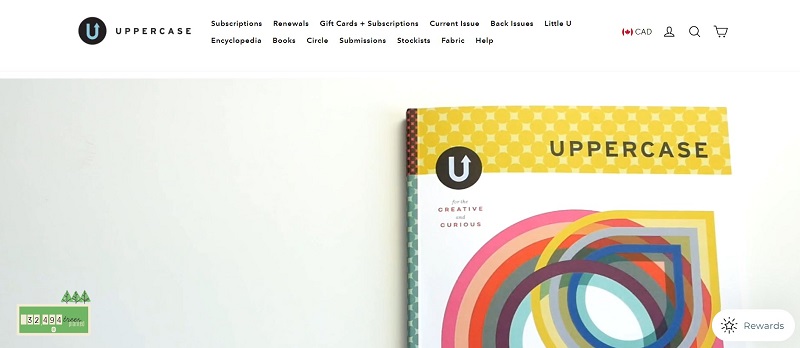 Headquarters

: Alberta, Canada

Estimated revenue

: $2 million
One of the top Shopify stores in the publishing industry is Uppercase Magazine. Janine Vangool, who works as a writer, editor, publisher, and customer service agent, is the brains behind this flourishing company.
Janine decided to support her project through crowdfunding. With the publication of her own material for creative people, she has created a sizable organic community.
Uppercase Magazine has been offering fascinating articles and photographs on craft, fashion, illustration, and design in a handsomely produced packaging for more than ten years. 
Little U, a little magazine for kids and adults, and Encyclopedia, a collection of books that go in-depth on topics like pottery, cooking, sewing, and printing, are both included in the publication.
Additionally, its Shopify website can engage visitors right away. We are instantly drawn into the product thanks to the homepage video, which walks us through the most recent issue. This is the Shopify store to choose if you want a completely rewarding shopping experience.
This popular Shopify business allows us to engage with the brand in a variety of ways with its vibrant pictures, intriguing videos, and words from the entrepreneur. Given that Uppercase Magazine only has a few things to sell, that was the best choice.

Headquarters:

Stockholm, Sweden

Estimated revenue:

$15 million – $25 million
Hem has one of the most attractive Shopify storefronts on our list, with an elegant, interesting, and well-designed theme that is perfect for a homeware company.
Finding items you need is quite simple with the help of this elegant Shopify-powered website. The highlighted item is followed by "trending" items, "news," and other categories that are fun to browse. It goes without saying that the simple navigation has a significant influence on conversions.
Hem has done a fantastic job of displaying beautiful furniture and homeware goods photos to anybody wishing to renovate their house with the brand slogan "Imaginative designs of obsessive quality." In all honesty, the brand's sales are mostly driven by these product photos.
Additionally, the webpage has a quick link to contact customer service and lists their business hours. This is a big plus for the brand as it increases customers' buying experience and satisfaction.
Headquarters

: Stoke-on-Trent, United Kingdom

Estimated revenue

: $30+ million
The next one in our list of the top Shopify stores is well-known in the ceramics industry. Emma Bridgewater resurrected the classic sponge-painted motifs on the brand's items in the 1980s, which made them instantly recognized to customers.
The website design for this Shopify business is a riot of color and inventiveness, which can quickly draw the target audience's attention. This ceramic company gives daily kitchen china a fresh perspective with a mix of modern and traditional patterns.
Today, customers seeking out inspiration and unusual presents frequently come to Emma Bridgewater. The Shopify website is a delight to browse because of the wealth of vibrant product photographs, customizable goods, and an Instagram feed with user-generated material.
Top Shopify stores #4: Clothing & fashion
You'll discover some of the most well-known Shopify clothes shops in this category, many of which have attracted a lot of investment and generated remarkable revenues.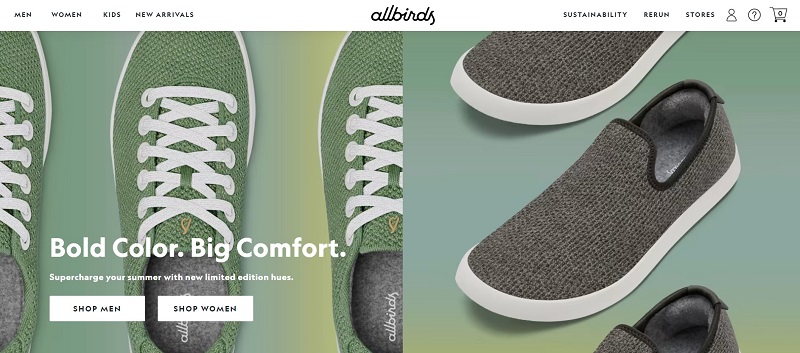 Headquarters:

California, United States

Estimated revenue:

$272 million
Allbirds is a $1.4 billion footwear company that prioritizes natural materials and has an unequaled dedication to sustainability. It was founded by footballer Tim Brown and engineer Zoey Zwillnger. 6,250,000 people visit the business each month, according to Aftership.
Despite offering a very small selection of products, this company revolutionized the industry by setting the standard for environmental practices. With threads produced from wool and eucalyptus, simple patterns, and packaging created from 90% post-consumer recycled cardboard, its product combines comfort with consciousness.
Allbirds takes pride in marketing "the most comfortable shoes in the world" created from eco-friendly materials. The company emphasizes this message often on its website to make sure that every visitor understands how distinctive its procedures and products are.
The "Our Sustainable Practices" page contains evidence of the brand's ethical standing. On product sites, you may also find information about how each product affects the environment. Everything demonstrates how Allbirds' whole identity is founded on environmental friendliness.
It has a stunning look and is one of the top Shopify stores thanks to the Duppit store theme. Their stunning Shopify site is in accordance with their vision and their efforts of presenting sustainable practices, resulting in their good brand differentiation.
Finally, the website has a user-friendly layout and you can discover a wealth of information on how the business works as a force for good there. The site has some great articles about Allbirds and prospective partnerships, which are an excellent approach to inspire readers and pique their interest in new products.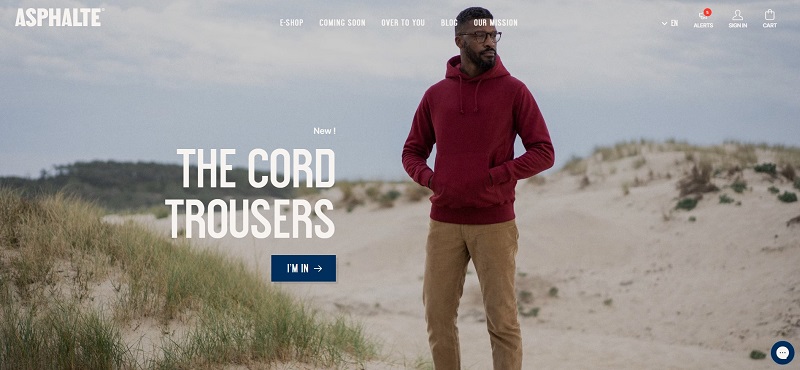 Headquarters:

Bordeaux, France

Estimated revenue:

$1 million – $5 million
This fantastic Shopify site, which was established in 2016, captures the brand's distinct pre-order business concept. The objective is to produce waste-free, high-quality men's clothes.
The distinctive business model of Asphalte is an intriguing feature. They learn what clothing to make by listening to their customers. The company spends weeks getting feedback from clients and internet visitors before starting to sew the first stitch.
There is no product waste because the feedback is utilized to create the clothing and release it through pre-order campaigns. Visitors can customize their apparel and participate in fashion trendsetting through the survey.
Their design is another fantastic feature. The beautiful and contemporary look of this brand's website nicely compliments the stunning product photos.
Headquarters

: California, United States

Estimated revenue

: $44 million
The owners of Chubbies want every man to have a pair of short shorts in his closet. Their Shopify store combines exceptional marketing, distinctive brand development, and user-friendly, simple navigation for powerful results.
With 1.95 million people visiting the store each month, Chubbies establishes a strong connection with customers through distinctive branding, engaging product descriptions, and imaginative pictures. The homepage's featured photographs establish the shop's overall optimistic aesthetic.
According to brand creators, their items represent the idea of enjoyment. That's exactly what Chubbies did to set themselves apart from other clothing companies. This concept is the brand's secret to a thriving business.

Headquarters:

Texas, United States

Estimated revenue:

$1 million – $5 million
The Austin, Texas-based company HELM was established in 2009 with the goal of presenting timeless footwear from a flexible, contemporary standpoint. HELM work and casual boots and shoes are entirely manufactured and sourced in US factories.
HELM is dedicated to creating handcrafted leather boots with pride, consideration, and intention, stating that "Our boots offer guys the courage to take steps they've never done before, confidence from the ground up." It emphasizes providing high-quality items with simple, gorgeous graphics that prioritizes the product, bringing great success to the brand.
Additionally, their website has a simple appearance, and everything can be found on the homepage, which was created to persuade users at different points in the buying process and allay concerns as you scroll. In order to help you "find the perfect pair," the brand promises to provide free shipping and returns.
One interesting fact is that their Shopify store's backdrop and layout still look professional while using the default and free Shopify theme, Debut. That means you don't need to spend a lot of money to have a fashionable website or sophisticated brand image if you join Shopify.

Headquarters

: California, United States

Estimated revenue

: $5 million – $7 million
In 2010, Taylor Stitch opened one of the top Shopify stores, providing handcrafted and customized menswear with the goal of making sophisticated clothes more accessible. Its income has tripled annually since its start, making it one of the most prosperous e-commerce shops on Shopify.
This top Shopify store, which relentlessly focuses on enhancing customer experience and minimizing environmental effect, is another pioneer in sustainable fashion. Taylor Stitch makes garments out of recycled materials or just natural materials in an effort to decrease waste and protect the environment.
Their Shopify store has a polished, fashionable, businesslike appearance and is suited for mobile browsing. The captions for the scrolling hero photos have a brand-appropriate tone ("a classic reborn," "handcrafted in Los Angeles," etc.), and there is a strong emphasis on sustainability with references to "our responsibility journey."
With the store theme, Taylor, the website appears to be of the highest caliber. It has a fantastic design layout and lovely font, and looks like a page from a high-end magazine. As soon as you land on its webpage, every aspect adds to the retro vibe presented in front of your eyes.
In addition, there is another fascinating thing about the Taylor Stitch website. With "Three Simple Ingredients" written over the majority of the photos you see on the webpage, it almost instantly draws more attention to its message than its items and highlights its devotion to sustainability.
Besides, Taylor Stitch's imaginative alternatives are shown when you hover over a product; for example, a jacket switches to a picture of a model wearing the garment while riding a motorcycle. This feature is truly smart and cool!
In fact, Taylor Stitch operates on the hybrid business model. Customers crowdfund to gather money to have concepts turned into items they can purchase, which is an intriguing business strategy. 
The brand's founders claim to have an inventory of the most important items being crowdfunded. This methodology helps the business reduce waste and high expenses.
Last but not least, the brand fosters the engagement of its customers by inviting them to share their unique tales. Customers have contributed incredible tales and images from fly-fishing excursions, motorbike disasters, hurricane clean-ups, and wedding days throughout the years.
Top Shopify stores #5: Accessories
Are you considering retailing accessories such as wallets, backpacks, and bags? Take a peek at these well-known Shopify shops for examples of excellent practices.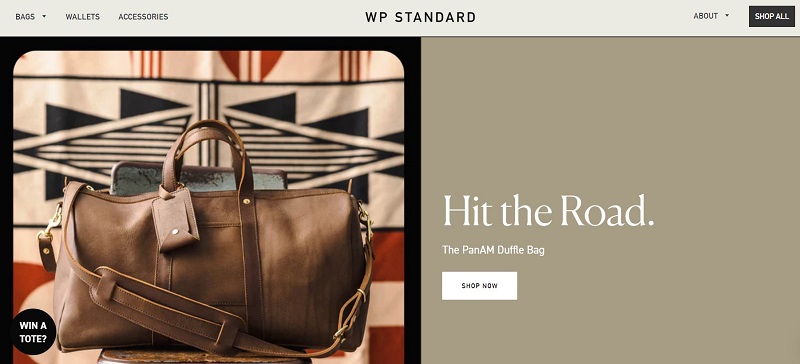 Headquarters

: Texas, United States

Estimated revenue

: $5 million
Ryan Barr's business, WP Standard, offers a modest selection of high-quality, long-lasting accessories to a clearly defined target, including bags, wallets, belts, and laptop sleeves. 
WP Standard has received significant attention to its target market, especially the design and quality-conscious IT crowd since it won Shopify's Design Award in 2013.
In our opinion, one of the top Shopify stores with the most attractive appearance is WP Standard. It is among the best examples of how design can have a significant impact on a Shopify website's success. 
If you want to understand how to match your website design with product advertising, check out this Shopify shop.
Its combination of a simple design and exquisite product photographs is unique. The layout is uncluttered, contemporary, and built with a clean yet attractive color scheme that complements the items.
It is easy for you to use this Shopify website and add items to the shopping cart. With WP Standard, you can quickly navigate to the checkout page in just a few clicks.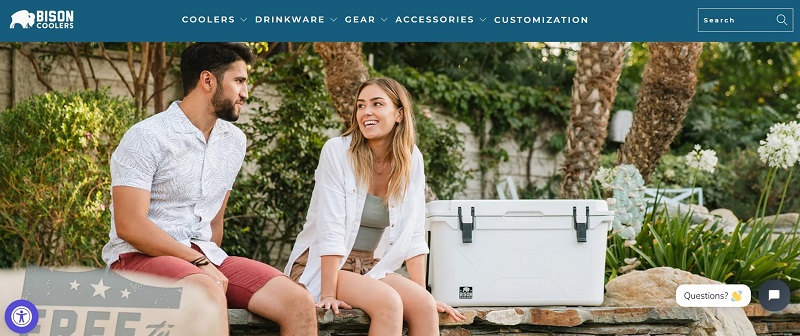 Headquarters

: Texas, United States

Estimated revenue

: $12+ million
Awarded company Bison Coolers makes coolers, drinkware, and travel accessories. These products from Bison Coolers are made for all kinds of outdoor adventures.
The brand, which was founded in 2011 by a father-son duo, has been successful in delivering long-lasting coolers and other items for outdoor lovers. The founders claim that "American-made quality, an unmatched guarantee, a wealth of features, and limitless customization choices" are the secret to its success.
The founder's goal is highlighted by offering a ton of straightforward information regarding their commitment across the Shopify store. Additionally, at affordable pricing, the brand provides an unrivaled guarantee, superior quality, and even product customization.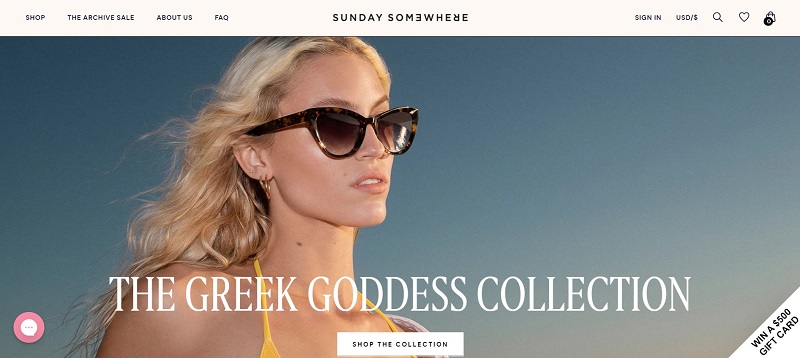 Headquarters

: New South Wales, Australia

Estimated revenue

: $5 Million
Dave Allison created this top Shopify store in 2010, and since then it has attracted attention from all around the world. The store is easy to navigate and has an outstanding design. It makes use of the perfect amount of information and images to pique visitors' interest in their stylish items.
The premium eyewear company prioritizes quality, functionality, and creativity to provide its clients the best experience possible.
Additionally, this company uses the clever advertising strategy of celebrity endorsements. You can visit the As Worn By part of their Shopify website to view the goods being worn by celebrities like Jessica Alba, Anne Hathaway, and Elizabeth Banks.
Other top Shopify stores
Many prosperous Shopify stores remain to be shared. If your product category differs from the ones we assessed, have a look at the samples below.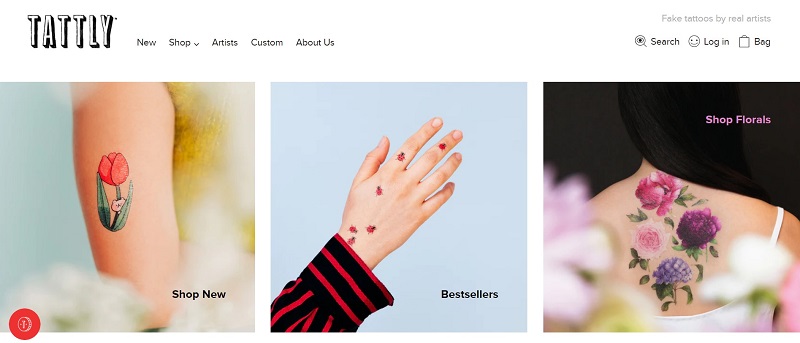 Headquarters

: New York, United States

Estimated revenue

: $6+ million
Tattly was created by designer Tina Roth-Eisenburg as a pastime. She founded her own company to expand access to premium temporary tattoos for more individuals. The end result was a fantastic Shopify site with products created by some of the top American tattoo artists.
Although selling temporary tattoo art online is extremely difficult, Eisenberg garnered 10,000 online orders just one year after opening her Shopify business. 2.6 million temporary tattoos have been dispatched from this Shopify business, which charges an average of $5 to $15 each item.
Tattly wants visitors to explore many product categories and be encouraged to keep browsing in order to boost engagement.
This top Shopify stores' website lets you dig through their brand mission, some product photos, and the website menu that is made out of images. Besides, the website makes excellent use of white space, huge, high-quality photos, and attractive graphics to complement the product.
Today, Tattly is a network that promotes independent designers and artists as well as a developing temporary tattoo business.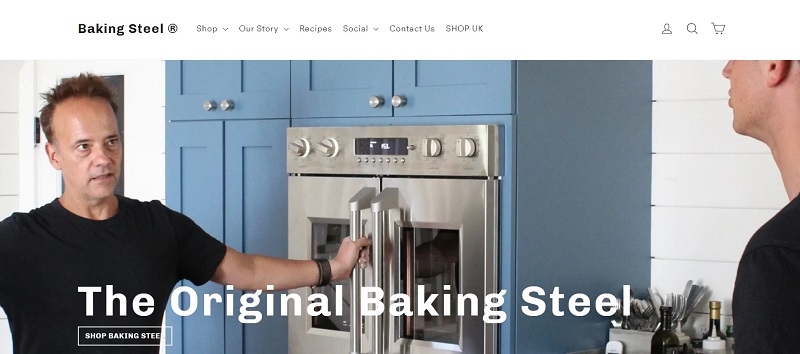 Headquarters

: Massachusetts, United States 

Estimated revenue

: $5 million – $10 million
Baking Steel is Andris Langsin's solution to the question "How can a homemade pizza have the perfectly crispy crust like ones in the restaurant?'' This pizza baking steel, which reduces setup time in half, is constructed entirely of steel.
The uniqueness and nature of the product is the heart of this Shopify store when each product page includes photo reviews of cooked pizzas to instill a sense of trust into their customers effortlessly.
Furthermore, visitors are greeted with a story from the founder, who has over 20 years of culinary expertise, as well as headlines from media references, such as Men's Fitness calling Baking Steel "necessary cookware". Indeed, the product was also featured by The Wall Street Journal.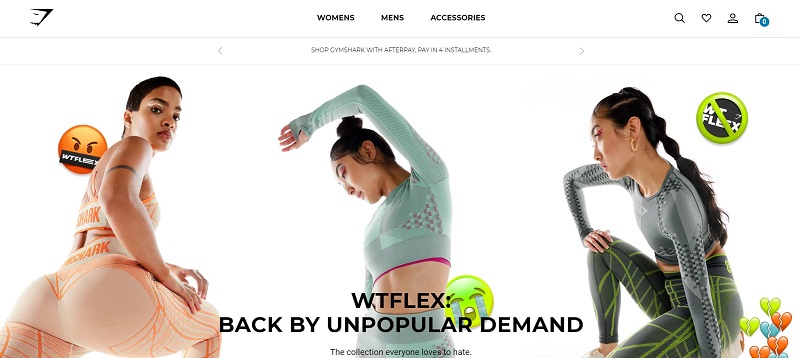 Headquarters

: Solihull, England

Estimated revenue

: $200 million – $1 billion
Gymshark, one of the top Shopify stores, was founded in 2012 by high school students, Ben Francis and his friends, as a screen-printing business in a garage. Since then, it has developed into one of the fastest-growing and most well-known fitness businesses in the world.
It is now a $1 billion fitness company with millions of active social media followers and customers across 131 different countries.
This brand was a pioneer in the use of the influencer marketing strategy. They have been investing in creating a significant social media presence from the outset. As a result, Gymshark receives a lot of traffic thanks to its informative content, partnerships with influencers, and user-submitted posts.
Francis thinks that starting a Shopify store for his business was the right choice that changed the course of his success story. More precisely, it aided the brand's 10 times quicker revenue growth.
Top Shopify stores: Final Thoughts
Finding shops that utilize Shopify may be challenging, and figuring out which ones are the most profitable is even harder. Therefore, visiting some of the top Shopify stores on our list can give you invaluable insights into their best practices as fast as possible. 
Each of these examples has something special and intriguing to offer future store owners like you, and our analysis has made it apparent to you what it is. Overall, we wish you much success in creating your own Shopify store inspired by the examples in our list.
Hey, want to know more about OneCommerce? CHECK IT OUT!