The fact that e-commerce landing pages are built to convert well—with some top businesses attaining an average conversion rate of 11.45%. Attempting, isn't it?
You want to begin building your Shopify landing page if you are or are planning to do business on Shopify.
Stop searching elsewhere because we offer everything you need. In this article, we'll show you what is a landing page, how important it is to build landing pages for your Shopify store and how you can do it. Let's go
💬 Other content you might love:
What Is Landing Page?
Landing pages, or LP, are stand-alone web pages designed exclusively for a campaign of advertising or marketing in digital marketing that can help you turn leads into customers. 
Typically, these types of pages are not included in your website navigation. They are only accessible from links in advertisements, newsletters, or an ad from Google, Bing, YouTube, Facebook, Instagram, Twitter, or another comparable website.
Unlike product pages, landing pages are typically built to supplement other efforts and are more focused on attaining short-term marketing goals or several aims and promoting research. Landing pages have a single emphasis or goal known as a call to action (CTA).
Contrarily, product pages serve a more general function. There are some similarities between the two. For instance, both types of pages encourage users to take certain actions on your website. 
However,  there are also certain elements that aren't present on landing pages. Along with trust-increasing elements like entire sections devoted to reviews/ testimonials, product sites sometimes offer relevant product recommendations.
Because of this emphasis, landing pages are the ideal option for raising the conversion rates of your marketing initiatives and minimizing the cost of acquiring leads.
Most Popular Types Of Landing Pages
There are several types of landing pages, which we have listed below:
1. Lead Generation Landing Page: This type of landing page is designed to capture visitor information, such as names and email addresses, in exchange for a valuable offer like a free e-book, newsletter subscription, or access to exclusive content.
Key characteristics: 
Clear and prominent headline highlighting the value proposition.
A concise form that captures visitor information, such as name, email address, and possibly additional details.
Compelling call-to-action (CTA) buttons or statements encouraging visitors to sign up.
Information about the offer or incentive visitors will receive in exchange for their contact information.
Trust indicators, such as testimonials, customer logos, or privacy policy statements.
2. Click-through Landing Page: These landing pages aim to persuade visitors to click through to another page, typically for the purpose of making a purchase or completing a specific action. They provide additional information about a product or service and often include compelling calls to action.
Key characteristics: 
Engaging headline that grabs attention and creates interest.
Detailed information about the product or service being promoted.
Persuasive content that addresses visitor pain points and emphasizes benefits.
Strong and visible CTAs to encourage visitors to proceed to the next step.
Social proof elements, such as testimonials, reviews, or case studies, to build credibility.
Additional trust signals, such as security badges, money-back guarantees, or endorsements.
3. Viral Landing Page: Viral landing pages are used to generate buzz and encourage social sharing. They often contain entertaining or captivating content, such as videos or interactive elements, with the goal of going viral and reaching a wider audience.
Key characteristics:
Eye-catching visuals or interactive elements that capture attention.
Engaging and shareable content, such as entertaining videos, quizzes, or memes.
Social sharing buttons or prompts to encourage visitors to spread the content.
Clear branding and messaging that aligns with the viral nature of the page.
Incentives for sharing, such as contests, giveaways, or rewards.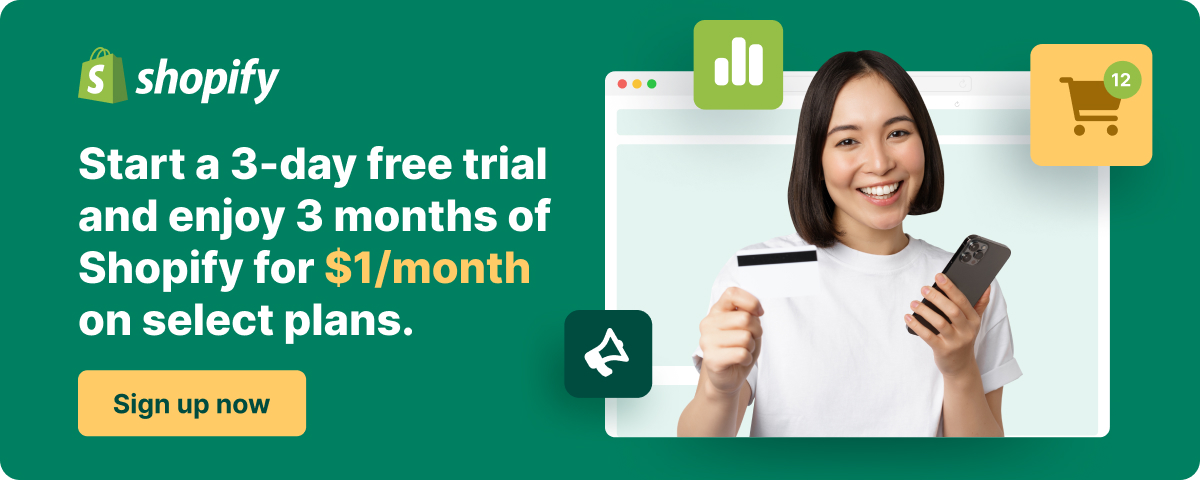 4. Product Detail Landing Page: This type of landing page provides comprehensive information about a specific product or service. It focuses on highlighting key features, benefits, and testimonials to convince visitors to make a purchase.
Key characteristics:
Comprehensive product information, including features, specifications, and images.
Clear and visually appealing product images or videos.
Testimonials or user reviews highlighting positive experiences.
Pricing details and any available discounts or offers.
Multiple CTAs throughout the page to facilitate product purchase or further exploration.
5. Event Registration Landing Page: These landing pages are created to promote and facilitate registration for events, such as webinars, conferences, or workshops. They typically include event details, speaker information, and a registration form.
Key characteristics:
Eye-catching event title and imagery to capture attention.
Key details about the event, such as date, location, and agenda.
Speaker or presenter information to build credibility and generate interest.
Registration form with fields to capture attendee details.
Social proof elements, such as past event photos or attendee testimonials.
6. App Download Landing Page: App download landing pages are designed to encourage visitors to download and install a mobile application. They highlight the app's features, benefits, screenshots, and often include prominent app store download buttons.
Key characteristics:
Eye-catching app visuals and screenshots.
Clear and concise description of the app's features and benefits.
Download buttons for various app stores (e.g., Apple App Store, Google Play Store).
User reviews or ratings to establish credibility and social proof.
Demo videos or tutorials showcasing the app's functionality.
7. Thank You Landing Page: After a visitor has completed a desired action, such as submitting a form or making a purchase, they are redirected to a thank you landing page. This page usually acknowledges their action, provides any necessary next steps, and may offer additional resources or upsell opportunities.
Key characteristics: 
Gratitude and acknowledgment of the completed action (e.g., purchase, form submission).
Confirmation of next steps or information about what to expect.
Additional resources or offers related to the completed action.
CTAs for related products, upgrades, or further engagement.
Contact information or customer support details for assistance, if necessary.
How Important Is It To Have a Shopify Landing Page?
Enhanced Conversion Rates: Landing pages are designed with a specific goal in mind, whether it's capturing leads, driving sales, or promoting an event. By focusing on a single objective and eliminating distractions, landing pages can significantly improve conversion rates. They provide a clear path for visitors, guiding them toward the desired action and reducing friction.
Improved Targeting and Personalization: Landing pages allow you to tailor your messaging and content to specific segments of your audience. By creating dedicated landing pages for different campaigns or customer segments, you can address their unique needs and interests, increasing the relevance of your offers. This personalized approach helps in building stronger connections and driving higher engagement.
Better Measurement and Analytics: Landing pages provide a clear and trackable point of entry for your marketing efforts. By integrating analytics tools, you can monitor and measure the performance of your landing pages, gaining insights into visitor behavior, conversion rates, and campaign effectiveness. This data empowers you to make data-driven decisions, optimize your campaigns, and improve overall marketing ROI.
A/B Testing and Optimization: Landing pages are perfect for conducting A/B tests and optimizing your marketing efforts. By creating variations of your landing page elements, such as headlines, CTAs, or design elements, you can test which versions perform better. This iterative approach allows you to fine-tune your landing pages, improving their effectiveness over time and maximizing results.
Streamlined Communication and Messaging: Landing pages provide a focused platform to communicate your value proposition and key messages. They enable you to present information concisely and compellingly, ensuring that visitors understand the benefits of your offer. By aligning your landing page content with your marketing objectives, you can deliver a consistent and persuasive message that resonates with your audience.
Increased Trust and Credibility: Well-designed landing pages with elements like customer testimonials, endorsements, or security badges can help build trust with your audience. When visitors see social proof or evidence of credibility, they are more likely to feel confident in taking the desired action, such as making a purchase or sharing their contact information.
Integration with Marketing Automation: Landing pages can be seamlessly integrated with marketing automation systems, allowing you to automate follow-up actions and nurture leads. By connecting landing pages with email marketing or customer relationship management (CRM) tools, you can create automated workflows, send targeted messages, and track interactions, enabling effective lead nurturing and customer engagement.
Overall, Shopify landing page provide a focused and optimized platform for your marketing efforts, increasing conversions, improving targeting, and allowing for data-driven optimization. By leveraging their benefits, you can enhance your marketing campaigns and drive better results for your business.
How to create a landing page on Shopify from scratch?
Now that you've known how beneficial Shopify landing page is, here's how you can create one for yourself.
There are actually several ways that you can create a landing page on Shopify.
Method 1: Create Shopify landing page with Shopify editor
Follow these steps:
Step 1: Go to your Shopify store dashboard > Online store > Pages
Step 2: Click on "Add page" in the right corner
Step 3: Enter your page title, description, and search engine information, and click Save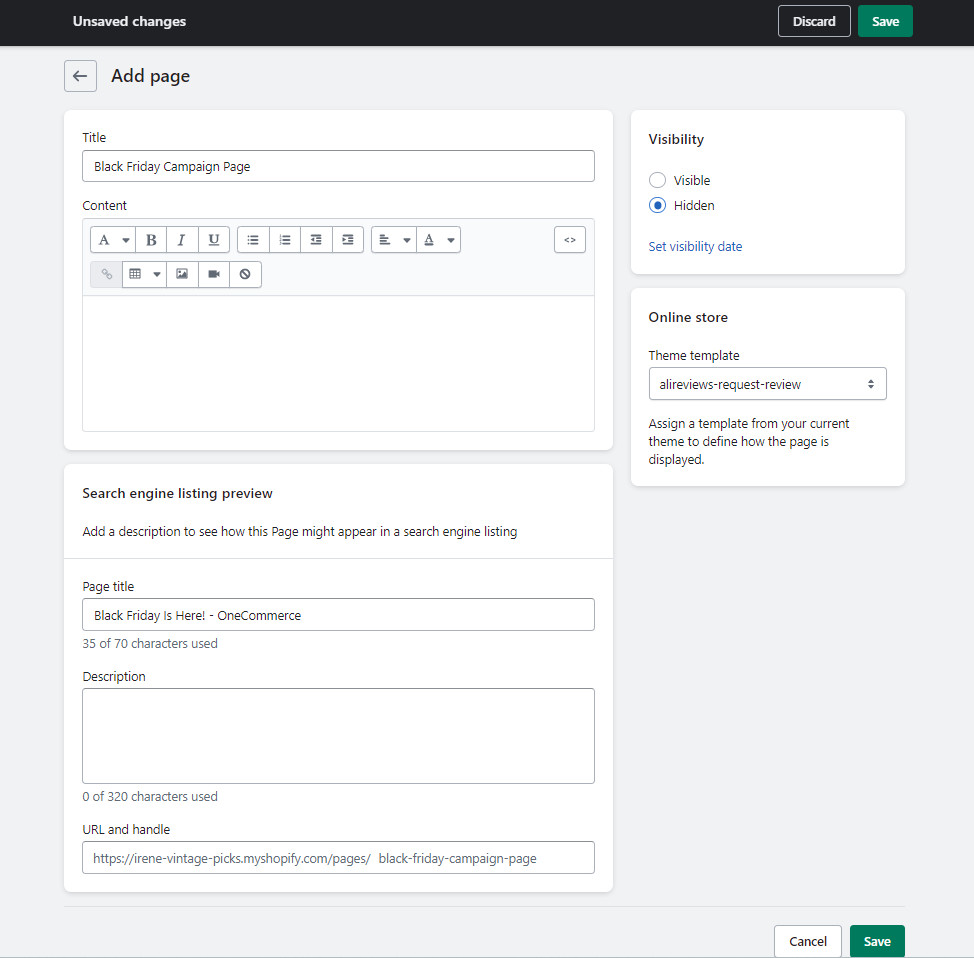 You're done.
Method 2: Create Shopify landing page using Shopify Liquid
If you're familiar with Shopify coding language, you might be able to use Shopify liquid. With Shopify liquid, you're able to customize your Shopify landing page as much as you want and have full control over how your landing page looks and feels, and what function you want for the best conversion rates.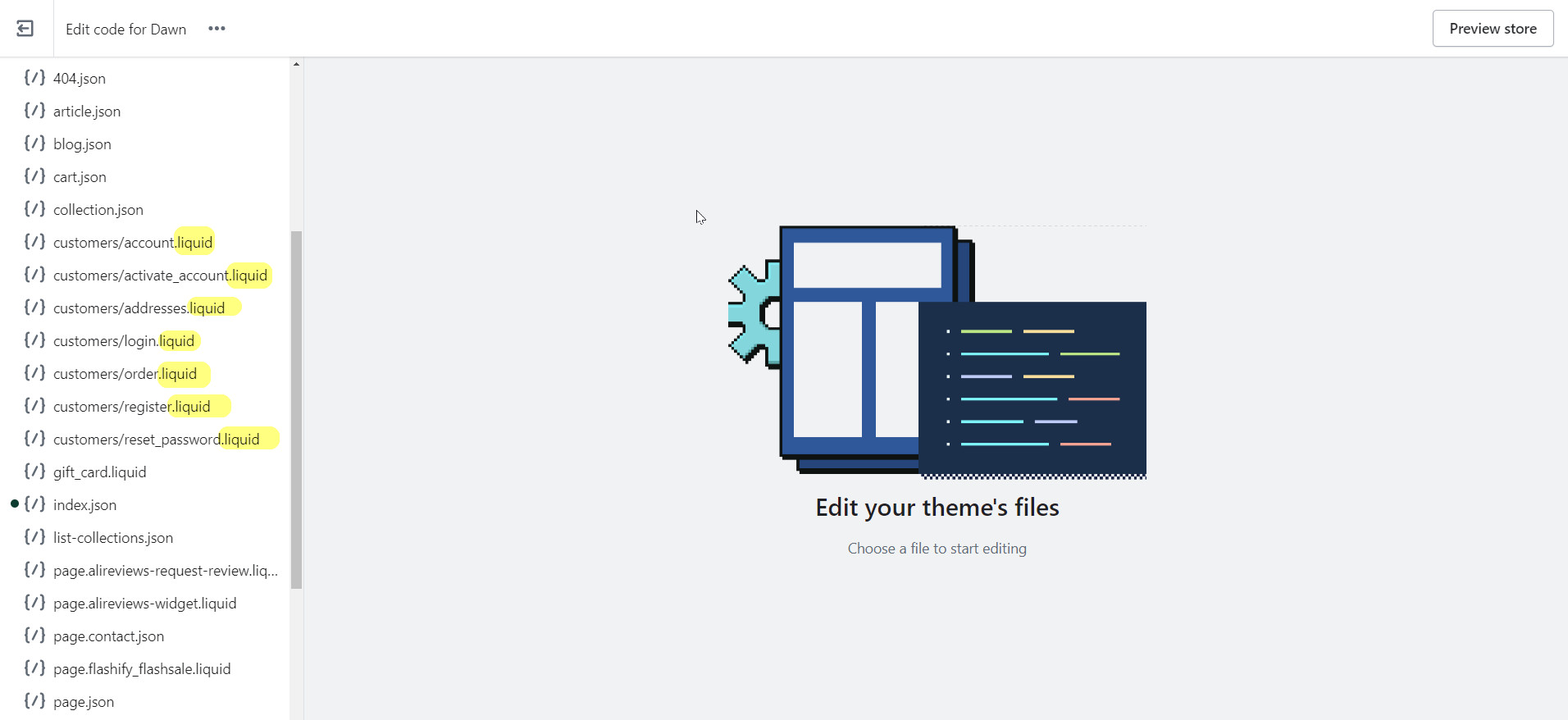 Keep in mind that this method is only suitable for those who know how to code or have a dedicated developer team to help with it. Otherwise, it is almost impossible to carry out.
Method 3: Create Shopify landing page using third-party apps
With pages that require more than what Shopify can cover, you can seek third-party Shopify landing page builder apps. There are numerous options that you can easily find in the Shopify app store.
To save you hours of considering back and forth with hundreds of apps out there, we have tested and curated the top ones to recommend for you below.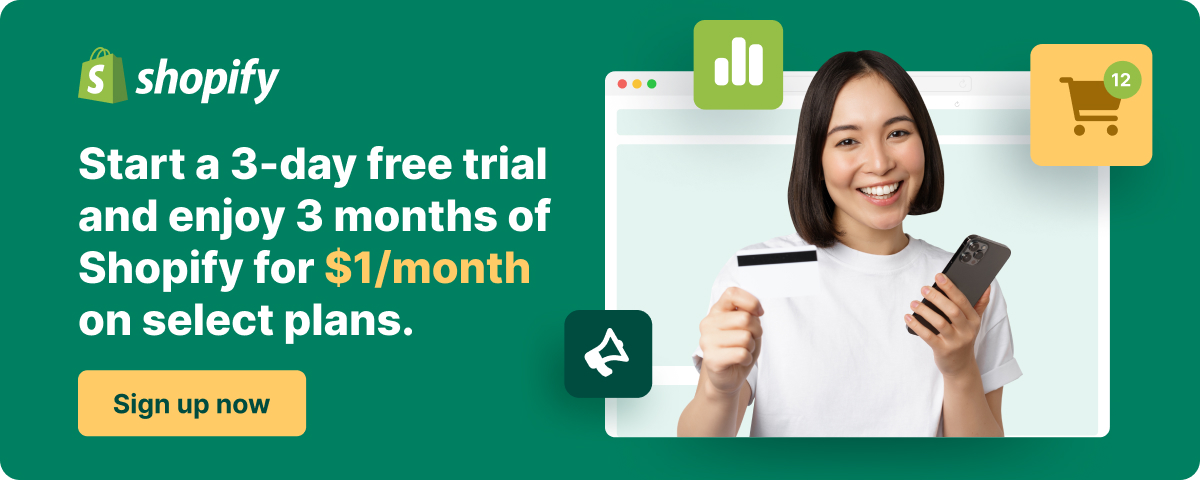 #1. EComposer
EComposer – The Next Generation page builder app allows you to create unlimited stunning types of pages, with a live drag-drop editor. EComposer provides you with over 300+ premade page and section templates, countless elements, extensions, and integrated widgets.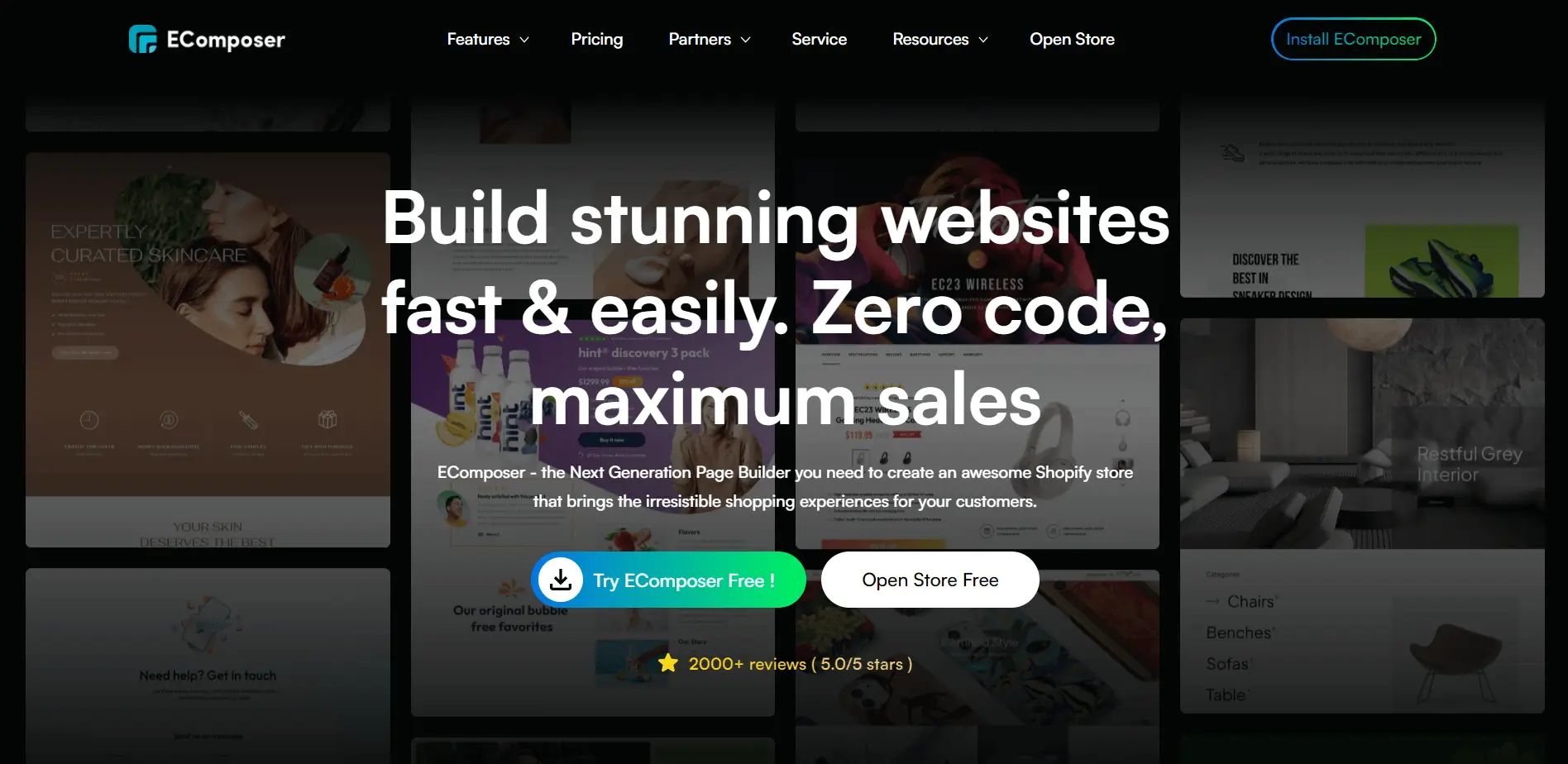 With the massively intuitive drag-and-drop editor, EComposer is a must-have page builder app for merchants who want to create and customize their Pro online stores easily and swiftly.
EComposer's pros
EComposer's cons

User-friendly editor that Shopify familiar

Countless elements, functions, and extensions

Beautiful & conversion-optimized pre-built templates

Outstanding customer support rated 5.0/5 (over 2000 reviews)

Limited options in Free plan
#2. Shogun
Shogun is a user-friendly drag-and-drop page builder designed specifically for Shopify store owners. With Shogun, users can easily create and customize their online store pages without any coding knowledge.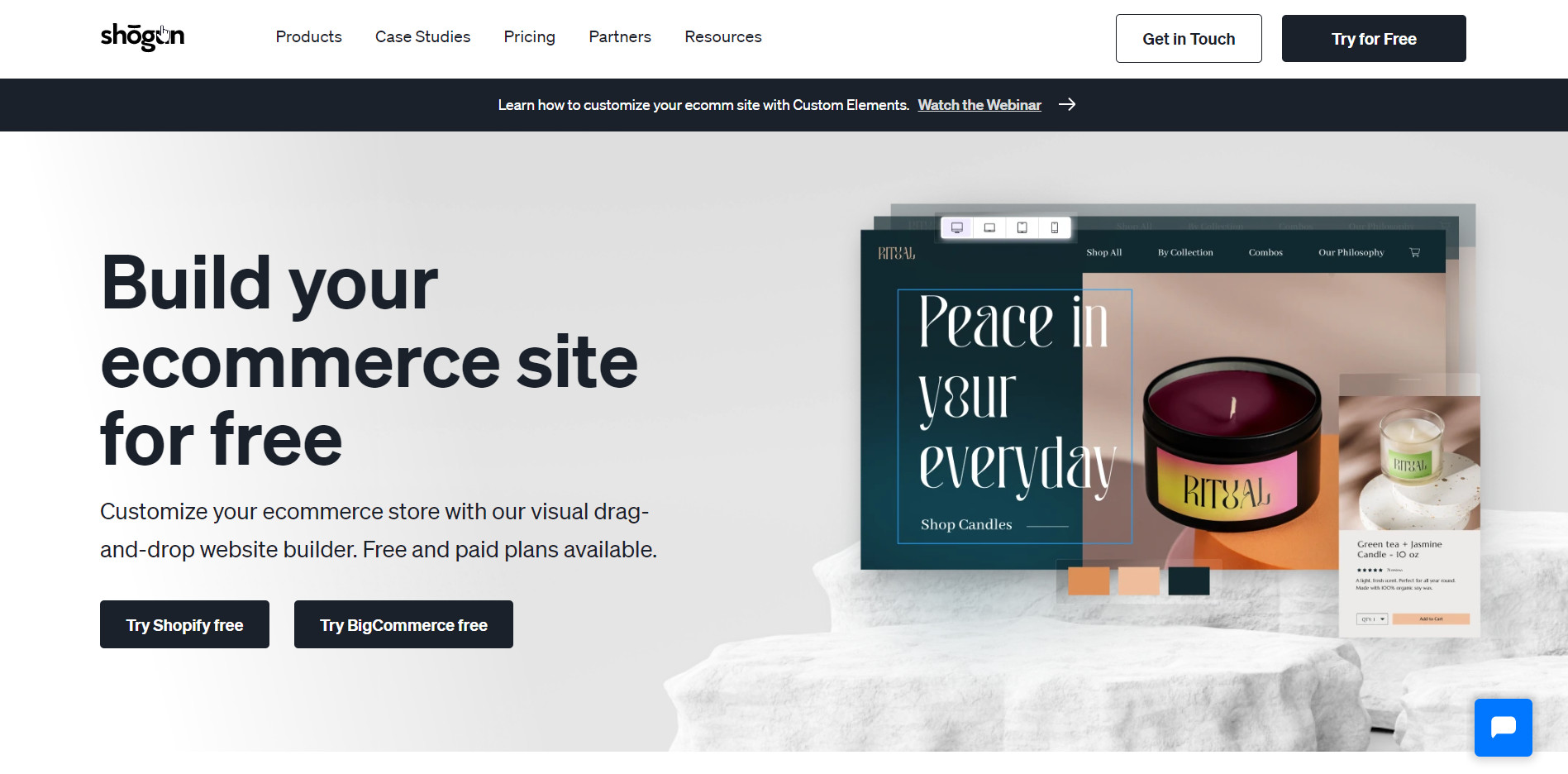 Shogun offers a wide range of design elements and templates, allowing users to create visually appealing and fully functional pages. It integrates seamlessly with Shopify, enabling smooth and efficient workflow.
Some advanced customization options may be limited, and the pricing plans can be relatively expensive for small businesses.
Shogun's pros
Shogun's cons

User-friendly drag-and-drop interface
Extensive design elements and templates
Seamless integration with Shopify

Limited advanced customization options
Relatively expensive pricing plans
#3. PageFly
PageFly is a popular Shopify landing page builder app. It offers an easy-to-use drag-and-drop editor that allows users to create and customize their online store pages with ease.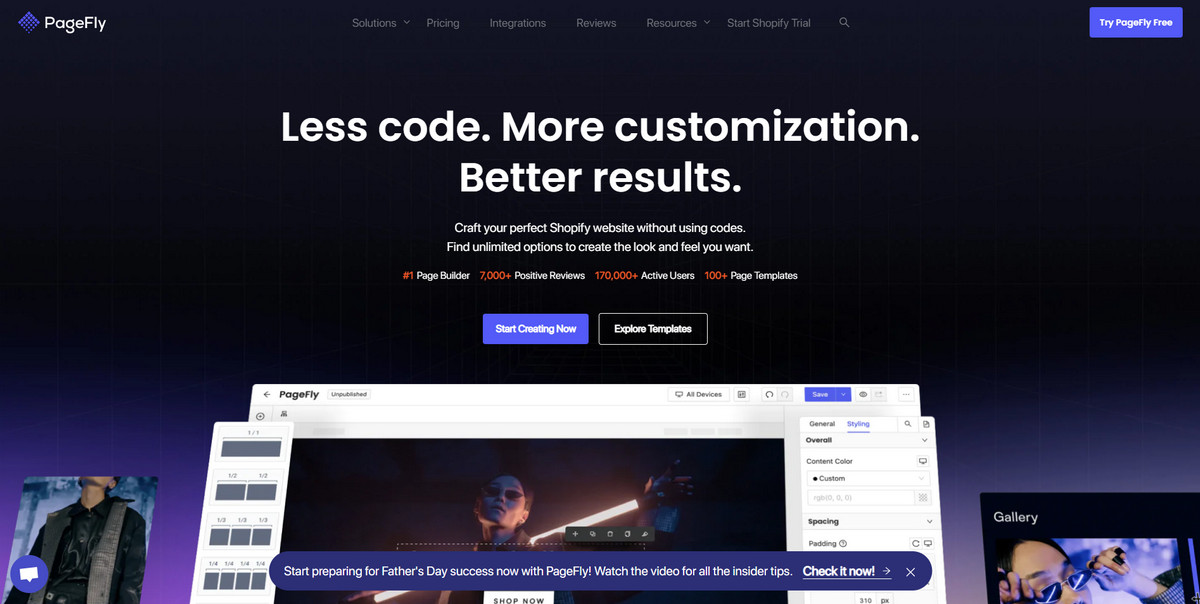 PageFly offers a wide range of pre-designed templates, content elements, and layout options to help users design responsive and visually appealing pages. It caters to users of all levels of expertise, from beginners to advanced users, and provides advanced features like countdown timers, product sliders, and more.
With PageFly, users can create unique and engaging pages that enhance their Shopify store's aesthetics and functionality.
PageFly's pros
PageFly's cons

Drag-and-drop editor
Abundance of design options
Responsive design capabilities
Advanced features like countdown timers and product sliders

Limitations in the free version
PageFly's interface may feel overwhelming for some users
#4. GemPages
GemPages is also an outstanding option. It allows users to create and customize their online store pages using a drag-and-drop interface. GemPages provides a wide selection of customizable elements, templates, and design options, empowering users to build unique and visually appealing pages for their Shopify stores.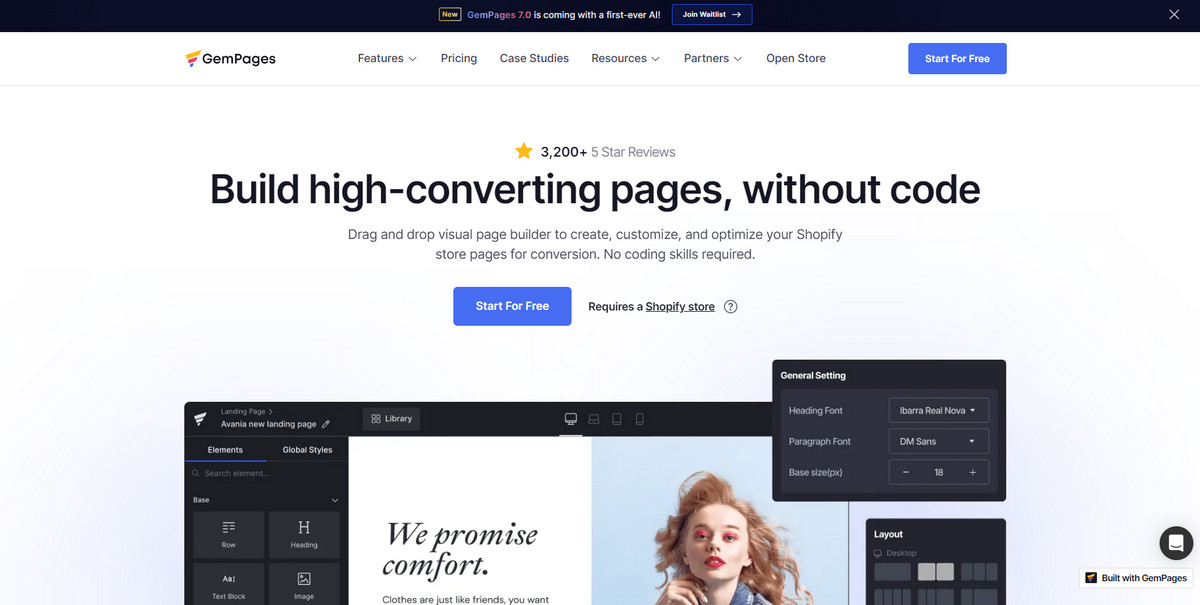 It offers advanced features like custom CSS and JavaScript, as well as responsive design capabilities for optimal mobile experiences. With GemPages, users have the flexibility to create and modify their Shopify store pages to meet their specific branding and design requirements.
GemPages's pros
GemPages' cons

User-friendly interface
Advanced customization options
Responsive design capabilities
Custom CSS and JavaScript

High pricing plans for small businesses
Steep learning curve for some users
Final Words
And that's it! We have gone through basically everything you need to know about Shopify landing page and how you can create and use it to supercharge your marketing effort.
In short, we highly recommend you use landing pages because it is one of the best ways to acquire leads and convert them into paying customers. All the best!