Shopify is the most popular eCommerce web hosting platform that has powered over +3 million online stores globally. This massive popularity is thanks to Shopify's ease of use, dedicated customer support, great built-in features, and many powerful apps.
Talking about Price on Performance (P/P), Shopify is good with flexible pricing plans and above-average built-in features. However, it's not a one-size-fits-all solution. Besides the Pros, Shopify also has some Cons which can be quite off-putting for lots of merchants.
Herein lies a question: 'Can I build an online store WITHOUT using Shopify?'. A big YES, you can! Here are the 8 best Shopify alternatives you might love to take a look at whether you want to launch your e-site from scratch or migrate from Shopify to another platform. 
Why Looking for a Shopify Alternative?
There can be tons of reasons as to which merchants want to opt for another web-hosting platform. Below are the 4 biggest reasons why:
1. Extra transaction fees
One of the top causes that scare merchants away from Shopify is the so-called Shopify Payments, which is only available in some countries. 
If you do not use Shopify Payments and choose another payment gateway instead, you are charged up to 2% per sale for extra transaction fees. 
Besides additional transaction fees, by not using Shopify Payments, you're not allowed to transact in multiple currencies unless you use an app (which costs some extra money)
2. Limited variants for each product
If you have a sophisticated catalog with many variants for each item, Shopify is then not your ideal solution.
Though you could add unlimited products to your store, it is the variant that Shopify puts a limit on. In particular, each product has a maximum of
3 variant types

(e.g: size, material, color, etc.)

100 variants

in total
To add more than 3 variant types and 100 variants for each item, you either have to upgrade to Shopify Plus or again, use a product management app.
3. Limited reports
Not until you upgraded to the Shopify plan at $79/month did you have useful information about how your online store is performing.
In more detail, Basic Shopify users don't have access to sale reports, order reports, customer reports, profit reports, etc. 
If you love to make data-driven decisions, then you either have to upgrade to Shopify plan, which you may not need, or use a profit tracking app. 
4. Over-reliance on apps
As mentioned above, to bypass multi-currency issues, variant limitations, or report limits, you all need apps. And the demands for apps can be much more than that.
Now don't get me wrong! Shopify's apps are various, top-notch, and well-selected. This is because Shopify does review every app before it can be published on the Shopify App Store.
But the thing is you might bite off more than you can chew! Specifically, you may have to deal with application costs piling up day by day without you recognizing it in the nick of time. 
5. SEO issues
Though Shopify can handle some basic SEO tasks, if you want to have full control over your website from A to Z then probably Shopify isn't that great of a choice. 
One of its SEO issues is fixed URL structure, which means you can't customize them to the fullest as your intention. 
In addition, you may find yourself struggling to create a sub-drop-down menu since it requires coding.
8 Best Shopify Alternatives in 2023
If Shopify doesn't make for a great fit for your business, it's not the end of the day. Take a look at the 8 best Shopify alternatives that you might love to invest in.
Shopify Alternative #1: BigCommerce
Best Suits: those who are on the growth, want to scale up their business and use their own payment gateway without being charged an extra fee.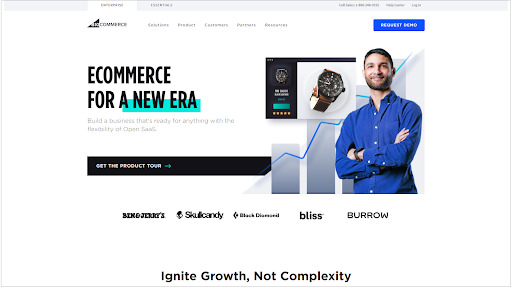 Founded in 2009, BigCommerce is now a major competitor of Shopify. Similar to Shopify, the hosted platform allows users to create and optimize their own eCommerce sites from scratch. With BigCommerce, you can sell on multiple channels, manage all things in one central hub.
Want to know some benefits when choosing BigCommerce over Shopify? First, you can be free to choose any payment gateway without being worried about additional fees like Shopify. In addition, you will also be able to add up to 600 variants for each product. 
Pricing

BigCommerce offers users with 3 packages, starting from $30 to all the way up to 300 monthly, with the most popular one being the Plus package at $80/month. 
However, for Standard users, BigCommerce sets a limit on the annual sales at $50,000/year. If you exceed this limit, you'll automatically upgrade to the Plus plan.
Pros ? 
Payment Gateway:

unlike Shopify, BigCommerce does not charge its users any extra fees even when they use another Payment Gateway

Sophisticated Product Catalog:

the variants for each product of BigCommerce is 600, 6 times higher than that of Shopify 

Beginner-friendly UI:

If you are a newbie, BigCommerce might work out for you with its drag and drop editor and tractable dashboard

SEO capabilities:

more extensive than Shopify, allows users to fully customize their URLs
Cons ? 
Limited free themes:

there are only 5 free themes available. 

Limited annual sales:

you have an annual limit of sales of $50K, $180K, and $400K for Standard, Plus, and Pro plan respectively. If you exceed the cap of your current plan, you'll be auto-upgraded to the more expensive plan
Shopify Alternative #2: WooCommerce
Best Suits: businesses that are well-attuned to WordPress who want to e-Commercialize their site with plug-ins & add-ons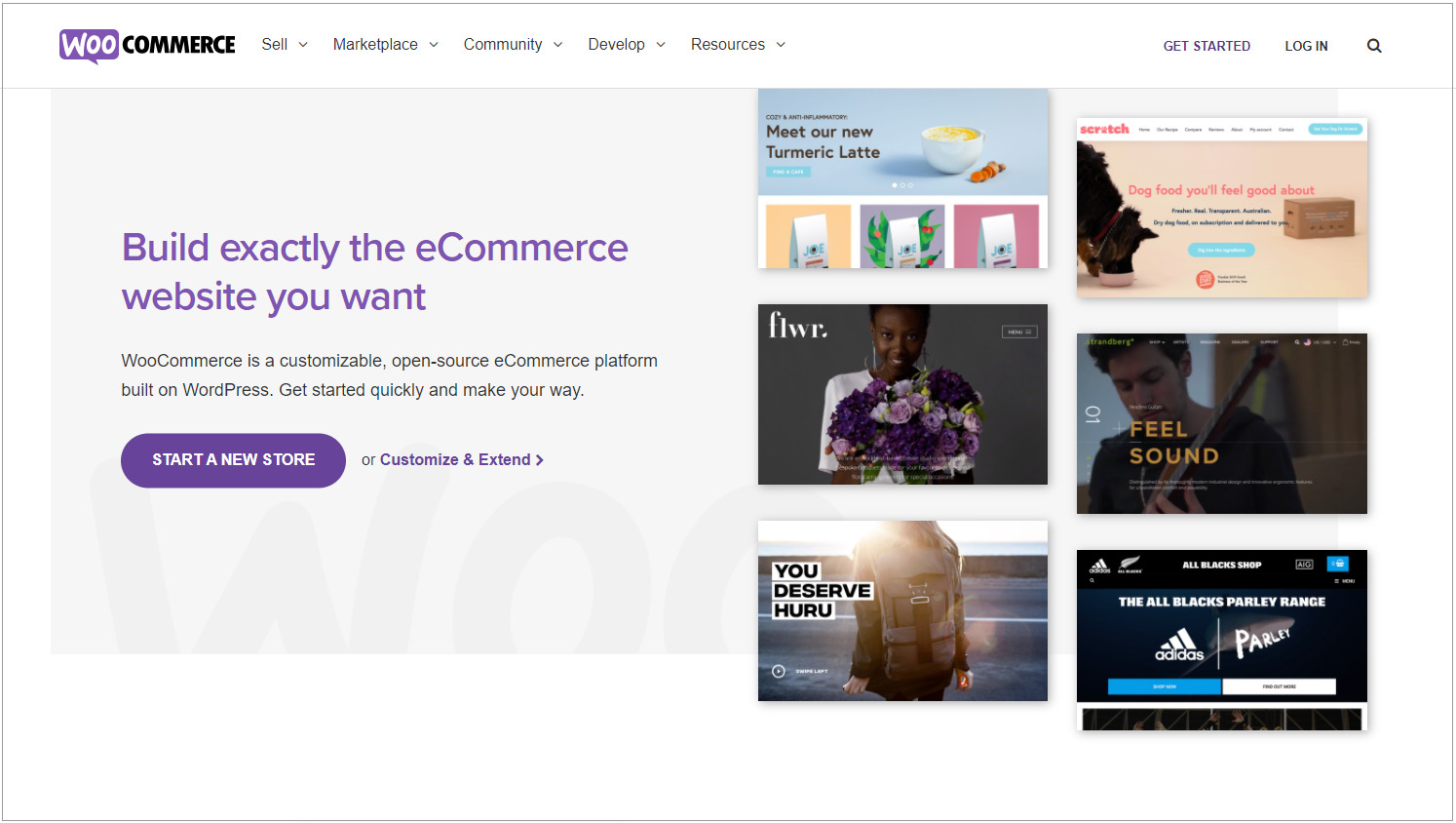 WooCommerce is an eCommerce plug-in for WordPress websites. At the present, it is one of the best alternatives for Shopify with over 1 million current users. 
Though it should be noted that WooCommerce works differently from BigCommerce and Shopify. It is an open source for WordPress sites. That means you get WooCommerce like a WordPress plug-in to turn your blog into an online store. 
And one of the perks you might enjoy while using WooCommerce is that you can add code, custom HTML, and CSS to touch up your website whatever you want to. Plus, you also have numerous extensions and add-ons to level up your WooCommerce store. 
Pricing
As mentioned, it's noticeable that while the WooCommerce plugin is free, you'll still need to pay for hosting, an SSL certificate, and a domain. 
Hosting varies in price, but it can end up costing around $30 per month, which is equivalent to the Shopify Standard plan that includes hosting. 
To conclude, WooCommerce might not save you much money; however, if you're familiar with WordPress, the plug-in could be a savage tool to optimize your website.
Pros ? 
Various payment gateways

: WooCommerce partners up with PayPal, Stripe, Square, WooCommerce Payments, and others, so you're not limited when it comes to payment gateways. 

Powerful customization:

since WooCommerce is an open-source platform, you can have complete control over your eCommerce store

Free to install:

WooCommerce doesn't cost you anything to use with any WordPress site

Various extensions

: you have access to a wide range of free to paid extensions
Cons ? 
Added costs:

though WooCommerce doesn't charge a monthly fee, you have to cash out for loads of stuff (Plugins, SSL certificates, hosting, domains, security). Stay alert when using WooCommerce if you're on a budget

Technical skills:

though WooCommerce empowers you to customize your storefront from A to Z, it's really tough work for most merchants 

Loading speed:

when you add too many plug-ins to your site, it will lower the loading speed performance
Shopify Alternative #3: Volusion
Best Suits: eCommerce SMEs seeking low transaction fees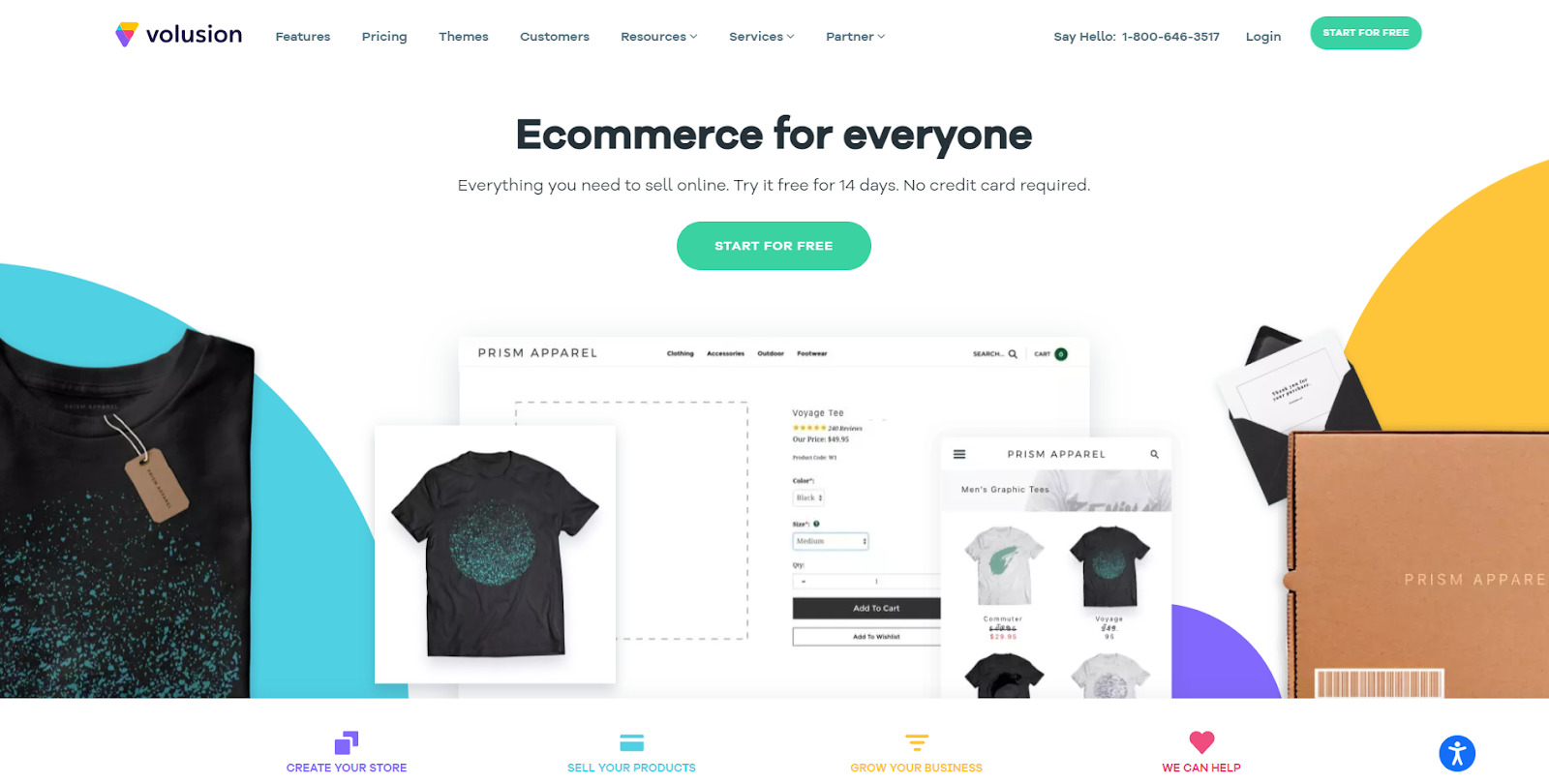 Perhaps you might not know this, Volusion was launched in 1999 and is one of the first platforms that empowered online business. 
Similar to BigCommerce, Volusion doesn't charge merchants additional fees for not using its payment gateway. In addition, when you choose the business plan at $299/month, you will also have Amazon and eBay integration. 
Pricing

See the GMV Per Year? This stands for Gross Merchandise Value is one of the factors Volusion uses to decide its pricing plans. For further explanation, Volusion puts annual sale limits on each plan so if you make more than $100k per year then you have to pay for the Business plan at nearly $300 per month.
Besides the GMV metric and the features, Volusion limits the products of each plan as well. You can only add unlimited products to your store only when you pay $299 per month to use the Business Plan. 
Pros ? 
Payment gateway:

Don't worry, the platform doesn't charge you additional transactions fee as Shopify does.

Ease of use:

Volusion is easy to use. The platform allows users to customize their website without sweating thanks to its drag-and-drop builder and clean interface

Many great sales features

: Volusion allows you to add product videos on your product detail page. You could also add 'suggested items' section without relying on apps
Cons ? 
Apps:

compared to over 6000 apps on the Shopify App Store, which means you don't have so many options to choose from

Free themes:

you'll have access to 11 free themes, but these free themes are not well-responsive like those of Shopify

Limited products

: with $29/month, you can only add 100 products while Shopify allows merchants to add unlimited products with the same amount of money

Blog

: with Shopify, you'll have basic blogging features. But with Volusion, you have nothing to do with blogs
Shopify Alternative #4: Squarespace
Best Suits: small brands that need a stunning website to accentuate their products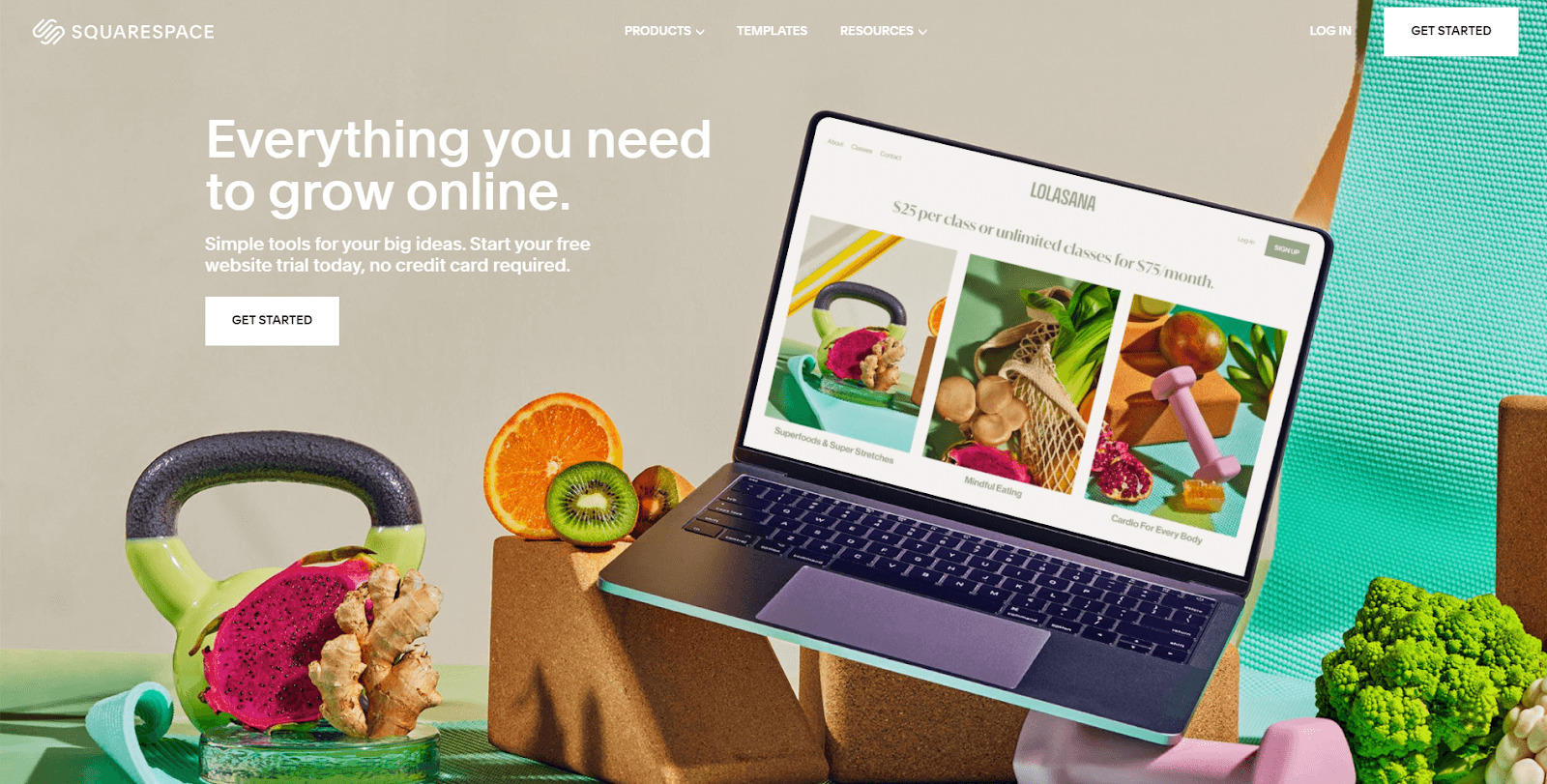 Squarespace is a web-builder platform that allows users to start a blog or run a business. What makes Squarespace one of the top Shopify alternatives is its gorgeous web designs. In particular, it offers a powerful website builder and a wide variety of stunning themes. 
If you've been searching for an eCommerce web builder that lets you sell unlimited products online, Squarespace is perhaps the answer. 
Although Squarespace doesn't charge additional fees, its payment processors are confined to only PayPal, Stripe and Apple Pay only.
Pricing

In comparison to Shopify, Squarespace has more various packages, which range from $19 to $65 per month. Additionally, users can choose to save more costs by purchasing annually. However, you can only unlock full eCommerce features with the Advanced Commerce plan at $65/month/ 
Although there is a personal plan which only costs you $19 per month, note that this plan comes up like a blogging site, not an eCommerce store. 
Pros ? 
Beautiful themes:

regarding visuals, it's not exaggerating to say that Squarespace is second-to-none. Squarespace provides its users with a wide range of stunning themes and designs that work for businesses of any industries

Ease of use:

just like Shopify and BigCommerce, Squarespace is an appropriate choice for those who want to run a business without much coding experience

Free domain name:

if you purchase for the web builder's annual package, then you don't have to worry about the cost of a domain name

SEO:

with Squarespace, you can edit page titles, meta descriptions, make custom URLs, and they all include XML sitemaps and valid XHTML code

 
Cons ? 
Third-party limitation:

one of its biggest disadvantages is that Squarespace does not have a lot of integration tools for those who want to fully optimize their eCommerce sites 

Limited payment:

Stripe has been integrated with Squarespace as the main payment solution. And you also have one more option to go with either PayPal or Apple Pay

Limited marketing features:

Squarespace's marketing features are quite humble compared to Shopify as it only has Google AdWords, MailChimp, share buttons, and Amazon affiliate tracking
Shopify Alternative #5: Wix
Best Suits: those who are new in the field but want to fully optimize their sites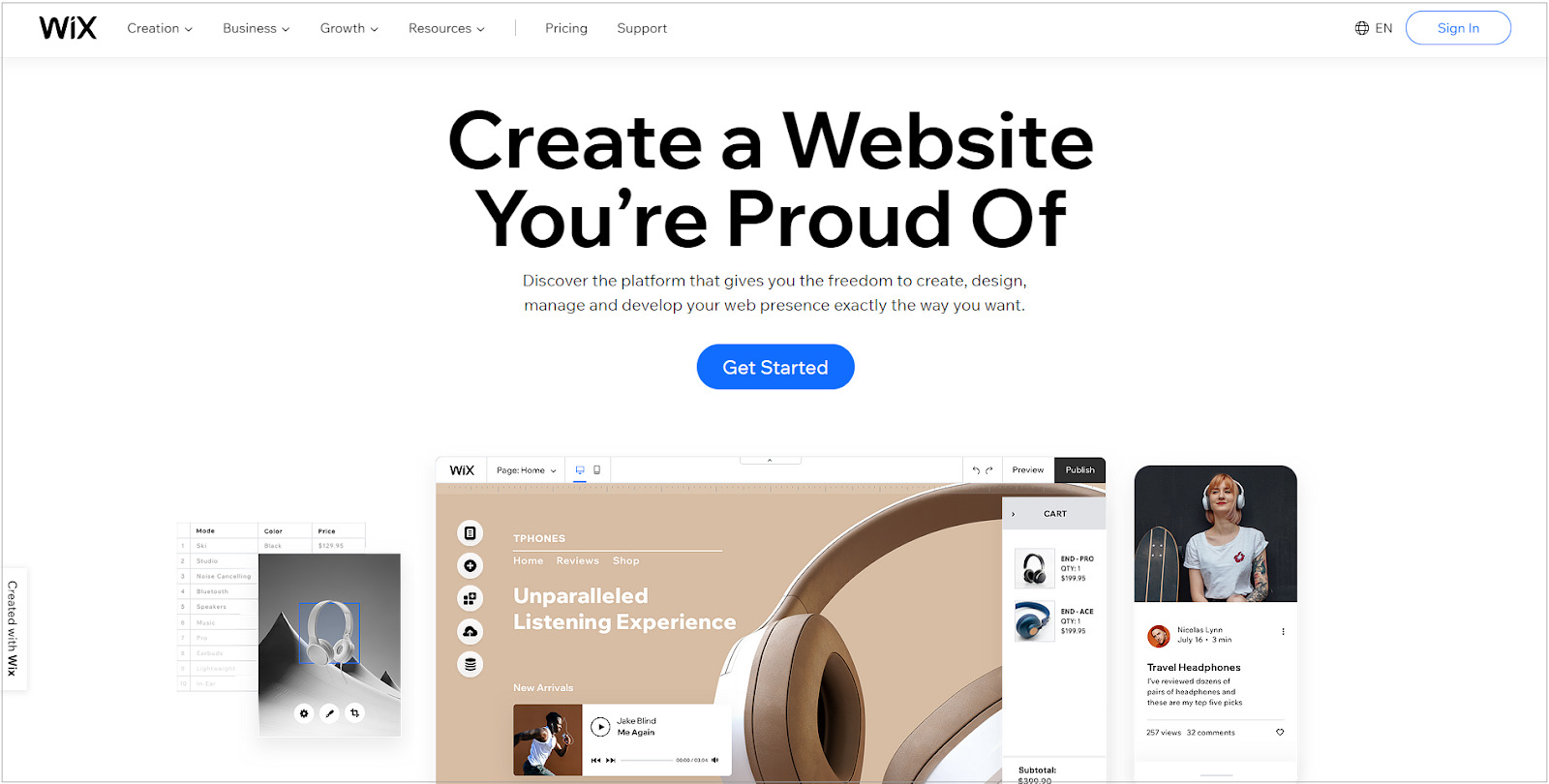 Wix was established in 2006. Just like Volusion, Wix is most suitable for small businesses. The web development company is one of the direct Shopify alternatives for its affordable pricing plans, ease of use, and many beautiful free templates.
Moreover, Wix also offers highly customizable theme options, and a sleek editor makes it a go-to solution for newbies who want to get complete control over their website. However, Wix's app store only features 280 apps, which is much more limited compared to Shopify.
Pricing

Wix pricing plans are categorized into 2 groups – the blogging website and the eCommerce ones. Since this blog is about Shopify alternatives, we're going to look at the latter only.
As of writing this article, it is so clear that Wix's 3 packages are significantly cheaper than Shopify's packages. The VIP package only costs you a mere $35 monthly. If your business is rather small and you want to stay on a tight budget, give Wix a try then. 
However, Wix poses limits on storage space with only 20GB of images, video, etc. for the business basic. Plus, you have to upgrade to Business Unlimited Plan in order to sell products on marketplaces such as Amazon or eBay. 
Pros ? 
Template design and customizability:

out of 800 templates, Wix offers 114 free eCommerce-oriented templates, which totally beats Shopify on the number of free templates. In addition, Wix allows merchants to drag and drop anything anywhere, which may be a plus for those who don't want to put much effort into customizing their store

Marketing features:

Wix Ascend allows users to manage everything in one place which is convenient for those merchants who don't want to rely too much on third-party apps. 

SEO:

Wix's SEO tool is strong. It recommends you SEO phrases or words so that you can include them in your product title, description, etc. to improve your SEO performance

Business tools:

one of Wix's highlighted features is that it offers specific solutions for specific types of business. Plus, if you choose to pay for Premium Business package, you'll receive a custom domain, Google Analytics integration, and many extra web tools
Cons ? 
Product and inventory management:

though Wix does a good job at inventory management, Shopify is superior. With Wix, you might need apps to help with inventory stock management, visitors analytics, and navigating your way around. 

Reports:

to get in-depth reports with Wix, you have to cash out for the highest plan

Payment gateway:

the payment options are limited to PayPal, Stripe, and Square 

eCommerce apps:

the number of apps on Wix platform is humble compared to a huge range of choices provided by Shopify
Shopify Alternative #6: Shift4Shop (previously 3Dcart)
Best Suits: businesses that want to have utter flexibility regarding payment gateways and inventory management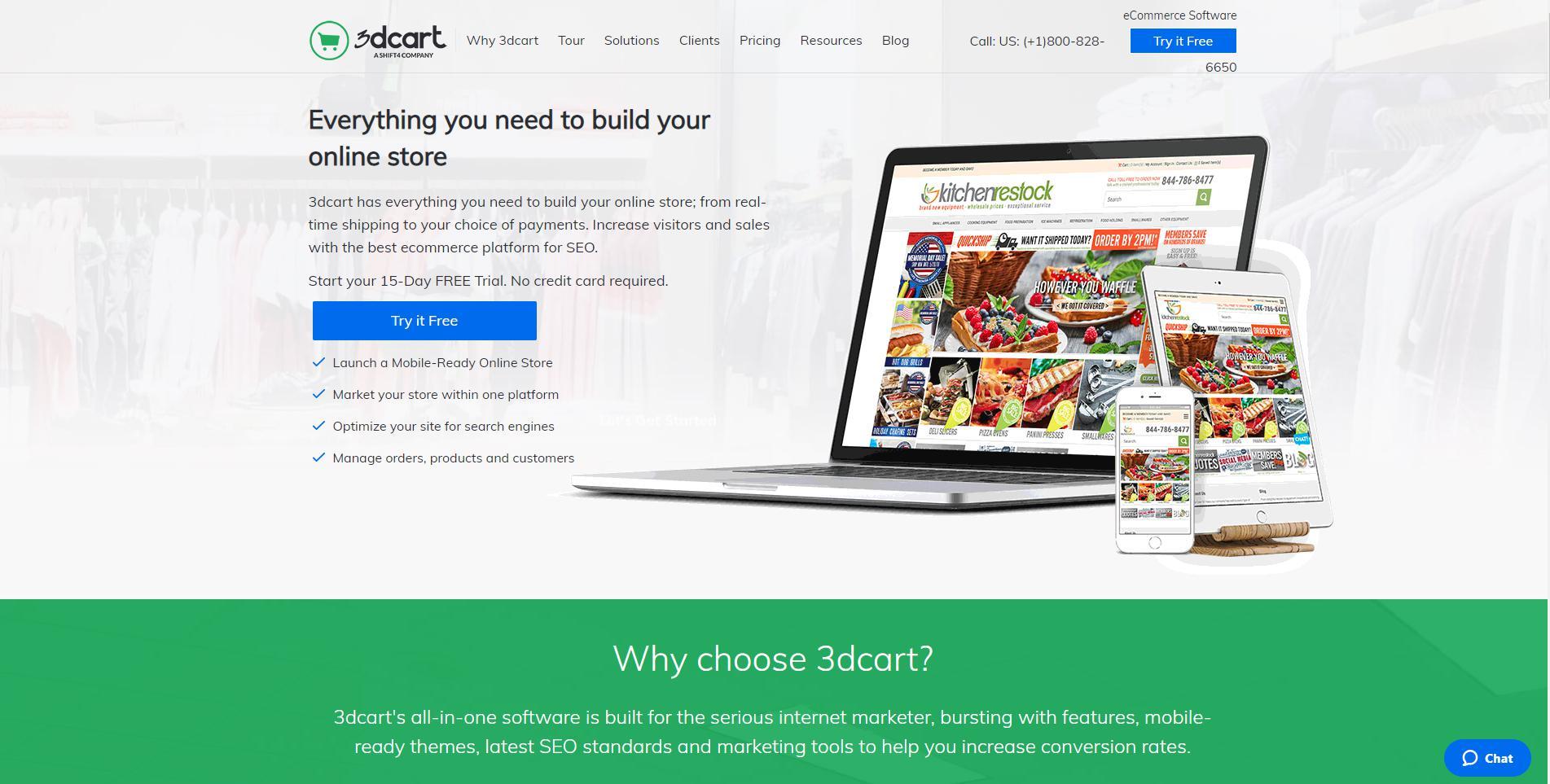 Shift4Shop is previously known as 3DCart, is one of the website builder platforms which has existed in the eCommerce market since 1997. 
This privately owned eCommerce solution empowers merchants to build up their websites and boost their sales from scratch regardless of scope or industry. This is thanks to its flexible pricing plans, lots of sales and marketing features. 
3Dcart is highly reputed as one of Shopify's fierce alternatives due to its inventory management and wide range of payment methods.
Pricing

Shift4Shop offers quite flexible pricing plans, ranging from $19/month all the way to $229/month, which will buy unlimited product storage, basic SEO features, email cart recovery, and many other eCommerce features you need to run your online store like a well-oiled machine.
Pros ? 
Payment gateway options:

when using Shop4Shift, you'll be able to choose from 100 various payment gateways as your favorite without being additionally charged.

Great built-in features:

with 200+ built-in features, you can stretch your budget and fully optimize your eCommerce store. A big plus is that all Shop4Shift plans offer single-page checkout, domain name, customer reviews, coupons, saved carts, etc.

Unlimited product listings:

Shop4Shift offers its merchants unlimited product storage options. And that makes it a strongly scalable platform for the businesses on the growth
Cons ? 
Technical skills:

the bad news is that the platform requires you to edit your themes with HTML or CSS. If you don't have any technical skills, you might be turned off by this

Negative customer support:

many users told they were not much satisfied with customer support from 3Dcart, which may be a pain point as mentioned above, it requires you to have some coding skills

Themes:

the platform's theme templates are somehow outdated so you may have to purchase paid themes if you want to optimize your store's visual more
Shopify Alternative #7: Weebly
Best Suits: small businesses that want to stay on a really tight budget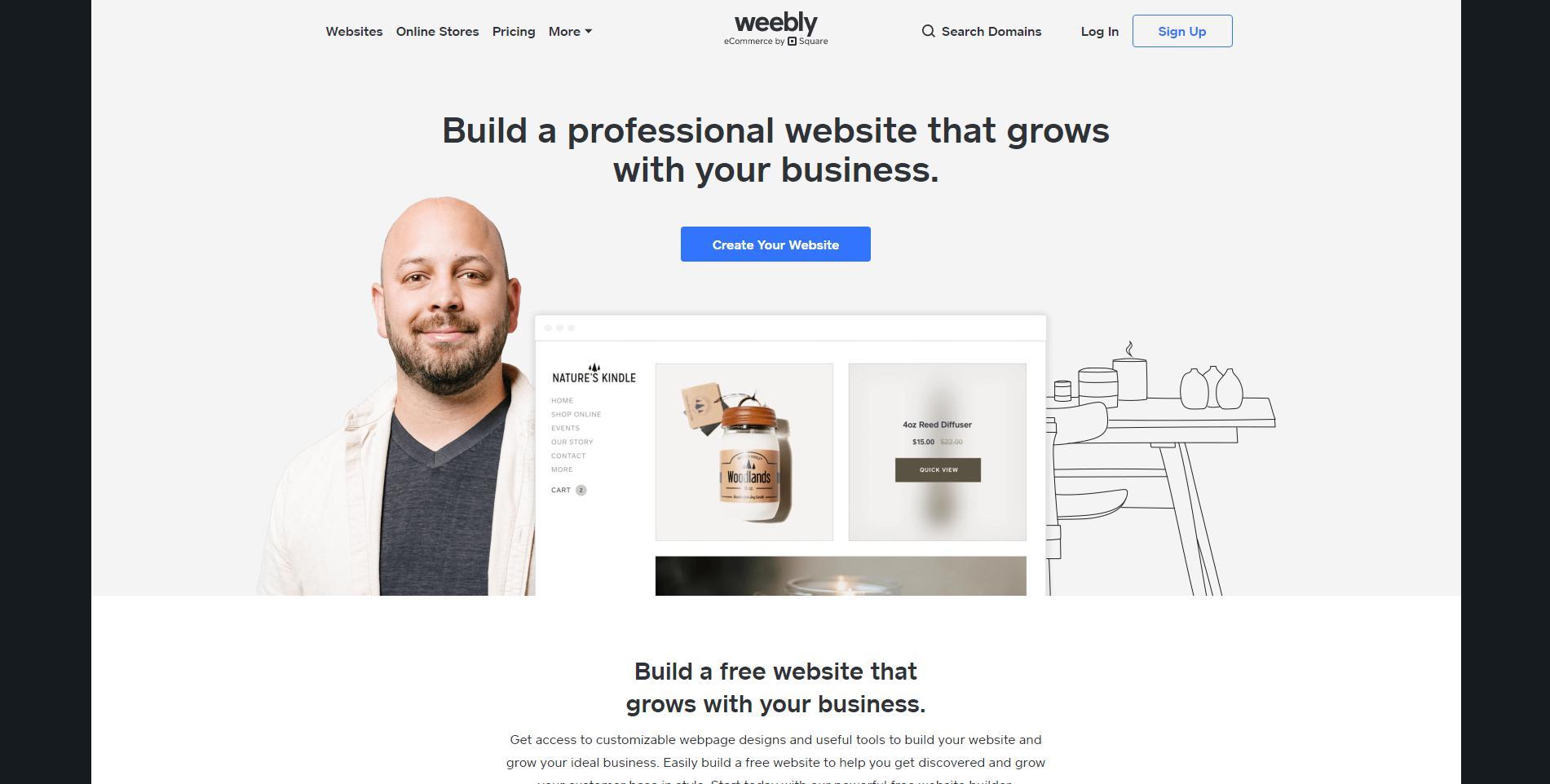 Weebly is a web hosting service founded in 2006 which is acquired by Square Inc in 2018. The platform is known as one of Shopify's less expensive alternatives for its lowest cost in the eCommerce service marketplace.
Pricing

As of writing this article, it's clear that the pricing packages of Weebly are significantly cheaper than Shopify when they only range from $12 to $38 per month. 
However, considering its limited sales tools and customization, Weebly is only appropriate for merchants who have just dipped their toes on the game. 
Pros ? 
Great ease of use:

pretty much like Shopify, Weebly is designed for beginners who have the least technical skills. The platform gives you all the tools you need to get started

Affordable pricing:

Weebly is one of the most cost-effective web hosting platforms; therefore, you can launch your business without being concerned about budget
Cons ? 
Limited eCommerce tools:

Weebly's eCommerce-oriented tools are quite restrictive compared to that of Shopify

Limited customization:

though Weebly offers users some professionally cool themes, it might be tough to make any changes to your storefront 
Shopify Alternative #8: BigCartel
Best Suits: small businesses with simple product catalogs that just jump in online sales and want to choose a wallet-friendly platform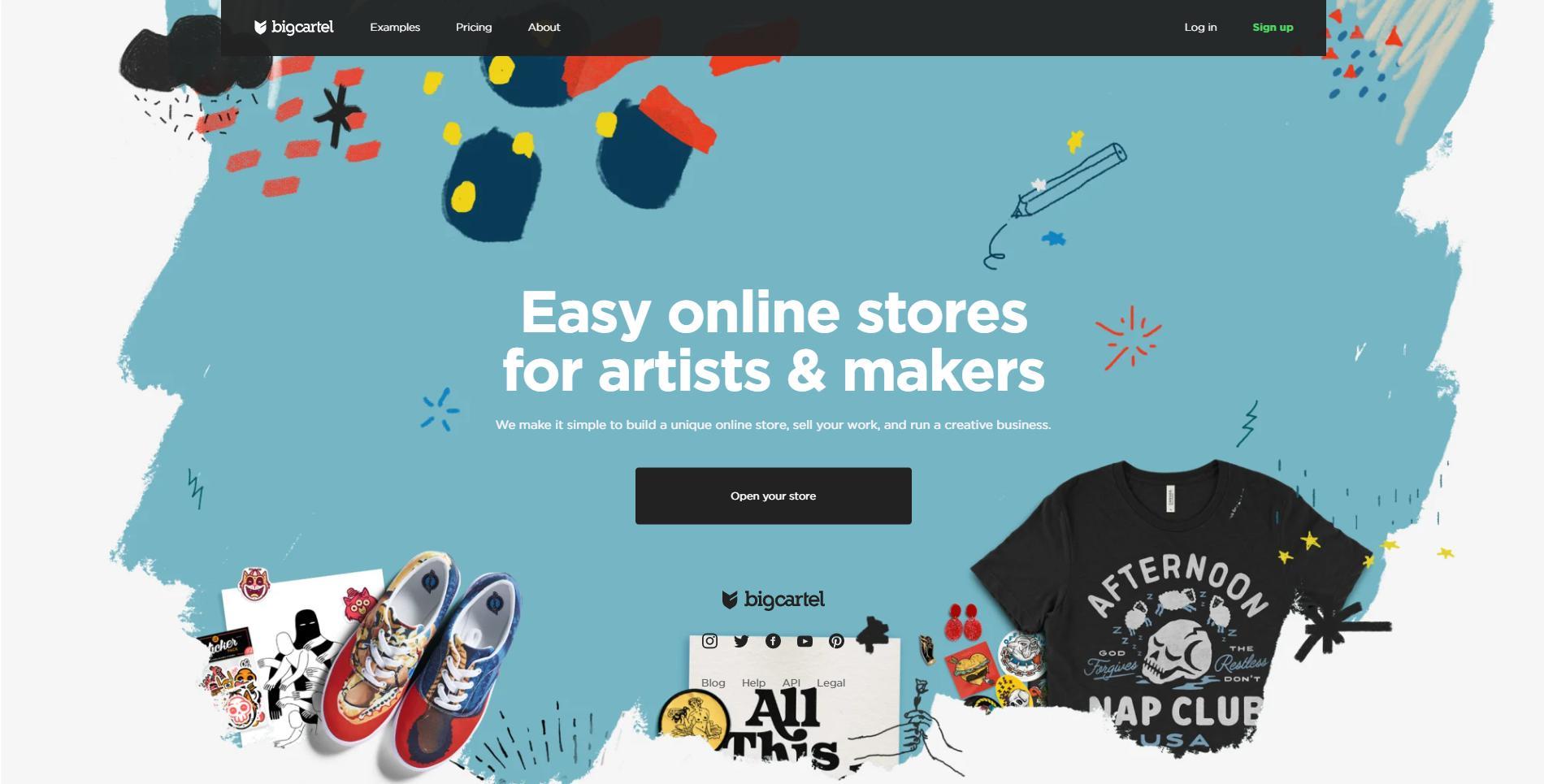 BigCartel is a fully-hosted software that empowers small brands to get entry to eCommerce without worrying about being eaten up by extra fees. 
Though BigCartel's features are more limited than Shopify, its low-cost pricing strategy makes Big Cartel a worth-trying Shopify alternative.
Pricing

It's noticeable that the highest plan of Big Cartel is equal to the basic plan of Shopify. Additionally, if you sell up to only 5 products, you can do it for totally free. Thus, Big Cartel is nothing but a perfectly cost-effective choice for small businesses with a simple product catalog.
Pros ? 
No extra transaction fees:

Big Cartel stands out as one of the eCommerce platforms that allows you to sell your products for totally free

SEO capabilities:

though Big Cartel doesn't have such a massive number of apps like Shopify, the platform supports dozens of SEO tools

Ease of use:

as Big Cartel was initially designed for artists and creators, it focuses on simplicity; therefore, its back end is beginner-friendly with a convenient back end
Cons ? 
Payment:

through Big Cartel doesn't charge you extra fees, its payment gateways are strictly confined to Stripe and PayPal

Hard to scale up:

since Big Cartel features are limited, it's unlikely to help you scale up your business scope
Final thoughts
We know you might get overwhelmed to decide on which one to try among dozens of Shopify alternatives. That's why we narrow the list down to these 8 Shopify alternatives for you. We hope it can help you find a solution that hits all the right notes- needs, skills, and budgets.