Are you losing potential sales due to cart abandonment on your WooCommerce store?
When you manage an eCommerce store, you cannot avoid cart abandonment. Customers will continue to add products to their cart but will not complete the purchase for many reasons.
There are several free and premium Woocommerce plugins available to help you recover abandoned carts. We will look at some of the best free WooCommerce abandoned cart recovery plugins in this article.
In this article, we will provide you with a list of the top 5 WooCommerce abandoned cart plugins that will allow you to win back potential customers and recover your sales.
Why do customers abandon their online shopping carts?
To begin, it is necessary to know the reasons behind customers' shopping cart abandonment. It could be because:
Extra costs such as taxes or delivery fees

Incompatible payment process

No promotion or discount for the products they want to buy

Lack of brand credibility

Refusal to accept a credit card or debit card throughout the checkout process

A difficult and time-consuming checkout procedure
Your WooCommerce sale could be at risk due to any of these factors. Using WooCommerce abandoned cart plugins designed specifically for recovering orders from abandoned shopping carts has made the process of doing so much simpler.
Percentage of sales you lose due to Cart abandonment?
It is estimated that nearly 70% of shopping carts are left unattended across all industries. This indicates that almost seven out of every ten customers will not finish their purchase, which is a ratio that many owners of online stores find troubling.
In 2022, smartphones will overtake desktop computers as the preferred method of shopping online for the very first time because of convenience, screen interaction, and fast mobile site speed. Interestingly, users on mobile devices have an abandonment rate higher, at 85.65%.
That accounts for between 70-85% of the possible sales volume. And yes, this percentage of potential sale conversions is lost on your online store's cart page.
Imagine how much money could be made if you were able to recover orders from all abandoned shopping carts.
List of the 5 best WooCommerce abandoned cart plugins you should use
Below here are the 5 plugins that we would suggest you use to get back your abandonment sales
1. Retainful – Free WooCommerce Abandoned Cart Plugin
With Retainful, one of the best WooCommerce abandoned cart plugins by email marketing automation, you are able to send emails in an automated fashion and generate sales on autopilot. 
Besides, "Cart recovery" is one of the many features that come standard with Retainful. This tool allows you to retrieve any abandoned shopping carts and easily turn them into cash.
You can create cart recovery campaigns instantly by utilizing the pre-built automated templates and send a series of recovery emails to customers at optimal times to remind them of the items they had in their carts but did not purchase. 
These emails will be sent out by Retainful on their own at predetermined intervals until the customer returns to the store and retrieves their basket.
Customers will automatically receive three emails as part of your campaign if you use customer journey builder; however, you still have the option of adding any number of WooCommerce abandoned cart reminder emails you think appropriate.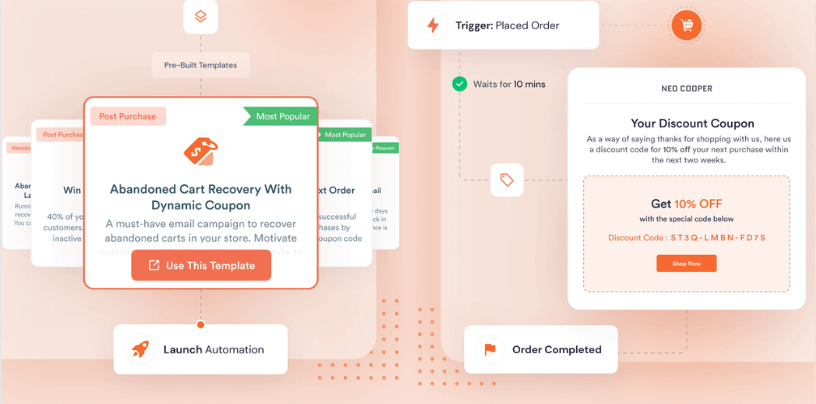 Sometimes a customer might need a little push. To get customers to come back to their carts, adding dynamic coupon codes to recovery emails is also supported with this plugin. A little discount will increase the rate of unfinished cart recovery more than just reminding you about it.
Also, Retainful has a built-in drag-and-drop email editor that lets you change everything about the emails you send to people who have abandoned their carts. 
You can change the subject lines, the content of the email, add your store's logo, images of products, and more. Personalization is possible with shortcodes, which can get more people to open your emails.
Overall, the campaign will run on its own, allowing you to focus on your core business. With the user-friendly interface, Retainful can help you rapidly reduce cart abandonment and increase customer engagement.
The plugin has both free and premium versions. The plugin's premium version costs $19 per month.
2. WooCommerce Recover Abandoned cart
WooCommerce recover abandoned cart is an extension for WooCommerce that makes it easy to get back carts that have been left behind. 
The plugin works well to keep track of both registered and guest users, which allows you to win back both types of users.
This plugin sends cart recovery emails to customers to let them know about carts that have been left unattended. It also enables your customers to reclaim an abandoned cart in a single click.
This extension will send emails about shopping carts that have been left behind with coupons. This encourages customers to buy right away so they can get a discount.
This Woocommerce abandoned cart plugin can send multiple emails with different content and coupons that can help your WooCommerce store make more sales. 
WooCommerce Recover Abandoned Cart can easily bring back lost sales and help your online business make more money. You can buy The WooCommerce Recover Abandoned Cart plugin for $49 from CodeCanyon.
3. Hubspot for WooCommerce
With Hubspot's free integration, users of WooCommerce can automatically sync their orders and products with the Hubspot CRM. This WooCommerce plugin automates abandoned cart sequences, active lists, workflows, and other things. 
By turning on the plugin's "abandoned cart" settings, you can find out which of your contacts have left items in their carts and see the abandoned products in your Hubspot account.
With Hubspot smart list segmentation, the plugin can divide WooCommerce contacts into groups and organize them. Based on the criteria you set up, the plugin automatically updates the smart list (groups and properties) in your Hubspot account. 
This WooCommerce abandoned cart plugin can make a smart list, offer easy navigation with a central screen, allow automation, and send customized marketing emails that help get more sales.
This lite version of the WooCommerce plugin for abandoned carts is free to use. Enjoy free integration that works well with lots of customer data.
4. Cartboss
CartBoss is a way to automatically send text messages to customers whose shopping carts were left behind. 
And this plugin is just amazing! The messages are already ready to go and translated into all the languages that you can send them to customers immediately. 
Even better, CartBoss automatically figures out the language of the recipient, so you don't have to change anything else. Everything works right out of the box!
By automatically filling in the customer's information on the checkout form and adding special offers sent to customers to their cart, this powerful SMS cart recovery service works perfectly with your WooCommerce checkout and makes it easy to finish checkout in a matter of seconds.
CartBoss has a full set of tools, such as customizable messages, different types of special offers that work right out of the box, link shortening and UTM tracking, and so much more! 
You can also send as many messages as you want, so you can keep in touch with as many customers as you need.
5. Abandoned cart reports for WooCommerce
With a simple function, Abandoned cart reports for WooCommerce plugin shows you how often people leave their shopping carts in your store and helps in understanding your customer's behavior. So, you can send follow-up emails to try to get people to come back to their carts. 
This Woocomerce abandoned cart plugin keeps track of everything that happens in the cart from the moment a customer adds an item to the cart.
It will also give the user's email address if they have already signed up. If the user's email address is not available, the plugin will track the user's IP address.
When a product is added to a cart and there is no activity for 15 minutes, the cart is considered abandoned. The cart will then be saved as "Recovered" if the customer comes back and finishes the purchase. 
This will give you a clear idea of what to do when people leave items in their shopping carts in your WooCommerce store.
In short
No one benefits from keeping the abandoned carts. Try to recover the carts that were left behind by bringing your customers back in an efficient way. 
There are many best free WooCommerce abandoned cart plugins that could help you keep customers and make more money at your store.
All of the above plugins were made to help you get back WooCommerce abandoned carts that were left behind. Each plugin has its own unique features and extra functions that may help you keep your growth going in the right direction. 
Choose the right plugin and you'll be able to bring your customers back, which will help you keep your growth steady.