WordPress sellers often wonder when they have to choose between the eCommerce plugins offered on this platform. In particular, two popular options, Cart66 Cloud and WooCommerce, often make it difficult for merchants to compare.
If you are also wondering between these 2 options, do not skip our Cart66 vs WooCommerce comparison below.
Cart66 vs WooCommerce: A brief introduction
Both e-commerce plugins, especially WooCommerce, are probably already familiar to professional WordPress users, developers, and merchants who use this platform.
If you are new to WordPress, you may hear about both or one of these plugins for the first time. But don't worry, before officially comparing Cart66 vs WooCommerce, we have prepared an introduction about them for everyone.
1. Cart66 Cloud 
Cart66 Cloud is regarded as a smart WordPress plugin platform for anyone. Its interface becomes simpler, and its operation becomes smoother and lighter, while still incorporating all of the important functions of an online sales website. 
As a result, this plugin generates a lot of favorable feedback from users and holds a respectable position in the WordPress plugin market. It is a trusted and widely used solution by small and medium enterprises (SMEs). 
Cart66 has a free version with limited features and 2 paid versions, Pro and Premium, priced from $69-89 per year.
2. WooCommerce
It's no coincidence that WooCommerce is renowned as the "King of WordPress eCommerce Plugins." 
It is one of the best WordPress plugins for creating and expanding an online store. Users can use WooCommerce to build a store for their blog with thousands of products.
Additionally, a big community of independent developers has created an almost limitless marketplace of WooCommerce extensions to suit any requirement you may have for your business. 
Using WooCommerce is cost-free. However, you require a domain name ($12/year) and hosting ($5–$25/month). A theme for WooCommerce can cost around $59, with each plugin and extension costing $25 and developer expenses ranging from $20 to $150 per hour. 
Cart66 vs WooCommerce: The main differences
All WooCommerce and Cart66 appear identical at first glance. They are also eCommerce plugins for WordPress. You can sell physical goods, digital goods, memberships, and subscriptions while using both of them.
Here are some key differences you can consider when deciding between Cart66 and WooCommerce. 
1. Cart66 vs WooCommerce, Plugins vs Platform
The most important distinction between Cart66 and WooCommerce is that Cart66 is a complete, integrated eCommerce system, while WooCommerce is composed of a vast network of plugins.
There is no market for third-party extensions on the Cart66 platform. Instead, Cart66's developers created each functionality which is completely merged. Everything is integrated at no additional cost, supported directly by Cart66, and offered as a package.
Meanwhile, WooCommerce supports a wide range of plugins from developers. When you create a WooCommerce website, you install the free WooCommerce core plugin. Then you look for other paid extensions to enhance your site's features.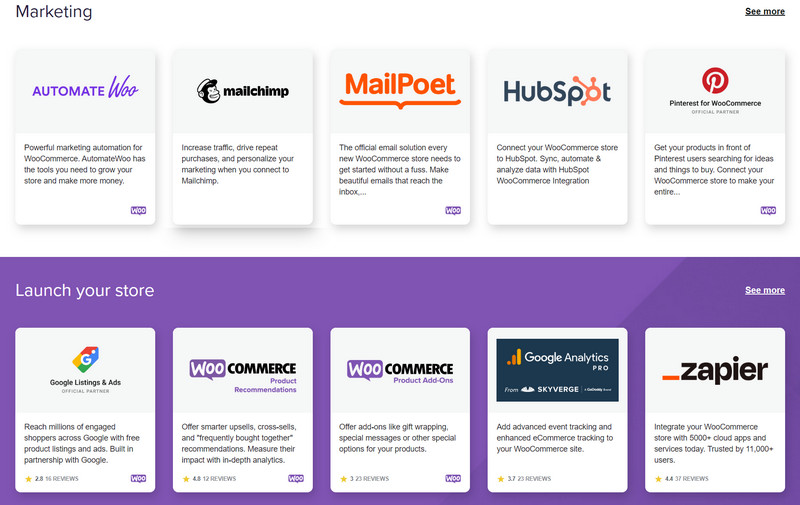 There is a huge developer community that has built a marketplace of WooCommerce extensions to meet every demand you have for your store.
2. E-commerce themes
An eCommerce theme is a pre-built online store design. Businesses install these themes on their websites to provide the best user experience for customers. 
You can choose the ideal e-commerce solution for you based on the size of your business and your usage requirements.
In terms of eCommerce themes, WooCommerce and Cart66 have significant differences. The number of eCommerce themes for WooCommerce is enormous. However, the number of themes for Cart66 is negligible.
Cart66 is straightforward, user-friendly, and makes use of the tools WordPress originally offered. Therefore, it's suitable for you to customize your store if you run a small business with a moderate number of products.
Instead of recreating the wheel with pointless plugins and theme features that duplicate what is already available in WordPress, Cart66 takes advantage of the features that are already available on that platform.
Cart66 vs WooCommerce: What to consider?
The above list highlights some key distinctions between WooCommerce and Cart6 Cloud. What is the better option for your business between the two?
We've outlined three things to keep in mind while deciding between these two e-commerce platforms in order to help you make your decision.
1. Features
Which platform offers the characteristics you require? If your website has any specific requirements, you can definitely discover what you need from the WooCommerce extensions store.
There is no doubt that you can fit more raw functionality into a WooCommerce site than any other eCommerce platform because of the extensive library of available extensions.
If you're looking for an easy and affordable solution for your business, Cart66 will be your first pick because it has many built-in features and a support staff that is constantly available. 
2. Size of the business
When creating a huge store with hundreds or thousands of products, WooCommerce will make it simple to create many product pages. Additionally, it offers a variety of gorgeous eCommerce themes to help you arrange all your products professionally.
On the other hand, Cart66 is for you if you have a website with a lot of information and want to be able to position product forms and add to cart buttons exactly where you want them, possibly in many places on the same page.
Customization options
If you prefer to set up everything on your own, WooCommerce provides a fantastic extension shop stocked with plugins that will enable you to create practically anything you can imagine. 
With the lack of integrated services and an add-on marketplace from a third party, Cart66 is less extendable. However, Cart66 is packed with tons of remarkable features and might provide you with all you require in one place.
Final Thoughts
Cart66 vs WooCommerce: Which is the best option for your store? The answer depends on various factors, including the products you offer, your spending limit, the size of your store, the orientation your business is taking, etc.
Each platform has advantages and disadvantages of its own. Therefore, you must carefully consider your options before choosing.