Not all TikTok videos become viral and reach a large number of viewers; there is a trick to it.
To make your videos stand out amongst tons of other videos on TikTok, it's essential to come up with good TikTok ideas.
We've compiled a list of 18 creative TikTok Ideas to help you attract more followers and market your company if you're looking for amusing and fascinating ideas.
TikTok Idea #01. Educate Your Audience 
Did you know that you can use your niche knowledge/expertise to assist a large number of individuals on TikTok?
Delivering helpful knowledge or information to your viewers by releasing informative videos such as how-to videos is one of our suggested TikTok ideas for you.
This form of content is effective since it can be used for any business or specialty and allows you to convey your knowledge on a certain subject.
You can find these TikTok ideas through hashtags like #learnontiktok. Check out how to create aesthetic home screens on ios14 with @katamogz now.
Sharing your interests is an effective way to personalize your brand, vary your content, and entice viewers to return for more.
Do you have a new show that you can't stop watching? Have you ever read a business book that sparked a lot of ideas in you? Make sure to turn those TikTok ideas into your next video!
Afraid of talking to the camera? Don't worry, you can also use text, images, or short films to demonstrate your ideas.
TikTok Idea #03. Tell a Story
People enjoy hearing other people's stories because they may feel sympathy and engagement via them.
So why not take advantage of these TikTok ideas by creating videos in which you share your story with your audience and gain even more followers?
Aside from filming yourself narrating your stories, you can also choose to share them while showing your audience how to prepare specific dishes or do crafts.
TikTok Idea #04. Create a Duet/Stitch
TikTok's Duet and Stitch features enable you to collaborate with other users.
While the Duet effect splits the screen, Stitch lets you clip and edit a recording in response to other TikTok videos.
You may utilize these TikTok ideas to share your thoughts or opinions on a topic with others who are interested in it, helping you to gain more followers.
TikTok Idea #05. Live Videos
TikTok allows you to broadcast live videos to your audience. TikTok live videos have a lot of potentials, which you should make use of.
You can strive to add live videos into your content mix since they allow you to interact with your audience in real-time.
These TikTok ideas will also assist you in reaching a larger prospective audience if the topics in your live videos fascinate them.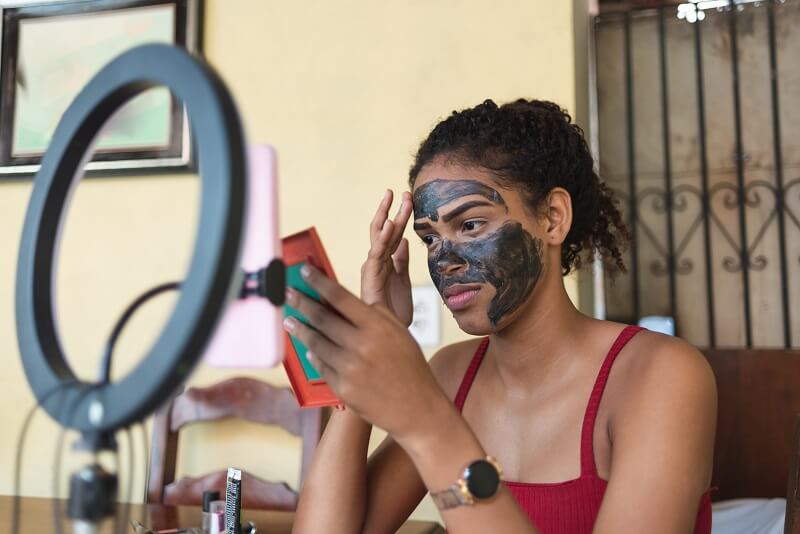 Making videos on trending subjects is another simple technique to gain more views on your TikTok videos. 
TikTok allows you to search for trendy hashtags and make a video utilizing those popular TikTok ideas.
This method works since you are mimicking already popular trends and creating videos that are likely to be appreciated.
As making DIY has become a trend recently and people are addicted to watching DIY, using this trending hashtag is one of the greatest TikTok ideas.
If you're looking for hashtags to use in your TikTok videos, don't forget to check out our lists of the best TikTok hashtags to grow your views and reach.
TikTok Idea #07. Join Social Media Challenges
Most people know about viral social media challenges such as the Ice Bucket Challenge. These challenges have a habit of spreading across platforms and being viral.
If acquiring more followers is your primary aim, then you should make use of our TikTok ideas by taking part in trending challenges and sharing such videos on your TikTok.
Furthermore, if you want to take it a step further, you may create your own challenge with a branded hashtag and expect it to become viral.
Take the #zoomchallenge and discover how Jessie promotes her new song through the challenge she created.
TikTok Idea #08. Post Cute Animal Videos
Who doesn't love watching adorable animals on TikTok?
That's because they're adorable, funny, and, most importantly, entertaining.
So, why not utilize these TikTok ideas and start posting your lovely animal videos right away?
TikTok Idea #09. Post Food/Cooking Videos
If you enjoy cooking and do it frequently at home, you may come up with some TikTok ideas about cooking and turn them into videos. 
It is difficult to fit a full cooking film into a few seconds, but it is certainly doable.
As with tutorials, avoid adding commentary and keep your videos fast-paced and self-explanatory, or retain the important steps in your recipe.
Don't worry if you can't cook; you can still post videos of yourself eating or reviewing your meals.
TikTok Idea #10. Show Your Daily Routine 
Unlike other TikTok ideas, this one is as simple and easy as its name.
Posting everyday routine videos on your TikTok account provides viewers insight into you and your brand, whether you are an influencer or a business owner.
It may be anything as basic as your morning coffee habit or how you manage your to-do list — anything that offers a "behind-the-scenes" atmosphere can be an engagement enhancer.
Furthermore, you may record yourself performing a task at your business in order to market and offer your products or services to a large pool of viewers on TikTok.
TikTok Ideas Conclusion
Developing good TikTok ideas is essential since it will determine whether or not your TikTok videos will go viral and earn more views.
We hope that the ideas we have suggested above will be helpful for you in creating TikTok videos and advertising your brand.
Don't forget to forward this blog to anyone you know who is seeking some TikTok ideas.