You can sell your products to online shoppers under the one-time payment or subscription model. If you're more interested in the latter or just simply want to empower your customers to buy their favorite items under subscriptions, you need to add a stunning Shopify subscription box on your product pages
With the Shopify subscription box, you can sell your products to the target audience in the long term. Besides, you can increase the possibility of building customers' trust and loyalty and turn newcomers into permanent clients.
This blog will now answer all inquiries about the Shopify subscription box. It includes how we define the Shopify subscription box and helps you start your e-commerce business right away.
The definition of a Shopify subscription box business
In general, subscription e-commerce businesses give online customers a quick, cost-effective, and personalized way to make repeat purchases of the things they want. 
Additionally, this business model can convert one-time customers into recurring (and frequently lifelong) clients. 
Furthermore, the Shopify subscription box business guarantees online sellers consistent monthly recurring revenue (MRR) flowing in. As a result, entrepreneurs can accurately predict their future business scale and growth.
04 best Shopify app for subscription boxes
If you're looking for the best Shopify app for subscription boxes Shopify for your store, but the process of searching is too time-consuming, this part is definitely for you. 
However, these are just a few suggestions that you can think about. To get more alternatives, you can read "Best Shopify subscription apps." In this blog, we listed some of the most common and reliable apps entrepreneurs use to run their subscription businesses.
Let's start with 04 subscription apps that can help you create recurring revenue for your subscription business. They do this by consistently sending your customers the products they love on schedule and providing other top-notch customer services.
The first app in this list you can use to start your Shopify subscription box is SubBox: Subscriptions by OneCommerce.
This app has all the latest and updated features you need to rock your subscription revenues.  Since the app is seamlessly integrated with Shopify checkout, you can give your customers any subscription offers they love along with one-time purchase items. 
Plus, if you love to give your customers the best-personalized experience, with SubBox, you can give your subscribers their own Customer Portal where they gain complete control over their subscriptions.
In addition, you can increase both customer engagement and retention rates by emailing them – keeping them updated with their subscription status.
Recharge Subscriptions is listed here because it owns the customer path and designs a customized interface for it. Additionally, they also use robust APIs, adaptable templates, and enterprise-level support.
Moreover, the Recharge app guarantees to help you set up the subscription program in minutes. Then, you can connect it to your current technology and your most popular payment processors.
In terms of connection, ReCharge Subscription can streamline and simplify the subscription business for every solution with a robust set of integrations.
Most online sellers choose Recurring as it's a flexible delivery app. It will offer you discounts for subscriptions to a product. In addition, the possibility for users to make irregular or monthly payments is available as well.
Meanwhile, Recurring Order & Subscription provides customers with subscription boxes, including aspects of build-a-box and storage packages. Thus, payments are also replicated for all business types.
Recurpay Subscription is special because of its flexibility and multilingual capability. Besides, it enables quick subscription and recurring payment setups. 
With Recurpay Subscription, your clients are allowed to manage their subscriptions on their own with a customizable and multilingual customer portal to cut down on support requests.
Additionally, as Recurpay Subscription is multilingual, it's now available in several countries. Recurpay is now the subscription service of choice for thousands of retailers in India, the US, Germany, and more than 40 other nations.
Likewise, Recurpay is designed for merchants of all sizes. Hence, you may start for free. Recurpay is entirely free of charge until you generate $100 in monthly subscription revenue. 
How to create a subscription box on Shopify
Both new and established businesses can benefit from subscription business models. 
Hence, if you intend to use Shopify for subscription boxes to begin your own subscription business, we've got a simple approach for you.
However, you need to have a unique and interesting business name for your Shopify online store before going through this process. 
To know how and get some useful tips, you can read one of our blogs, "Create an Ideal Name for Your Store."
Now, get ready to start setting up your Shopify subscription box business.
1. Install your favorite Shopify subscription box app
In the previous part, we recommended the best Shopify subscription box app for subscription boxes. Therefore, you can find the one that best suits your company.
Go to Shopify App Store and choose the subscription app that best fits your store's needs and budget > Click Add app.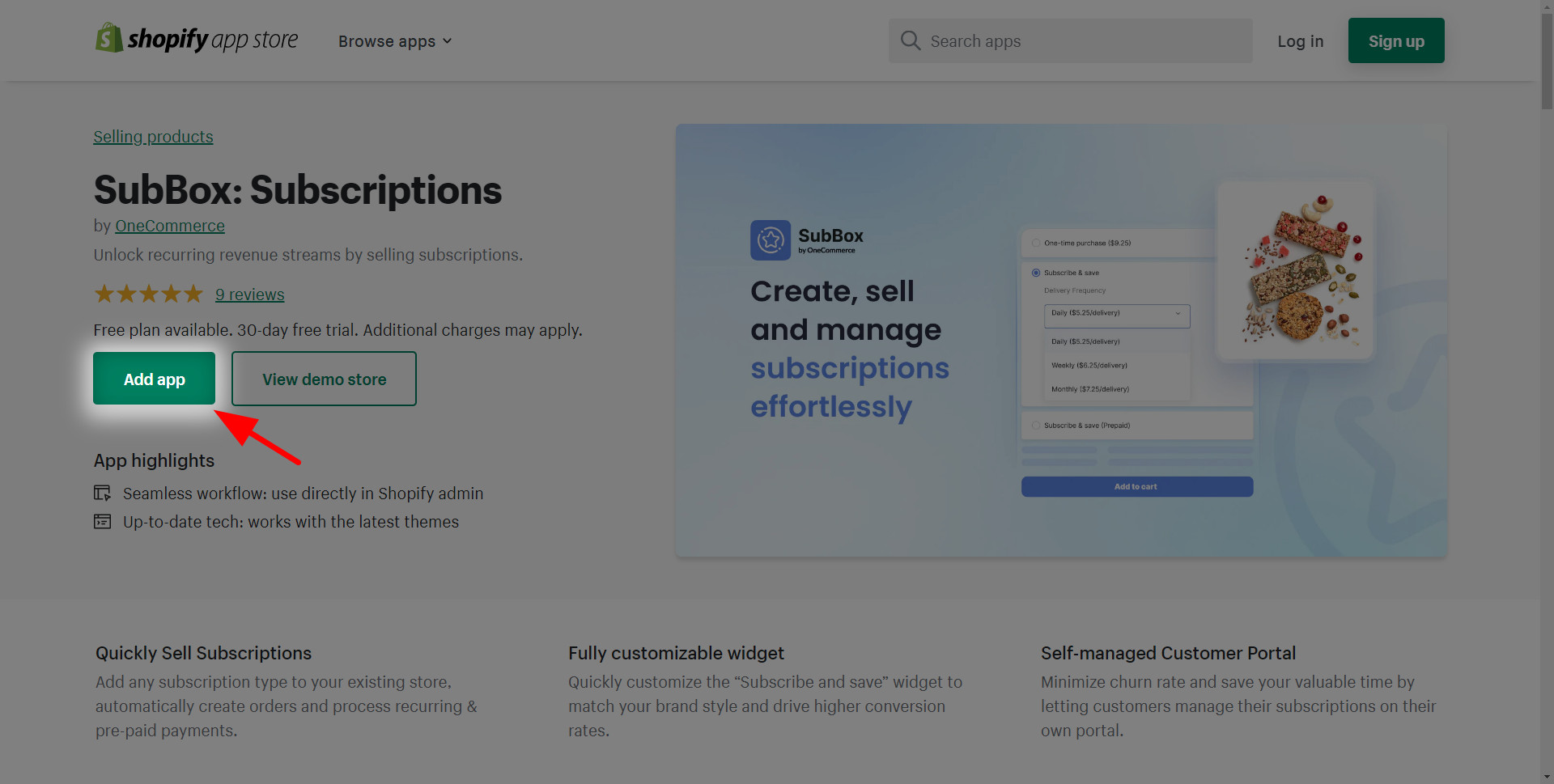 2. Set up subscription products
You can examine a product's subscription data on the product page in your Shopify admin.
If a subscription is added to a product, the details of that subscription will be displayed in the Subscriptions section of the product page.
Now, you can choose to solely allow recurring payments for your subscription products. Otherwise, you can allow both subscription and one-time payments.
You can follow the step-by-step guide below:
Choose the

Products

section.

Select the product whose subscription you want to manage

Determine how the product will be sold. If you sell the product as a subscription only, check "

Sell product as a subscription only

." Or else, leave it unchecked.
3. Set up your Shopify subscription box
First and foremost, you need to review the subscription box app's default settings after installation.
To help you complete it with ease, we made a checklist for you:
Which products will you pick for your Shopify subscription box?
How are your subscription products sold?
With a one-time subscription, you will have the choice to purchase your product either as a one-time item or as a recurring subscription
With subscription only, your product will only be made available as a recurring subscription item
What kind of discounts will subscribers get?
How do you offer your clients subscription frequency options?

You can alter the subscription frequency in days, weeks, months, or years.
4. Connect your Shopify subscription box to a payment processor
In terms of payment, third-party payment processors will manage all subscription payments. 
The payment processors also depend on the Shopify subscription app you choose. That's because each app can integrate with different processors. 
However, there are several factors that can influence your choice of payment processor. They can include your location, the payment methods you want to accept, and the checkout platform that your store is utilizing.
5. Set up your Shopify subscription box's rule
This is a significantly important step as every aspect of your subscription's operation is governed by the subscription rules you set.
Hence, the things that you can control to make sure your Shopify subscription box works well include:
The subscription goods that you want to offer customers

The frequency at which the client will be billed

Time of delivery

Discounts for subscribers

Time of payment
6. Polish your Shopify subscription page
Because customers purchasing your subscription products will subscribe to the service for a long period, they will need more time to consider before making the final decision. 
Your potential customers will need to do their research, consider their options, and compare your offerings to those of other companies. 
As a result, making your product page as thorough, detailed, and outstanding as you can is absolutely necessary.
Here are some examples that you can start with:
Create captivating product visuals

Utilize eye-catching product clips to demonstrate how it appears in use

Create a sense of urgency and satisfaction in possessing a limited item

Consider using social proof and positive reviews to increase the credibility
? With SubBox, you can choose from pre-made templates and simply customize them to your brand theme!
Grow endless recurring revenue with SubBox

Instantly enable the subscription model & boost Customer Lifetime Value to new heights! GET FREE APP
Final thoughts
In a nutshell, a Shopify subscription box brings you great benefits. It helps to simplify your business process and encourages customers to make repeat purchases with ease and enjoyment.
As a result, you can totally consider this type of e-commerce business if you want to consistently build your brand and enhance your customers' trust and loyalty.
However, you may need to know how to upgrade it to a higher level after setting up your Shopify subscription box. Therefore, you can take a look at "How to Start a Shopify Subscription Box Business."