Since it was founded in 1995, up to the present day, eBay has accommodated +20 million sellers at every corner of the globe. eBay empowers small, local businesses to reach a global audience where they can sell to anyone at any time.
But no matter whether you're a start-up that merchandises on eBay as a part-time job or a well-established company that is sold on this eCommerce platform, your eBay inventory management is surely the most important facet you should never underestimate. 
That's because eBay lets you reach an immensely broad customer base – the global audience. This means you can leverage eBay to sell to anyone at any time. But to do so, you need to ensure your product data, storage and replenishment are up-to-minute.
That's not an easy task at any cost! But we hope this complete guideline to eBay inventory management will take the burden off your shoulders. 
The importance of eBay inventory management 
Similar to Amazon, Etsy, or Shopify, inventory management indicates your business' health. It helps companies identify which and how much stock to order at what time. 
When an item is sold, a part of your inventory turns into revenue. Otherwise, this item swallows a space in your warehouse and ties up cash, inflicting costs. 
But proper inventory management isn't just about pushing slow-moving goods out of your warehouse. It should also revolve around how you can predict future demand and prepare enough stocks accordingly to avoid overselling.
Your eBay inventory management is the bloodline of your business because if you manage your eBay inventory well, you can reduce the risk of stockouts or inaccurate records. Apart from helping you round up your bottom line, here are some other perks you might reap from proper inventory management:
Saves Money

: Understanding stock trends means you see how much of and where you have something in stock so you could pull from anywhere to fulfill orders — decreasing both the costs tied up in inventory & the stocks that go unsold before it's obsolete

Improves Cash Flow

: With proper inventory management, you spend money on inventory that sells, so cash is always moving through the business

Satisfies Customers

: One element of developing loyal customers is ensuring they receive the items they want without waiting
Does eBay have inventory management?
? Quick answer: Yes.
eBay has the so-called 'Selling Manager' that functions as an inventory management tool. With this tool, you can:
Manage scheduled, active, sold, and unsold listings using custom views

View summaries of your sales, order status, and listing activity

Save time by submitting feedback in bulk using custom stored messages

Set up automation rules to automatically relist unsold items

Quickly find listings using advanced search

Revise and relist multiple listings at the same time in bulk
It should also be noted that if you opt for Premium, Anchor, and Enterprise Plan, you can have free access to 'Selling Manager Pro', which costs $15.95/month if you stick to eBay Starter and Basic Plan.
With 'Selling Manager Pro', you have these additional features below:
Manage inventory with quantity tracking

List with reusable product listing templates

Set up automatic feedback using custom stored messages

Generate sales reports

Use additional automation rules to relist unsold items
However, even Selling Manager Pro isn't enough if you currently have multiple sales channels (Shopify. Etsy, Facebook Shop, Amazon, etc.) You need to employ an eBay inventory management tool to manage your inventory across channels in one centralized hub. 
How to manage eBay inventory effectively?
To make sure that your eBay inventory management system works like a well-oiled machine, there are 3 things you need to nail
Physical inventory management

Data management

Sales management
#1. Physical inventory management 
The way you can manage your inventory at your physical warehouse is will affect directly how you can fulfill your customer's orders and prepare enough stocks to avoid overselling during perk times.
To manage your physical inventory efficiently, you need to manage well three things – your product SKUs, your warehouse locations, and periodic audits.
A stock-keeping unit (SKU) is an alphanumeric code assigned specifically to a particular product variant for inventory management and ease of tracking. 
Stock keeping units are highly important and commonly used by retail stores, warehouses, and product fulfillment centers. 
A well-structured SKU will help:
Save your staff's time by enabling them to find products quickly

Determine which of your products are the most profitable on eBay

Identify reorder points for products so you don't over or undersell on eBay

Identify inventory shrinkage
Unlike Unique Product Identifiers (UPI), SKUs are used internally. That means you have to be responsible for the SKU architecture you're showing on eBay so make sure it's logical.
For instance, if you're selling a blue medium-sized T-shirt from a manufacturer at your retail store, the architecture should look something like this: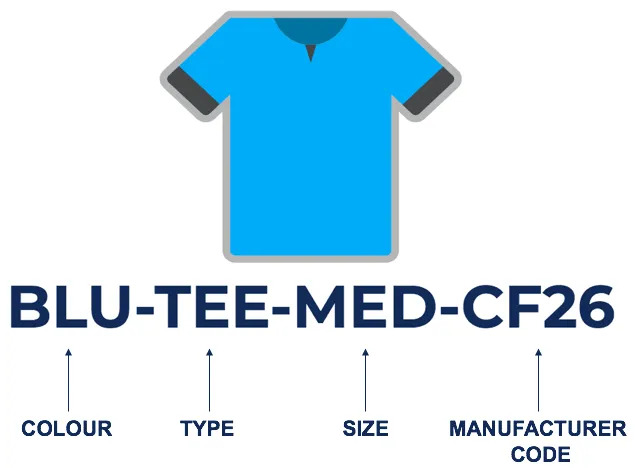 Warehouse locations are another factor you should be cautious about. If your warehouse location is far away from eBay customers, the shipping costs or waiting time may scare your customers away.
Not to mention that online shoppers these days aren't patient as they used to be. They all have a bunch of alternatives at their fingertips. In other words, they want to receive what they order ASAP. 
Loads of companies tend to build a huge warehouse nearby their HQ office. However, this isn't a wise move unless most of the orders come from the headquarters' geographical location.
To elucidate, a single warehouse location next to your office makes it more expensive to send orders worldwide. Not to mention that this practice makes you passively prone to overflows during peak seasons, resulting in damaged items or missing stock as well.
This is indeed avoidable by having multiple warehouse locations across the regions where most of your orders come from. This helps improve fast-moving stock's accessibility while at the same time getting slow-moving stock out of the way.  
Nevertheless, acquiring even a small warehouse is now such a financially challenging task for most SMEs due to the proliferation of real estate prices.
? That's why it's more reasonable to split the stock to keep at your own warehouse and at an eBay fulfillment partner.
Last but certainly not least, a vital part of your eBay physical inventory management is auditing. Regularly auditing your stock enables you to confirm your stock levels, remove damaged items, and identify missing and slow-moving stock to reduce warehouse space, which means reducing costs.
#2. Data management 
eBay data management simply means how frequently you update your product information so that it remains up-to-date and accurate on the eCommerce platform.
You can manage your eBay inventory data through 3 main methods:
Method #01: Using Spreadsheet
Using a spreadsheet in fact doesn't cost a buck and more importantly, it's free and quick to execute, making it an optimal solution for small startups to get off the ground. 
But bear in mind that your data management's success hinges on timely and accurate updating. As your business scales up to a level where you have thousands of SKUs coming in from different categories, colors, vendors, etc. spreadsheets might be counterproductive. 
This is because at this point, managing data manually like that is sure to suck all your team's time to input each product data by hand, exposing your listings data to unnecessary errors. 
That's when you need to try another method, which we'll discuss right below. 
Method #2: Using an inventory management tool
An inventory management tool costs. But a robust one does bring more benefits than what it costs. 
Particularly, an inventory management tool can help you better manage your eBay inventory by automating several tasks, ranging from auto-syncing stock levels, re-ordering new stock, and updating your warehouse system.
You can choose eBay-specific listing tools, or if besides eBay, you also have a store on Shopify and Etsy and many other channels then make sure you find suitable eBay multi-channel listing tools.
Method #3: Selling Manager by eBay
As mentioned above, eBay itself also offers an inventory management solution in the form of its selling manager system. With higher pricing plans or a fee of $15.99 a month, you can access a more advanced inventory management tool in the form of eBay Selling Manager Pro.
This upgraded option allows you to monitor inventory levels, schedule replenishment, and perform other duties.
The major drawback of eBay Selling Manager Pro is that it doesn't work with third-party tools or software. Thus, if you sell beyond eBay's empire, then you might love to consider using a multi-channel listing solution.
#3. Sale management
The last pillar of effective eBay inventory management is to use your physical inventory and process your inventory tracking  data to prepare for your eBay future sales positively. 
You can achieve this by shifting slow-moving stock, anticipating sales trends, and getting yourself on eBay's fast shipping programs.
Shifting slow-moving stock
Your audits and inventory management data combined should help precisely spot out any items staying too long in your warehouse and aren't selling well on eBay.
Afterward, try to incentivize your customers to purchase these slow-moving items to make room for your better sellers. This can be a discount code or free shipping, discount bundles, etc. whatever you name it.
The reports you generate from your inventory management data should also enable you to pinpoint which of your products sell best, and when.
This information can help you to predict trends to accurately price and stock products for the future, ensuring that you always have enough products to meet and take advantage of the demand.
For instance, if you sell confectionery on eBay, perhaps you'd love to stock as many chocolate bars as possible so that you don't run out of stock on Valentine's day. 
Final thoughts
In brief, eBay inventory management affects directly your revenue and profits. A poor performing inventory management will cost you in the form of lost sales, customer dissatisfaction and so many more. Therefore, we hope this complete guide on eBay inventory can help.
Hey, want to know more about OneCommerce? CHECK IT OUT!