Anyone who does business on eBay has heard of the eBay Resolution Center, which assists sellers and buyers with a variety of issues. The online platform eBay Resolution Center is a lifesaver for both of them.
Moving further in this blog, you will learn about the way eBay Resolution Center works, along with how to contact the eBay Resolution Center and have your complaints resolved at the eBay dispute center.
eBay Resolution Center, what is it?
Everyone who is just starting their business on eBay should be aware of the eBay Resolution Center. It also applies to eBay professional sellers as well as newcomers. 
You as a seller may want to know how to avoid being scammed on eBay or how to know if a buyer is scamming you. Furthermore, there may be other issues, such as dealing with return requests as a seller or assisting purchasers with an item they did not receive.
eBay Resolution Center, as an online platform, saves merchants from almost issues. Even while eBay transactions are generally smooth, there are some uncommon situations. For example, broken products, late deliveries, or an incorrect order fulfillment process.
The interface of the eBay seller resolution center is quite handy for navigation. Consequently, the sellers easily find questionable things that bother them.
As a seller, you can report a variety of issues. It could be an issue with the delivery. Similarly, unpaid sales transactions by customers are possible.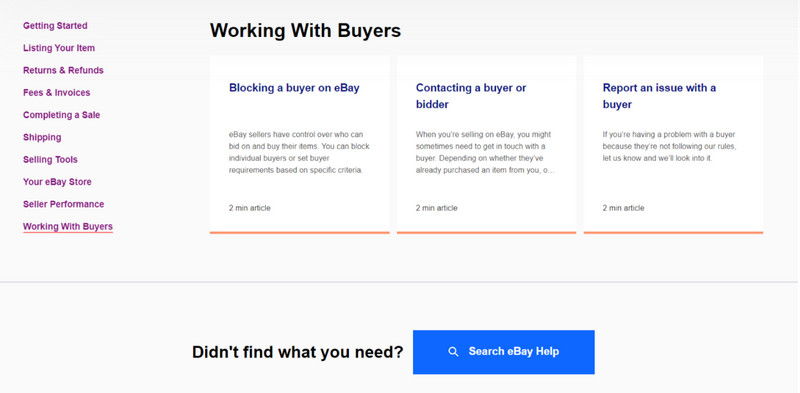 On the seller resolution center, there are many selling tools. As a result, the assistance help to solve problems such as returns and refunds, fees and invoices, and so on. Sellers have the option of blocking eBay buyers who break eBay's buyer policies.
eBay Seller Resolution Center: How to Use it?
As mentioned, eBay encourages sellers and buyers to work together to solve problems first. If there are no other solutions, eBay steps in and attempts to resolve the issues.
eBay has all of the information stored in its databases. It does monitor fraudulent customers and restricts their identities. 
If a buyer has a history of hasn't paid orders, eBay will put restrictions on their account. This action is meant to keep vendors like you from being scammed.
Using the eBay Resolution Center as a seller is easy. After selling your products, you may report and track issues on the resolution center. It is used when you have sold a product and want to cancel it, or when there is an unpaid item case.
If you don't use the Resolution Center to cancel the orders, this will negatively impact your seller performance level on eBay. However, it is the sellers' responsibility to first contact the buyers and report the situation.
Resolving the Unpaid Item Problems
If you contacted the buyers and asked them to pay, but they refused, you may file a complaint. Make an extra effort to do everything on your behalf to make things work, such as resending the invoices.
Furthermore, it is important to note that if you need to cancel a sale, you must do so through the eBay Resolution Center. Your seller performance level may be significantly impacted if you do not notify the eBay Resolution Center.
If you contacted the buyer and they have not paid you their orders within two days, you can raise an unpaid item complaint with eBay Resolution Center. Let's see how we can do it with only 3 easy steps:
Visit the

eBay Resolution Center

Find the option

"I haven't received my payment yet"

. Click it.

Now click on

"Continue"
eBay will guide you further with the next steps and informs you about the result. Therefore, sellers can track the progress as well.
If your negotiations with purchasers are successful and the buyer pays, the cases will immediately close. Things operate smoothly, especially when buyers pay via PayPal. 
When purchasers use other payment methods, such as cash, you should go to My eBay or Seller Hub and mark the item as paid.
When the seller's open case for the products is not paid, the purchasers have 4 days after being informed to pay. If the customers have not paid by the fifth day, you should do the following:
Go to the eBay Resolution Center.

Select the opened cases which are needed to be closed.

Under the question

"Have you received payment from the buyer?"

select

"No"

.

Thereafter you can select the

"Close case"

option.
Take note that the unpaid item is now recorded on the buyer's account. Sellers must close unpaid item cases within 32 days or they will not be entitled to a final value fee credit. Thereafter the process becomes easy as eBay refunds sellers according to the regulations.
The most successful eBay sellers who sell a large number of products use the Unpaid Item Assistant to automatically open and close cases. As a result, they endure they save time and money. 
The assistant automates everything related to closing the cases and ensures the sellers don't miss a final value fee credit if they forget to close the cases.
Conclusion
You can use the eBay Resolution Center to open cases, communicate with your buyers and resolve your issues. In a nutshell, eBay Resolution Center is a save-lifer with both eBay sellers and buyers, especially with eBay vendors. 
Hopefully, you can gain more knowledge about the way to use this eBay Resolution Center and related information through this article. We wish you, as a seller, can grow your business with eBay Resolution Center assistance.