Cargo Largo eBay store is one of the most famous retail stores on eBay e-markets because of its diversity in products. This post will inform you about Cargo Largo eBay information and reviews.
What is Cargo Largo?
Recovery Management Corporation (RMC) began in the 1950s as Underwriters Sales Corporation. Underwriters Sales Outlet, the current location of Cargo Largo, was established in 1986 at 35th and Noland Road.
The company has been in the Independence area for 65 years. In 1991, Dee and Joyce Pack bought the family business and founded RMC to serve the supply chain industry. 
The retail outlet and e-commerce operation of Cargo Largo offer unrivaled product value and diversity, as well as an engaging, family-oriented environment for staff and customers. They offer over 800,000 different products each year through various sales methods. 
While the retail outlet has the most local visibility, other sales channels and specialized services make for the majority of the business. RMC receives items from across the supply chain through long-term client partnerships. 
For more information please visit CargoLargo at www.cargolargo.com, like them on Facebook, or follow them on Instagram.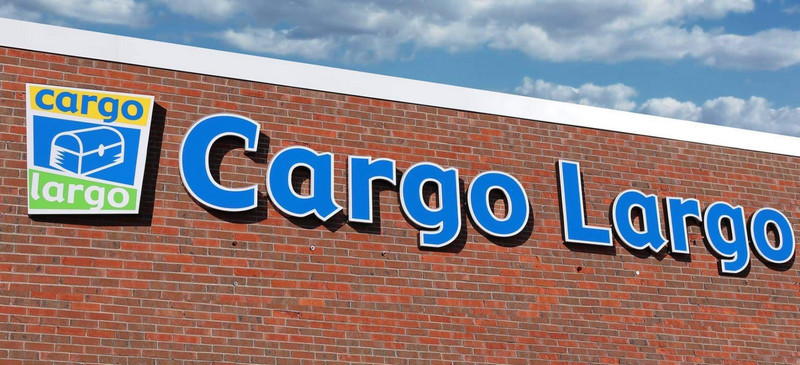 About Cargo Largo eBay store
Cargo Largo is a top eBay seller which has received feedback from over 600,000 customers with a 99.4 percent favorable rating.
Cargo Largo, which is based in the United States, has been an eBay seller since June 9, 2000. They mostly stock products for the home and garden, health and beauty, movies and television, business and industrial, computers/tablets, and networking.
Cargo Largo is one of the top 500 sellers on eBay and currently ranked 212th overall. However, a month ago they were ranked 171st. The ranking list is determined by the number of positive reviews received.
Cargo Largo eBay products
Cargo Largo obtains products from an extensive assortment of longstanding relationships with clients and suppliers – many are iconic brands. 
They sell over a million products annually from many different sources!
Carlo Largo eBay sells a wide range of products and customers can sort products by categories like the picture below:
They sell from ordinary things to luxury ones at cheap to expensive prices. For that reason, Cargo Largo eBay store's customers can choose products which are suitable to their demands.
Below is an example of the clothing category:
QnA Time!
1. What is the return policy for eBay Cargo Largo items?
If you believe the item purchased does not match the description, or if your item was damaged during transit, please contact them to discuss return and refund options. The buyer must contact the eBay Cargo Largo team within 30 days after receiving the item.
If the buyers wish to return an item for any reason other than the two above-mentioned reasons, the eBay Cargo Largo store will accept a return on most items, provided that the item is returned to them in the same condition and within 30 days upon receipt.
Moreover, buyers will be responsible for both the original and return shipping charges, and a 15% restocking fee. Once buyers and sellers have agreed to a mutual cancellation, sellers will initiate the transaction and refund the buyer after the item has been received.
However, they do not accept any returns on swimsuits, undergarments, deodorant, stockings, lingerie, or any item marked AS IS for any reason other than a grievous error in the listing.
2. I want to purchase an item from the Cargo Largo eBay store with an eBay Gift Card, what should I do?
To use your eBay Gift Card on Cargo Largo, enter the redemption code on the payment page, which is 13 digits. Scratch the coating on the back of an in-kind Gift Card to reveal the redeem code.
If you received your digital Gift Card by email, the redeem code is included in the email. Please keep in mind that it takes around 4 hours for the card to become authorized and ready for redemption.
3. I bought an item from the Cargo Largo eBay store, but I don't know how to use it. What should I do?
Read the product's instruction manual first, if there is no instructions for this item, you can ask the Cargo Largo team on how to use it. You also can contact this item's manufacturer for usage.
4. How do I find the item I want from the Cargo Largo eBay store?
You can browse Cargo Largo eBay's storefront and then select the item category, condition (used or new), and price range based on your needs on the left side of the website, or you can search for the item you want on the search field.
5. What payment methods I can use when purchasing from Cargo Largo?
Many payment options are accepted by eBay, including Visa, Mastercard, Discover, American Express, PayPal, PayPal Credit, Apple Pay, and Google Pay. However, not all suppliers accept all those payment options.
If you want to check Cargo Largo's payment methods, please follow these steps: Enter their webpage, and then click to get to the details page for the first item — Minkaaire F896-84-Bnw Xtreme H2O 84″ 8 B…, where you can see the payment options.
6. If I bought an item from Cargo Largo, when can I receive it?
Cargo Largo has written the expected delivery time on the item details page. Plus, you can also check the tracking information on the order page.
7. How do I find my eBay invoice?
Go to My eBay page, click on "Purchase History", and you should see an option for "Pay Now".
8. What is Cargo Largo eBay seller rating?
A Top Rated Seller, Power Seller, and Premium Shipper on eBay – committed to providing each customer with the highest standard of customer service. Over 99.75% of Cargo Largo eBay's packages have valid tracking within one day and over 99.6% of its deliveries occur within stated window.
9. Does the Cargo Largo eBay store has global shipping?
As part of the Global Shipping Program, the buyer directly pays for international shipping and import charges to the third-party shipping provider. Please use the shipping calculator to get a shipping quote to your country.
Some items can not be shipped to your country due to size or restrictions placed on certain products by the import/export country.
If your item is shipped via the Global Shipping Program that eBay offers, it will arrive at a Kentucky third-party facility and ship to you from that location.
eBay should be updating the tracking number shortly after arrival in Kentucky, or you can log into your eBay account to view the progress.

10. Does the Cargo Largo eBay store has combined shipping?
Cargo Largo eBay store offers combined shipping on selected items. Each item must qualify for the combined shipping discount ($1.00 discount for each additional item).
You will be able to find out if this item qualifies for a discount by clicking on the Shipping Terms tab. Please proceed to checkout and any discount will be automatically applied.
All items must be paid for on a single invoice. If items are paid for separately, they will not be eligible for the combined shipping discount.
11. Does the Cargo Largo eBay store accept cancellation requests?
Regrettably, the Cargo Largo eBay store does not have the ability to convert unpaid item cases into a cancellation request at this time. In the past, this used to be a feature; however, eBay has removed this option.
Conclusion
Cargo Largo is one of the biggest sellers on the eBay market. Hopefully, you can gain some basic and useful information about this retail store and some useful answers to frequently asked questions from Cargo Largo's customers.
Wish you have good shopping experience on the Cargo Largo eBay store!