Setting up and running an online store on Shopify is not as easy as many people think. As a store owner, you will face many challenges, especially when your business is scaling up. One of the big issues at that time is how to deal with the requests to cancel Shopify orders from customers. 
Don't worry too much because this is normal for any Shopify store owner. However, if you don't carefully manage this issue, it will definitely affect your business in the long run.
Hence, if you think this issue is truly of your concern, keep reading as we will walk you through everything you need to know such as the reasons for cancellation, the steps to cancel Shopify orders, and more.
03 Reasons for customers to cancel Shopify orders
There are several reasons why customers want to cancel Shopify orders from your store. You should take a look at their excuses in order to stay away from these problems in the future.
1. Your customers have changed their mind
According to Statista, the most common reason for order cancellation is "I changed my mind." Sometimes, customers want to change the color or the size of the item that they have finished ordering but you forget to track inventory like you should have been and find out the item they want has run out of stock. In this case, it is likely that you may need to cancel and refund the order. 
Besides, they may find a better offer when they see the same product as yours at a discount from a competitor. Then, they don't want to buy from you and ask you to cancel the order.
2. Long delivery time
You will usually give your customers an estimated delivery date or time period when they order something from you. However, you cannot deliver upon your promise due to any reasons, so you have to cancel the order. 
Or when customers want to order something for delivery on a set date such as their loved one's birthday. Nevertheless, the item doesn't arrive by the day they need it to, then they may get frustrated and ask you for cancellation.
3. There is fraud in the order
Fraudulent orders are a huge hassle for any online merchant and possibly lead to order cancellation.
Sometimes, you may find the billing and shipping addresses suspiciously unmatched or the phone numbers with area codes different from the shipping address. In addition, you may have to deal with above-average order amounts from first-time customers. 
These are all the signs of fraudulent orders that you need to pay close attention to. Therefore, you may consider canceling all these orders to help prevent your staff or fulfillment services from continuing work on the order and avoid any adverse impact on your business.
Things you should know before you cancel Shopify orders
Shopify allows you to cancel customers' orders but this action can only be taken when: 
The payment of the order has not been collected.

The order's payment has already been collected, but none of the items in the order has been fulfilled.
Furthermore, the only option for canceling a fulfilled order is to manually cancel the fulfillment. Importantly, you might not be able to cancel an order if it is in the Pending payment status. 
The information on which items are restocked and refunded after an order cancellation is saved in the order's Timeline. Moreover, the payment status changes as follows when you cancel an order:
The payment status switches to

Voided

if the payment wasn't successfully captured.

The payment status switches to

Refunded

if the refund was given in full.

The payment status switches to

Partially refunded

if you later give a partial refund for a canceled order.
You may need to take more steps depending on the order's status when you cancel it, according to Shopify.
State of the order
Follow-up actions
Paid for but no items are fulfilled
There are two refund options when you cancel Shopify orders:

Refund the full amount:

This option is chosen by default and when selected, then a complete refund is given automatically.

Refund later:

No refund is issued automatically if this option is chosen. Select this option if you want to provide a partial refund after you cancel the order or if you want to conduct further research before issuing a refund since you cannot issue a partial refund during the cancellation process. Make sure you track non-refunded orders for follow-up in order to prevent chargebacks.

You may need to follow up if you utilize a third-party fulfillment provider.

Fulfilled but payment isn't collected

You cannot collect payment if you cancel an order. Use the

returns process

to get products returned.

Not paid and not fulfilled

If the order is not already stored, archive it.
How to cancel Shopify orders 
You can only cancel an order while you are logged in to your Admin homepage on Desktop. Check out the steps listed below to better understand how to cancel Shopify orders.
Step #1:

From your Shopify admin, visit the

Orders

section.

Step #2:

Click the number of the order that you want to cancel. Shopify gives you the option to save a filter or search so you can find a certain order more quickly.

Step #3:

Click the

"More actions"

button with the drop-down triangle which is located just below the order number at the top of the page. Select

"Cancel order"

from the drop-down option.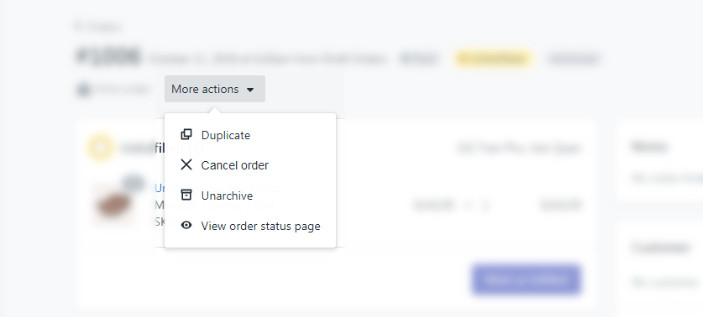 Step #4:

Manage any payment refunds. You can issue a full refund now by leaving the default

"Refund $"

value selected or offer a full or partial refund later by selecting

"Refund later".
Step #5:

Check or uncheck the

"Restock items"

box to restock/not restock the refunded items in your inventory.

Step #6:

In the

"Cancel order"

dialogue

,

pick the reason for cancellation from the drop-down list.

Step #7:

Uncheck the

"Send a notification to the customer"

box if you don't want to inform your customer of the cancellation. 

Step #8:

Click on

"Cancel Order"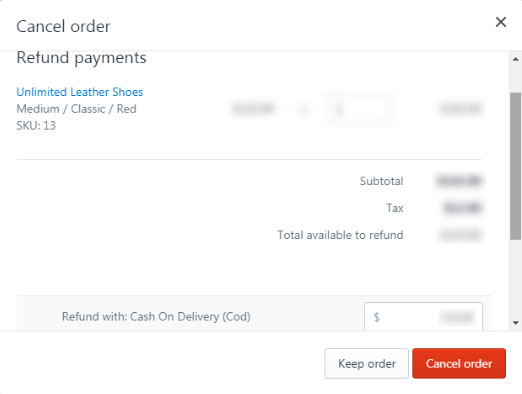 There are other things you should bear in mind when you decide to cancel Shopify orders.
Firstly, you can go back to the order that you have canceled and issue additional partial refunds if you have partially refunded the buyer while canceling it back then.
Secondly, Shopify can refund you more than the buyer paid you if a discount coupon was used for this order. Therefore, you must be careful while selecting the amount you are refunding as refunds are irreversible.
Finally, when you use this function, Shopify transaction costs are automatically disputed as well. The costs will not be applied to your next invoice if the order was placed during your current billing cycle. You will receive a transaction fee credit on your upcoming invoice if they were from a prior billing period.
What if you can let customers cancel Shopify orders in your store?
In fact, Shopify by default does not offer customers the option to cancel orders, leaving you, the seller, as the only one with the authority to do so.
Usually, customers make mistakes when placing orders. They could input an incorrect delivery address, want to change their order's products, or just decide they no longer want to buy from you, in which case they will contact your customer service and ask for cancellation.
Each support may take some time to proceed and at least 10 minutes to complete the cancellation. With the same amount of time, you can spend helping other customers and possibly generate more income.
Therefore, it would be wiser for you to think about granting your customers the freedom to cancel purchases at any moment without using up valuable customer support time. 
Customers also receive rapid order cancellation and refunds, which boosts their happiness, increases the likelihood that they'll shop at your store again, and may even lead them to suggest it to others since they believe you can be trusted.
In order to do that, you would need to install a Shopify app, pay a professional to do it for you, or custom code it in your store. Below is what you should consider when doing so:
1. Limitation of the order cancellation period
You should create a time restriction for order cancellation in the app to avoid customers canceling orders that are submitted to production. For example, the client can only cancel their purchase within an hour of submitting it. 
2. Only permit cancellation of an order up until the daily fulfillment time
You can establish a cutoff period for daily fulfillment in your business, after which you'll fulfill any orders that come in before that time.
Additionally, you may specify these timings in the Cancellable app to prevent order cancellations after the fulfillment period for that day has ended.
3. Disable order cancellation manually if the order includes a certain item
If an order includes items that are highly customized for a customer or have a significant production cost, you might need to prohibit the cancellation of that order. To prevent cancellation, you should label an order with the phrase saying this item cannot be canceled. Besides, you can do the same thing to an order to avoid cancellation. 
4. Ask customers to specify their reasons for purchase cancellation
You should request customers to choose a reason for canceling an order through the app. This will help you gain important insight into your customers' behaviors. Later on, you will know what to fix or improve so that you can minimize order cancellation.
5. Try out some apps before committing to the right one
You can read the reviews of the apps from other shop owners if you're having trouble believing a random app you found online. The majority of them have been using the app for quite a long time and have a thorough evaluation on these apps. 
Furthermore, the cancellable apps usually offer a 14-day free trial, you can give them a try without worrying about their fees and this time period is enough for you to know if one of them is the perfect one. 
Overall, these things above are what you can do to test the water before you can find the suitable one.
Tips to reduce canceled orders on Shopify
Order cancellation is inevitable for any eCommerce merchant. Hence, instead of feeling sad, you should roll up your sleeves and search for the reasons and work on improvement.
Learning why customers don't want to purchase anymore is vital but coming up with appropriate adjustments to fix the issues is more than just important. Thus, we list some tips that if you have them in place, you won't need to worry about canceled orders any longer.
Friendly and open returns policy

Offer a voucher for the original product customers chose

Customers are informed of any applicable handling fees and other costs before paying for their order to avoid unpleasant surprises

Giving customers selection instructions, size charts, real-color images, etc., as well as chat support if they're unsure which choice to make

Before checking out, customers will get an in-depth explanation of shipping costs on the website, broken down by area, weight, or any other applicable criteria

Clearly stating all forms of payment upfront (and any surcharges that may apply), which will make people feel more at ease about spending money

Providing all the necessary order tracking information and being truthful about delivery times

Adding automation to quickly send customers a list of similar products in an effort to persuade them once again

To prevent future instances of such late delivery, work on accelerating your deliveries.
How to delete Shopify orders
In general, you will find order cancellation a terrible thing but doing business means you have to face this situation, maybe more than just one time. 
Order cancellation is not only the result of falling revenue but also the cause of a long list of data that burdens your management and the data recording system.
When dealing with a lot of data, it may be essential to erase a few canceled orders from your order history so as to lessen the load on the system.
You will entirely eliminate all of an order's records from your order history after deleting it. Only a few types of orders, including the following, can be deleted:
Test orders

Orders that were paid for in a manual way

Previously created orders that were kept as drafts and then designated as paid

Orders imported with the Shopify API
Furthermore, you should note that an order must first be archived or canceled before it can be deleted. Moreover, orders with payment handled through Shopify POS or online checkout could only be archived, not removed.
The straightforward guide to deleting an order on Shopify is shown below. Only the Desktop platform is presently supported by this functionality.
Step #1:

Navigate to the

"Orders"

section from your Shopify admin

Step #2:

Choose a canceled order.

Step #3:

Select

"Delete this order"

at the bottom of the page.
In conclusion
We think that you have thoroughly learned how to cancel Shopify orders after reading our guide. Even though it will occasionally occur, we truly hope you won't have to do it too frequently.
Keep in mind that just one canceled order doesn't indicate they won't ever buy from you again. There will always be another purchase, so all you have to do is quickly come up with solutions that increase your customer satisfaction and tackle all the problems leading to cancellation.
In addition, we have shared with you everything you need to do with the list of canceled orders and how you can facilitate the cancellation process for your customers by giving them the power to do that on their own. We hope you will find the information useful and wisely implement it in your business operation.
If you want to know more about OneCommerce, check it out via https://onecommerce.io