Learn about the benefits of OmniSell's Full Push Automation – the better way to work! With advanced automation tools, you can effortlessly push product information across multiple sales channels, revolutionizing your product management. 
Update product information with ease
Managing product information across different sales channels can sometimes feel like a chore, but with OmniSell V3.3, it doesn't have to be anymore. We are excited to introduce super convenient methods for updating your product information!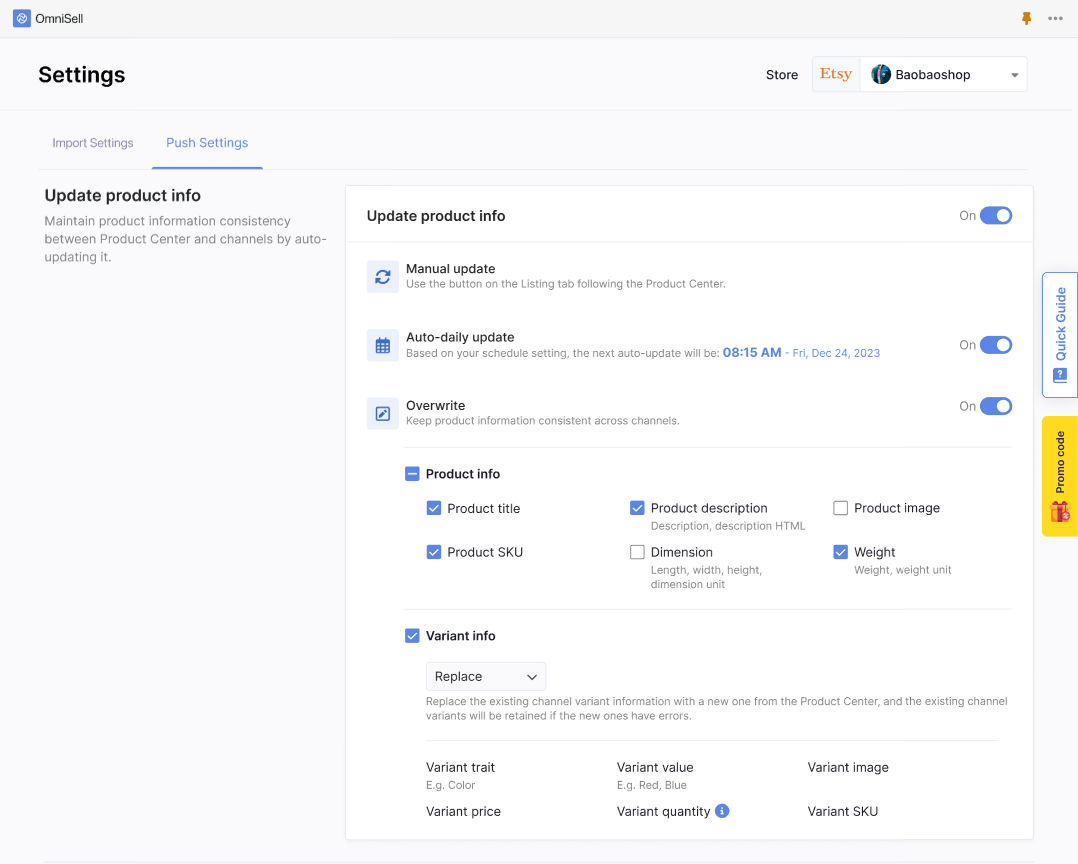 Manual update:

This lets you update product information across all channels with just one click.

Auto-daily update:

Say goodbye to repetitive tasks! With the auto-daily update feature, you can schedule automatic updates. Set it up once, and your product information will remain consistent across all channels.

Overwrite:

Choose from a plethora of essential attributes for auto-daily updates, empowering you to update your products effortlessly:

Product Info:

Product Title

Product Description

Product Image

Product SKU

Dimension

Weight

Variant Info: OmniSell knows variation management is challenging. We provide you the power to select between Replace and Update.
Replace: When you replace variant information, OmniSell will seamlessly update your existing channel variants with new data sourced from the Product Center. If any issues arise with the latest updates, we will ensure that the previous versions remain intact to avoid disruptions to your sales.
Update: With the update option, OmniSell intelligently modifies your existing channel variant information based on the variant traits (e.g., Color, Size) from the Product Center. Any variants that do not match or have errors will be skipped, ensuring a smooth and error-free synchronization process.
Variant Trait

Variant Value

Variant Image

Variant Price

Variant Quantity

Variant SKU
Auto-modify to avoid losing out on market changes
Adapt quickly to changes in the eCommerce market with OmniSell's Auto-Modify feature. Our app keeps your product information flawlessly up to date, effortlessly satisfying channel standards. You no longer need to keep track of shifting requirements – OmniSell has you covered! 
But that's not all: with the auto-modify feature, you're in control. Take complete control of the changes made to your items. You can customize your strategies from various options.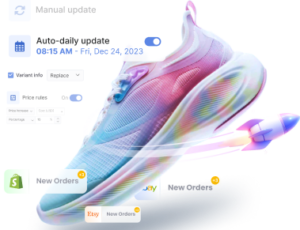 Don't Lose to Market Changes
Automate and adapt to channel standards effortlessly, leaving you worry-free about changing requirements.
SET UP
Smart price adjustment across marketplaces
OmniSell empowers you to master your pricing strategy. Our new feature allows you to easily and quickly adjust product prices for each store using the price settings defined in the Product Center. You can change prices based on cost (USD) or apply percentage changes. 
This feature is available for Pro, Plus, and Business plans.
In-app Quick Guide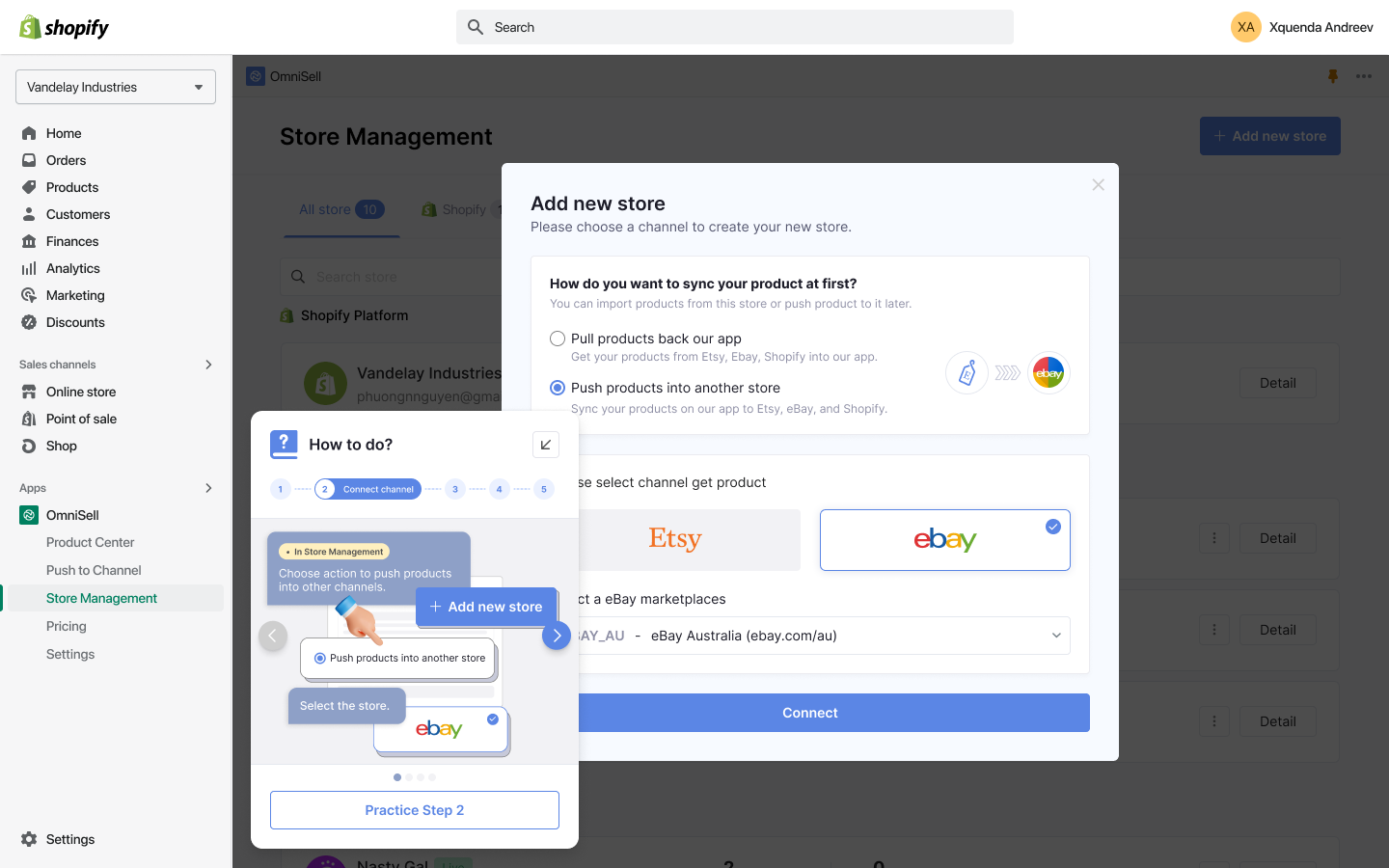 We've included an in-app quick guide to help you get up and running with OmniSell faster and maximize its features. Improve product management using the in-app guide's detailed instructions, valuable ideas, and suggested practices.
You work hard, now work smarter
Advanced automation features from OmniSell will transform how you push product information across multiple sales channels, saving you time and effort while maintaining consistency and accuracy.
Take advantage of these cutting-edge features to supercharge your product management workflow. Happy selling!
If you have questions or concerns, please contact support via email at support@socialhead.io.