Calculate profit, track all costs and other metrics in real time

Discover single product insights and customer lifetime value

Stay updated anywhere, at any time with a handy mobile app
Profit Analytics: How much have you made?
Any business owner would understand the complexity of profit calculation. TrueProfit eases this pain with a simple setup process, so you'll only configure once and leave the rest to us.
The hardest part of tracking profit: knowing how much was spent. TrueProfit takes all types of costs into account (including fluctuations and exceptions) then runs a thorough calculation for a real-time P&L report.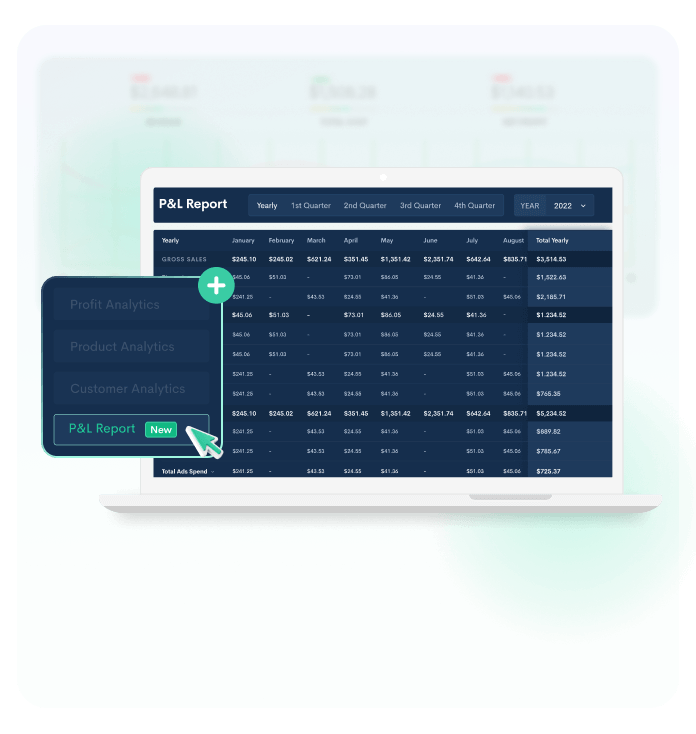 Add and manage each product's COGS, also known as Product cost. You can either import, enter manually or estimate COGS. It is also possible to:
Add different COGS zones
Update and manage COGS history of each product
Sync real-time Ad spend from Facebook, Google, Bing, Snapchat, TikTok, Pinterest and Amazon. Break down revenue & ROAS to ad channels: Using UTM, understand how much revenue and ROAS each ad channel generates to better manage your ad spend.
From Shipping costs to Transaction fees and everything in between, keep track of your costs with TrueProfit.
Easily monitor your profit on the go with our handy mobile app, without the burden of carrying a laptop all day long.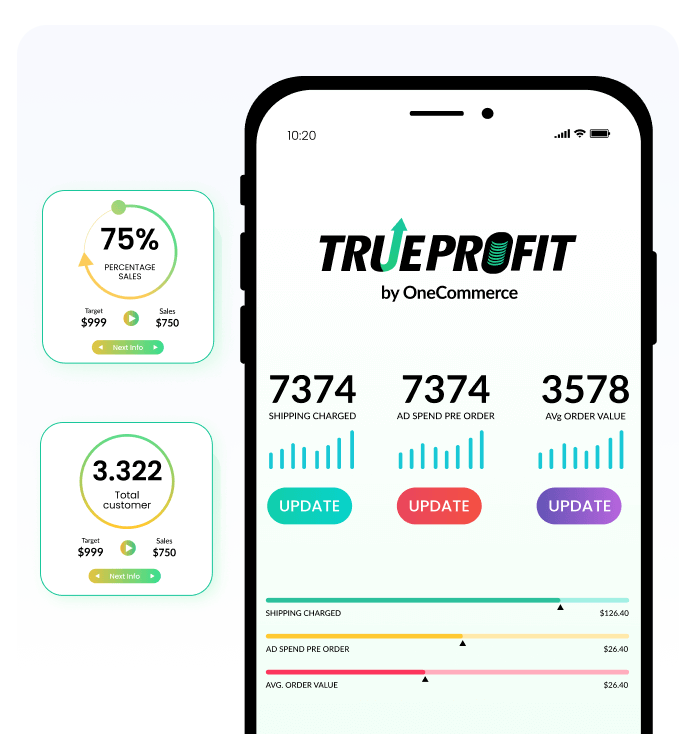 Product Analytics: Which products to focus on?
Discover your most important products and make data-driven decisions with Product Analytics.
Understand which products are more attractive to customers, and which are more likely to convert. You'll benefit from key metrics like conversion rate and add-to-cart rate, all broken down into single products.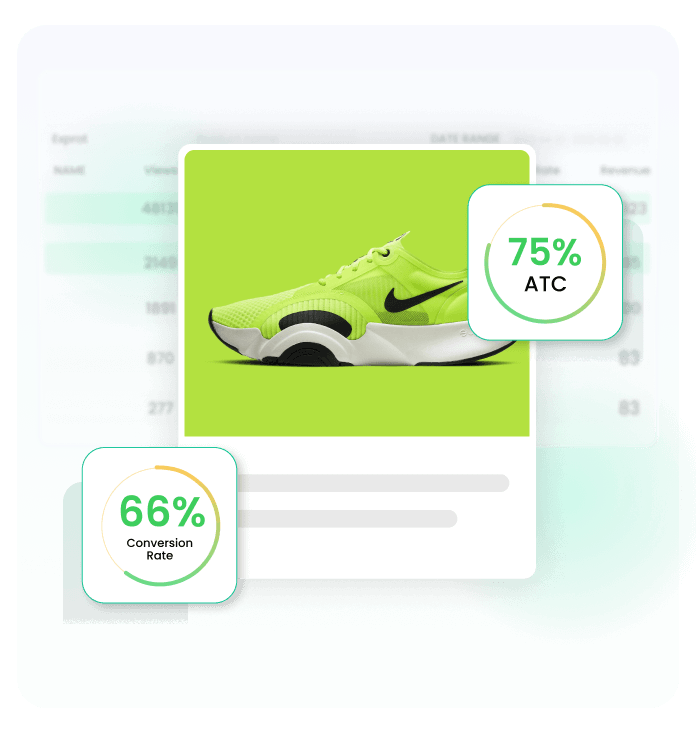 See how much profit each product has earned. You'll then have more data to make decisions on whether to invest more (or cut down) on promoting certain products.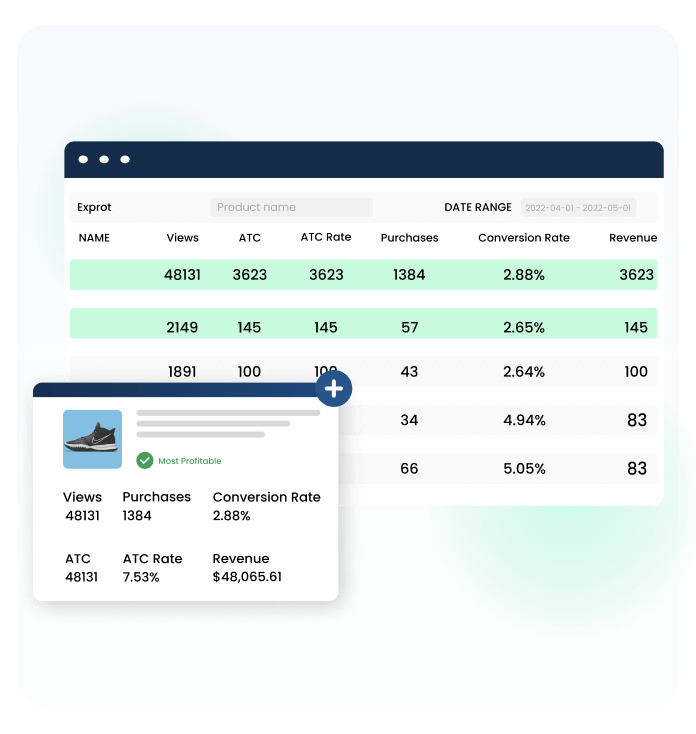 Dive even deeper and leverage Break-even points to control your Ad spend. Using these metrics, you'll know precisely how much to spend on customer acquisition, in order to start making a profit on each product.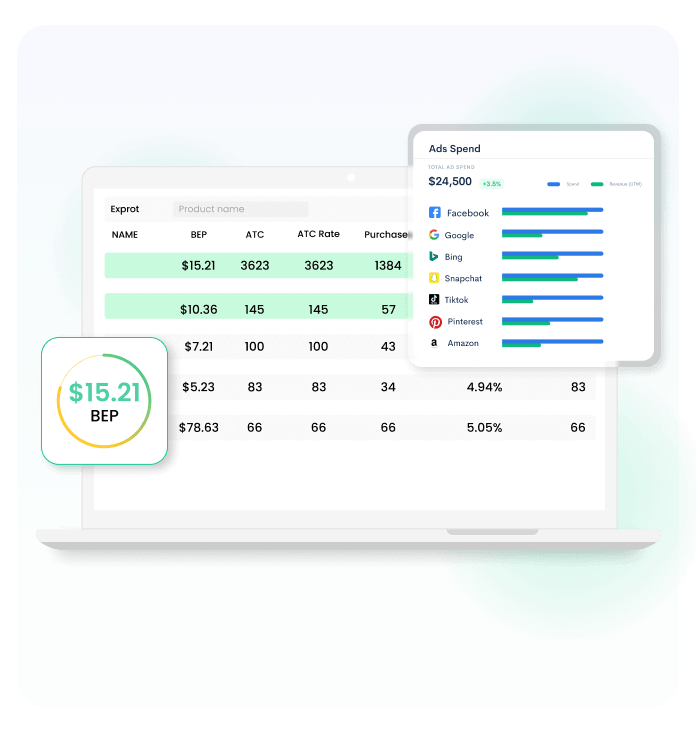 Gain in-depth insights into your most frequently bought together products to cross-sell effectively and boost your average order value to new heights!
Customer Analytics: How valuable are your customers?
Know your customers' worth and act upon it.
Customer Lifetime Value is the average revenue that a customer will generate throughout their lifetime as a paying customer. Use metrics like LTV, CAC, LTV:CAC and Repurchase rate to measure your business growth and adjust your spending accordingly.
You can view a detailed breakdown of these metrics within each country, traffic source or discount code. Learn which segments are more valuable to your business.
The cherry on top
Complete the experience with these features

Report Via Email
Receive profit reports on a daily, weekly, or monthly basis without the hassle of logging in every day.

Roles & permissions
Assign different roles and permissions for your staff (admin, access to reports, or cost editor).
"Excellent app, I've been using it for almost 2 years. In my opinion, this is the best app for estimating net profit. I have tried many other free and paid apps and they couldn't compare to TrueProfit. Although this app is not free is worth every penny to keep track of your profits."
iiGears™
Apparels, USA
"Wild! I am a happy camper with this app. Took me 20-30 mins to familiarize myself with its dashboard. Spot a couple of pricing mistakes I had made, key in the shipping rates via product and shipping region, and...BAM! One week's tedious work on a spreadsheet was all covered in less than an hour. Lean back on my chair, hands behind my head, staring at its beautiful dashboard and smiling ear to ear like a Wall Street trader on a winning streak. Everything about this app is such a beauty. Damn it! Wish I knew about this app much earlier on and save me the miserable tons of hours doing the most painfully dead boring thing on the planet after taxes - number accuracies and spreadsheets!!!"
Clicxco
Vintage Mug, USA
"Impressive app. The only one I have found that lets you set shipping costs per variant (which is critical for eCommerce, given shipping costs likely change per country, per item) due to size differences. Really good overall."
The Brooklyn
Pet Store, New Zealand
"One of the best apps out there for providing daily profit tracking. Great way to stay ahead of your finances and ensure profitability."
R&G TOYS
Electric Kid Cars, USA
"The difference between this and other profit calculators is that it's super easy to set up, there are little to no bugs, the support team answers really really fast and the best of all: They have a mobile app that's super clean and looks amazing! Love to always be able to look up my shop stats whenever I want to :)"
GYMGRIZZLY
Home Fitness Equipment, Germany
"Excellent app, I've been using it for almost 2 years. In my opinion, this is the best app for estimating net profit. I have tried many other free and paid apps and they couldn't compare to TrueProfit. Although this app is not free is worth every penny to keep track of your profits."
iiGears™
Apparels, USA
"Wild! I am a happy camper with this app. Took me 20-30 mins to familiarize myself with its dashboard. Spot a couple of pricing mistakes I had made, key in the shipping rates via product and shipping region, and...BAM! One week's tedious work on a spreadsheet was all covered in less than an hour. Lean back on my chair, hands behind my head, staring at its beautiful dashboard and smiling ear to ear like a Wall Street trader on a winning streak. Everything about this app is such a beauty. Damn it! Wish I knew about this app much earlier on and save me the miserable tons of hours doing the most painfully dead boring thing on the planet after taxes - number accuracies and spreadsheets!!!"
Clicxco
Vintage Mug, USA
"Impressive app. The only one I have found that lets you set shipping costs per variant (which is critical for eCommerce, given shipping costs likely change per country, per item) due to size differences. Really good overall."
The Brooklyn
Pet Store, New Zealand
"One of the best apps out there for providing daily profit tracking. Great way to stay ahead of your finances and ensure profitability."
R&G TOYS
Electric Kid Cars, USA
"The difference between this and other profit calculators is that it's super easy to set up, there are little to no bugs, the support team answers really really fast and the best of all: They have a mobile app that's super clean and looks amazing! Love to always be able to look up my shop stats whenever I want to :)"
GYMGRIZZLY
Home Fitness Equipment, Germany










BASIC
ADVANCED
ULTIMATE
ENTERPRISE

$25

monthly

$50

monthly

$100

monthly

$160

monthly

FEATURES
Allotted Monthly Orders
300
800
2,000
Unlimited
Real-time Profit/Loss Tracking
Product Analytics
Profit/Loss Analytics
Sophisticated Cost setting
Customer Lifetime Value
P&L Report
Data Export
Quantity Break for COGS Settings
COGS by zones
Up to 5
Up to 10
Unlimited
Unlimited
Fixed, Variable, and Custom Cost Settings
Categories for Custom Cost
Weight-based Shipping Cost
Monitor Revenue & ROAS based on UTM
Email Reports
Customize Email Report by Store
Mobile Apps for iOS and Android
Team Members
3 members
5 members
10 members
Unlimited
INTERGRATION
Multi-Store Compiled Dashboard
Account per Ads Platform
1 account
2 accounts
5 accounts
10 accounts
External Shipping Platforms
Shopify Shipping Auto-sync
Get Started
Get Started
Get Started
Get Started