Install multiple pixels on your site with one click

Bypass iOS 14.5 limitations with Conversion API

Create better Facebook Audiences with smart builder
Pixel integration made easy
Leverage multiple pixels and Conversion API to run effective ads. All it takes is a few clicks.
Seamlessly add & manage as many pixels as you want: Facebook, TikTok, Google, Pinterest, Twitter, Snapchat and Microsoft pixels.
No more data loss due to iOS 14.5 changes. Track all the essential customer info to make data-driven decisions and improve your ROAS.
OnePixel allows you to track all the valuable events including Page view, View content, Add to cart, Initiate checkout, Purchase, and Search.
With the built-in pixel reporting modules, you can closely monitor your visitors' on-page actions and then move them down the buying funnel with highly-targeted ads.
Add pixels without authentication. Simply enter your pixel ID and you're good to go.
Powerful Facebook Audience builder
Easily build multiple Audiences for your Facebook ad campaigns.
Create Custom Audiences based on the events your site visitors take or the URLs they interact with.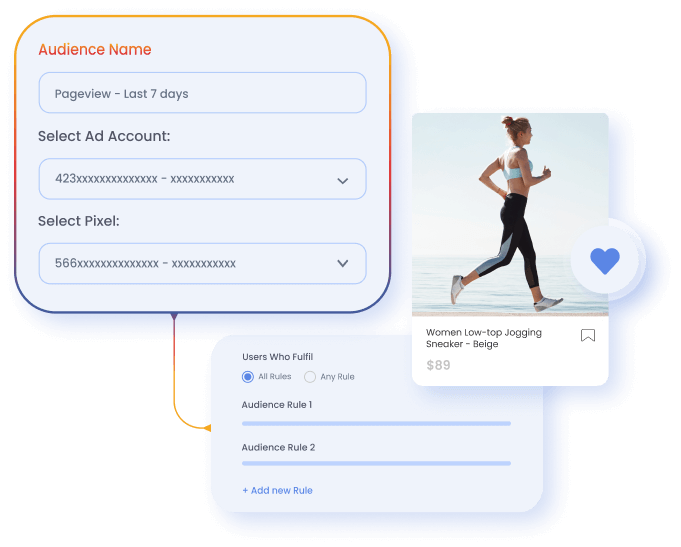 Create Lookalike Audience Lists based on existing audience lists or campaigns. While Facebook only offers lookalikes with audience sizes of up to 10% of the total population, enjoy a wider pool with sizes up to 20% using OnePixel.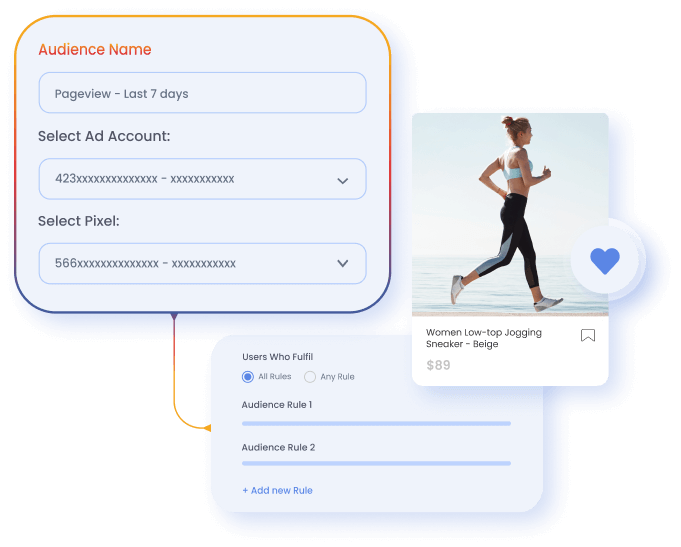 "Wonderful. This is the best and most efficient tracking app I have ever used. Thanks, Harper and the dev team for your help!"
Juno Mallet London
Fashion, UK
"Setup was easy and support is great! I can highly recommend the app! It combines browser and server-based tracking for a higher tracking rate."
Sterntaler
Manufactory, Germany
"It looks like this app fixes Conversion API issues. Very pleased! Brilliant customer service. Thank you, Windy, Harper and the rest of the team!"
Leota
Fashion, USA
"Absolutely amazing support. We're using multiple apps from them and they've helped us deal with multiple Facebook and Shopify issues, even ones we didn't know we had."
South Shore Gallery
Fine Art, Canada
"I am absolutely amazed! Windy is an extremely intelligent person able to help me and exceed my expectations in every way possible. I couldn't be happier with the professionalism, great attitude, and knowledge displayed. I am very happy that I was able to obtain the solution I was looking for. I wish there were more I.T associates like Windy. Thank you!!!!"
FittedWorld
Home Improvement, Zimbabwe
"Wonderful. This is the best and most efficient tracking app I have ever used. Thanks, Harper and the dev team for your help!"
Juno Mallet London
Fashion, UK
"Setup was easy and support is great! I can highly recommend the app! It combines browser and server-based tracking for a higher tracking rate."
Sterntaler
Manufactory, Germany
"It looks like this app fixes Conversion API issues. Very pleased! Brilliant customer service. Thank you, Windy, Harper and the rest of the team!"
Leota
Fashion, USA
"Absolutely amazing support. We're using multiple apps from them and they've helped us deal with multiple Facebook and Shopify issues, even ones we didn't know we had."
South Shore Gallery
Fine Art, Canada
"I am absolutely amazed! Windy is an extremely intelligent person able to help me and exceed my expectations in every way possible. I couldn't be happier with the professionalism, great attitude, and knowledge displayed. I am very happy that I was able to obtain the solution I was looking for. I wish there were more I.T associates like Windy. Thank you!!!!"
FittedWorld
Home Improvement, Zimbabwe